If you've done your research on camp mats, then there's a huge chance that you've stumbled upon the rave reviews of the Black Wolf Mega Deluxe or Exped Megamat 10 LXW camping mats in forums, blogs, or product pages online.
As they're both one of our most popular mats to use for car camping, in a swag, or when guests come to stay – we thought we'd break down the similarities and differences for you.
We've put together a video, which talks you through all the features of these mats side by side – so hit play for a rundown of both mats.
A full comparison of the Megamat and Mega Deluxe sleeping mats.
Megamat 10 LXW
The Megamat 10 LXW is a classic product from the Swiss brand Exped. These guys are known worldwide for creating all kinds of high-performance outdoor gear, but hiking and camping mats are arguably their most popular products.
We've had this mat in the Snowys range for a while now, so it's proven itself to be a good egg year after year. It's called the LXW as it's long, and extra wide – making it roomy and therefore super comfy to sleep on. The Megamat is also available in a double size and comes in both a bright red and a green – so you have a few options available to you.
Chuck a Mega Deluxe and Megamat on a stretcher or your tent floor.
Mega Deluxe
While Black Wolf is known mostly in the Australian outdoor community for their outstanding Turbo Tent range, they also make innovative products across other categories – and the Mega Deluxe Camp Mat is no exception.
We've had this one at Snowys for a little less time than the Megamat, but it's received excellent feedback over the years, as well as a few updates along the way. This mat also comes in a double size, so there's the option for couples as well.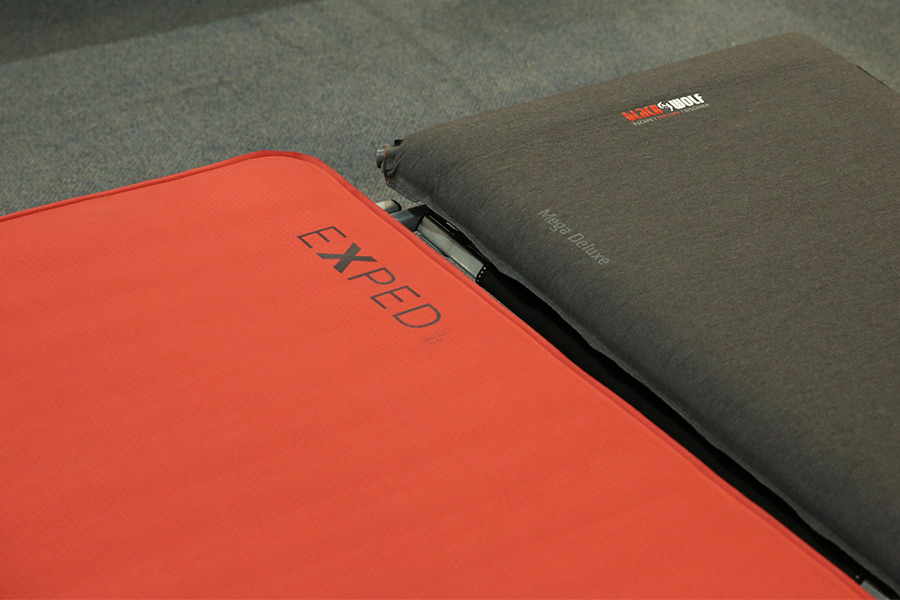 These two mats are so comparable, but what makes them different?
Size and thickness
Both mats are 10cm thick, which is pretty much the gold standard when it comes to camp mats. When set up, the Mega Deluxe is 198L x 77W cm, and the Megamat is 197L x 77W cm. So, in terms of size when in use – they're pretty much exactly the same.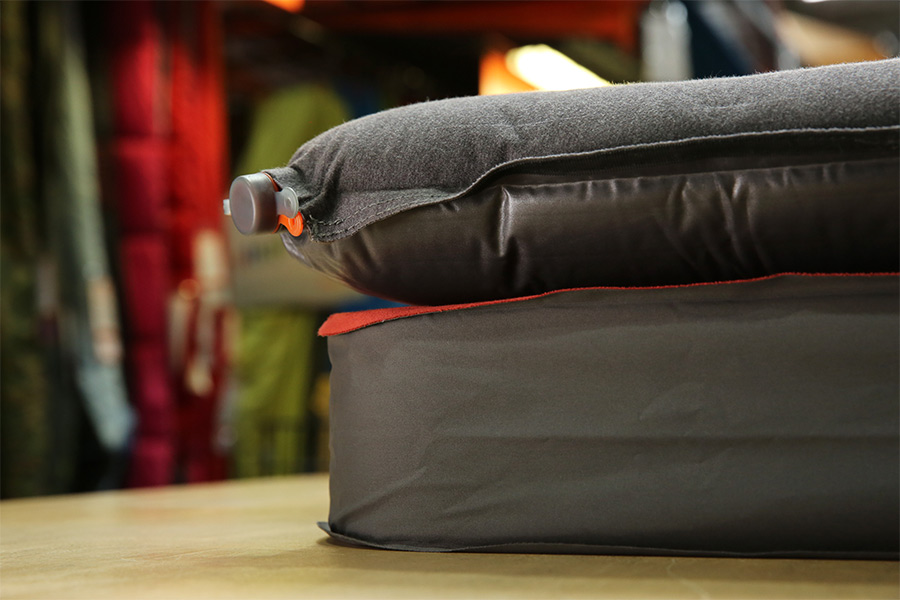 Both mats are the same thickness – so they're super comfy!
R-value and materials
The Megamat and Mega Deluxe both have an R-value of 9.5 so they offer the same amount of insulation.
The foam in the Megamat is Open Cell PU Foam, and the Mega Deluxe is Anti Fungal CFC Free Foam. Both are high-quality materials, so there isn't a huge disparity there.The upper fabric of the Exped has a 50D Tricot Nylon Top, with a 75D Polyester Base.
The Black Wolf has a polycotton top, and a non-slip base. This mat has a softer less synthetic feel and will offer a little more grip on top of a stretcher.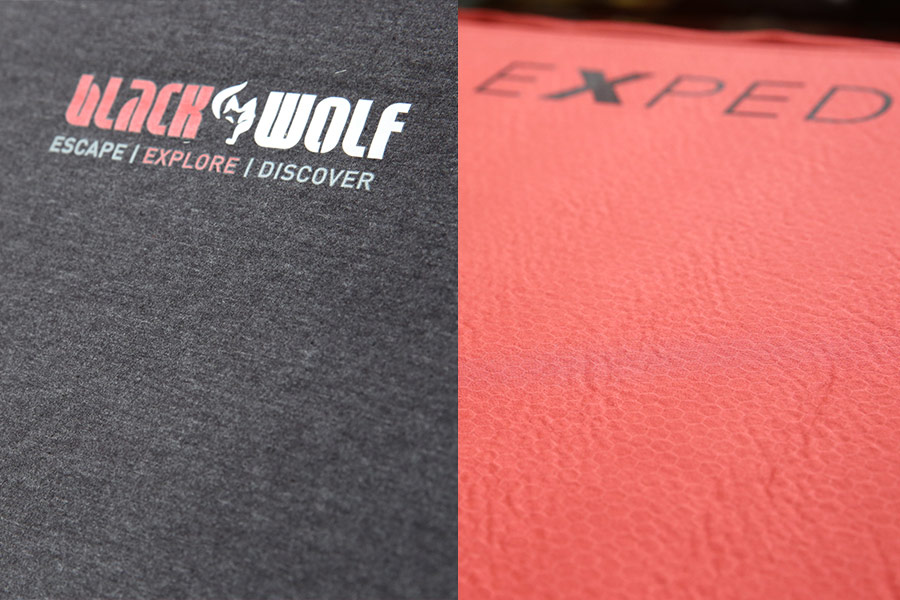 A close-up view of the upper of the Mega Deluxe and Megamat side by side.
Which has a smaller packed size?
They're both very similar in size when packed up. The Mega Deluxe Camp Mat – is 80L x 20W x 20H cm whereas the Megamat 10 LXW is 79L x 25W x 25H cm.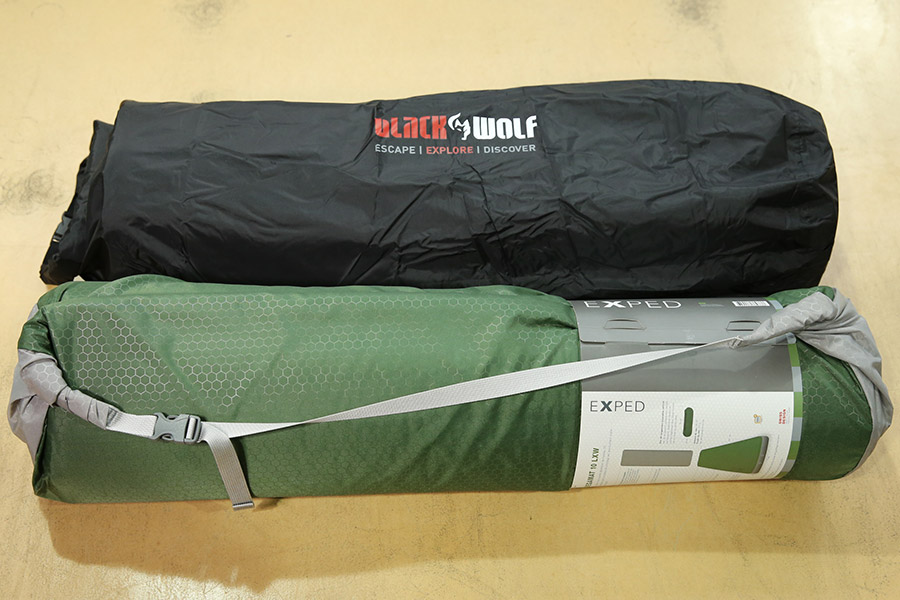 Mega Deluxe (top) and the Megamat (bottom) packed up.
Which mat is lighter?
The Exped is slightly lighter at 2.605 Kg compared to the Black Wolf at 2.9 Kg. This isn't that much of a difference, but it is something to note if weight is an issue.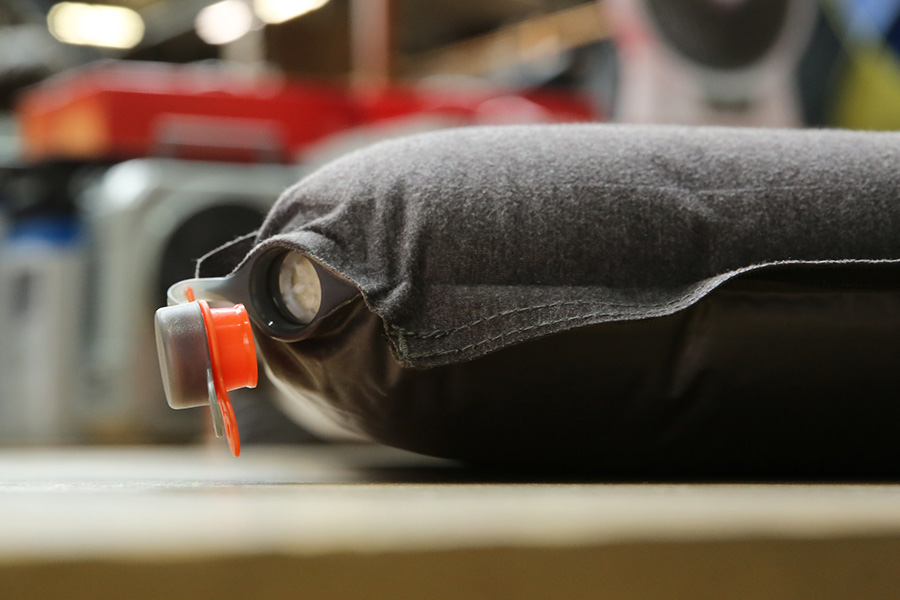 The Mega Deluxe has a one-way valve for inflating and deflating.
Which is easier to inflate?
Both are very similar in terms of inflation. You just undo the valves, let the mat take air in, pump some extra air to fully inflate it, and close off the valves.
The only slight difference with setting these mats up are the valves. The Megamat has two separate valves for inflation, deflation, and adjusting pressure. While the Mega Deluxe has a one-way valve for inflation and deflation.
A mini pump comes with the Megamat which helps you fully inflate the mat. And the stuff sack that comes with the Mega Deluxe doubles as a pump to add extra firmness.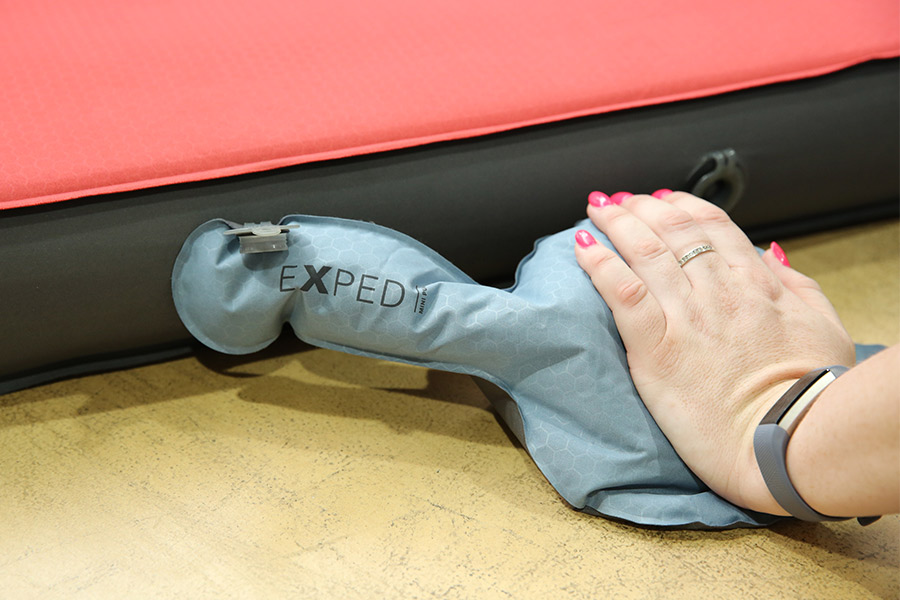 The Exped Megamat comes with a mini pump for inflation.
How do you deflate and pack each one away?
The pack up of both is largely the same. You just open the valve, push out the air, roll it up and put it back into the bag.
The only difference here is that the bag of the Megamat makes it a little easier to pack away. This is because it has a large opening, and is quite roomy. So, if you are in a rush and don't have time to fully deflate – you can get it in the bag quick smart.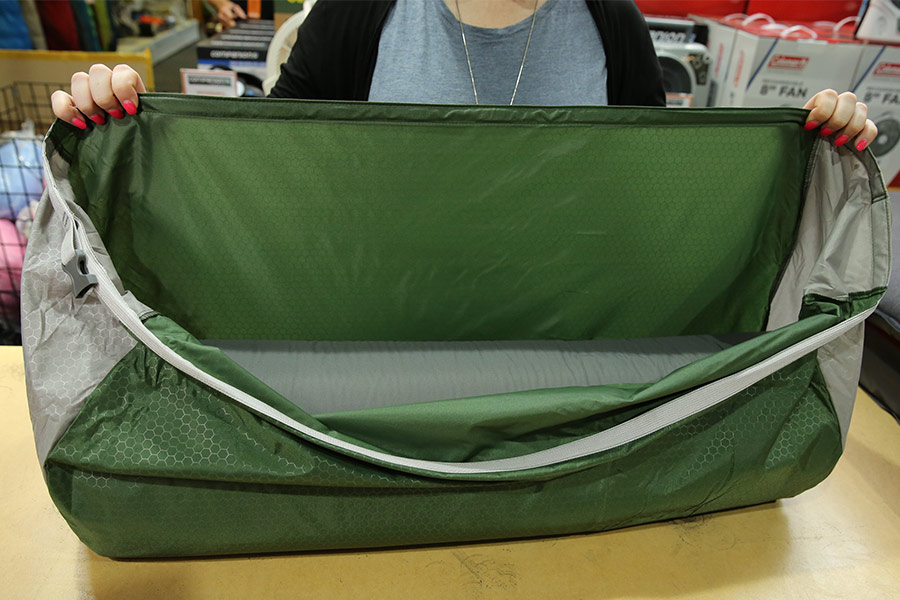 The Megamat's bag has a large opening which makes it easy to fit the mat back in the bag.
Can you join two together?
The Mega Deluxe has velcro strips on the sides for joining 2 single sized mats (the double doesn't have this feature) while the Exped Megamat requires a separate accessory called the Coupler Kit, which will loop two mats together.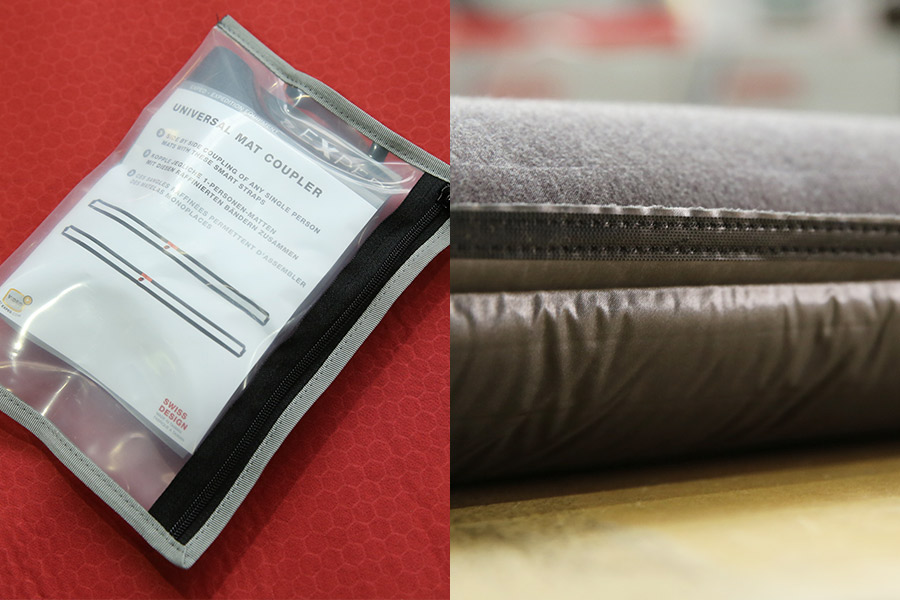 You'll need a separate accessory to join two Megamats, while the Mega Deluxe has velcro edges.
Which one is better made?
This is a bit of a tricky question, as both mats are made to a really high standard. When you compare them in person, you wouldn't be able to put one in front of the other in terms of quality.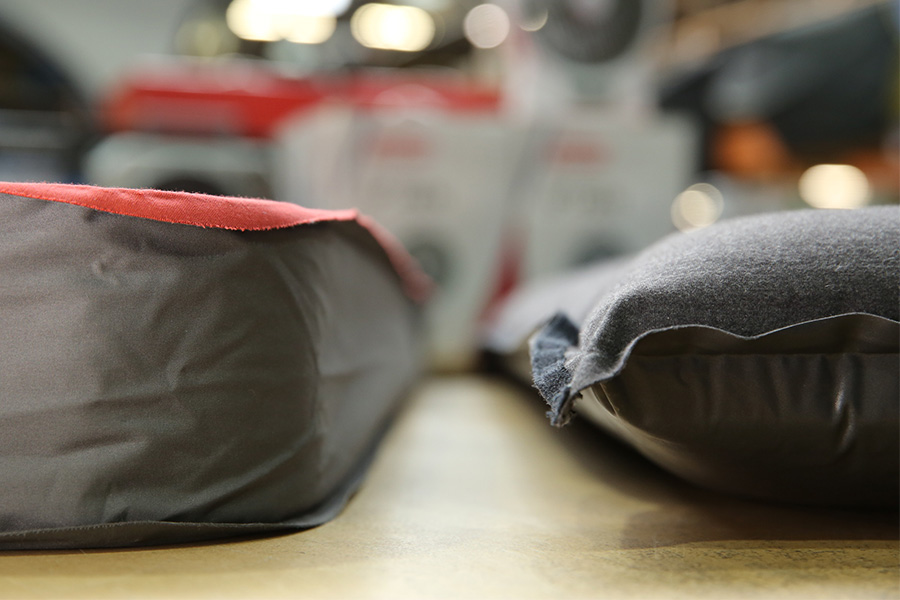 You can see how the edges of the mats are slightly different.
How are they different?
The main difference that you'll notice when sleeping on both is that the Megamat has square edges, while the edges of the Mega Deluxe are tapered. So with the Megamat, you'll find that you'll get support all the way to the edges of the mat.
This might make a difference for you when using it in a swag where space is limited. It also makes it easier to connect two together, without a dip in the middle.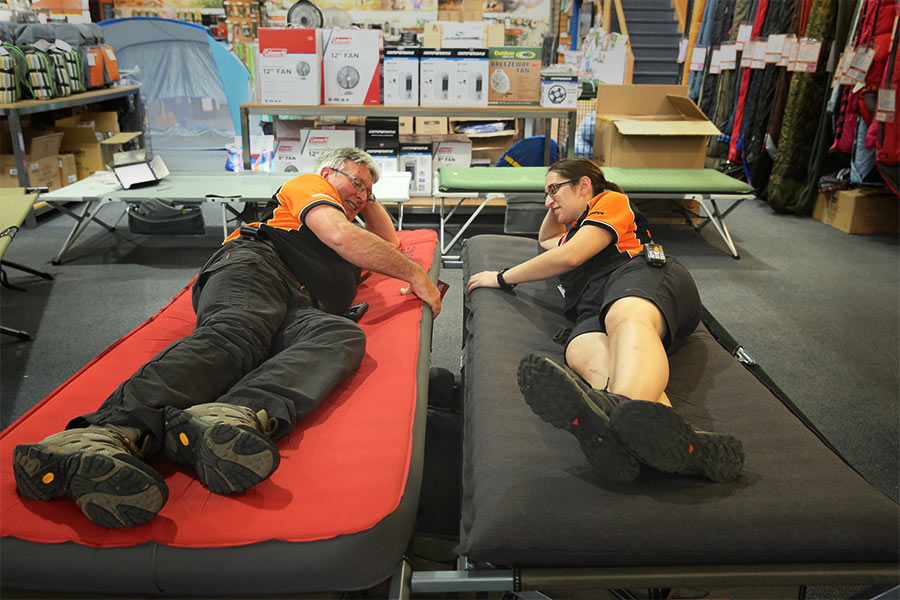 Both of these mats are comfortable, well made, and will give a great base to sleep on.
Final thoughts
As you can see, while there are heaps of similarities between the Megamat and Mega Deluxe, there are some differences that set them apart. Either way, you'll have a soundless night's sleep with one of these in your tent or swag.
So, what did you think of our camping mat showdown? If you'd like to see more comparisons from us, let us know in the comments below.