The Scrubba Wash Bag, essentially a portable washing machine in a bag, is designed for those on the go or with limited space. It can be used when traveling or camping.
At a music festival – perfect for those muddy Glastonbury goers! On a hiking or kayaking adventure. On board a cruise or out bicycle touring. Or in your hotel on a business trip, or even at home.
The idea of the Scrubba Wash Bag was conceived in 2010 when Australian patent attorney, Ash Newland, travelled to Africa to climb Mt Kilimanjaro with a mate. Realising that with all their gear, space for additional clothing was limited, he pondered the question: 'How are we going to wash our clothes?'
Ash was led back to the old-school idea of washboards and it was then that the development of the Scrubba begun.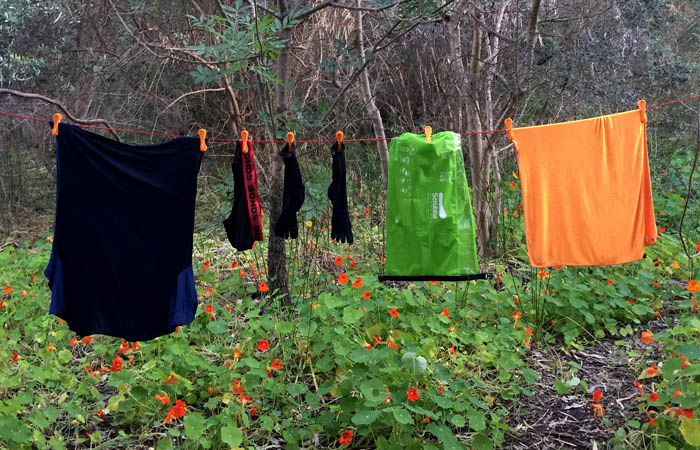 Not a bad looking spot to hang a load of washing, don't you think?
The design of the Scrubba
What makes the Scrubba Wash Bag unique is the combination of a flexible plastic washboard, by way of tiny nodules on the bottom of the bag, with a 13L dry sack.
This combination makes the Scrubba Wash Bag lightweight, practical, compact, and self-contained – you don't need a bucket or basin!
While primarily designed as a wash bag, the Scrubba also has a range of other uses, including:
Dry sack – for keeping those clean clothes and valuables dry
Makeshift pillow – inflate and you're done
Carry water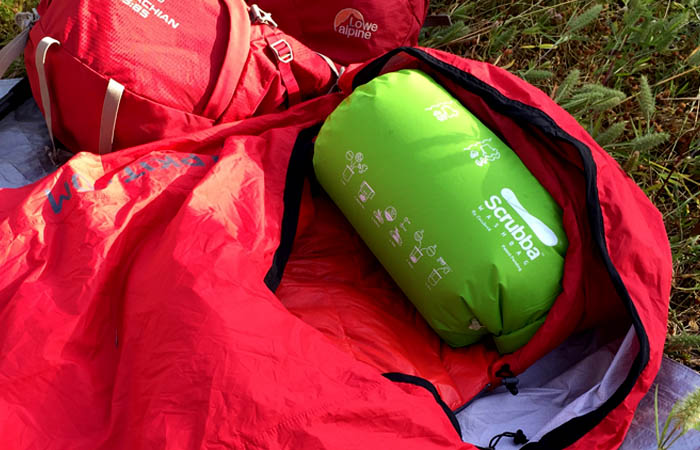 The Scrubba ain't no one trick pony! Inflate it and use it as a pillow. Why carry unnecessary weight?
How do I use a Scrubba Wash Bag?
Scrubba outlines a simple six-step process to wash your clothes – the instructions are marked on the bag itself:
Fill the bag with water, cleaning liquid, and clothes – aim to only half fill the bag.
Push out excess air and roll the opening over 4-5 times and clip shut.
Remove excess air by opening the air valve, and deflate completely.
Press down and rub clothes against the washboard for approximately 3 minutes (or 30 seconds if you want a quick wash).
Once washed, you can rinse your clothes by unclipping and unrolling the wash bag, pour out the dirty water, and refill with clean water. Repeat the previous steps without the cleaning liquid. Rinse and repeat, so to speak!
Once washed and rinsed, open the bag, and remove your clothes to dry. Ring them out first to help speed up the drying process. You can speed it up further by rolling up your clothes in a travel towel, then hanging them on a travel clothesline or tree branch.
Scrubba have put together a cool little video showing you how it's done:
My Review
The Scrubba Wash Bag is a really practical piece of gear. We all wear clothes and keeping them clean can have a positive impact on our enjoyment of travel and adventuring.
The washing process with the Scrubba takes a bit of practice, but you'll soon work out how to get the best out of it. Things to consider are how much water to use; where to source it; what type of soap to use; the optimal time to dry your clothes; and so on. Bit of practice will make you pro-Scrubba in no time.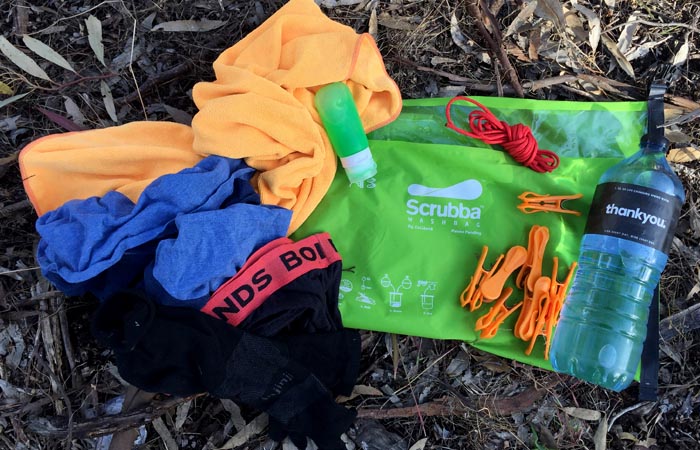 Dirty clothing – check. Detergent – check. Water – check. Hegs (that's right, not your regular pegs!) – check. Clothesline – check. Scrubba Wash Bag – you betcha!
How much can you fit in this bag?
The Scrubba Wash Bag isn't capable of cleaning a huge number of clothes in one load. Scrubba recommends you fill it with no more than 2 days' worth of summer clothing (2x tees, 2x undies, 2x socks) for an effective wash.
If you have a bigger load or bulkier clothing it may take a few loads. Kneading your clothes against the washboard nodules is strangely relaxing, so take your time.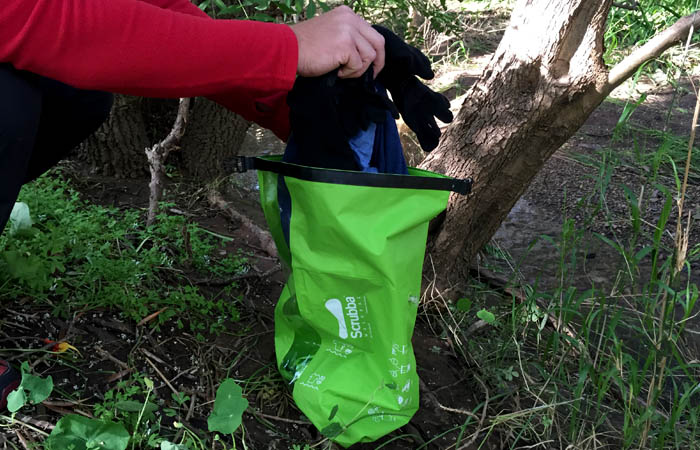 Step 1 – Load 'er up!
What detergent works best?
Scrubba tells us that a variety of detergents have been tested in the bag with success. However, they suggest using liquid over powder detergents. I agree. Solid detergents (powders, leaves, etc) are not as efficient, as they take much longer to dissolve and to 'suds up'.
Liquid detergents activate suds almost immediately, reducing the overall time required for a wash. A detergent like Sea to Summit Wilderness Wash is ideal as it's super concentrated – a little bit goes a long way – and it can be used to wash your dishes and yourself too. One product, three uses.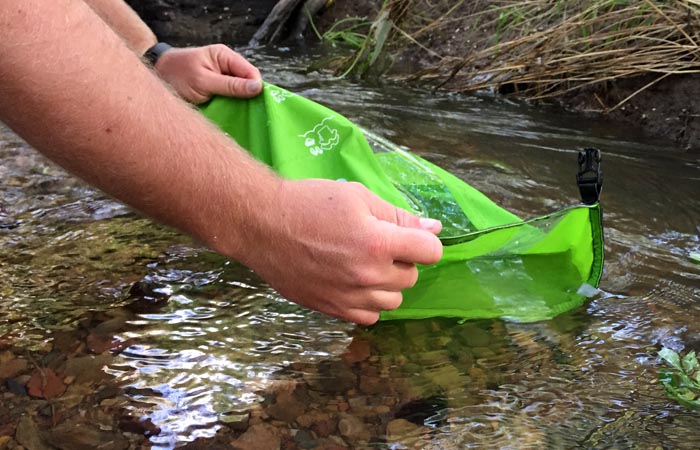 Step 2 – Fill with water.
Is it a worthy addition to your pack?
Many hikers would see this as an unnecessary addition to their pack, but I disagree. Especially when on a multi-day hike, as a clean set of clothes can positively change the whole experience – nobody likes to reek, right?
As mentioned above, the Scrubba Wash Bag can be used for a variety of purposes – most notably, as a dry sack to organise and keep your gear dry in your pack.
Most hikers carry a dry bag or two anyway, so the only real addition is a small bottle of biodegradable washing liquid (or dishwashing detergent).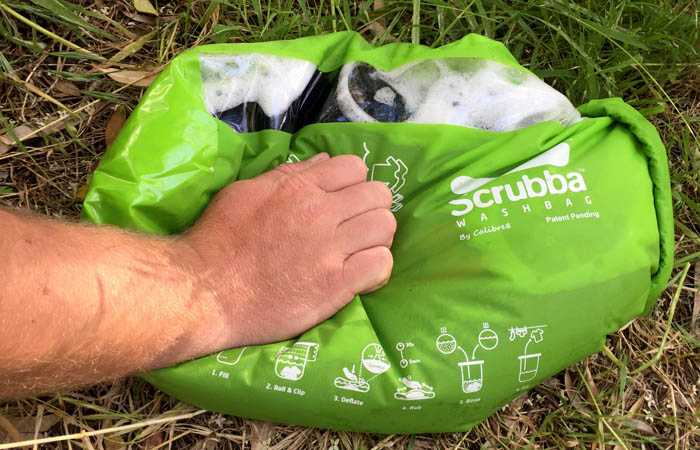 Step 3 – Wash them stinky clothes.
How to care for and maintain the Scrubba Wash Bag
The Scrubba Wash Bag can be a little delicate when not cared for and maintained. Ensure you read all the instructions, especially about managing what kind of items you place inside the bag, and the surfaces that you wash on top of. Here's a few tips:
Ensure you rinse and air dry the Scrubba Wash Bag inside out after use to ensure it remains hygienic.
Take care when washing with zips, buckles, or other hard clothing features to prevent damage to the bag.
Attempt to avoid sharp or abrasive surfaces. The Scrubba Wash Bag is a durable product but isn't much use if it has a hole in it.
Where I take my Scrubba
I take my Scrubba with me practically everywhere. It comes with me up to the Ikara-Flinders Ranges where I regularly work and hike, it was invaluable on trips to New Zealand and Cambodia, and even if I don't need to do a load of washing, I have a dry bag to keep things dry and organised in my rucksack.
The best outdoor gear is gear that has more than one purpose. The Scrubba is way more than just a portable washing machine!
Scrubba Wash Bag & Dry Kit is also available. Includes Wash Bag, travel towel, inflatable coat hangers, travel clothesline and packing cell.
How do you clean your clothes on extended camping, hiking, and overseas trips?
About the writer...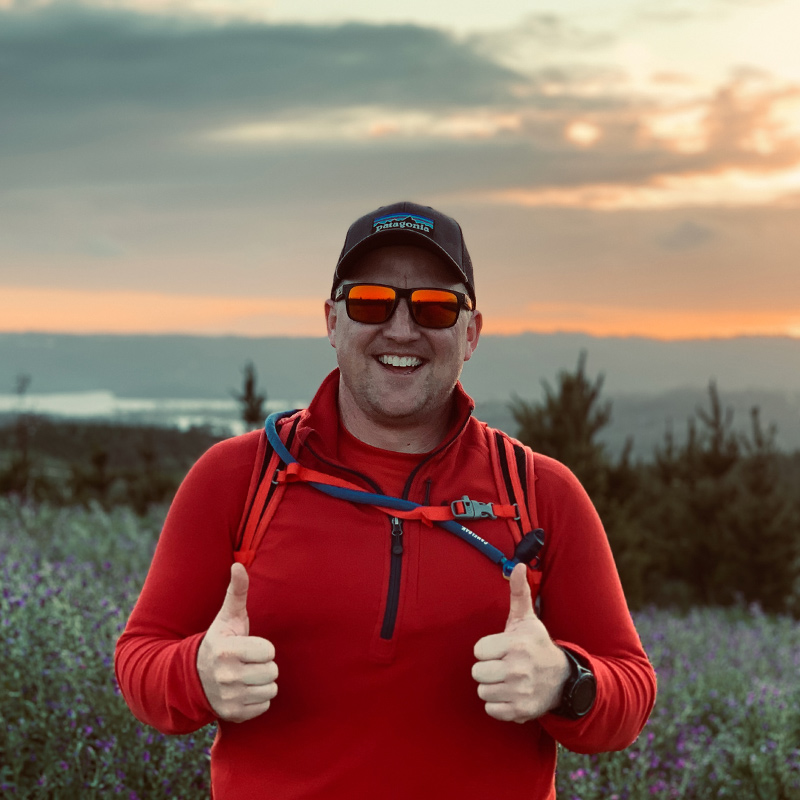 Once a valued member of the Snowys' crew, Ben is now the Experiential Learning Manager at Youth Inc. In this role, he gets to live out his passion – bringing young people together for adventure-based learning experiences to help them build a life that is purposeful for them.
The outdoors has always been Ben's second home and his adventures have taken him to almost every continent in the world. He's hiked in the United States, mountain biked in Cambodia, 4WD through South Africa, kayaked in Laos, skydived at Uluru, white water rafted in New Zealand and much more.
While many say Ben has a poorly developed sense of fear and no idea of the odds against him, he puts his adventures down to the planning and preparation of the gear that he's bought from Snowys.
Find out more on Ben's website or follow his escapades on Instagram.
Joined back in November, 2016