Another year gone, another year of tent sales analyzed.
In this article, we have summarized our most popular family tents of 2013.
These models are also favoured by Snowys staff on account of their quality, durability, and usability.
Don't let your camping getaway be dominated by equipment repairs or poor performing products. Purchase confidently knowing that the tents listed here have been field tested and approved by hundreds of happy Snowys customers.
Let's start with number 6 and work our way back to the best seller.
Oztrail Tourer 9
Sometimes our customers are seeking simplistic durability, and that is where the Oztrail Tourer 9 comes into play. The Tourer 9 is a single room tent made from 340gsm canvas. It also offers incredible durability and reliable weather protection for 4 people. The tent has a simple one pole setup, is well ventilated with 2 doors, and has two awning poles. An optional kit is also available to remove the centre pole and create more internal space.
Coleman Lakeside 4 Extended
Also featuring in 2012's Best Tents, the Coleman Lakeside 4 Extended offers exceptional value and is perfect for weekend getaways and entry-level campers. Sleeping space for four, a floored front vestibule and an extendable rear awning (with optional poles) creates versatility at an affordable price. Unfortunately, we can't get hold of these anymore.  Zempire have a range that offers similar functionality, check out their Neo range here.
Turbo Lite Plus 240

It would be unusual if a Black Wolf Turbo Tent did not feature in our top sellers. These tents continue to exceed customer expectations in the Touring Tent category. Amongst the range, the Turbo Lite Plus 240 was the most popular model, closely followed by the Turbo Lite FS 240, and then the canvas Turbo 240.
These tents have built a strong reputation based on quality and ease of use. Not to mention the accessories that enable you to extend the living space of your tent.
On top of that, they're backed by a lifetime warranty.
Oztent RV5
The other lead contender in the heavyweight touring tent category, the Oztent RV5 was our top seller in the Oztent range, followed by the RV4 and RV3. Which of these best suits you depends on the size of your family.
Lightning fast set up, heavy duty materials and an extensive range of add-on options make these a long term, versatile investment.
Coleman Instant Up 4P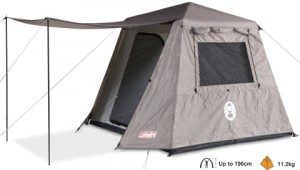 Coleman Instant Up tents are a lightweight, compact alternative to their heavier touring counterparts. Also available in six person, the Coleman Instant Up 4 sleeps four and was a very successful model for us in 2013. Near vertical walls provide ample interior space, windows all round for ventilation, and the front flap converts to an awning with included poles.
Lightweight, easy to pitch, affordable, and a small pack size make the Coleman Instant Up 4 a popular family camping or lightweight touring tent.
Chalet 9CV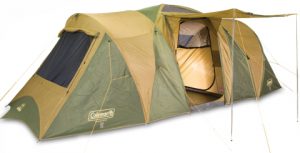 Once again appearing as our top selling tent, the Coleman Chalet 9CV is part of Coleman's 'Gold Series', which means no corners have been cut when it comes to quality. Durawrap poles, heavy duty fabrics and Coleman's Weather Tec System means you get a durable and weatherproof tent backed by a 3-year warranty.
WIth two doors, 3 rooms, windows all round, roof vents, organizer pockets, power cord inlets, an and extendable awning. If that's not enough, you can opt for the Chalet 9XL CV and add on an enclosed side awning for the ultimate in family dome tents.
Now for a wild card!
Although relatively new to the range, this tent is well built and extremely versatile. We won't be surprised if it appears at the top of the list for the best tents of 2014.
Outdoor Connection Bedarra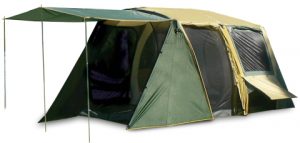 You can feel the durability of the fabrics in this tent. A spacious two room dome with nearly vertical walls that offer extensive setup options and unimpeded living space, makes the Outdoor Connection Bedarra a strong contender in the family tent category. Multiple doors and extendable awnings, coupled with numerous ventilation panels creates a comfortable living space in any climate.
So there you have it, Snowys best family camping tents of 2013. For further help and advice on these tents and many more, check out the tent range on our website, contact us at Snowys, or browse the extensive tent articles on our blog – Happy camping!
About the writer...
Joined back in March, 2013