Family camping is supposed to be fun and relaxing, setting up your campsite should be no exception. It goes without saying that a tent that offers livability, comfort and ease-of-use is imperative to the whole family.
So, once again we've collated a list of our best-selling tents over the last year to help you decide which tent is going to help make your 2020 family camping adventures fun and relaxing.
There's a mix of newcomers and reliable favourites in the list this year, so let's get into it, starting at number 10…
10. OZtrail Bungalow 9– for warm weather camping
The Bungalow 9 is still one of our top 10 family tents from last year. Featuring 3-rooms with near-vertical walls and a breezy mesh interior, the OZtrail Bungalow 9 is ideal for hot tropical climates.
Four entrances with doorways, that can also serve as entry awnings, team up with four more windows on the flysheet for ample ventilation.
It's compact when packed away, making it ideal for small vehicles and comes with an affordable price tag.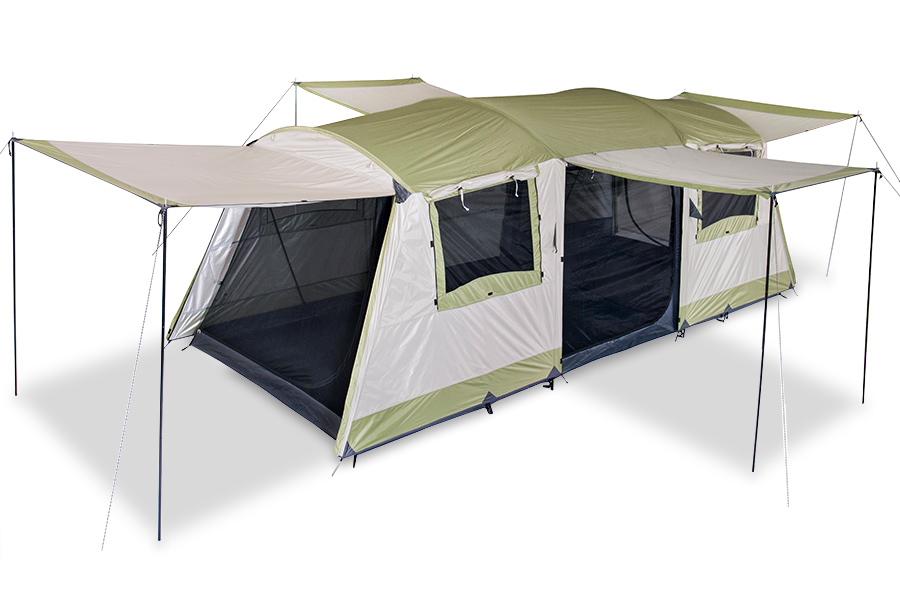 For warm conditions, the Bungalow 9 is ideal. Image: OZtrail
9. Outdoor Connection Resort Tents – versatile family tents
The Outdoor Connection Resort Tent range is comprised of the Brampton, Bedarra, and Weekender tents, which have all been mainstays in our range for years. This is most likely on account of the durable fabrics and high-quality construction Outdoor Connection is known for.
The Bedarra is a 2-room dome design so there's one for living and one for sleeping in, making it great for families. The Brampton, on the other hand, features three rooms with sewn-in dividers and versatile doorways that can turn into awnings around the tent. This makes it a true all-rounder for any, or, every climate. Slightly smaller than the others is the Weekender – which is a single room tent that is perfect for a smaller family on shorter trips.
This range is designed for those who are looking for quality construction with some extra bells and whistles.
The Brampton is part of Outdoor Connection's resort range. Image: Outdoor Connection
8. Coleman Chalet 9CV Family Dome Tent – a trusted choice
This tent is an excellent choice for any camping family. It's a 3-room traditional dome-style tent made with tried and tested fabrics and reliable poles making the Coleman Chalet 9 one of the best value tents in our range.
Loads of ventilation teamed up with good stability and just the right amount of livability to make it a go-to choice for any family wanting a reliable and affordable shelter for their weekend getaways.
The interior features zippered room dividers and lots of storage pockets, all accessed by one of two doorways that can be set up as entry awnings in fine weather. It all packs away into a wheeled carry bag at a size that is friendly to families with medium-sized vehicles.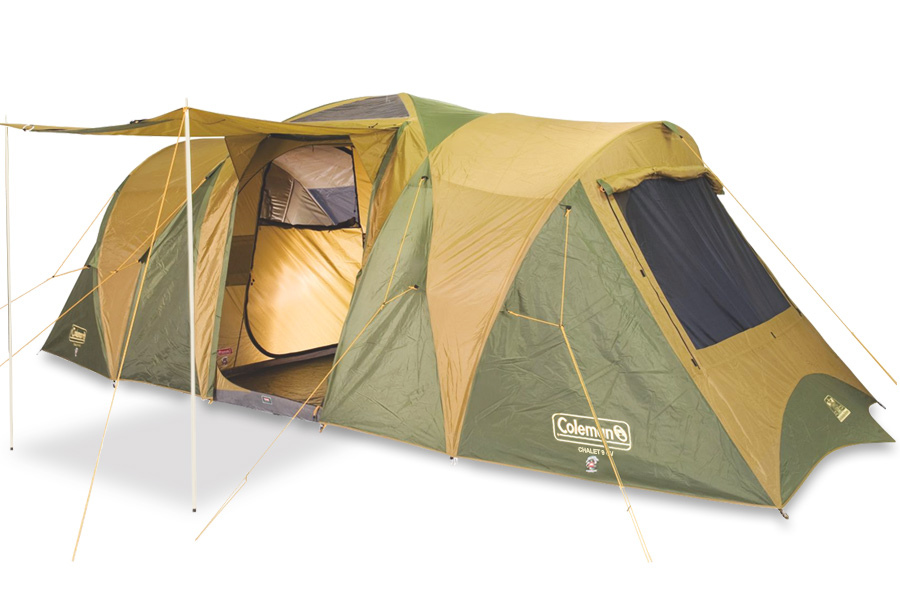 The Chalet 9CV is perfect for traditionalists who want lots of space. Image: Coleman Australia
7. OZtrail Family Dome Series – an affordable choice for new campers
A new addition to the cream of the crop, is the range of Family Dome Tents from OZtrail. These come in a 4P, 4 Plus, 6P, 10P and 12P versions, offering an option that caters to families of all sizes.
The all-season inner has both no-see-um mesh and solid options so you can seal it up on cooler days and unzip it on warmer nights to get some fresh air circulating. These tents also features plenty of head height for livability, and you can set up the awning at the front for extra undercover shelter.
It's also easy on the wallet, which makes it a great option for budget-conscious families.
The Family 4 Plus Dome Tent can easily be adjusted according to the weather. Image: OZtrail
6. Oztent RX Series Tents – all-in-one solution for camping and touring
The RX tents are based on the popular RV tents from Oztent only they are constructed with a new flame retardant, UV resistant and waterproof Modcan fabric, and comes complete with accessories.
Available in two sizes – the RX-4 and RX-5 – they're a versatile all-in-one solution with a front awning that can be converted to a second weatherproof room complete with a floor. Oztent also added a sunroof in the main section of the tent and included a flysheet to complete the package.
You will need a roof rack or trailer for transport, as these tents weigh in at over 30kg and have a 2-metre packed length, but they are the perfect balance for those combining family camping with outback touring.
The new RX tents are a great choice for tourers. Image: Oztent
5. Oztent Oxley Tents – lighter and more manageable
A new entry for our list this year is the Oxley range of touring tents from Oztent. Offering spacious, quick-to-pitch frames, and made with high-quality fabrics and components – the Oxley Fast Frame Tents from Oztent are a robust range for family camping. There are four versions of this tent – the Oxley 5 Canvas, Oxley 5 Lite, Oxley 7 Canvas and Oxley 7 Lite.
The Lite synthetic versions provide a bit more manageability for those who want a lighter setup, while the canvas models give you that extra durability but with a slightly heavier package.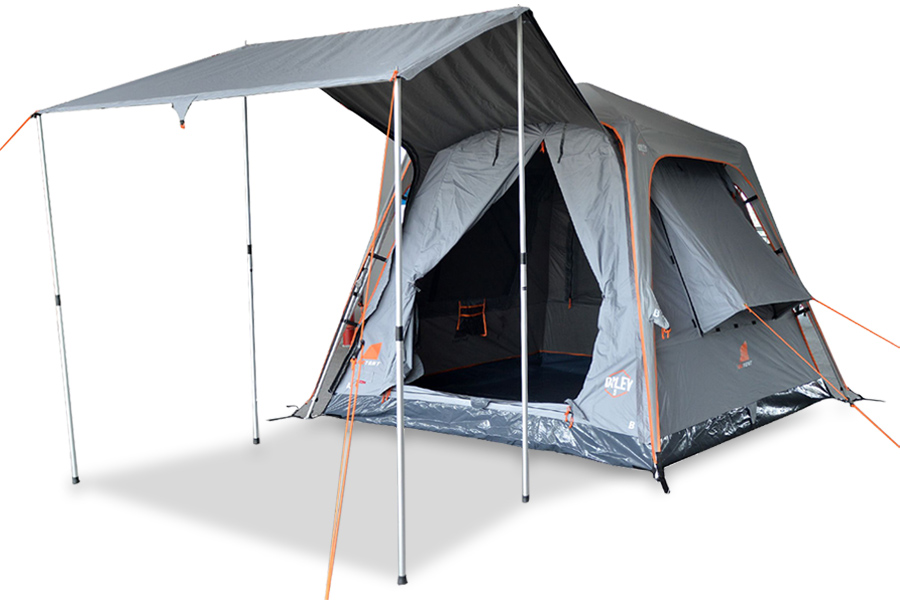 The Oxley is a lighter canvas touring tent. Image: Oztent
4. EPE Bellbird Glamping Tent – luxurious camping comfort
Easy to pitch, with a reasonable packed size, and plenty of interior space inside for lounging around, the Bellbird Glamping Tent from Explore Planet Earth has become a firm favourite for those who want to camp in style.
This tent comes in just one size and is accessed through the single gable shaped entrance into a single room. It's comprised of a 300D roof, 150D side walls, a 2000mm waterhead rating and a heavy-duty PE floor to protect you from the elements as well.
Whether you're at home in your backyard or at the campsite, this tent offers luxurious camping comfort for families or groups.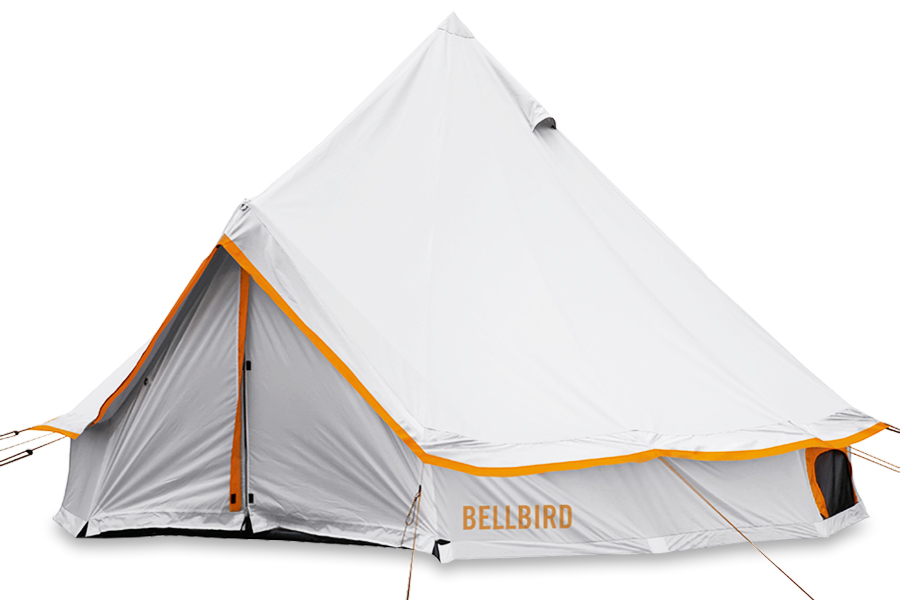 The Bellbird offers something different at the campsite. Image: Explore Planet Earth
3. Black Wolf Touring Tent – quick pitch & livable
The sheer number of models in the Black Wolf Turbo Tent range, over a dozen in total, is in part what contributes to them consistently being in our top 10 selling tent list.
The real reason they are popular though is that they are tough, easy to put up, and very livable. They come in both canvas and synthetic versions and in multiple configurations to suit any size family or camping style.
The Turbo Tents can also be equipped with a range of optional accessories that allow you to add to the front awning. These include multiple wall options and a fully enclosed screen room. So, you can completely enclose the awning of your Turbo for maximum weather protection if you wish.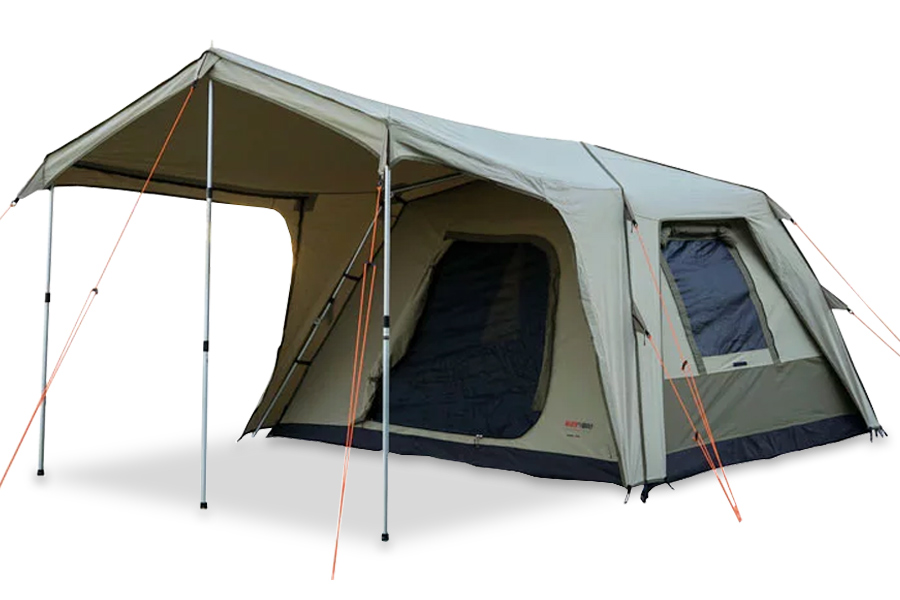 Easy to pitch and adaptable – the Turbos are a consistent best seller. Image: Black Wolf
2. Oztent RV Tents– shelter in 30 seconds
Another reliable favourite series of tents that are consistently one of our best sellers are the Oztent RV tents. The RV tent range is synonymous with outback touring but equally as popular for family camping and weekend getaways.
The RV tents also have a range of optional accessories that enable you to add, join, enclose, protect and enhance your setup to suit your style. What's even better is that they are super simple to set up. Made with 8Oz polycotton canvas and featuring a durable aluminium frame, the Oztent RV tents will keep you dry in the worst of weather while integrated vents and windows help you stay cool in the heat.
The only downside to the Oztent series of RV tents are their packed size. At around 2 metres in length and 25kg in weight, you'll need a roof rack or trailer for transport. But, if you can manage this then you'll have a tent for life.
Oztent RV tents are reliable, rugged and ready for outback touring. Image: Oztent 
1. Instant Up Tents Quick Pitch Family Tents – our best sellers
Our best-selling tents… again for the third year in a row! The Coleman Instant Up range consists of 10 models which cater to camping families of all sizes and to every budget. Their quick pitch frame makes setting up your camp an absolute breeze.
The Silver Series does offer affordable functionality, but those looking for a little more will benefit from the Gold series with its upgraded fabrics, increased ventilation and awning options. If you like a sleep-in there's the Northstar Lighted Darkroom Gold Series. These tents feature a light-blocking coating on the inside to keep it dark, flexible LED strip lighting for illumination and an extended front vestibule for weather-protected storage.
If impromptu weekend getaways are your thing, then you'll appreciate their quick setup. In just under a few minutes, you can have the main part of the tent set up and then all you need to do is whack a few pegs in the ground and start relaxing.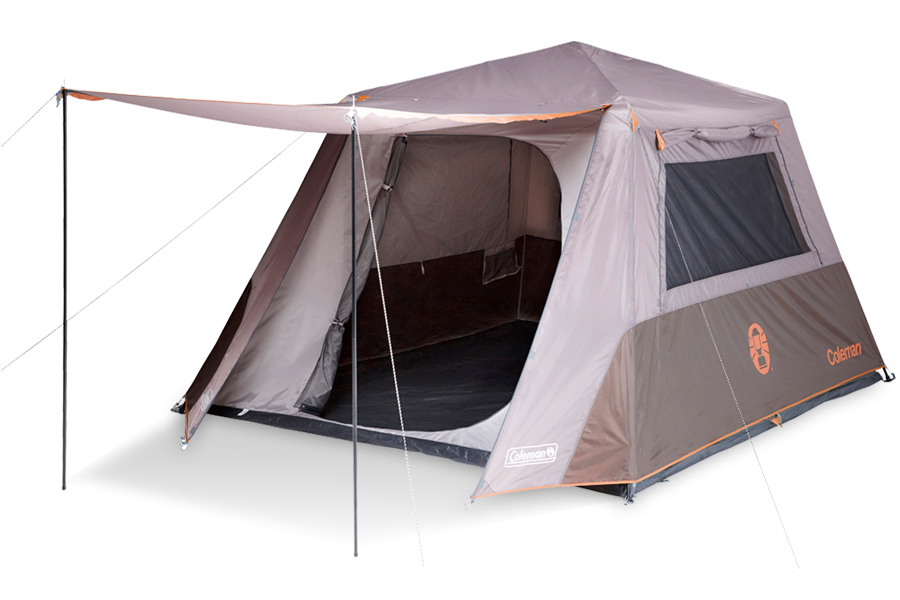 Three years in a row – the Instant Up range has topped the list once again! Image: Coleman Australia
Next year's prediction? The Malamoo Teepee
Last year we predicted that the Malamoo Cicara range of tents would be back in the game, and whilst we didn't hit the mark there, Oztent do have a new range of Malamoo tents called the Malamoo Teepee range.
These tents are a practical and fun option that are perfect for setting up in the backyard for the kids, quick trips away, or festivals with their classic yet modern teepee shape. They come in 9 person and 6 person sized versions, with the 6 featuring a centre pole design and the 9 with poles that run down the sides of the tent.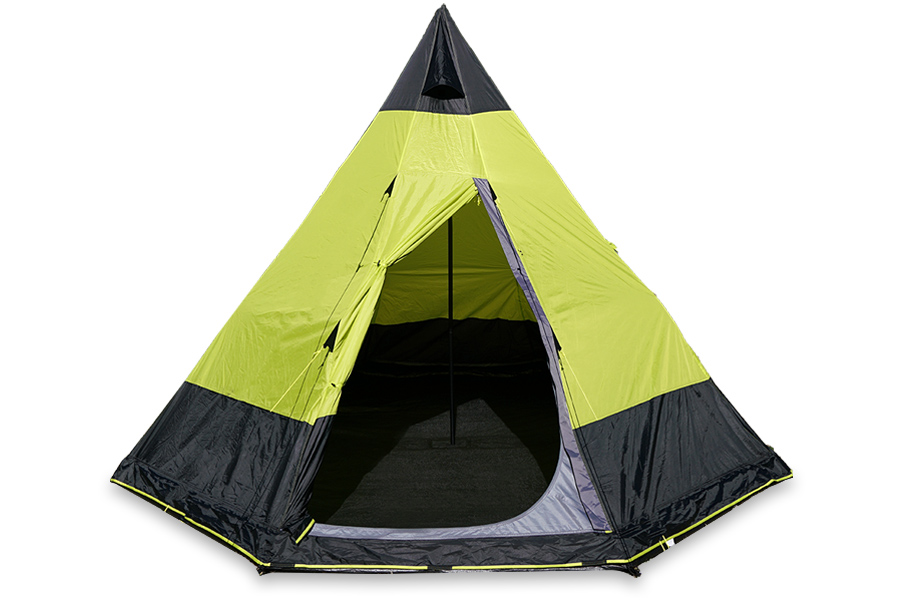 The Teepee 6 will liven up any campsite. Image: Oztent
They're made from UP50+ protected 190T polyester with a 1500mm waterhead rating to keep you dry, with a 120g PE floor to protect you from the ground up and large windows and door with superfine mesh fly screen for airflow and bug protection.
So, my guess is that the Malamoo Teepee will be a player in the top 10 family tents we sell here at Snowys next year.
Are you thinking about upgrading your family tent for this year's adventures? 
About the writer...
Joined back in March, 2013