We've added another category to our 'best-of' articles for 2019 and scrutinised what tents our customers buy for their outback and 4WD touring adventures.
Touring tents need to be easy to set up and durable so we've put three stipulations on the tents that made it to this list:
They had to be freestanding, standalone tents.
They had to be made of canvas or a tough synthetic to withstand the rigours of the outback.
They needed to feature in part, a quick pitch design to make set-up and pack down a breeze.
Many of these tents are also used for general camping, but if you need something to cater for both a weekend away and an extended outback jaunt, one of the below tents may be a worthwhile purchase.
Let's work backwards from number 10!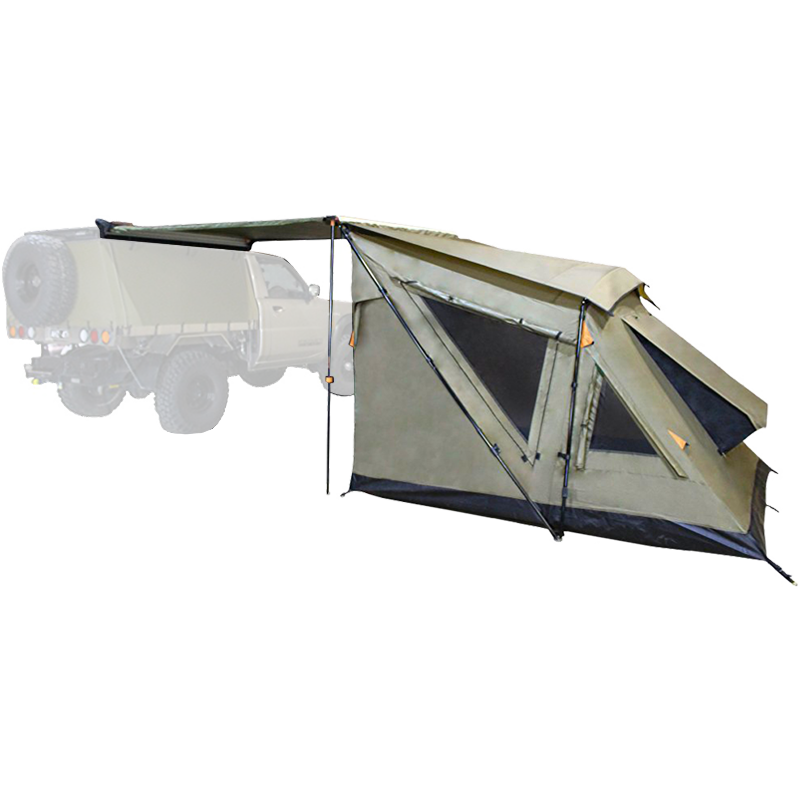 10. Darche Xtender Awning Tent
I reckon this is the most underrated touring tent in our range. It has a freestanding design and can be attached to a standard 4WD awning with the included connector. What's more, it comes with its own detachable awning and features removable flysheet.
What really sets the Xtender tent apart is that it weighs under 20kg and measure less than 1 metre long when packed. This makes it compact enough for just about any vehicle.
Perfect for weight conscious 4WD tourers.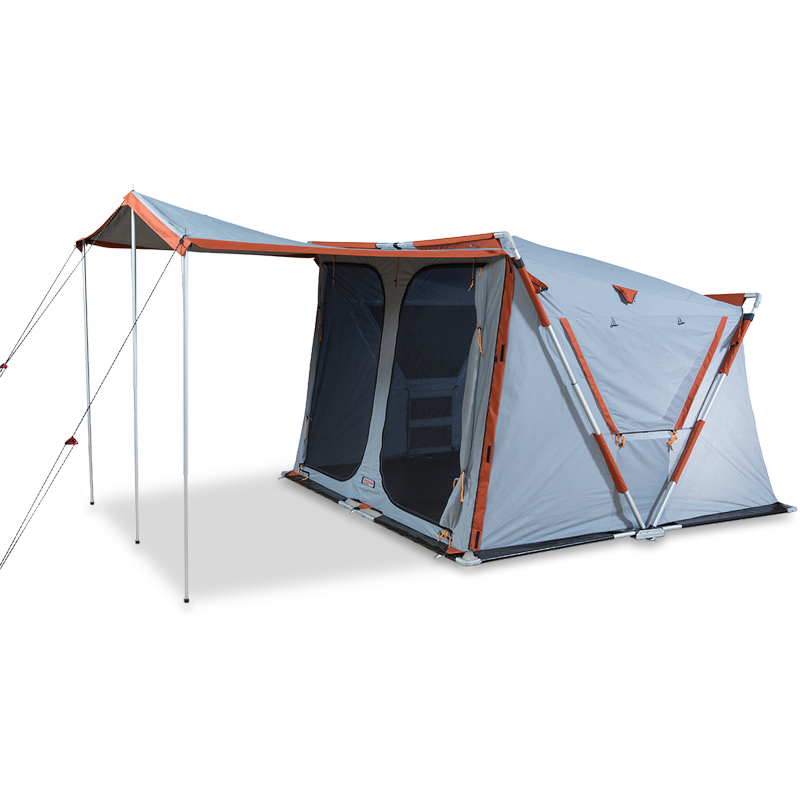 9. Explore Planet Earth Speedy Earth Tents
These tents have been on the market for a little while now and offer a different take on canvas touring tent. It has an external frame that packs away to a shorter length than many of its competitors and is available in two sizes – the Speedy Earth 4 and Speedy Earth 6.
The Speedy Earth Tent offers fantastic livability with loads of internal space, gusseted windows, two big entry doors and plenty of internal storage. On top of that, it features a large 3-pole awning that can be fitted with optional side and front walls to extend your living area.
Ideal if you want livability and durability in a canvas touring tent.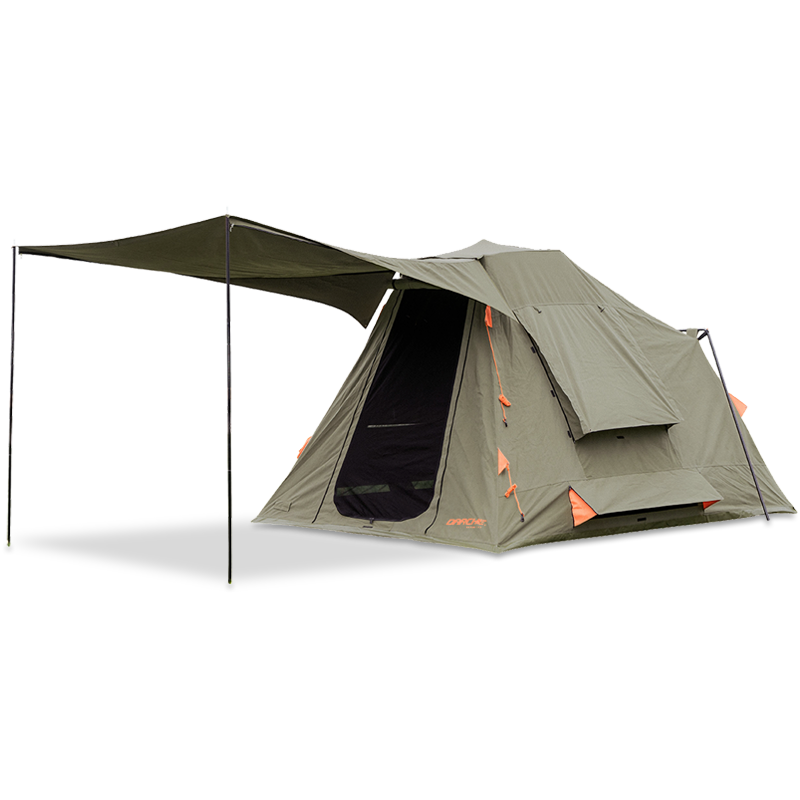 8. Darche Safari Single Pole Tents
The Darche Safari tent is available in two sizes – the 260 and 350 and can be best described as simplistic and durable with a few bells and whistles.
The Safari is a single skin tent with a basic pole structure with a zip on front awning. Optional side walls are also available to extend the sheltered space in and around your tent.
Perfect for tourers seeking simplicity but with some set-up options.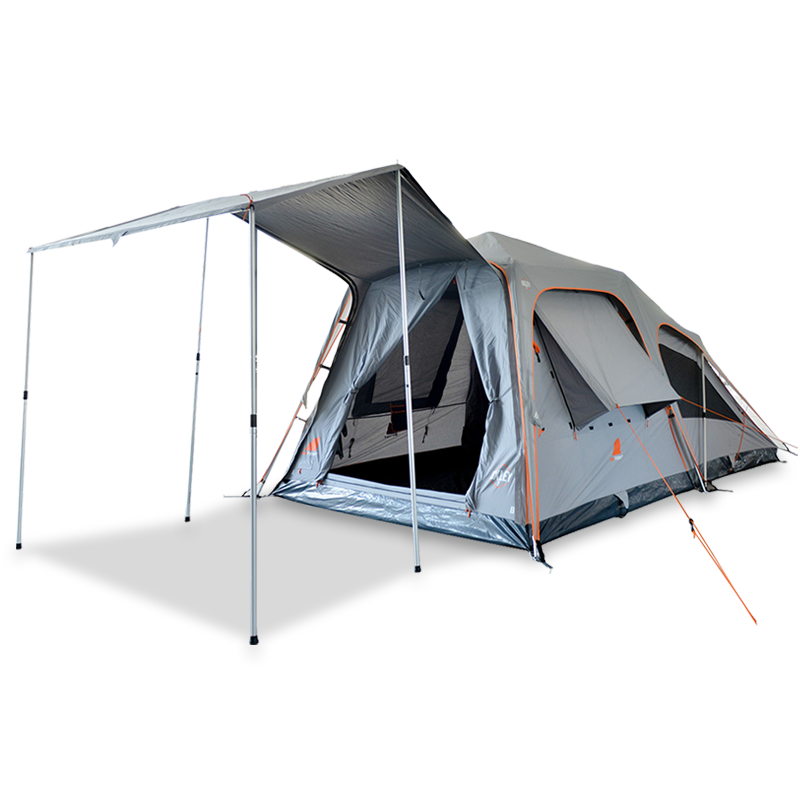 7. Oztent Oxley Fast Frame Tents
The Oxley tents feature an integrated corrosion resistant aluminium frame that makes set up and pack down really easy. There are two things that really set Oxley apart from it's closest competitors. The first is that the awning is attached to the inner tent so you don't need to set up the fly for shelter at the front of your tent, and second is the heavy duty PVC tub floor.
The Oxley is available in two sizes the Oxley 5 and Oxley 7 and is made from 8Oz canvas. You can fit it with an optional complete panel system to enclose the front awning and the Oxley 7 even comes complete with a media pocket so you can glamp things up a little.
Ideal for Oztent lovers that want a shorter packed length than that of their RV range.
6. Black Wolf Turbo 240 X-Lite XF Lightweight Touring Tent
The 240X-Lite LF scrapes in at the lightweight end of the touring tents in this list but based on customer feedback we reckon it still has the durability to see you through many kilometres of outback touring.
Set up is pretty much the same as regular Black Wolf Turbo tents. It has a smaller vestibule that still provides standing space, and the roof poles are made from a flexible composite material which reduces the weight and packed size.
Ideal for weight conscious individuals or couples on outback adventures.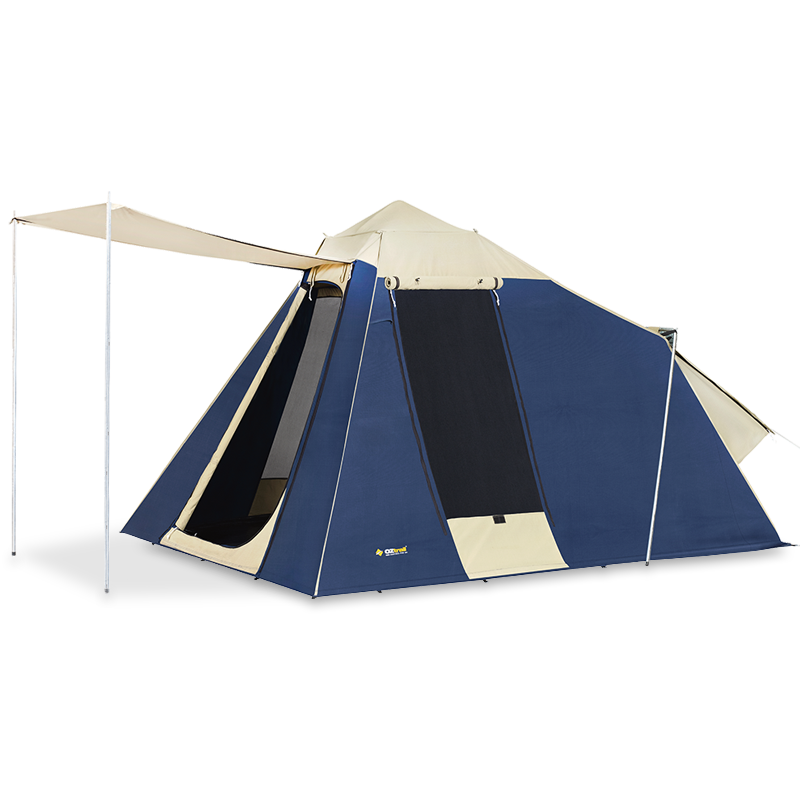 5. OZtrail Tourer 9 Durable Canvas Tents
The Tourer 9 Tent is one of the toughest and most durable in its class. OZtrail have manufactured the Tourer 9 and its bigger sibling, the Tourer 9 Plus for years and it's remained relatively unchanged.
This tent consists of a single pole, or optional side pole kit, canvas upper and 195gsm PE floor. The Tourer 9 is one tent that lives by the K.I.S.S. (Keep It Simple Stupid) principle with minimal parts and features that can fail in the field.
Ideal for touring singles or couples seeking simplicity in their setup.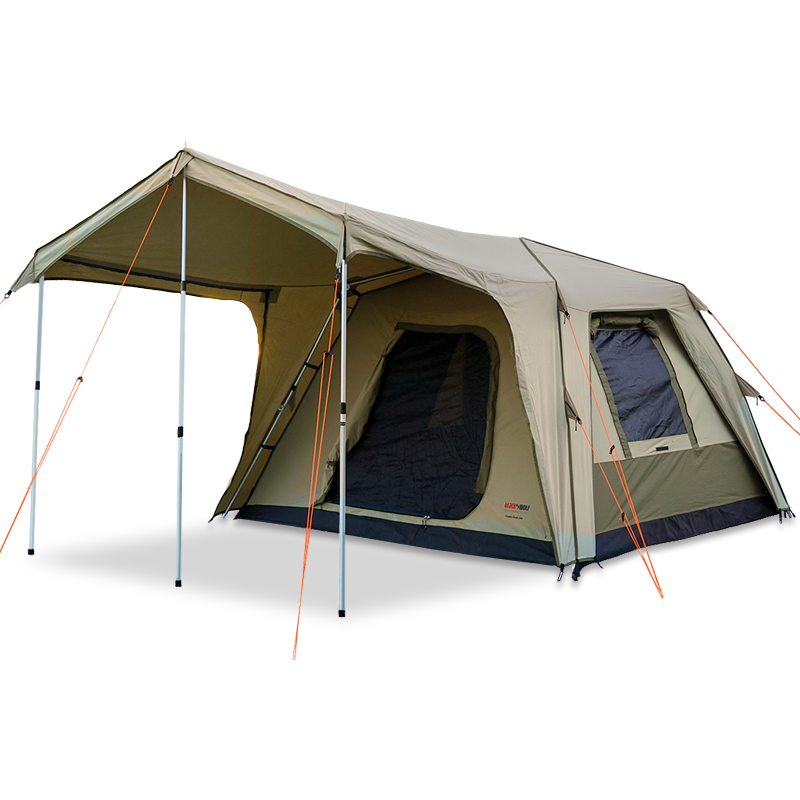 4. Black Wolf Canvas Series Turbo Tents
There are two series in the Black Wolf Turbo tent range and they're differentiated by the fabric they're made of. The canvas series comes in at number four, a couple of spots below its lightweight cousin. Most likely on account of the extra weight and higher price.
A canvas Turbo tent offers excellent durability. If you can afford the extra dollars and grams, you'll have a quick pitch and livable touring tent for years to come. There's also a host of add-on accessories for the Turbo Tents so you can customise your set-up.
Ideal for campers wanting to balance durability and livability with simplicity in set up.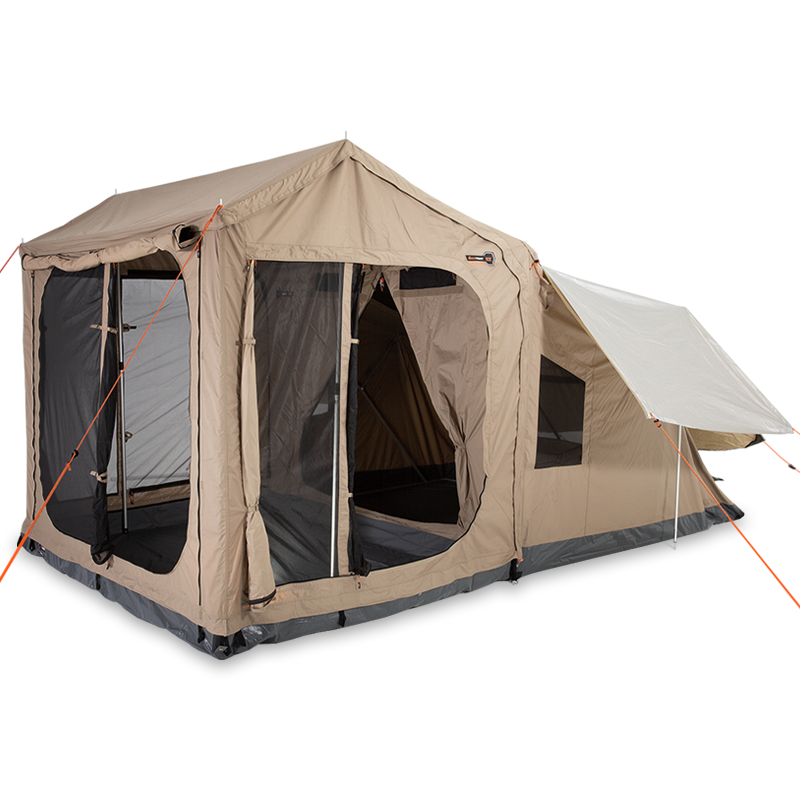 3. Oztent RX Series Tent with Front Room
These tents were new in 2018 and have very quickly gained popularity. Available in two sizes the RX-4 and RX-5 they are an all-in-one touring tent that offers a protected sleeping area to the rear and a weatherproof room with removable walls and floor under the awning.
The front wall and floor can be left off in fine weather leaving just the awning for shade. Or when attached creates a protected space that extends the living area of your tent. It also comes complete with a flysheet, with doors and windows throughout and even a skylight so you'll be comfortable in any climate.
Perfect if you want an all in one 'ducks-nuts' solution for your outback touring and family camping needs.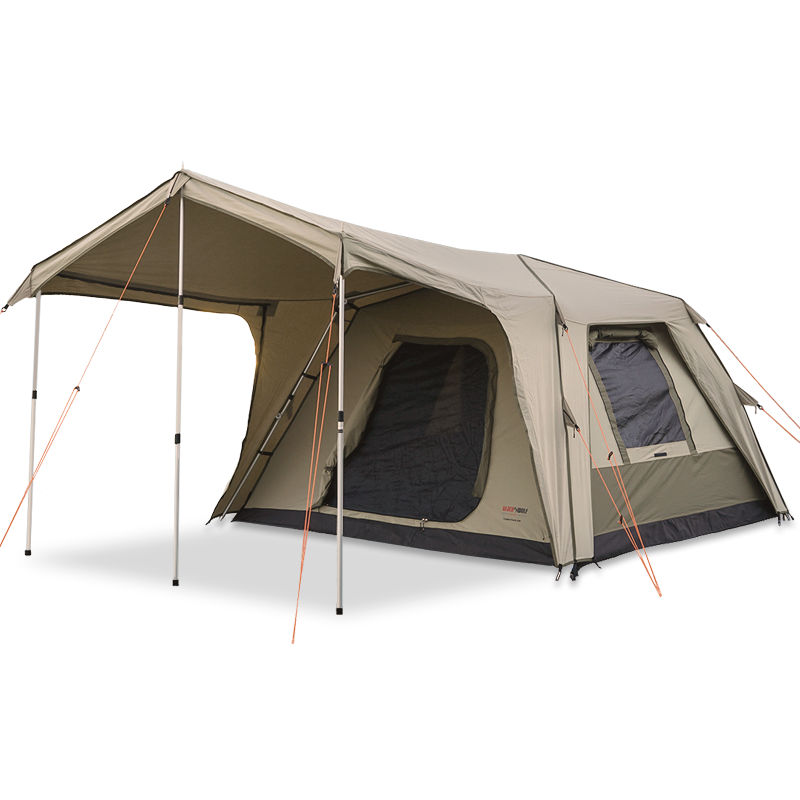 2. Black Wolf Turbo Lite Series Tents
The lite, or synthetic version of the Black Wolf Turbo Tents straddle the balance between general camping and outback touring like a bird on a wire. They boast the same durable frame as their canvas counterparts but are made from a 150D Ripstop synthetic fabric. This offers excellent durability whilst shaving about 25% off the weight.
These 'Lite' versions of the Turbo Tents are available in a larger range of sizes and configurations than the canvas models. They also have a host of optional accessories so you can personalise your campsite.
The perfect all-round family camping and 4wd touring tent.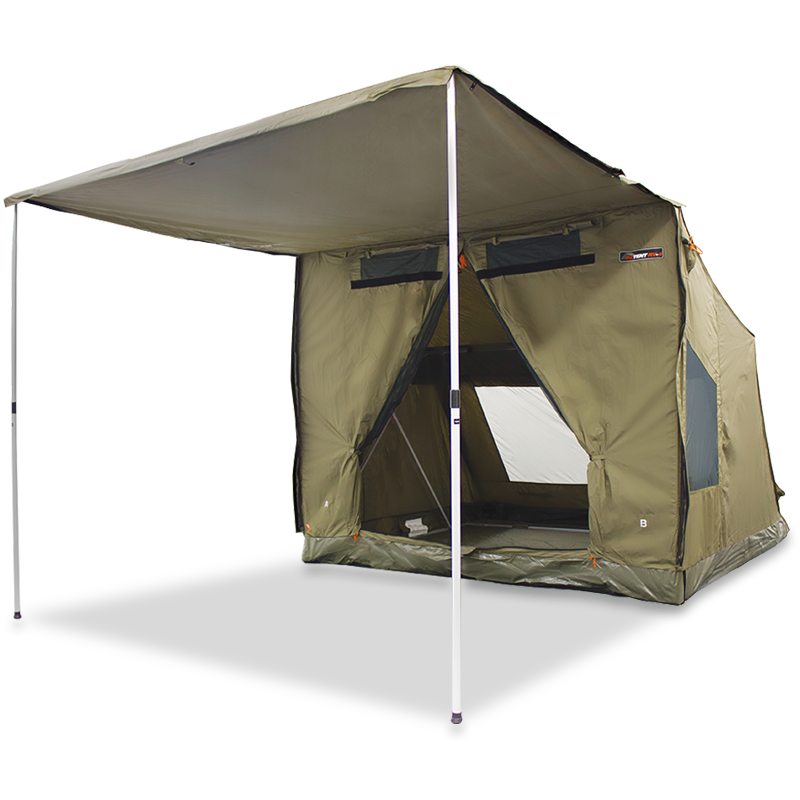 1. Oztent RV Tents
Oztent RV Tents are our best-selling touring tents by far. They have a simple and robust design and a frame that makes set-up so easy you'll be wondering why you didn't buy one sooner.
They go hand in hand with 4wd and outback touring on account of their ease of use and reliability. Made with a trusted 8Oz canvas, RV tents have a strong aluminium frame and boast a heavy duty PVC floor.
What's the most you've ever put your touring tent through?
About the writer...
Joined back in March, 2013