How to take a bog in the bush can get the dunny talk going nationwide! But which camp toilet is right for you depends on what kind of camper you are, the style of setup you have, and what your personal needs and preferences will be when you are away from home.
Of course, the need for a portable toilet is not as necessary if you're staying at a campsite with suitable amenities. However, if you're heading off-grid, then you'll need to consider your options because there's no way around it, we're all human and we all need ones and twos!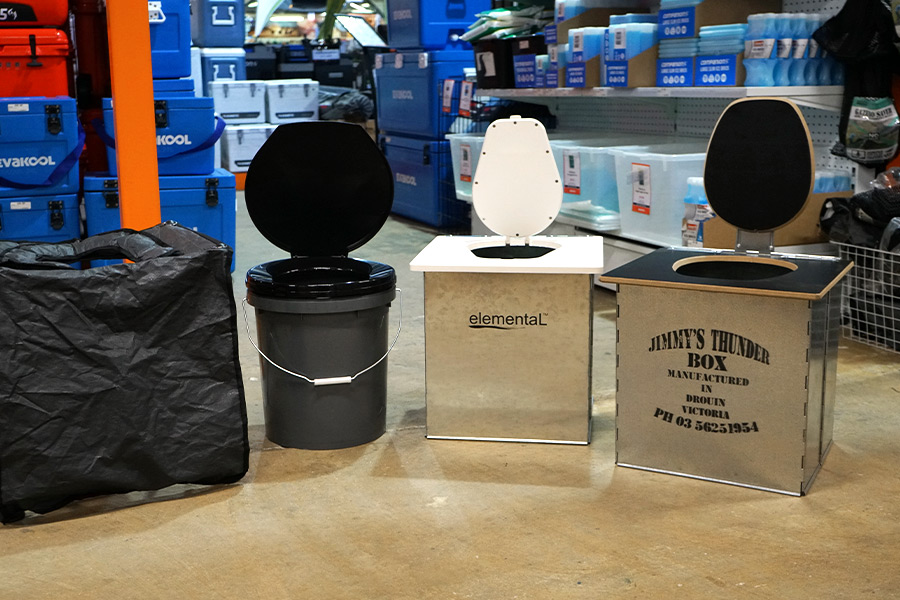 No frills camp toilet options can be as simple as a folding frame with a toilet seat attached.
Keeping it simple
Folding frames
An upgrade from the basic dig and squat method, folding frames are just as their name suggests. They are compact, foldable frames with a toilet seat attached or a foldable box with a toilet seat top and lid.
Both the folding frame and box designs can be placed over a deep hole which is then dealt with in the same way as the dig and squat method. Many consider this option to be the freshest smelling dunny you'll ever use when camping. But you need to be camping in a remote location and you go about things responsibly.
Instead of digging a hole, some people prefer to attach a plastic bag and use that for the catchment. The box styles like Jimmy's Thunder Box and Elemental's Bush Dunny have space within the enclosed area for a bucket to be used instead of, or in addition to a plastic bag.
Buckets
There's the option to skip using a frame and go straight for a bucket. Some opt for a multiple bucket system and once full, they secure a lid over the top so they can be safely transported to a suitable dump point. Others choose to line the bucket and fit a toilet seat over the top for comfort. Or we've even heard of people custom fitting a foam pool noodle over the bucket rim. The idea here is to slit the noodle length-wise through to the hollow core and then fit the cut around the lip of the bucket. According to Kenneth in our YouTube comments, it's the most comfortable toilet ever sat on.
The ready-to-go Thunder Down Under Toilet bucket is designed to be used with a bio-degradable liner but is the same concept as the bucket idea above. The main consideration here is the responsible disposal of your waste, and also whether or not you have the packing space to accommodate the bucket inside your vehicle. Bear in mind that on your return trip, this bucket will likely have its contents inside unless you dig a nice deep hole. One that is deeper than a basic dig and squat hole as you need to cater for more than the one toilet trip.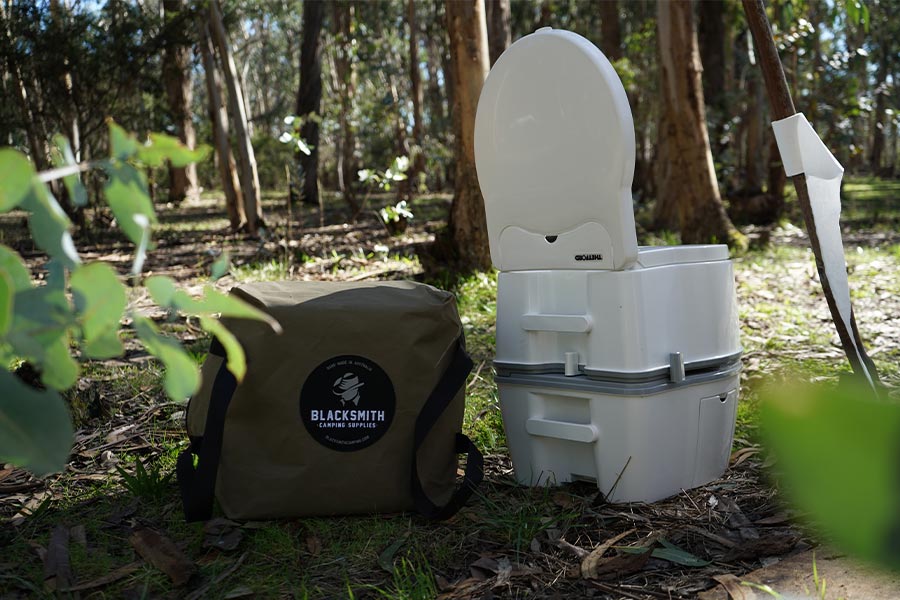 It's worth spending a bit more and getting a quality portable toilet.
Portable chemical toilets
Portable chemical toilets can be a little more complicated and have a few extra features to think about, so let's break these options down.
The Thetford and Dometic ranges may not be the cheapest brands on the market, but when it comes to toilets you don't want to take shortcuts. A cheaper brand can be made with inferior materials which can result in leaks and frankly, no one wants a leaky loo!
You want your toilet to do its job and spending a bit more on a quality unit means that the seals will be airtight and should you ever need to replace something, then spare parts are available.
If you have a specific space in mind for permanently housing your unit, for example, a camper or caravan. Or, if there's a space designated to store/transport your toilet, then dimensions will be important.
For those who are tall, have difficulty in squatting or have knee/back issues, then the height of your toilet becomes a major consideration. Throughout both the Thetford and Dometic ranges, height varies between just over 30cm up to 40cm. Thetford also has two deluxe options that sit a smidge over 44cm but we'll talk a little more about those later.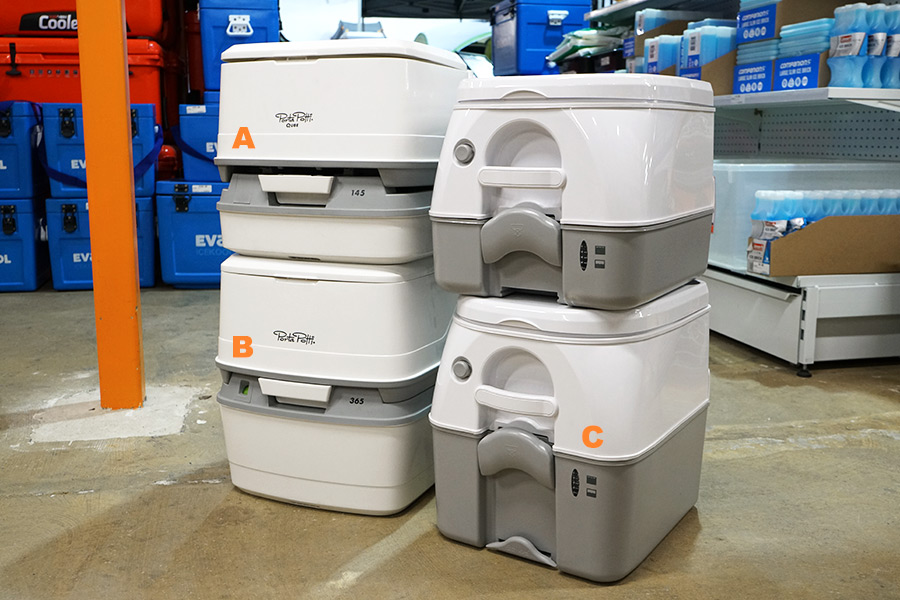 Waste indicators vary between brands and models.
What's at the front?
Waste indicator – not all models feature a waste indicator on the front of the unit. The models using the feature may cost a little bit extra but it's much nicer to gauge how full your holding tank is without having to open it up. The style of indicator differs between brands but the concept and float mechanism are largely the same.

A – Thetford's Porta Potti 145 does not have an indicator.
B – Thetford's Porta Potti 365 has a little window that changes from green to red indicating when the cassette/holding tank is full.
C – Dometic's 976 Portable Toilet (and the smaller 972 model) has a prismatic tank level indicator to show when the tank is full.

Lever – each of these units has a lever at the front which controls the valve inside the toilet. When pulled out, the lever opens the valve and allows your waste to deposit into the holding tank.
Carry handle – the Dometic models both feature a carrying handle on the front of the unit, whilst Thetford has theirs on the rear.
Flush button – Dometic also has a button that is part of the flushing action and we'll discuss that in more detail when talking about the pumps.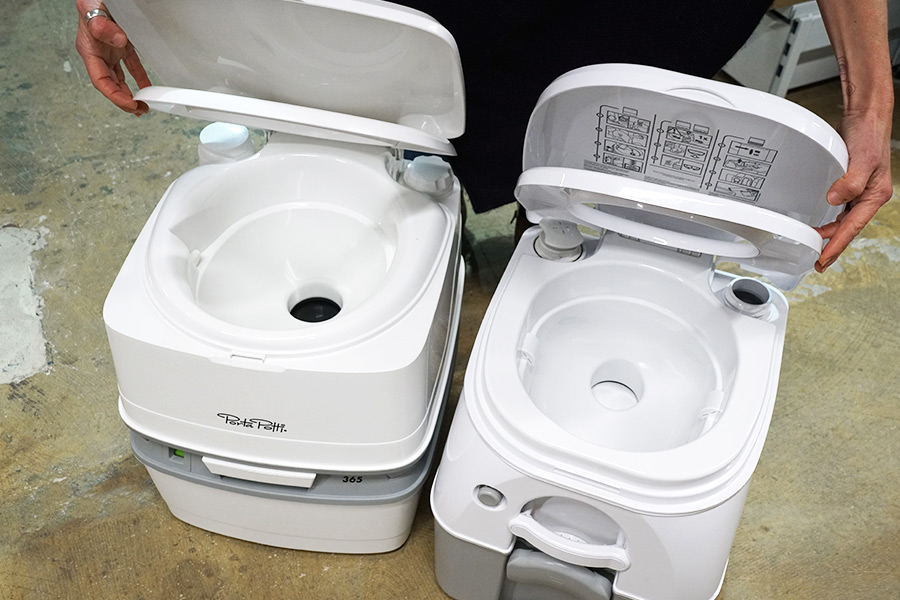 The fill port for each model is positioned to the righthand rear of the unit.
What's on top?
Lid – Dometic features a basic user's guide printed underneath the lid but both brands use a moulded groove for the lid to click into when closed and stay securely shut between uses or for transportation.
Seat – Thetford has a more rounded seat but otherwise they all flip up and are much the same.
Bowl and valve – there's not a lot of difference here except the colouring of the valve which we'll cover in greater detail below.
Flush discharge nozzle – these are moulded into the inner sides of the bowl beneath the rim. When you flush, the chemically-treated flush water stored within the top tank is discharged from the nozzles and swirls around the bowl to clean and aid your waste through the open valve. The design differs slightly between the two brands but their operation is the same.
Fill port – this is the capped opening at the righthand rear of each toilet. In the image above, the Porta Potti 365 shows the threaded cap in place and the Dometic 976 removed. This is where you fill your flush-water tank (the upper chamber) and also your rinsing chemical/water mix. All the Dometic and Thetford portable toilets have this designed and positioned the same, except the Thetford 565 models detailed below.
Flush water tank – beneath the surface lives the flush water tank and the capacity of this varies across both brands and models.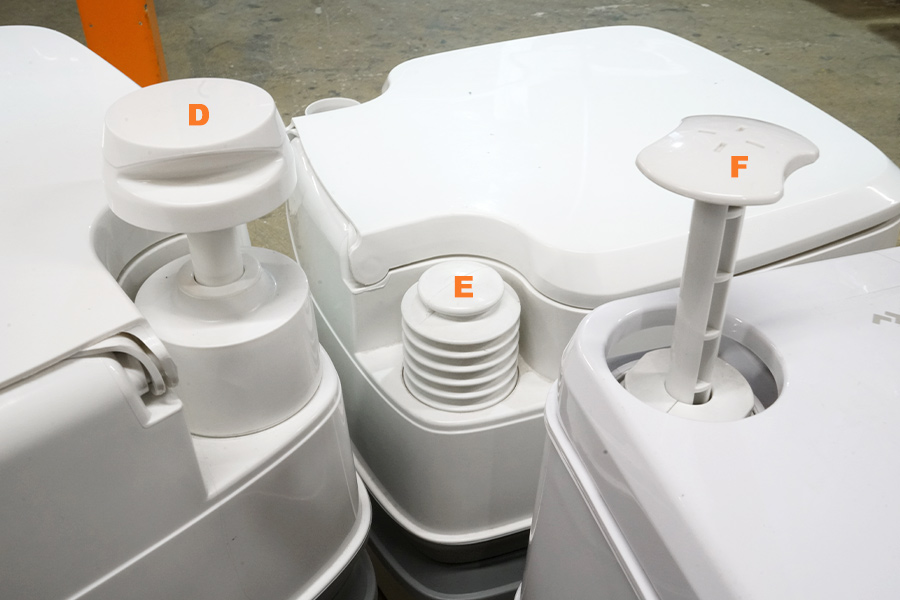 The pumps vary between makes and models of portable toilets.
The different kinds of pumps
Illustrated here are the three types of most commonly used pumps.
D – piston pump

these are the most popular type of pump and the easiest to use.
this pump creates a high-pressure seal and forces the flush water into the bowl which washes the waste away.

E – bellows pump

these feature on the cheaper units and are possibly the pump that requires the most effort to use.
they involve a lot of moving components and although replaceable, they are probably the part that suffers the most wear after a significant amount of use.

F – pressure pump

this pump is step 1 in a dual-action flush system and brings into play the button that features at the front of the Dometic units (step 2).
you need to pump it up and down a number of times (approx. 15-20) to build enough pressure and then once the button is pressed, the air is released which discharges the flush water.
when the air pressure is released, it simulates the sound of a normal flushing toilet.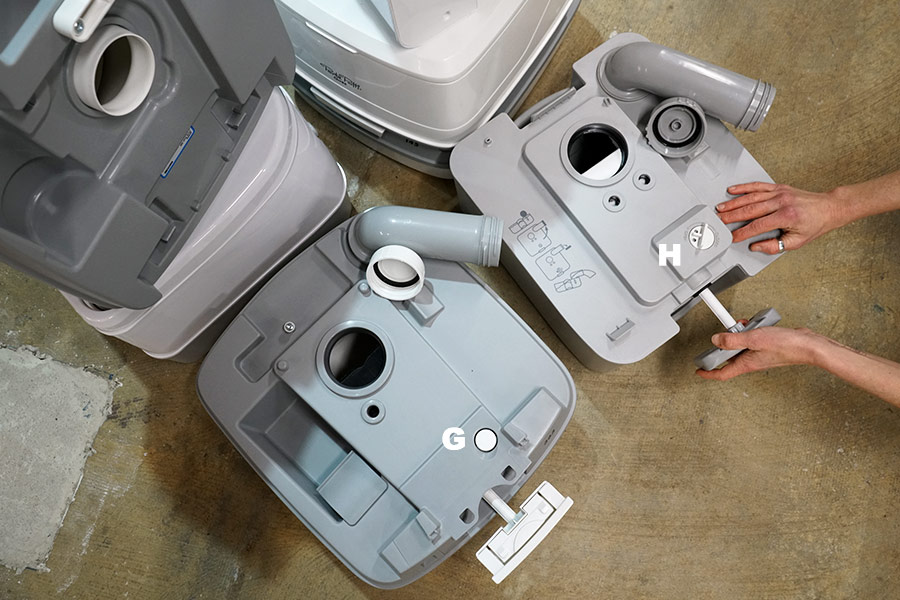 The lever on the front of the unit pulls out to open the inner valve and allow your waste to wash down into the holding tank.
The holding tank
This image shows Thetford on the left and Dometic on the right.
Obviously, there are size variants with waste holding tanks across both brands, ranging between 12-litres and 21-litres. But the waste holding tank is otherwise very similar.
Rear lever – to separate the two tanks, all the toilets have a horizontally actioned lever on the back that releases the locking mechanism and allows you to unclip the top chamber from the bottom chamber.
Valve – there's not a lot of difference here except the colouring of the valve. Thetford's is black and Dometic's is white. This is the valve that is controlled by the lever on the front of the units and is what creates the airtight hermetic seal on the bottom chamber.
Breather port – this pipe has a removable threaded cap and a firm swivel action to allow secure stowing when not in use. This port is used for the disposal of your waste and is the same between brands.
Air vent – the biggest difference here is the air vent that needs to be open when you are getting rid of your sewage – indicated by G and H in the image above.

G – Thetford uses a button that must be pressed down while you tip your waste out of the breather port and into the dump point.
H – Dometic uses a dial that you move from close to open before you tip your waste out and it will stay in its position without being held.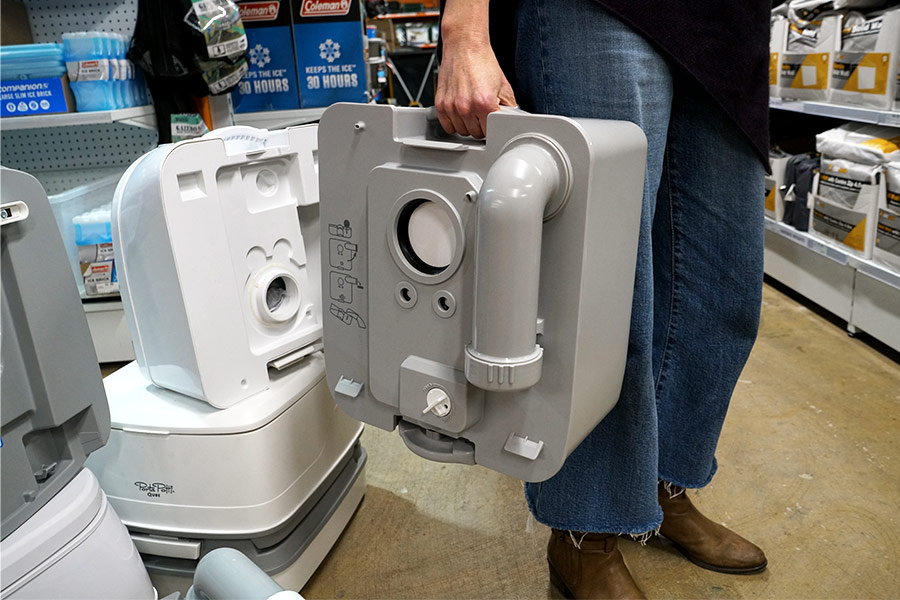 The waste holding tank on all Thetford and Dometic portable toilets is hermetically sealed to ensure there are no leaks.
Carrying and disposal
Carrying

If you are stationed in a caravan park where a dump point is easily accessible, it's so much easier to empty every 3-days or so. Don't wait until your holding tank is full, as the fuller it is, the heavier it will be!
Think of water volume to weight ratio where approximately 1-litre = 1-kg. use this for a guide but then add a little more to accommodate the weight of your sullage. If your waste holding tank has the larger capacity of 21-litres, that's at least 21kg that you'll be lugging to the dump point.
Of course, if you are travelling remotely and based somewhere for an extended period of time, emptying more regularly might not be an option, but it is worth bearing in mind when planning your itinerary, and also when deciding upon a larger unit.

Seal

Better quality units have more airtight seals. Once the valve is closed over the waste holding tank in both Thetford and Dometic loos, it creates a hermetic seal so you can confidently carry your tank on its side by the handle.

Disposal

The breather port and the air button/dial (G and H previously mentioned) work simultaneously.
The air button/dial allows air to come in, preventing splatter and enabling an even flow of sullage out of the port.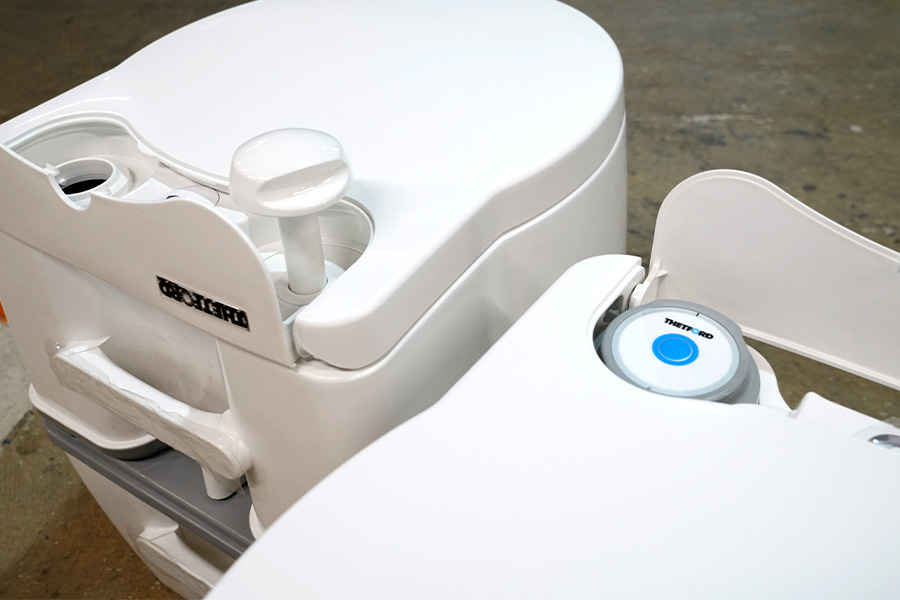 The next evolution in Thetford's Porta Potti range, the 565E and 565P were released in 2020.
Thetford 565s
The 565P and 565E were new to the market in 2020. They share the same key features as older models but deserve a special mention due to their rounded design and innovative technology.
Considered the designer label in their category, these really are the royal throne in the world of camp toilets. They have the highest price point but also the highest seat at 44.3cm, which makes them a really good option for people needing that extra height. Their tank capacity hovers on the larger scale at 21-litres for the waste holding tank and 15-litres in the flush water tank.
These toilets have been finished off nicely. Both models feature a nifty integrated toilet paper roll holder and hinged plastic flap that closes over and hides the pump and fill port. The most significant difference is what sets this model apart from the pack and we believe, is worthy of its gold star status.
The 565E celebrates the introduction of an electric pump into the Thetford range. The pump is actioned at the press of a button and requires 6 x AA batteries which come included with the unit. Alternatively, the 565P uses a piston pump the same as other Porta Potti's.
An optional accessory for this model is the floor plate that secures the toilet in place and keeps it stable while in transit and use. But with a quick-release mechanism, you are able to free the toilet for emptying or maintenance.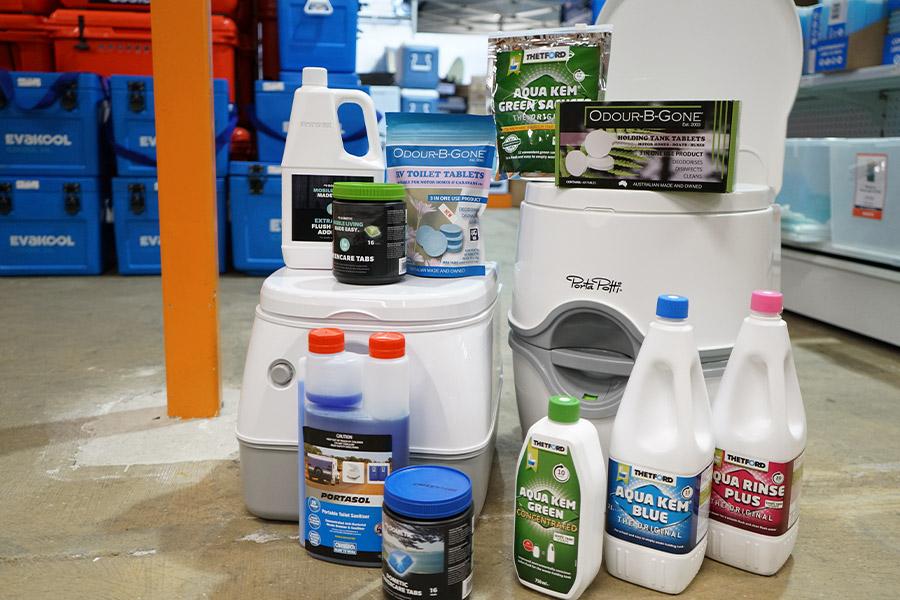 A different chemical is used in your flush-water tank to what's in your waste holding tank.
Portable toilet accessories
Toilet chemicals
From the questions and comments that we've received, it seems many people are scared, confused or mystified over the chemicals required to maintain your portable camp toilet. There's a huge range available so that might contribute to uncertainty but really, here are the basic things to remember.
There are two distinct types:

One is for the flush-water tank and helps to clean your bowl, deodorise and lubricates the seals on the bottom of the unit.
The other is for the waste holding tank and helps to break down your poo, wee and toilet paper – liquefying it for easy disposal. This chemical also reduces that build-up of gas within your holding tank and therefore, helps to keep the stink factor down!

Nope, you do not have to use the same brand of chemical as your brand of toilet.
Yes, it is a good idea to pre-mix your measured dose with water before adding to the water inside your tank.
Chemicals are available in liquid or tablet form
There are all-in-one tablet options available
Yes, there is a more eco-friendly choice.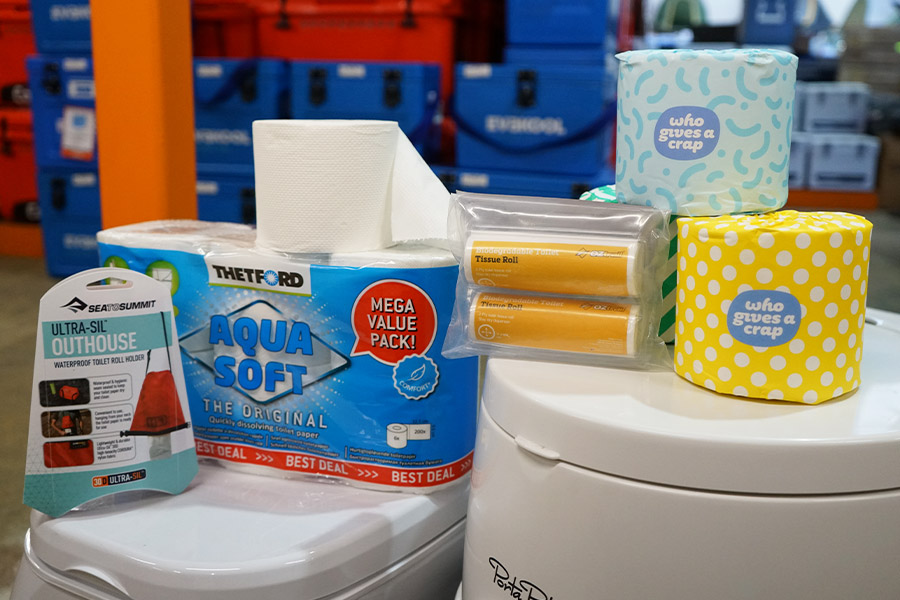 A few different types of toilet paper that are most suitable for using with a camp toilet.
Toilet paper
When using a system that manages its own waste, be it the dig and squat method, a bucket, or a portable chemical toilet, it's best to avoid regular toilet paper. Instead, choose a paper type that will more readily break down, and is made without synthetic dyes and fragrances.
Thetford has developed their Aqua Soft Toilet Paper specifically for use in chemical toilets. It's designed to prevent clogging and dissolve quickly.
OZtrail's Biodegradable Toilet Tissue is another option that's been designed for chemical systems. The roll is shaped a little differently from the usual loo paper and the 2-pack comes with a handy stay dry dispenser.
Who Gives a Crap is toilet paper on a mission! These rolls aren't necessarily designed for camp toilets, but without all the dyes and fragrances, this paper will also break down quickly.
Sea to Summit's Ultra-Sil® Outhouse is a waterproof toilet paper holder that can hang wherever you need it and will keep your loo paper dry and dirt-free.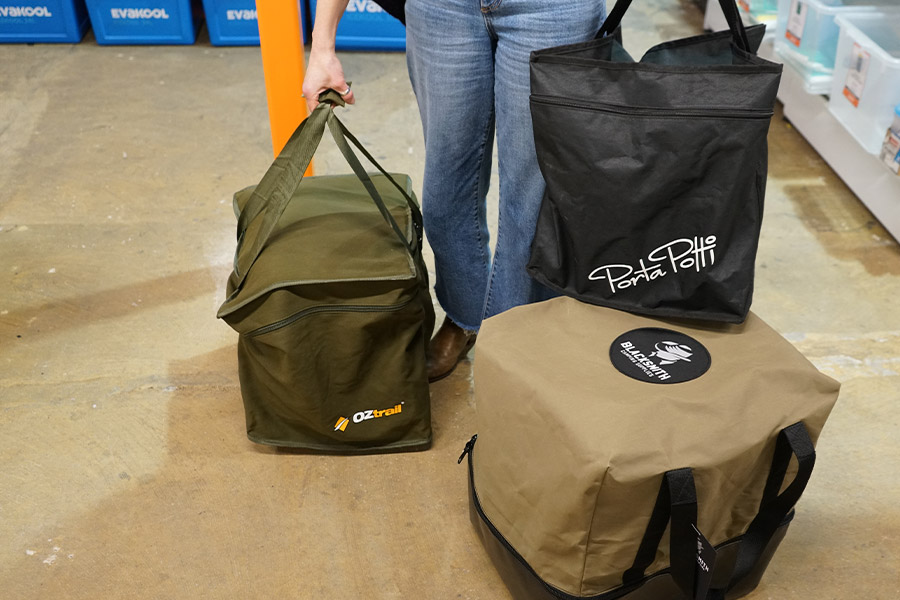 There's a toilet bag to fit all portable toilets.
Toilet bags
A toilet bag helps to keep dust and grime off your toilet while it's in storage and transit. Plus, they make for easy carrying from A to B.
There are three main choices and quality varies greatly between them.
Blacksmith Camping Supplies – you might pay a bit more but this bag is the pick of the crop! The Blacksmith Camping Supplies Australian Made Porta Potti Portable Toilet Bag is one that will likely outlive your toilet. There are four sizes available and each one is constructed from the same top-notch heavy-duty materials. They feature a 680gsm PVC tarpaulin bucket-style base so if you do have a cheaper toilet and it leaks, then the muck is going to be contained and won't seep through.
OZtrail – this Canvas Toilet Bag is made from 14oz canvas and accommodates most portable toilets. It doesn't have a waterproof base and may not stand the test of time, but it boasts a host of 5-star reviews with customers saying it does the job well.
Porta Potti – Thetford's own Carry Bag is a heavy-duty polyester and PVC. It will do the job of keeping dust off your toilet when in storage, plus makes for easy carrying. This bag fits most small to medium portable toilets.
Hopefully, that deep dive into the dunny has made your decision easier. If you're after a recap or 3D perspective, watch Ben's video above and let us know…
What are your main considerations when choosing your camp toilet?
About the writer...
When it comes to camping, hiking, travel and adventure – the Snowys team have all the expert advice, guides, and tips on everything outdoors.
Joined back in October, 2015