New Year's resolutions, do you stick to yours? According to the Sydney Morning Herald, around 50 per cent of Australians make a New Year's resolution, with an 88 per cent failure rate.
With stats like this it's pretty easy to give up on them, isn't it?
But that failure rate probably has something to do with the fact that the goals we set are unrealistic. Are you really going to drink green smoothies every day or run 20km a week? Probably not!
The article makes the suggestion that resolutions should:
Set achievable goals instead of ideal goals.
Expect setbacks.
Don't use excuses or setbacks to put it off for another year.
Well, I propose another tip. Make your resolutions fun and in line with the things you enjoy doing. Why go to the gym when you could go hiking instead?
Here are my suggestions for some New Year's resolutions to consider for next year:
1. I will get fit
Getting fit or losing weight is probably the most common New Year's resolution. And for many, that means taking out an expensive gym membership or signing up with a personal trainer.
But getting fit this year needn't be arduous or expensive. Dust off your hiking boots and hit your local walking trail. The crunch of the gravelly track under your feet, the tweeting of birds, the smell of eucalyptus in the air. It's so much more motivating than heading to a windowless room full of exercise equipment. It's also cheaper too!
And, with long summer days at your avail, there is no excuse to not go for a hike after work.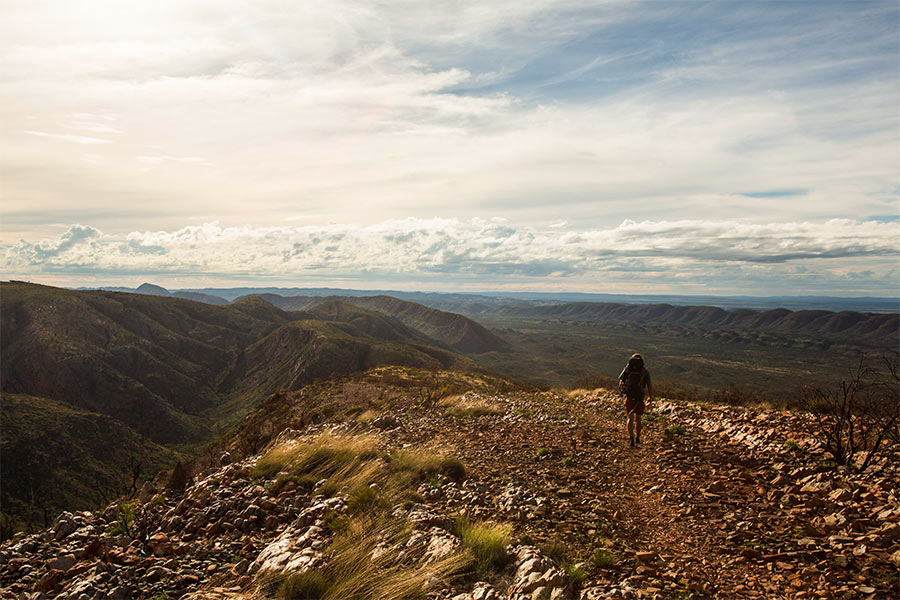 You don't have to head far, just find a trail and start walking. Image: Sea to Summit
2. I will spend more time with friends and family
Camping is a great way to spend time with friends and family. At home, there are TVs, gaming consoles, computers, work, and chores that easily distract us and consume out time. In the middle of the Australian bush, where mobile reception is flaky or non-existent, and the closest thing to wireless is the thing you have your AM radio streaming through.
You have more time and space to connect with those you love. Camping is also a great way to rest the body and mind and do a great deal of nothing.
3. I will eat better
Eating better isn't only about cutting carbs or calories or sugar. It's about eating real, wholesome food that you have cooked from scratch. And what better place to cook from scratch and eat well than when you're out camping. Camp cooking isn't all beans, bacon, and toast.
We have written heaps on the subject of camp cooking, here are some of our most popular blogs:
Remember, the odd treat like a pie from a country bakery is all part of a happy life. Don't be too harsh on yourself.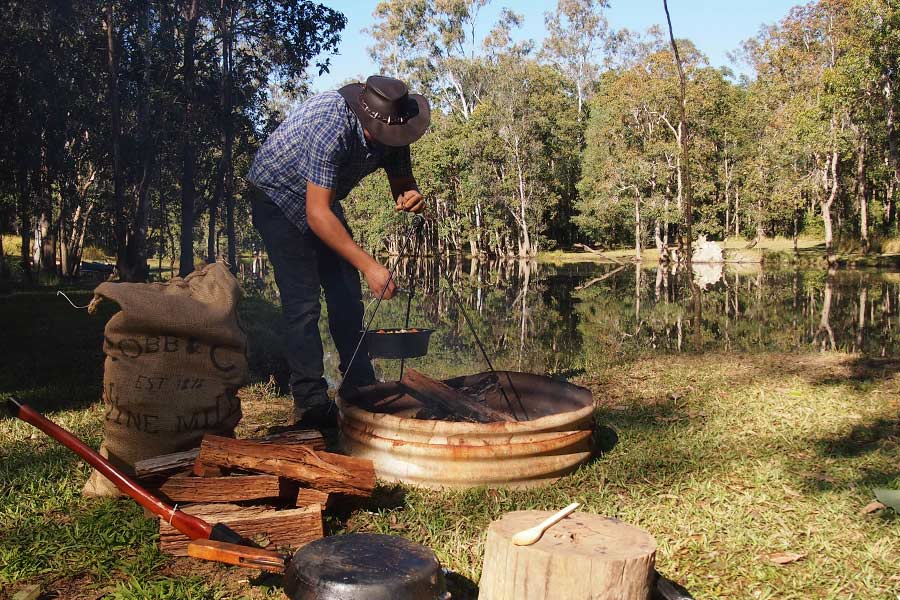 Cooking over a fire with a cast iron camp oven makes everything taste better. Image: Cast Iron Boys
4. I will travel more
Perhaps that tour of Europe or trip across the USA is a while off, but travel needn't take you abroad. How much of your own country have you actually explored? Go on. Be honest. Don't feel bad, I'm in the same boat. I have only explored a tiny portion of my own state let alone the rest of the country.
Travel close, but travel regularly. On weekends rather than sitting in front of the TV, go for a drive. Or a walk. Or a cycle. See things you haven't seen before. It'll be fun. Promise. Take plenty of photos too.
5. I will keep my gear organised and clean
So, you've been out camping for a week. You get home, offload the gear, and it's back to the grind. Your gear is stowed away until next time and that's that.
Bad form, that's what it is.
To keep your camping gear in tip-top condition, so it lasts a long time, it's important to properly maintain and store it. Make sure your tent is completely dry before you put it away. And vacuum or sweep it out properly. With your sleeping mats – unroll them and keep them under the bed, and your sleeping bags shouldn't be kept bundled up in the stuff sack as it will affect the fill.
Instead, take them out of the sack and keep them in a cool, dry place in a large pillow case or in the case of Sea to Summit sleeping bags, their own breathable storage bag.
Also, now that you've got a bit of time off over the holiday period, it's a great time to actually wash your down sleeping bag, patch up that tent that's been out of action for a while, or re-condition and clean up those beaten up hiking boots.
Store your gear properly on and off the trail. Image: Sea to Summit
6. I will replace or upgrade that thing that really needs it
We all have a piece of camping or hiking gear that we should really just retire and replace. For me, it's an old el' cheapo 1 person hiking tent. It's been a great tent over the years but the floor has holes in it, it smells funky, the zips busted, and it doesn't keep the rain out anymore.
I could continue to repair it, but there comes a point. Treat yourself. Or ask a loved one to treat you for your birthday, mother's or father's day.
7. I will try something new
Never been on an overnight hike before? Try it! You've got a flash 4WD but have never taken it over a sand dune? Give it a shot! (Make sure you know what you're doing first.) You often go hiking with the other half but have never headed out alone? Go on, see what it's like (safety first, though).
Make the next year of adventure and outdoors. Visit some places you haven't visited before. Try things you never thought you would try. Eat well. Keep the body moving. And be sure to just lay back under the sky from time to time and let the mind frolic with the clouds.
You'll look back at it at the end of the year and will be proud of what you've achieved. I'm sure of it.
Have you made any new year's resolutions for the year? Share them below. 
About the writer...
Joined back in November, 2015