If you have read my previous articles on "What to pack for an overnight hiking trip" and "Beginners guide to packing a rucksack", you should be all set to head out on your first overnight hike. But how do you prepare for an overnight hike? What do you need to think about to not only keep yourself safe but to have an enjoyable time? As a hiking instructor, I have taken thousands of students on their first ever overnight hiking experience so keep reading below to see what I have learnt about planning an overnight hiking trip for beginners.
Keep it simple.
Your first overnight hiking experience should be exactly as described, an "over-night" hike.
This means heading off for just one night away or maybe two if you feel you're up for the challenge. There is a lot to learn and get used to when overnight hiking and your body will get a bit of a shock.
Not only does your body need to get used to the physical side of walking and carrying a load. But you will need to get used to sleeping on a lightweight sleeping mat, and using all your gear.
Not to mention the change in diet to lightweight foods.
By keeping your first experience short it will give you a chance to get used to the different lifestyle without being committed to an extended expedition


Don't walk too far!
Walking with a fully loaded pack is very different from day-walking.
Even if you consider yourself to be quite fit you may find walking with a pack to be a very different experience than what you've had before using different muscles in different ways.
Most walks that I plan for beginners have been between 5 – 10km's per day and usually involve beginning your walk at morning tea time and ending your walk at lunch time the next day.
Don't try to tackle too many km's on your first experience. You should be able to walk at a relaxed pace, take plenty of breaks, enjoy yourself, and still stroll into camp with at least an hour of daylight left.
Start locally.
Your first hike should not be far from home.
Try not to hike in a remote area and do not attempt to walk off-track.
A nice short walk close to your town or city with easy, marked trails and proper camp sites with vehicle access is a wise move.
This not only ensures your safety but gives you the ability to make your trip easier and get assistance if you need it as you get used to this "overnight hiking thing".
Choose a walk that is low km's yet interesting, picturesque and remote enough that you get the full experience of being self-sufficient.
Walk with a friend.
I will always recommend that your first overnight hiking experience should NOT be alone.
Go with a friend, preferably an experienced friend that can share the experience with you and offer advice and encouragement if needed.
As much as hiking alone can be a fantastic self-sufficient experience, it is much safer and more enjoyable for beginners to go away with a friend or a group.
If you do decide to travel alone you may like to arrange to meet your friends or family to camp with, or at least make sure you walk in an area where you have full phone reception and has sufficient vehicle access.
Take all the precautions of notifying any rangers in the area, and leave your itinerary with close family or friends.

Stay Hydrated.

Don't underestimate how much water you need.
Unless you are an experienced walker, you may not realise just how much water your body needs when undertaking a physical activity such as overnight hiking.
A good rule to follow is 3ltrs, per person, per day. Of course, this can add to your pack weight quickly so try to pick an area where you can fill up with water along the way or at least at your camp site.
You may need to organise a water drop to minimise the amount that you need to carry.
Remember to allow extra water for cooking and cleaning.
Pick your season carefully.
The weather can be quite unpredictable but try your best to arrange your walk for fair weather.
Autumn and spring are the best times of year to walk when the temperature is in the mid 20's and the weather is mostly fine.
Planning your first walk in freezing cold and wet conditions or scorching heat may not give you the amazing experience you were hoping for.
Remember that even if it's a cool day and overcast, wear sunscreen and a hat when walking. And keep your fluids up!
Think Safety!
As mentioned above, go for your walk in a well-marked area following well-defined tracks.
You will still need to take a map and compass to ensure you are heading in the right direction so some basic map reading skills will be necessary (another benefit of walking with an experienced friend or group).
Make sure you have appropriate communication and emergency communication equipment.
Try to pick an area that has good phone reception but if this is not possible you may need to consider some alternative communication devices such as a UHF handheld radio, a SPOT or EPIRB safety device or even a Satellite phone, all of which can be available for hire from most good communications stores or some ranger stations.
Record your experience.
One of the main reasons for going hiking in the first place is to head out and to see some amazing scenery and visit those special places that only those few people that dare to venture out into the wild on foot get to see. So take a camera to capture those beautiful scenes to share with your friends and family when you get home.
Remember to take a notepad and pen. Not only will you be able to record your thoughts as a bit of a diary of your trip, But you can make notes about what to improve on for your next trips such as details about your walk, location or gear.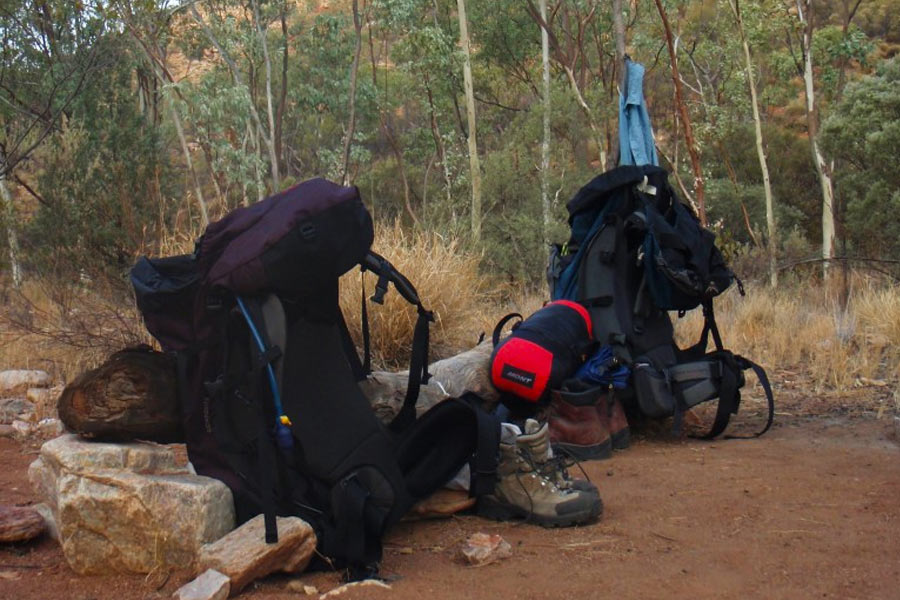 Practice minimal impact hiking
Quite simply, this embraces the concept of "take only pictures and leave only footprints".
This means that you take out EVERYTHING that you take i. Leave no rubbish or food scraps behind at all!
No, the animals will not enjoy your scraps, and the scraps will not just rot away. In fact, some native animals can develop some horrible diseases from eating food that is not part of their intended diet.
This also extends to going to the toilet… some areas actually require you to carry out your "droppings" so when you are planning your first hike, it can be a good idea to stick to an area that has toilets at the campground.
If nature does call along the trail, make sure you go at least 100m from any stream or waterway and that you dig a hole at least 15cm deep. EVERYTHING should be buried completely.
Lightweight overnight hiking is a fantastic experience and can take you to some of the most amazing untouched and picturesque places of the world, but when you are beginning remember to take it slow. Ease your way into it so your body and mind have time to adjust to the physical and mental challenges that come with being self-sufficient in the bush. By following the guidelines above you will hopefully have a safe and enjoyable experience, which is the best environment to learn in, and there is a lot to learn to help you aim for more challenging and remote areas and seeing more of the wonderful places that this earth has to offer.
So what are you waiting for, get geared up and head out there! Visit Snowys.com.au for all the basics you need to head off on your first overnight adventure. Keep exploring the Snowys Blog for more articles that will answer your questions to help get you on your way to preparing for an overnight hike.