If you're keen to delve into overnight or extended hiking trips this year, you'll need to purchase a hiking tent.
Whilst doing your research, keep in mind that if any tent performs well, it receives good reviews, the more good reviews there are, the more people are inclined to buy it. These people then review the tent, and the cycle starts again.
What I'm trying to say is that it is our customers who have done the talking here, not us.
So, this isn't a list of the most technical tents. There's no bias or incentives involved, nor any limitations on price or brand. It is purely based on the sales volumes over the last 12 months, both online and instore at Snowys.
Each tent weighs and measures within the limits of what could be considered suitable for hiking and although this year's top contenders were not too dissimilar from those on the list last year, we discovered the order had shuffled around. So, without further ado, let's have a look at our ten best-selling hiking tents…
10. OZtrail Hiker 2P & 3P Tents
New to the list in 2020, the budget-friendly OZtrail Hiker Dome tents appear for the second time. These come in a 2 person and a 3 person version, with an old school A-frame fibreglass pole design.
The fly is a UVTex fabric for protection against sun degradation, it has heat taped seams to help prevent leaks and a No-See-Um mesh and a polyester inner for ventilation.
The OZtrail Hiker Dome tents are an entry-level tent for beginners.
This tent is ventilated, easy to pitch and affordable. Image: OZtrail
9. Black Wolf Grasshopper 2 & 3 Person Ultralight Tents
Available in two and three-person variants, the Grasshopper UL tents have maintained their position from 2020. These tents have been part of the Black Wolf range for many years, but it was only a few years ago that the brand decided to use lighter weight fabrics.
These tents feature a unique pole structure that forms a dome shape with upright sidewalls for increased internal space and two teardrop-shaped doors with vestibules. The inner is full mesh for ventilation, and the colour-coded poles make setup a breeze.
The Grasshopper tents from Black Wolf are a mid-range lightweight option suitable for the warmer and shoulder seasons.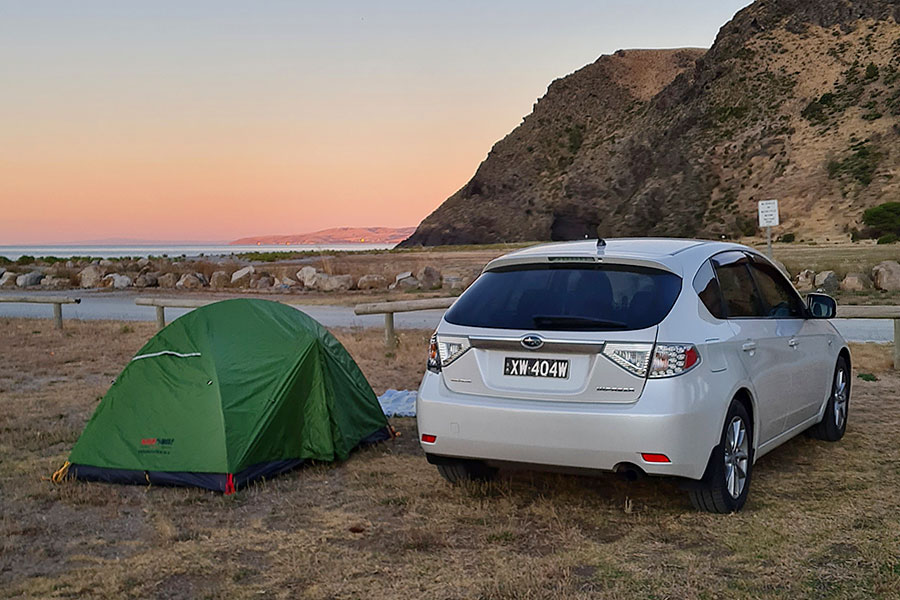 The Grasshopper offers great headroom and stability. Image: Caitlyn Francis 
8. Black Wolf Mantis 1 & 2 Person Low Profile Hike Tents
Despite having slipped down the ranks a little, the Black Wolf Mantis is still a staple player in our best hiking tents. Available in 1 and 2 person sizes, the Mantis is now made with lighter weight fabrics and features a low-profile tunnel design that performs well in the wind.
The combination of mesh and polyester inner makes it an ideal 3-season tent. A single door and vestibule features in the Mantis 1 whilst the Mantis 2 has an entrance on each side. Vents at the foot and head ends ensure adequate ventilation and the ultralight fabrics keep the weight down.
The Black Wolf Mantis tents are excellent for those wanting something more than entry-level but not wishing to burn a hole through the wallet.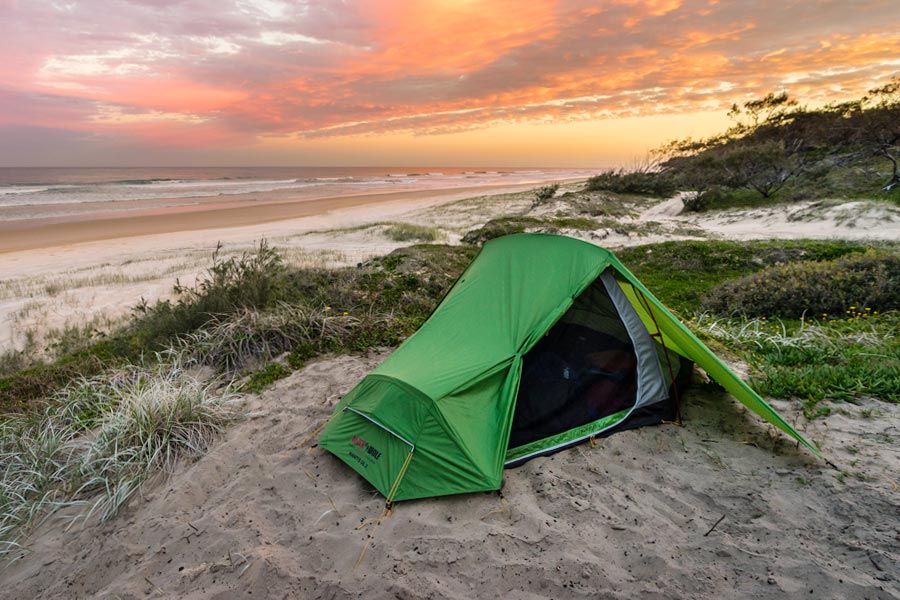 The Mantis is small and light with a great design for windy conditions. Image: Black Wolf
7. Zempire Zeus 2 Person Hiking Tent
The Zempire Zeus has maintained a position in the top 10 yet again this year. It's proof that you don't need to spend the earth to get a well spec'd hiking tent.
It features a spacious interior and loads of headroom thanks to the near-vertical sidewalls. The inner is full mesh for ventilation, and access is through two large entrances with vestibules. The fabrics are durable, and the poles and tri-pegs are all high-quality alloy.
The Zempire Zeus is a mid-priced tent boasting high-end features.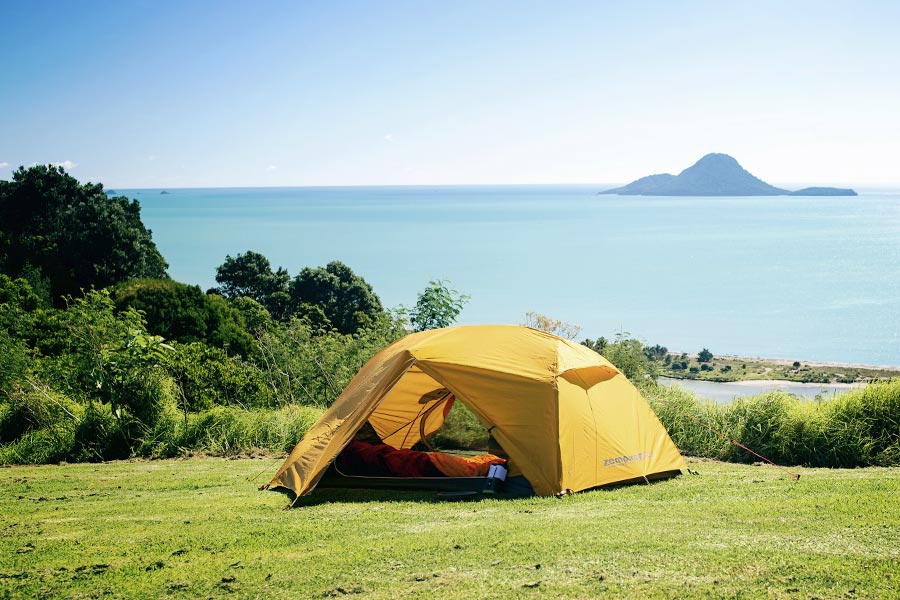 The Zeus has maintained a position in the top 10 this year. Image: Zempire
6. Marmot Tungsten Regular & UL Tents
Moving up a notch from its 2020 ranking is the Marmot Tungsten. We've stocked these tents for a few years, and although they had a slow beginning, they now seem to be maintaining growing popularity amongst our customers and gaining traction in the list. The Tungsten maximises interior space as it has pre-bent poles and clips that pull out the tent's sides, making it more comfortable and livable.
These tents offer a design and construction that uses higher quality materials, creating a durable yet lighter and smaller pack size. Although considered a high-end hiking tent, their price is more accessible than others in the upper range. With a regular Tungsten 1P tent, Tungsten 2P and Tungsten UL 1P and Tungsten UL 2P – these tents are ideal for weight conscious adventurers.
The Tungsten tents are ideal for hikers looking for a long-term investment.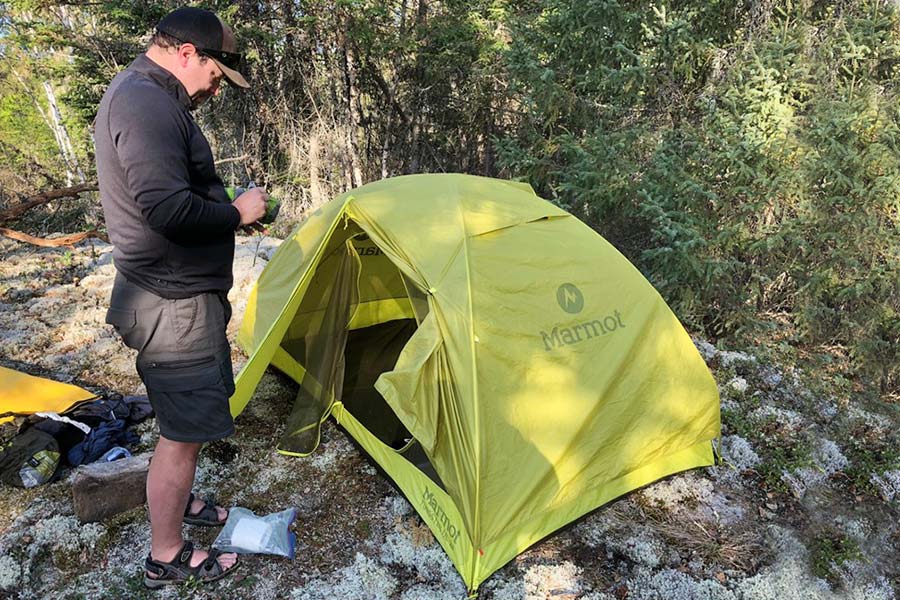 The Tungsten offers headroom, with a quality construction and lightweight packed size. Image: Marmot
5. Zempire Mono and Atom 1 Person Single Pole Tents
The single-pole design of the Zempire Mono is about as simple as a hiking tent gets. This design keeps weight to a minimum whilst maintaining strength and performance in the field.
Its minimal weight and pack size make the Mono perfect for solo adventures with sleeping space for one and a single vestibule for your gear. It has a full mesh inner, high-end features including alloy poles and unbendable Tri-pegs, plus an impressive waterhead rating. We have lumped the Atom from Zempire into the same position, as they're very similar tents and the numbers and reviews are on par from our previous year of sales. Both have the same materials and packed size, but the Atom has a brow pole, making it a bit more comfortable to sit up in if you need to bunker down in inclement conditions.
The Zempire Mono is the perfect mid-range tent for lightweight adventurers.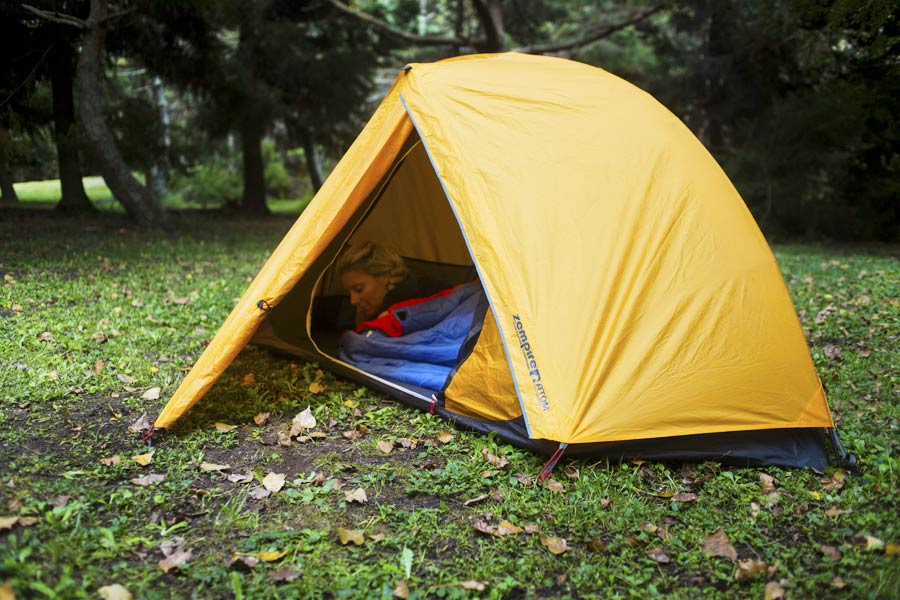 For simplicity in the field, the Atom is a lightweight choice. Image: Zempire
4. Explore Planet Earth Spartan 2 & 3 Person Dome Tents
The EPE Spartan 2 and 3 tents are not the lightest hiking tent on this list, but they would have to be the best value as they are the perfect example of quality at an affordable price.
Durable fabrics and alloy poles come together to create a roomy and functional shelter with impressive weatherproof properties. The inner is solid and has mesh doors making these a true 3-season tent and they even come with internal storage pockets, lantern hanging points and a compression storage sack.
The EPE Spartan hiking tents are ideal for any trailblazing adventure.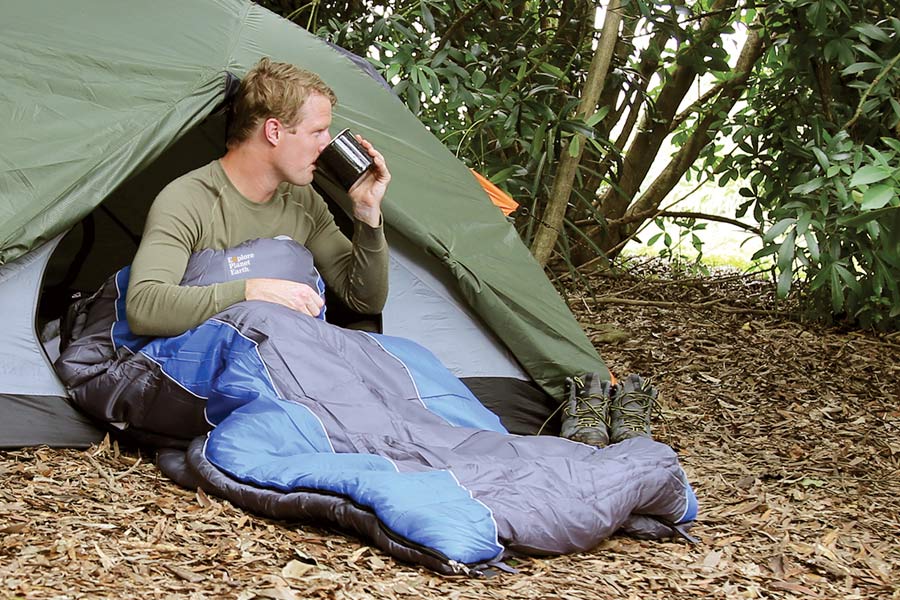 The Spartan looks and feels more expensive than its dollar value. Image: Explore Planet Earth
3. OZtrail Nomad 1 & 2 Person Hike Tents
These guys come in at under a hundred bucks, which is likely why they sell so well. I suspect they may not have the same usable life as the higher end tents but hey, you get what you pay for, and they get a good rap when it comes to performance.
The OZtrail Nomad tents feature a mesh inner and basic fibreglass poles. The Nomad 1 is a single-pole tent whilst the Nomad 2 is a 2-pole tunnel style tent with two entrances and vestibules. They are also particularly long hiking tents making them suitable for taller users.
The OZtrail Nomad tents are a budget hiker's dream.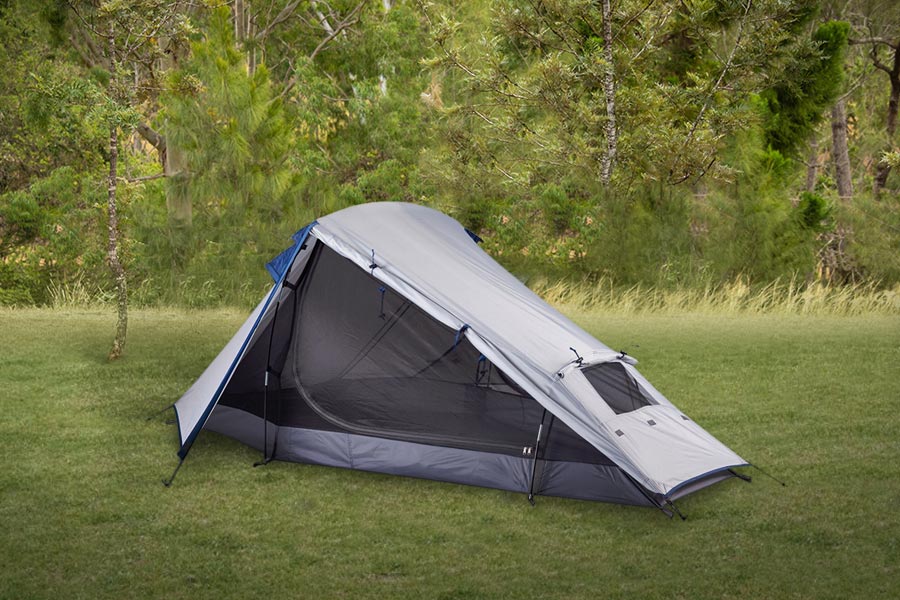 If you're a taller hiker looking for an affordable tent, the Nomad is ideal. Image: OZtrail
2. Companion Pro Hiker 2 Person Hiking Tents
After a few years in the top spot, the Companion Pro Hiker 2 Tent has been bumped out of the number one position this year! In 2019, Companion discontinued the one and three-person versions of this tent, but this two-person is still going strong, and the near-perfect 5-star review ratings keep rolling in.
The Pro Hiker 2 is a traditional dome style tent with dual doors and vestibules. It's not the lightest tent by any means and offers less internal space than some of the competitors, but it is a reliable and affordable performer. It features a tough floor, 3-season mesh/polyester inner, alloy poles and is finished with roof vents, organiser pockets and a gear loft for storage.
It also provides a perfect balance of lightweight functionality with durability and weather protection at a very affordable price.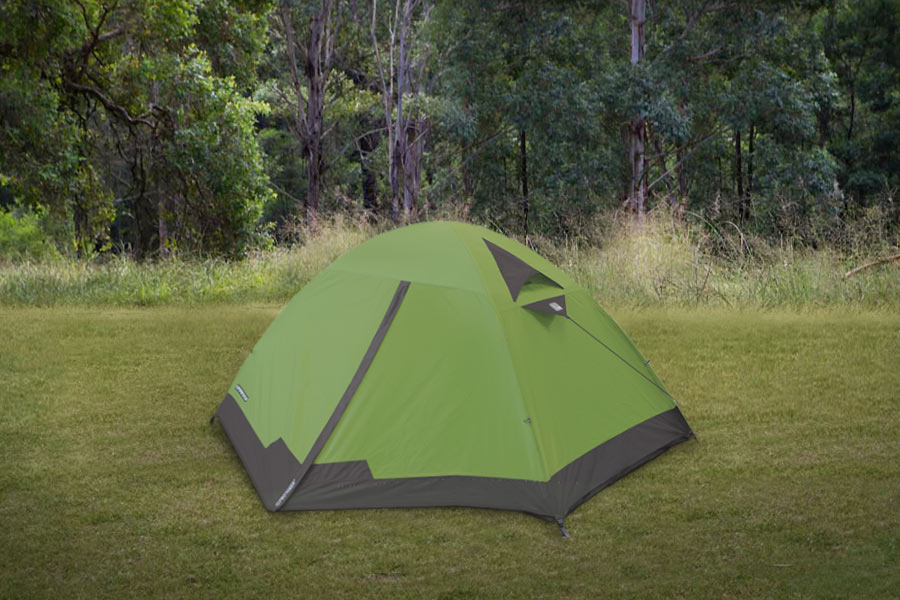 The classic Pro Hiker is this year's runner-up. Image: Companion
1. Coleman Ridgeline 2 & 3 Person Tunnel Tents
Taking out the number one spot are the Coleman Ridgeline tents.
From a brand specialising in larger family-style tents, these shelters are super affordable and offer a build quality with features that defy their price tag.
Made to suit three seasons and available in 2P and 3P sizes, the Coleman Ridgeline tents have a 2-pole tunnel design that performs well in the wind after being tested to 100KPH. A full mesh inner, alloy poles, V-stakes and a single entrance with vestibule all come together to create an impressively lightweight tent for this price range.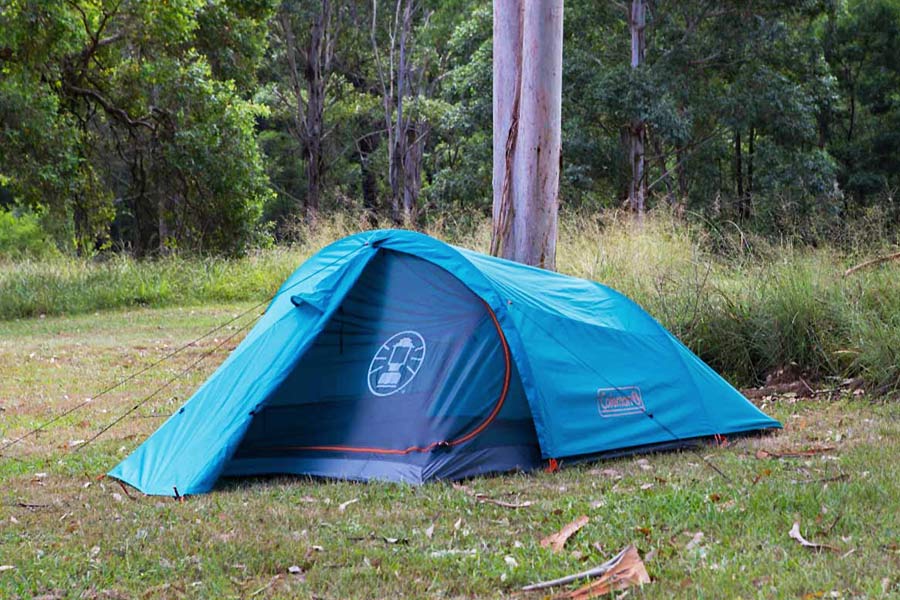 The Ridgeline is perfect for beginners or hikers on a budget. Image: Coleman Australia
The Coleman Ridgeline tents offer affordability combined with performance above its class. It's no wonder they have taken the top position for 2021 and continue to be a repeat firm favourite in our hiking tent range year after year.
There we have it, the complete list of our ten best-selling hiking tents over the past 12-months. But just in case you need that sense of adventure teased a little more, here's a sneak-peek at what's coming this year.
The Vaude Arco 1-2 Person Tent is a spacious tunnel tent perfect for hiking and trekking. Image: Vaude
Vaude Hogan, Space, Arco & Campo 1, 2 and 3 Person Tents
Vaude is designed in Germany to create gear in The Spirit of Mountain Sports. With timeless design in mind, they develop innovative products using robust materials that are easy to repair. They have forged an award-winning position through their commitment to sustainability based on values that are:
Gentle on the planet. Fair for the people of the world. And functional for you. That's what outdoor gear and apparel is all about.
These tents are uncomplicated, lightweight, quick to pitch, offer high wind stability, and are manufactured using premium materials. They are perfect for hiking, trekking, backpacking, mountaineering and bike-packing, where weight and pack-size are top priorities.
We can't wait for this shipment to land and to see if they make our list of best-sellers next year!
What's the most reliable hiking tent you've ever owned?
About the writer...
Trekker, surfer, climber, mountain biker, runner, camper. Participator in most things… master of none.
Joined back in March, 2013