Sea to Summit has a massive range and it can be a bit daunting if you don't already know what you're after! So we're here to break it down with our top picks, from one of our top brands, in our three top categories:
CAMPING
If you're after a mat that you can chuck into the car for that weekend away, Ben's here to make your choice easier. He's got both air-filled and self-inflating options for general car camping.
You can have the best camping mat in the world but if you pair it with a dodgy sleeping bag, or vice-versa, you're still likely to feel pretty unsatisfied. Here's Lauren to explain what Sea to Summit mean by 'Sleep System', and give you the low down on our top picks with two options – compact gear to see you through camping trips as well as the odd hiking adventure, and something specifically for camping and general comfort.
TOP PICKS FOR CAMPING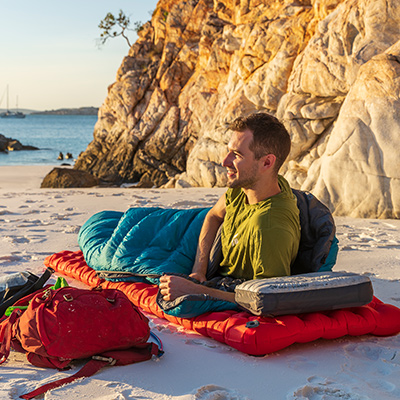 Mats
When it comes to our top STS mats for car camping, Ben's given you a quick brief already, so let's make it even easier.
The Comfort Light SI Sleeping Mat – a good choice for campers who do the occasional overnight hike as well. Tapered, 5cm thick, self-inflating, and available in small, regular, and large.
The Camp Plus SI Sleeping Mat – for campers wanting a well-insulated mat with a durable surface fabric. Available in regular and large, both tapered and rectangle, 7.5cm thick, and self-inflating.
The Comfort Plus SI Sleeping Mat – for a bit more luxury, this choice is 8cm thick, self-inflating, and insulated. It's available in regular and large, both Tapered and Rectangle, as well as Double and the slightly different air-sprung model that Ben mentions.
Sleep Systems
The car camping/overnight hiking hybrid system for a compact and lightweight option that crosses between the two activities.
The Aeros Premium Pillow – available in Regular, Large, and Deluxe.
The Trek Tk Sleeping Bag – available with comfort ratings of 5°C, -1°C, -6°C, and women's specific Journey Sleeping Bag in -1°C and -8°C.
Use with the Comfort Light SI Sleeping Mat which includes air-sprung, women's specific models.
The comfortable, easy-care pick for general car camping.
The Foamcore Pillow – available in Regular, Large, and Deluxe.
The Quest Qu Women's Sleeping Bag – tapered rectangle, synthetic WaveLoft fill, and available with a comfort rating of 3°C and -1°C, in both regular and long sizes. The Trailhead unisex version is available in 5°C and -1°C, plus a bunch of size variations.
Pair these with the Camp Plus SI Sleeping Mat.
HIKING
Alrighty hikers, let's get down to business! This is where gram-counting and pack size are important, but so are comfort and insulation – especially for those cold nights. The type of hiker you are will determine which areas you need to prioritise, so Ben's got our top picks to help.
If you're pretty extreme with your adventures, then you're going to want high-end gear from which you can demand the most. If you're not quite so hardcore and want something more affordable without sacrificing that STS quality, then Lauren's got our sleep system picks for both kinds of trailblazers.
TOP PICKS FOR HIKING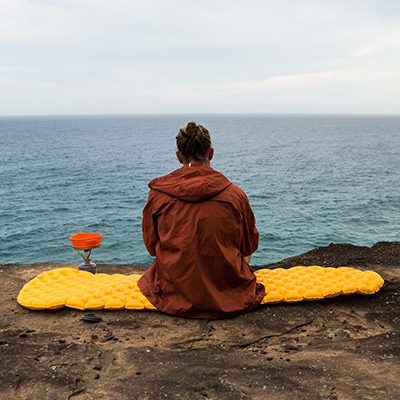 Mats
Air sprung cell or self-inflating, insulated or no insulation, unisex or women's specific? Here's our pick of Sea to Summit mats for hikers.
Ultralight Insulated – available in our best-selling air-sprung, as well as a self-inflating version. These are lightweight, slightly tapered, and available in a range of sizes.
The Comfort Light range – these offer a bit of extra thickness and the self-inflating option provides a good weight, pack size, and comfort ratio. Here's the air-sprung version and also, the women's specific in both self-inflating and air-sprung cell.
Ether Light mats – for the very best balance in weight, size, and comfort. These are in a range of sizes and shapes, but all are air-sprung and 10cm thick.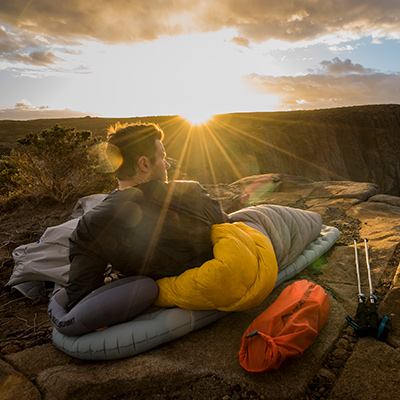 Sleep Systems
For the hiker wanting ultralight and compact gear, with maximum comfort.
Aeros Premium Pillow Regular – packs down to an incredibly small size, yet still offers comfort and support.
The Spark SP2 Sleeping Bag – down fill, mummy-shaped, and available in both regular and long for comfort levels of 14°C, 9°C, 4°C, -2°C, and -8°C. There's also the Ember Quilt series for the gram-counter extraordinaire!
For a super compact and lightweight system, pair these with the Ether Light XT Sleeping Mat.
For the general all-round hiker that wants awesome quality and isn't fussed by a bit of extra weight or pack size.
Aeros Ultralight Pillow – inflatable with internal baffles to cradle your head.
The Ascent Sleeping Bag – down fill, tapered rectangle, and available in two sizes for comfort ratings of 2°C, −4 °C, and −11 °C. Or, the Altitude women's specific version, −4 °C and −10 °C.
The ultra-popular Ultra Light SI Hiking Mat is our pick for the general hiker.
4WDING
STS has built a solid reputation around their ultralight gear so it might come as a surprise that we reckon there's a few key pieces that are perfect for off-road touring. Here's Ben with our pick of Sea to Summit 4WD mats.
There are three important components to a decent sleep system – your pillow, your sleeping bag, and your mat. So, what's our pick for 4WDing? Lauren will tell you.
TOP PICKS for 4WD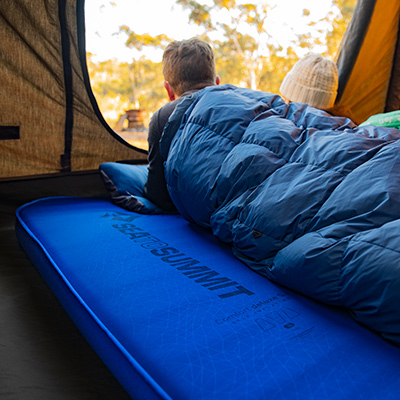 Mats
Comfort Plus SI – for the compact 4WDer, this one crosses over from general camping to offer the best of both.
Camp Plus SI – another versatile mat that is suitable for both camping and 4WDing. This is a really durable choice.
Comfort DLX SI – available in three sizes, Regular Wide, Large Wide, and Double. These mats have a much larger pack size compared to the other two but are the crème de la crème in 4WD luxury.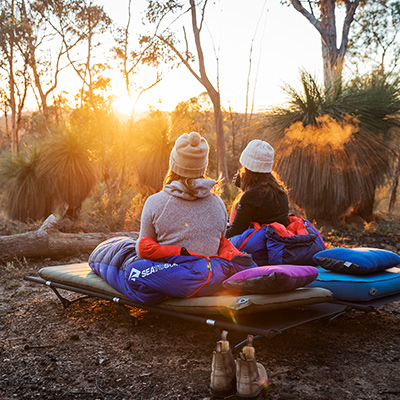 Sleep Systems
If you've got a beefed-up rig but need to keep your gear weight and size down for touring.
The Aeros Down Pillow Deluxe – an air-filled premium pillow that will cradle your head with down-filled baffles stitched into the cushioned top. 
Amplitude Sleeping Bag – a down-filled warmer option that's available in three comfort ratings,  2°C, −8 °C, and Double −8 °C options.
Comfort Plus SI – compact, self-inflating, 8cm thick, and insulated. The Tapered version is great for fitting the whole family into one tent, or it's also available in Rectangle, and Double.
When space and weight aren't such a huge concern, here's the chunkier sleep system.
Foamcore Pillow Large – a soft and comfy travelling pillow that's the next best thing to your one at home. Also available in Regular and Deluxe.
The Basecamp Sleeping Bag – a synthetic version of the Amplitude. Super roomy and available at two comfort ratings, −1 °C and −5 °C, plus a Double size with a −1°C rating.
Pair these with the Comfort DLX SI mat for premium comfort. 
There we have it, folks! That's a round-up of our 'Snowys Pick' from the Sea to Summit range. No matter whether you're a male or female, warm sleeper or cold sleeper, ultra-lightweight hiker or heavy-duty 4WD tourer, big-spender or on a tight budget, there's a mat and sleep system to keep you comfortable on your camping, hiking, or 4WDing adventures.
As always, if you have any questions or need a bit more help, give us a buzz on 1300 914 007 or drop us a note at service@snowys.com.au
Which sleep system is your pick?
About the writer...
When it comes to camping, hiking, travel and adventure – the Snowys team have all the expert advice, guides, and tips on everything outdoors.
Joined back in October, 2015