Camping and comfort. Camping products and technology have come a long way over the last two decades so there's no reason why you can't have both.
I'll let you in on a little secret. A huge part of having an enjoyable camping trip is getting a good night's sleep. In order to do that, you need a quality camping mattress.
I've been camping for longer than I can remember, and like most people started with the family hand-me-downs. For me, it was an inflatable air mattress that had plenty of patches and would occasionally go flat on me during the night. It allowed me to head out camping on a budget and not sleep on the dirt but, without fail, I always came home with a sore back – even when it didn't go flat!
Camping has long been known for 'roughing it'. There's nothing wrong with that (in its place) but at some point in time, you realise that a bad night's sleep and a sore back takes away from an otherwise amazing trip.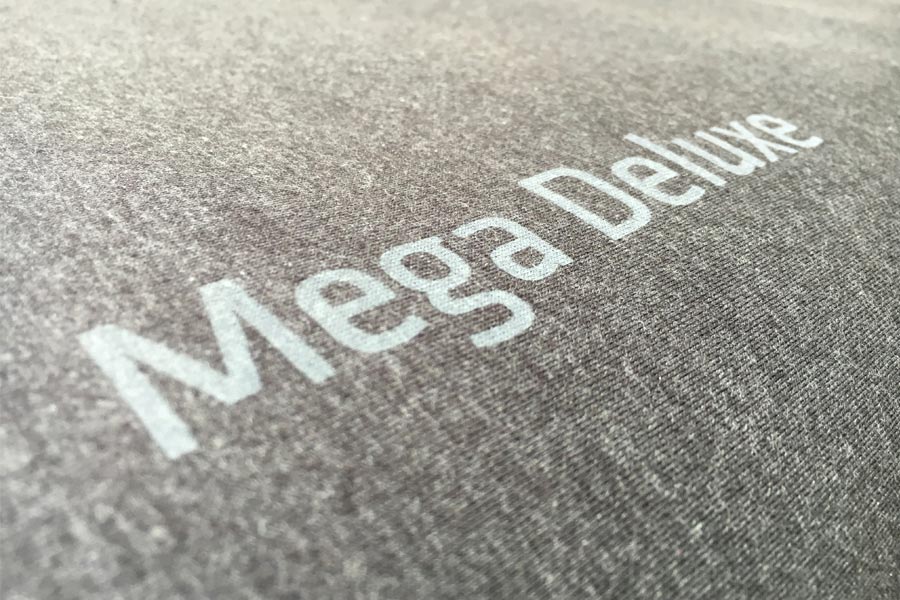 Doesn't get much better than the Black Wolf Mega Deluxe. 
So, I did the usual thing (for me!) and bought several cheap mattresses over a period of time, trying to save money, and as usual, ended up spending more money than if I had bought a decent mattress to start off with. None were comfortable and none gave me a good night's sleep.
That was until I picked up a Black Wolf Mega Deluxe Mattress from Snowys. (Thanks for the free delivery to Western Australia guys!)
About the Black Wolf Mega Deluxe
The Mega Deluxe is self-inflating. You literally roll the mattress out, unscrew two valves and it pumps itself up. What you end up with is a mattress that is part air and part foam. Well-known in the camping industry to be the most comfortable sleeping arrangement.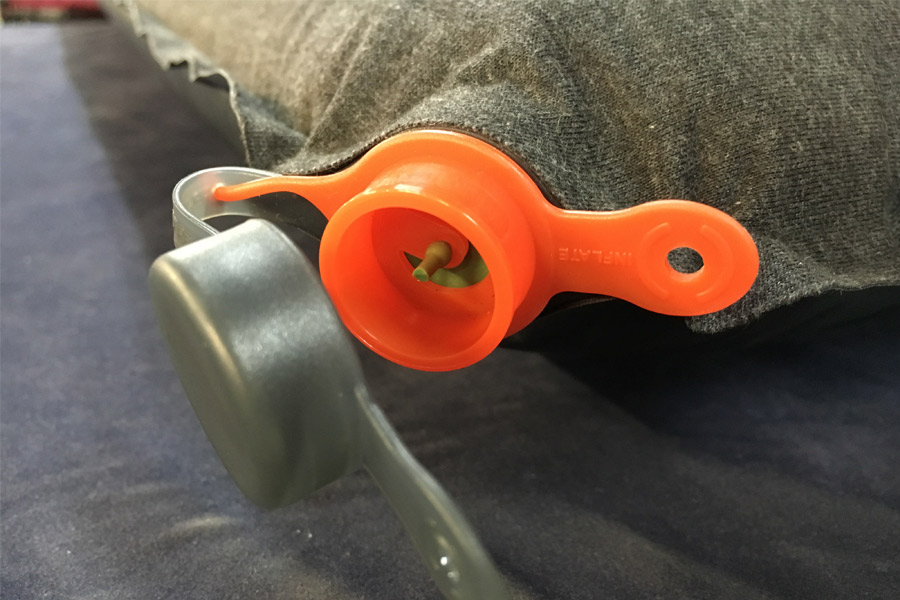 The clever new inflate valve. Open it up and let it puff up. Easy as that.
It's the top-of-the-range mattress in the Black Wolf range and, combined with a lifetime warranty, you really can't go wrong.
The mattress itself is 198cm long, 77cm wide, and 10cm thick when inflated. It rolls up to 80cm wide x 20cm round. It doesn't pack as down as small as an airbed but it is worth it in comfort.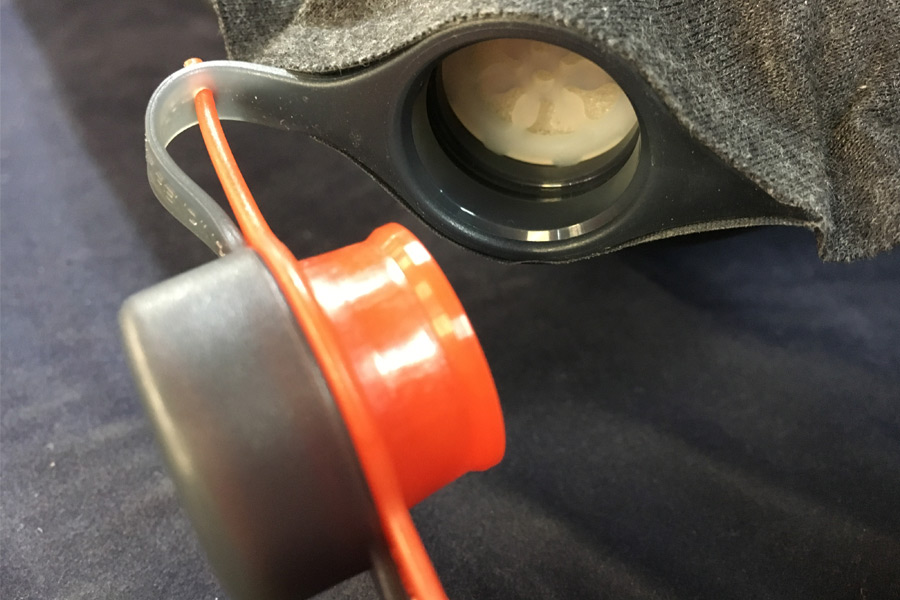 To deflate simply open the deflate valve – it closes nice and snug so it's near impossible to do it by accident. Simple.
How comfortable is it?
Everyone likes their own bed at home. I'm no exception to that rule. But the Black Wolf Mega Deluxe mattress is almost as good. For a camping mattress, it's exceptional. When you are hundreds of kilometres from the nearest town, entirely dependent on your camping gear, it's as good as it gets.
10cm thick means even a big bloke like myself stays off the ground and in comfort. The top cover is stretchy polyester and is great to sleep on even without a sheet or sleeping bag, in both hot and cold weather.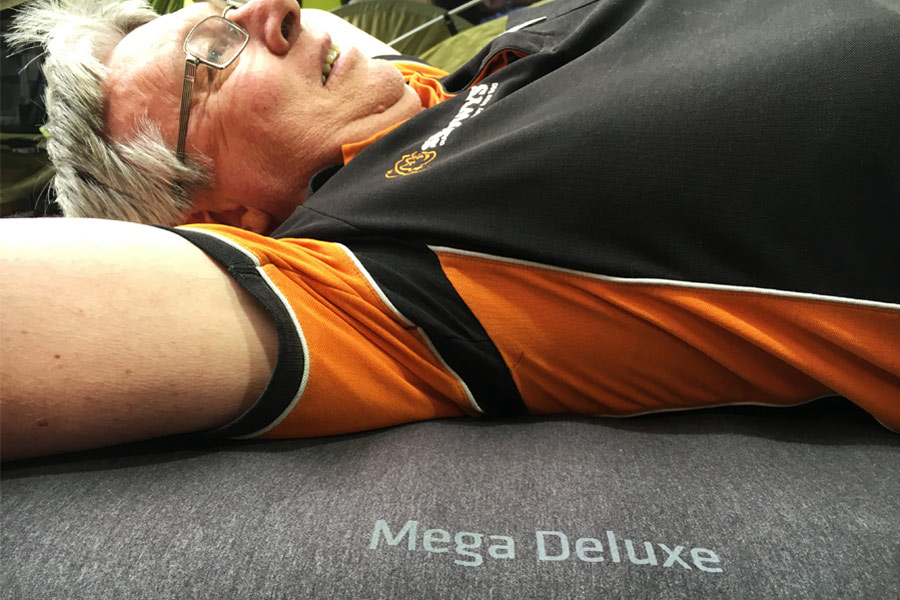 Get back to work, Kev!
Construction and quality
I've always been a bit dubious about mattresses that hold air. From previous experiences, they can be damaged easily which means you get to sleep on the dirt for the night.
However, there's something different about the Black Wolf Mega Deluxe, and it's obvious from the moment you open it up. You can clearly see they are built with quality and longevity in mind.
We've had both of our Mega Deluxe mats for more than 3 years now, and they've been used for well over 100 nights in the bush. We are careful with them, but at the same time, they have been well used.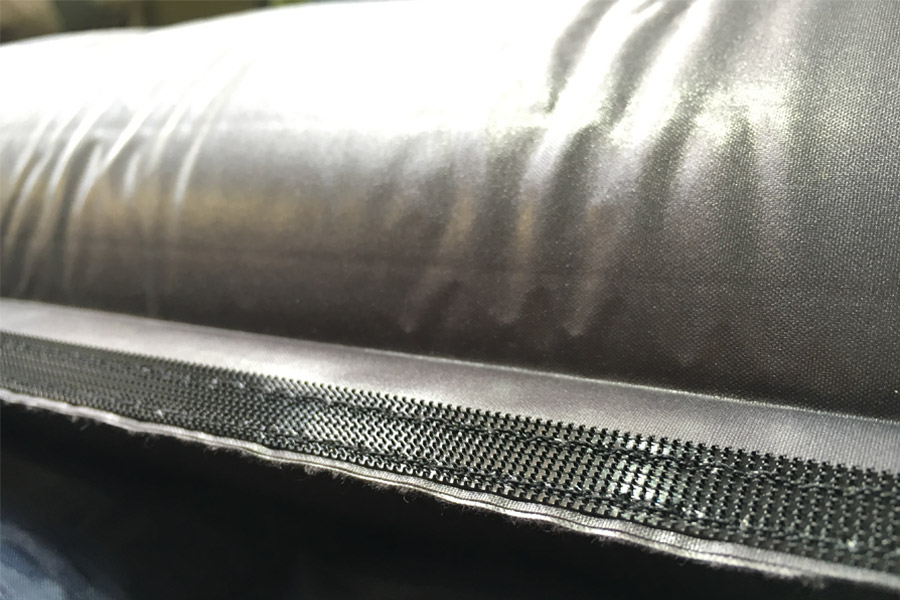 A strip of velcro along one side allows you to attach it to another mat – turning two singles into a double. The Mega Deluxe Double is also available. 
The air valves are strong (and have been improved on the new model), the carry bag is waterproof, and they have velcro along the edge so you can clip two together. The general construction is flawless.
From my experience with these mattresses (and in seeing my mate's inferior mattresses leak regularly on recent camping trips), I'm more than confident that these will last a very long time.
Rolling it up
There's a little trick that I use to roll the mattress up nice and tightly. Firstly, undo the valves. Then, starting at the bottom, roll it up as tight as possible. When it's done, do the valves up, and unroll it, repeating the rolling process but this time with the valves still done up.
You'll find it rolls much tighter the second time around, and when you get near the end you can release a valve and get rid of the remaining air.
Overall
I can't believe I put up with average camping mattresses for so long. I remember coming back from 2 weeks camping in Coral Bay on a shoddy mattress and having to go to several chiropractor appointments in the weeks after. It's so not worth it.
If a bad night's sleep is putting you off going camping you need to invest in a decent camping mattress. Staying dry, warm, and comfortable are hugely important when camping. If camping is a big part of your life, the price of a Black Wolf Mega Deluxe Mattress is well worth it.
A quick tip that you might find useful is that if your self-inflating mat has been stored away for a time, a couple of days prior to setting off on your trip let it fully inflate before rolling it up again. This will make inflation quicker when you're at the campsite.
Are you a member of #TeamAirbed or #TeamSelfInflatingMat? What mattress do you use?
About the writer...
Joined back in July, 2016