Are you in the market for the most comfortable sleeping mat for your hiking and trekking escapes? It's not an easy choice, what works for one person won't necessarily work for another.
You need to consider comfort, weight, size – both packed and inflated and then there's the cost as some lightweight mats come in at a significantly steep price on account of all the new technologies and fabrics incorporated into their design.
Below, we've listed our top-selling lightweight hiking mats over the last 12 months, but before we get into the list, let's cover off on some common questions we get about lightweight hiking mats…
Are hiking mats noisy to sleep on?
Air-filled mats, such as the Thermarest Neo Air (not in this list) and the Sea to Summit air-filled mats, create more noise than self-inflating mats. The good news is that this noise is usually due to the fabric being new, so it will decrease over time. This is usually a small trade-off for a lot more comfort.
When brand spanking new, some mats may make a tiny bit of noise. Image: Thermarest
What is a bonded sleeping mat?
This question refers to the self-inflating mats, where the outer fabric layer is glued (bonded) to the inner foam. This creates a sturdier sleeping surface and allows the mat to be inflated tightly.
How do I care for my sleeping mat?
Wherever possible always use something between your body and the mat, such as a sleeping bag or liner. This reduces the amount of oil and sweat that soaks into the mat. Should your mat need cleaning, use a mild soap with warm water and a soft-bristled brush to gently clean the surface.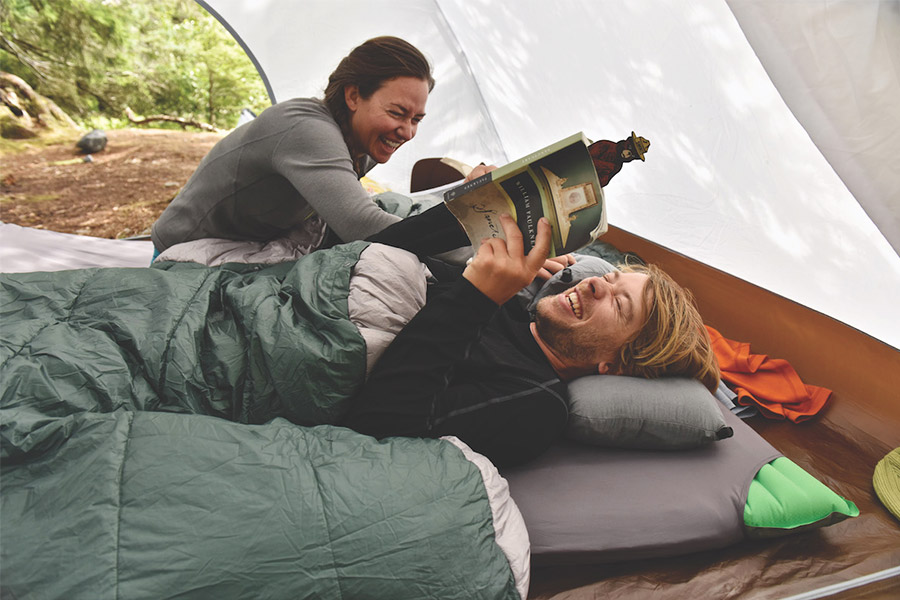 Your mat will need some TLC to keep it performing at its best. Image: Thermarest
How do I store my sleeping mat?
Self-inflating mats (the ones that are full of dense foam) are best stored inflated. This ensures the foams' memory is in an expanded state which shortens the time it takes at camp for the mat to inflate. Air-filled mats and air-filled insulated mats are much easier to care for. They are best stored loosely rolled, but if space is a premium, they can be rolled up and stored in their stuff sack once they're clean and dry.
Store your hiking mat properly so that it stays in good condition for many more adventures.
What size sleeping mat should I get?
If you're in the ultra-lightweight category, then you'll probably want to consider the shorter version of any mat. This reduces weight, but you may need to use something else to insulate your feet if the ground is cold. If weight is not a big concern and you just want comfort, or you are a cold sleeper, then choose a mat that is roughly the same length as you are in height.
Width should also be considered, especially for users with larger frames. Women's sized sleeping mats are usually shorter than the men's equivalent and often have increased insulation around the feet and hips.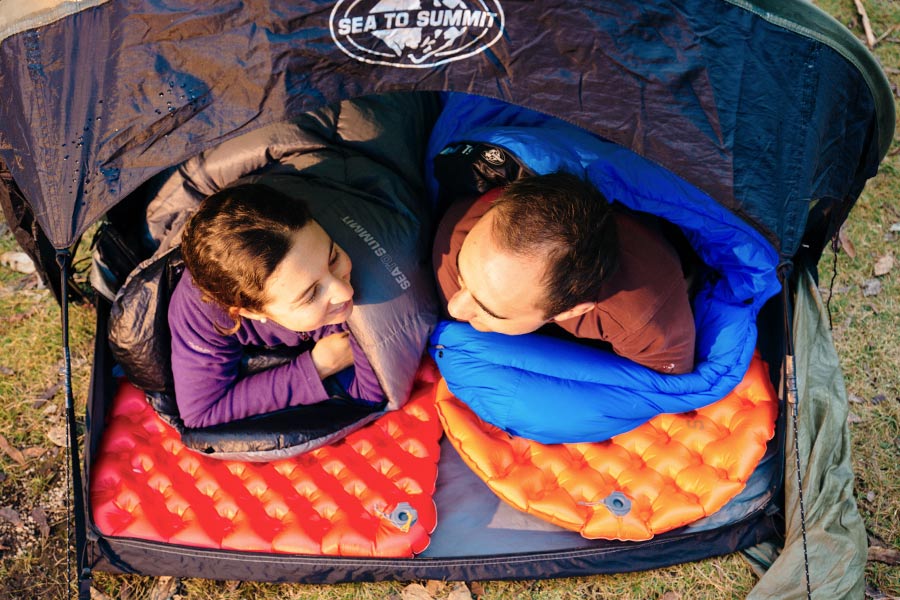 Unless weight is an issue, go for the size that matches your height. Image: Sea to Summit
What is R-value?
R-value is an indication of how well the mat resists the transfer of heat from one side to another. This applies to the heat or cold from under the mat, as well as the heat your body may lose into the mat.
The higher the value, the less likely it is you will feel cold from the ground and the more body heat you will retain. for more on R-Value, check out this article here.
As of 2020 you will see a new industry standard for R-Value called ASTM F3340-18. Whilst the concept of R-Value remains the same, the actual testing methods for the value have been updated.
This has been introduced in a bid to create a level playing field for R-Value to help consumers make a better informed choice when comparing the performance of sleeping pads.
The problem currently is that not every manufacturer has tested their mats to this new standard, and you can only really make a true comparison between mats that are both tested to ASTM F3340-18.
We'll make sure we update information on our website as we receive the latest test data from our suppliers.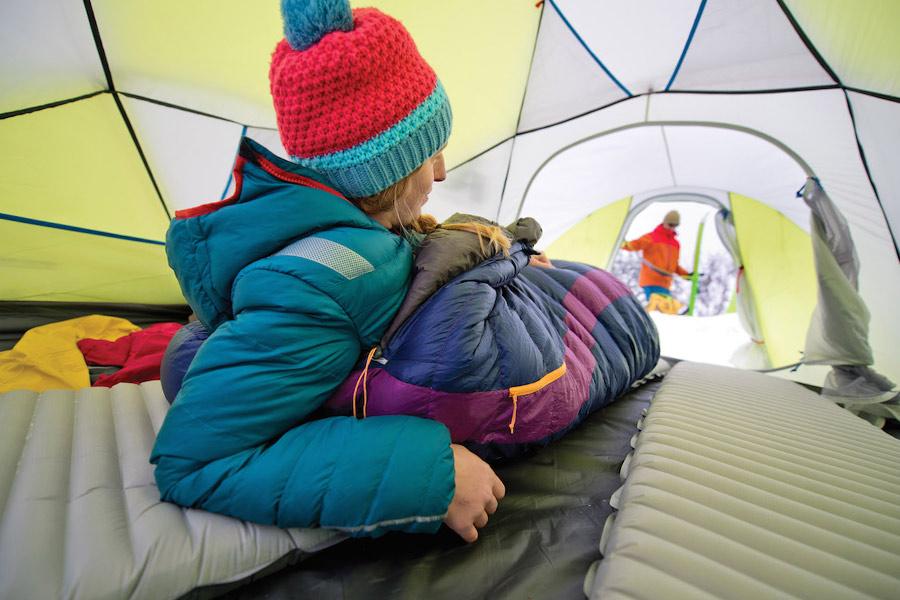 In cold conditions, a higher R-value will help prevent you from feeling the cold. Image: Thermarest
Mat Types
Closed-Cell Foam
These are made of a dense foam with thousands of airtight bubbles inside. They do not compress down, don't offer much comfort, but they insulate really well and are indestructible, lightweight and very affordable.
Air-Filled Mats
These consist of chambers or cells that require inflation before use. These mats usually offer a lot of comfort for their relative weight and packed size. They are not self-inflating and should they get a puncture, will not offer any comfort at all. Insulated versions have chambers filled with synthetic or down to help trap warm air.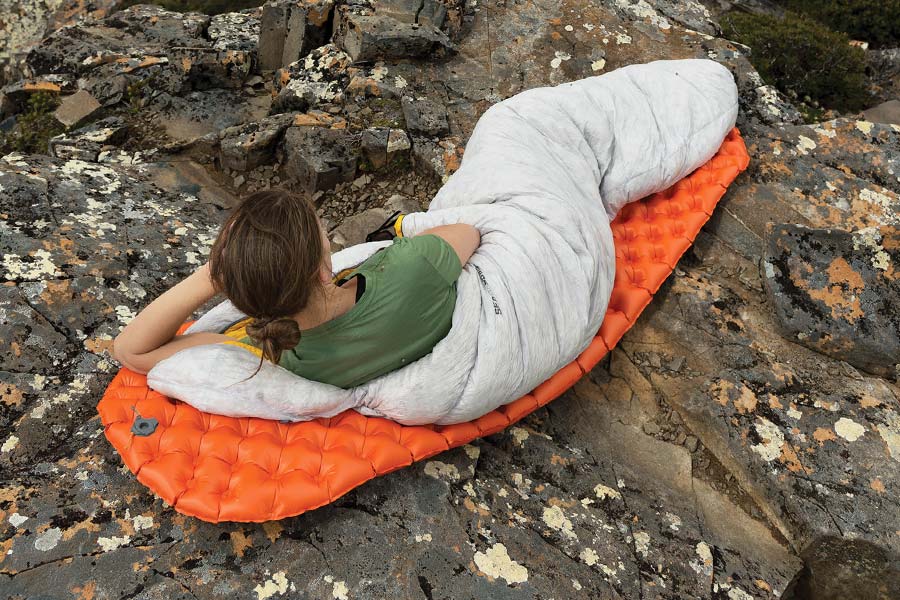 Air-filled mats are usually the choice for lightweight trekkers and adventurers. Image: Sea to Summit
Self-Inflating Mats
These are slabs of open-cell foam, often with holes or cores cut out, with a durable-surface-fabric bonded to the foam. This fabric is also sealed on the edges to create an airtight mat. The expanding foam is what creates the 'self-inflating' feature, but this also means they require a little more muscle to compress the foam to pack away. The other benefit of these mats is that if a puncture does occur, they still offer some padding and insulation.
Filled with expanding foam, a self-inflating mat is a very comfy choice, though not as light. Image: Sea to Summit
Okay, so now that we've got those questions out of the way, let's have a look at Snowys best-selling sleeping mats for hiking over the last 12 months. We'd like to note here that we choose the products we range based on value for money, feedback from our customers, as well as the quality and support from the manufacturer.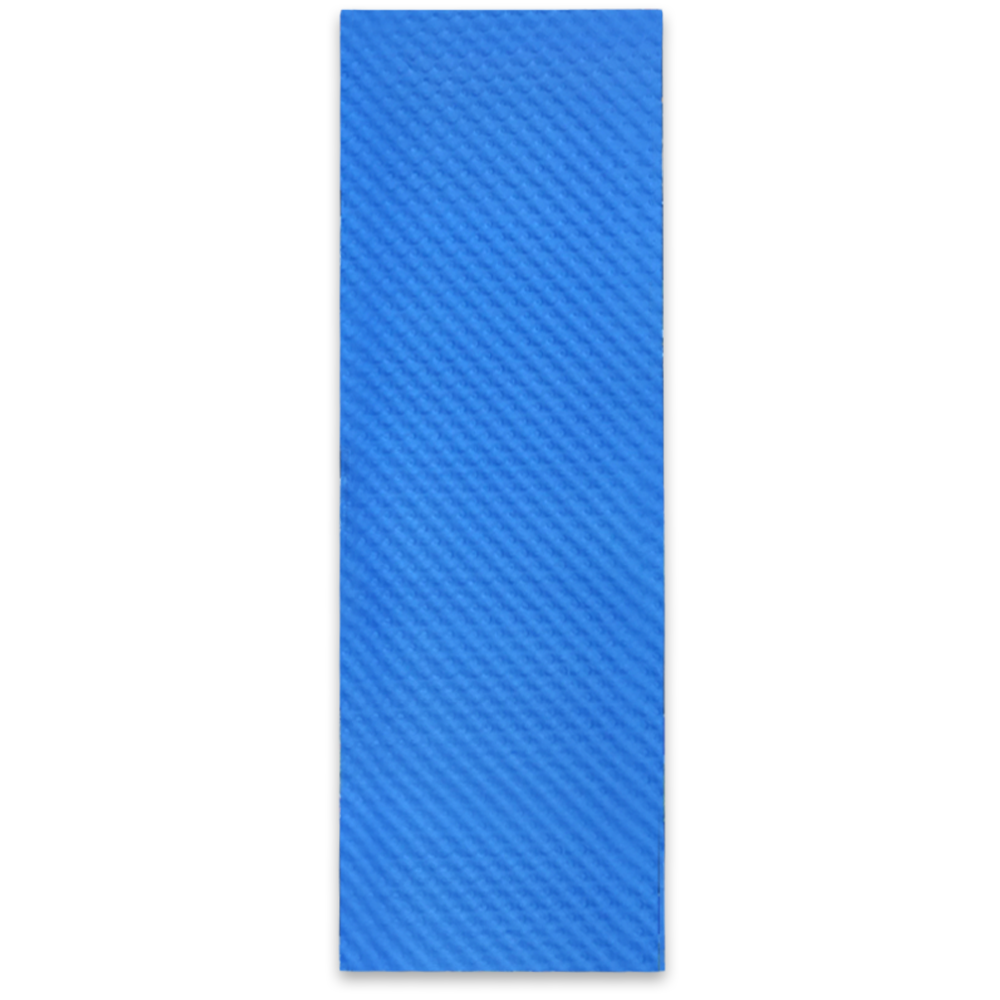 10. Oztrail Giga Mat
Despite all the new technologies that go into camp mats to keep you warmer and more comfortable than ever, the good old closed-cell foam mat is still one of the popular choices.
The OZtrail Giga Earth Mat is made with a closed-cell EVA foam and features an eggshell top for increased comfort. These mats are often used underneath another camp mat in alpine environments for better thermal efficiency. They are not the most comfortable mat on this list, but they are reliable.
Why buy this mat: failsafe padding and insulation for any adventure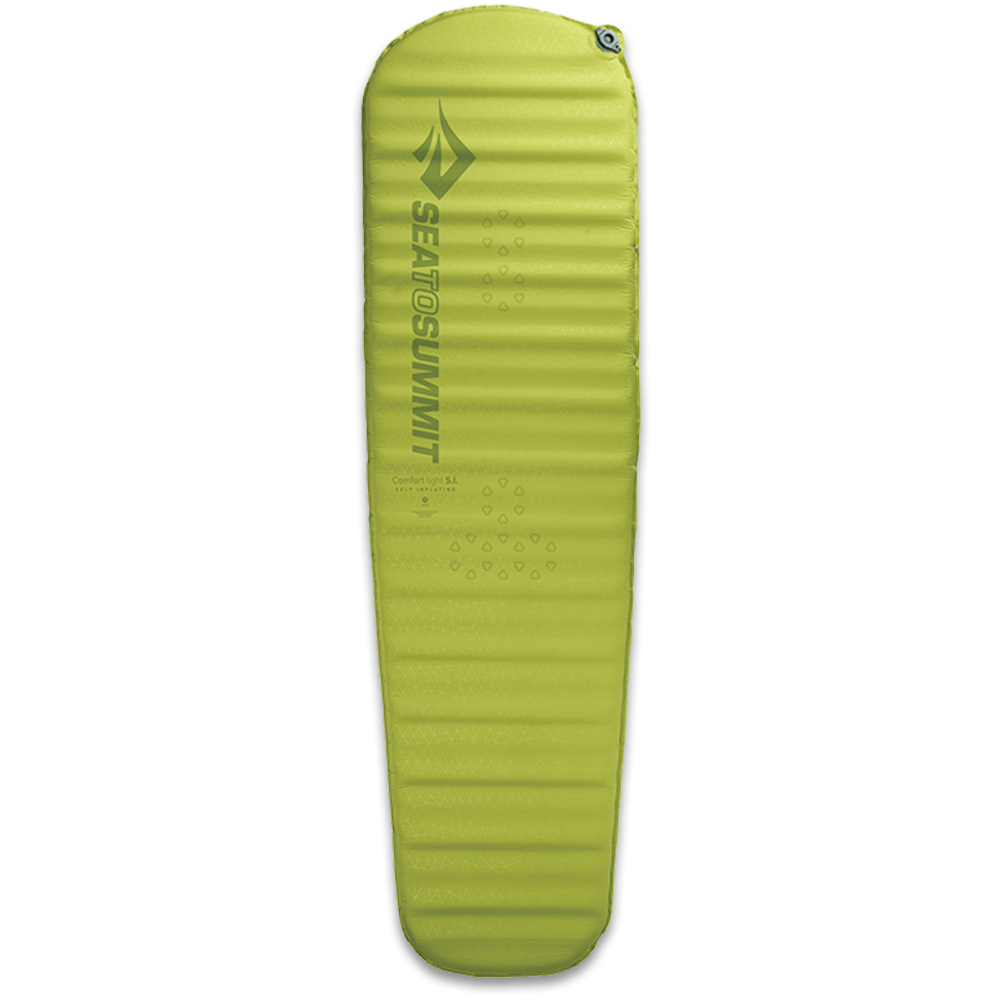 9. Sea to Summit Comfort Light SI
The Comfort Light SI mat from Sea to Summit got an honourable mention in our list last year, and this year it has earned its spot at number 6. This is a self-inflating mat and boasts some rather impressive specifications.
Usually, a self-inflating mat of 5cm thick would weigh upwards of 1kg but the STS Comfort Light SI defies this coming in at 650g for the regular and 880g for the large. At 5cm thick, it offers comfort for just about any user and offers an R-value suitable for mild to cool weather adventures.
Why buy this mat: impressive specifications for a self-inflating mat
8. Exped Synmat 7 & 9
Providing excellent insulation, and high-quality construction and design that Exped are known for, the Synmat range of mats are designs that have been in our range for years but have experienced a resurgence recently.
Depending on the model you get, these mats offer either 7cm or 9cm thick air-filled tubes that are filled with synthetic insulation. As the tubes fill with air, the synthetic inside expands and helps trap warm air. As an added bonus, these mats have an integrated pump, which when combined with the one-way deflation valve, makes setup and pack-away really easy.
Why buy this mat: provides lightweight and reliable insulation and comfort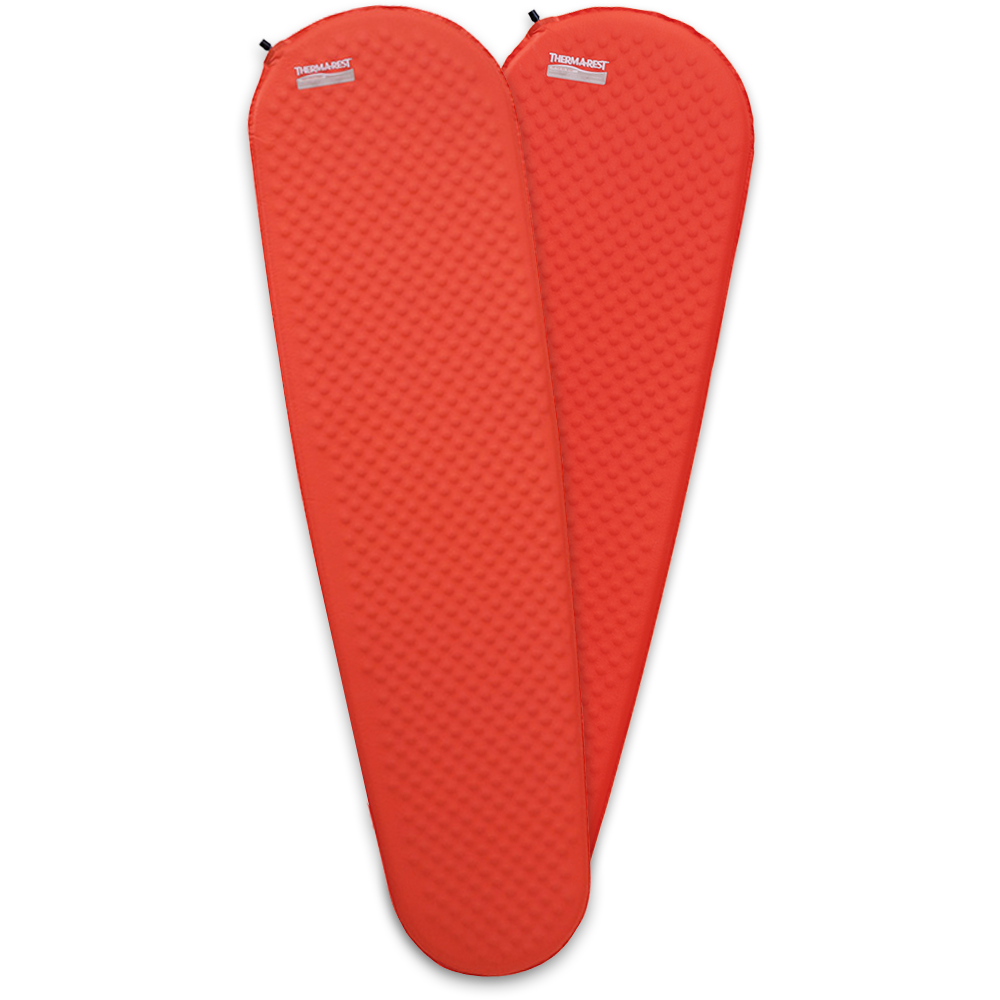 7. Thermarest Prolite & Prolite Plus
Thermarest pioneered the self-inflating mat back in the 1970s when a former Boeing engineer had an 'Ah-ha' moment in his garden one day, the Thermarest brand has been synonymous with lightweight hiking sleeping mats ever since.
Of all the mats Thermarest has produced over the last 40 years, the Prolite has been the most popular. These mats have been continually refined year after year and offer an excellent balance of comfort, weight and durability. They come in 2.5cm and 3.8cm thick versions as well as having both unisex and women's specific cuts, and they are backed with a lifetime warranty.
Why buy this mat: proven performance and reliability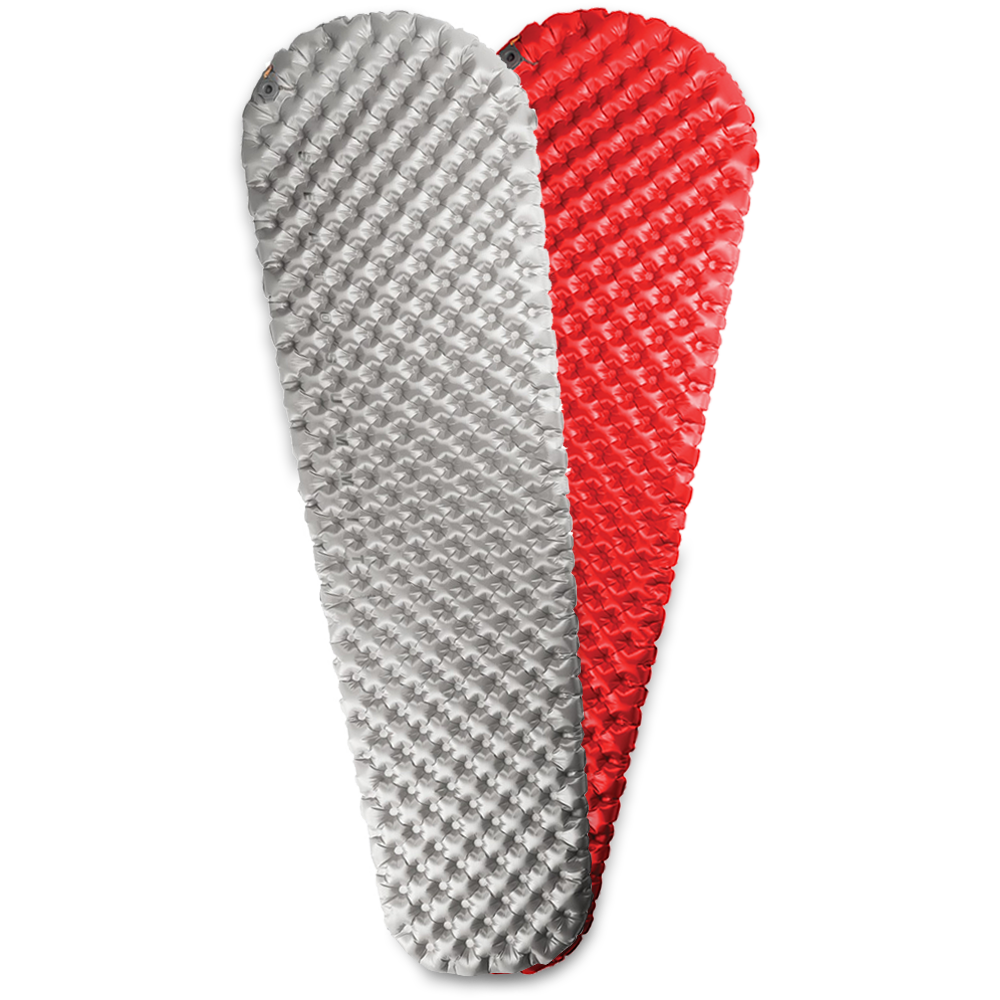 6. Sea to Summit Comfort Plus & Comfort Plus Insulated
The Comfort Plus mats from Sea to Summit come in both insulated and non-insulated versions. The insulated version is even available in a rectangular shape for a larger sleeping area. Weighing roughly the same as some of the other self-inflating mats on this list, the Comfort Plus mats take things one step further by offering extra height and comfort.
Made with two independent inflatable layers, the Comfort Plus mats provide custom comfort and a level of redundancy in the event of a puncture. While there are lighter mats available, If you're willing to carry a few extra grams, the Sea to Summit Comfort Plus will reward you with a night of deep sleep.
Why buy this mat: for increased comfort at a slightly higher weight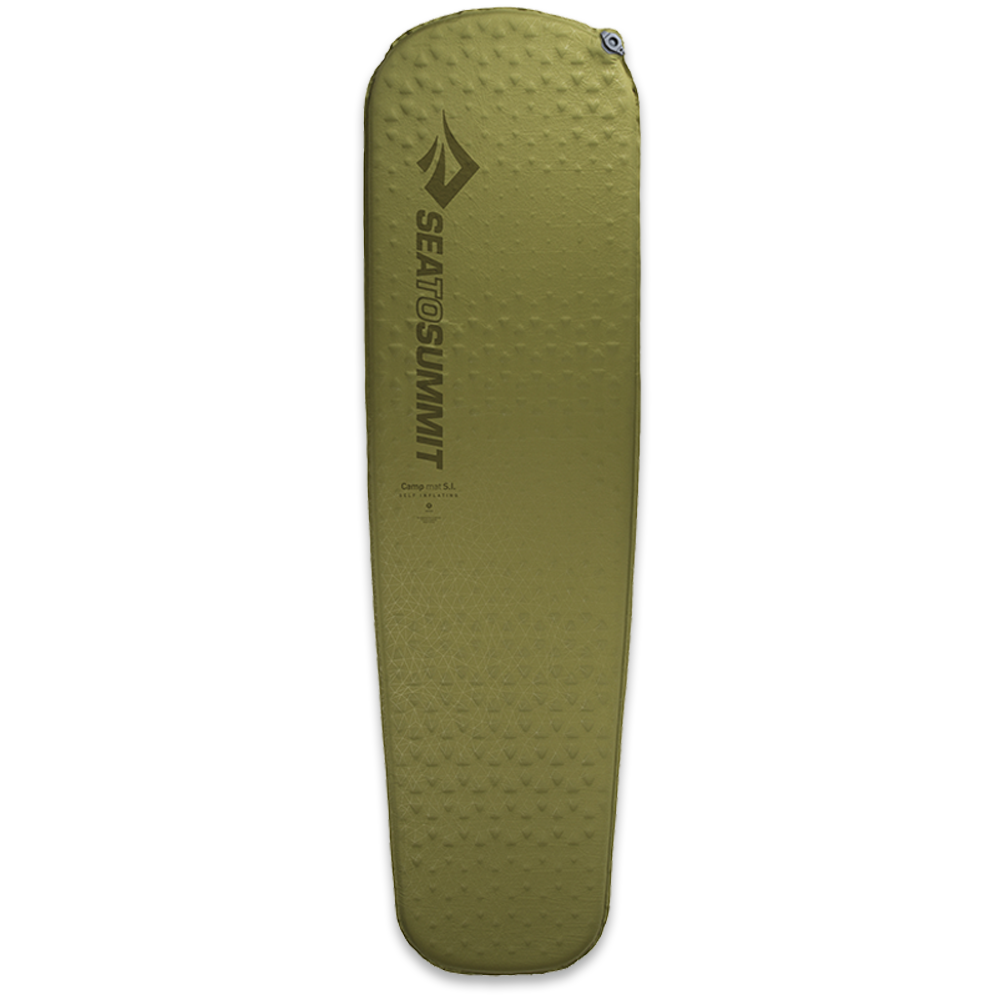 5. Sea to Summit Camp Mat SI
This is Sea to Summit's entry-level offering. The Camp Mat SI weighs in at 0.78 Kg for the regular size and doesn't boast the smallest pack size but you do get a high build quality and durable materials for a very affordable price.
The Camp Mat SI comes in regular and large sizes offering both 51cm and 63cm widths and with a 3.8cm thickness, they provide ample sleeping space and comfort for hiking and trekking. Pressure mapped cores provide warmth where the body rests on the mat making it an excellent value camp mat for year-round use.
Why buy this mat: quality build at an affordable price
4. Sea to Summit Comfort Plus SI
Hikers and trekkers that are willing to carry extra weight to ensure a comfortable night of sleep will love the Sea to Summit Comfort Plus Self Inflating mats. These mats are available in multiple sizes and come in both tapered, rectangular and women's designs to suit every end-user.
At 8cm thick with a stretch knit upper, the Comfort Plus mats offer a luxurious pad to rest weary muscles on after a long day on the trail. And, with an R-value of 4.1, they are going to ensure you sleep warm no matter where you set up camp.
Why buy this mat: to get a luxurious sleep without adding too much to your pack weight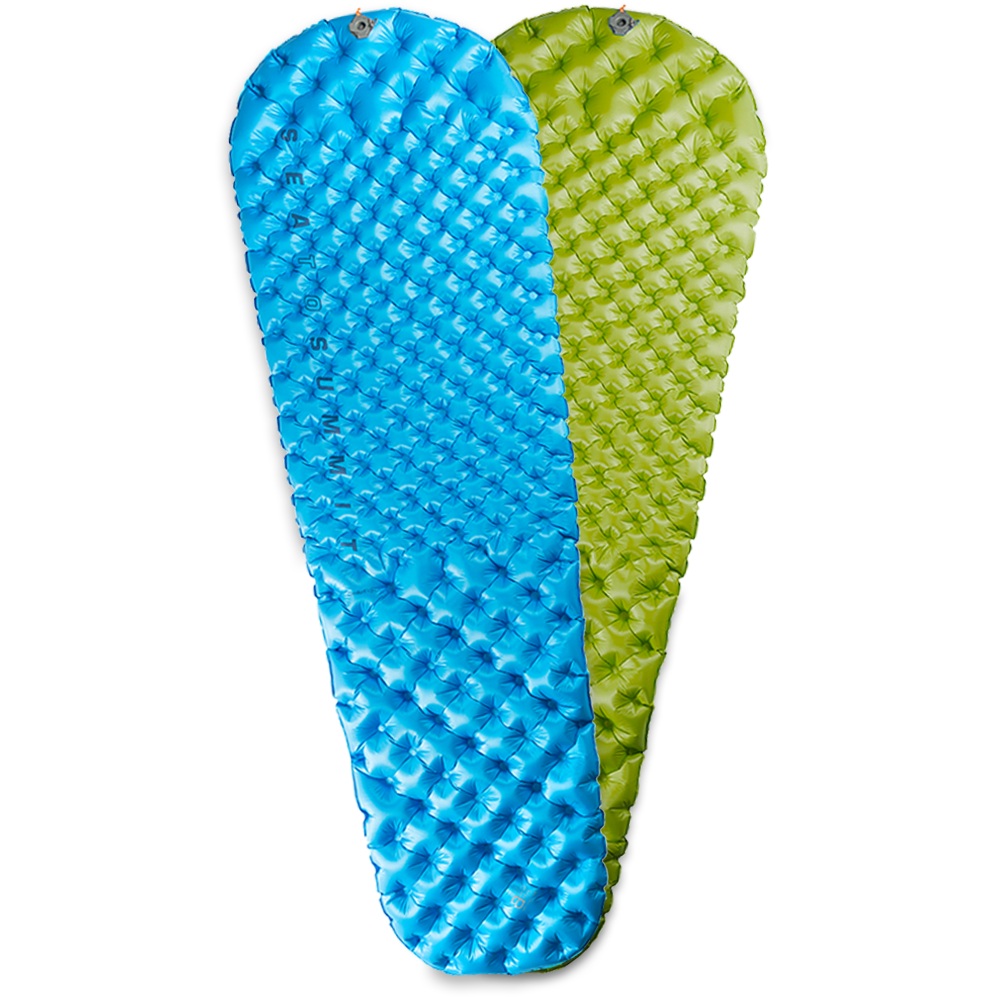 3. Sea to Summit Comfort Light & Comfort Light Insulated
Probably the most versatile mat in the inflatable range from Sea to Summit. The Comfort Light mats come in insulated, non-insulated and women's specific versions and are made to provide warmth where it is needed and save weight where it is not.
The torso area of these mats feature dual layer air cells for extra warmth, whilst the foot and head ends are a single layer to trim the grams. They offer 6.3cm of thickness and all weigh in at sub 800g depending on which size you choose.
Why buy this mat: versatile all-rounder for any adventure
2. Sea to Summit Ether Light XT
We predicted that these mats would be a hit last year, and boy we were right! The Ether Light XT has given every other mat in this category a run for its money.
Slightly quieter than the Ultralight mats due to the larger baffle design, Ether Light XT mats take it to another level with 10cm of comfort, 3 season insulation, full-body comfort, and almost all at less than 500g a pop! So far our customers have been raving in the reviews about how the thickness is perfect for side sleepers, as your hips and shoulders won't touch the cold ground.
With insulated, women's specific and non-insulated versions available, there's a model for every lightweight hiker.
Why buy this mat: upgrade to more comfort without compromising weight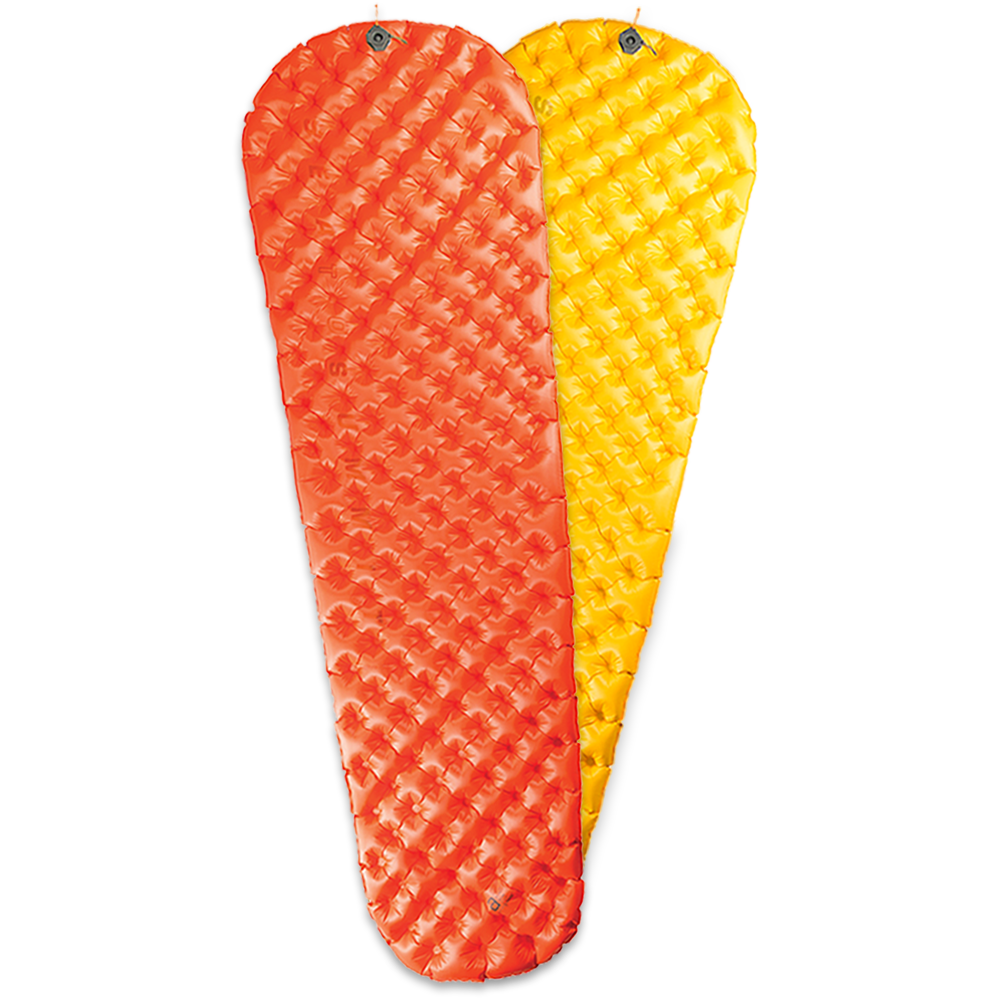 1. Sea to Summit Ultralight and Ultralight Insulated
These were number one last year and have maintained their pole position again. The Ultralight mats from Sea to Summit features a single layer of inflatable cells that conform to your body when you sleep and come in both insulated and non-insulated versions.
Lightweight hikers love these mats as they are barely noticeable in a pack. They weigh less than 600g for the large version and at 5cm thick, they offer comfort not expected in a lightweight hiking mat, even for side sleepers!
Why buy this mat: for lightweight and compact comfort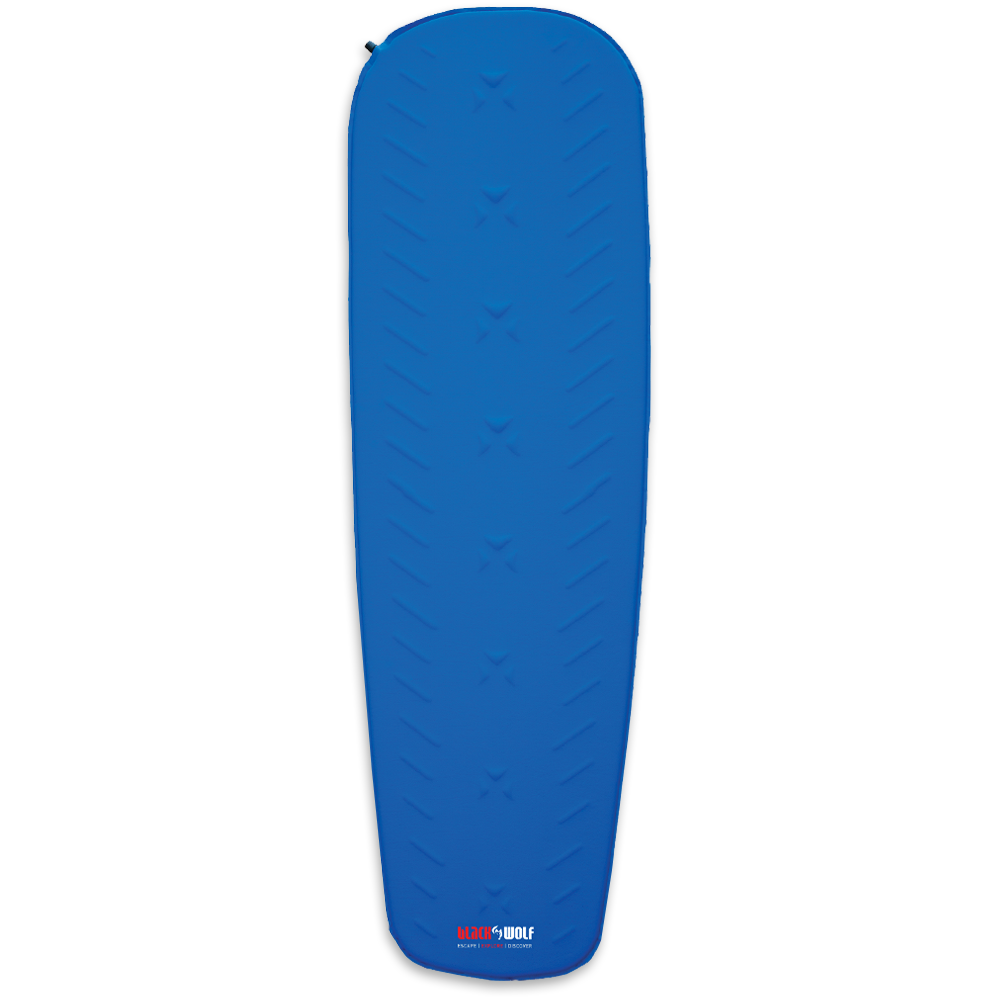 What to look out for next year
In the past, technical brands such as Sea to Summit and Exped have been the ones to watch when it comes to lightweight mats, but Black Wolf have recently come out with a range of new mats that have our interest due to their design and competitive pricing.
The HexaTherm Hiker Hybrid is a lightweight self-inflating mat that comes in a ¾ size for those who want to cut down on space and weight in your rucksack, and a regular size for traditionalists. It has a 20D ripstop nylon upper with a TPU coating for durability, with a durable non-slip base (so that it doesn't slide around); a horizontally cored foam inner support system and has a flat recessed multi-function valve to make it super easy to inflate.
We've not had much experience with these mats at the time of writing this article, so will have to see how they perform in the long term.
What's the best hiking mat you've ever used?
About the writer...
Joined back in March, 2013