A comfortable and restful night of sleep can be the difference between a relaxing camping getaway and a sleep-deprived trip away from the comforts of home that has left you with a stiff neck, an aching back and a throbbing headache…not what you set out to achieve!
The secret to sleeping comfortably on your camping trips is to use a good mattress. Combine this with the right sleeping bag and a pillow, and you'll be hitting the hay in restful comfort and waking up feeling revitalised.
So, what constitutes a good camp mattress? Well, below you'll find our 10 best-selling camp mats, as determined by what our customers purchased over the last 12 months.
This list is aimed at campers rather than hikers, so I've laid some parameters around which mats made the cut. They had to be at least 180cm in length, 5cm in height, and to cater for those with small tents we included mats down to 55cm in width.
Let's start at number 10:
10. Darche All Terrain Self-Inflating Mats
Darche has not beaten around the bush with fancy fabrics or features on these mats. They are simply made to be tough and are the perfect mattress upgrade for your swag.
There are three sizes – 900, 1100 and 1300, which suit many Darche shelters as well as cater to the individual preferences of the user. The self-inflating design features two valves for quick inflation and deflation.
This mat has an upper made from a smooth and durable polyester fabric whilst the bottom is peppered with non-slip dots that keep your mat from moving around, and they come complete with a durable carry bag.
The Darche All-Terrain Mats come in a variety of sizes to suit all. Image: Darche
9. Sea to Summit Comfort Plus Inflatable Mats
The Comfort Plus Insulated mats from Sea to Summit are good for winter trekking adventures but are also great for compact camp set-ups. They feature a dual layer air cell system with heat reflective material and synthetic insulation on the inside for warmth.
These mats come in two shapes and various sizes. It is the regular and large sizes that fit in with the parameters for this list. In particular, the rectangular shape which offers the most sleeping area.
They are inflatable (not self-inflating), and each layer is independent of the other which adds a level of redundancy in the event of a puncture. The packed size of these makes them ideal if space is limited in your vehicle.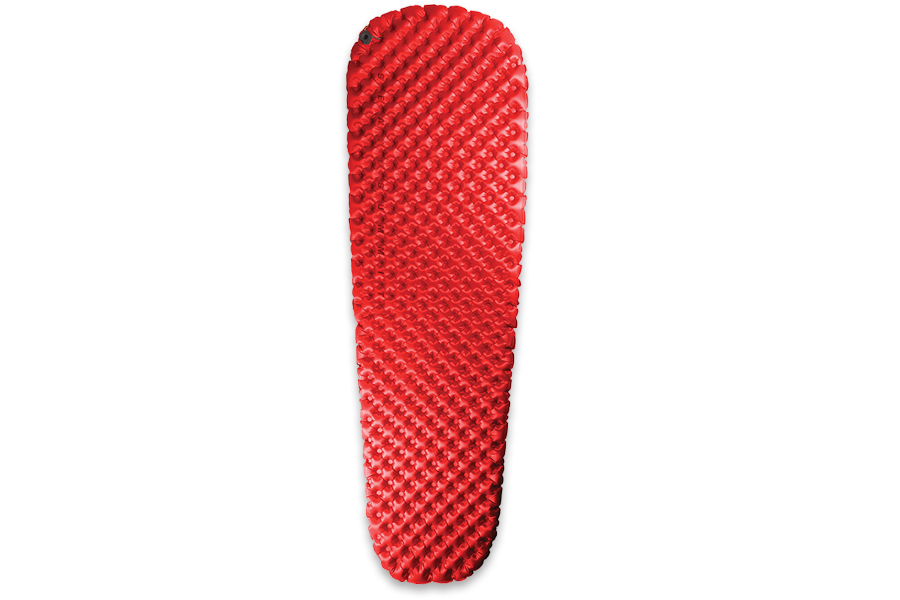 A puncture in one layer of your Comfort Plus means you still have the other layer to get you through the night. Image: Sea to Summit
8. Sea to Summit Comfort Light Insulated Inflatable Mats
The Sea to Summit Air Mats blur the lines between a hike mat and a camp mat.They're a little heavy for the ultra-lightweight trekker and will be too compact for many campers. At 55cm wide, they are on the narrow end of our parameters for this list.
However, for campers with a compact set-up, limited vehicle space or a small tent, these sleeping mats will offer tonnes of comfort and insulation without taking up space in transport.
These are an inflatable mattress, essentially a high tech airbed. The air filled cells provide even support, feature a special reflective layer inside and are filled with synthetic insulation for warmth.
Available in three sizes with the regular and large being best for general camping, the STS Comfort Light Insulated Sleeping Mats may be one of the more high tech items you have in your camp kit.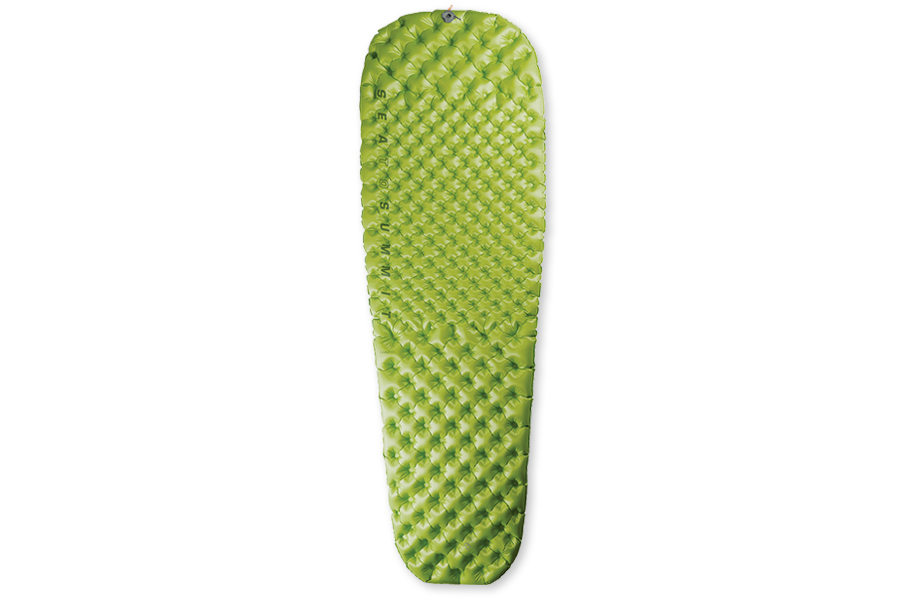 The Comfort Light Insulated Mat blurs the lines between a camping mat and a hiking mat. Image: Sea to Summit
7. Explore Planet Earth Sim Camper Self-Inflating Mats
These are the quiet achievers in this list. The Sim Camper from EPE is made with unbreakable twin brass valves, tough exterior materials and come at an affordable price.
There are three Sim Camper mats that fit into this list, the single F100 and double FDD100 at 10cm thick, and a single F60 at 6cm thick, whilst the thinner F35 model is more of a hiking mat.
The edges feature press studs for joining two mats together and the base features non-slip dots.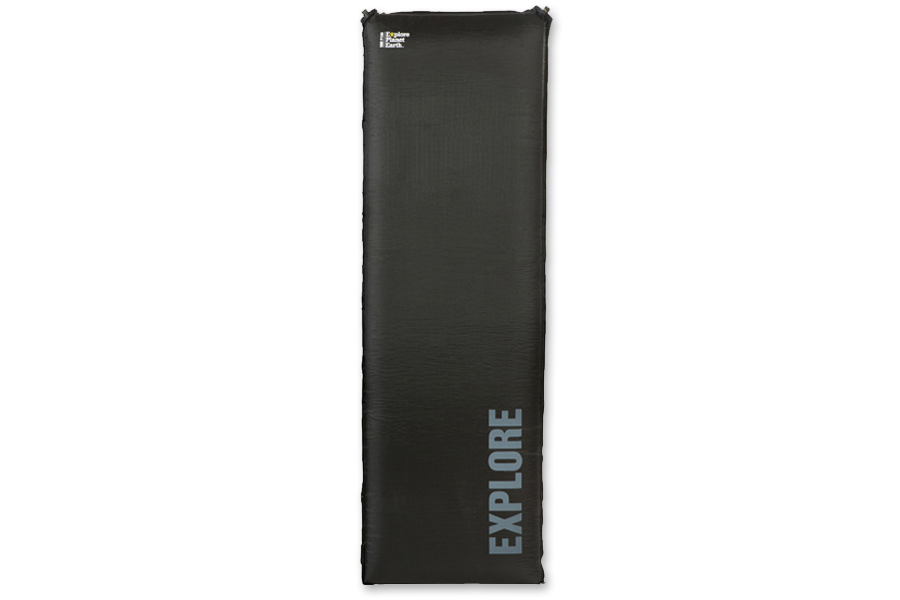 Durable and affordable, the Sim Camper range feature unbreakable brass valves. Image: Explore Planet Earth
6. Zempire Self-Inflating Bomberpads
Zempire are a newer brand to us, so we don't have as much feedback on the Bomberpads as other mats in our range. However, Zempire stands by their products and they are fast becoming one of our most sought-after labels.
The Bomberpads come in a single and a twin size. The twin is essentially two singles permanently joined down the centre, making them great to use on double stretchers.
These are an air-tight self-inflating mat with a velour finish top and non-slip dot base. They are 7cm thick, provide oodles of comfort and represent excellent value for money.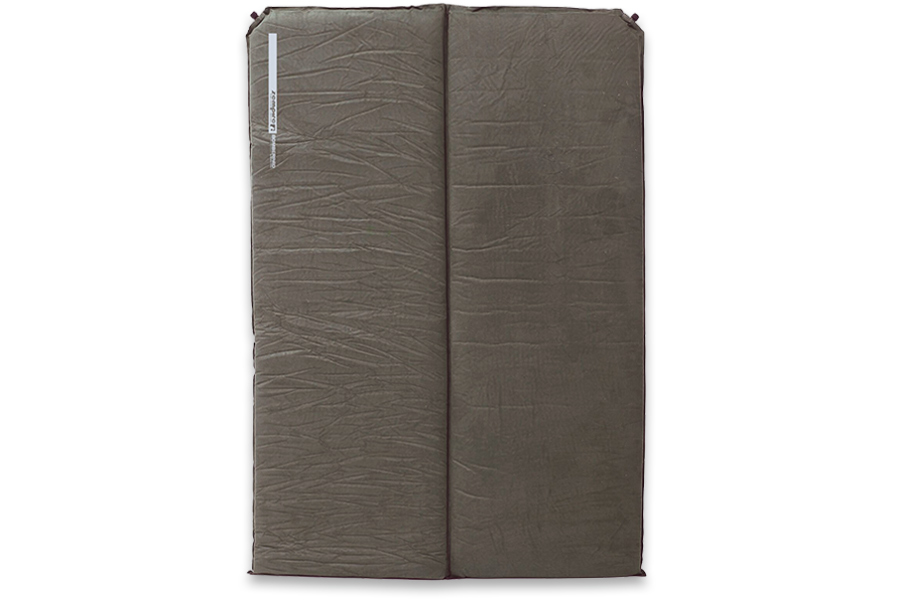 The Twin Bomberpad is a perfect companion for double stretcher beds. Image: Zempire
5. Black Wolf Mega Deluxe Self-Inflating Mats
While these come in at number five on this list, they are actually our second most popular air-tight self-inflating mats behind the Exped Megamat. These had an update in 2017 and now feature a brushed stretch poly-cotton top and a high flow reversible valve.
This design is available in single and double sizes. The Single Black Wolf Mega Deluxe Mat has Velcro strips for joining two mats together and the storage sack doubles as an inflation aid.
These mats have also been tried and tested for many years and are a reliable pad to help you rest at the end of each day.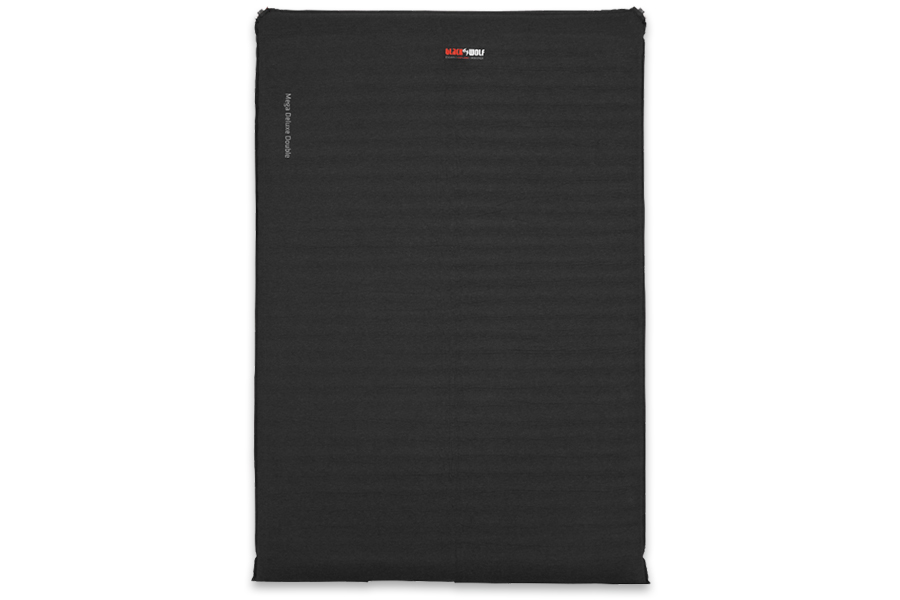 The Mega Deluxe Mats have a non-slip base and roll up to a superbly manageable size for easy car storage. Image: Black Wolf
4. Coleman All Terrain Airbeds
The All-Terrain Mattresses from Coleman have a similar construction to their Quickbeds but are made with a different fabric.
This model is available in three sizes – XL single, a queen, and a double-high version, and they accommodate standard bedsheets. The main consideration with an airbed is that they have no insulation and may be cold in the winter months.
These are updated versions of the discontinued blue Dura-Sleep mattresses. For the few extra dollars on top of a standard Quickbed you get peace of mind with a mat that is 47% more puncture resistant, 25% more stretch resistant and 30% lighter than traditional airbeds.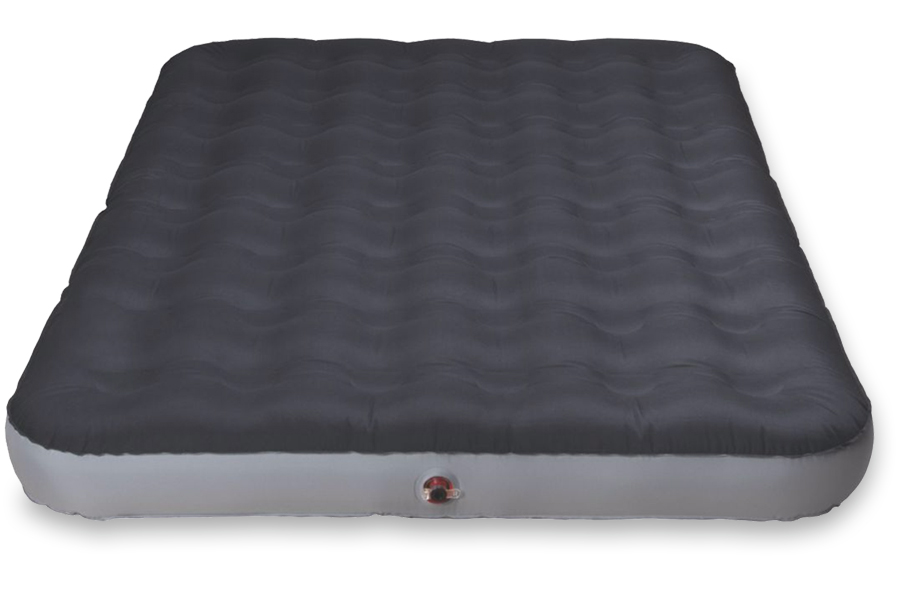 The Coleman All Terrain is the durable choice for camping trips or for when you've got guests coming to stay. Image: Coleman Australia
3. Coleman Quickbed Airbeds
The good ol' airbed is often the first point of call for those new to camping. This is with good reason – as a quality airbed provides good support, is compact to transport and is ultimately affordable.
As mentioned above, whilst they are comfortable to lie on, they won't provide insulation in the cold months. The Coleman Quickbeds feature supportive coil like construction and a velour finished top. They are factory tested for leaks and have a dual sealed valve.
Available in various models including single, double and queen, and a double high model with a built-in pump. The Coleman Quickbeds are perfect for summer getaways or guest beds at home.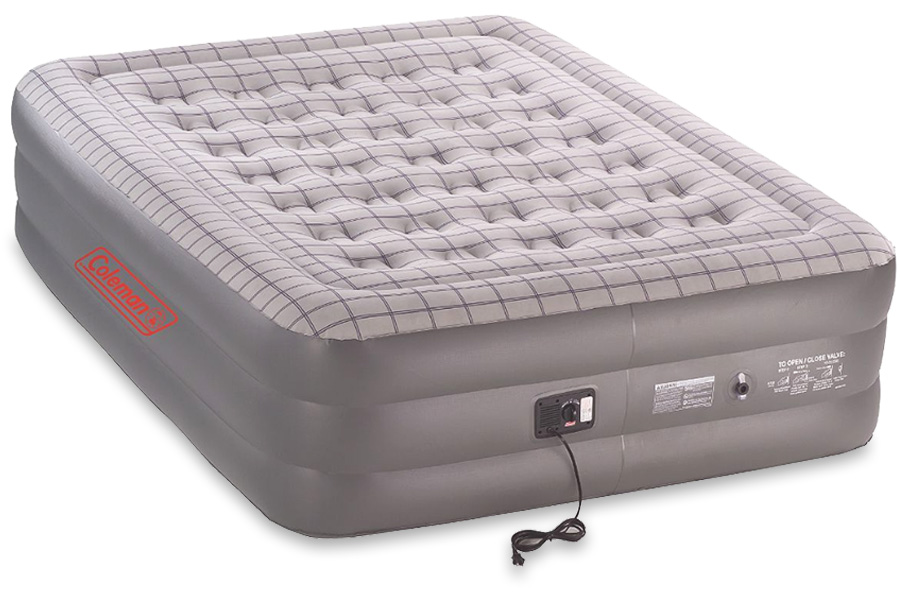 The double height creates a mattress like experience, and best of all they fit the queen size sheets you already have. Image: Coleman Australia
2. Oztrail Self-Inflating Leisure Mats
These are self-inflating mats but are not actually airtight, it's the dense foam that provides support. The benefit of this is that they are not affected by punctures. This means you can use it without worrying about the mat deflating.
Available in three sizes, the Oztrail Leisure Mats have a velour finish on the top and high flow valves for quick inflation. The King Single size is the most popular with our customers, followed by the Queen.
The high-density foam makes for a really comfortable place to sleep but can require a little elbow grease to roll up and still be large once packed away, especially the double and queen. We recommend transport of the Leisure Mats on a roof rack or in a trailer.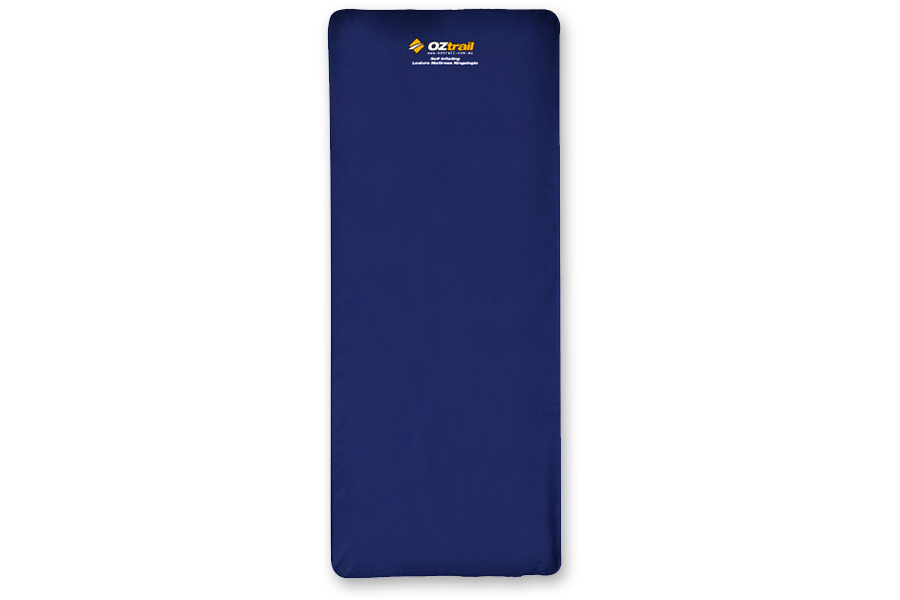 With an Oztrail Leisure Mat, you'll get a reliable night's sleep as it will never go down – even if it punctures! Image: Oztrail
1. The Self-Inflating Exped Megamat
These are the ducks-nuts of camp mats. Available in single and double sizes, there are campers worldwide sleeping soundly on the Exped Megamat. Exped is a Swiss brand that specialises in lightweight adventure gear. They are very innovative and hold high standards for all their products. The Megamat is no exception, only it's aimed at the camping market.
These self-inflating mats are 10cm thick and feature square edges to maximise the sleeping area. While a velour type brushed finish on the top stops you slipping around and creates a soft sleeping surface.
We have a lot of confidence in the quality of these mats. We watch truckloads of them go out our doors each year with barely a handful of problems coming back.
The Megamats are not the cheapest, but you will forget about the price years down the track while you are still sleeping comfortably under the stars.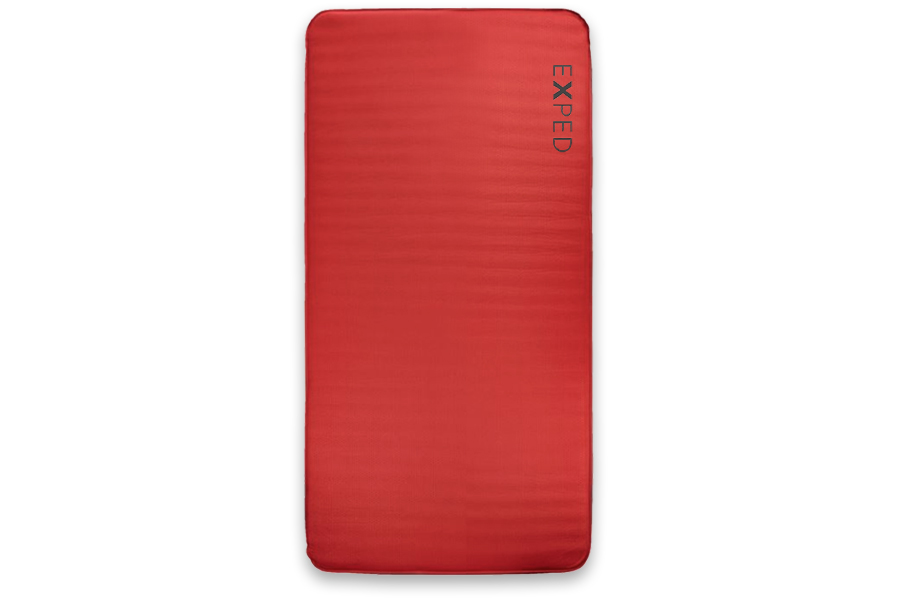 With 10cm of thickness, the Megamat 10 LXW is the simple choice when it comes to quality and comfort. Image: Expedition Equipment
Worth a mention – Zempire Megamat Self-inflating Mats
These, strangely enough, share the same name as the Exped Megamat and come in a similar design. They are newer to the market so they have by no means been field tested to the same extent.
So, while we can't vouch for their longevity just yet, we can say that we have confidence in the Zempire brand. They also come at a much lesser price.
The weights and dimensions vary a little when compared to the Exped. On appearance, they also seem to be very similar. Only time will tell if the Zempire mat will stand up to regular long-term use in the same way the Exped does.
But, if your budget doesn't extend that far, the Zempire Megamat may be a suitable alternative.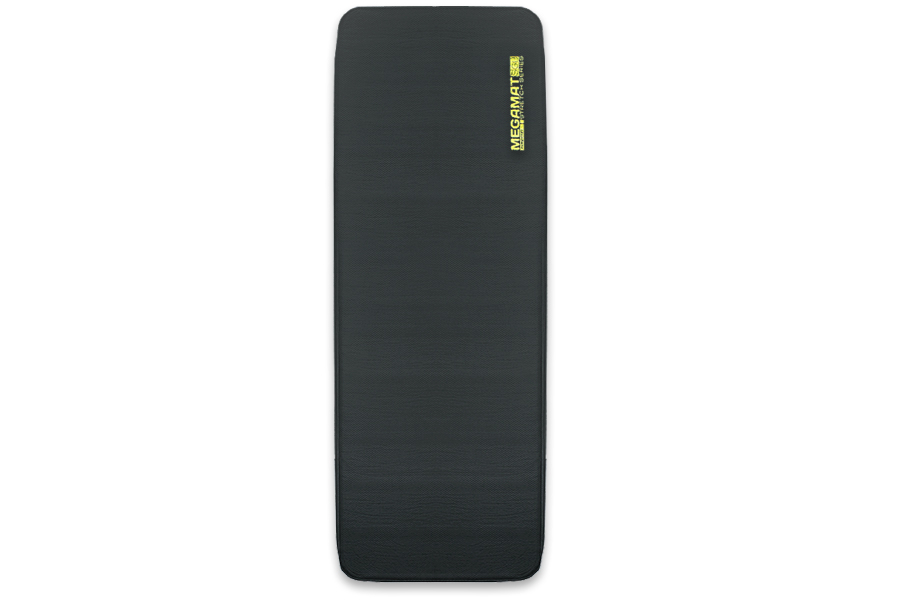 The Zempire Megamat has an excellent balance of price, weight and comfort for those who are after a mat that won't burn a hole in your wallet. Image: Zempire
That's the camp mat wrap up for the last 12 months. We hope this helps in your purchase decision. If you're still unsure, give us a call on 1300 914 007 and we'll see if we can help.
Is a self-inflating foam mat or airbed your go-to when you camp?
About the writer...
Joined back in March, 2013