As an antidote to the hectic hustle of Christmas, here's a tongue-in-cheek look at what really matters when enjoying the great outdoors.
Hands up if you have a camping checklist buried in your filing cabinet, shed, or in that drawer in the kitchen? Checklists come in a range of shapes and sizes, from a scrawled list on a scratchy old notepad, to a computer spreadsheet or even a mobile app. But they seem to be getting longer and longer…
These days, people take more stuff into the bush than ever before. Full 12V electrical systems, hot showers, satellite internet, a swag for their dog. No wonder we need camper trailers with kilolitres of storage space or expedition-sized hiking rucksacks.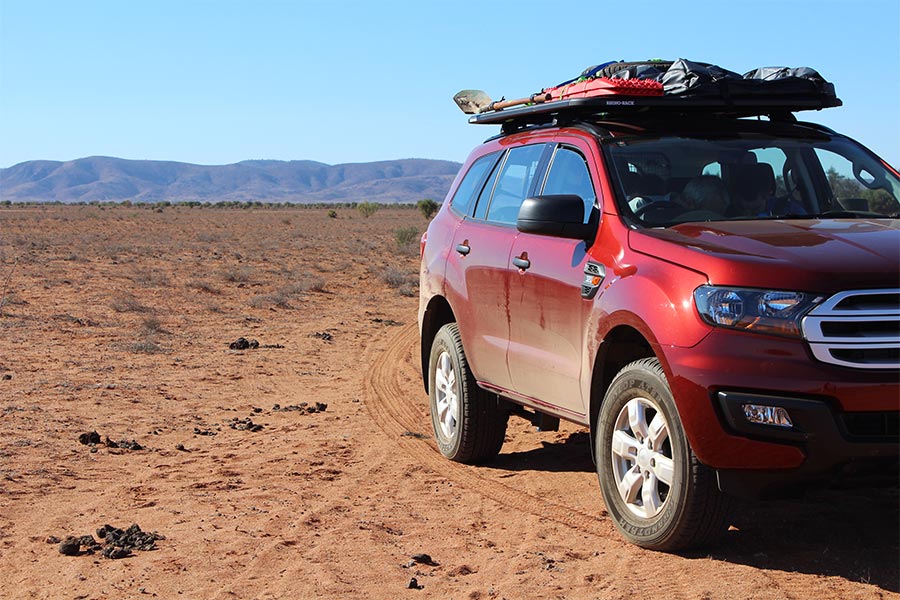 There's always the temptation to carry absolutely everything that might be needed, especially when you've invested in an enormous flat roof rack.
Do you go over-the-top with gear?
Don't feel guilty if you are one of the main culprits of going over-the-top with gear, because good on you for getting outdoors in the first place. Not everyone has the young vitality or hardened character to forgo the comforts of home, and it gets a whole lot more difficult once you try to bring the kids along.
The back-to-basics, "swags and steaks" outdoorspeople among you might think you don't even rate on the excessive gear spectrum. But try denying that as you relax back into your lightweight hiking chair or when you take a swig of an esky-cooled beverage while out camping.
The more stuff we take into the bush, the more cluttered our lives become, even when we're trying to escape the city bustle and get mindful about being in the outdoors. Here's an ode to the dusty tents of yesteryear when bushpeople slept on the ground and carried water in canvas sacks.
Sit back with a pannikin of eucalyptus and wattle tea, forget that you're reading this on a smartphone, and enjoy a quirky distillation of what to take as a bare minimum into the Australian outback.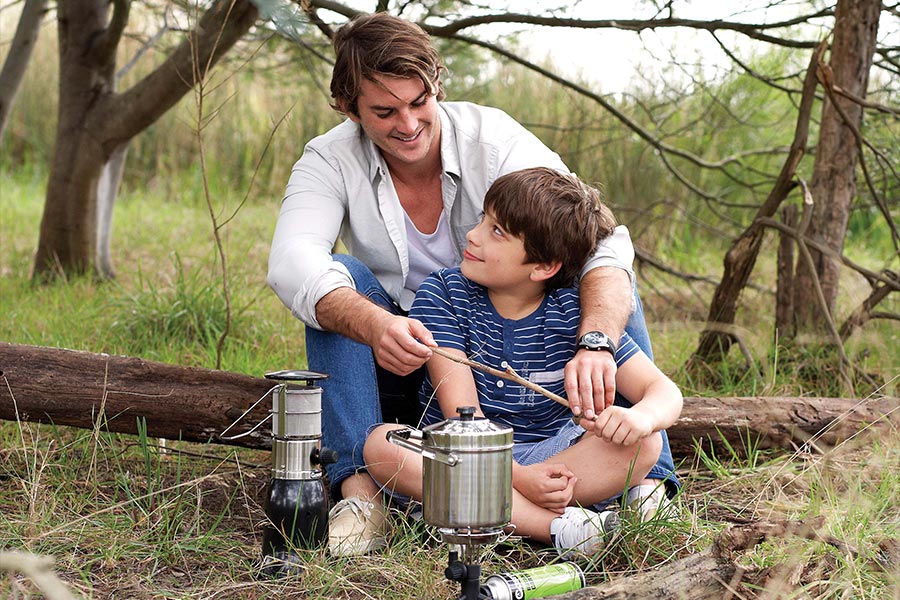 Billy over a campfire. Image: Gasmate
A billy, spoon and knife
"Now I see the secret of the making of the best person is to grow in the open air and to eat and sleep with the earth" – Walt Whitman
These three items are the very basics of cooking. Sporks forbidden. Cook on a fire in between the fire ban season, otherwise chow down that Heinz Big'n'Chunky in all its cold, sloppy glory. Explorer Ernest Giles was doing 5 ingredients back in the 1870s, way before Jaime Oliver cottoned onto the idea.
Along his journeys throughout the Central Desert of Australia he carried flour, jam, salted beef, mustard and loose tea (teabags weren't invented until 1908).
A swag
"The dam-sinkers all slept on the dust under the wagon, varying the number of old blankets they pulled up around their ears with the current temperatures…" – Len Beadell, Still in the Bush.
A basic canvas swag, or Castaway-style rope and tarpaulin, to stay warm and dry at night. Poles are definitely not allowed, and a smoky fire will deal with the mozzies. Sleeping under the Milky Way is one of life's greatest pleasures, not to be spoiled with things like mosquito-nets and LED camp lighting kits.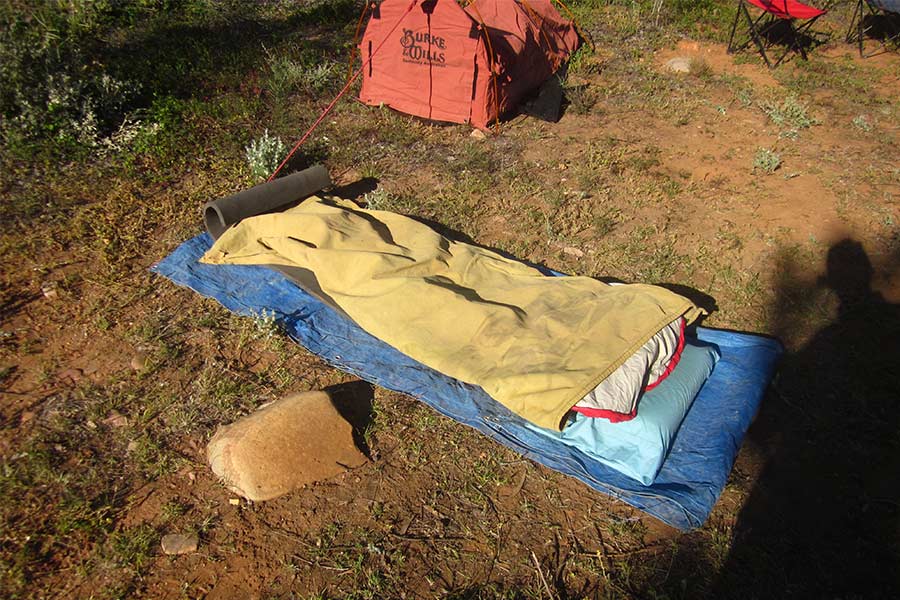 Canvas swags are trusty and reliable but can be tough on your rear without those deluxe foam mattresses found in modern swag varieties.
Matches
"Fishers and hunters home return, to where the family fires burn" – Oodgeroo Noonuccal, The Food Gatherers
Matches are essential unless you want to do a fun science lesson with the kids by sitting and rubbing sticks for hours. Flints are for Bear Grylls and people who know what they're doing. Firelighters and diesel are for the flammably-challenged among us, so don't use any combustion aids unless you are prepared to suffer the walk of shame over to the jerry cans.
Be sure to check out our Blog on Fire Safety and Preparation for Camping to get all the tips you need to know on creating and maintaining a safe campfire!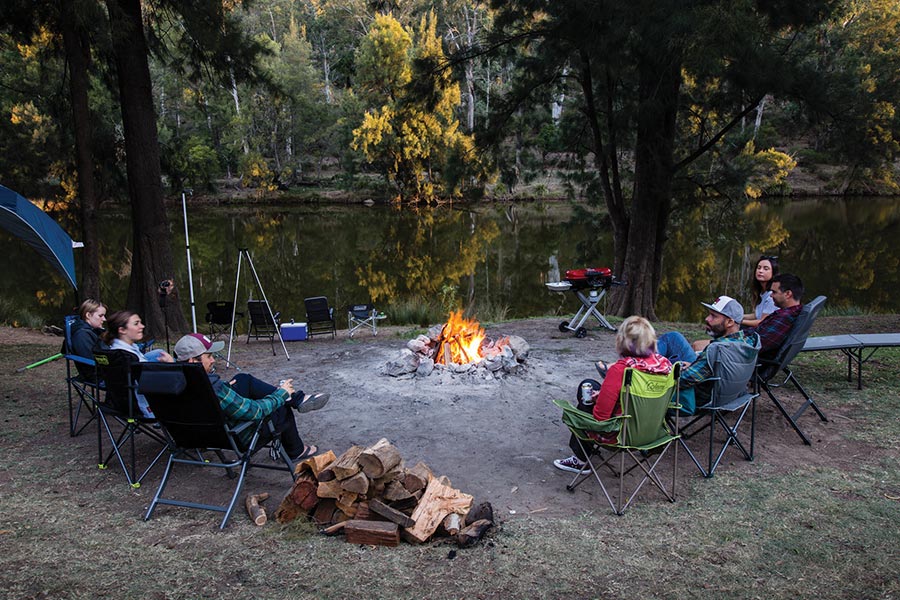 Some have the gift of being able to coax a campfire into life in the worst of conditions… and others, let's just say there's a reason firelighters exist.
Image: Coleman Australia
Water
"And no man ever saw it rain for fifty years at least, not when the blessed parakeets are flyin' to the east!" – A. B. Paterson, The Weather Prophet
The Bee Gees had water in mind when they wrote 'Stayin Alive' back in 1977. Without it, you'll soon be suffering from a severe case of death. Water is important: for drinking, cooking, or perhaps for putting out the fire you made by rubbing the sticks earlier. Either way, take the advice of Barry, Robin and Maurice and never be without a good supply of water in the bush.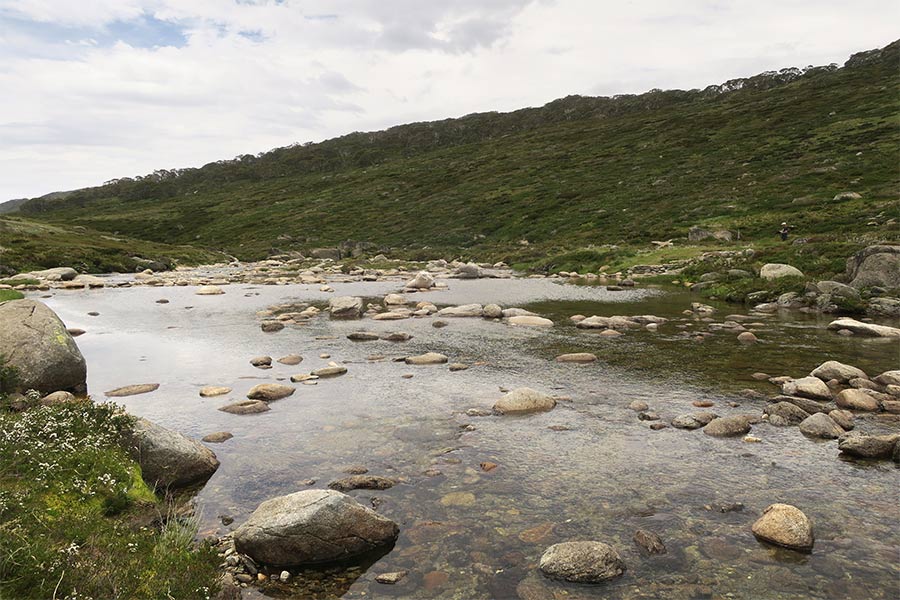 The higher reaches of the famous and particularly watery Snowy River in the NSW Alps, seen from the Mt Kosciuszko Main Range Circuit.
A toothbrush and floss
"Wrinkles should merely indicate where smiles have been." – Mark Twain
"How did that make the list?", I hear you ask. Dental paraphernalia isn't something you'd immediately associate with a tough bush person from yesteryear… but as the famous poem says, the Man from Snowy River used to brush twice a day. Keep your pearly whites shining, and don't forget that flossing just ain't optional.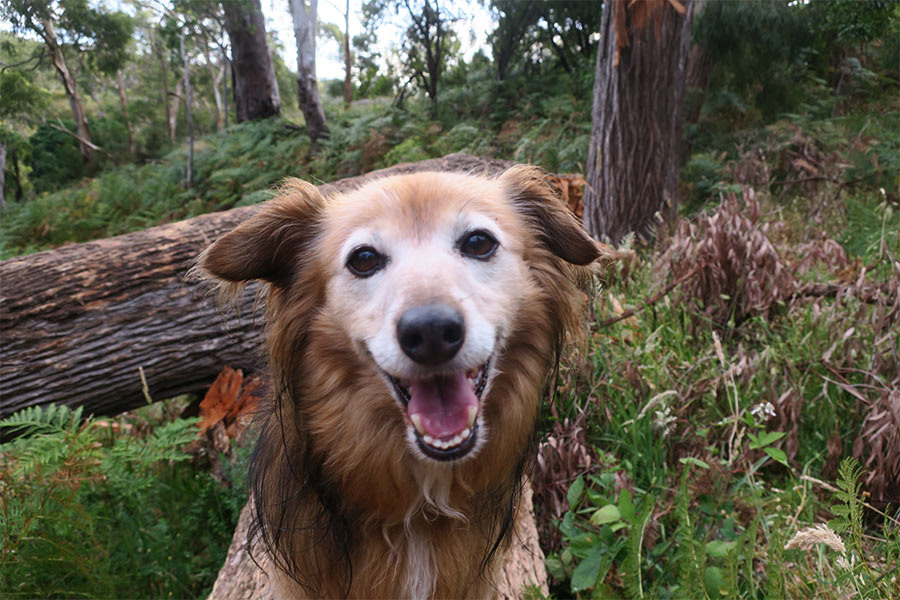 A big bright smile doesn't only look good on a person!
A good mate
"To me, adventure has always been to me the connections and bonds you create with people when you're there" – Bear Grylls
Sure, going solo is always an option, but a rough-as-guts outback trip is always better with a mate. Your spouse, partner, grandparents, Mum, the 'Old Man', kids, or even the dog all count as mates too. Preferably take someone you meet with regularly, so you can drag out story after story about how you once slept on an ant's nest and survived on cold soup for a few days.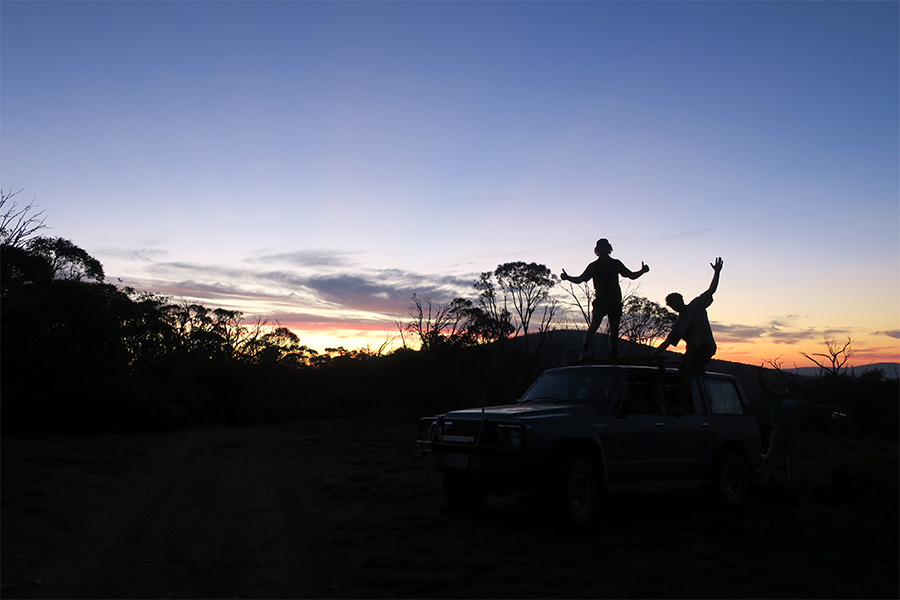 Sharing memories and moments while out adventuring in the Victorian Alps.
A spirit of adventure and respect for the environment
"An opal-hearted country, a wilful, lavish land – all you who have not loved her, you will not understand…" – Dorothea Mackellar
A spirit of adventure is like the fuel that enables you to take all of the basic equipment above and just get out there. Respect for the environment is something that's sadly lacking these days amongst people who claim to 'love the Aussie bush' but then trash the place like they couldn't care less.
The First Australians, and some of the modern stockmen and women who call the outback home, have a beautiful, indescribable connection to the country. That connection is founded on a gentle spirit and respect for one's surroundings, and that's why it's on the list of essentials.
A view from Siller's Lookout in Arkaroola, SA. This magnificent and unique environment was permanently protected in 2012 by government proclamation.
A few of the non-essentials:
Just in case you were left in any doubt as to what's in and what's out, here are some things that are quite unnecessary when going for a bare minimum approach to camping:
1. Headlamp
Nicknamed a 'dork light' when they first came out, until everyone wanted one when they realised how useful it was to be hands-free. But headlamps are definitely non-essential, just go to bed when the sun goes down.
2. Camp chair
Everyone knows that the best camping spots always have a nice big log that has conveniently fallen right next to the fireplace and is prime for sitting. The best 'log chair' will have adjacent branches for footrests, little hollows that can be used as cupholders, and will be just the right height to lean back on.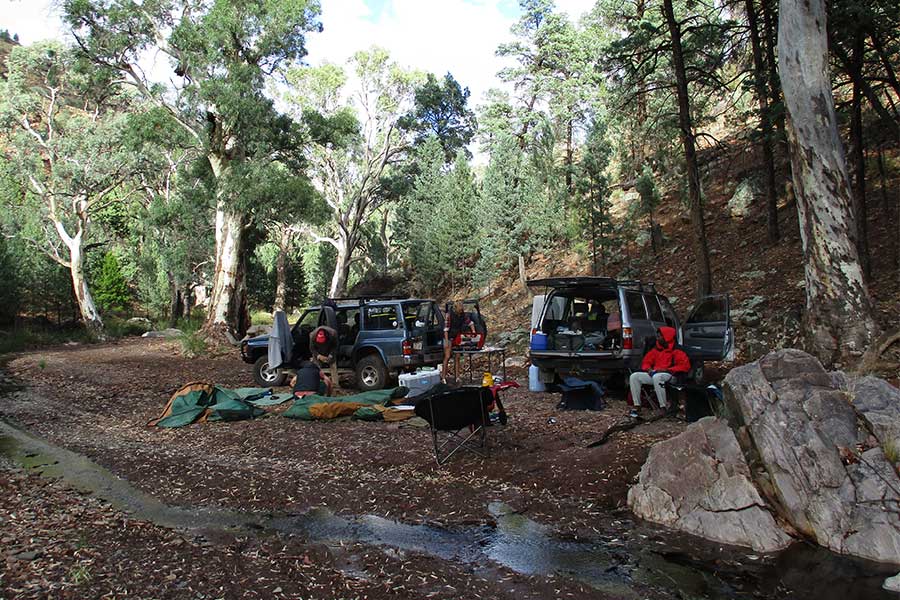 These guys have almost passed the non-essentials test – swags galore and only one camp chair in sight. But the table and gas cooker are a bit too deluxe…
3. Coffee maker
A micro coffee-press…? Don't even think about it.
4. Toilet paper
A luxury for those who haven't discovered the sublime strength of newspaper for handling rear-end activities. Doubles as reading material in case you get bored while taking the shovel for a walk.
Escape the city bustle and get mindful about exploring the outdoors
At the end of the day, what's important is to take a mindful approach to your gear, and explore nature while having respect for your surroundings. With that in mind, have a happy and safe holiday season everyone!
What's the most 'excessive' luxury you're guilty of bringing on your camping adventures?
About the writer...
Chris frequently attempts more adventures than he really has time for.
Joined back in January, 2014