Sea to Summit isn't the sort of company to rest on their laurels. In late 2014 they released a range of lightweight sleeping mats aimed at the hiking, bike touring, and mountaineering community. These mats are quite unlike a lot of other mats on the market and caused a bit of a stir. People were worried about how noisy and durable they would be based on their rather delicate and 'airy' appearance. But these people quickly changed their mind after laying down on one. Ever since they have been synonymous with comfort.
What's more, Sea to Summit has shown that they are the masters when it comes to quality. Every mat – yes, everyone! – gets inflated to 1.5 psi and checked overnight for loss of pressure and leaky welds. So, you know when you take your mat out of your backpack 30km hike from the car it's going to perform as intended.
Since we started stocking these mats in 2015, we have fielded stacks of questions from weight-conscious Australian hikers and bikers. Here are 7 frequently asked questions we hear often about these sleeping mats. You can see the entire range here. 
So many mats, but which one is right for me? 
They look noisy. Are they noisy?
Science can answer this one. I subjected all the sleeping mats we have on display (by Exped, Thermarest, and Sea to Summit) to a rigorous test of me smooshing, massaging, rolling, and rubbing the mats in my hand, and then measuring the noise emissions with a specialist piece of scientific equipment – my ears.
The verdict: They are a little noisy but not excessively so.
2. What's your warmest Sea to Summit mat?
The warmest in the range is the Comfort Plus Insulated. It sports an R-value of 5, owing to the two independent layers of THERMOLITE stuffed cells.
3. They look easy to puncture? Is this the case?
Sea to Summit sleeping mats are no more susceptible to puncture than any other similar mat. In fact, because of the 'honeycomb' cell design, surface contact with the ground is lower than with 'flat' self-inflating mats. The less material there is touching the ground, the less risk of it getting punctured.
Because the Comfort Plus has two independent chambers, if you get a puncture on one side you have redundancy in the other. This also gives you greater flexibility over the firmness of your mat.
If you do get a puncture, Sea to Summit supply a pretty good puncture repair kit containing 3M® adhesive patches – not your usual crappy bicycle style repair kit.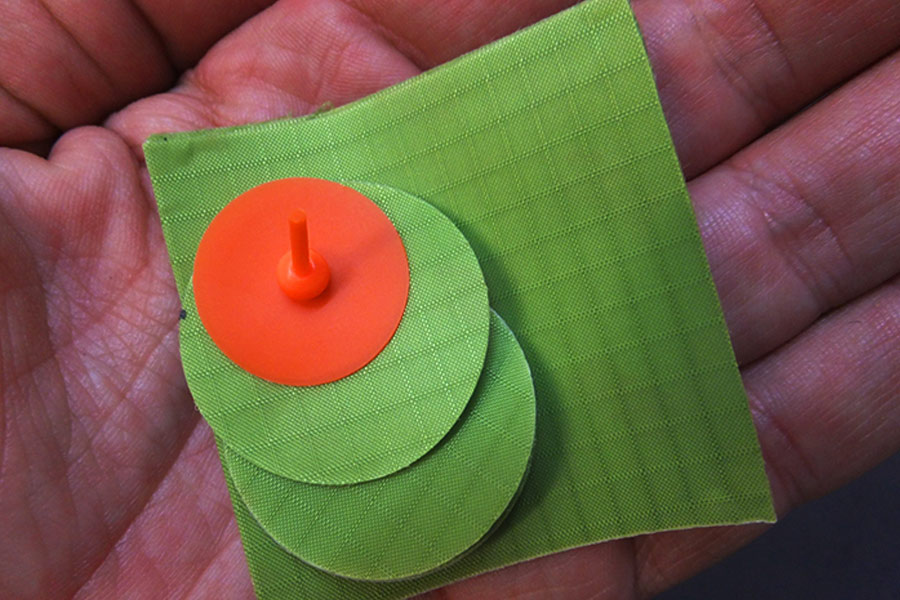 The Sea to Summit Mat Repair Kit. 
4. Is the Comfort Light Insulted more comfortable than the Comfort Light?
Only really in a warmth sense. The Comfort Light Insulated is rated at R 4.2 whereas the Comfort Light comes in at R 1. So the Insulated will keep you warmer and more comfortable in the cold.
Both feature the same cell structure so there is no difference between the two in terms of padding. They both feature a single layer of cells for your head and legs and a double layer through the torso region. This reduces weight.
Anecdotally, I did 'feel the ground' more when sitting up in the Comfort Light. But only slightly. When laying on my back, side, or even elbow, I noticed no difference.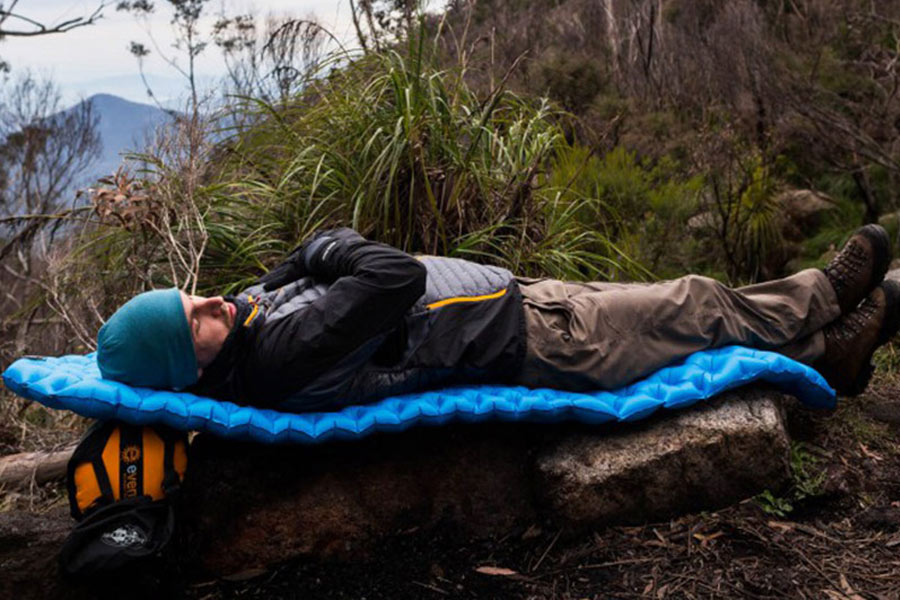 Maybe don't try this at home (well, in the bush)… 
5. I've been a Therm-a-Rest user for years. What's so good about the Sea to Summit range?
Comfort. Sea to Summit designed this range to provide the most comfort in the smallest, lightest package possible. There are lighter, smaller, and warmer mats on the market, but few compare in terms of comfort.
6. How do I inflate a Sea to Summit mat?
Two ways. You can rely simply on your breath. All Sea to Summit mats have an anti-bacterial treatment in them, so there are no issues with this. It'll take about 20 breaths to completely inflate the Ultralight sleeping mat. And deflation happens almost in an instant via a rapid air dump port.
Alternatively, you can use an Air Stream or Jet Stream pump sack to make lighter work of inflation. A couple of light breaths in either and your mat is inflated in seconds. Both double as stuff sacks for the mats, so they won't take up any extra space.

The entire range of Sea to Summit mats. 
7. I'm hiking The Overland Track next spring. Which mat is best?
The Overland Track is pretty unpredictable weather wise. As I write this (December 2015) I recall hearing that Tasmania received a pretty healthy dump of snow not a week ago. So springtime can mean cold or warm weather or a combination of both.
That said, on The Overland Track it's unlikely you'll be sleeping directly on the ground unless you have to camp out due to injury or bad weather. You'll either be sleeping on a wooden bunk in a hut or in your tent on a wooden tent platform adjacent to a hut. Insulation against the cold ground will be less of a problem than if you were sleeping directly on it in your tent.
Probably the most versatile mat in the range, that still boasts a decent R-value, but balances it with lightweight and comfort, is the Sea to Summit Ultralight Insulated. The regular length weighs in at 480 grams, is rated R 3.3.
Looking to upgrade your sleeping mat? Got any questions about the Sea to Summit range? Leave them in the comments below and we'll happily answer them.
About the writer...
Joined back in November, 2015