Hi there! I'm Kellz and I'm a little obsessed with hiking, okay, a lot obsessed!
I also love camping so every break off work I try to head out and camp where I can and get some awesome hiking in. I've done quite a few overnight hikes now, and figured out what works for me, so I thought I'd share my list.
Also, being a gear nerd, any chance I get to talk gear makes me grin from ear to ear!
My pack
Before I get down to the nitty-gritty, let's start with my pack. I use a 65L pack and for now, it's a perfect size. I'm in the process of lightening my base weight to become an "ultralight" hiker with an immediate goal of 5 kg. So eventually I will have to get a lighter pack but for now, it's great. I have some long-distance thru-hike goals which include The Great North Walk and the Great Ocean Walk and eventually The Heysen Trail in its entirety – so I'll want to be ultralight for that.
Taking the hood off the pack saves a little bit of weight and if you don't need it, why not? Everything that went in the hood now goes in the side pockets but not all packs have these.
Now that you've met my pack, here's everything I put in it for an overnight hike: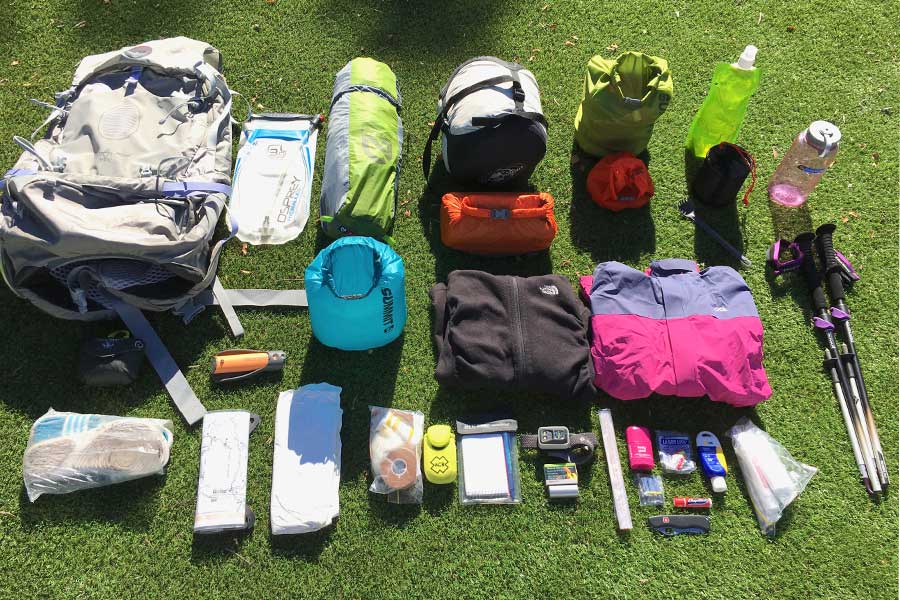 Here's a snap of all the gear that I take on an overnight hike. Photo: Kelly-Anne Burgess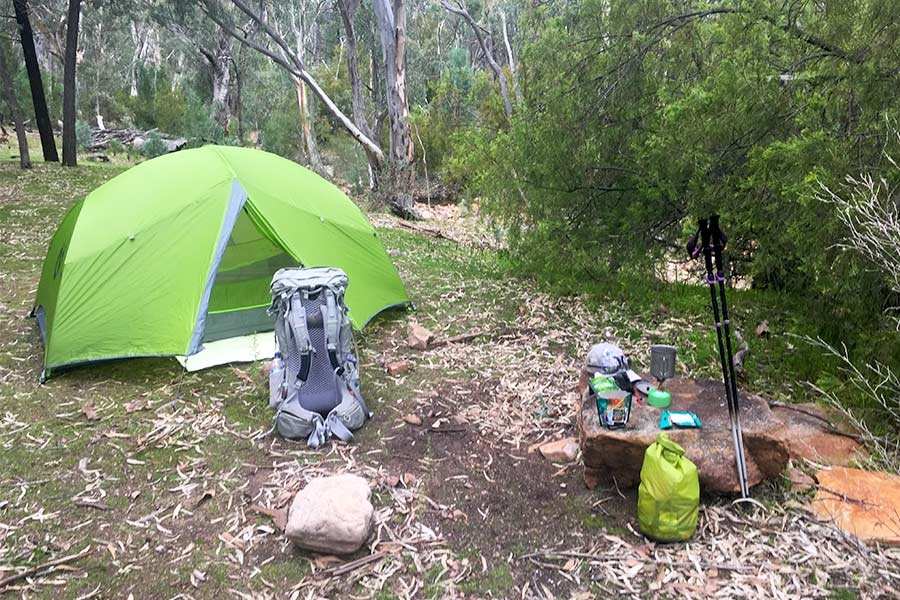 A 2 person tent is much roomier and worth considering for comfort. Photo: Kelly-Anne Burgess
A lightweight shelter vs a tent
This is a lot of gear and I could go lighter by substituting some things like the tent for a tarp but I can't bring myself to 'cowboy camp' yet. The thought of all those little critters crawling on me and mozzies biting me makes me cringe. Also, I like the privacy option of the fly but if I'm on my own and the weather is fine I leave it off so I can see the stars.
I use an ultralight roomy 2-person tent that has a minimum weight of 1.5kg. I've been through so many hiking tents and I've finally found one that works for me. There is the possibility that I'll end up swapping it out for an even lighter one down the track when I'm really conscious about weight, but for now, I'm more than happy with this one.
I'd always recommend a 2 person tent for 1 person, 3 for 2 and so on because you will appreciate having the extra room for the weight. It's so worth it!
I like to keep it simple when it comes to my kitchen gear on overnight hikes. Photo: Kelly-Anne Burgess. 
In the kitchen
Some ultralight hikers prefer to go without a stove and fuel to save weight, but I always bring a hiking stove. This is because I know I'll want hot food for dinner or sometimes even lunch if it's really cold. It's also nice to have a cup of coffee in the morning to start the day.
I decided to downsize my pot set to save on weight and space in my pack. Plus, I worked out that I only use one pot at a time so I didn't need a two-pot set. I just make sure that my pot is large enough for boiling the water I need. In that goes my little gas canister and on that sits my stove. I have an ultralight stove that weighs only 45g, and then to save more weight I use a mini lighter which lives in the bag with it.
The Sea to Summit long-handled spork is all I eat and stir my food with. Everything you need right there! I also keep a cut up bit of sponge in the pot as well for cleaning up. All up, my kitchen weighs 150 g (without the gas and not including my spork).
Something I do, and I haven't noticed anyone else doing it, is carry some extra water that I call my cooking water. I carry it in a foldable bottle so when it's empty it doesn't take up much room and weighs nothing. I'll also sleep with this bottle next to me in case I get thirsty through the night.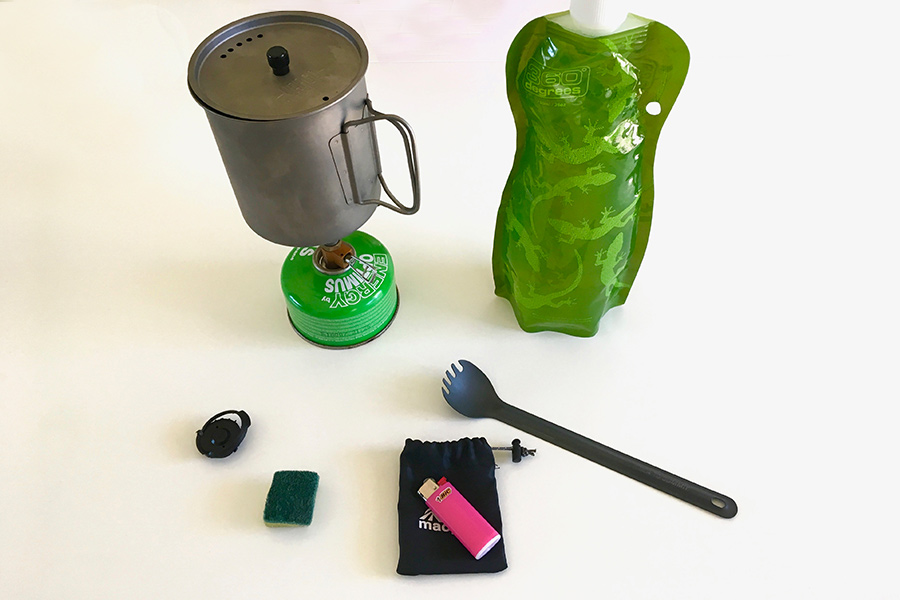 My pot, ultralight stove, cooking water, lighter, sponge and long handled spork is all I need. Photo: Kelly-Anne Burgess. 
Meals for the trail
In my food bag, I always carry some emergency noodles. I don't have any intention of eating them, but I keep them they just in case.
Back Country Cuisine is my go-to hiking meal and I'll pack one of them for each night I'm on the trail, and perhaps one or two for lunch as well. I also love their cooked breakfast but I keep that as treat and mostly just eat quick oats for breakfast.
Sometimes, I'll also pack in some Back Country Cuisine desserts for another treat or if I know I'm going to be doing a hard day so I get extra fuel for my body. Lots of calories before bed will also keep you warmer!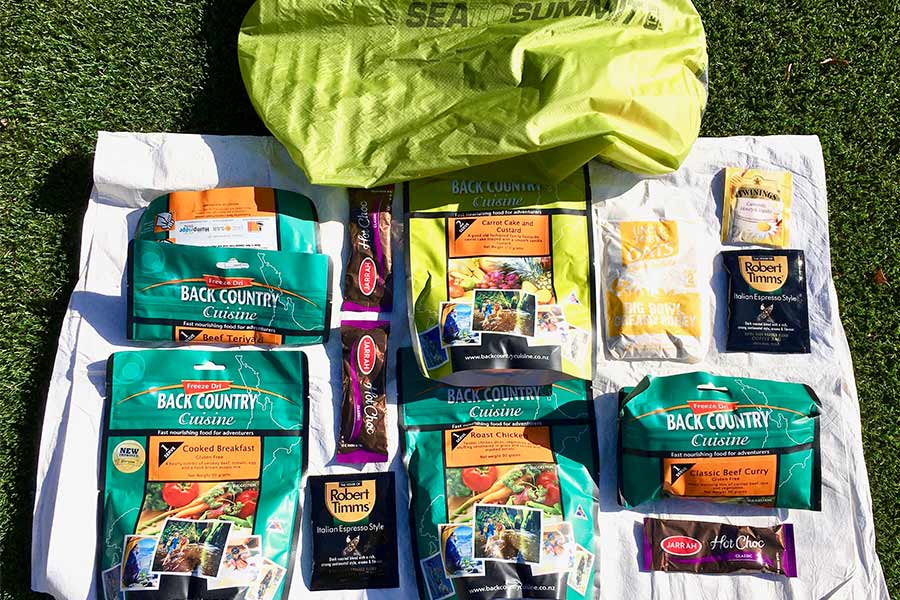 Freeze-dried meals are a must for lightweight adventures. Photo: Kelly-Anne Burgess 
For snacks, my go-to's are:
Cheese sticks don't have much nutritional value but I just love them, and the dark chocolate is usually for before bed. Unfortunately, I need to go to the dentist so that I can then eat some more naughty-but-good-for-hiking things!
Food for a hiking trip is pretty simple for me as I'm not a huge cook anyway so I like to just keep it quick and easy with no mess. Back Country Cuisine all the way! You can pick up the biggest variety I've even seen from Snowys. Cheerin!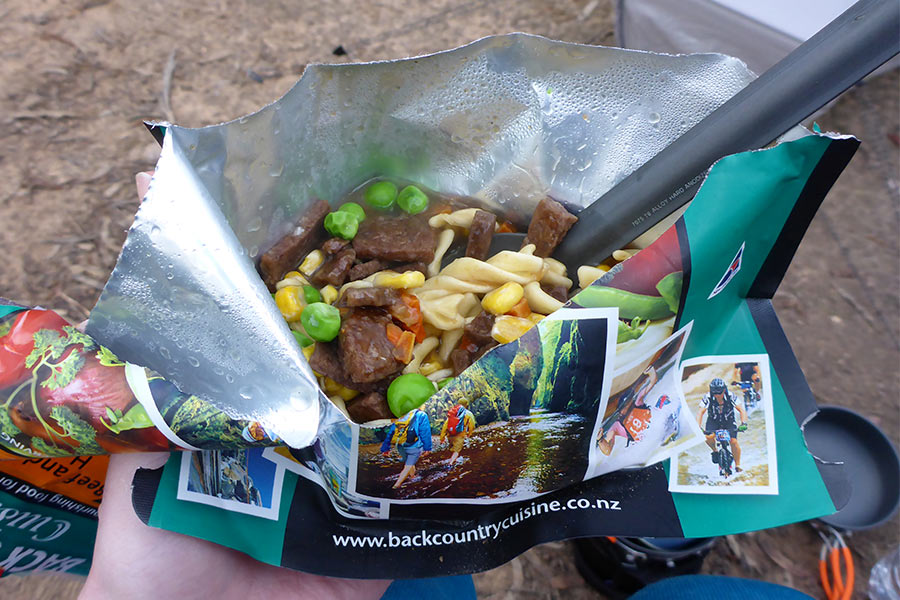 No mess and super quick – Back Country Cuisine meals are a great option for hikers. Photo: Kelly-Anne Burgess
Sleeping gear
Bed time in my hike-in camp consists of a Sea to Summit Comfort Light Insulated Sleeping Mat. I have to get the insulated one because I feel the cold so much. I also spoilt myself by going with the Comfort Light and not just the Ultralight range. Worth the extra weight in my opinion as I've never slept on a more comfortable sleeping mat.
I got the pump sack to inflate it so I'm not having to exhaust myself further after a hard day of hiking. It takes about 3-and-a-bit minutes to inflate the sleeping mat and I use the left-over air in the pump sack to inflate my Sea to Summit Aeros Premium pillow.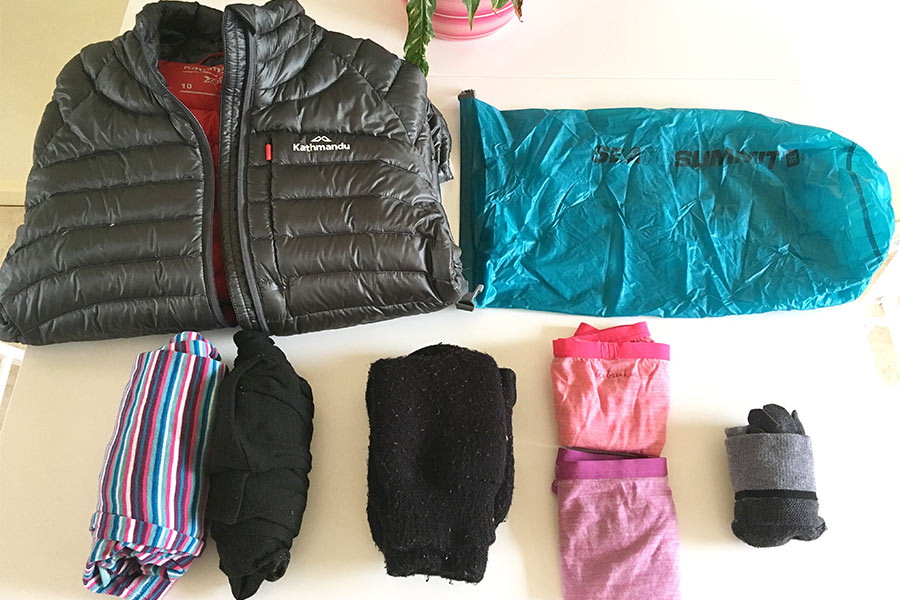 In my bedtime bag, I keep my warmer clothes so I can stay insulated at night. Photo: Kelly-Anne Burgess
Pillow vs no pillow
Back in the day when I was starting out, I thought I was so hardcore by just sleeping on a pile of my clothes, but I soon realised how much that sucked! So, I decided to buy a pillow and I don't think I'd ever go without, even when I become an ultralight gram-counter.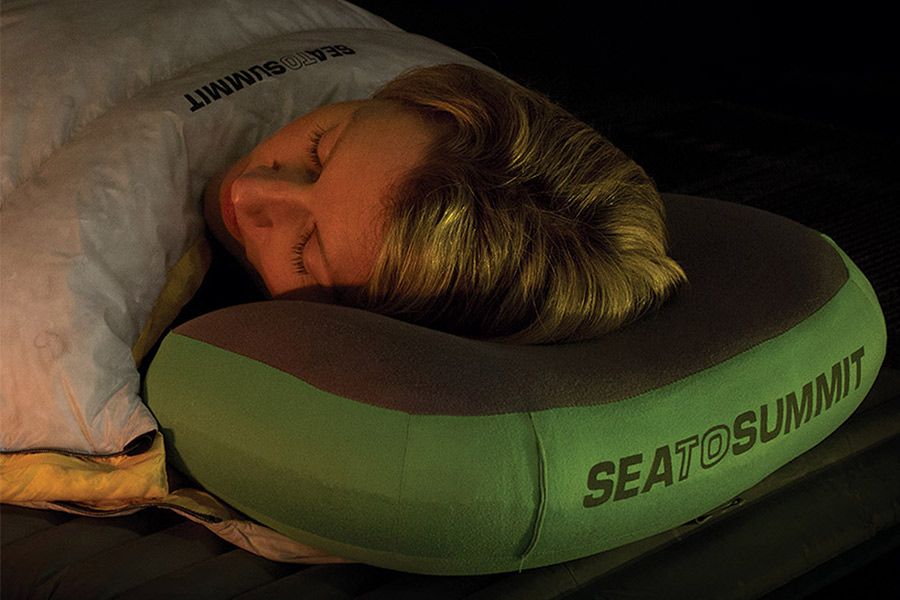 Even though it does add weight, a pillow is a personal must for me. Photo: Kelly-Anne Burgess
Sleeping bag vs a quilt
The sleeping bag I use has a comfort level of -9, and a transition comfort level of -16 so it was pretty much the warmest one I could find at the time. I do love it, but in the future, I will be swapping it out for custom made quilt as it will be warmer, lighter and can compress smaller – pretty neat hey?
To prepare myself for using a quilt I've been sleeping with my bag open and laid over me, which does work – but you have to have an insulated sleeping mat so you don't freeze.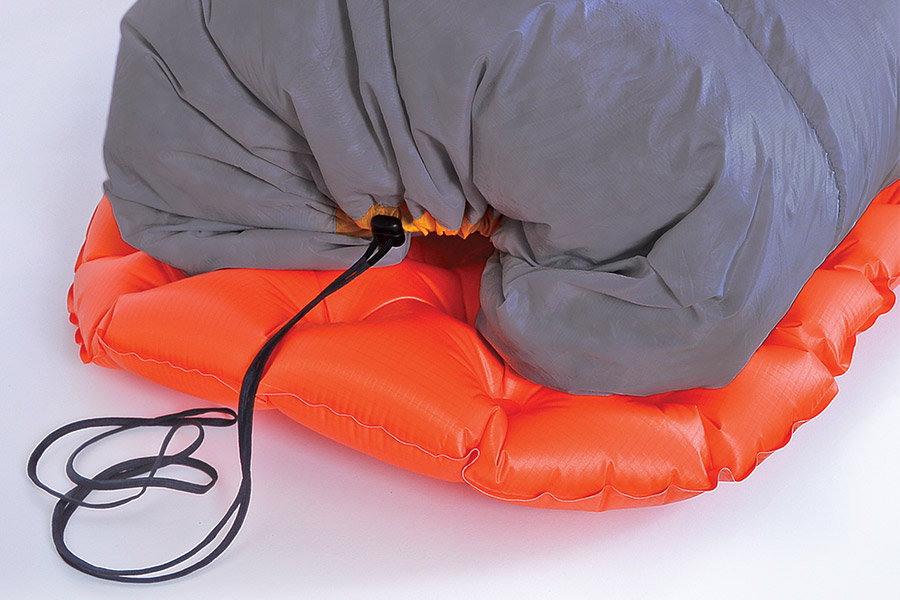 Eventually, I want to upgrade my sleeping bag to a lightweight quilt. Photo: Sea to Summit 
Extras that could come in handy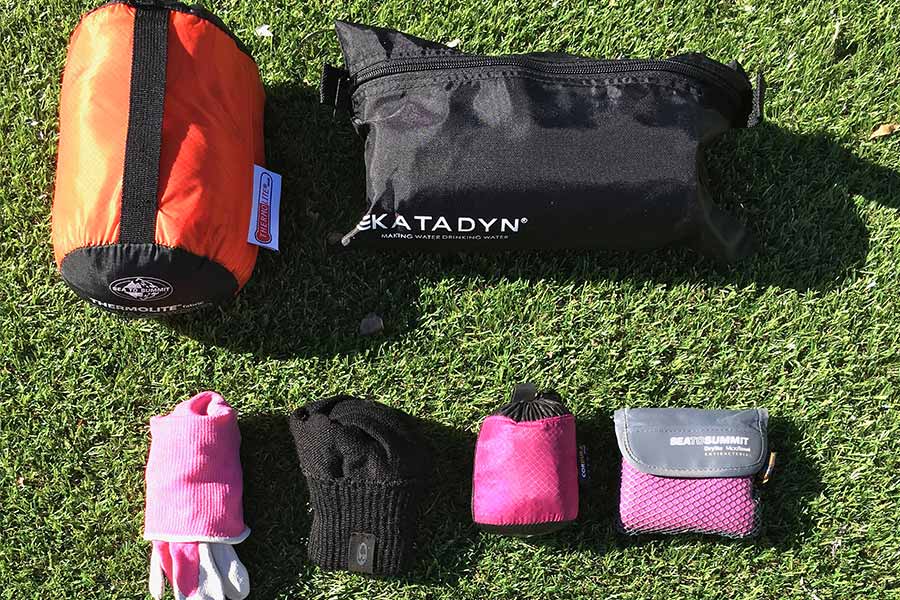 A thermal liner, water filter, and towel are a few extras that you might need. Photo: Kelly-Anne Burgess. 
Priorities
If I had limitations on the gear I could take for some reason, here's my list of priorities:
With all of that, you'd feel good carrying all your gear in a comfortable pack. You'd have water, snacks, first-aid, light, TP and somewhere warm and comfortable to sleep for the night.
Over to you! To all the other experienced hiking fanatics – how does your list differ from mine? 
About the writer...
Joined back in September, 2017