This question is exceedingly common. If you're looking for evidence that proves once and for all, which camping fridge outperforms all its competitors, you are going to be bitterly disappointed… sorry!
This article is for people who want some guidance on choosing a 12V camping fridge – no sales hype, no affiliations, and no bias. Heck, I'm not even going to mention any fridge brands.
Before we get started, I want to level the playing field by saying that there isn't a fridge that can be definitively labelled as the best. There are just too many in-use variables. Factors like climate, vehicle space, budget, how it's used, contents, size and volume, ambient temperature, and personal preference… the list goes on.
One constant that is worth keeping in mind is the old adage, you get what you pay for. However, sometimes even this can be misleading, but more on that later.
Knowledge is power, so arm yourself with the following information and instead of asking, what is the best camping fridge? Let's rephrase the question and ask…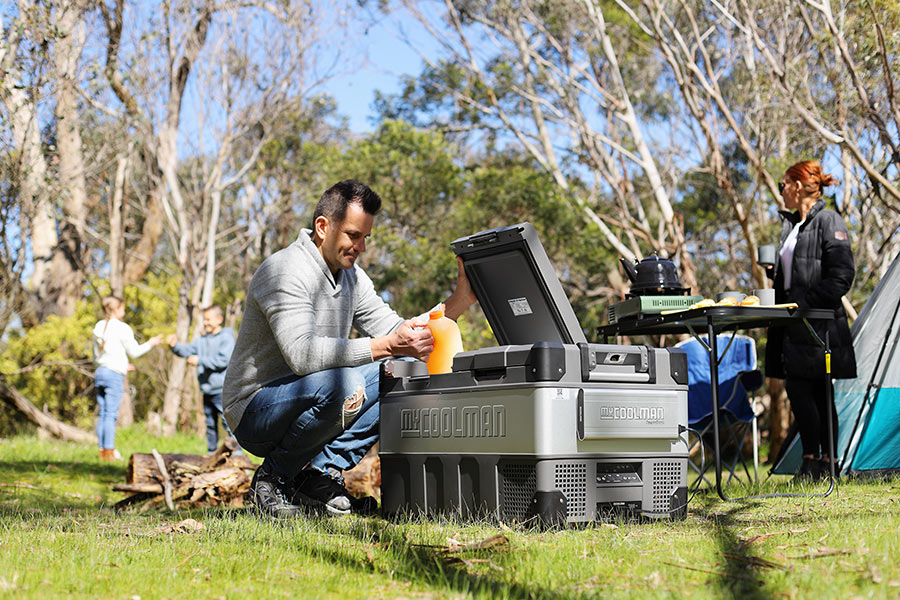 Some fridge models have separately available accessories like portable battery packs. Image: myCOOLMAN
How do I choose the best fridge for me?
Brand
Brand kind of goes hand in hand with price.
Whilst some high-end brands include a modified and affordable option within their range, they generally all fit within a price bracket. Furthermore, many of the big players share similar price tags for comparable models.
Debating which brand of fridge is the best for camping is like debating which brand of car is best for driving, it all depends on the individual.
Take a $10K hatchback from Holden for example. It's got a manual gearbox, steel rims, a simple interior, fabric seats and a motor that offers decent performance throughout the life of the car. It will get you from A to B while also being reasonably efficient on fuel.
Alternatively, a $50K BMW hatch will have a smooth automatic gearbox, polished alloys, and heated leather seats. It'll likely also offer connectivity out of the wazoo, one-touch ignition, smart tech that almost drives the car for you, and a motor that performs throughout the life of the car. This option will also get you from A to B and be reasonably efficient on fuel.
Someone with a low budget that needs a city runabout is going to be happy with the Holden, but if budget is not an issue and a lot of time is spent behind the wheel then the BMW is likely to be more desirable.
The same analogy can be applied to portable fridges.
Both options are going to keep your drinks cold and be comparable in power consumption, but the more you spend on a fridge, the better the build and the more features you get.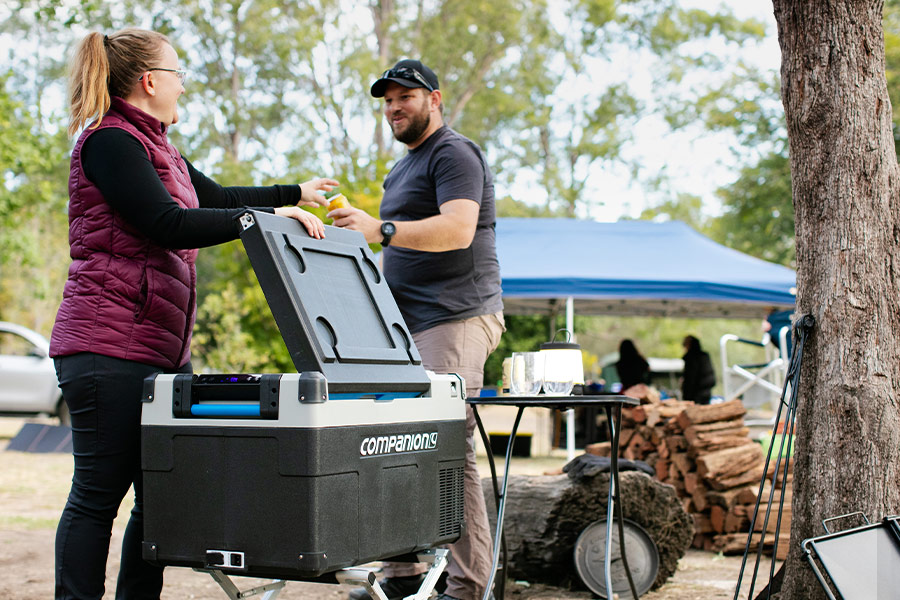 Set up your campsite comfortably and keep your gear conveniently accessible. Image: Companion
Compressor
Compressors are at the core of fridge operation. They perform the role of both a motor and a pump and move the refrigerant through the system. A fridge using a reputable compressor is a good indicator of quality and dependability.
The Sawafuji Swing Motor has proven its reliability for decades and has a trusted reputation. The former well-known brand, Danfoss, was purchased by SECOP a few years ago and continues to perform. Recent years have seen some leading brands release fridges running their own compressor and despite not having been in the market for as long, they are proving themselves to be reliable and efficient.
LG compressors are used in some of the more affordable fridges but given the compressor is from an identifiable brand, it gives the fridge more cred than a no-name compressor. Unknown compressors lack a proven track record and will potentially create headaches and disappointment.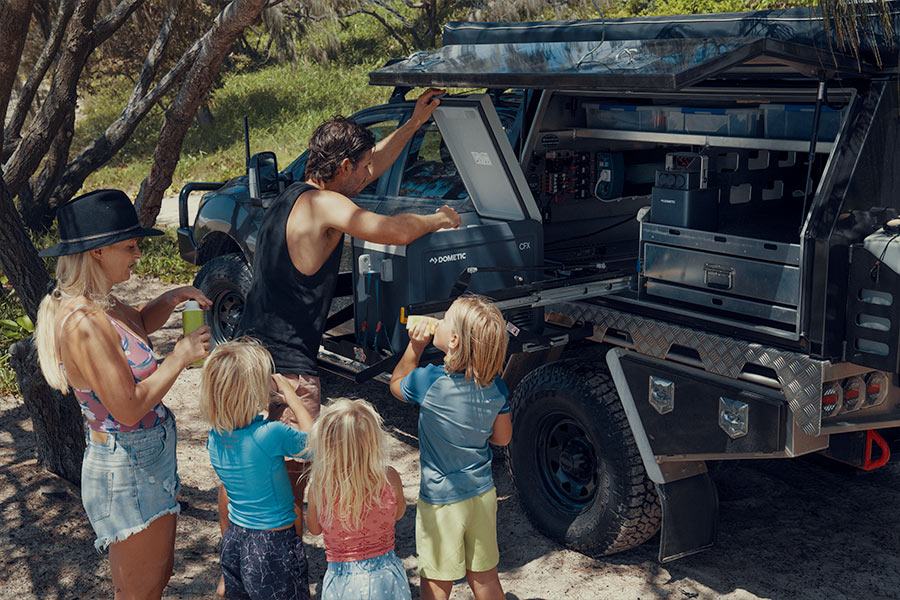 Fridge slides help keep your fridge easily accessible. Image: Dometic
Efficiency
You'll come across a never-ending barrage of opinions and tests detailing which fridge is the most efficient, and you might shoot me down for this but…
In my opinion, there is no single fridge or brand that can be championed as the most efficient!
In a test bound by parameters you will likely arrive at a top performer, but what happens if you change one of those parameters? How many variations of these parameters do you test? More importantly, is it even worth the effort when you're likely to come up with marginal performance differences at best?
Instead of focusing on a top performer, it's more important to match your battery and solar setup so that it effectively powers the fridge that suits your needs. This blog on solar formula will help you figure that out.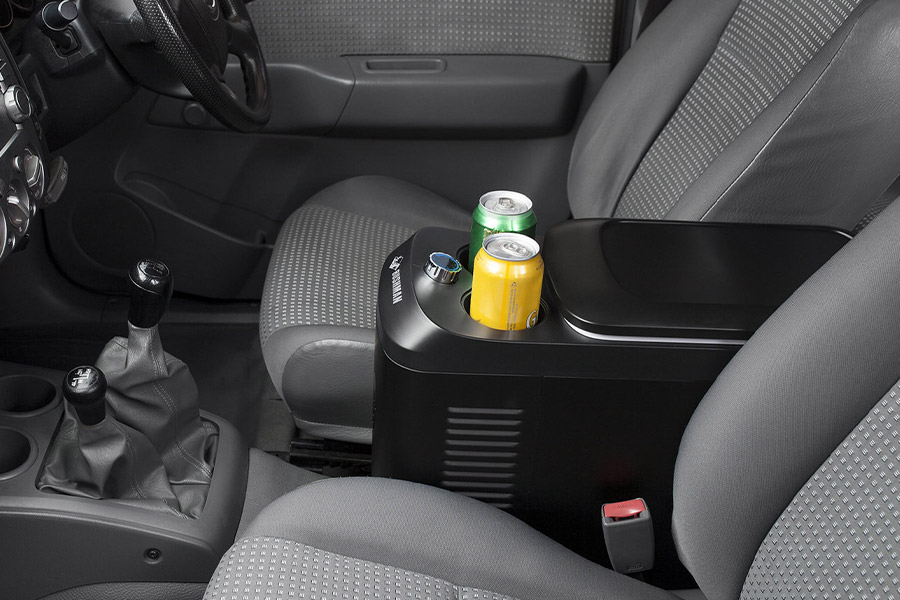 Console fridges can be conveniently installed between your vehicle front seats. Image: Bushman
Size
This should heavily influence your choice because no fridge is of any use if it will not fit in the space you have allocated.
Record the dimensions of the space in which you will be installing your fridge, taking into consideration clearance for the lid.
Then load up your kitchen bench with a heap of the food and drink you'd expect to take camping and estimate/measure the volume this food takes up, taking particular note of long or wide items such as wine bottles or ice cream containers. Make sure you consider any additional dimensions a fridge slide or cover may add as well as the direction the lid will open.
It's highly unlikely you'll find a fridge that fits perfectly but having these measurements ready as you sift through your options will help you eliminate the unsuitable models.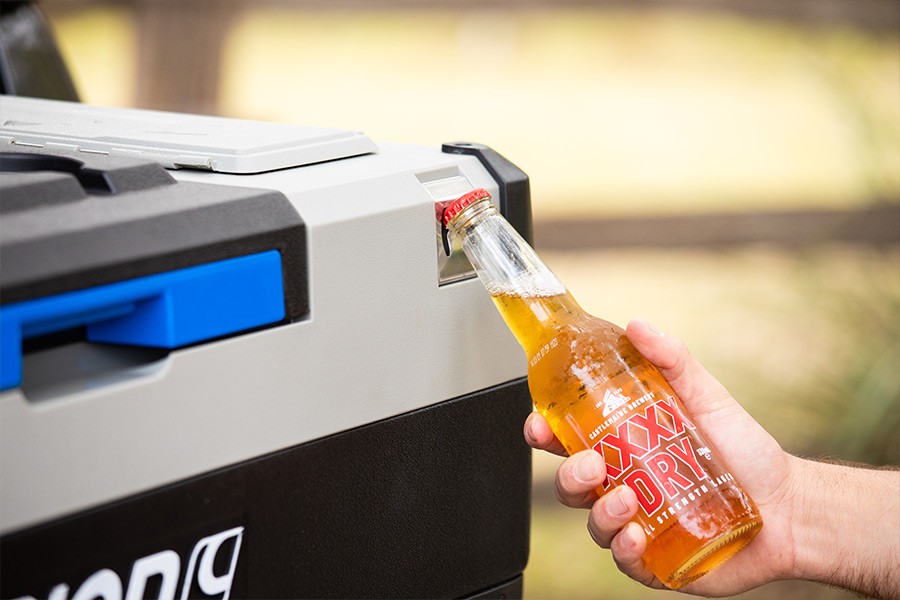 Decide what kind of features are important to you. Image: Companion
Features
For me, I just need my fridge to keep my food cold. But for many, it's the extras that make all the difference and these should play a significant role in your fridge choice.
Nowadays, there's a host of tech integrated into some models with features like Bluetooth and WiFi apps, wireless temperature gauges and connectivity all included. Some models even have magnetised lithium batteries plus, additional device charging options with built-in USB ports. If these things are important to you, then you'll quickly be able to cross off the makes and models that don't have them.
Reversible/removable lids, handle configuration and tie-down points, nutserts in the base for semi-permanent fixing, the location of the control panel and even bottle openers are all things you'll be glad you considered over and above brand or power consumption to make sure your fridge is functional in your personal camp setup.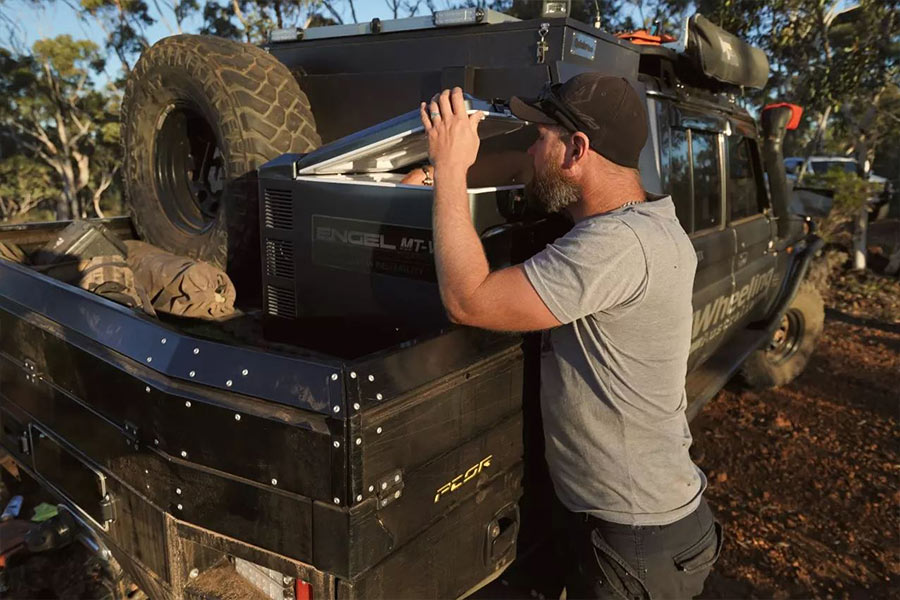 Ideally, a portable fridge should be installed in a protected space. Image: Engel
Strength
If you use your fridge in a marine environment then a metal fridge casing may be prone to rust over time, otherwise, don't stress over this.
Both metal and polypropylene cases on the high-end fridges are very strong. Cheaper models opt for lighter materials and are more prone to dents and scratches but often this is cosmetic damage only.
Fibreglass can be a good choice for boats as it won't take on any fishy smells and can be effective without a cover, but they are prone to impact damage. Once again though, this will likely just be cosmetic and won't impact performance.
No fridge is specifically made to withstand all that mother nature will throw at it. Although they can handle a few bumps and you often see them mounted on the back of 4WD Utes, they are an electrical appliance and should be installed in a protected space.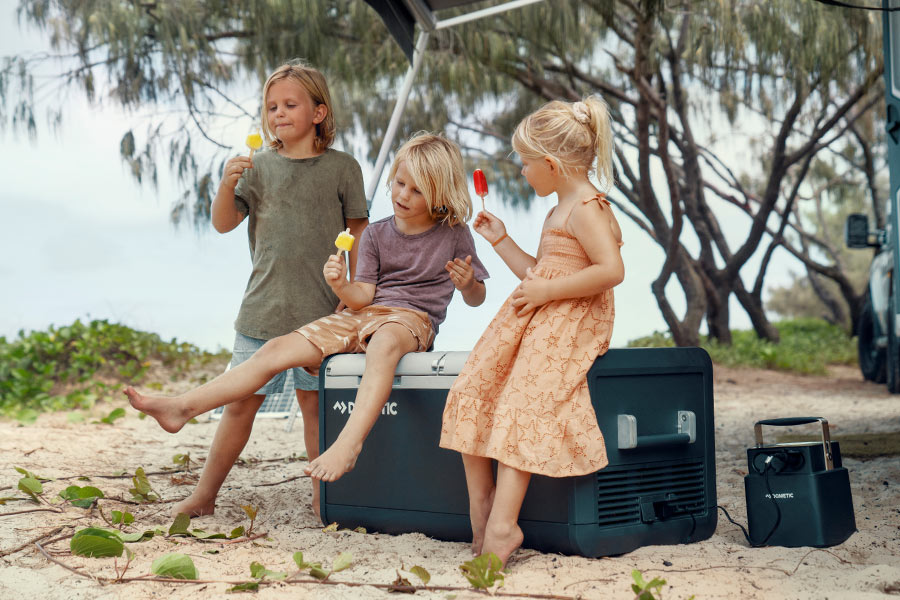 With the right setup, you can even take ice creams camping. Image: Dometic
Power
Most 12V fridges will also run on 24V to suit a truck's electrical system, and usually include a 240V cable and/or transformer. If a 240V transformer is not included, then buying one could add $50 – $100 to your purchase price.
LPG fridges run very efficiently from gas making them ideal for long-stay camps where they can be removed from the vehicle and attached to a gas bottle. Usually, they can also be run from 12V but are hungry with this power supply which makes them less suitable for trips where gas refills are not available.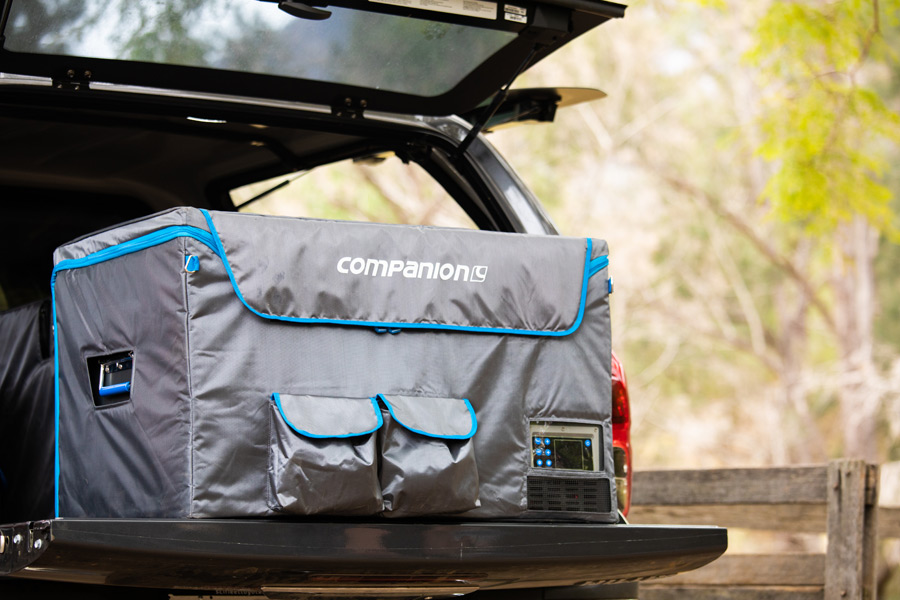 A cover protects your fridge and offers additional insulation. Image: Companion
Cover
This accessory is a common add-on to any fridge. You don't need them, but they do offer some benefits.
Namely, for protection of the fridge and a little more insulation from direct sun and radiant heat, plus they can also provide a few extra storage pockets.
I'd suggest asking for a package deal with any fridge that includes the cover, but if your budget doesn't allow for this it's not the end of the world.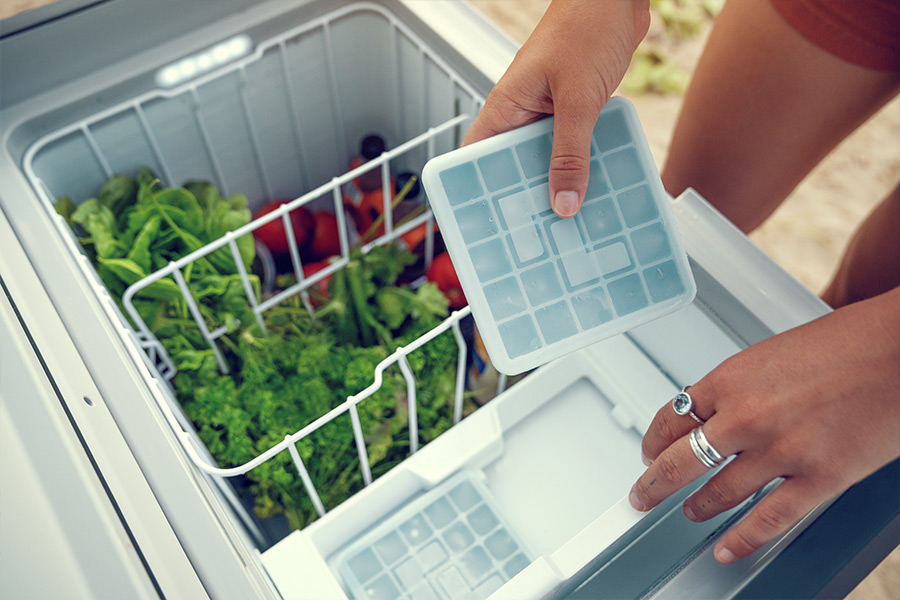 Think about how much food you need to keep fresh inside your fridge. Image: Dometic
Pitfalls
If you need a fridge for a one-off occasion, then a $200 no-brand marketplace bargain is probably money well spent. But if your cheap fridge fails, the repair cost could outweigh the amount you originally paid for the fridge.
Furthermore, reputable brands will have authorised repair agents and a good warranty behind them. These are things you are unlikely to get on a cheaper purchase.
If you are a regular camper and/or 4WD tourer and decide to buy a cheap fridge, it's likely that you will have to replace it multiple times and carry the burden of unknown reliability on every trip. Paying a little more upfront eases stress and may end up costing less in the long run. Think… buy once, buy right!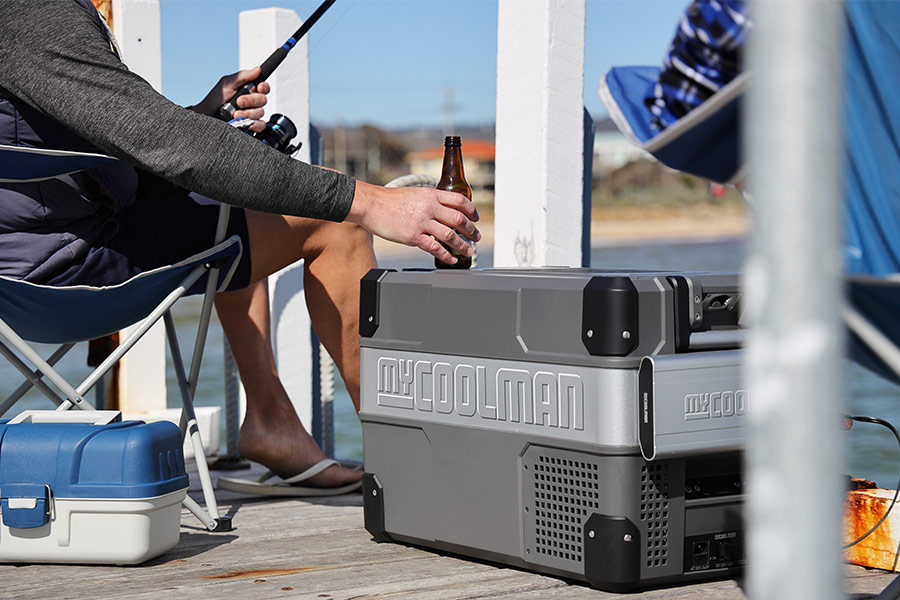 What better way is there for keeping your catch of the day fresh than with a camping fridge? Image: myCOOLMAN
Conclusion
Everyone is going to have their opinion on which brand they think makes the best fridge, and just like the Holden vs Ford debate, there is no right answer.
Stop stressing about efficiency, most 12V fridges are pretty good nowadays anyway.
Instead, make sure you understand your power requirements and match your battery setup with this.
If you've never heard of the brand then do some research. Find out what compressor is used in the model you're interested in and look for evidence of a good reputation, including product support and after-sales service. Always buy from a reputable retailer.
Reviews are a good way to gather a feeling for other users' opinions but don't focus on the small percentage of negative reviews. Even Uluru, one of Australia's natural wonders, gets an average of 4.5 stars from over 2000 reviews, and The Twelve Apostles gets 4.6 from more than 9000 reviews… some people are impossible to please.
Approach your fridge purchase by listing any specifics you require first, then budget for as much as your comfortable spending. Then all you need to do is find a model that best fits these parameters.
Knowledge, budget, needs, wants – go!
Hopefully, now you can approach your purchase of a 12V portable fridge with confidence. Know what questions to ask and not be swayed by brand affiliations or be the victim of any commission influenced advice.
It's a big purchase, make sure you get the fridge that's right for you!
So, which fridge is best for you?
About the writer...
Trekker, surfer, climber, mountain biker, runner, camper. Participator in most things… master of none.
Joined back in March, 2013