If you're wanting to travel further on your adventures, a solar and 12V power setup is what you need to get you there.
In this episode, our outdoor experts Ben and Lauren share exactly where to start if you're new to it all and take you through the basics of power consumption, batteries, and solar – so check it out below for all the details.
Listen to the full episode here:
Or, you can watch the video version here:
Time stamps:
00:00 – Intro
01:53 – Ben's 12V setup and water tank analogy
03:48 – Where to start – what do you want to power?
04:57 – Work out your amp hours
06:05 – The formula you need to work this out
09:24 – Choosing a battery
10:07 – Portable vs auxiliary
11:44 – Do you need a solar panel if you have an auxiliary battery?
12:28 – Auxiliary vs starter battery in your car
13:17 – Choosing a solar panel
15:33 – Efficiencies of solar panels
15:54 – Budget limitations
Links to things mentioned in this episode:
Each set up will have different requirements
There is no stock standard recommendation we can give you when it comes to which battery/power pack and solar panel you should buy to run your electricals. It's definitely a case-by-case situation with the most suitable setup being determined by your needs. So, if you need a bit of help to figure it out, jump onto our Facebook group and let Ben and Lauren know your specifics and they'll do their best to guide you in the right direction.
Water tank analogy
Your battery is a water tank, and you can't run your sprinkler from it until the water tank is filled up. You need rain to top up the tank to keep using your sprinkler in the form of solar. Your amp hours are how much water you'll need to pull from your tank, like litres of water.
Where should you start? Work out your power consumption
Work out the power consumption of the gear you want to run/charge e.g. phone, devices, 12V lighting, and fridge and from there you'll be able to figure out the rest of your requirements.
Choosing a battery – portable or auxiliary
An auxiliary battery is ideal for those who go away often and for longer periods of time, but they need to be installed by a qualified auto electrician.
Portable power packs or batteries make a good alternative if installing an auxiliary deep cycle battery into your vehicle isn't the best solution for you. These are more versatile as you can move them around your campsite and come with a range of capacity and price points.
You will need a battery in the system somewhere as you won't be able to plug your unit straight into a solar panel.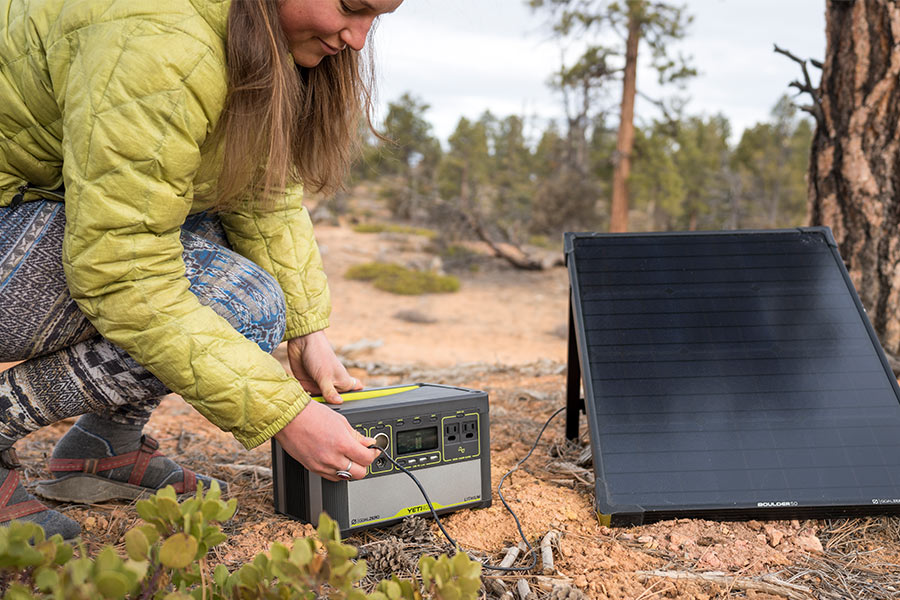 You will need a battery to use with your solar panel. Image: Goal Zero
Do you need a solar panel if you have an auxiliary battery?
If you are going to be driving every day and are setting up each night, you can get away without a solar panel as your battery will store enough energy to run power-hungry things like a fridge. You would also be fine without solar panels on quick weekenders. But for longer trips with extended basecamp stays, a panel system would be needed for power top-ups.
Auxiliary vs starter battery in your car
It's not a good idea to run your fridge off your starter battery, as you will get in trouble very quickly and find yourself stranded with a flat battery. You can rely on it to charge gear while you're driving, but not why you are stationary.
Solar panels
There needs to be something between your panel and battery to regulate the flow of electricity, most portable solar panels designed for camping will have this built in.
Keep in mind that solar panels are approximately 20% efficient, so you're never going to get the full 200 watts out of a 200W solar panel.
Budget considerations for solar
When it comes to solar panels, it's generally said to buy once and buy well, but a lot of beginners may not be able to afford to purchase a 200W solar panel when they start out. As a general guide, a 120W panel will probably be suitable to get your basic set up running. Don't feel too overwhelmed if your current budget is limited, just start with one panel. Most panels have the ability to be wired up to additional panels of the same kind – this is called chaining, which means you can add more down the track should you wish to increase your power system.
A power system will change the way you camp
Working out your exact 12V requirements can be a bit of a learning curve, but once you have the basics down, it's going to make your camping trips so much easier and allow you to travel further off the grid to more remote destinations.
Thanks for listening, tune in again for next week's episode!
Thanks for tuning in to this week's episode of the Snowys Podcast. Don't forget to subscribe to us on YouTube, Spotify, iTunes, Amazon Music, iHeartRadio, Pocket Casts, or Stitcher so you never miss an upload.
If you have any questions for Ben and Lauren, make sure you head over to our Facebook group and let us know as we'd love to hear from you.
Catch you out there!
About the writer...
When it comes to camping, hiking, travel and adventure – the Snowys team have all the expert advice, guides, and tips on everything outdoors.
Joined back in October, 2015