Every year we extract our sales data for family tents to determine which are our best sellers. Our customers seem to find the resulting list extremely useful.
So we figured we would expand our horizons, delve a little deeper, and create a list of our best swags.
Starting at number 10, here are our best-selling swags for 2015.
We've updated this list for 2016, check out our latest swag reviews here.
10. Companion Rhino Ridge 380 Swag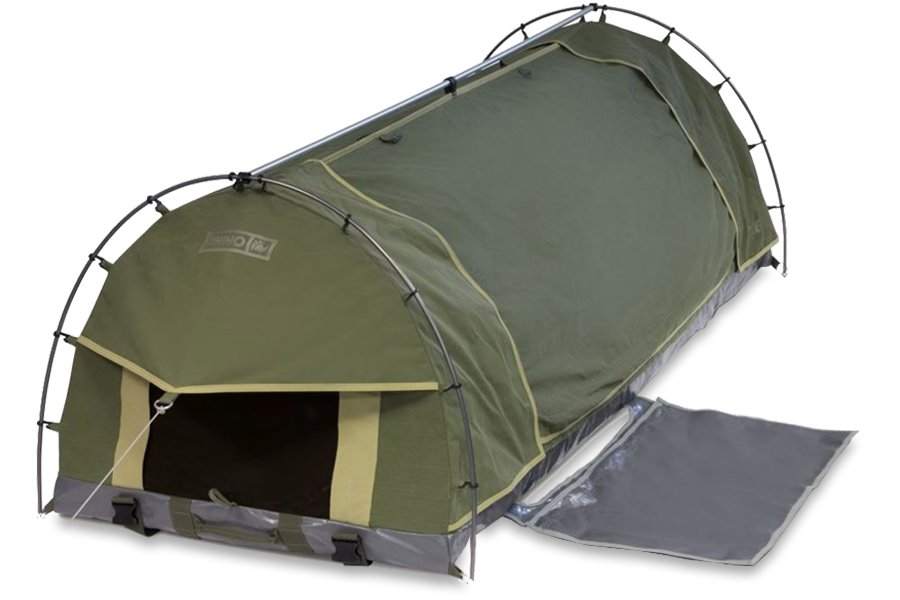 Popular on account of its freestanding design, the Companion Rhino Ridge 380 Swag comes without compromise.
An ultimately roomy double hoop swag with a ridge pole that negates the need for guy ropes, with sleeping space for the tallest of people on a comfortable 7 cm thick mattress, and finished off with a tough PVC base and a host of storage options. The Rhino Ridge Swag has it all.
9. AOS Tracker Swag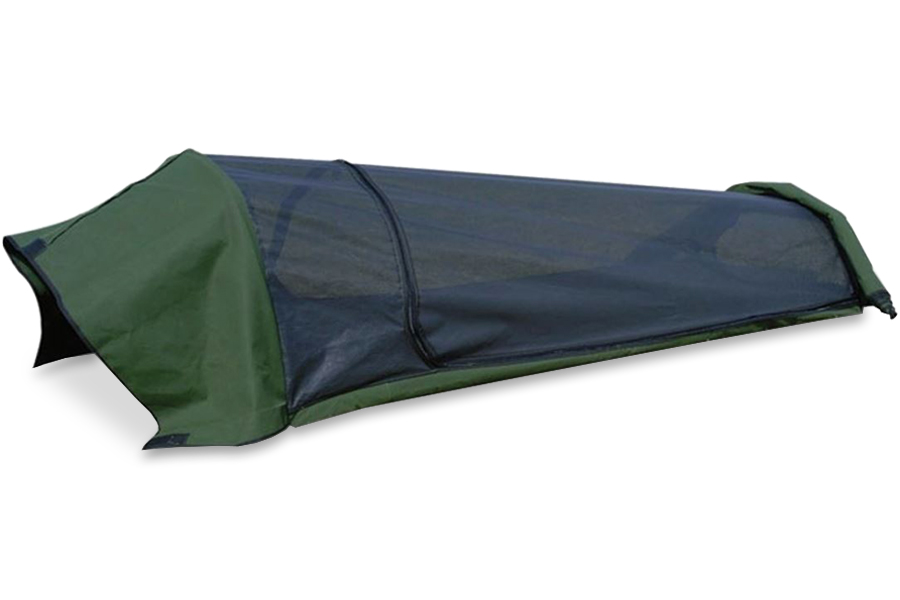 Available in both King Single and Double sizes, the AOS Tracker Swag is made with superior quality 14 Oz canvas and a full mesh inner which makes it great for our hot Australian climate.
Complete in its own carry bag, the Tracker is self-sufficient with built in peg and pole storage, attached webbing buckles, and most importantly comes complete with a bottle opener!
It's the heavy duty materials, high-density foam mattress, and quality components that make the AOS Tracker a long-term investment in outback accommodation.
8. Jolly Swag Shiralee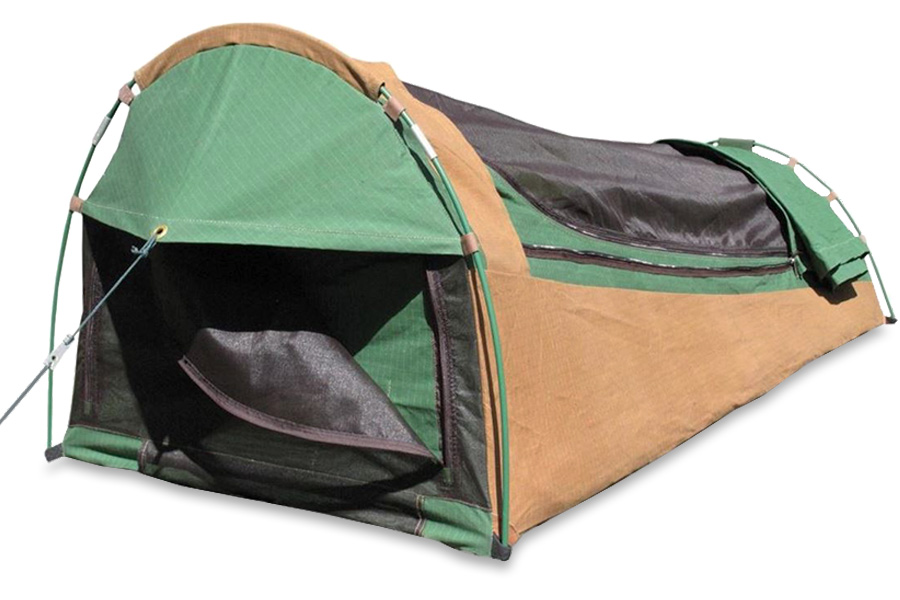 The Jolly Swag Company is based right here in Adelaide. The locally-designed Shiralee is made from soft-feeling yet heavy duty 100% cotton canvas and features a unique progressive density mattress that reduces packed size without reducing comfort.
The Shiralee is a classic 2 hoop design available in king single and double sizes with unbreakable fibreglass poles that are backed by a lifetime pole warranty.
A popular choice based predominantly on the quality materials and components. All backed by a 5-year warranty.
7. Oztrail Kokomo Swag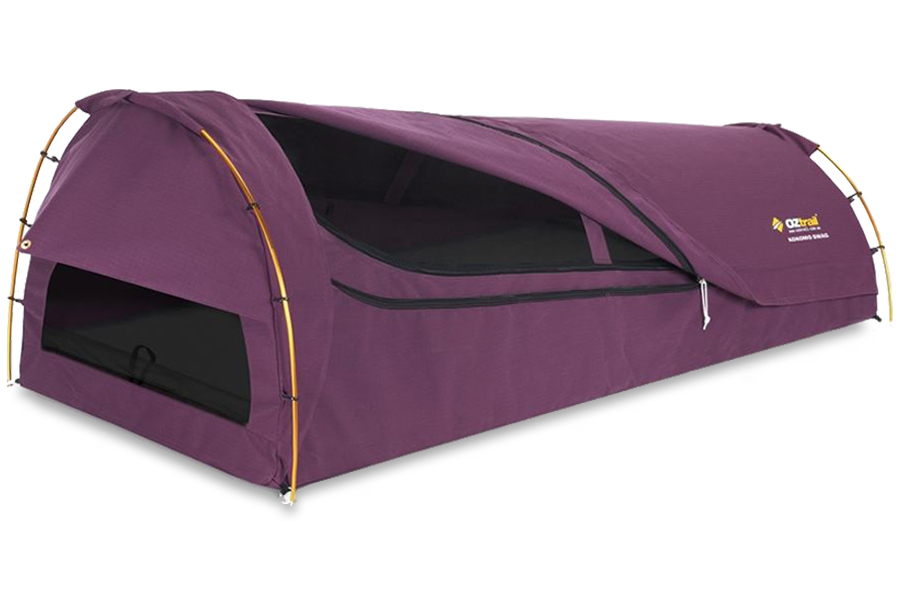 How good it that, a pink and purple swag making it into our top 10?
Available in two colours, the Oztrail Kokomo provides comfort and weather protection with a touch of pizazz for ladies who want to make a statement at the campsite. At least you won't forget which swag is yours!
3 poles, a thick mattress, and a full-length top opening. Everything you need in a swag with bonus style!
6. True Blue Bluey Bigfoot Dome Swag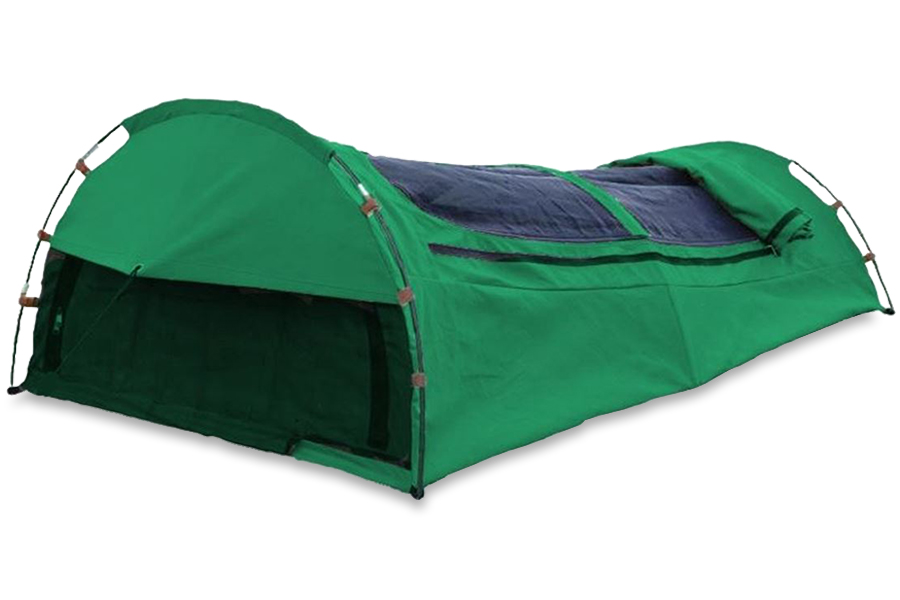 Another Aussie-made swag, the Bluey Bigfoot Swag is a 3 pole swag made from 100% cotton canvas in a simple design, making it a tough swag at an entry level price.
The Bluey Bigfoot, with proper care, will last a lifetime. Making it a great choice for young campers and seasoned outdoors people alike.
5. Oztrail Cooper Swag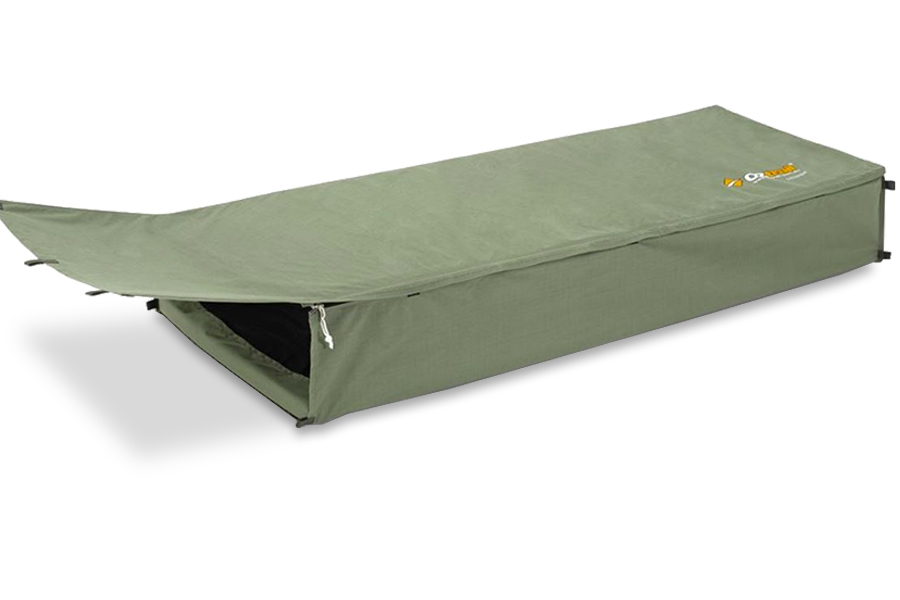 Available in both single and double sizes, the Cooper Swag is for those who want to keep things simple.
A classic 'envelope' design, the Cooper swag is ideal for warm to mild weather camping with a full-length zip around a cover that will keep you warm in the cold and dry in mild rain events.
When it's warm enough you can unzip the cover completely and get the ultimate 'sleeping under the stars' experience. The Cooper swag is a compact and humble shelter.
4. Darche Dusk Till Dawn Swag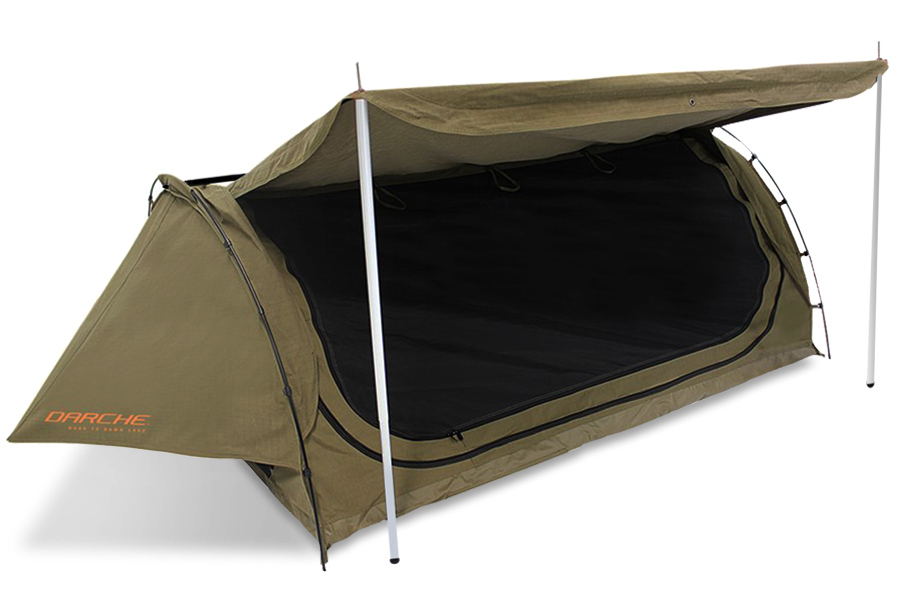 The Dusk Till Dawn Swag was new to us in 2015 and pretty much hit the floor running, putting it in the #4 position by the end of the year.
Available in three widths, the Dusk Till Dawn has a freestanding design with huge side openings. It also has tonnes of internal height, large weatherproof awning, and a heavy duty PVC floor.
And to complete it, there's a trigger lock ridge pole and carry bag. This swag can easily be pitched wherever you camp and offers a setup to suit any climate.
3. Oztrail Lachlan Swag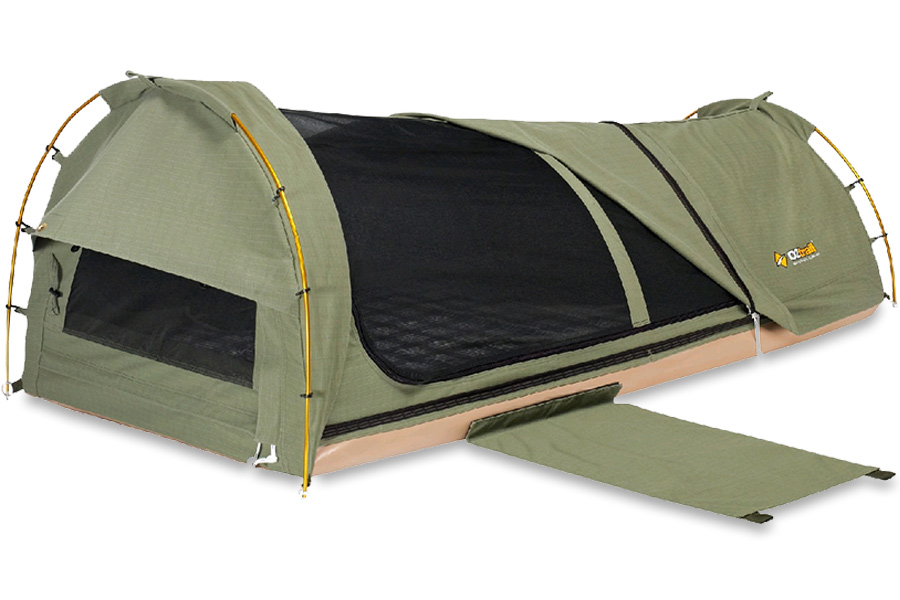 An affordable swag with all the bells and whistles, the Lachlan Swag is made with heavy duty 380 gsm canvas and features a hard wearing vinyl tub floor for added water protection.
The Lachlan swag has a three a hree-pole design with a full-size top opening. This provides access to a comfortable 7cm thick mattress, protective head and foot awnings and finished off with a removable doormat.
A great option for all weather conditions, the Lachlan offers a little more comfort and durability than its Oztrail siblings.
2. Oztrail Mitchell Expedition Swag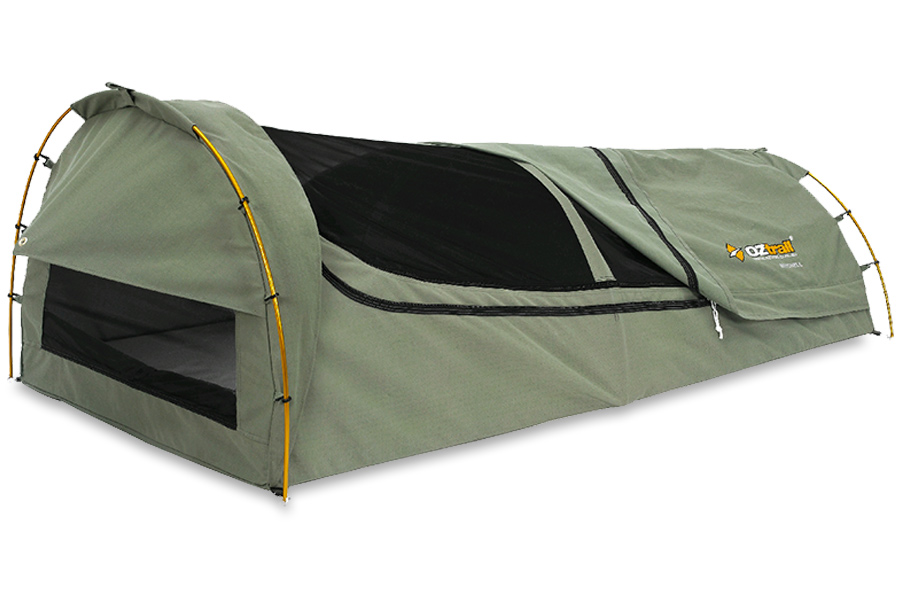 Available in King Single and Double sizes, the Oztrail Mitchell Expedition swag piggybacks on the reputation of the Mitchell Swag and comes with a PVC Vinyl base for added water protection.
It's got a  comfortable 6cm mattress is housed in a three pole dome design. All this comes at a price that cannot be overlooked, making it one of our most popular swags.
1. Oztrail Mitchell King Single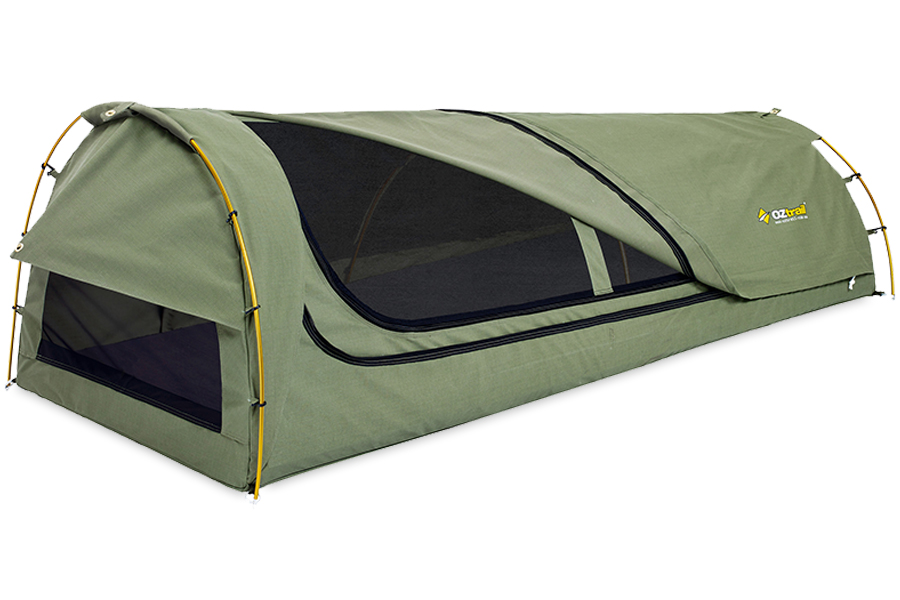 Backed by years of reliably providing shelter for campers across the country, the Oztrail Mitchell is the swag we at Snowys go to when a customer simply wants the best value for money.
This model is available in 3 colours and armed with all the features you need in a swag. The Mitchell offers the durability and longevity seen in 'top shelf swags', only at an outstandingly good price.
It's the confidence we have in the Mitchell swag that made it our number one selling swag in 2015. No wonder Oztrail have labelled it "Australia's Favourite Swag".
Finally, looking for something a bit lighter for those multi-day hiking or cycling trips? We've listed off the best hiking tents of 2016.
So that's the range from Snowys' perspective, but we want to hear your experience too. If you own any of these swags or have one that's worthy but not on this list, let us know in the comments section below.
About the writer...
Trekker, surfer, climber, mountain biker, runner, camper. Participator in most things… master of none.
Joined back in March, 2013