Another year has gone by, and so the time has come to publish our best-selling swag list. Usually, we see the same time-tested favourites filling up our list, but this year we have some new entries that have shaken things up a bit.
Since introducing a new brand to our range – 23ZERO, we've seen two of their swags make their way in, knocking some old favourites out of the running.
OZtrail has finally been pushed off of their perch, with a different brand stealing the number one spot. Which swag is it? Read on to find out!
Starting at number 10, let's look at the best-selling swags for your adventures this year…
10. Darche Urban AWOL – quality build with an affordable price tag
The most affordable offering from Darche, this swag is made from a slightly less weighty but nonetheless high-quality 400gsm proofed poly-cotton ripstop canvas.
The AWOL range also features a heavy-duty PVC bucket floor for protection, superfine insect mesh for breathability, and a 50mm mattress to sleep on. Available in single 900, king single 1100 and double 1400 sizes, you've got a few options for different users. It's also got a 3-hoop design so that you have maximum interior space while you sleep, and a full mesh top for great views and ventilation.
Ideal for all-round use in tropical to high country conditions.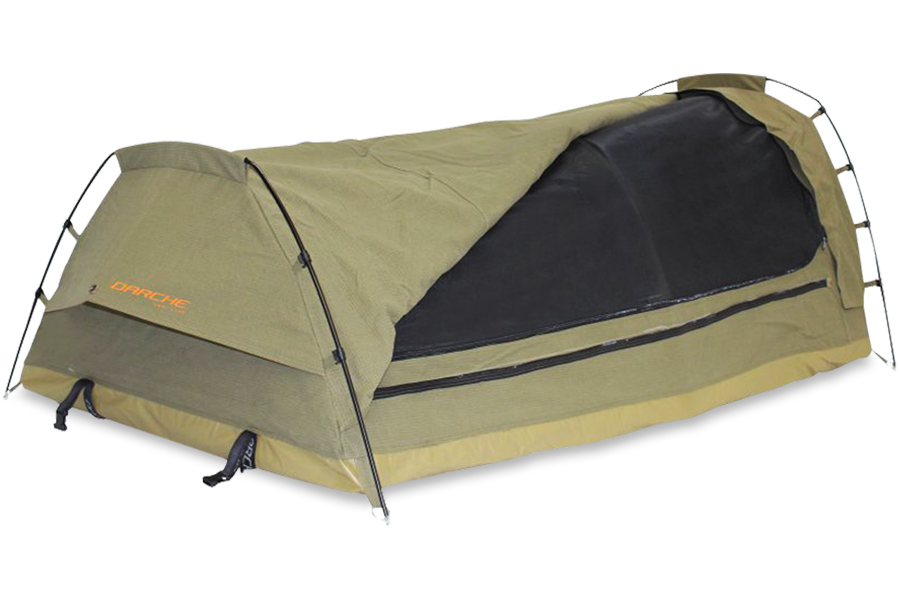 The AWOL provides quality without breaking the budget. Image: Darche
9. 23ZERO Bandit Swag – 4 season shelter
A new entry to our best-sellers this year, the Bandit range of swags from 23ZERO will help you bunker down in year-round conditions in either the 900, 1100 or 1400 size swags.
It's a freestanding swag so you can use it on top of a stretcher for extra elevation from the cold wet ground and the four-season design gives you both ventilation when you need it and protection from the elements.
The 4-way entry makes it easy to access, the all-weather awnings give your protection, and it comes standard with a thicker 70mm hi-density foam mattress for comfort.
Ideal for campers needing a reliable swag for four-season conditions.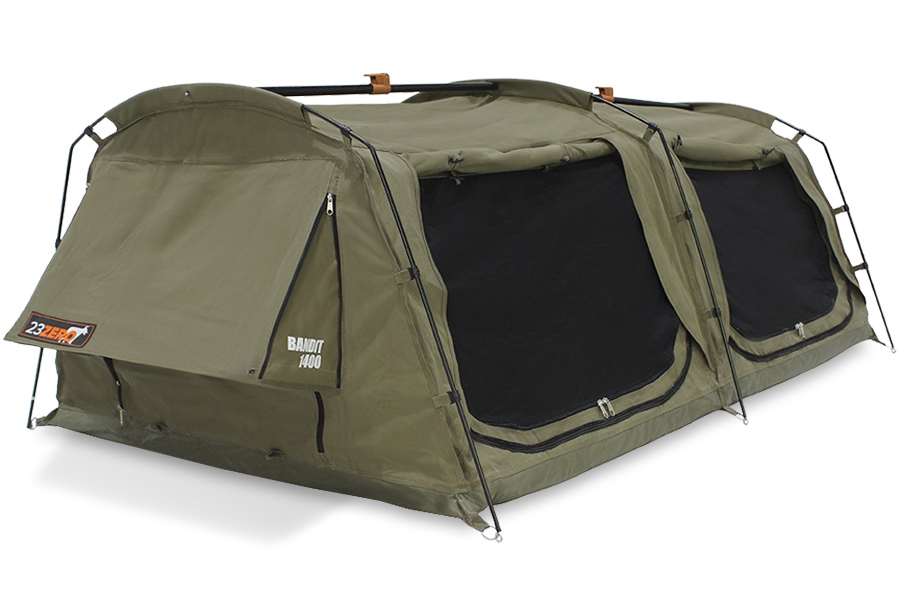 Swag up nice and cosy in the Bandit. Image: 23ZERO
8. Burke & Wills Coolabah – reliable weathertight design
Having previously made all their swags in Australia, Burke & Wills recently moved manufacturing their swags offshore, but you can rest assured that the quality is still fantastic and the price is more affordable. This combination has led to Burke & Wills making it into our best swags list for the second year in a row.
The Coolabah Swag is a 3-pole design that is available in three sizes – King Single, X-Large and Double. It has two entrances with sand-fly proof mesh and comes complete with a waterproof boot bag and doormat.
It's likely popular on account of the 18Oz heavy-duty canvas it's made from combined with a top half-length entry, a waterproof boot bag and doormat, all of which make the Coolabah about as weatherproof as a swag can get.
Ideal for high-country and cold weather campers.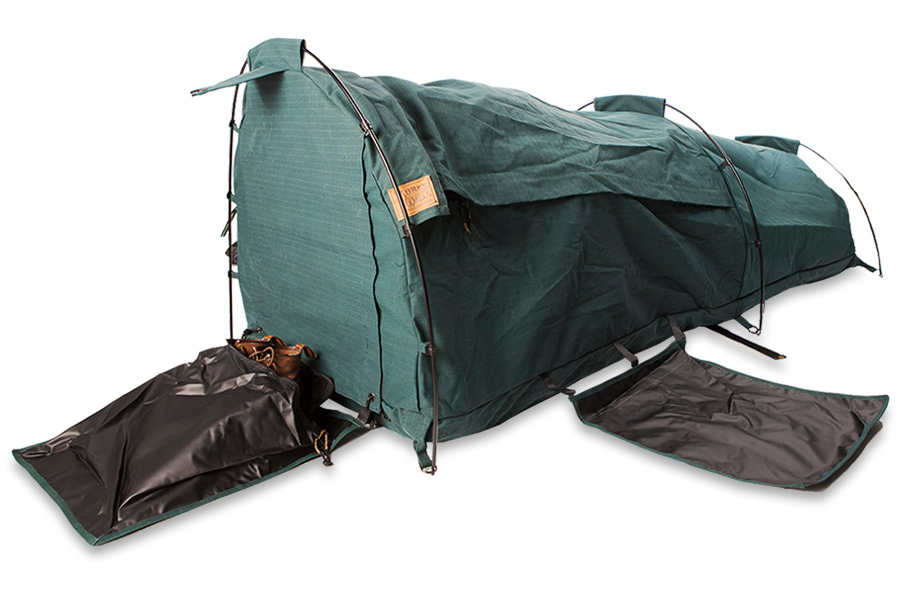 Being very weatherproof, the Coolabah is a very reliable choice. Image: Burke & Wills
7. Burke & Wills Redgum – classic flagship shelter
The Redgum is Burke & Wills' flagship swag. It features a classic three-hoop design and is made with Burke & Wills' Stormguard 500gsm canvas throughout, along with sandfly mesh panels in the doors and windows.
The mattresses in Burke & Wills' swags set them apart from the rest as they use a high-density 7.5cm foam that offers a comfortable sleep no matter where you're swagging for the night. And, just to top it off, it comes with a PVC boot bag to keep your shoes dry.
Ideal for pretty much anyone camping anywhere.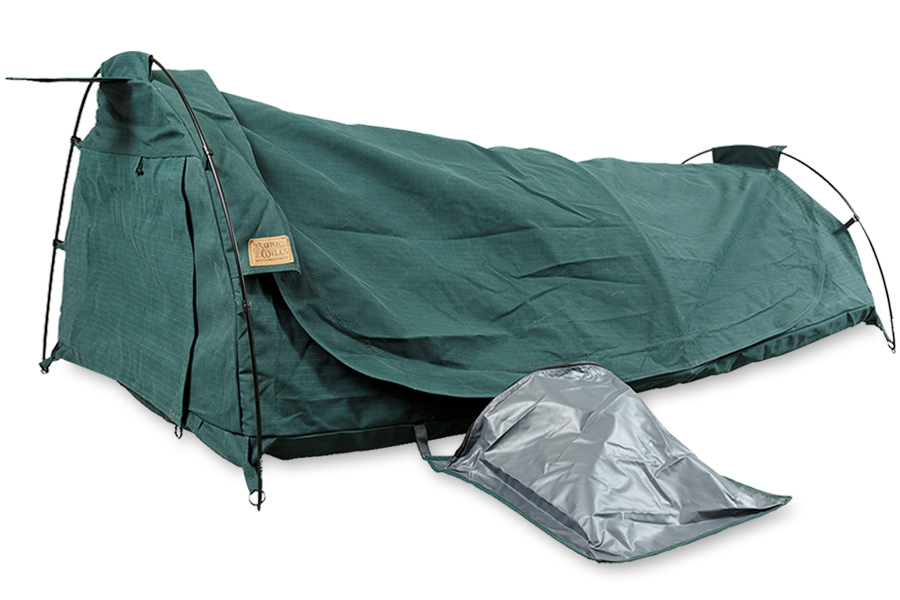 For all kinds of outdoor expeditions, you can rely on the Redgum. Image: Burke & Wills
6. OZtrail Mitchell Discovery – true all-rounder
Formerly known as just the Mitchell, the Mitchell Discovery swag comes in a range of colours and is a true all-rounder in the OZtrail swag range.
With a 3-pole design with full-length top entry, the Mitchell can be adapted to any climate. It's made with a 330gsm canvas and features a PVC base which comes together to create an excellent balance of weight and durability.
Ideal for anyone who wants a good value swag with some bells and whistles.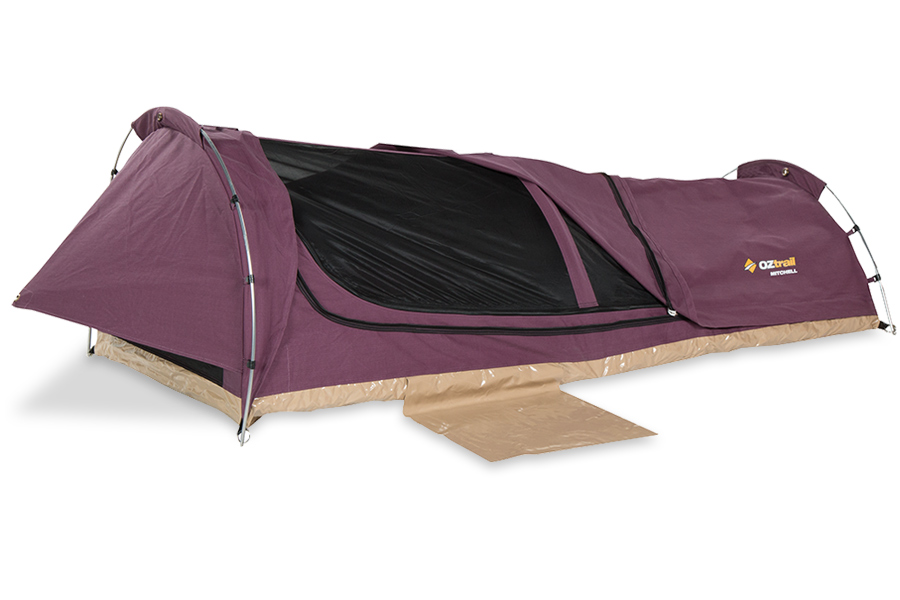 Value for money and easy to set up – the Mitchell Discovery is a fantastic all-rounder. Image: OZtrail
5. 23ZERO Dual Swag – freestanding stargazer
The 23ZERO range has made quite a splash in terms of popularity over the last year, despite only being introduced to our range very recently with their Dual Swag moving quickly up into 5th place on our best-sellers.
This freestanding design comes in three sizes, a 900mm, 1100mm, and a 1400mm and is made from 400gsm proofed poly-cotton canvas, with strong alloy anodised dome poles and a super-fine mesh entry for stargazing. The HF welded PVC bucket floor delivers protection from the ground up, the 70mm hi-density thick foam mattress with a protective cover keeps you comfortable as you snooze, and the internal pockets make it easy to keep your essentials close.
Ideal for those looking for a freestanding swag that you can stargaze in.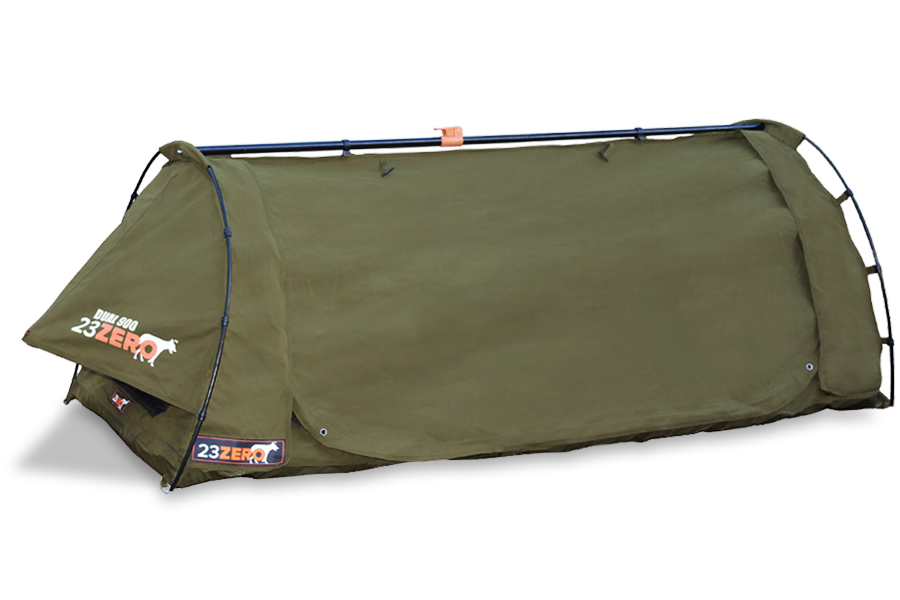 Enjoy great views at night in this model. Image: 23ZERO
4. Darche Dirty Dee – the ultimate tourer
A durable, freestanding all-season swag, the Darche Dirty Dee offers a multitude of doors and windows for superior ventilation and boasts loads of internal headroom, a comfortable 5cm mattress and comes in three sizes – 900, 1100 and 1400.
It's made with 420gsm canvas for durability and features a tough PVC base for moisture protection and longevity. The 3-hoop, two-ridgepole-design is a breeze to set up and with the addition of a few optional awning poles, the doors can be extended as awnings to create a sun and rain protected entry.
Ideal for all-weather 4WD touring.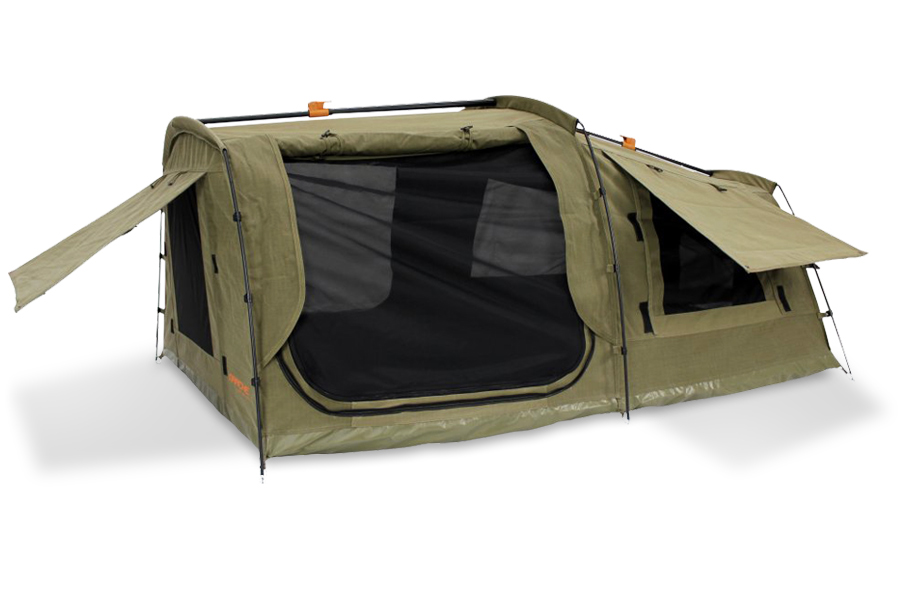 The Dirty Dee from Darche is the ultimate freestanding model for touring. Image: Darche
3. Darche Nebula 1550 – roomy swag tent
The jury is out on whether this is a swag or a tent, I think I've even previously dubbed this a 'swent'…but that term still hasn't caught on yet!
It's definitely got the pole structure of a tent and a sturdy one at that – 25mm alloy to be precise. Yet, it's made from a tough 420gsm canvas, has a PVC floor, includes a mattress and boasts dimensions akin to a swag.
However you may interpret this shelter, one thing is for sure – the Nebula 1550 is about as close as a swag has come to a bomb shelter…I'd feel comfortable sleeping in this no matter what the weather threw at me.
Ideal for 4WD touring in all conditions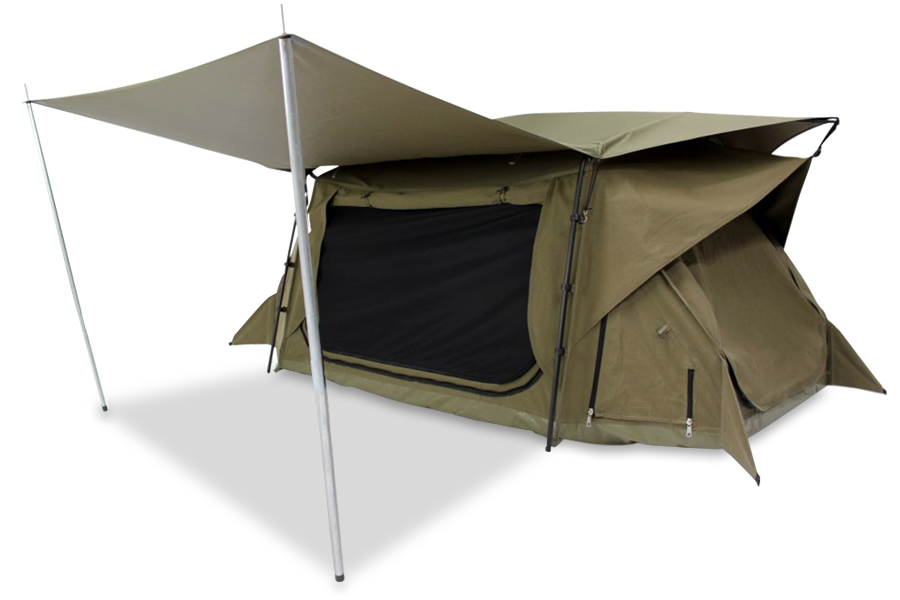 This 'swent' features a very roomy design. Image: Darche
2. OZtrail Mitchell Expedition – quality on a budget
The OZtrail Mitchell Expedition swag has been bumped to number two, after a couple of years in a row at the top. This swag is available in three sizes (single, jumbo and double) and arguably offers far more than its price tag suggests.
It has the 3-pole design of a high-end swag, head and foot awnings, a PVC vinyl floor and is ridgepole compatible for optional freestanding setup. The main difference is that it's made with a lighter weight, albeit tried and tested canvas.
Ideal for first time or occasional campers looking for reliability without spending the earth.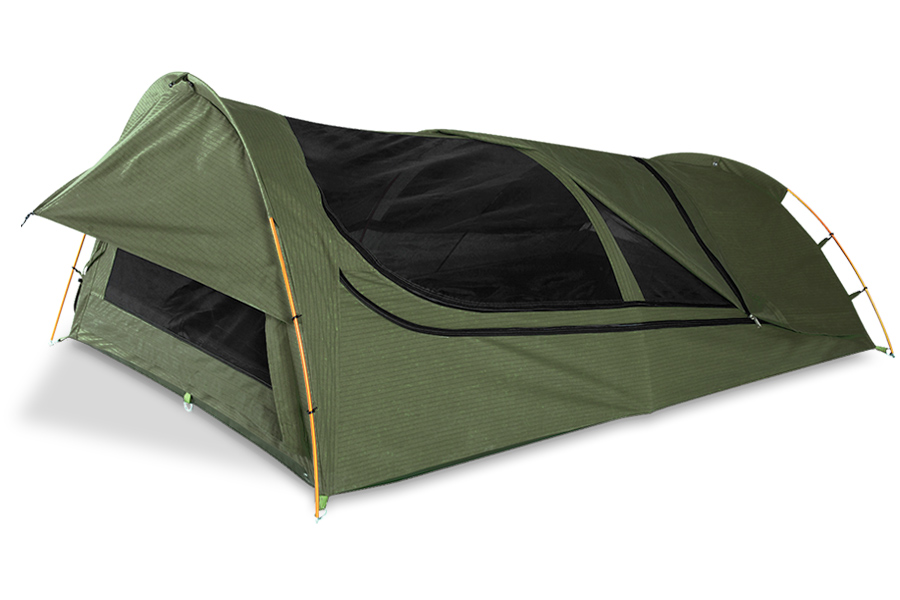 The Mitchell Expedition came in second place this year. Image: OZtrail
1. Dusk to Dawn Darche – cream of the crop
A consistent top 5 best-seller since it's launch a couple of years ago, this year the Dusk to Dawn from Darche has finally snatched the number one spot this year. These models can be purchased in 900, 1100 or 1400 sizes and have two huge full-length doors that roll completely open so they are the perfect accommodation for campers who like to feel the cool breeze across their face at night.
The storm flaps on each side can be rolled up, or, with a couple of optional awning poles, be extended as awnings. This leaves large mesh doors on each side for virtually unimpeded views of the night sky. It has an easy pitch two-hoop design with a ridgepole that makes it freestanding and is made with Darche's tough 420gsm canvas with a PVC floor.
Ideal for those seeking uninterrupted views from inside their swag.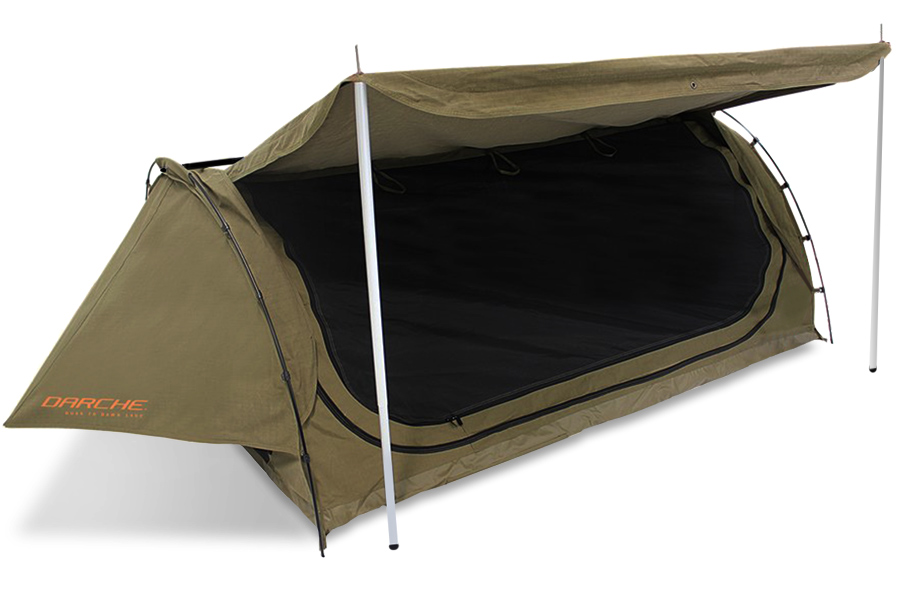 This year's most popular swag – the Dusk To Dawn. Image: Darche
Honourable mention – RS1 Oztent and 23ZERO Swag Accessories
Ever since Oztent released the RS1 Swag, it's been a hot topic conversation around the campfire. This one is another 'swent' that's based on the design of their popular and reliable RV Tents.
When packed, this model is much longer than your average swag and you can't leave your bedding inside. But when it's pitched, it shares similar dimensions to most swags and has more pole structure making it one sturdy little shelter.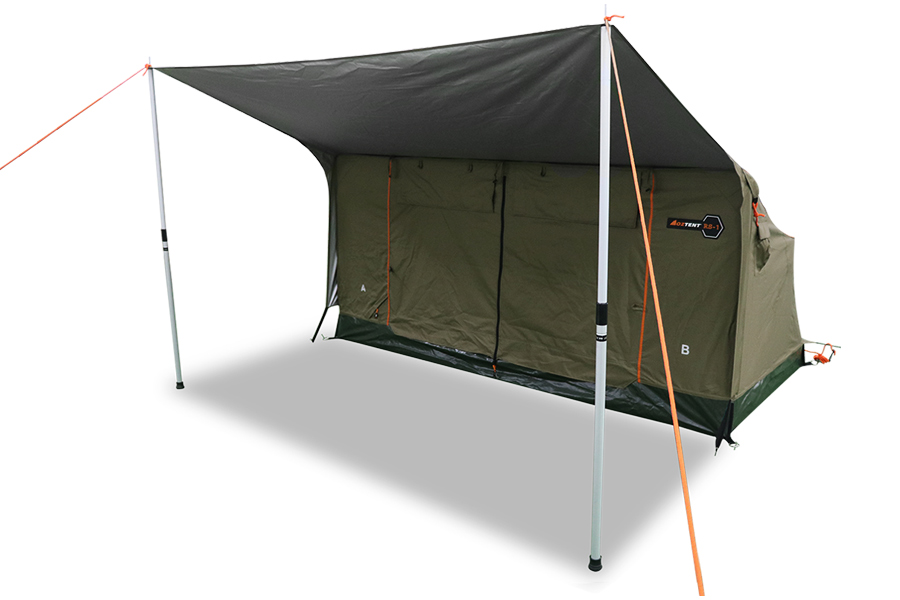 This year's honourable mention is the RS1. Image: Oztent
What's even better is that like its RV tent counterparts, it sets up and packs away in just seconds. It also has a large front awning that either creates a sheltered space at the swags entrance or doubles as a flysheet for condensation management and temperature control inside. There's also a compatible RS-1S stretcher available that comes with straps for securing this swag to it, to create the perfect elevated sleeping setup. All-in-all, the RS-1 Swag is ideal for Oztent enthusiasts or for those just looking for something unique.
A swag fly could be what your setup is missing. Image: 23ZERO
Another interesting addition to the range that has caught our eye are the swag flys from 23ZERO. Available in an Arch Dome Swag Fly design and a Segmental Dome Swag Fly design, they offer extra protection for your swag plus a bit of shelter for external storage. These flys also give you better climate control, so they will keep you cooler in summer, and warmer in winter.
How did your gear hold up over the past 12 months? Is it still going or in need of an upgrade?
About the writer...
Joined back in March, 2013