We've been publishing our best-selling swag list for a number of years now and for the most part, the swags that made the list have been much the same.
Burke & Wills have shaken things up a little this year, with two of their swags making it to the top 10 knocking Jolly Swagman from the top of the pile.
OZtrail has once again taken out the top two spots, this time they have managed to take out another two positions making them by far the most prominent brand on the list.
Enough waffle though, that's not what you came here for… starting at number 10 let's look at the best-selling swags for your adventures in 2019.
10. True Blue Bluey Big Foot 100% Cotton Canvas Swag
A quality swag without the frilly bits. The True Blue Bluey Bigfoot swag, at under $200, is the best value 100% cotton canvas swag in our range.
This swag uses 10Oz cotton canvas for both the upper and the floor, and finished with quality trimmings including Aussie made poles that are backed with a lifetime warranty. The Bluey Bigfoot swag is one shelter that, if well looked after, will likely last a number of lifetimes.
Ideal for those that want quality at a budget price.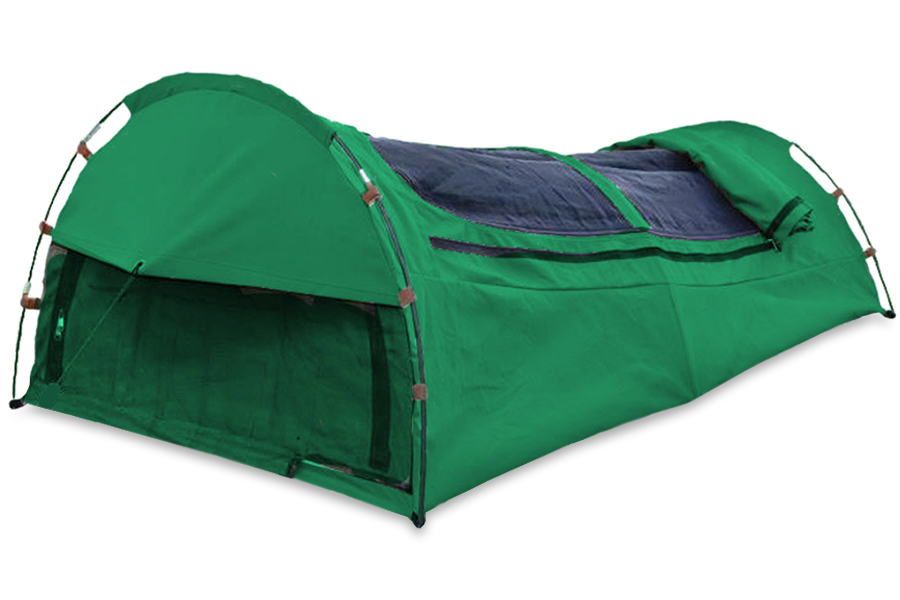 If you're searching for great value, you can't go past the Bluey Bigfoot. Image: True Blue
9. Darche Nebula 1550 Swag Tent
The jury is out on whether this is a swag or a tent, I think I've even previously dubbed this a 'swent'…but that term hasn't caught on yet!
It's definitely got the pole structure of a tent and a sturdy one at that – 25mm alloy to be precise. Yet, it's made from a tough 420gsm canvas, has a PVC floor, includes a mattress and boasts dimensions akin to a swag.
However, you may interpret this shelter one thing is for sure – the Nebula 1550 is about as close as a swag has come to a bomb shelter…I'd feel comfortable sleeping in this no matter what the weather threw at me.
Ideal for 4WD touring in all conditions.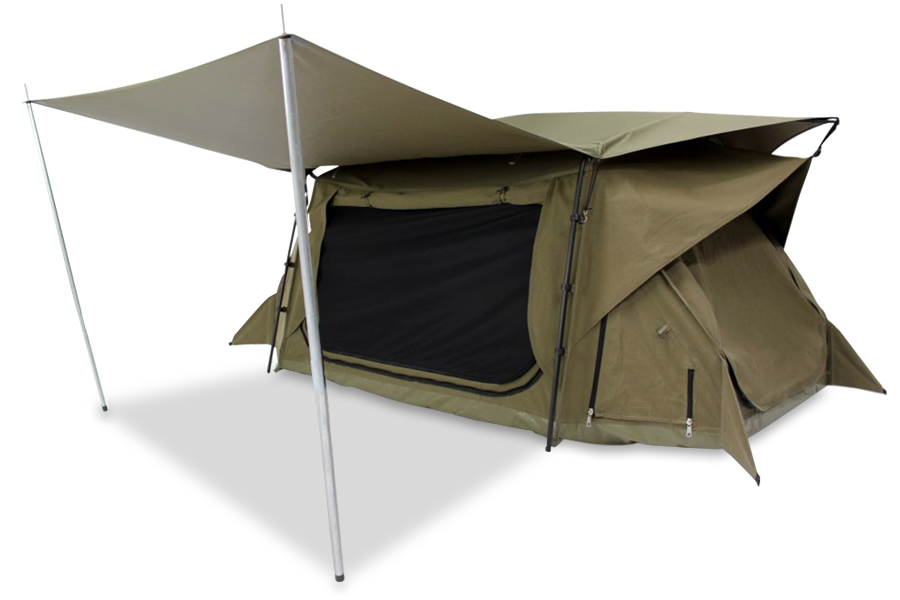 This 'swent' features a very roomy design. Image: Darche
8. Burke & Wills Coolabah Weathertight Swags
Having previously made all their swags in Australia, Burke & Wills recently moved to manufacturing offshore, but you can rest assured that the quality is still fantastic and the price more affordable. This combination has led to Burke & Wills making it to our best swags list for the first time.
The Coolabah Swag is a 3 pole design that is available in three sizes – King Single, X-Large and Double. It has two entrances with sand-fly proof mesh and comes complete with a waterproof boot bag and doormat.
It's likely popular on account of the 18Oz heavy duty canvas it's made from combined with a top half-length entry, a waterproof boot bag and doormat, all of which make the Coolabah about as weatherproof as a swag can get.
Ideal for high-country and cold weather campers.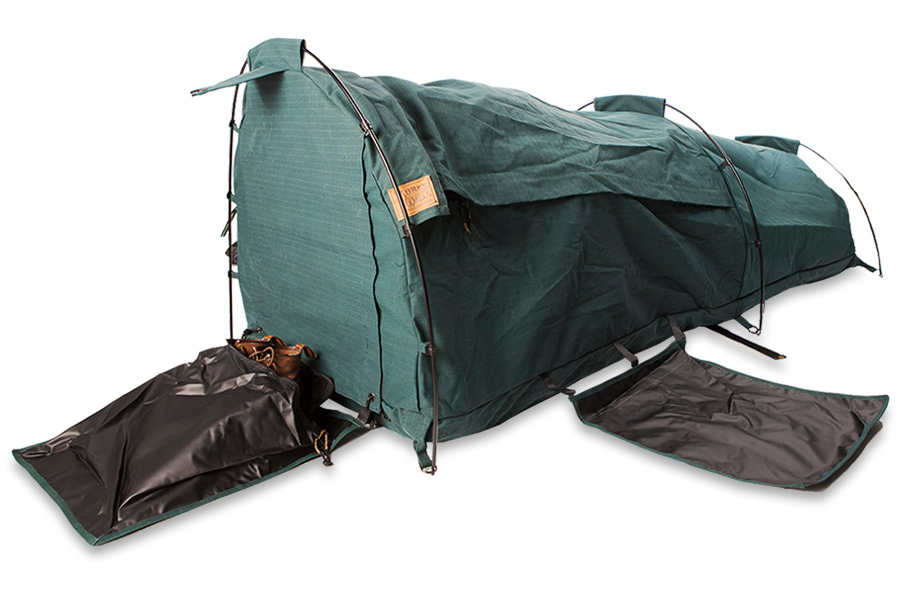 Being very weatherproof, the Coolabah is a very reliable choice. Image: Burke & Wills
7. OZtrail Ridgeback Discovery Freestanding Swag
The OZtrail Ridgeback Discovery Swag came into the OZtrail range a little over a year ago as one of three models in their top end Discovery Series swags. It's made with tough 400gsm canvas and has a PVC bucket floor.
Its popularity is likely due to its versatile freestanding design. A centre ridgepole is included and its full-length doors can be opened completely or extended as awnings of you were to grab yourself some additional poles.
Ideal for warm weather outback touring.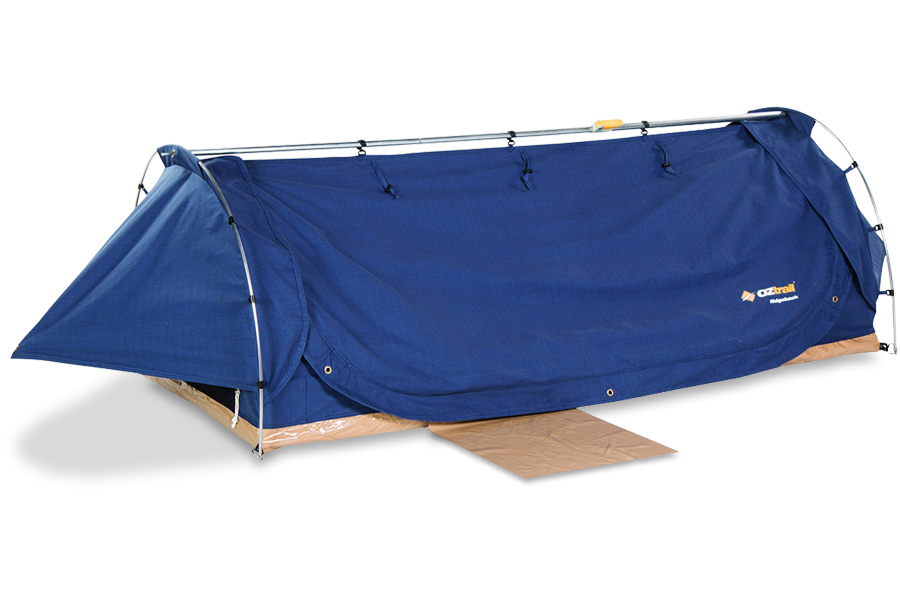 The freestanding design of the Ridgeback is probably why it's so popular. Image: OZtrail
6. Darche Dirty Dee Touring Swag
A durable, free-standing all-season swag, the Darche Dirty Dee offers a multitude of doors and windows for superior ventilation and boasts loads of internal headroom, a comfortable 5cm mattress and comes in three sizes.
It's made with 420gsm canvas for durability and features a tough PVC base for moisture protection and longevity. The three hoop, two ridgepole design is a breeze to set up and with the addition of a few optional awning poles, the doors can be extended as awnings to create a sun and rain protected entry.
Ideal for all weather 4WD touring.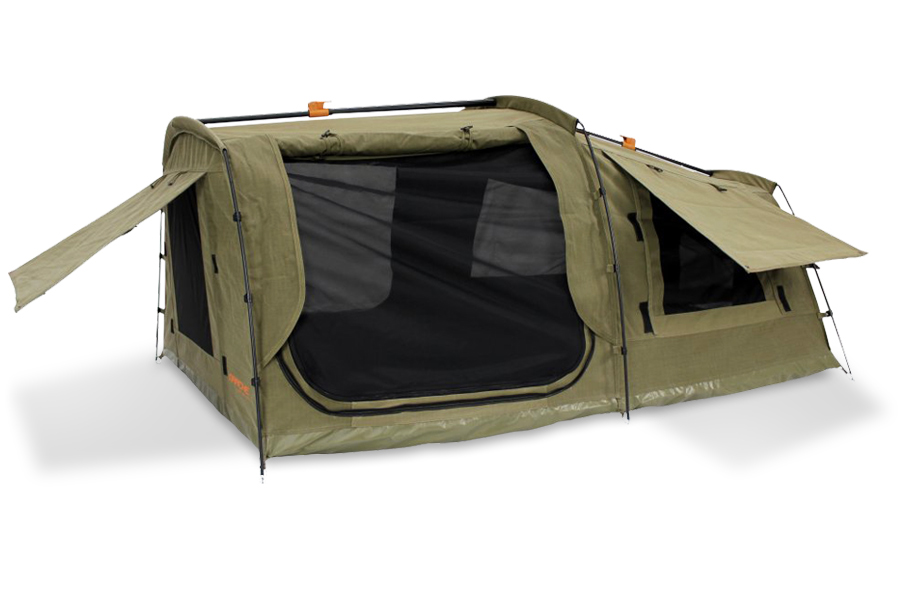 The Dirty Dee from Darche is the ultimate freestanding model for touring. Image: Darche
5. Burke & Wills Redgum Signature Swag
The Redgum is Burke & Will's flagship swag. It features a classic three hoop design and is made with Burke & Will's Stormguard 500gsm canvas throughout, along with sand fly mesh panels in the doors and windows.
The mattresses in Burke & Will's swags sets them apart from the rest as they use a high-density 7.5cm foam that offers a comfortable sleep no matter where you're swagging for the night. And just to top it off it comes with a PVC boot bag to keep your shoes dry.
Ideal for pretty much anyone camping anywhere.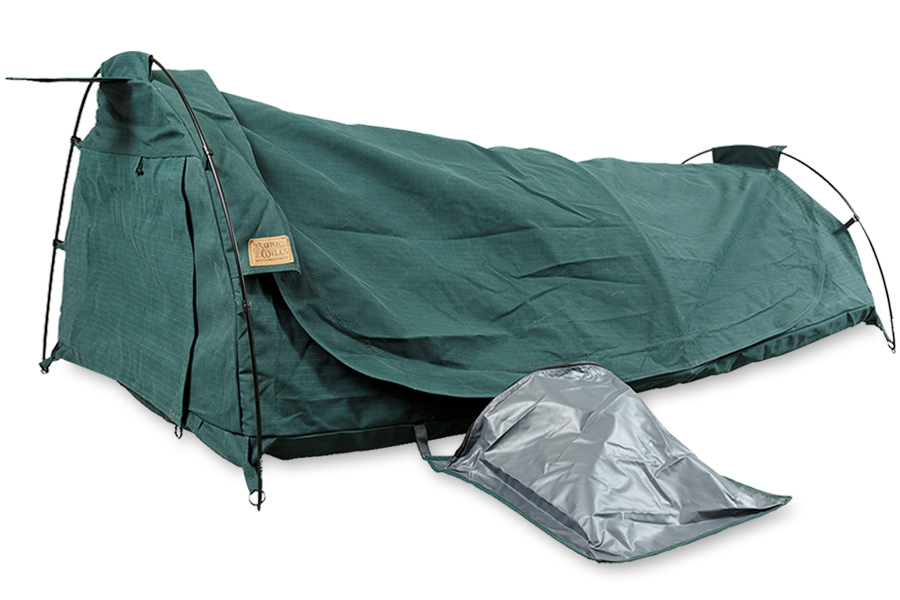 For all kinds of outdoor expeditions, you can rely on the Redgum. Image: Burke & Wills
4. OZtrail Cooper Expedition Envelope Swag
The fact that the Cooper Swag consistently makes it into our top 10 swags each year is a testament to the fact that there are a lot of people who still like to keep things compact, lightweight and simple.
The Cooper is an envelope style swag with small poles at the foot end. This provides just enough height for you to comfortably slide into. A protective awning can be tied to a nearby tree to protect your head and the PVC vinyl base protects from the damp ground.
Ideal for minimalist and budget-conscious campers.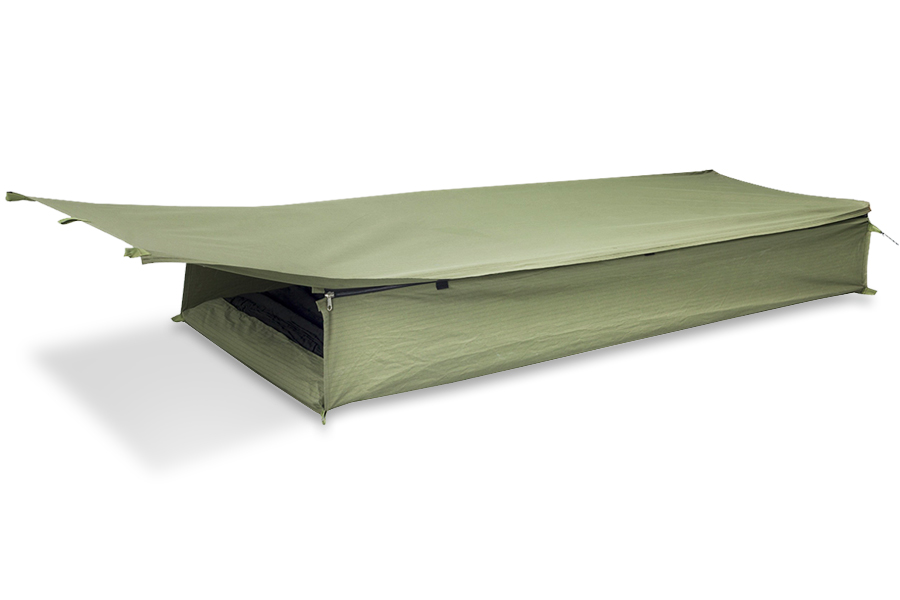 The classic Cooper from OZtrail never goes out of style. Image: OZtrail
3. Darche Dusk To Dawn Swags
With two huge full-length doors that roll completely open, the Dusk To Dawn Swag from Darche is the perfect accommodation for campers who like to feel the cool breeze across their face at night.
The storm flaps on each side can be rolled up, or, with a couple of optional awning poles, be extended as awnings. This leaves large mesh doors on each side for virtually unimpeded views of the night sky. It has an easy pitch two-hoop design with a ridgepole that makes it freestanding and is made with Darche's tough 420gsm canvas with a PVC floor.
Ideal for those seeking uniterrupted views from inside their swag.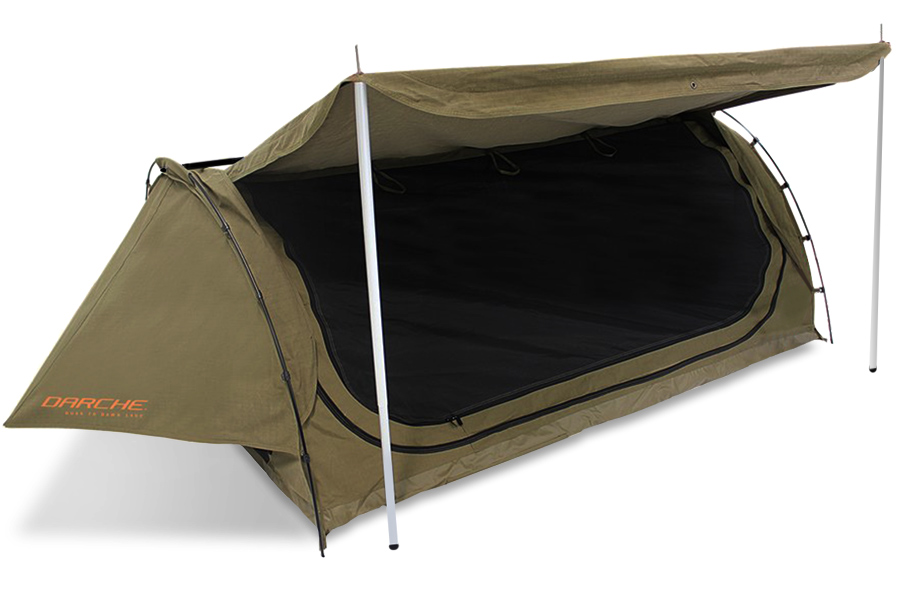 Fall asleep to the twinkle of the stars in the Dusk To Dawn. Image: Darche
2. OZtrail Mitchell Discovery All-Rounder Swags
Formerly known as just the Mitchell, the Mitchell Discovery swag comes in a range of colours and is a true all-rounder in the OZtrail swag range.
With a 3-pole design with full-length top entry, the Mitchell can be adapted to any climate. It's made with a 330gsm canvas and features a PVC base which comes together to create an excellent balance of weight and durability.
Ideal for anyone who wants a good value swag with some bells and whistles.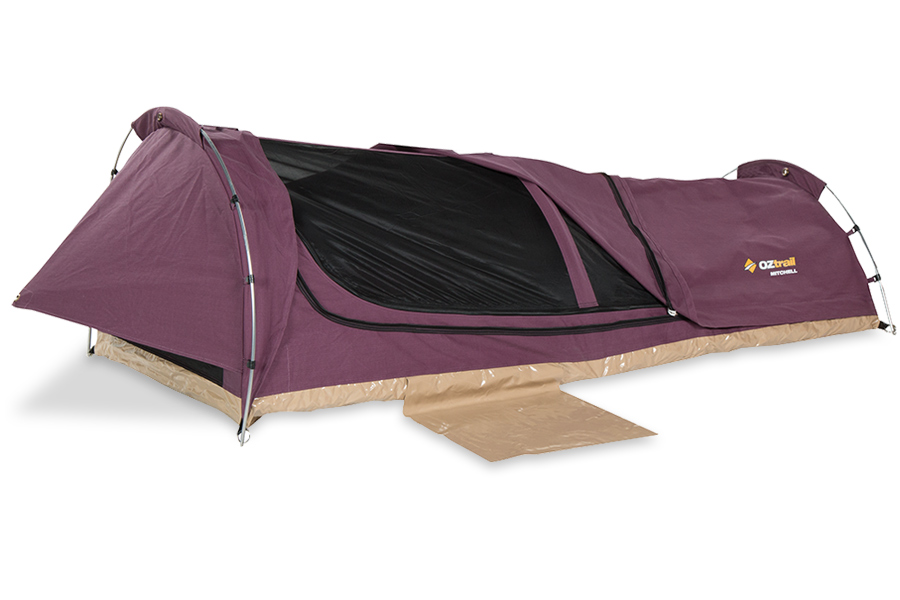 Value for money and easy to set up – the Mitchell Discovery is a fantastic all-rounder. Image: OZtrail
1. OZtrail Mitchell Expedition Affordable Swags
Once again, our best-selling swag. The OZtrail Mitchell Expedition swag is available in three sizes and arguably offers far more than its price tag suggests.
It has the 3 pole design of a high-end swag, head and foot awnings, a PVC vinyl floor and is ridgepole compatible for optional freestanding set-up. The main difference is that it's made with a lighter weight, albeit tried and tested canvas.
Ideal for first time or occasional campers looking for reliability without spending the earth.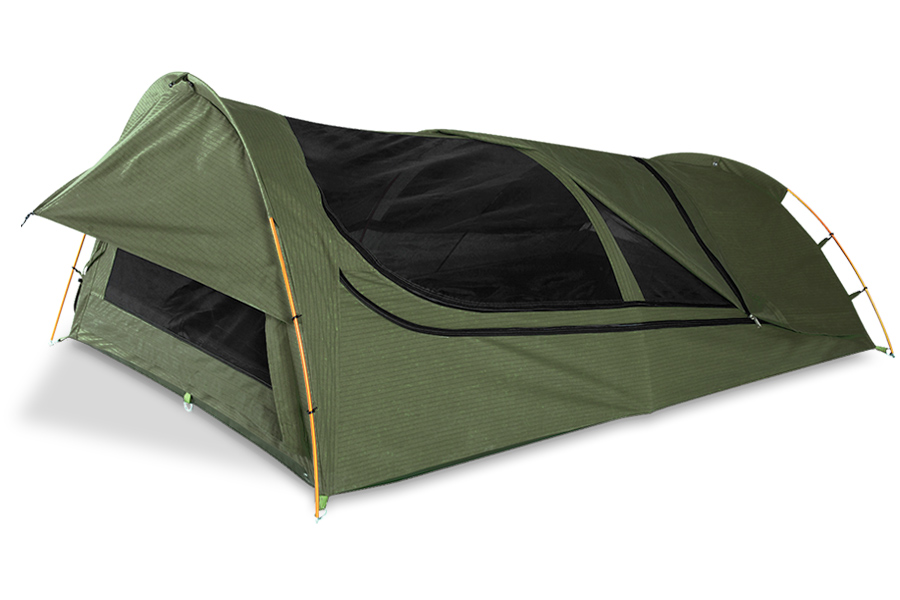 The Mitchell Expedition has topped the list again. Image: OZtrail
Honourable mention – The Oztent RS1 Swag
This one is another 'swent'. Based on the design of their popular and reliable RV Tents, Oztent released the RS1 Swag in late 2017 and it's been the topic of campfire conversation ever since.
When packed, it's much longer than your average swag and you can't pack your bedding up inside. But when pitched, it shares similar dimensions to most swags and has more pole structure making it one sturdy little shelter.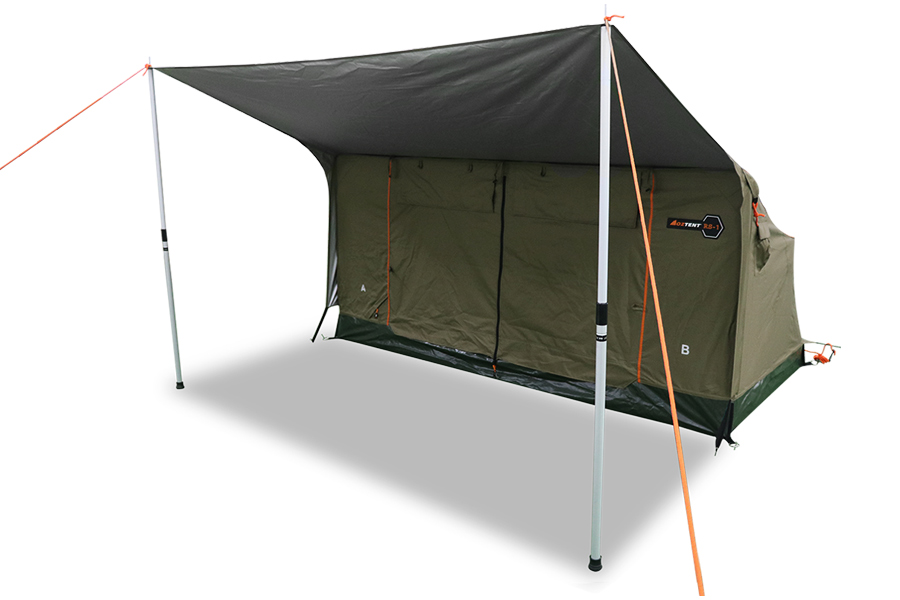 This year's honourable mention is the RS1. Image: Oztent
What's even better is that like its RV tent counterparts, it sets up and packs away in just seconds. It also has a large front awning that either creates a sheltered space at the swags entrance or doubles as a flysheet for condensation management and temperature control inside.
The RS-1 Swag is ideal for Oztent enthusiasts or just those looking for something unique.
How did you gear hold up over the last 12 months? Is it ready for another year of adventure or is time for an upgrade? 
About the writer...
Joined back in March, 2013