The past 12-months has proved a little turbulent for swags! The great Aussie bedroll has been in short supply across the nation but their popularity with eager campers remains strong, and newcomers were happy to grab what stock has been available or get their order in ahead of shipment dates.
Now our warehouse shelves are being replenished and our patient customers are receiving their tracking details as these swags find their new owners.
Usually, it's the same time-tested favourites filling up our list and although some of the trusty models continue to hold firm, the past year has seen a few newbies shake things up.
Starting at number 10, let's look at the best-selling swags for your adventures this year…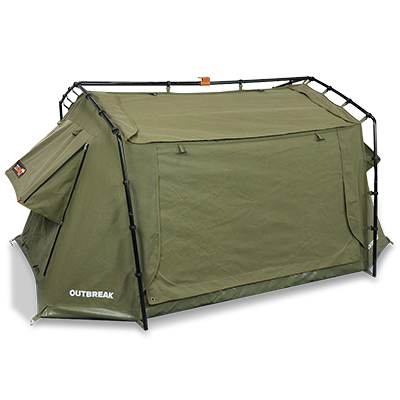 10. 23ZERO Outbreak – spacious and freestanding with 360° views
A superior touring swag, the Outbreak 1550 from 23ZERO comfortably fits two adults plus extra room for gear. This double swag has a mat thickness of 70mm and a generous width of 1500mm.
The Outbreak has four main entry points each with its own canvas cover that can be zipped down for weather protection or fully rolled back, leaving just the mesh in place for terrific ventilation and/or admiring the view.  The mesh windows at each end have zip-down canvas walls that are gusseted to allow greater air circulation when open and pegged out. Use the included fly to help reduce condensation and to keep you extra snug when conditions are cold and wet.
Seam-sealed and ready to go, this is a dependable touring swag that's quick and easy to set up.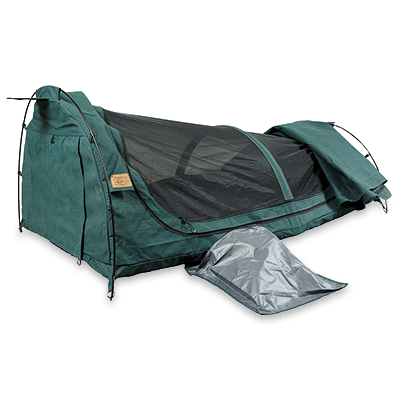 9. Burke & Wills Redgum – classic flagship shelter
The Redgum is Burke & Wills' flagship swag. Available in 3 sizes – King Single, X Large and Double – it features a classic three-hoop design and is made with Burke & Wills' Stormguard 500gsm canvas throughout. Aussie designed, this swag will hold up in tough conditions and features midge-proof mesh panels in the doors and windows.
The mattresses in Burke & Wills' swags set them apart from the rest as they use a high-density 75mm foam that offers a comfortable sleep no matter where you're swagging for the night. And, just to top it off, it comes with a PVC boot bag to keep your shoes dry!
Ideal for the serious adventurer, this one is built to go pretty much anywhere.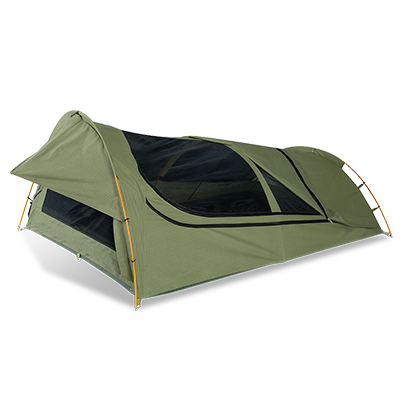 8. OZtrail Expedition Series – covering all the bases
The OZtrail Expedition Series has undergone some recent refinement and the range now has two swags – the Mitchell Double and Mitchell Single. The Mitchell swag has enjoyed long-held popularity with the budget-conscious camper and previous years have seen it top our list.
It has the 3-pole design of a high-end swag, head and foot awnings, a 520gsm PVC vinyl floor and is ridgepole compatible for an optional freestanding setup. The main difference is that it's made with a lighter weight, albeit tried and tested 300gsm Satproof™ canvas and has a 50mm mat.
Perhaps fine-tuning the range will see it return to the top next year, or maybe the soon-to-be-released OZtrail Discovery Series will gain traction instead. Either way, the Mitchell Expedition swags are ideal for the first time or occasional camper looking for reliability without spending the earth.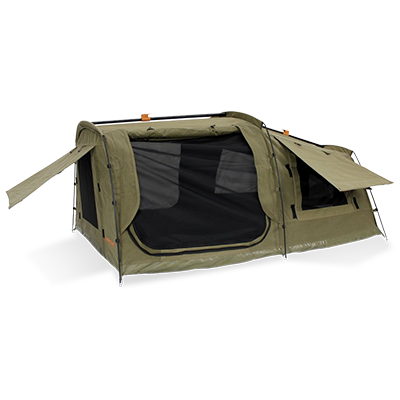 7. Darche Dirty Dee – the ultimate tourer
A durable, freestanding all-season swag, the Darche Dirty Dee offers a multitude of doors and windows for superior ventilation. This range boasts loads of internal headroom, a comfortable 70mm high-density foam mattress and comes in three sizes – 900, 1100 and 1400.
It's made with 420gsm poly-cotton canvas for durability and features a tough PVC base for moisture protection and longevity. The 3-hoop, two-ridge pole design is a breeze to set up and with the addition of a few optional awning poles, the doors can be extended to create a sun and rain protected entry.
Ideal for 4WD touring and all-weather camping.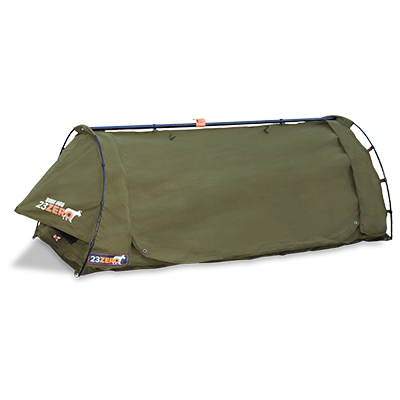 6. 23ZERO Dual Swag – freestanding stargazer
Moving down a notch from last year's position, yet still proving popular with its two-way entry and hassle-free setup, is the Dual swag from 23ZERO.
This freestanding design comes in three sizes, a 900mm, 1100mm, and a 1400mm. These swags are made from 400gsm poly-cotton canvas with a polyurethane coating to give them about a 1000mm waterhead rating. Strong alloy anodised dome poles lend form and structure, while the ridge pole runs the length of the swag. The HF welded PVC bucket floor delivers protection from the ground up, the 70mm high-density thick foam mattress with a protective cover keeps you comfortable as you snooze, and the internal pockets make it easy to keep your essentials close.
Ideal for those looking for a freestanding swag with generous dual entry and super-fine mesh for bug protection whilst stargazing.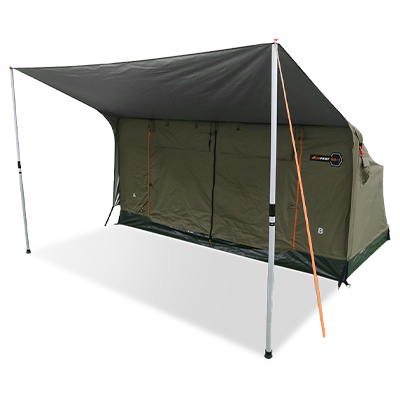 5. Oztent RS-1 Series II – a unique setup
Ever since Oztent released the RS-1 Swag, it's been a hot topic around the campfire, and it even gained an 'honourable mention' in our list last year. Now available in its Series II second evolution, this swag blurs the lines between the beloved RVs and the modern-day swag. This hybrid design is a growing trend among brands, and we've coined a name for it – Swent!
When packed, the RS-1 is much longer than your average swag and you can't leave your bedding inside. When it's pitched, it shares similar dimensions to most swags but has more pole structure making it one sturdy little shelter. Like its RV tent counterparts, it sets up and packs away in just seconds. It also has a large front awning that either creates a sheltered space at the swags entrance or has a reflective underside that can be flipped over your swag to use as a flysheet for condensation management and temperature control inside. There's also a compatible RS-1S stretcher available that comes with straps for securing this swag to it and creating the perfect elevated sleeping setup.
The RS-1 Swag is ideal for Oztent enthusiasts or for those just looking for something unique.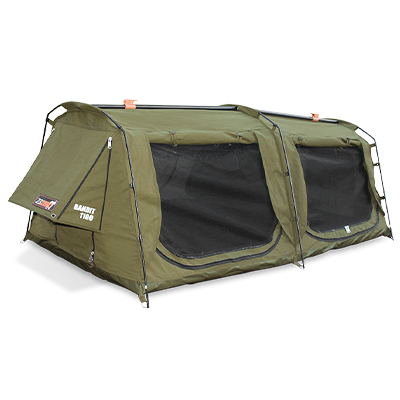 4. 23ZERO Bandit Swag – 4 season shelter
Despite still being relatively new in comparison to other brands, 23ZERO continues to make quite a splash in terms of popularity! Their swags have developed a steady foothold within our list and moving from its 9th position last year, the Bandit is swiftly making its way to the front.
This range will help you bunker down in year-round conditions and is available in 900, 1100 or 1400 size swags. The Bandit is freestanding so you can use it on top of a stretcher for extra elevation from the cold wet ground and the four-season design gives you both ventilation when it's warm and protection when you need it. There's also a flexible 4-way entry so you can adapt your access to suit different circumstances, and it comes standard with a thicker 70mm high-density foam mattress for a super comfy crash-pad.
Ideal for campers needing a reliable swag throughout the year.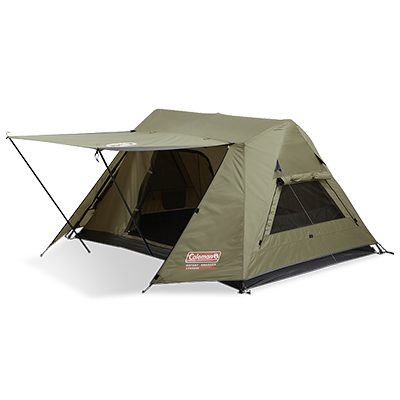 3. Coleman Instant Swagger – festival fun
It's not quite a swag and it's not quite a tent, but it is a winning design that could almost be another Swent. Coleman calls it the Swagger and it's available in a 2P or 3P. Confused identity aside, there is an insatiable demand for this innovation because, since its release last August, the Swagger has not only made its way into the list, but it has shot up to third place!
The Swagger gives you the simplicity of a swag without the bulk. It has a strong frame with spring-loaded torsion poles to create more headroom and features a dual instant spine hub which makes it easy to set up. It's constructed from 150D polyester with a tough polyethylene bucket floor. Unlike a swag but similar to a tent, the Swagger does not come with a mat. However, both the Single and Double High Peak Camp Mat fit comfortably inside regardless of which Swagger you choose.
Used with or without the fly, it's ideal for 4WD touring, boat camping, music festivals or giving the kids their own space on family trips.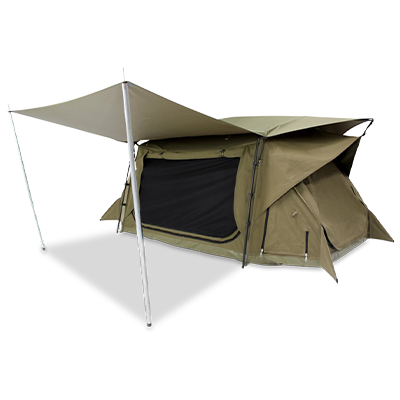 2. Darche Nebula 1550 – roomy swag tent
Maybe after this blog, our term Swent might catch on because here we are again, straddling the line between swags and tents! Darche's Nebula 1550 is a super roomy design that has moved up a spot from 2020 and proves once again, how popular this new evolution of the swag truly is.
It's got the pole structure of a tent and a sturdy one at that – 25mm alloy to be precise. Yet, it's made from a tough 420gsm canvas, has a PVC floor, includes a mattress and boasts dimensions akin to a swag. Whichever category you deem this shelter, one thing is certain – the Nebula 1550 is about as close to a bomb shelter as a swag can get! We'd feel comfortable sleeping in this no matter what the weather conditions were.
Ideal for 4WD touring in all conditions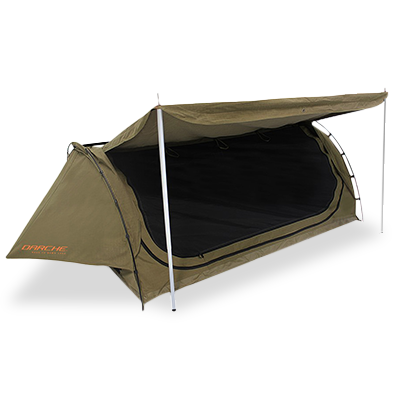 1. Darche Dusk to Dawn – cream of the crop
Here it is, taking the gong for the second year in a row and a consistent top 5 best-seller since its launch a few years ago! The Dusk to Dawn from Darche is available in 900, 1100 or 1400 sizes and has two huge full-length doors that roll open completely. They are the perfect accommodation for campers who like to feel the cool breeze across their face at night.
The storm flaps can be rolled up, or they can be extended as awnings with a couple of optional poles. This leaves the large superfine mesh doors on each side offering virtually unimpeded views of the night sky. It has an easy pitch two-hoop design with a ridgepole that makes it freestanding and is made with Darche's tough 420gsm canvas and a PVC floor.
Ideal for those seeking uninterrupted views from inside their swag.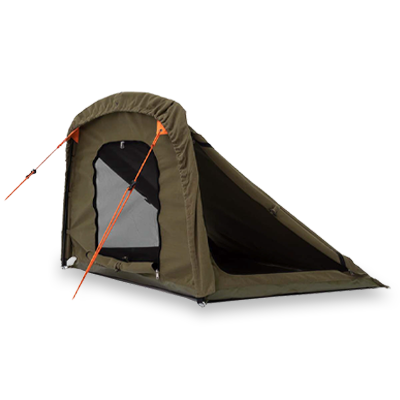 What's new for 2021?
Teaser alert! We've caught wind of a few exciting products on the horizon, but we can't blow the whistle on them just yet. However, they might throw the cat amongst the pigeons on next year's list, so stay tuned.
In the meantime, let's talk about Darche's Hutch. New to the market in August 2020, this swag accessory joins 23ZERO's Arch and Segmental Dome Swag Flys, in the growing range of popular swag add-ons. The Hutch is an annex for your swag and is available in 420gsm Ripstop Poly-Cotton Canvas or a Lite version made from 210D Ripstop Polyester Oxford. It can be used on its own or butted up to the head of your swag where you can have internal access through the main door, or there are two zippered side doors as well.
The Hutch is compatible with pretty much any swag, so long as it shares the same width. It's perfect for storing your gear out of the elements or to give your furry best mate a kennel on your travels.
So, that's the round-up you've all been wanting – our best-selling swags from the last 12 months!
Swag, Swent or Swagger… what's your pick for next year's list?
About the writer...
Trekker, surfer, climber, mountain biker, runner, camper. Participator in most things… master of none.
Joined back in March, 2013