With the enormous range available, choosing the right swag can be a little daunting. So, as we've done every year, we've collated our sales over the last 12 months, looked at what's new, what's old and what's changed. Then we put together a list of the 10 best swags your money can buy in 2018.
So, let's start at #10.
10. Darche Nebula Swag
The Nebula Swag from Darche actually comes in two sizes. The larger Nebula 2400 however, is more of a heavy duty two man tent. The Darche Nebula 1550, on the other hand, is a solid swag that comes complete with a comfortable mattress, flysheet and a rigid alloy frame. So it will withstand just about anything Mother Nature decides to throw at it.
It's also equipped with loads of windows, doors and vents that help keep you comfortable in any climate. It also offers 360-degree views on warm summer nights. The Nebula 1550 has the stability of a canvas touring tent with all the features and dimensions of a swag.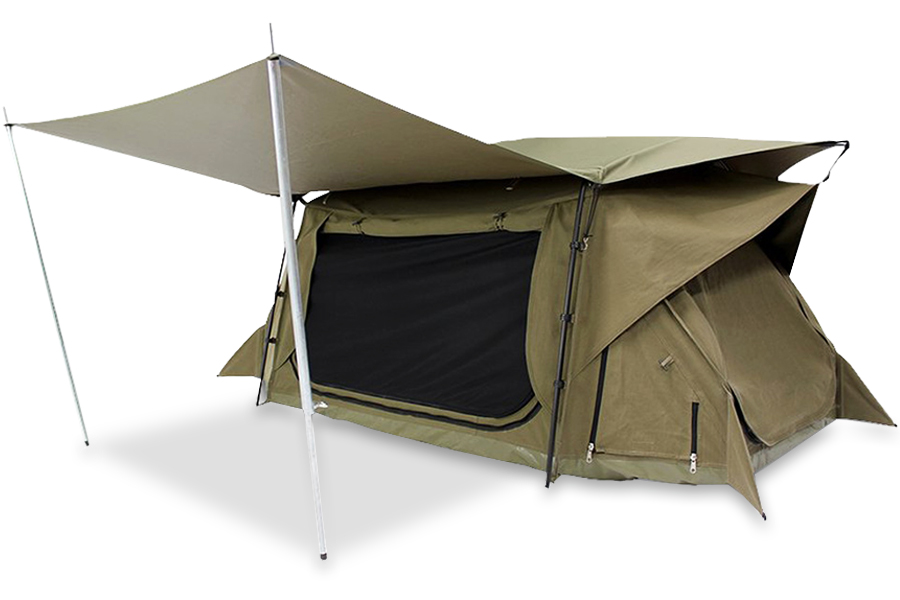 A cool swag and small tent hybrid, the Nebula is a roomy and robust model. Image: Darche
9. Jolly Swagman Shiralee Swag
It's been shunted down the list this time around, but the Jolly Swagman Shiralee continues to be a reliable best seller in our swag range. It's assembled in Australia from a high-quality cotton canvas. And, as with all the Jolly Swag swags, the poles are some of the best fibreglass poles we've seen in any shelter. So good in fact, that they come with a lifetime warranty.
The Shiralee is offered in single and double sizes and has a high-quality foam mattress. It has a full-length top opening, sandfly proof mesh and is really well priced given the quality of materials.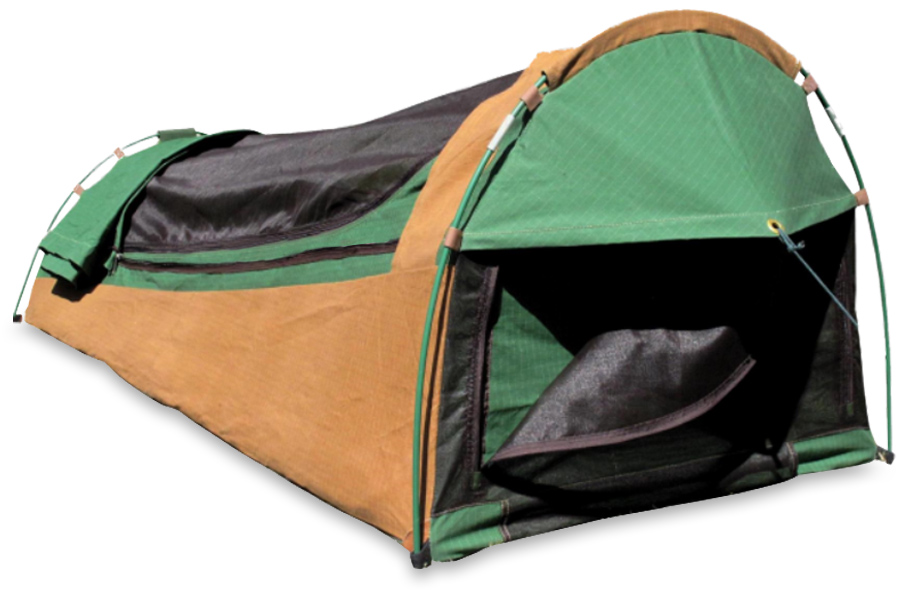 The Shiralee is a classic and reliable choice for your camping adventures. Image: Jolly Swagman
8. Oztrail Cooper Expedition Swag
Available in single and double sizes, the Oztrail Cooper Swag is an envelope design. So it's about as simple as you can get. There's a zipper that runs along the side and across the feet and the walls offer just enough height for you to comfortably slide into.
At the head-end, an extra flap of canvas offers some protection against light rain or overnight dew. It's also got a PVC base which offers excellent protection against wet ground and rain whilst in transport. The Cooper swag has and probably always will be popular on account of its simplicity. It's the perfect companion to a larger shelter such as a 4WD awning or gazebo.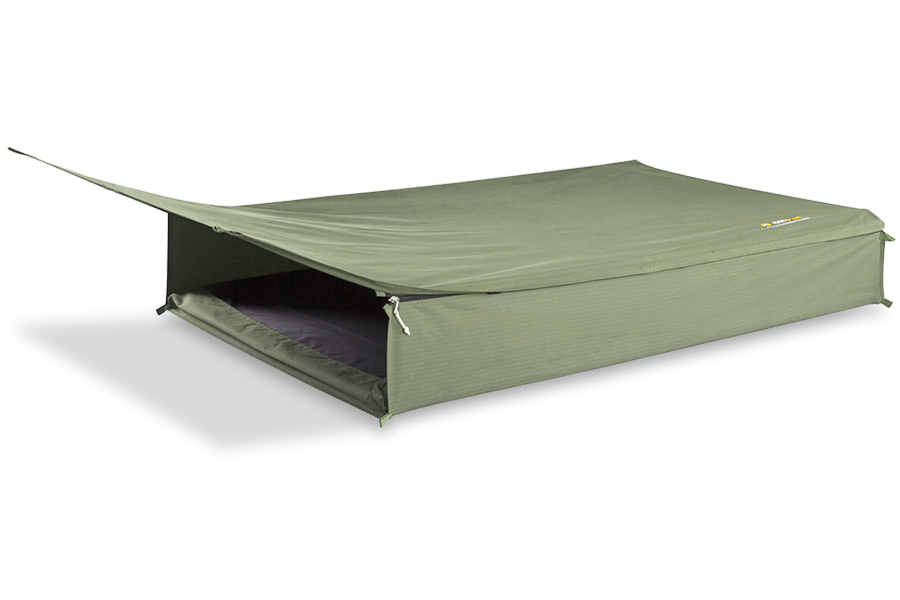 You can't really go wrong with the Cooper Expedition when you want a simple shelter. Image: Oztrail
7. True Blue Bluey Bigfoot Swag
The Bluey swag offers the best balance between quality and price you can find in our swag range. It's made of 100% cotton canvas and comes with three high-quality Australian made fibreglass poles. These features are teamed up with a 6cm mattress, and a full-length top entry with sandfly mesh and canvas panels. It's also got a weather protective head awning and a zippered mesh window with a canvas backing.
The True Blue Bluey Bigfoot Swag comes in single and double sizes, and at a price that defies the quality of materials used to construct the swag. It's the perfect swag for young outdoor enthusiasts.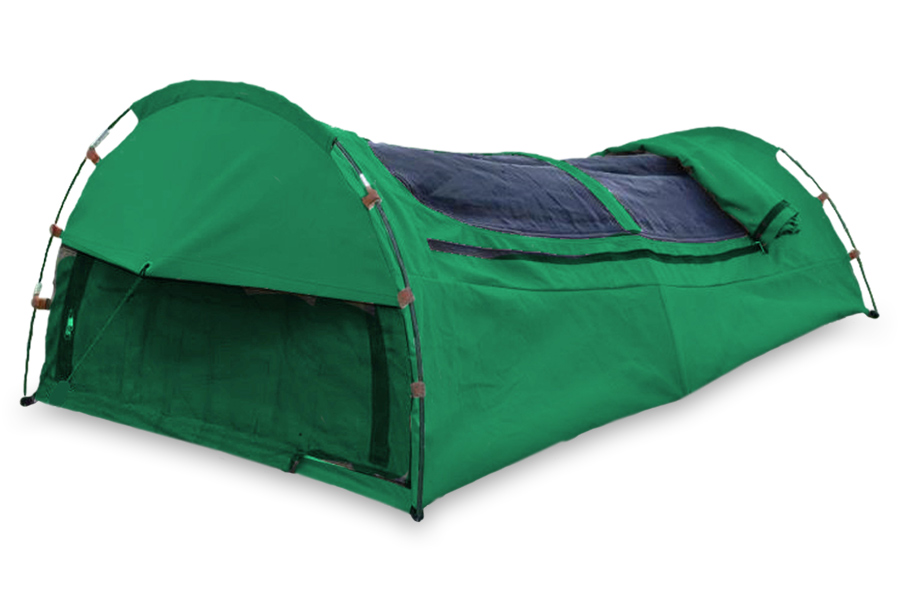 Quality materials and a stellar price tag, the Bluey Bigfoot is excellent value. Image: True Blue
6. Darche Ridgedome Swag
The Darche Ridgedome continues to prove its worth in our swag range, and it's easy to see why. The Ridgedome is part of the Max-Treme® range of swags. These models utilise the toughest canvas and highest quality thread you can find in the Darche range.
The 3-hoop design features anodised alloy poles with ridge poles that make it a free-standing structure. It has three entries and two side windows for ventilation. Darche is so confident in the quality of the materials used in their Max-Treme® swags that they even include a Lifetime Warranty.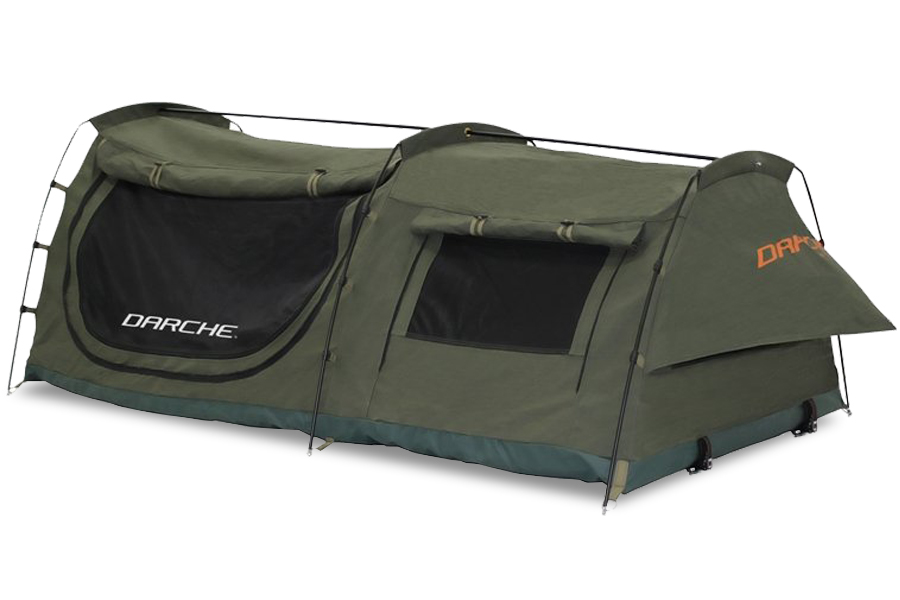 A tough exterior and solid design make the Ridgedome a good choice for a freestanding swag. Image: Darche
5. Darche Dirty Dee Swag
The Darche Dirty Dee hasn't made it to our top 10 in previous years, but 2017 saw a surge in its popularity to push it into our top five recommended swags for 2018.
Available in three sizes – the 900, 1100, and 1400, the Dirty Dee is a great touring swag. It offers excellent climate control, the option of setting up the side doors as awnings, and tons of headspace. On top of this, it is also a free-standing design so you can set it up on just about any surface.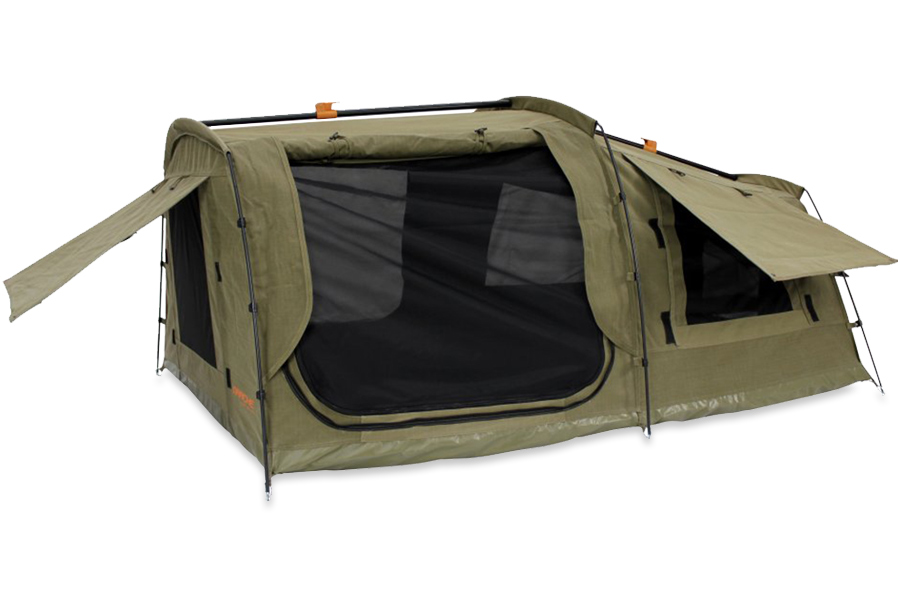 Super roomy, freestanding and well ventilated – the Dirty Dee is ideal for the touring lifestyle. Image: Darche
4. Oztrail Biker Expedition Swag
When the Oztrail swag range saw some changes in 2017 the Biker Swag remained unchanged… apart from its name. Now known as the Biker Expedition Swag (note the subtle difference), this swag is popular on account of its small packed size, making it the swag of choice for motorcycle touring.
Whilst it offers 75cm of width when set up, it has a 50cm wide mattress and is made of a lighter weight 230gsm canvas making it more compact rolled up. It's a two-hoop design with a full-length top opening and a PVC base that offers excellent water protection whilst on the back of your bike.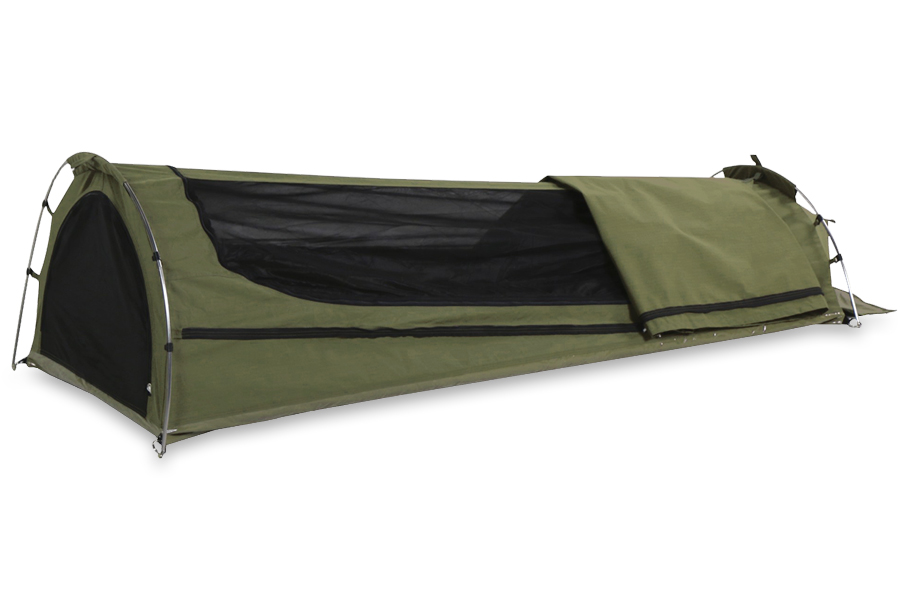 The Biker Expedition is the perfect shelter for your next motorcycle touring adventure. Image: Oztrail
3. Darche Dusk-To-Dawn Swag
We've only had the Darche Dusk-To-Dawn swag for a couple of years, but it's been in our top five sellers for both of these years. Available in three sizes – the 900, 1100 and 1400, this two-hoop, free-standing swag features huge doors on each side with flaps that roll right to the top. So you get a great view through the mesh to the night sky.
The door covers of the Dusk-To-Dawn Swag can also be set up as an awning, extending the liveability of the shelter and making it perfect for warm climates. There are also large awnings at each end with zippered access to the head end for storage. The Dusk-To-Dawn Swag is a great all-rounder swag.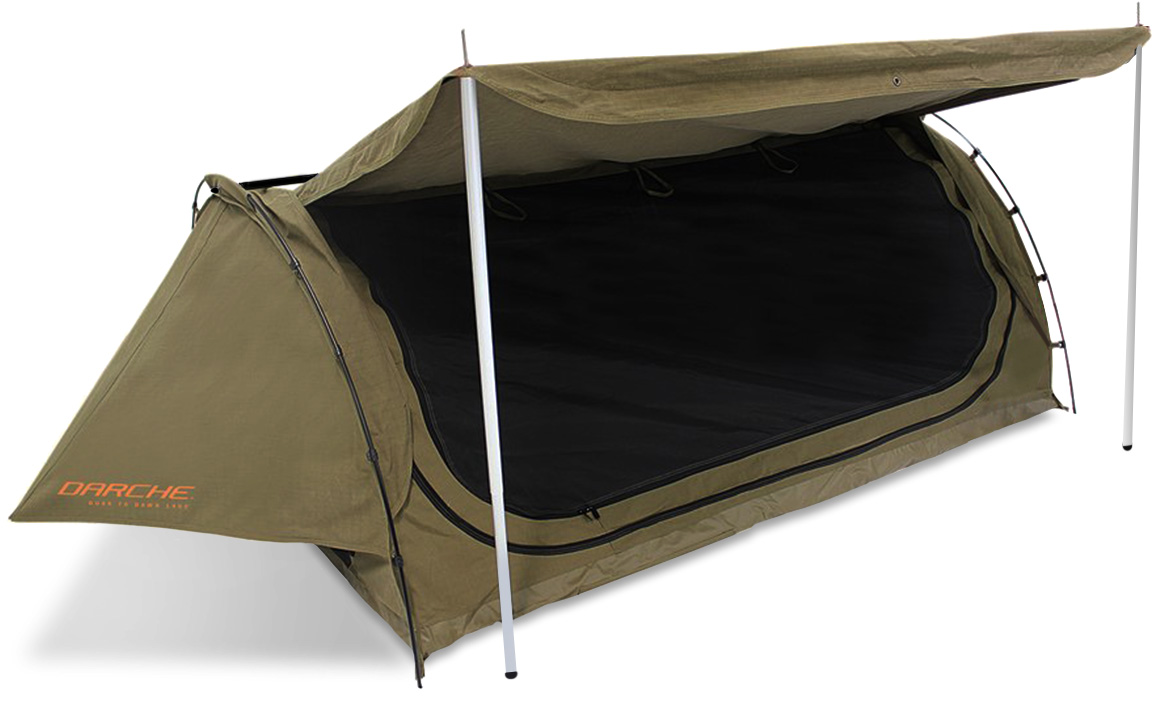 When it comes to stargazing, the Dusk-To-Dawn gives you the perfect view. Image: Darche
2. Oztrail Mitchell Expedition Swag
Despite the changes Oztrail made to their swags recently, the Mitchel Expedition remains a staple part of the range and is now offered in three sizes – single, jumbo and double. This is an entry level swag but it features all the bells and whistles.
It has a three pole design, 5cm mattress and is compatible with the optional ridge pole kit to give it free-standing functionality. It's made with a lighter weight 230gsm canvas which gives it a small pack size, keeps the weight down and makes the price tag low.
Don't be deterred though, these entry-level swags from Oztrail have proven themselves time and time again to be the best value for money swags we've ever come across.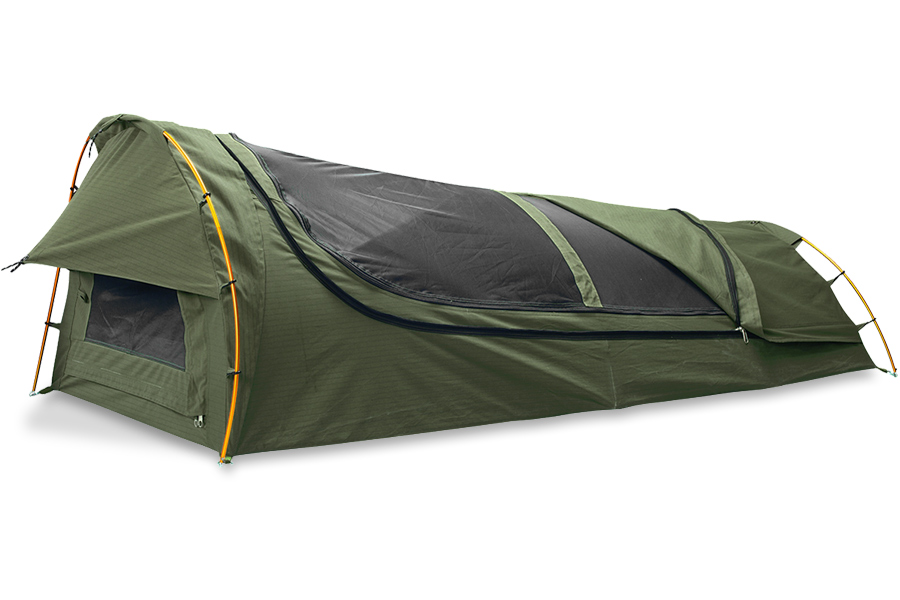 A reliable dome swag at a great price, it's hard to fault the functionality of the Mitchell Expedition. Image: Oztrail
And, the best selling and best value swag of the year is….
1. Mitchell Discovery Swag
When updates were made to their swag range, Oztrail took their historically best-selling swags, the Mitchell King, Lachlan and Kokomo swags and threw them into a mixing bowl… the Mitchell Discovery was what came out of the oven.
The Mitchell Discovery offers all the best bits, at an outstandingly affordable price. It has a three pole design and is centre ridge pole compatible for a free-standing set-up, comes in four colours and features a large full-length entry.
It is for this reason that the Mitchell Discovery has been, and will continue to be the best selling, best value swag for all your camping adventures.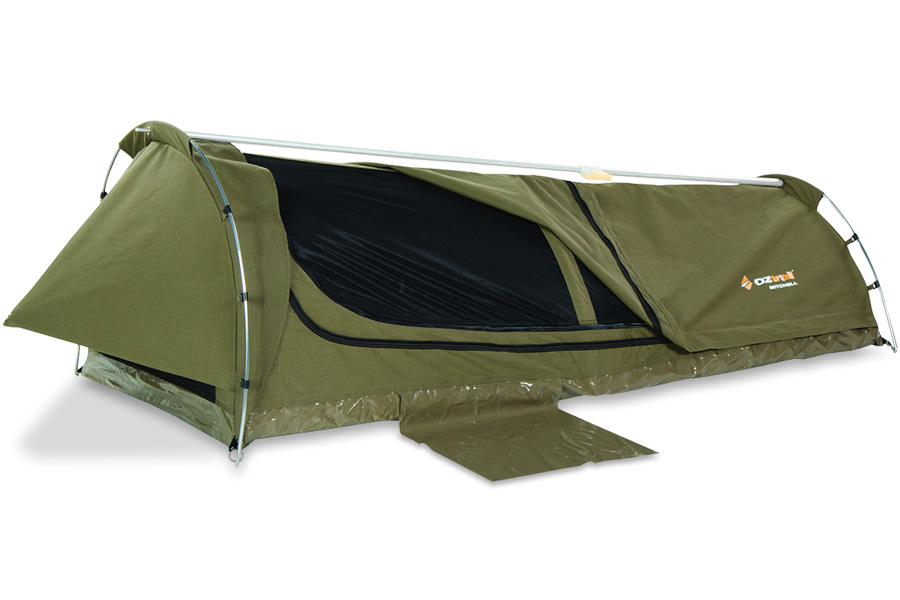 The affordable dome style Mitchell Expedition can be freestanding with the addition of a ridge pole. Image: Oztrail
Now that you've seen what were the bestsellers of the last 12 months, we want to know how your gear stacked up over the course of the year. Did you pick up anything new that wowed you, or will you be looking to upgrade your shelter going into the new year?
What was the cream of the crop for you in 2017? As always, let us know in the comments. 
About the writer...
Joined back in March, 2013