We first met the guys and girls from Zempire at the Ora Snow and Outdoor Trade Show in Sydney in 2014. To say we were impressed is an understatement. Their range of tents – covering the glamperazzi to budget-conscious families to lightweight hikers – had this positive vibe about it. Tents aren't the sexiest product, but this range exuded a level of … freshness.
We jumped on board quickly. We ordered from their Aerodome, Neo, and Adventure ranges, to cover what we saw as a good cross-section of the Australian camping community. In fact, we were one of the first Aussie retailers to get them in stock.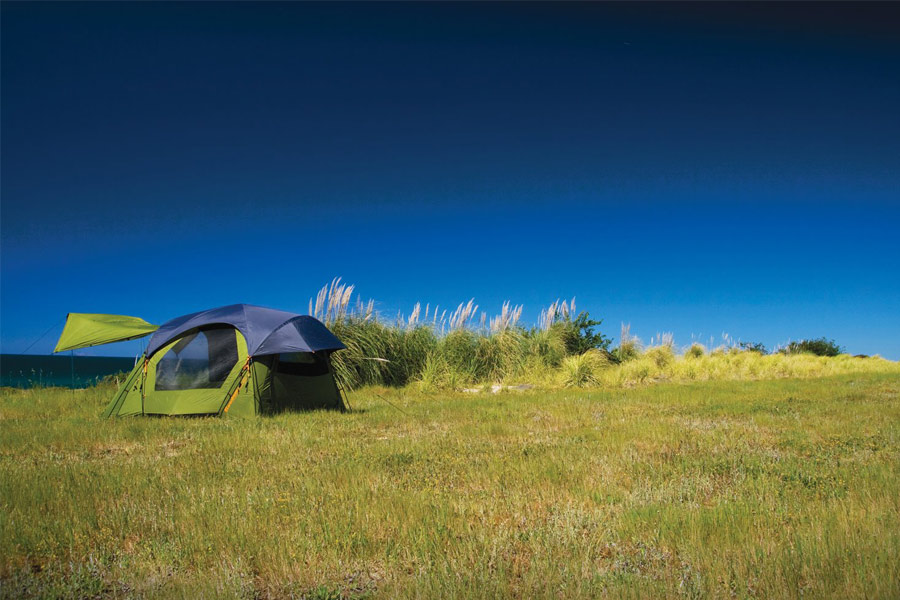 New Zealand is no lightweight when it comes to crazy weather, so they have one hell of a testing ground. Zempire live by the mantra: designed to work, built to last.
A little history before we have a look over the range. Zempire started life in 2006 in Christchurch, New Zealand, as Freedom Camping. They quickly became the camping brand across the network of NZ camping stores. This was on account of the fact that it's a business full of campers that make gear they want to use!
For the Hiker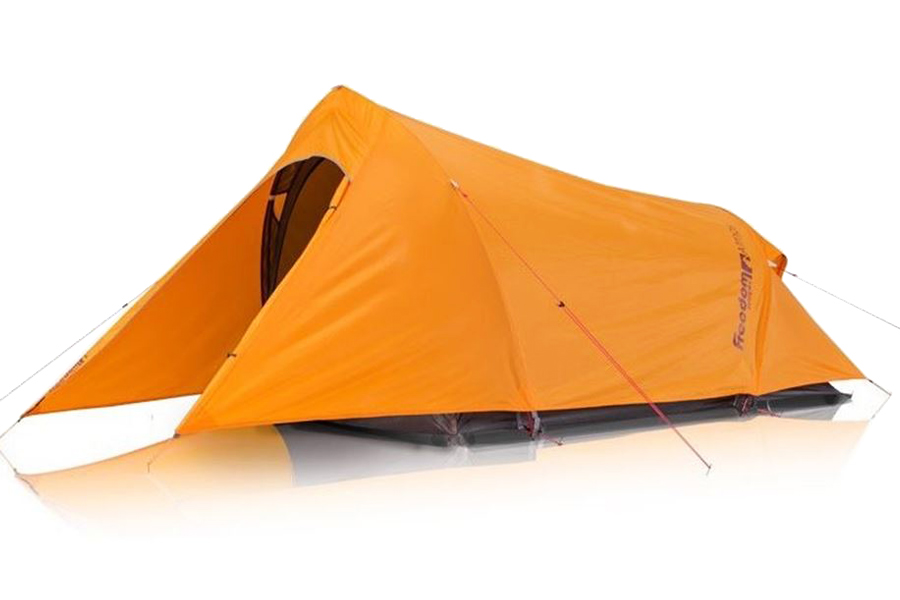 Zempire's adventure range, as they refer to it, is extensive. Designed for multiday hikes and bicycle touring, they are well designed, in a considerate range of styles and configurations.
In total it comprises 5 yellow-flied tents, all striking to look at. And when I say that, I don't just mean from afar. You get up close to these tents and you can see Zempire gives a hoot about detail. Anti-grit, no-noise 'findme' zips make life easy – and free from flappy, tap-tap-tappy distraction. (It's a quintessential camping thing, the chime of a tent zip on a windy day… gah!) Cam locks on guy ropes. 360 doors. A plethora of internal pockets. All the things that make camping in a tent that little more efficient and enjoyable.
Their adventure range, named Trilogy, Zeus, Atmos, Atom, and Mono, range in capacity from 1 to 3 people, and in weight from 1.35kg for the little single-pole, ridge-style Mono, to 3.6kg for the base camp-style Trilogy. If your budget doesn't go as far as an MSR or Wilderness Equipment hiking tent, you won't be let down by one of these littlies.
For The Camping Family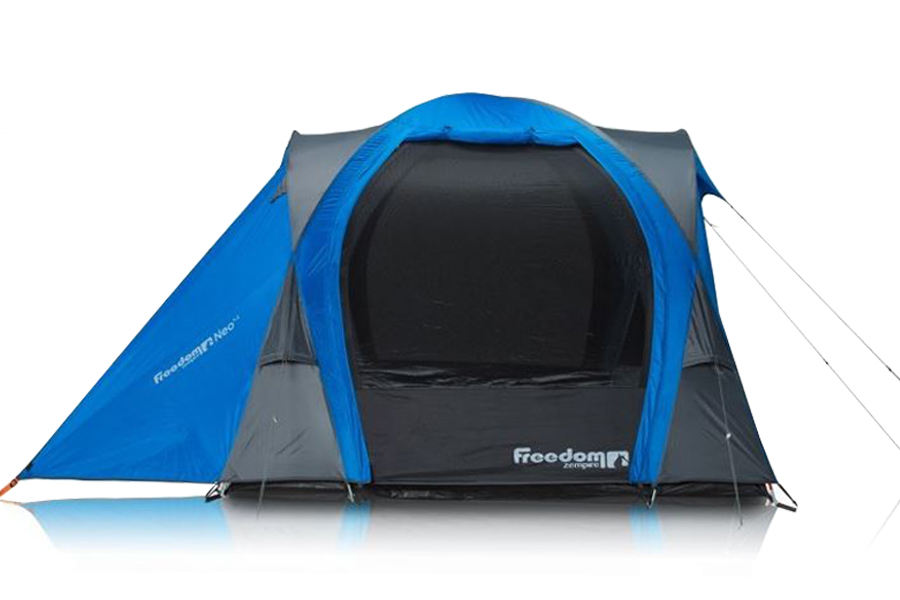 The Neo range is aimed at budget-conscious but value-hungry families. Folk that may not camp very often, but want a tent that will last them until the kids have left home or think it's daggy to go camping with mum and dad to the Grampians.
They are strong, featuring geodesic frames that look at wind and laugh. A serious waterhead rating of 3000m will keep the family from hating you should it bucket down. And the Neo sports many of the same, clever features talked about in the Adventure range.
It's evident that Zempire put comfort at the fore in designing the Neo range. All are large, airy, and bright. I guess that's the point of camping, isn't it? Being close to nature. Why would you want to cordon yourself off in a cocoon of polyester with no view?
Neos range in capacity from 2 to 12 people. Oh, and I forgot to mention, the blue/grey colour combination looks pretty nice.
The Easy to Erect Tent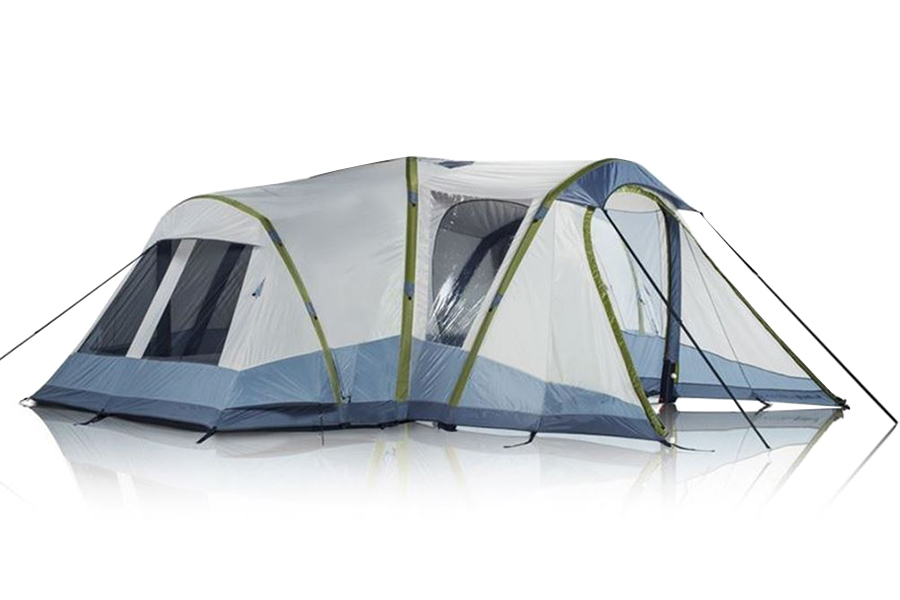 What would you say if I said it's possible to erect a family tent in less than 10 minutes? Well, this is a reality with the Aerodome series.
The key is the inflatable AEROFRAME – the poles are made from thermoplastic polyurethane (TPU… a strong and elastic-plastic) which are quickly inflated, erecting the entire tent in one epic hooray. It comes with a double action pump, making for speedy deflation too.
Like the Neos, the Aerodomes are all roomy and airy, with plenty of windows and mesh panels to admire the view. If the Neo is for value orientated families, the Aerodome is for those that like to camp in comfort. Glamping they call it, I think.
The Aerodome range is designed on the 'pod' principle so you can add and remove bits as needed. For instance, the I, II, and III sleep 4-6 and can be expanded with an Aero Canopy or Awning to create a larger living area. Great for those extended trips when it's all a bit hot or wet outside and you don't want to feel cramped.
There you have it, the new Zempire range of tents. Have you camped in a Zempire? If so, share your experience below or navigate to your tent on the Snowys page and leave a review.
About the writer...
Joined back in November, 2015