Squeaky clean
Bathing while camping is either a luxury or necessity.
We have friends who pride themselves on not showering for days and others that could not miss a day. Which are you?
The answer is likely to determine your holiday route and destination, so know your preferences well before leaving home. The more remote your destination is, the more prepared you need to be with your own setup. Whereas on other trips through more established areas, you'll either come across a petrol station or spend an overnight stay in a caravan park where there will be an amenities block on hand and for the days in between, you will just make do.
Stripping the essentials down to basics, there are three things that are needed for bathing; Water, soap and something to dry yourself with, preferably a towel. When camping, a quick-drying towel is useful and biodegradable soap (that actually cleans) is best.
Beer is optional but even a dip in the river will be fine for a quick wash.
Water pressure
Do you want the water hot, tepid, or "know you're alive" cold? The latter is easy, but if you would rather a warmer shower then some forethought and organisation is required in regards to how you intend to heat your water.
Regardless of your preferred temperature, you need to have access to water. Will you BYO with containers or have you got a built-in tank underneath your van or trailer, or will you have access to a handy tap? Alternatively, a stream or river may suffice for a quick wash?
We travel with a unit similar to the Companion Aquacube Digital Camp Shower which uses a pump and provides continuous hot water. It's very handy for washing up too, however, it is bulky so a hot water unit like this is best for car-based camping. We also have a 140-litre tank under our Tvan for water storage.
There is a wide range of price points and options for heating water, from water heaters operated under the bonnet of a car to the lightweight portable 20-litre black sack solar shower. The solar types sit in the sun to heat and need to be lifted above your head – so think about the weight and whether you are able to lift it high on your own. Plus, consider if there is somewhere high enough for it to be useful.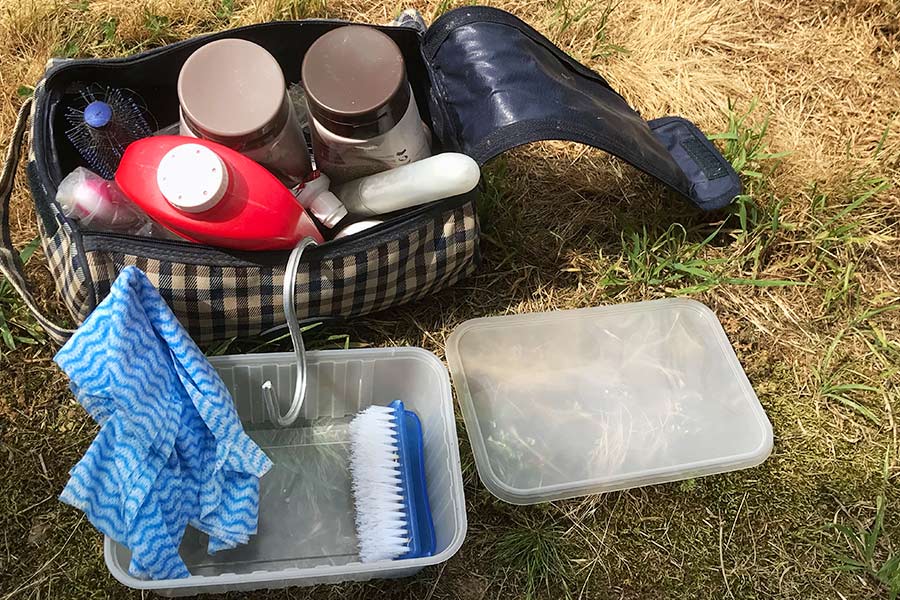 Pack small bottles and containers of your essentials, plus an S-hook for over the door.
Bubbles anyone?
We all want to look, feel and smell clean and achieving this while camping makes us appreciate the feeling that much more. It's best to avoid strongly scented soaps, lotions and creams as although their fragrance makes you smell good, it's also tantalising for bugs and mosquitos too.
Be considerate with your choice of soap, a small bottle of Sea to Summit Wilderness Wash or similar is multi-purpose and can be used for personal washing and shampoo as well as a laundry liquid and kitchen detergent. I'm familiar with another brand that says you can brush your teeth with it, but I think that would be too weird.
Pack a couple of zip lock bags in your wet pack and I recommend finding shampoo in tubes. It's not easy to find, so I grab some whenever I see it – especially if it's an all in one shampoo and conditioner which saves space as well. The tubes mean I can avoid using additional plastic bags for protecting my toothbrush etc. should the lid pop up or bottle burst.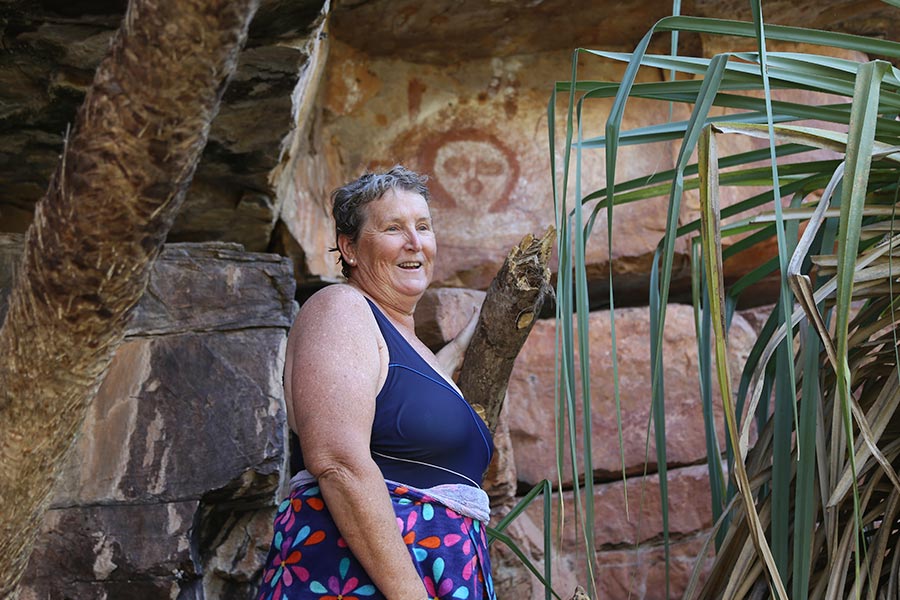 Leave your luxurious high thread count bath sheet at home.
Dry argument
Towel selection is very personal. Do you prefer large, small, thick or thin?
Many travellers like a compact fast-drying microfibre range, a car chamois or sarong. I like a smallish and thin 100% cotton towel, it's a little larger yet still doesn't take long to dry.
A large towel is bulky and guaranteed to be packed wet or at best, damp, even if you shower the night before.
A good tip, if you are towing or packed high with restricted vision out the back window, is to string a line across the seat behind which can act as an airing rack and your towel can dry as you drive along.
The buzz of a hairdryer is common within caravan park amenity blocks where both power and a mirror are handy. I'm more low-key and if there's an air hand dryer available, then that's my go-to. I have short hair which makes it easier to dry and manage, but my thoughts are, 'hey I'm camping'. Mind you, I'm also the one behind the camera most of the time so that's a true bonus.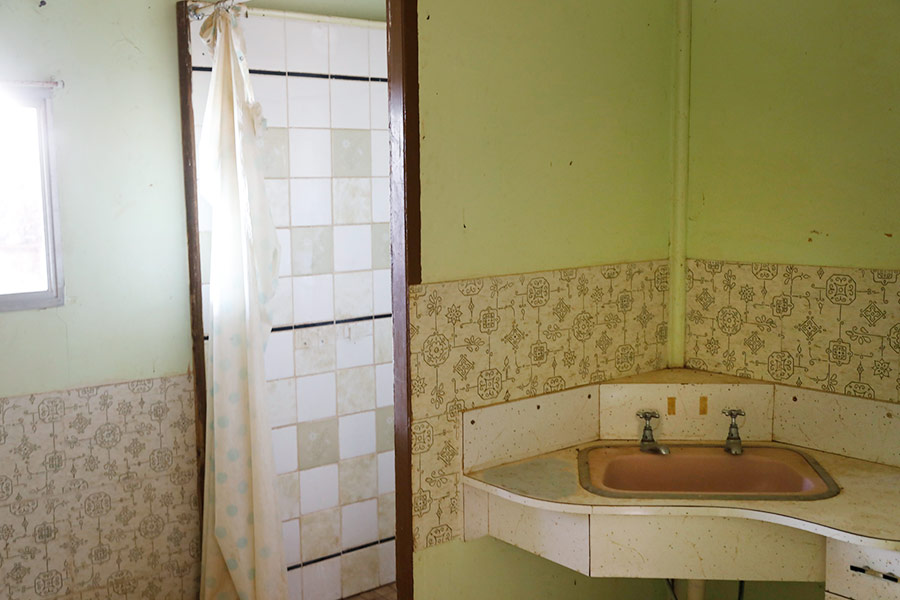 Take thongs with you and get dressed back at camp.
Nitty gritty
Pandemic life has resulted in new regulations about times of use and cleaning regimes in many caravan parks. Do the right thing and follow health guidelines, but also be mindful of what you touch and what you really need to take with you to the shower block. We've all learnt that an important part of any protection plan is to emphasise your personal hygiene but it's worth noting that shower blocks can vary from the perfectly set up to the grossly inadequate.
These five tips will make washing on the road a breeze regardless of how well maintained the facilities are.
Invest in a pair of thongs and a lightweight loose shift/shower dress or, for men, shorts that can be slipped on to and from the shower. It is no fun getting dressed when the floor is wet or stepping into shower splashed damp wet clothes. Take no other clothes with you and instead, get dressed back at camp.
Pack a large S-hook in your wet pack. Use it over the door or rail when there are not enough hooks in the cubicle and remember to grab it before you go.
Pop your wet pack in a cloth supermarket bag. The extra space will fit your towel and any laundry you might like to do in the shower block. Hang it from its handles and you'll have less to juggle on an insufficient benchtop or shower stall seat.
A large chux can be used as a towel alternate. A cut piece makes a fab quick-drying face washer and it's perfect to get toes really dry before you pop them into your shoes.
Invest in a good strong nail brush and keep your nails short.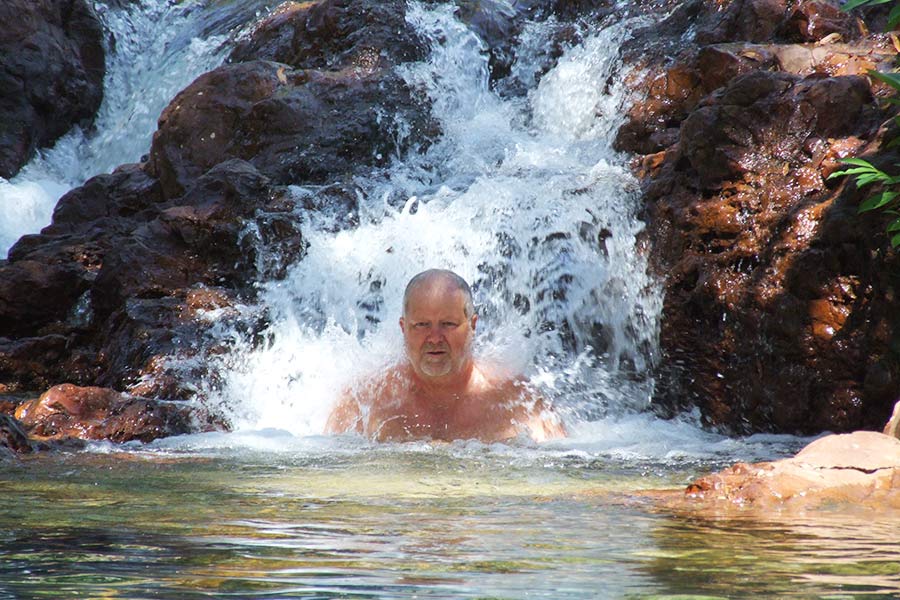 When wilderness camping, use any soaps well away from natural water sources.
If you are free or wilderness camping, consider the impact on the environment as well as your health and safety.
Fresh or saltwater, if safe, is for unpolluting, cleansing and refreshing dips, but being swept away by the current, or becoming croc bait is not worth the risk so know the water source and your environment before taking the plunge.
Wash with soap at least 200m away from a water source, not the water's edge, and rinse with a tub or container so you keep the soapy water separate and don't contaminate the natural water source, even when using biodegradable liquids.
Here's a quick list for those on the go…
A small container or spray bottle filled with water, one washcloth and biodegradable soap to wash your face and body are all you may really need.
If you decide on baby wipes, which are fantastic for a quick clean all over, burn or dispose of them properly at camp. Never bury, flush or drop wipes into a pit loo.
Baby powder is great in humidity to keep chafing at bay.
Teeth are best cleaned at your campsite and using water you know is 100% bacteria-free.
Sanitiser is a glovebox staple, useful to save you and your fellow campers an upset stomach or worse.
Keep a large S-hook inside your toiletry bag for instant hanging space wherever you may need it.
Pack thongs, you'll want them on your feet no matter where you're showering.
Finally, have fun and remember that a little dirt never hurt anyone … yet!
Have you got any tips to add to the list?
About the writer...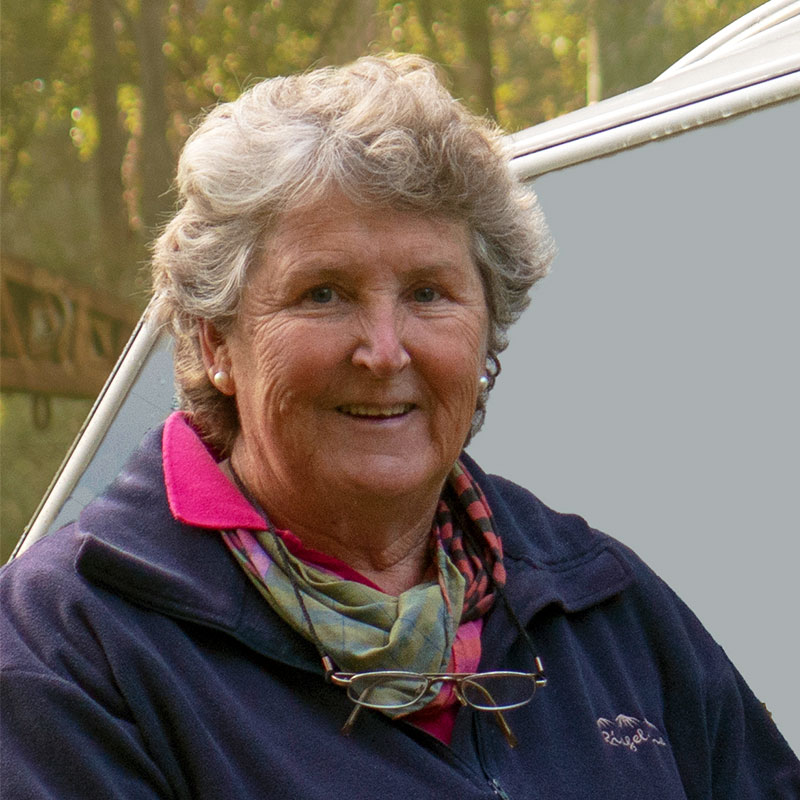 Based in Victoria's High Country, Emma and her husband have been enjoying touring with an off-road camper for the past 15 years. An award-winning exhibiting photographer Emma is never far from her camera and is inspired by Australian landscape and fauna. Her images can be seen on Instagram @emcamproductions.
Joined back in September, 2018