Living on carbohydrates and canned food on your camping trip is so last decade. With the endless range of iceboxes, folding camp furniture and cookware available to the avid camper there's absolutely no reason why you can't eat like a king at any campsite.
At the very heart of gourmet camp food preparation is your camp stove. The right cooker will have you meeting your sunset alfresco dining expectations. But the wrong one may see you eating tough, cold or blackened slop in the dark.
Given there's no shortage of camp stoves available, all claiming to be the best, choosing one that is right for you can be an over-complicated task. To help you get started, we've listed our ten best-selling camp stoves over the last 12 months.
Let's kick things off with number 10:
10. Companion 3 Burner Deluxe Camp Stove
A classic all-rounder, the Companion 3 Burner Deluxe Stove is a compact, easy to use stove with with two 8,600 burners and one 6,400 burner plus a piezo igniter for easy lighting.
The burners are surrounded by a stainless steel drip tray for easy cleaning while a powder coated steel case provides protection during transport and acts as a windshield when set-up for cooking.
A great all-around stove for larger camp kitchen set ups.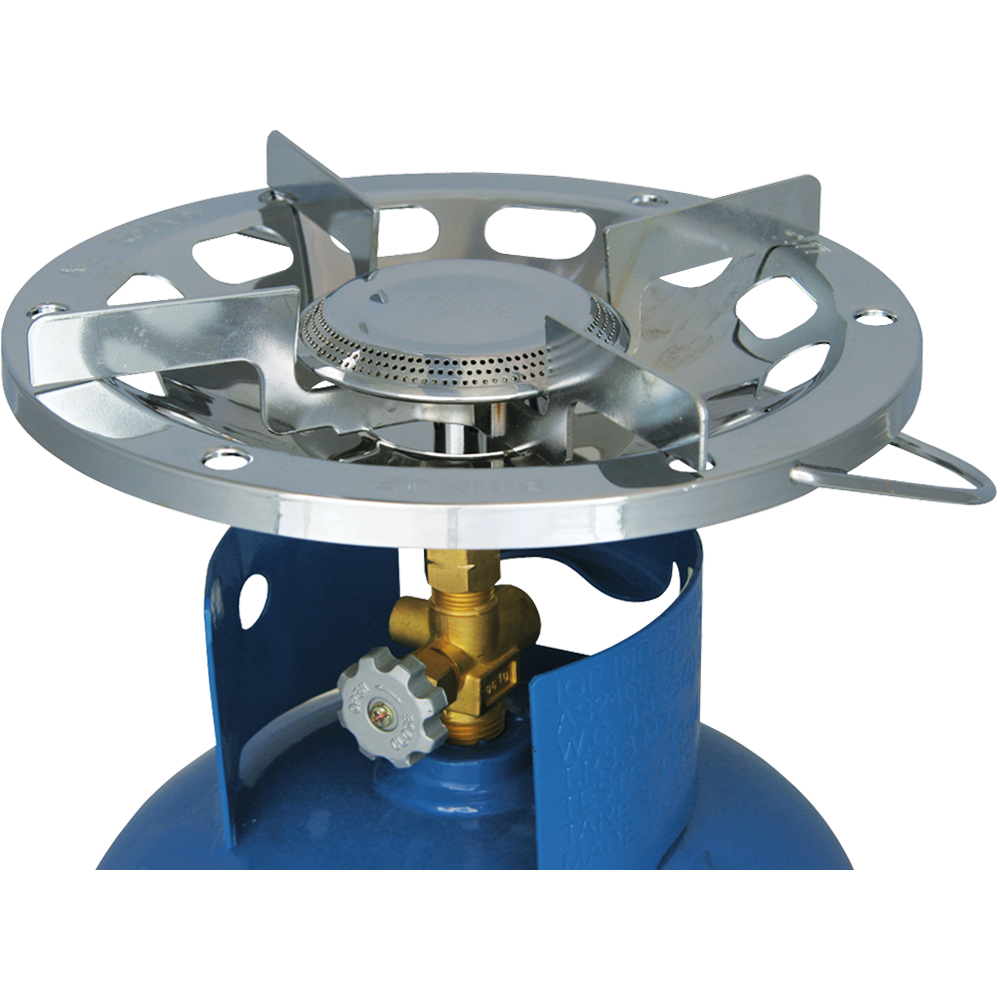 9. Companion Single Burner Camp Stove
The modest and dependable Companion Single Burner Camp Stove has made it onto our list for the second year in a row.
These are about as simple as it gets for a camp stove. A single burner with a windshield and drip tray mounted on top of the 3/8 BSP fitting of an LPG gas cylinder. And just to keep things simple – this one doesn't even have a piezo ignition, so don't forget your matches!
These are perfect for the solo tourer.
8. Zempire 2 Burner Deluxe Stove
With 12000 BTU per burner, yep… that's a total of 24000 BTU, the Zempire 2 Burner Deluxe Stove packs out far more performance than its compact and sleek exterior may suggest, plus, it comes complete with a fold-down toaster.
Each burner has its own control knob and piezo ignition and is surrounded by a stainless steel drip tray for easy cleaning. The exterior of the stove is made with powder-coated steel that folds closed, toaster and all, for transport.
Another great all-rounder for small to medium-sized camp set-ups.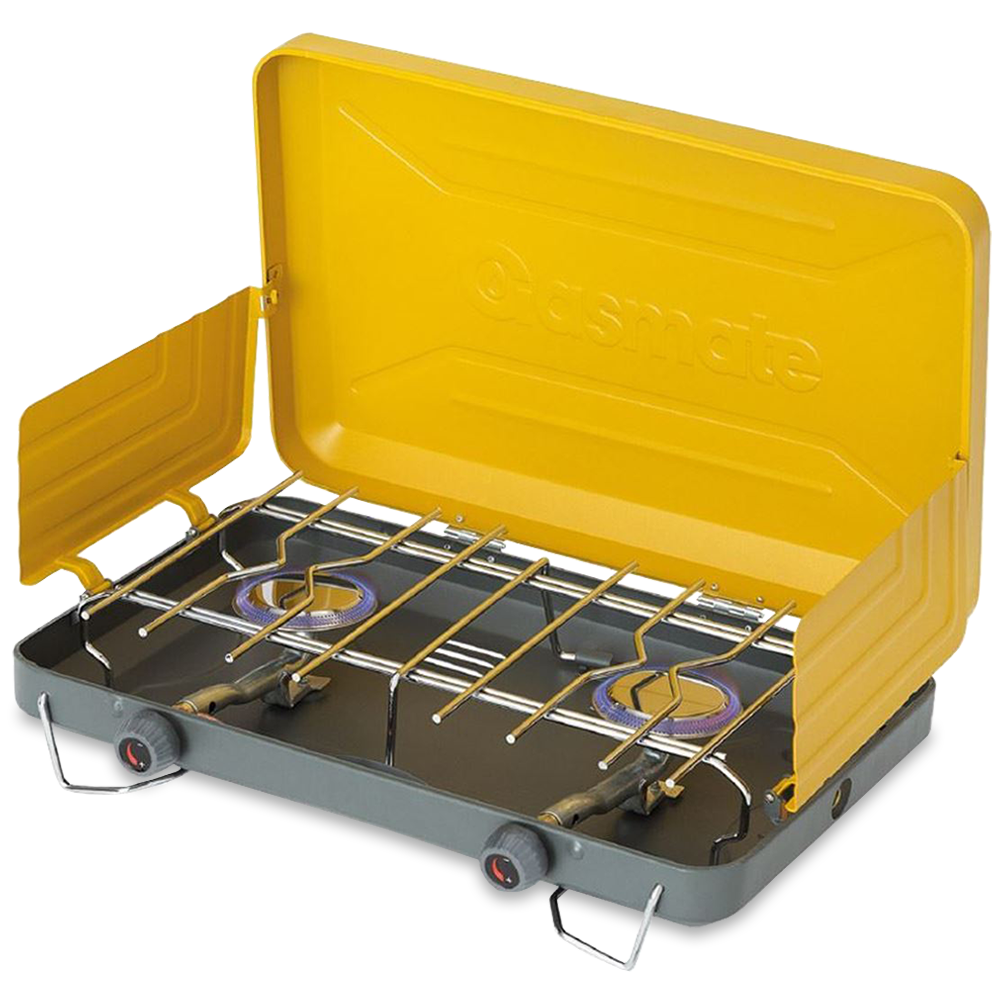 7. Gasmate Classic 2 Burner Stove
Simple to use, under 4kgs, and easy to carry – the Gasmate Classic 2 Burner Stove is just like the name says –  an absolute classic.
This unit has burners that produce 10,000 BTUs each which make cooking fast and simple. The fine burner controls allow you to simmer as well as cook two different dishes at once, while the heavy-duty chrome-plated cooking trivets are removable for easy cleaning. To top it off, they're super affordable so they're ideal for campers of all levels.
Perfect for those looking for a bargain that covers most bases.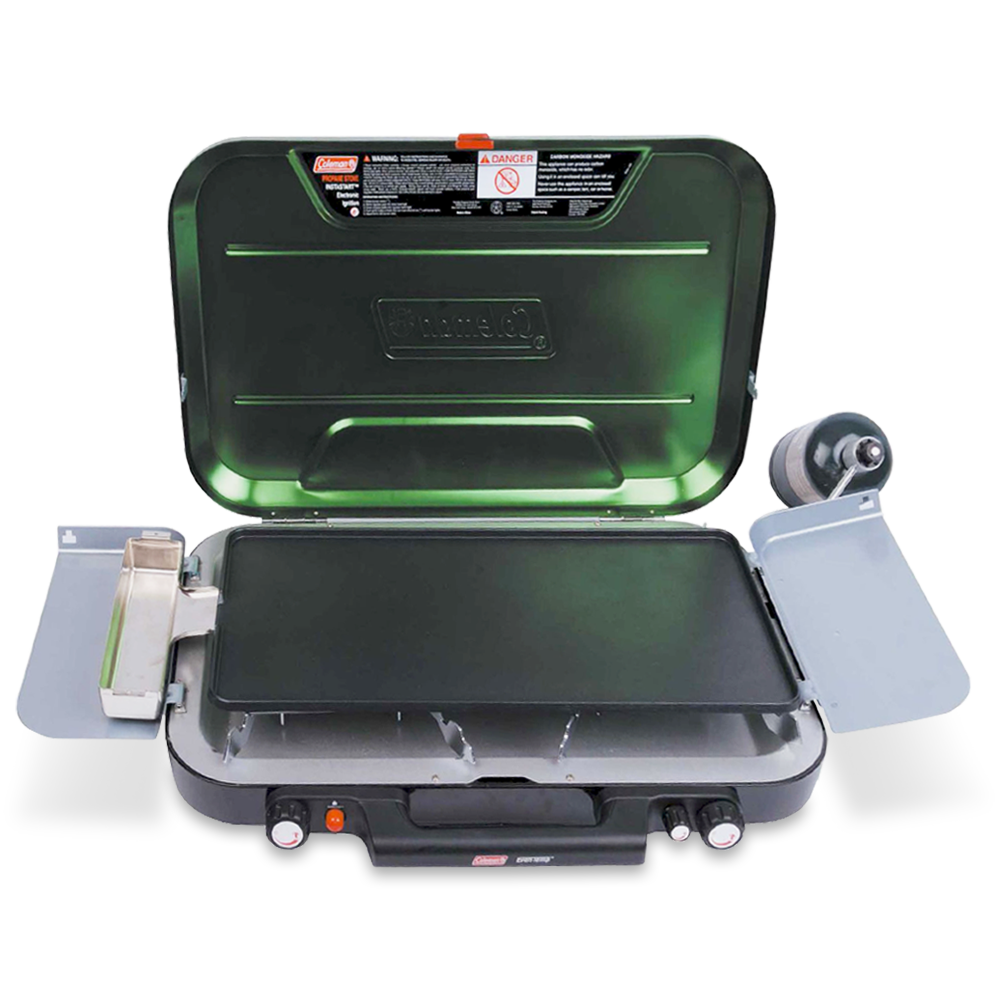 6. Coleman 3 Burner EvenTemp Stove
The 3 Burner EvenTemp Stove from Coleman is an all in one solution that can be powered by both disposable propane and large format LPG gas bottles.
The EvenTemp boasts two round 11500 BTU burners on each side for pots and pans combined with one rectangular 5000 BTU burner. With all three burners in use, the heat is distributed evenly across the whole stove which is perfect when using the included griddle. Just to make things even easier the EvenTemp stove comes complete with electronic piezo ignition, and you can grab a compatible bag for protection in storage. For more on this stove, check out our video review here.
These are a great family camping stove.
5. Gasmate Travelmate II Butane Canister Stove
Also known as a lunchbox stove, these guys run off of disposable butane cylinders and have a single burner and control knob with rotary piezo ignition. They are affordable, easy to use and are perfect if you just need something to boil the kettle or whip up some BBQ meat or a cooked breakfast for two.
This stove is made with high-temperature powder-coated steel, a vitreous enamel drip tray and pot support. The Travelmate boasts high-quality brass gas fittings and is fitted with numerous safety features. These compact and portable little stoves are something every camper should have in their kit.
Ideal for road trips, quick overnighters or as a backup stove should your main cooker fail.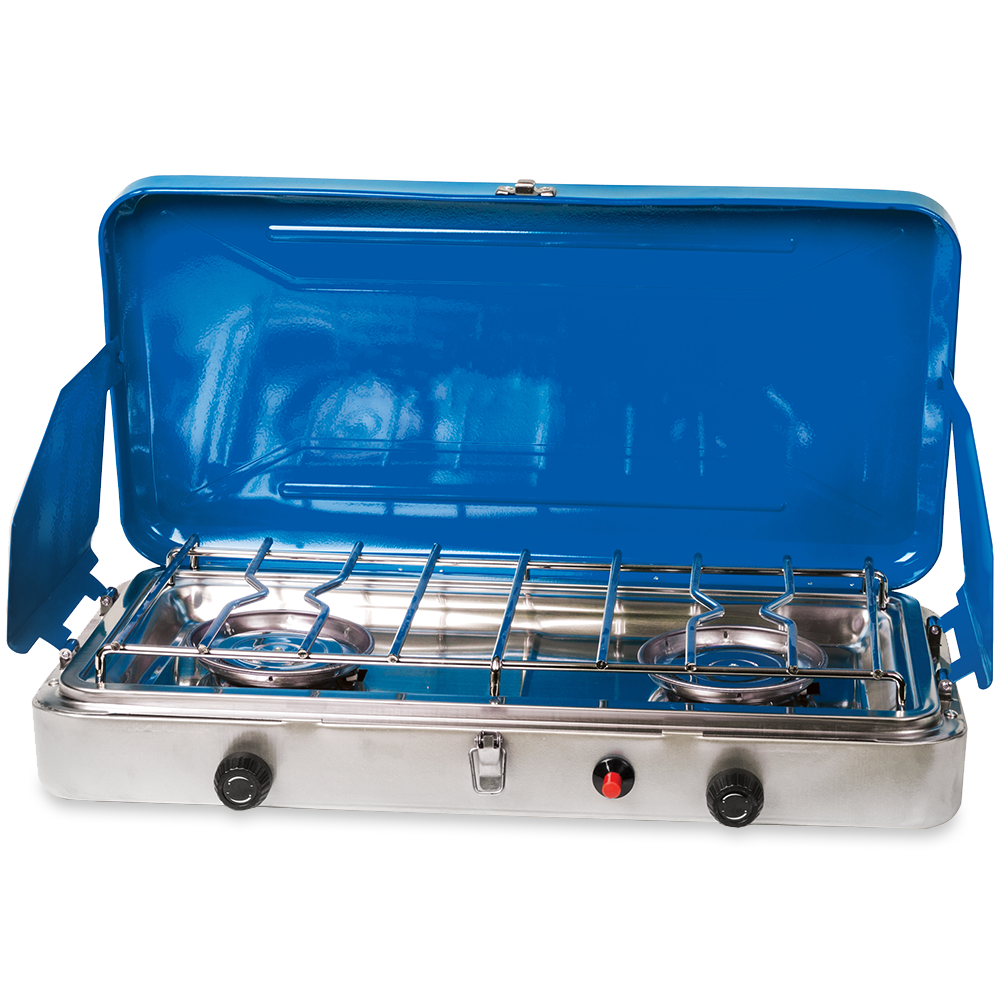 4. Companion High Output 2 Burner Stove
With plenty of heat, and room for two pots or pans to cook on, the Companion High Output 2 Burner Stove is a firm favourite among our customers.
This stove provides loads of heat with two large 25000 BTU burners that cater for big pots and is great if you want to boil water or cook over high heat but we've had mixed reviews over the simmering ability of these large format and robust burners.
The perfect balance of performance, versatility and durability for any camp set up.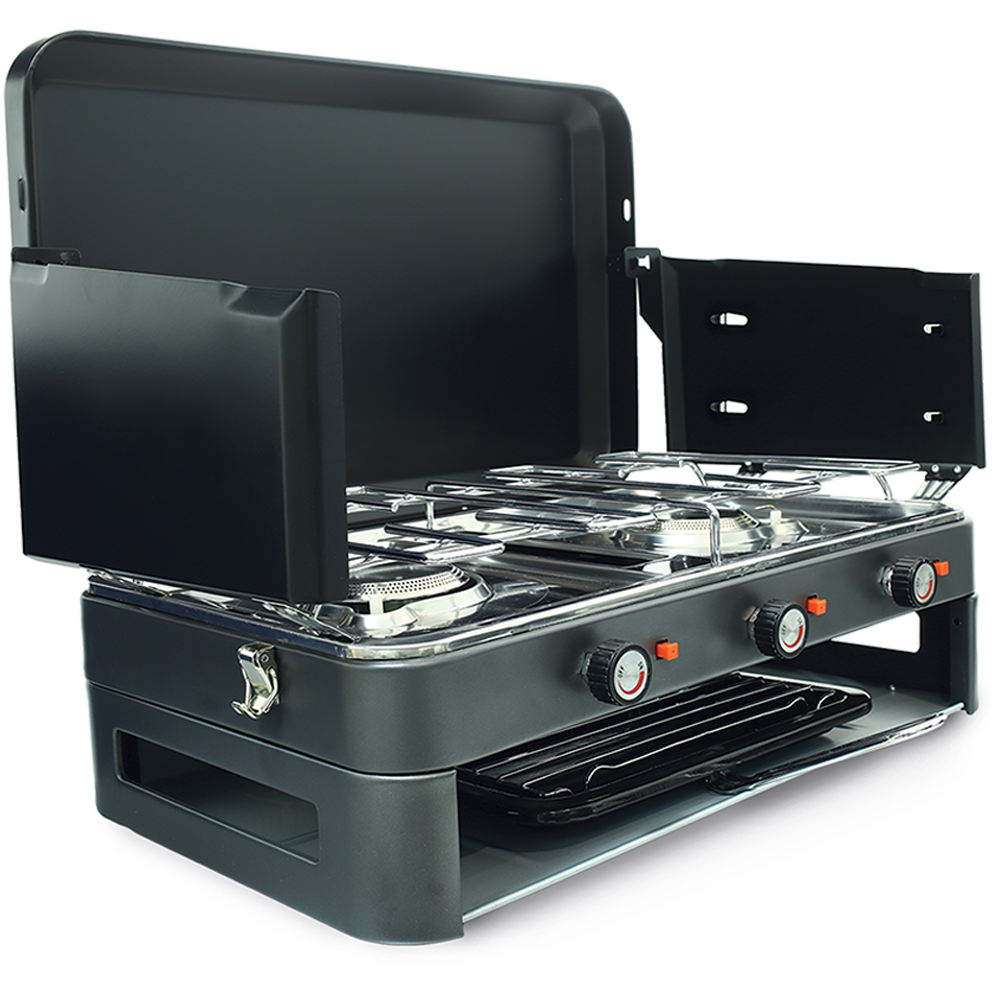 3. Zempire 2 Burner Deluxe Stove with Grill
Harness your inner camp chef and serve everything simultaneously with the Zempire 2 Burner Deluxe Stove and Grill. This stove has two 12000 BTU burners on the top and a 6000 BTU burner underneath for the grill which means you can fry, steam and toast all at the same time.
Each burner is independently controlled with their own knobs and piezo ignition and a stainless steel drip tray features under each burner for easy cleaning. The windshield has attachment points for an optional fold-down toaster and the case is a svelte black powder-coated steel.
An all-in-one cooking station for camp chefs.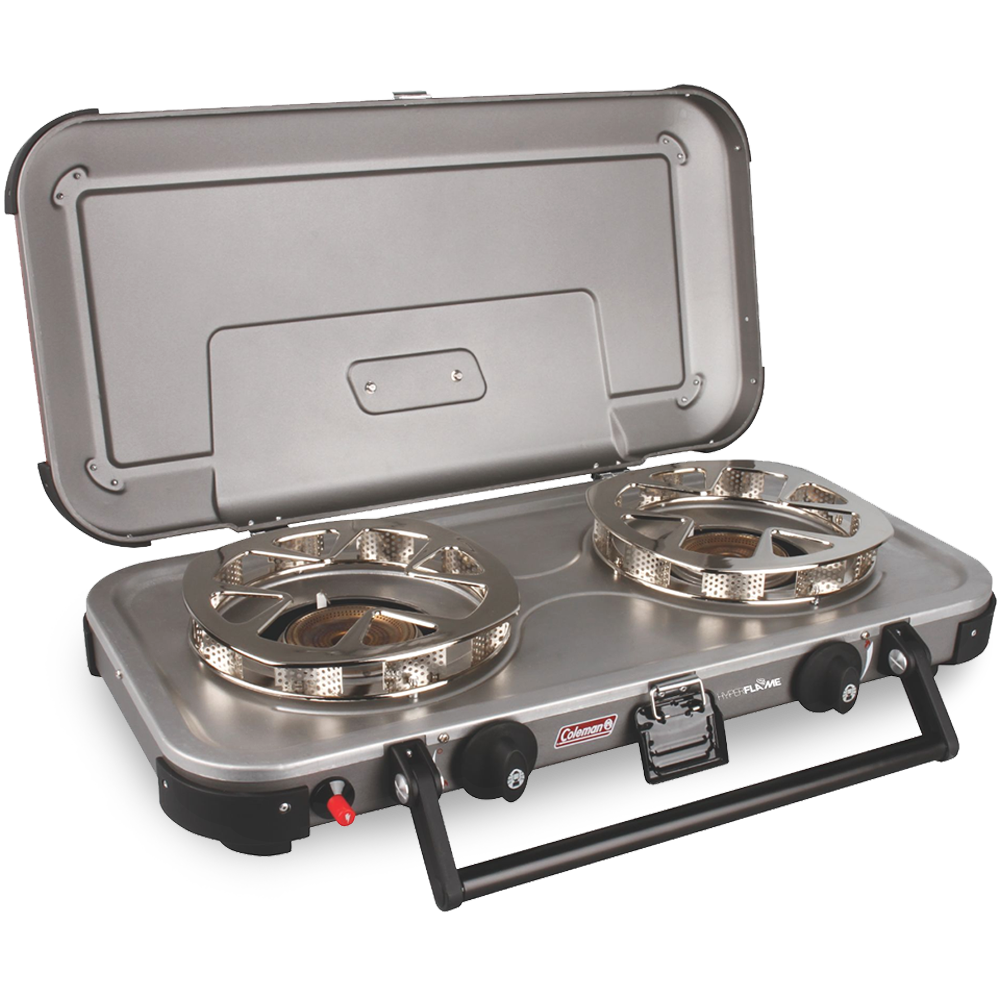 2. Coleman Hyperflame Camp Stoves
There are two versions of the Hyperflame, the FyreCadet, and the more popular Fyreknight. Both of these stoves offer similar performance but the FyreKnight is the popular choice with a more robust and functional design. It also has a large pivoting handle, heavy-duty locking latch, corner bumpers and a little more cooking space.
The Hyperflame stoves incorporate wind guards into the pot supports which means there are no side panels to get in the way of large pots. They do tend to have an all-or-nothing setting when it comes to flame control so while it's not ideal for simmering you'll find that boiling water or barbecuing will be a delight. It also has the benefit of running from either disposable propane canisters or attached to LPG cylinders.
If you need lots of heat and room for big pots then these are the stoves for you.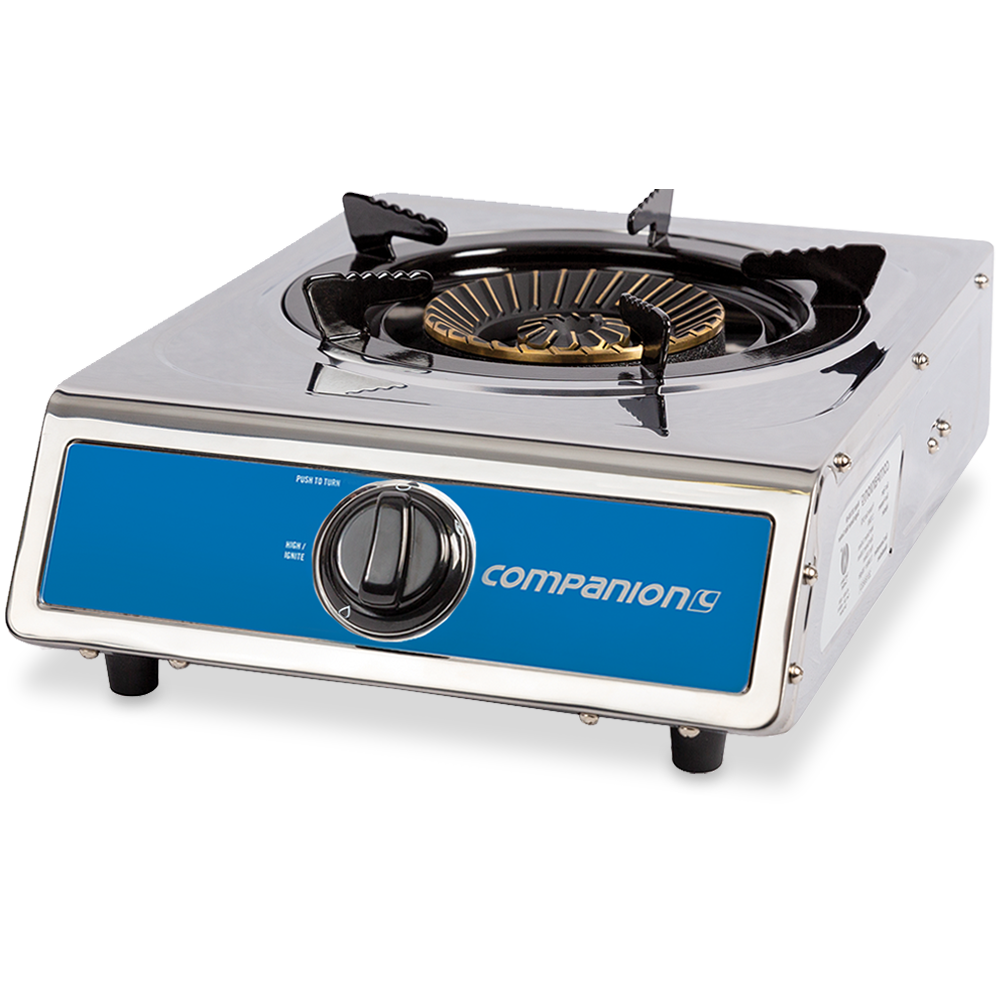 1. Companion Wok Gas Cookers
These cookers come in single and double burner versions and are popular across a multitude of end users from the camping lifestyle to outdoor catering and food stalls. Caravan owners particularly love this stove as it can be connected, with an optional hose, to an already regulated gas supply.
They feature two large 13500 BTU burners and control knobs with built-in rotary piezo ignition. The absence of windshields means it will accommodate large pots and pans and the pot supports are wok friendly. They aren't as easy to stash in the back of a vehicle as the folding stoves. But, they are ideal if you have a caravan or camper trailer with dedicated storage space.
Ideal for outdoor events and for use connected to the gas supply of a caravan or camper trailer.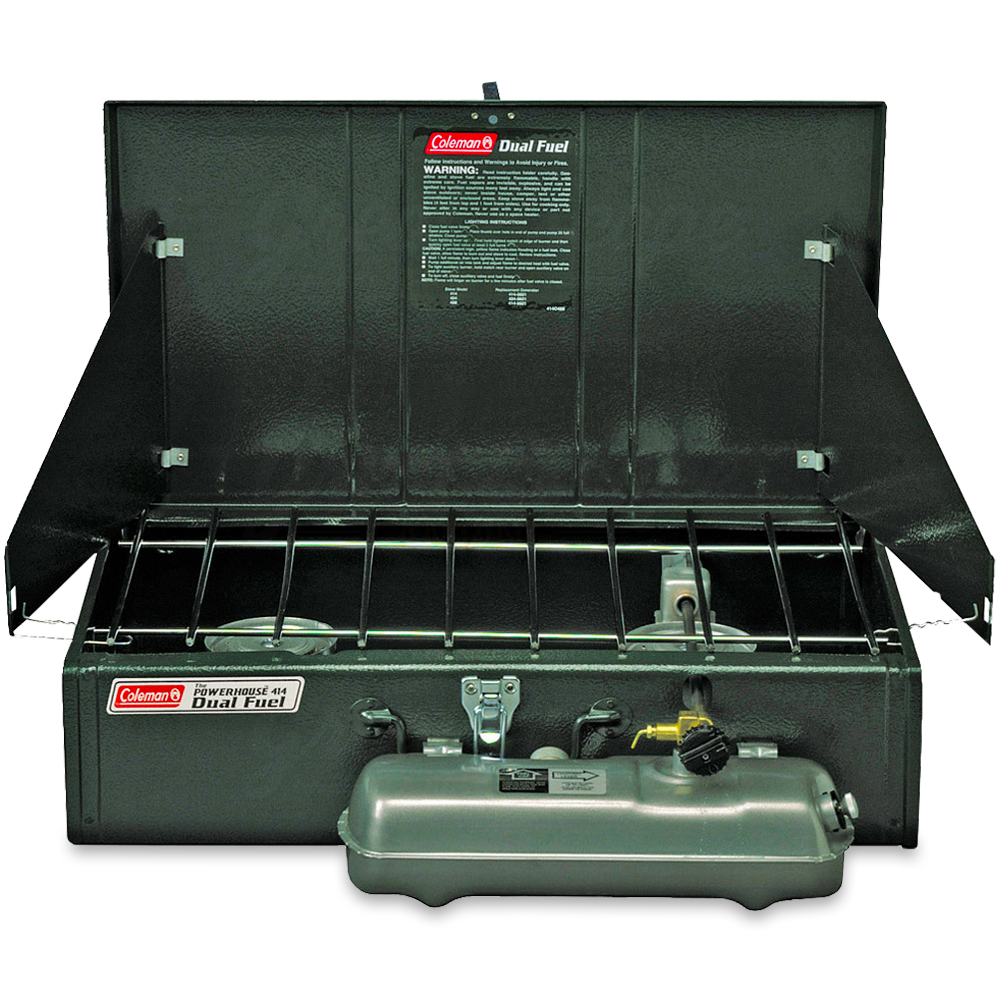 We've got to mention this one – Coleman Powerhouse 2 Burner stove
A best camping stove list just doesn't seem complete without adding in this dual fuel option. The Coleman Powerhouse 2 Burner stove runs on liquid fuel rather than LPG and where gas stoves can underperform in cold environments, this stove will keep beating out the heat no matter what the temperature. Plus it avoids the need to be carting gas cylinders around.
Unleaded fuel is easy to come across and shellite is cheap and available at just about any hardware store. There's also no guessing how much fuel is left in your cylinder.
The Powerhouse Stove features two burners of 9000 and 8000 BTU respectively and it has a simple and tough design that will see you through years of outback touring.
Perfect if you want to ditch the LPG cylinders.
That's it, our top-selling stoves for the last 12 months. Hopefully, this helps you in choosing the stove that best fits in with your camping adventures.
What's the best meal you've ever cooked on a camping stove? 
About the writer...
Trekker, surfer, climber, mountain biker, runner, camper. Participator in most things… master of none.
Joined back in March, 2013