There's no shortage of stoves on the market, so when you're setting up your camp kitchen choosing a stove that's going to cook, boil, fry, simmer and toast your camp meals can be a little overwhelming.
So, rather than try and tell you what's best, we've looked at what our customers purchased and recommended in 2017, so your choice of a camp stove in 2018 can be well informed.
So, starting at #10 here's a list of our best-selling camp stoves.
10. Coleman Guide Series Powerhouse Multi-Fuel Stove
This rugged, high output behemoth of a stove has been around for a long time. It's still a popular choice, particularly amongst campers heading to remote locations where LPG refills are as common as penguins in the outback.
The Powerhouse Stove is field maintainable and runs on liquid fuels such as unleaded and shellite so there's no need to worry about carrying a gas cylinder. It will operate on diesel but this isn't recommended by Coleman, it can cause efficiency issues with the stove so we'd suggest only going down this path if all your other options have run out. It has two burners (8000 & 9000 BTU) and is made tough with a robust powder-coated steel exterior.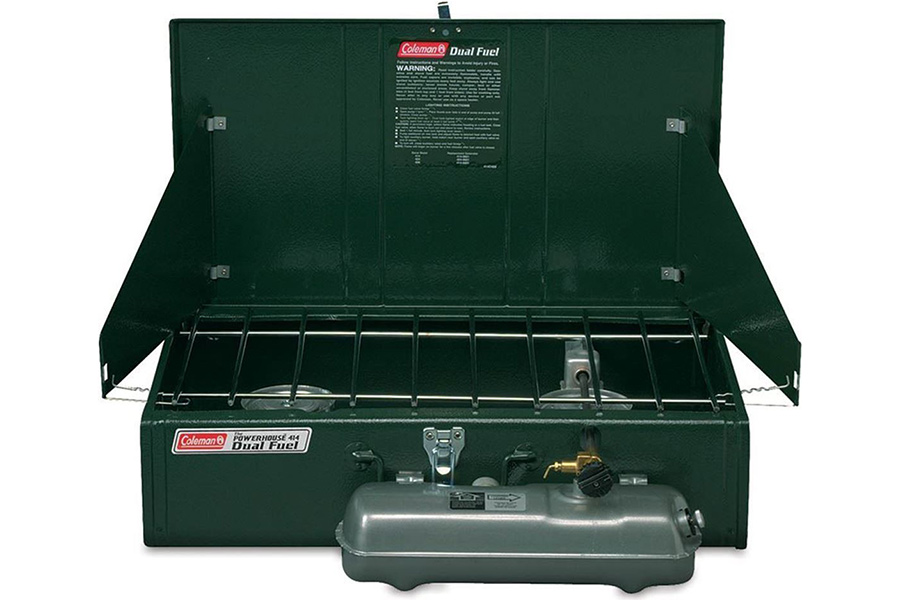 If LPG isn't super accessible, then this is the camping stove for you. Image: Coleman
9. Zempire 2 Burner Deluxe Stove
This camping stove comes with some impressive specs and is a great value choice. It's made of powder-coated steel and features a stainless steel drip tray for easy cleaning.
What's most impressive is the two burners, each boasting a 12000 BTU output with good simmer control. Each burner has piezo ignition and it all folds away into an easy to carry, easy to store package. If you're looking for a classic stove for general camp cooking, the 2 Burner Deluxe from Zempire will fit the bill.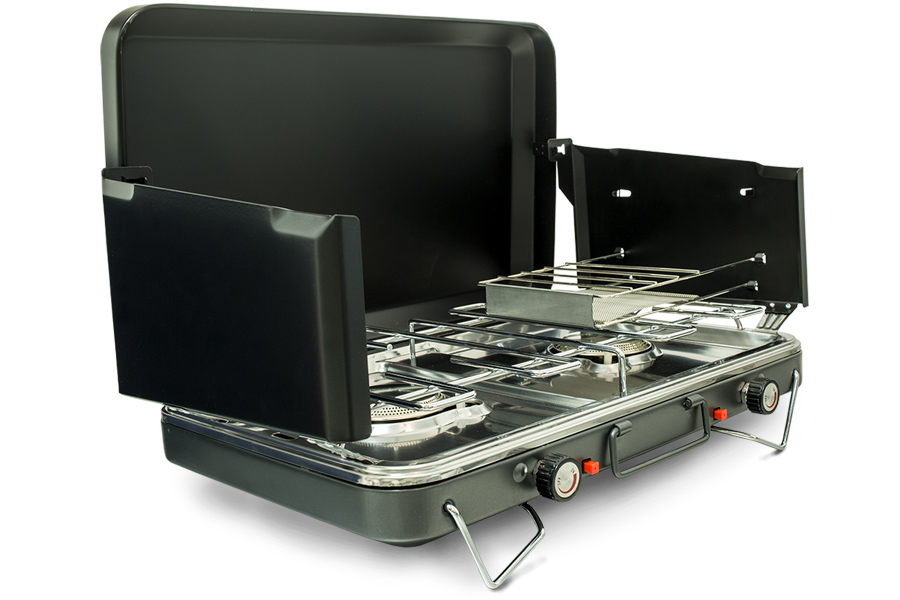 The Zempire 2 Burner Deluxe Stove is affordable and reliable. Image: Zempire
8. Primus High Output Regulated 2 Burner Camp Stove
This guy's a little bit bigger than your average camping stove – an awesome choice if you need to cook for the masses. The wider format means you can fit bigger pots and longer griddles on the top. It's also armed with two 10,000 BTU burners both with good simmer control.
This Primus stove has been around for some time and is a tried and tested choice. The gas supply is regulated to keep it from flaring up and to maintain heat during cold weather, plus, it comes complete with piezo ignition.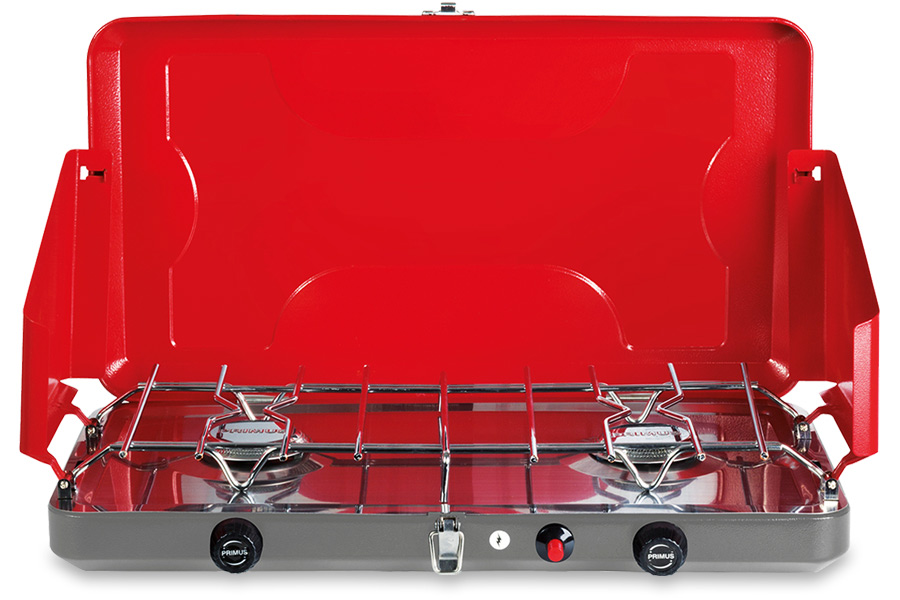 If you've got a family or a bunch of mates to cook for, the size of this stove is perfect for you. Image: Primus
7. Gasmate Butane Cartridge Lunchbox Stove
These are super portable and ideally suited for travelling individuals and couples who keep their cooking simple or make regular roadside stops. It runs from disposable butane canisters and is quite efficient in warm climates. Those travelling in cold climates may find the output a little limiting though.
Commonly known as a lunchbox style stove, this Travelmate cooker packs away into a compact plastic case – gas bottle and all. This makes it great for travellers with limited vehicle space. The set-up is quick, just open, flip, lock and light (it even has an integrated piezo), and you'll be cooking away in no time.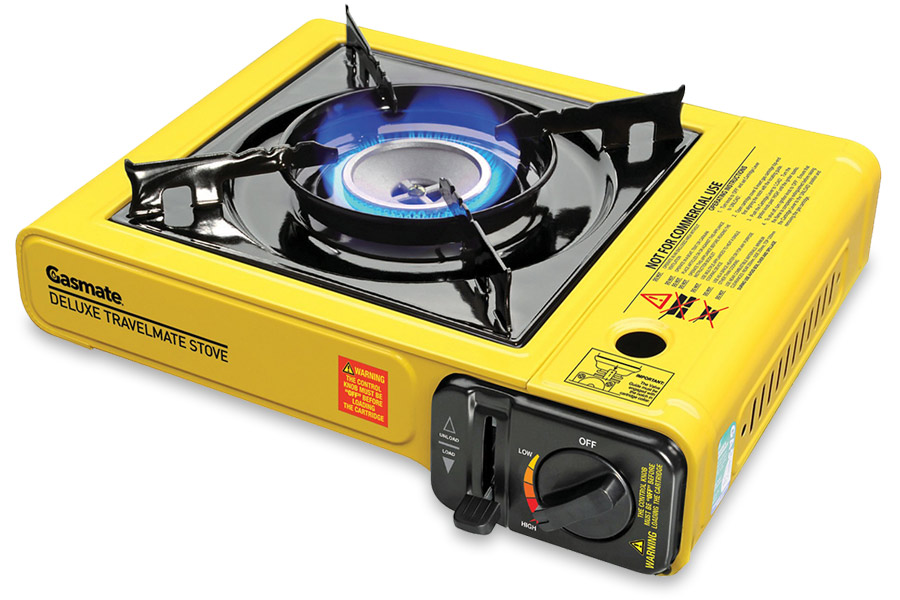 If you're travelling with little room to spare, this Gasmate stove will be right up your alley. Image: Gasmate
6. Gasmate 2 Burner Stove
This one comes at a budget price, and for that price, you get durability and reliability but none of the frills. It features two burners both with a 10000 BTU output, but there's no piezo ignition so you'll need to remember the matches.
In order to keep the price down, Gasmate has also omitted the drip tray which will make it a little harder to clean. And, whilst it still packs down to a portable and packable size, there's no carry handle. However, if these things are not of high importance, this stove will reliably cook your camp meals for years to come.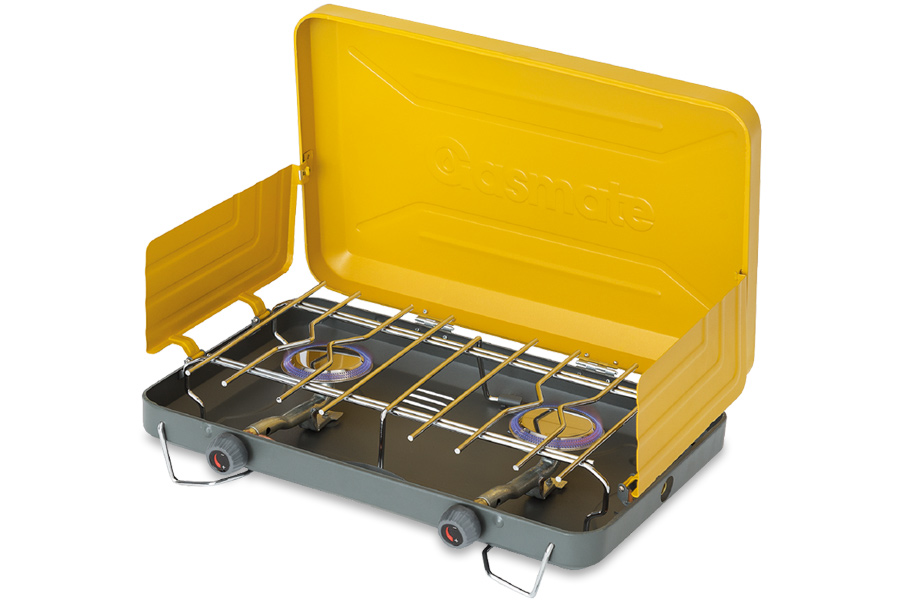 The Gasmate 2 Burner Stove is a no-frills choice for budget campers. Image: Gasmate
5. Companion Mega Jet Outdoor Power Cooker
This is more of a specific use stove. It's not so suitable for cooking your eggs and sausages unless you like them (very) well done. This has a single high-output burner for boiling large amounts of water. It's popular for cooking up crayfish, crabs or yabbies on fishing holidays.
The Mega Jet has some alternative uses to just boiling water though. Home-brew enthusiasts use it to boil the wort and hops before fermentation, whilst fishing enthusiasts have used it for melting lead to make their own sinkers.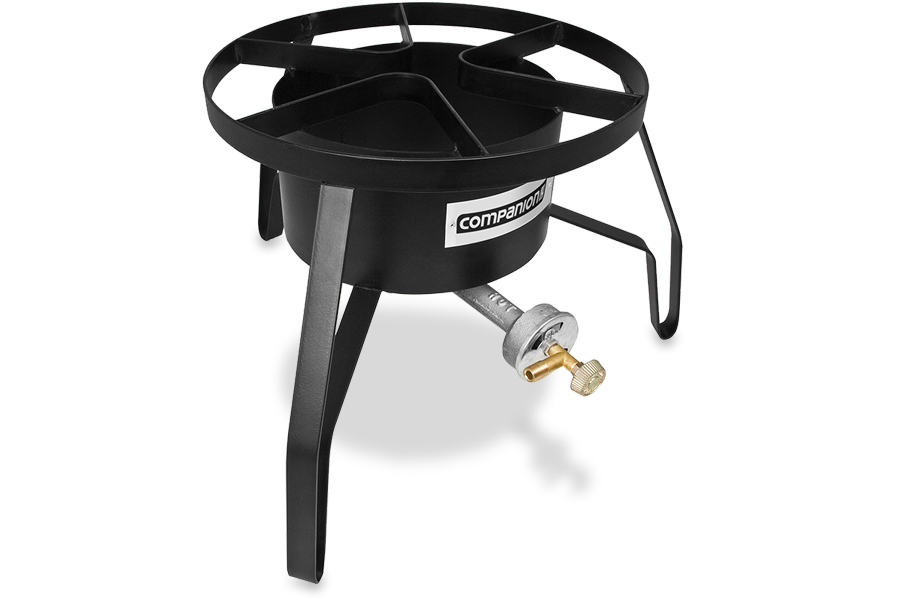 Simmer up your catch of the day in the Mega Jet Outdoor Power Cooker. Image: Companion 
4. Primus High Output 2 Burner Stove
Another tried and tested cooker from Primus, featuring a robust windproof design with two 25000 BTU burners – this is their highest output stove. It's a large format stove with big burners that will cater for the wider heat distribution required for large pots.
We've always recommended this for users who need high heat for boiling water or heating up a BBQ plate. However, we've had mixed reviews over its ability to simmer. For this reason, we probably wouldn't recommend it for cooking at low heat for long periods.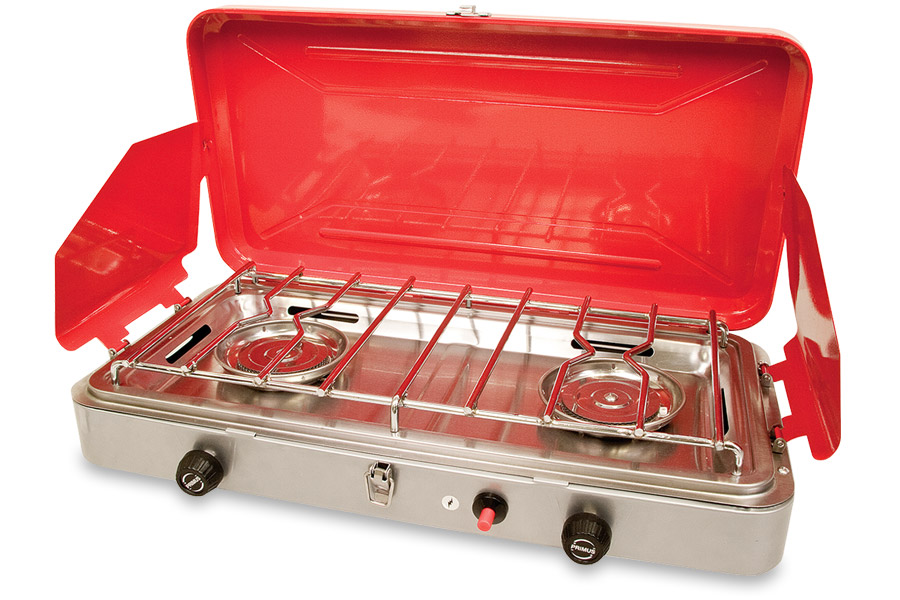 If you need a powerful stove, this is the one for you! Image: Companion
3. Companion Single and Double Wok Cookers
These are low-pressure cookers available in single and double sizes which, with the addition of a bayonet gas hose, can be connected to the regulated gas supply of a caravan or camper trailer. They have a 3/8 SAE rear gas port and no sides or rear windshields.
The burners on them have a huge 13500 BTU output and are suited to a wide range of pots and pans, including woks. Ignition is integrated into the gas control knob and simmer control is excellent. These are also popular for outdoor catering events, mobile food stalls or as an additional wok burner for your outdoor barbecue.
The only drawback on these is that the burner fittings sit loosely on the burner head. So it would be worth stashing them somewhere secure whilst in transit.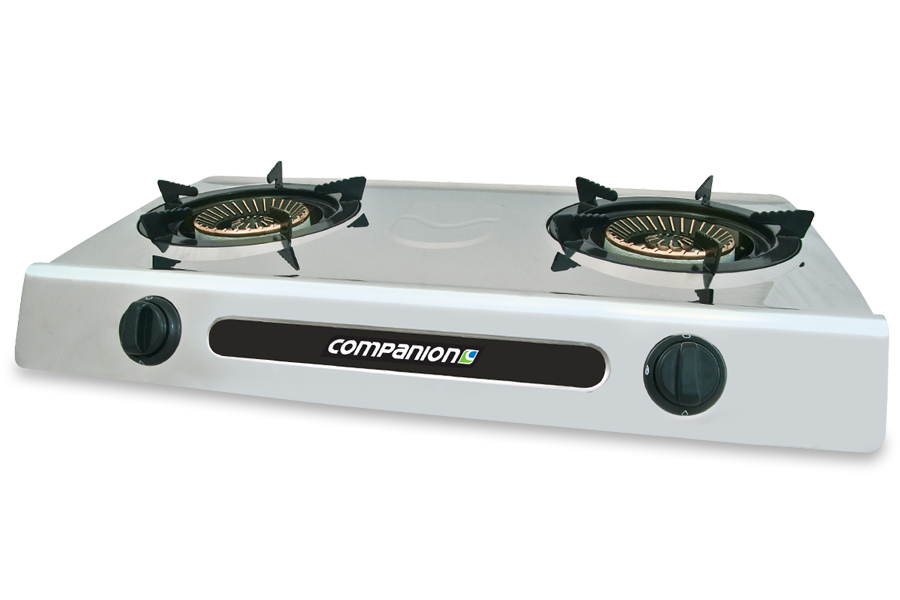 For outdoor catering or market stalls, the Double Wok Cooker will have you covered. Image: Companion 
2. Zempire 2 Burner Deluxe Stove & Grill
Not only does this stove have high output burners and handsome good looks, it's also an incredibly versatile stove that'll bring a new level of gourmet cooking to your camp kitchen.
It features two stove top burners along with a grill. This enables you to cook your pasta, heat up some sauce and toast some garlic bread…all at the same time!
With a powder coated steel outer, stainless steel drip tray and piezo ignition, the Zempire 2 Burner Deluxe Stove and Grill is a durable, all-in-one camping stove that is perfect for family getaways.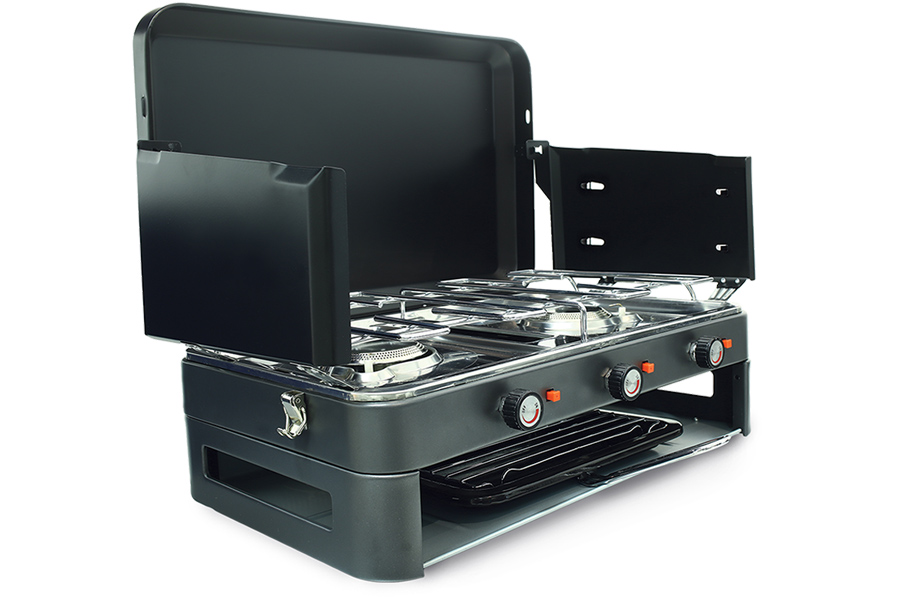 Cook 3 dishes at once with the Zempire 2 Burner Deluxe Stove & Grill. Image: Zempire 
1. Coleman Hyperflame Fyreknight Camp Stove
The Hyperflame Fyreknight was the most popular model in our camp stove range over the past year. These models are unique, offering efficient high output burners and new WindBlock technology that is built into the pot supports. This new technology removes the need for clumsy side guards and opens up more space for larger pots. What's more, they can operate from disposable and compact propane cylinders or large LPG bottles.
The FyreKnight offers an absolute truckload of heat with 12000 BTU from each burner. It's also equipped with a piezo ignition for ease of operation. The outer is all steel and features plastic corner bumpers, a heavy-duty latch and a large carry handle.
It's important to know that these are hot, very hot! If you plan on simmering your Murgh Makhani or slow cooking a stew, this may not be the camping stove for you. However, it's the perfect stove if you want to boil water quickly, heat up a barbecue plate, or fry up your breakfast.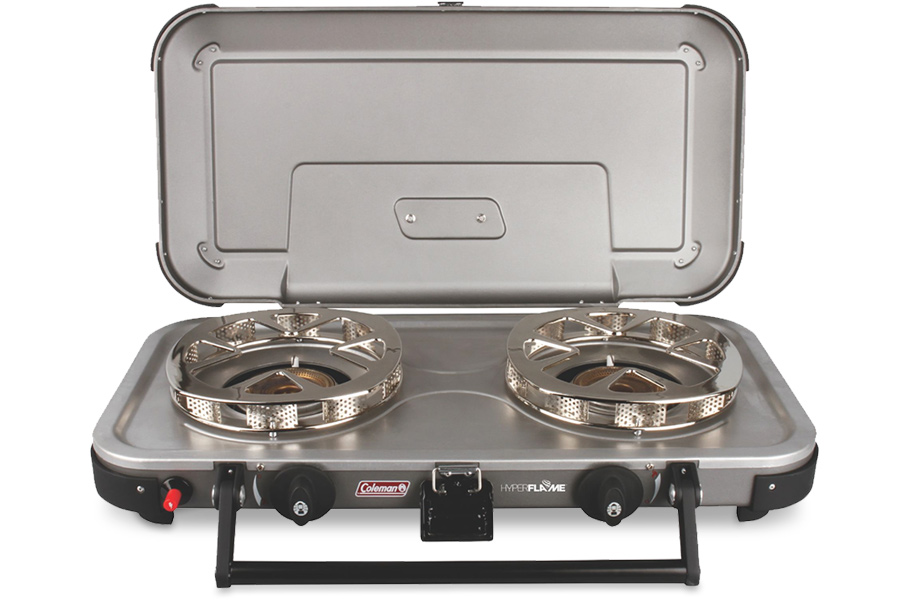 The Hyperflame is the popular choice for campers due to its high output and piezo ignition. Image: Coleman
Worth a mention – Single Burner Stoves
This style of camping stove has been around for many years. They consist of a burner head surrounded by a windshield and pot support, all resting upon a gas fitting that attaches directly to a gas bottle. Whilst they didn't make it into our top 10, it's their simplicity and reliability that makes us want to add them to this list.
One of these combined with a small 2-3 kg LPG gas bottle makes for a compact way of cooking that is ideal for solo road-trippers or outback tourers. They usually come with a carry handle that allows you to pick up stove and gas bottle in one. And if you can store it as such, you don't even need to disassemble them for transport.
We're curious to know – what's the most reliable style of camping stove that you've ever used? 
About the writer...
Joined back in March, 2013