If I had a dollar for every ATM withdrawal fee I shrugged off, I'd be able to fly first-class (more than once). See, travelling is alluringly easy now… more than it's ever been before.
Flight websites are vying for our attention, with low-priced tickets. We rent out local's apartments (thanks Airbnb) and hop in cars for cheap rides around.
But, no matter how spontaneous a traveller we are, there are must-know tricks to make our dollar (and itinerary), go further.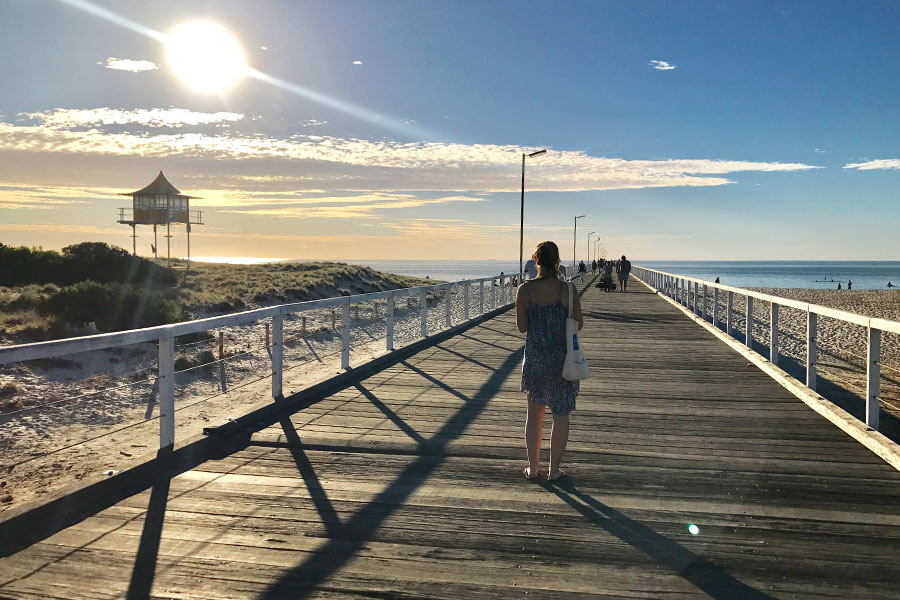 Wherever you travel in the world, these tips will come in handy.
The no-fee bank card
I used to pre-load a Travelex card, before moving over to a Qantas Cash Card… purely for the points. Every dollar I loaded, I received a Qantas point. But, it was a hassle trying to figure out how much to put on the card. Plus, the bank charged a fee and it locked me into one currency.
My ah-ha moment? Discovering the no-fee Citibank Debit Card
This little baby doesn't charge the standard 3% on international purchases and $0 on ATM withdrawals. Like I said, if I knew this years ago, I would be rocking it up in first-class. It's free to apply for and you just need to link it to a savings account.
I use my card for most purchases plus, if I need cash I know I won't be charged a hefty $5 withdrawal fee if I need it.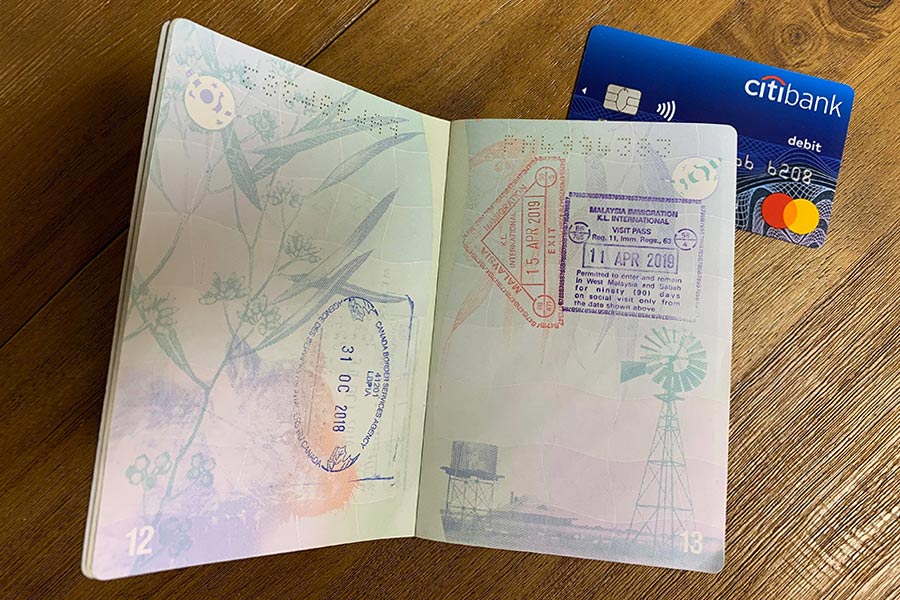 A no-fee bank card is a game changer. 
Travel insurance. Yes, this is an essential!
Guys, I've been there… trying to save money and flirting with the idea of just risking it, without insurance. "Oh, but I'm just going on a short trip to Bali. I won't need it."
Well, as it tends to unfold, that was the trip I actually did need it. A volcano, on Bali's neighbour island, Lombok, erupted. All flights were cancelled for a week, but thankfully, it was covered under my policy.
I suggest finding a company that offers a hybrid coverage of health and travel. Make sure you've got full protection in an emergency. Also, pay a little extra to secure your valuables. I just have two: my iPhone and MacBook. With the amount I travel, one too many knocks through airport security can be the reason it decides to take an extended 'nap.' I use the 'Qantas' of travel insurance: World Nomads.
They're Australian, totally helpful, and donate part of their profits to third world countries.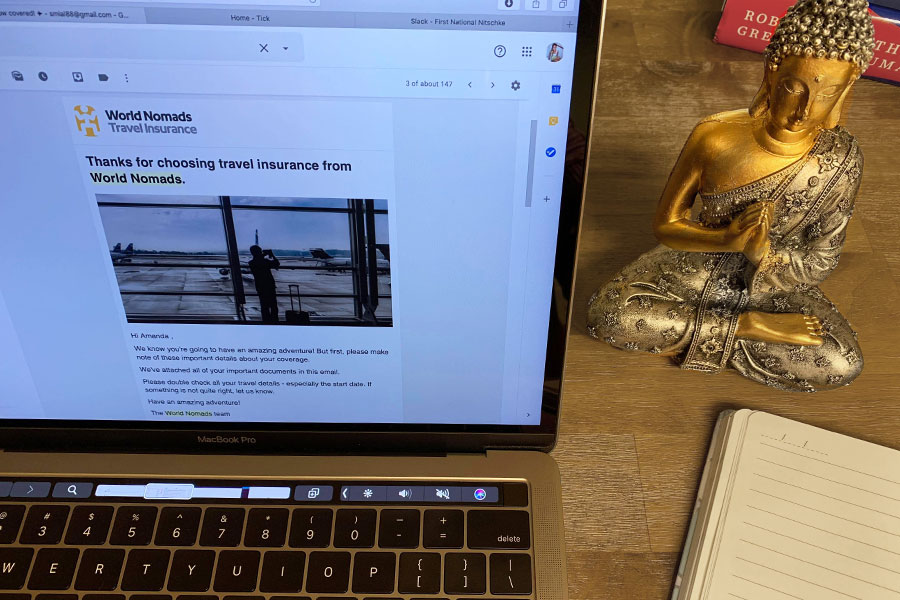 Insurance is an absolute must-have when you travel. 
Google Flights
Loyal to Skyscanner for years, I've recently leaned more on Google Flights. Not because of price or partner airlines, but rather, because of functionality. You can see a calendar view to quickly work out which day is best to fly (as opposed to having to reload the page, isolating a specific day). If you can be flexible with the day you fly, check out Google Flights.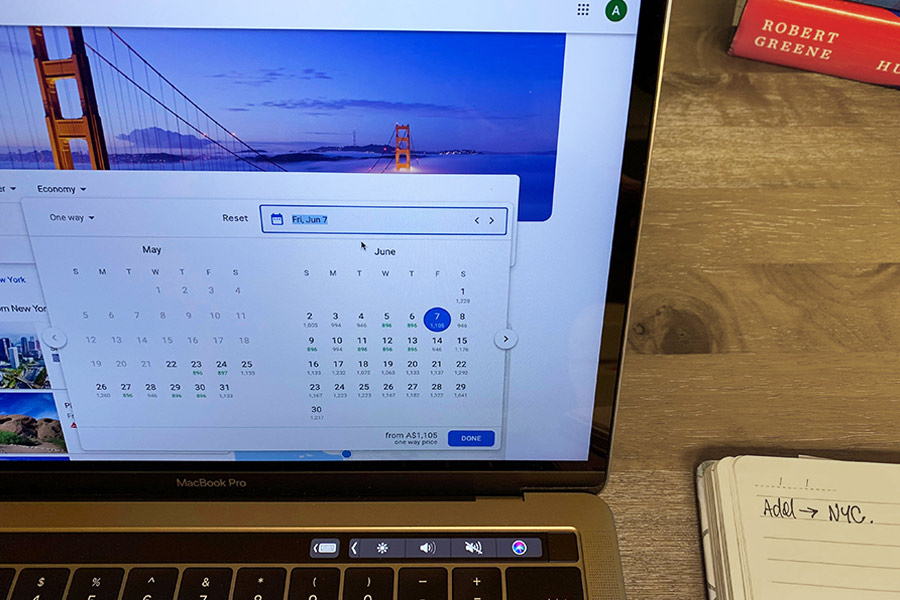 Google flights give Skyscanner a run for their money. 
A universal adapter
This is one of the very few items I've kept in my hand luggage for years. I love the flexibility of knowing I can charge up, within seconds, no matter where I go. Usually, the universal adapters are slightly bulkier than the single country products, but if you're continent hopscotching, you'll love it, too.
TSA padlocks and a universal adaptor are a must have. 
TSA padlocks… and the bag upgrade
There's nothing worse than being frantic in an airport. No matter how organised I am, items like padlock keys just seem to vanish. Switch to TSA locks and make life easy for yourself – just don't forget your four-digit code.
Speaking of bags, I spent my entire 20's flying around the world with a backpack. Even when it wasn't exactly the easiest on my back, I felt connected to a sense of identity… the nomadic backpacker.
But, last year, in celebration of my 30th birthday, 60th country and the emergence of a new title (expat), I decided to leave the memories of backache behind for a gorgeous, statement denim suitcase.
And, oh, did it feel good.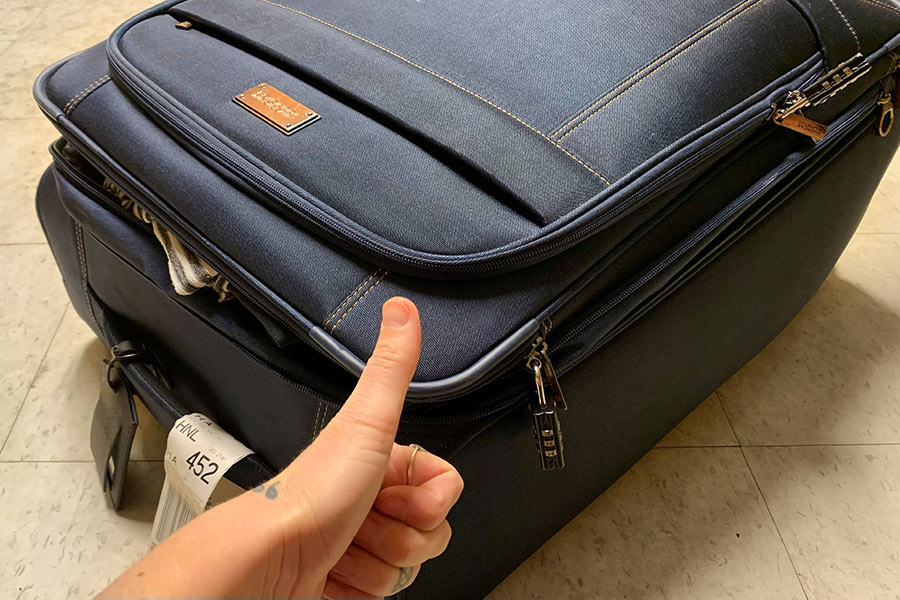 Upgrade your travel bag for extra comfort.
Audible
On those long 10+ hour flights, my trick is to break up the time. I'll watch a couple of movies for the first three hours, sleep the next chunk, then either write or read for the last leg. This way, I focus only on the three or four hours ahead. Turn off the flight path, as this is as painful as watching paint dry.
When I'm ready to be (slightly) productive or to shift the boredom, I pull out my headphones and open Audible. I've pre-downloaded a book in there, so I don't need WiFi.
While the fun is in the journey, find items, tools and little tricks that'll offer helpful shortcuts or a welcomed 'travel companion.'
What are the essential items you always take when you travel?
About the writer...
A journalist by trade but storyteller by heart, Amanda writes content for a variety of communication agencies and individual brands, and editorials and feature stories for magazines, blogs, and news platforms. She's worked with over 100 brands across Australia and globally. Always curious, Amanda draws her creative inspiration from people – whether it's sitting in a cafe people watching, having a conversation with a stranger or reliving memories from the 50 countries she's travelled to. Follow her on @amandasmith_writer and visit her online at www.amandasmithwriter.com.au.
Joined back in May, 2018