Want to look like a camp oven cooking expert in front of your friends on your next camping trip? Master the art of camp oven cooking and you'll certainly be invited back next time. The beautiful flavours and textures you get from cooking with a cast iron camp oven are like no other, and even the simplest meals come alive after the camp oven treatment.
Don't expect to master it on your first go though. Gauging the temperature required in relation to a number of coals can be tricky at first. But follow these basic tips and you're halfway there.
Snowys stocks a huge range of camp ovens and cast iron cooking equipment.
1. Preparing Your Camp Oven
Preheat the camp oven on or in the main fire prior to cooking, because if you place a cold camp oven on your cooking coals you'll lose half your heat by heating up the camp oven. A tripod is ideal for this task, or sit the oven on top of a barbie plate in the flames if possible. Don't forget to heat the lid too!
When you're ready to cook, you need to prepare a bed of coals away from the main fire to place the camp oven on.
If possible, scrape or dig out a small hole the size of your oven to line with hot coals. This is not essential but can be handy especially if it's windy.
Of course, by all means, leave the camp oven on your tripod above the flames, but cooking on coals is recommended for baking and roasting.
2. Check The Temperature of Your Camp Oven
Check the temperature of your camp oven by placing a piece of paper towel inside the oven for approximately five minutes.
If the paper is black and smoking, the oven is too hot.
If the paper is light brown to yellow in colour, the oven is moderate to hot.
If the paper is cream or pale yellow, the oven is slow to moderate.
3. Cooking
Bear in mind that different types of wood will burn hotter than others, so even though you should try to minimise the number of times you remove the lid (as you will lose heat each time), it is important to check every now and then to make sure it's not burning.
As a general guide, check on dampers after 20 minutes and roasts after 30 minutes.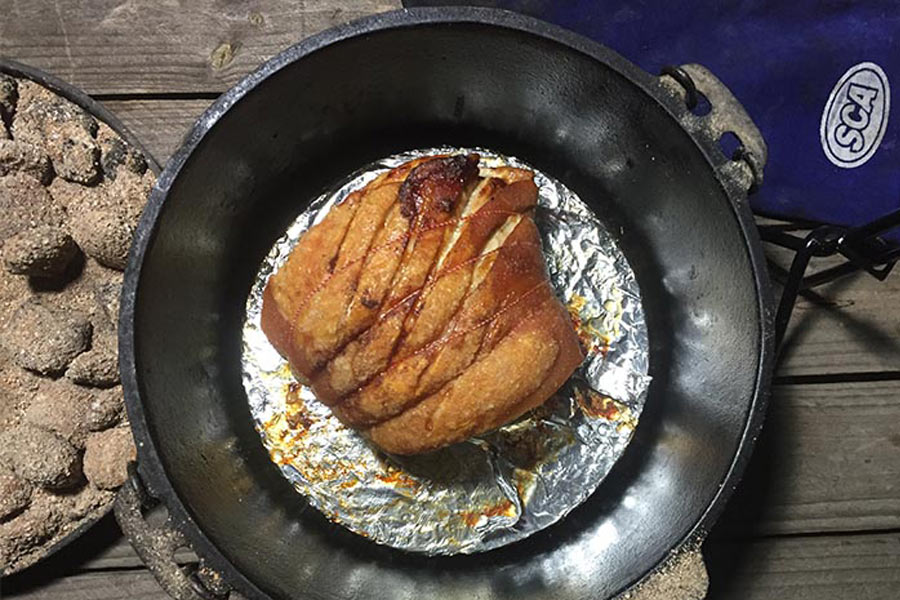 Roasting
Place a well-oiled preheated oven on hot coals and add the meat. Cook the meat for 1.5-2.5 hours depending on the size of the meat. Vegetables like potatoes, onions, pumpkin should be added to the oven for the final 45 minutes of cooking. Throughout the cooking process, check the temperature of the oven every 30 minutes or so. Add more hot coals if required.
Stewing
The longer the cooking time for stews the more tender the meat will become. Cook over a slow to moderate oven for 1-3 hours or longer as required.
Baking
When cooking cakes and slices in trays and cake tins, it is best to put a trivet in the bottom of the camp oven. This allows air to flow around inside the camp oven and provide even cooking.
4. Cleaning & Storing Your Camp Oven
When cleaning your camp oven always use warm water. Cold water on a hot camp oven can cause it to crack.
Be careful never to drop your camp oven on hard surfaces such as rocks. Cast iron is a brittle material and can easily crack.
Oil your camp oven after cleaning to stop it from rusting.
---
Basic Damper Recipe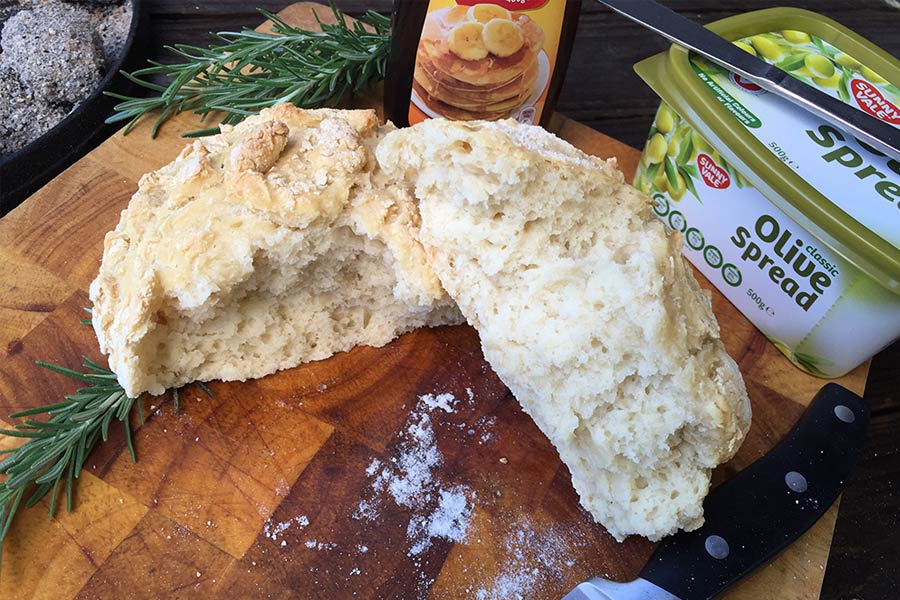 Cooking time: 30-40 mins
Ingredients: 3 cups self-raising flour, 1 cup of milk or water, pinch of salt
Variations: For a savoury damper add onion, bacon and grated cheese. For a sweet treat add honey, jam, or chocolate chips.
Method: Mix ingredients together until a dough is formed. Shape dough and dust lightly with flour. Place dough into a greased camp oven and cover. Cook in a medium temperature camp oven until golden brown. Damper is cooked when a skewer comes out clean.
Or check out this basic damper recipe.
What's your favourite camp oven recipe? Share in the comments below.
About the writer...
Joined back in December, 2011