"Don't go during school holiday peak time," they say. "Don't rush it, take 3 to 4 weeks off!" they say. Might as well stay home and sell the 4WD because we have kids at school and a fixed amount of holiday leave. So, what do you do when you love the outback and have to take time off around school holidays?
This trip is an experience our family will never forget.
Our plan
We had 16 days to go from Brisbane to the heart of the Simpson Desert (Munga-Thirri) and back. Our travel companions had to cancel, but with 6 months of research, planning and modifying our setup we decided to stick to the plan. We wanted a challenge and travelling solo with our kids and camper trailer was going to be next level.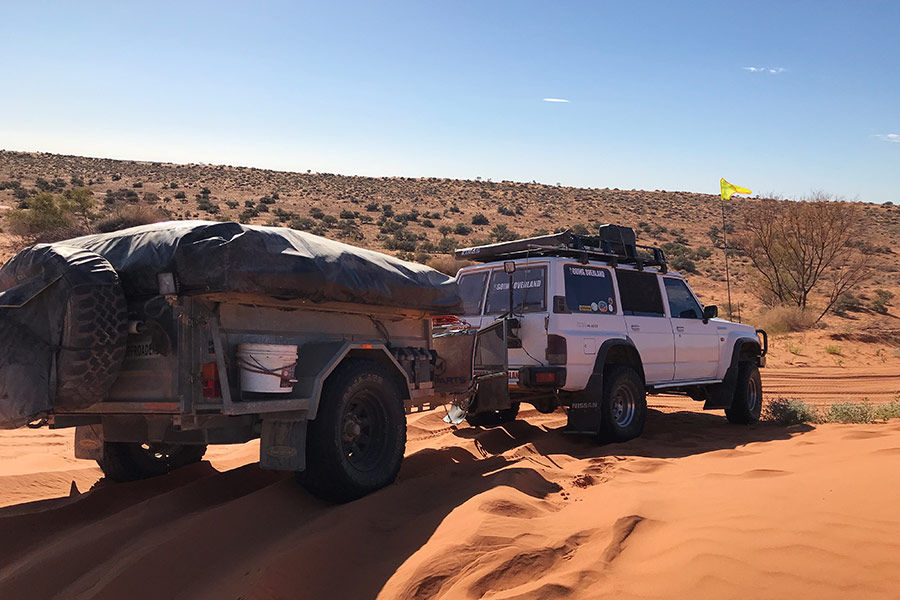 All ready for our school holiday adventure. 
Breaking up the trip to keep the kids happy
Kids can't do big days back to back in a car, they go nuts. So, a two-night stay at Cooper Creek early in the trip is a fantastic way to break up the huge kilometres needed to get to the Simpson. You can go kayaking, fishing or catching monster yabbies. Our kids were happy spending most of the day playing on a steep sandbank under the shade of the massive trees next to our camp.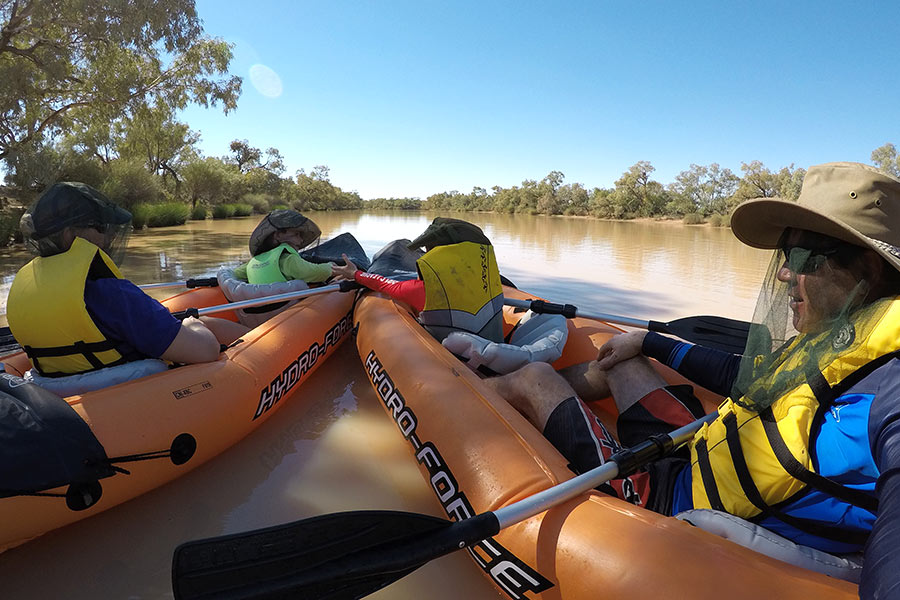 A two-day stay at Cooper Creek was a great way to break up the journey. 
Going the distance
With a full day behind the wheel to get to Big Red, the kids needed to be distracted. Colouring books, scavenger hunts, travel battleship and eye spy are some of the activities we have in the car to keep the "are we there yet" question at bay. A small tub full of healthy snacks and treats is always at reach, as no more than 5 minutes after getting in the car it's always "I'm hungry, what can I eat".
One of the best ideas is a book on CD from the library, which provides hours of entertainment. Stop when you see something interesting, even just a 5-minute walk can really break the day up.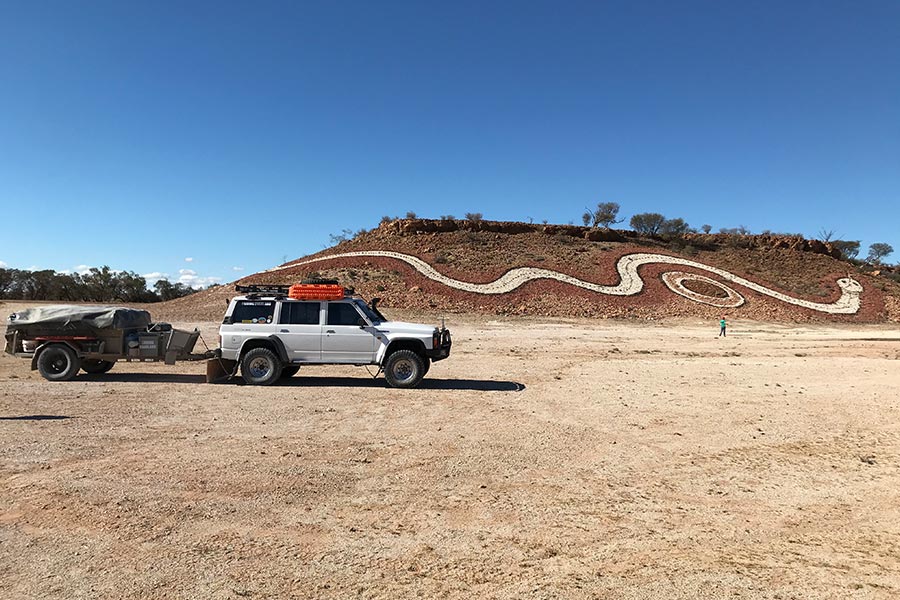 To keep the kids happy, stop if you see something interesting. 
Self-reliance in the desert
With 200L of diesel, 150L of water and bread & milk from Birdsville and enough food onboard for 2 weeks, we were completely self-reliant for the next 6 nights in the desert. The plan was to turn around and head back the way we came just before we got through half of our fuel, water or time – whichever came first.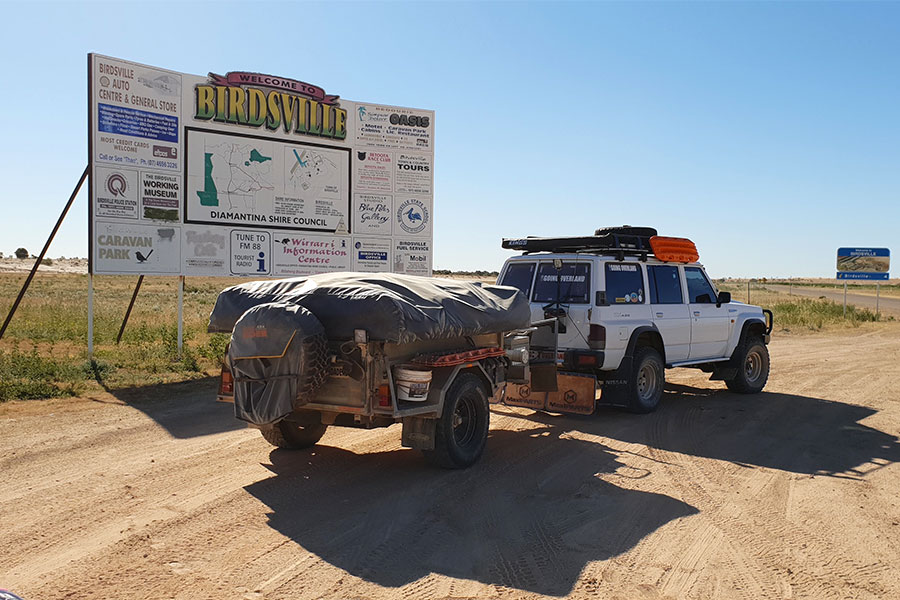 We grabbed some supplies from Birdsville so we could make it halfway. 
The adventure begins
Big Red is the first test, so before you get there, be sure to prepare your 4WD. Attach the sand flag on the front, drop the tyres to 14psi, lock the hubs in, CB on the right channel, check everything on the car and trailer and get mentally prepared for what is coming up.
Sometimes it's a good idea to get the kids away from the car so nothing is rushed or missed when preparing your vehicle for a trip like this. Being distracted can lead to silly mistakes and when you're heading somewhere as remote as the Simpson desert, mistakes could be costly.
So, with Lara and the kids halfway up to Big Red, it was time to put our 25-year-old Nissan Patrol to the ultimate test. The cheer from the kids was ecstatic as I drove past, I knew then that this was going to be an awesome adventure.
The famous Big Red. 
Essential safety and recovery gear you need
Towing is the most difficult challenge and is not recommended even for the most experienced off-roaders in the Simpson desert. In terms of recovery gear, it's a must to bring a minimum of 2 pairs of recovery boards, winch, recovery straps and a shovel. A sand flag and UHF is also required, as having a head-on at a crest is a real possibility.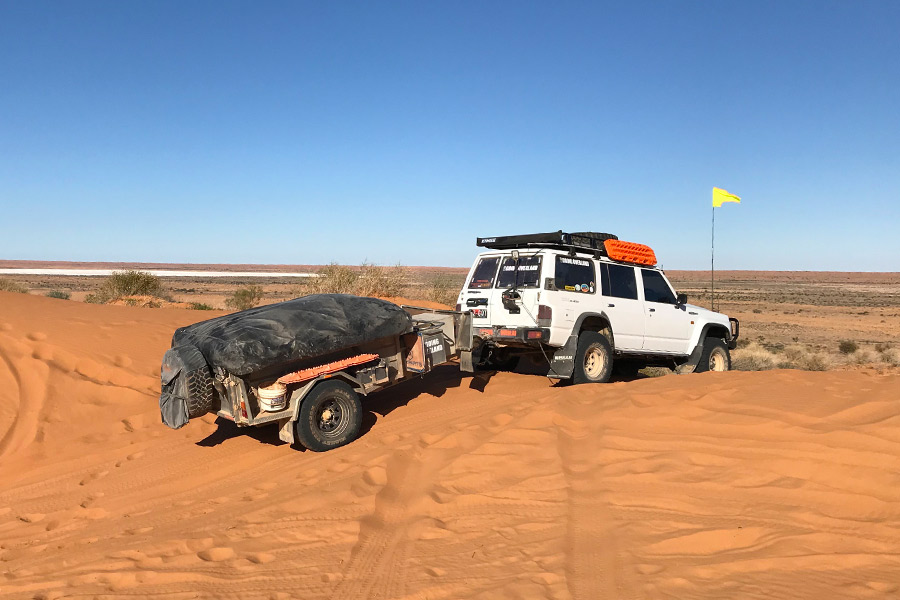 A sand flag is a requirement for the Simpson. 
That sinking feeling
After successfully crossing some massive dunes we thought it was going to be a walk in the park. We were almost to the top of a pretty ordinary dune when we started bogging down. A quick gear change and we were sinking fast, so it was time for the recovery boards.
So, with the kids placing the boards under the wheels and shovelling sand away, it was a matter of slipping the clutch and gunning the engine and we were crawling to the top of the crest. The kids standing well clear with Lara were having a blast.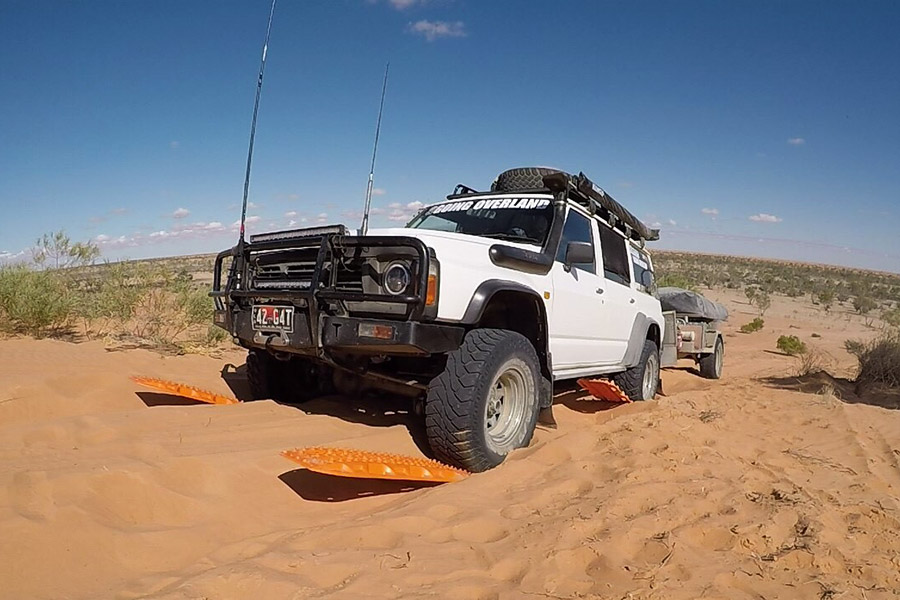 Recovery boards are essential for a Simpson trip.
The most amazing camping
Finding a camp is easy, look for a flat clay pan next to the track between the dunes and break out the tent. We are always set up before sunset, so we don't miss the best part of the day. Our trailer turns into a great tent for the whole family in minutes when everyone pitches in. The kids have folding beds they setup. They wind down the stabilising legs on the trailer and help with the table and chairs before they can play.
We make sure the kids understand to stay in range when playing. 
On our first night, we had a snake bite training exercise, making the kids grab the first aid kit and practice what to do. Keeping an eye on the kids and making sure they stay together and out of the bushes is something we drill into them.
One of the most amazing things in the outback is the night sky. Incredible sunsets, big skies with no city lights or mountains, showing the kids millions of stars, dozens of satellites, shooting stars and meteors is all the entertainment we need.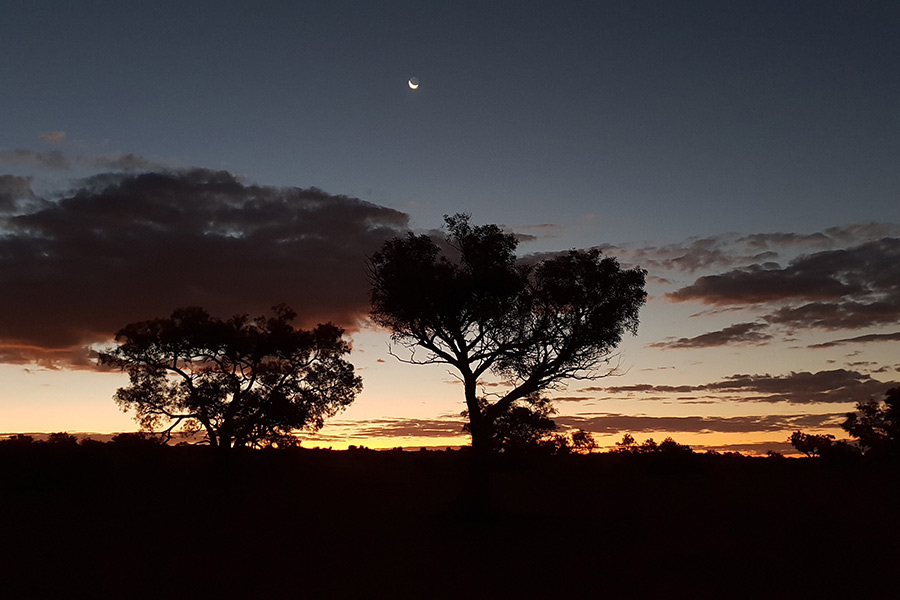 The sunsets in the desert are incredible. 
Time to turn back
After an amazing 3 and a half days and making it to Attora Knolls, the decision was made to turn around. Crossing massive salt lakes, numerous boggings and the feeling of true isolation, we had achieved what we had set out to do.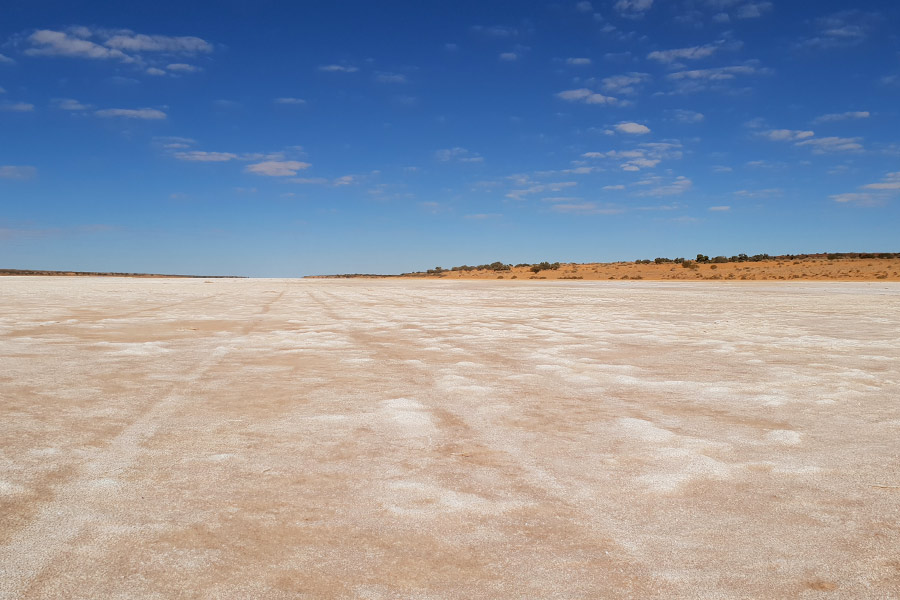 Salt lakes are common in the Simpson.
With water down to half already, we had to be super conservative. Wet-wipe cleaning, a spray bottle of water for handwashing and saving every drop was a must. On our last night in the desert with just 1 hour to Birdsville, we had about 10L of water between the 4 of us and we still managed to have 2L when we rolled into town the next morning – 650km and 6 days after departing Birdsville.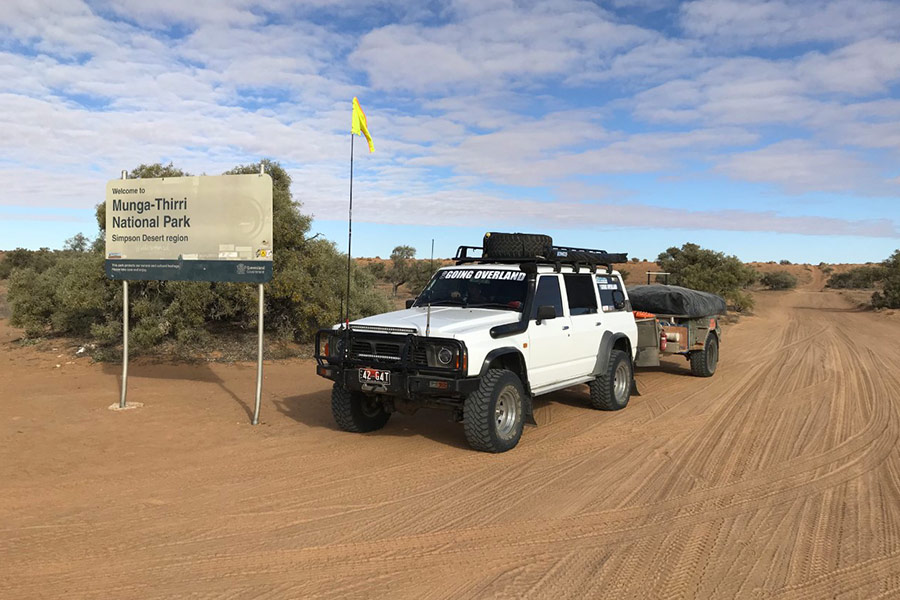 Entering Munga-Thirri National Park.
10 essentials for travelling with kids in the Simpson Desert
Nighttime pull-ups – you will not have water for washing bedding
Wet wipes – saves water for cleaning anything and everything
Hot water bottles and warm bedding – night time temperatures can be freezing
Quality first aid kit – make sure you have some training too
Toys and games – books, colouring, games and activities
Handheld UHF
Whistle – so you can always hear the kids even if you can't see them
Satphone – at least if the worst were to happen, someone can talk you through it
Sun smart gear – sun cream, hats, sunglasses, long-sleeved clothing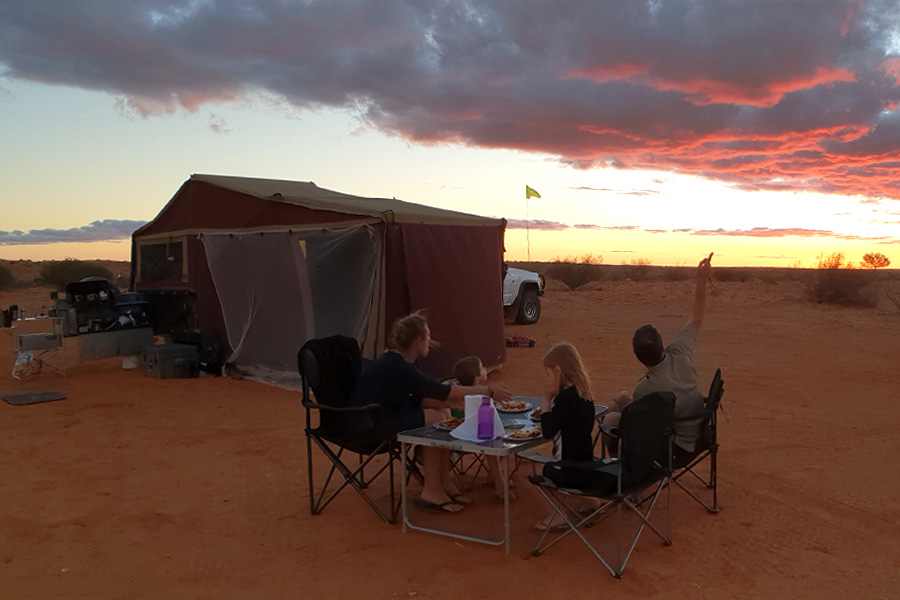 Our campsite set up for a night in the Simpson Desert. 
An experience we will never forget
Tackling the Simpson with our kids is an adventure we will never forget. We love sharing this lifestyle with them and could not imagine travelling without them.
Seeing the wonder in their eyes, teaching them things like water doesn't just magically appear out of a tap, or just having a laugh with them trying to get unstuck from a sand dune.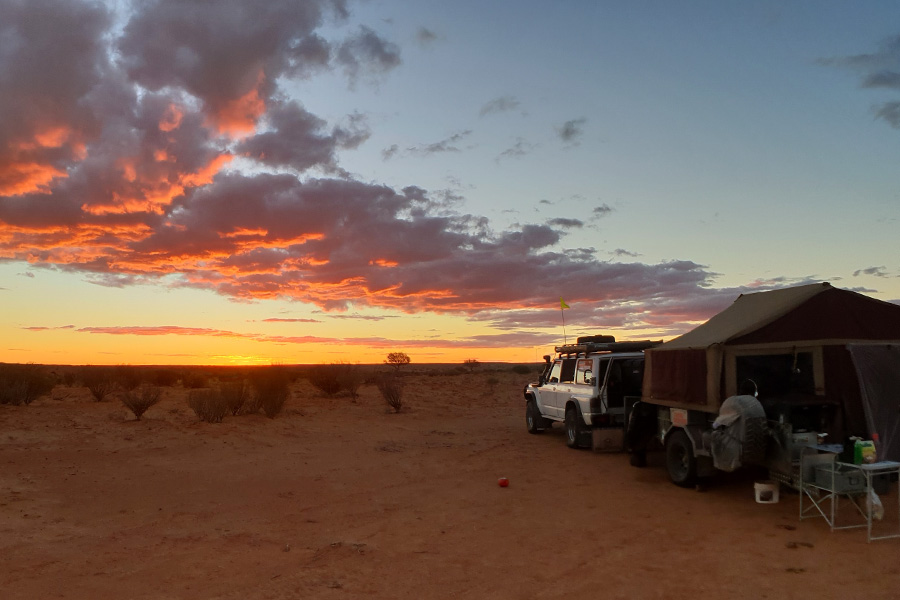 We had the time of our lives on this trip.
It doesn't matter that you have to travel during peak times and with time constraints, just get out there and explore this beautiful country and show your kids the beauty of the outback.
Have you done an outback trip with kids before? 
About the writer...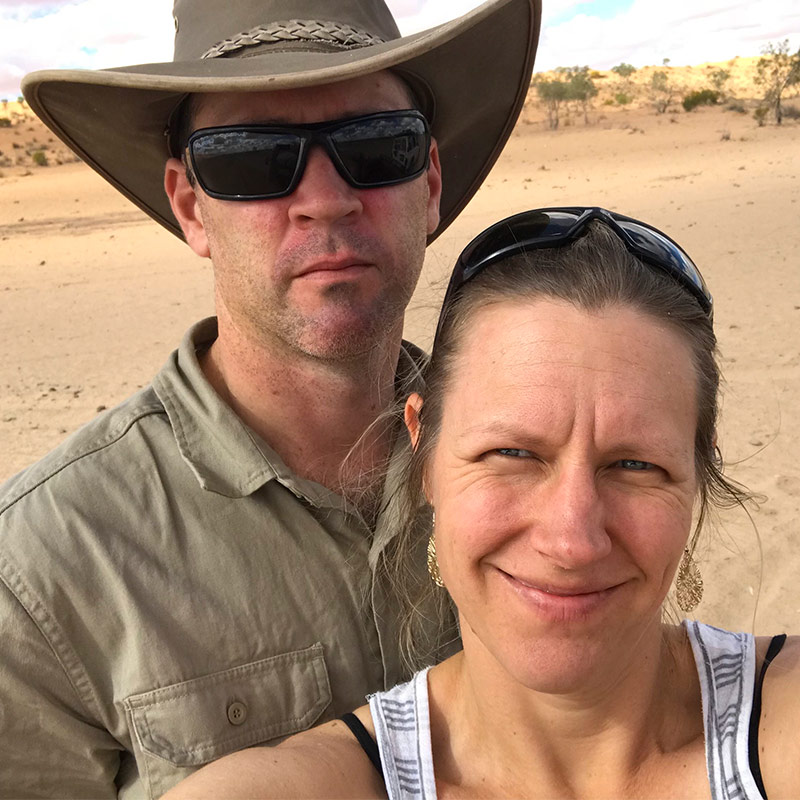 From short weekends away to epic trips seeing the most iconic places in Australia. Travelling with our kids and our kelpie whenever we can get away from work. We love going overland and have travelled from the northernmost tip of Cape York to as far south as you can drive on Tasmania. From Fraser Island west to Uluru and everything in between. Currently building up for a big lap of Australia with a new camper and a 25 year old Nissan Patrol. Follow our adventure @goingoverland on Instagram, YouTube or Facebook.
Joined back in October, 2019