In part one of this series, I gave you all the details on what you need to know when planning and booking your trip to the USA, which you can check out here.
In part two, I cover off some advice about transport, how tipping works, including who to tip and how much; what to expect with American food; and handy advice about WIFI, shopping, theme parks and much more.
So, if you're a tourist heading to the States, let's get into it!
Avoid peak travel times
It goes without saying really but try and not travel during peak times because it will take way longer and be costlier, especially when venturing to the airport. Also, when you're booking your flights, ensure there is transport available at your arrival times.
I once arrived at LaGuardia airport in NYC after midnight only to find public transport had stopped for the night and there were only a few taxis coming back and forth at that time. Luckily, I got one but we broke down on the ride there. That's another story.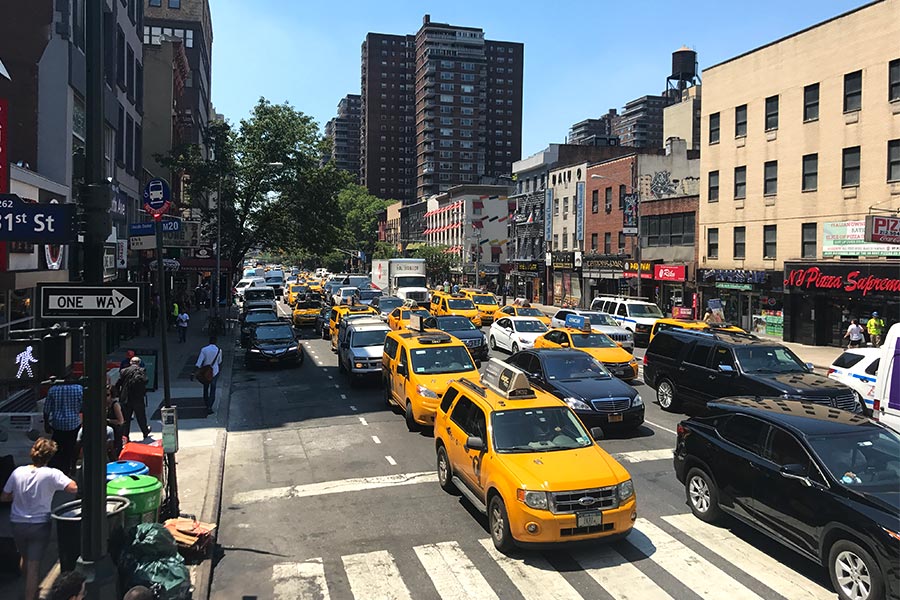 If you have to travel in peak hour, ensure you leave extra time for your journey.
Be aware that traffic is travelling in the opposite direction
Traffic is driven on the opposite side of the road to Australia (so the right). Get in the habit of looking both ways when crossing just in case you forget. This also helps when you get home because it can take a little while to adjust back, especially if you've travelled there for longer than 2 months. This goes for when walking past people too. You may find you will do a funky dance with people as they subconsciously expect you to go past them on their right rather than their left.
City bus tours
Hop on/ hop off buses are a great way to check out most US cities. You can buy tickets online ahead of time, onboard or at certain stops. It can sometimes be cheaper to buy at the stops as the guides can suggest which bus routes would be best for what you want to see. The buses give you an idea of the city super quick without your legs getting exhausted.
Bring sunscreen, a hat and plenty of water, especially in summer. You get an amazing view upstairs but be prepared for all types of weather up there, particularly when it's hot. Oh, and you may get the odd branch in your face, especially through Central Park.
In the more touristy cities like LA and New York, there are buses that have both the recorded tour guide option, where you wear provided earphones (with multiple languages available) as you travel, as well as the option to have a live host that talks on a microphone as you go.
I prefer the live hosts because they are much more jovial and give you hot pieces of information here and there. Plus, most of them like to add in the odd joke, which you won't get as much with the recorded script. As you will stop on and off, you don't have to give a tip every time but if you think your host was entertaining, it's a great reward for them. A general guide is $2USD per person.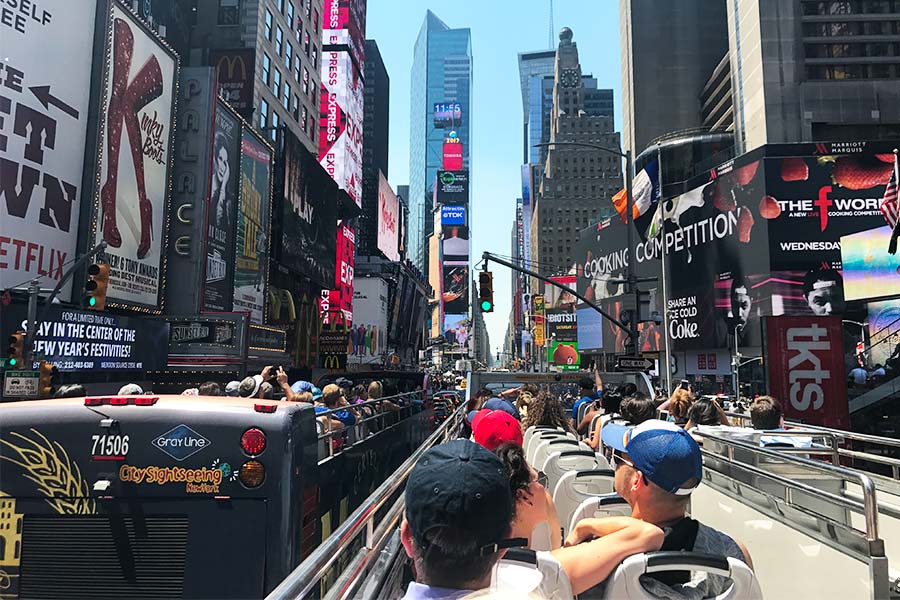 A hop on / hop off bus tour in NYC is a great way to see the city without getting tired. 
Driving in the USA with an Australian license
If you're on a holiday visa in the USA, there are some states that will allow you to drive with your Australian license for a short period of time. But, I would recommend that if you want to be covered, especially when driving across the US, obtain an International Driver's Permit before you leave Australia.
A tip for driving is that in most US cities, there aren't many roundabouts so there is the rule that you can turn right on a red light. For more information on foreigners driving in the US, check out this link here, and to find out about road rules in each state, you can find them here.
Uber
Uber Pool is big in the States and is more affordable than ordering a separate Uber for just yourself. And, if you are a solo traveller, you can meet other adventurers along your journey. Keep in mind though it will often take longer to get to your destination as you will pick up/ drop off other passengers along the way. Also, consider your luggage size and the possibility that it may not fit in the boot, especially if you get picked up last.
When booking with Uber or Lyft, always select on the map where to get picked up from and think about the direction of the traffic. Consider where your pick up location is first before booking as some hotels will only have certain areas that they allow for you to be picked up from.
Also, keep in mind that some airport locations don't use Uber because they want to stay loyal to the taxi and shuttle service. I always ask the customer service desk at the airport as they will let you know and give you the best advice about your travel options.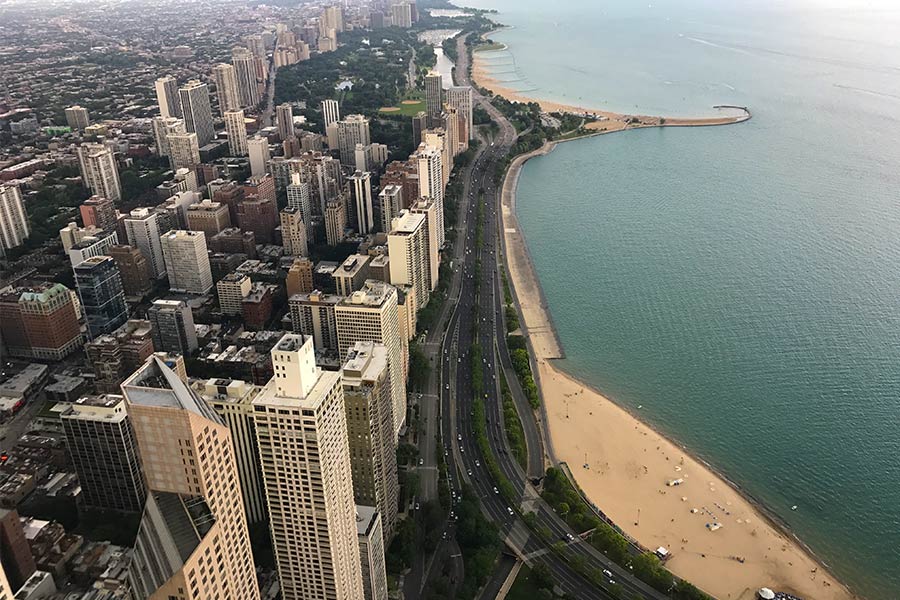 Looking down at all the Uber drivers from the John Hancock Center in Chicago. 
Money & Tipping
How much should you tip?
In terms of tipping for service – 20% is polite, 15% is okay and 10% is rude. Nothing at all is a real slap in the face, even if you think the service was poor. You are not obliged to tip if you think the service was terrible but you may find walking out the door to be very awkward.
Tips are a custom that are given to service-related workers, such as taxi drivers, waiters, tour guides, massage therapists and ski instructors. Workers in retail, such as clothing stores, do not need to be tipped. Here are some services that you may ask how to tip for…
USA Tipping guide:
Bag Porter – $1-2 per bag.
Bartenders /Casino drink servers – $1-2 per drink.
Gas Stations – No tipping required. You may tip the pump attendant if they fill your gas when there is also a self-serve option. Or, you may want to tip them $1-2 if they check your oil or help you with directions, or it's boiling outside or freezing cold. More of a courtesy really.
Hairdressers/ Barbers – $5-$10 per head.
Hotel housekeeping – $2-3 per night in medium to high-end hotels (per couple).
Supermarkets – No tip required. $1-2 per bag if someone helps you to your car though.
Uber – No tipping required. You can tip through the app if you want to though.
Valet parking – $2-5 when picking up your car.
Australians are known for not tipping well in America, but you also don't want to tip more because they simply suggest you do. This is a common theme with tour guides. Stick with 15-20% as a rule of thumb, plus my suggested tips above, and you'll be set for your stay.
Hot tip! Make sure you get plenty of $1 notes when transferring your cash before you go. It's always awkward giving the taxi driver a $10 'tip' and asking for $8 worth of change.
Food prices don't include tax
Food prices generally don't include tax. Each state is different, so the amount will change depending on where you are.
Be warned because at first, it may seem as though you're getting a great deal when looking over the menu, so to get a realistic idea of how much your meal will cost, add tax (could be over 9%) and how much you'll tip and that will answer the cost of your meal. This is particularly useful when going to fancier restaurants if you choose to.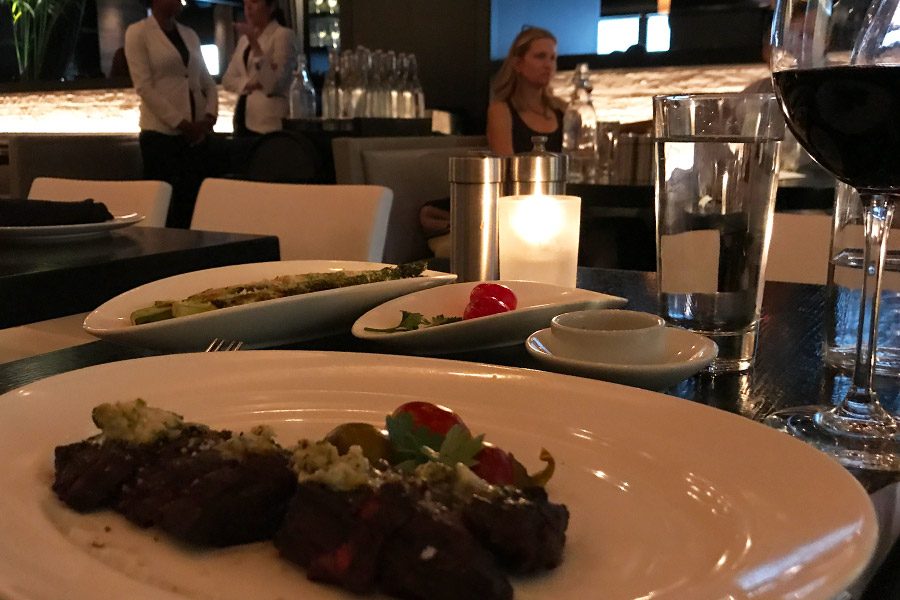 When it comes to tipping, 15-20% is what's considered polite. 
ATM limits in the US
You can only withdraw up to $500USD at most American ATMs, but if you wish to withdraw more, you need to bring your passport to a bank for them to organise with your card. Be mindful of the fees you will likely incur when using your card before you go, so you don't get an unexpected transaction charge from your bank.
Carrying cash
There are seven denominations of United States currency, which comes in $100 (also known as a 'Benjamin Franklin'), $50, $20, $10, $5, $2 and $1 dollar banknotes. The coins available include $1, 50c (rare coin to see), 25c (quarter), 10c (dime), 5c (nickel) and 1c (penny). The banknotes are made of paper so try not to scrunch them up too much or keep them in your pockets… you may accidentally wash them.
Always carry smaller bills with you when going to everyday places in the United States. I tried to buy an $8 meal from Starbucks once with a $100 bill and was turned down because it was too large. When getting your money exchanged, request smaller bills. Often, money exchange companies will give you larger bills because it is easier to count and exchange over to you.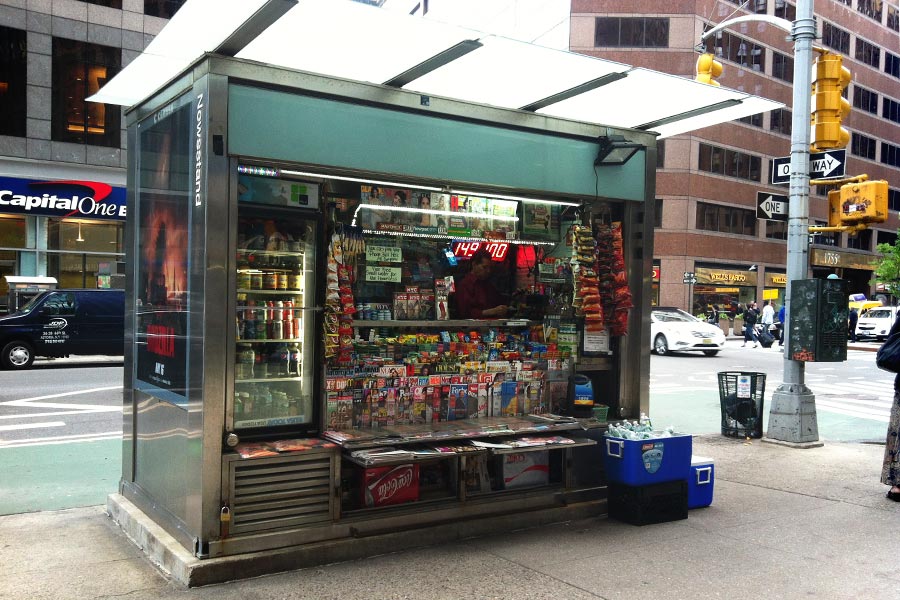 Carry small change with you, especially for street vendors. 
Deposits on hotel rooms
When checking into your hotel, you will likely have to put a deposit down. This can be fantastic if you want to use the credit to buy food, drinks or services in the hotel and just assign it to your room. Usually, the hotel is taking your money in case you don't pay for things or you trash your room.
Beware of hotel deposits when travelling on a shoestring! They'll getcha! I was checking into a hotel for 3 nights and they wanted to take out $600! And, this wasn't including the cost of my room. It was at the end of my trip, so I didn't have a lot of cash on me. I managed to negotiate down to a $300 deposit. Still a chunk considering that's US dollars!
It took 10 business days to see the money back in my bank account after. It's worth noting to keep a deposit stash of money aside if you've only got a debit card, especially if you're going to a bunch of hotels in a short period of time over there.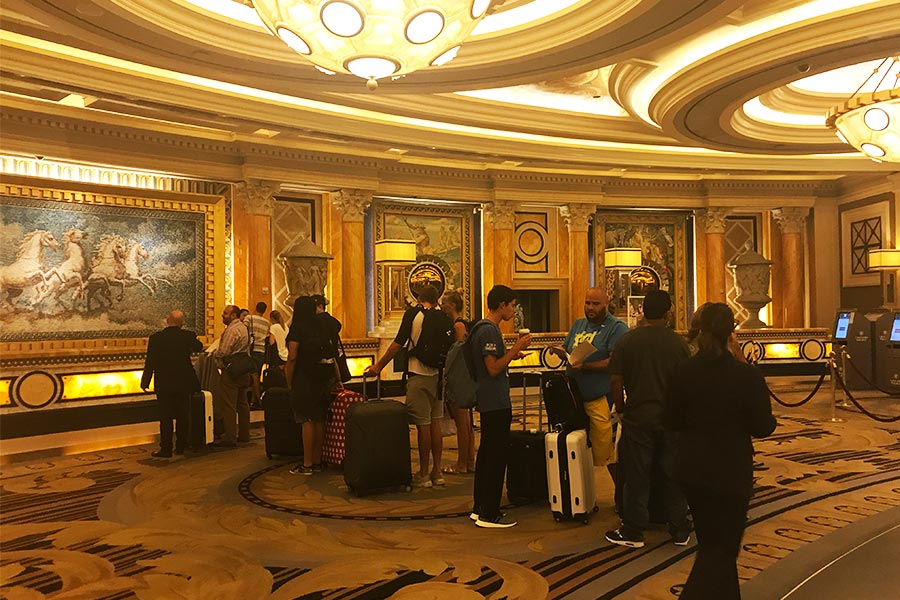 Put aside some money for a deposit when staying consecutively in hotels. 
The best time to exchange your cash
Compare rates between money exchange companies to give you the best deal. This is particularly useful if they are in close proximity to each other. Another good option is to order your US money ahead of time, before your trip. You can do this over the phone and request exactly what you need (20 x $10 banknotes, etc.).
If they don't have the notes at the location, then at least they can order it in and save you a trip down there. Often there is one person working at these booths so expect to wait when rocking up to collect.
Food & Drink
Beware of food serving sizes
Food servings are usually ginormous, so keep in mind that most restaurants can offer you a doggy bag if you don't finish your meal. Great to pop in your hotel or communal hostel fridge for a snack later on, or a meal for the next day.
A small meal at McDonald's is like a large-sized one here. Be warned because you will be regretting it when you have a food coma shortly after.
The fast-food menus are different
If you love KFC in Australia, it is completely different over in the states. I don't mean it's bad, I just mean if you're hanging out for a Zinger burger you won't likely find one there. The same goes for Wendy's.
So, even if food chains have the same name as in Australia, they likely have a completely different menu. This can sometimes be the case even for places like McDonald's and Burger King (aka Hungry Jacks).
What to expect with differences in food
Terms like biscuits are not cookies over there, they're more like a scone over here. Capsicum is a non-existent term, they are referred to as bell peppers, which is good to know when ordering at a Subway restaurant. Lemonade is not like Australian lemonade. It's a non-bubbly sugary lemon drink, so if you're after an Australian lemonade, ask for a Sprite or 7UP instead.
Tomato sauce is referred to as Ketchup. If you're in Chicago, whatever you do, don't ask for tomato sauce on your Chicago hot dog! They will laugh at you! You may hear about the term, s'mores, which are referred to as 'some mores'. They're a great treat for around the campsite.
Cheese can look kind of orange in the States. This is common but can be weird to notice at first considering most cheeses in Australia are yellowish or white. If you see orange cheese, it usually means it's been dyed. Traditionally, orange cheese was considered to be more authentic cheese to the consumer. Long story short – not to worry, it's still cheese and tastes amazing as per other cheeses at home.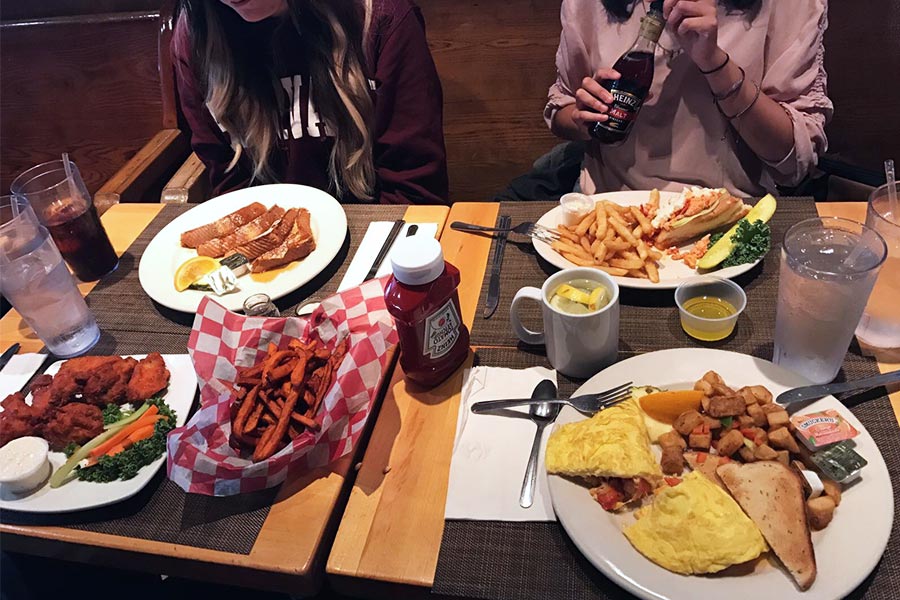 Expect huge meals, and free soft drink refills in the States!
Nutritional info on meals in restaurants
In the USA, most restaurants, particularly chains, will have nutritional information on the menu. This is superb if you're looking for something that is lower calorie/kilojoule, especially if you've been gorging yourself.
Here's a hot tip, most Cheesecake Factory restaurants (they don't just have cake) have a SkinnyLicious® menu. These meals are calorie conscious and I believe are just as tasty. Plus, you will likely feel more energised after eating rather than feel like you want to head back to your accommodation and nap.
Beverages
Most places where you can get a drink, like a bar or a club, don't monitor their alcohol pouring. You'll find the drinks to be a lot stronger. So, bear this in mind particularly when you're driving or if you wonder why your head hurts so much the next day.
Coke Zero is quite big in Australia, so I found it unusual that they don't usually have it in American restaurants when I was there. Diet Coke is your next best option.
You will be surprised at how many extra soft drinks they have over in the States, like Pepsi with cherry flavour. The names are slightly different, so if you're after a Pepsi Max, it is often called Pepsi Light or Diet Pepsi.
Hot tea is not a common drink in the US but iced tea is. And, it isn't a cold version of a savoury hot tea but a sugary drink that can be quite refreshing. Keep a lookout for them at most restaurants and 7-Elevens.
Top places I would go to for food in the States are: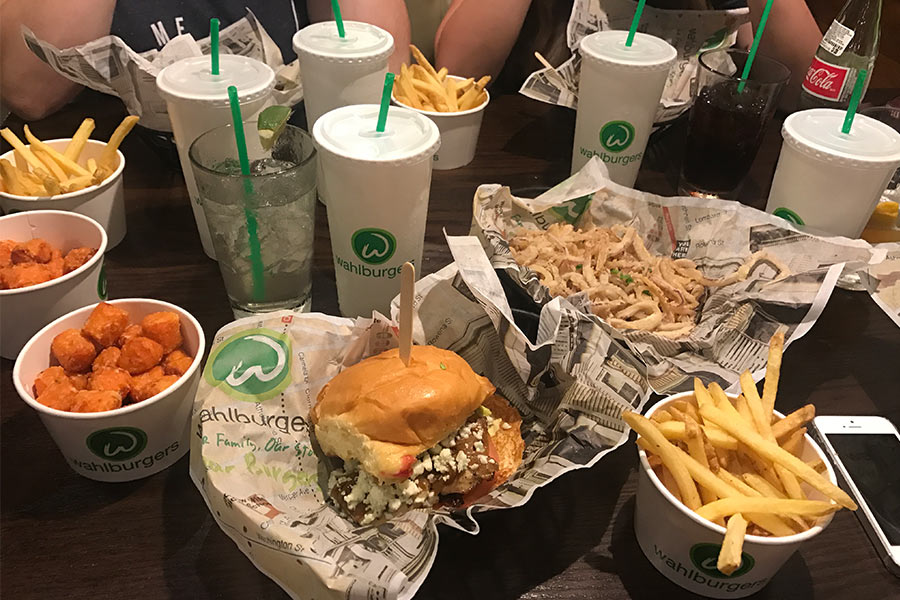 The Thanksgiving burger at Wahlburgers in Boston is not to be missed – delicious!
Identification for bars and clubs
If you're up for a bit of dancing or want to check out the club scene, expect to be patted down and have your passport scanned. Your Australian Driver's license doesn't cut it because it is not a known ID to them and could easily be faked.
You won't be allowed in with a backpack either, so I wouldn't even try if you have one with you, to be honest. This may seem frustrating, but it will give you peace of mind knowing that you're in a safe haven inside as everyone is held to the same security standards.
Check off those once in a lifetime experiences
Travelling anywhere can give you the opportunity to do things you wouldn't normally do in your everyday life. Experience that high thrill ride 'Tilt' in Chicago or take that helicopter flight to the Grand Canyon at Sunset.
I am a nervous flyer, but the Grand Canyon flight was one of the most breathtaking experiences I've ever had, and I felt like such a thrill-seeker after tilting 1000 feet down towards the magnificent mile in Chicago. I was so happy that I pushed myself to just give them a go. As cheesy as the saying goes – YOLO!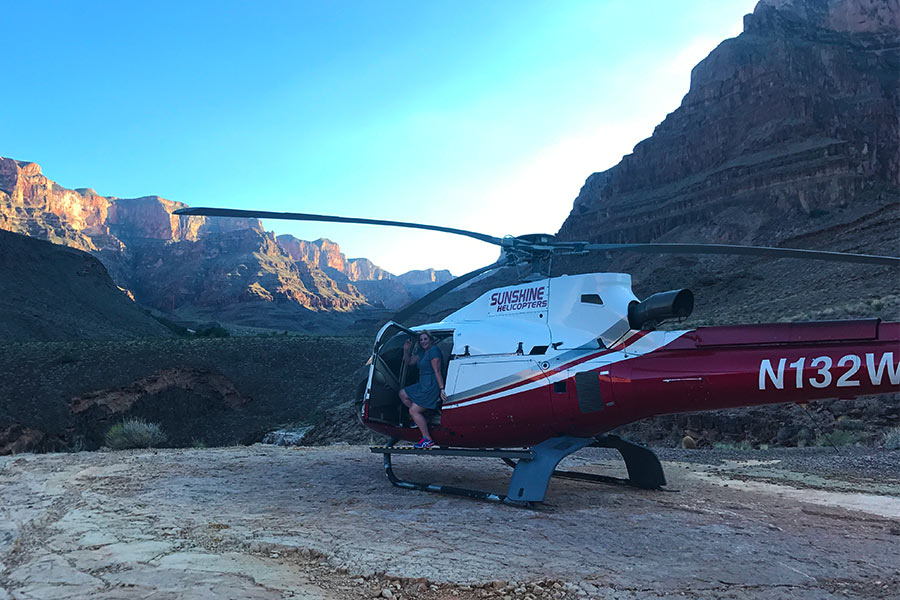 The helicopter flight I took across the Grand Canyon was an unbelievable experience. 
Use WIFI hotspots
There are hundreds of free WIFI hotspots across America if you want to take a squiz. Usually, hotels offer free WIFI but check when booking beforehand.
Never access your banking or personal information when accessing unsecured free WIFI. You never know who can access your information and you can set yourself up to be hacked.
Download Netflix shows before going to the airport. The WIFI isn't great so you wouldn't want to find your show hasn't downloaded before boarding!
Take a power board and adaptor
Take a power board and a travel adaptor suitable for the States. This way you can plug multiple Australian cords in without having to buy separate adaptors. Also, there are two styles of US adaptors available out there (one with the earth connection and one without), so be aware as to which one you need for your appliances and keep in mind that some places in the States will only have two-pin power access in the wall.
US voltage is lower than what we have in Australia. This will explain why your Australian hair dryer may be less powerful than normally at home.
Storing your luggage before a flight
If you've realised that you need to check out of your Airbnb early but don't have a flight until later on – find a hotel where they have a baggage storage room and say you're just checking out. Sometimes if you're lucky, they will take your name down and hold them for you. If this doesn't work, you still have the option of storing at a paid locker at a train station.
Getting talk show tickets
If you love American TV shows, particularly talk shows, check online what you want to see and put in a request for audience tickets way ahead of time. Just make sure they're in the city you're going to as most are either on the west or east side of America. Do this in advance and leave the days you want to see the show open to give you more of a chance. Be mindful that most shows will go on hiatus during summer (June to August).
All tickets are free, so if they don't fill up for the day, they give out tickets on the street. My brother and I managed to score tickets to 'The Late Late Show with Craig Ferguson' back in 2014 as we were approached on Hollywood Blvd. You have to forfeit your phone though, but it is quite an experience to see the set and you might catch a free t-shirt!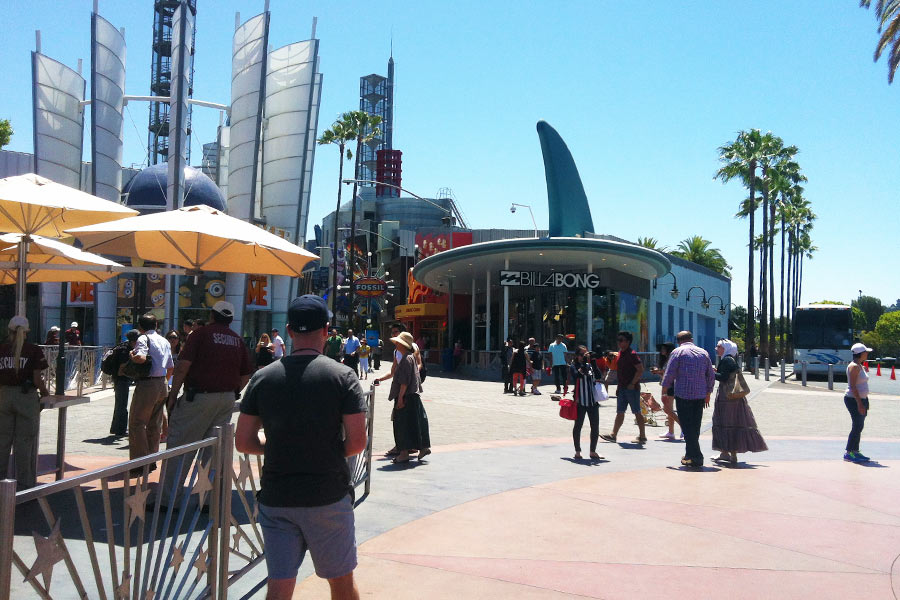 You gotta go to Universal Studios Hollywood if you're a film buff like me. 
Themeparks
There are lots of theme parks in the States, all offering a different experience. My top parks are Disneyland, Six Flags and Universal Studios. So, have a look into what experience you're after, and choose wisely depending on who you're travelling with. If you go to Six flags with children under the rollercoaster height limit, they will not be able to participate which can put a dampener on the day.
Pharmacies are like mini-supermarkets
Always be on the lookout for a CVS pharmacy or a Walgreens. They have an array of snacks and everything you need just like supermarkets, but with the disguise of a name that sounds less accurate for a supermarket.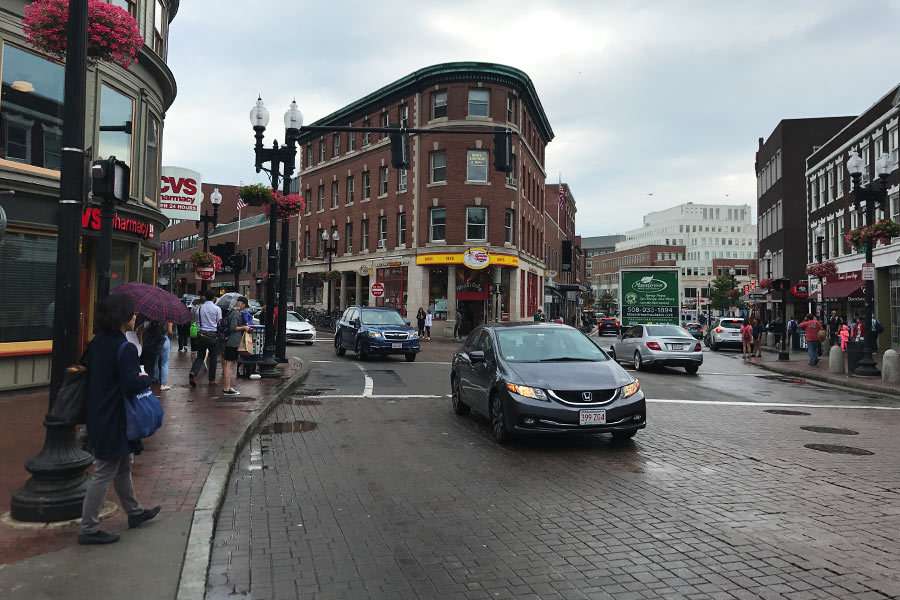 If you need a snack or drink, a pharmacy is like a mini supermarket, which is super handy. 
Shopping
If you're a person that loves makeup, you will want to check out the options available in the United States. There is a diverse range but most importantly, it's a lot cheaper! Say it with me…Sephora, Sephora, Sephora!
If you love a good sports cap like me, look out for the authentic merchandise at places, like Lids. They have different styles, including men's and women's, and different sizes (even in width) depending on what you're after. You can even have them customised with your name if you'd like as well.
Claiming GST back on goods
If you buy goods in the 60 days leading up to a trip and they equal $300AUD or more, including GST, you can claim your 10% GST back at an Australian international airport if you're taking the goods with you in your carry-on. For more information, head to The Tourist Refund Scheme (TRS).
I bought a pair of Bose noise-cancelling headphones, which meant I could claim $50 back in tax. Unfortunately, I didn't make it in time to claim my refund because the line was too long. I'd suggest getting there between 2-4 hours earlier before your flight if you want to claim. Well, that's if you don't want to lose out on $$$ like I did.
Tourists hotspots
If you love the States, there is no doubt millions of other people around the world do too. So, no matter what the season, expect to be surrounded by many people, particularly in tourist spots. I was shocked when visiting Waikiki beach to find I had to scramble for an area that was more than 2 metres away from someone else.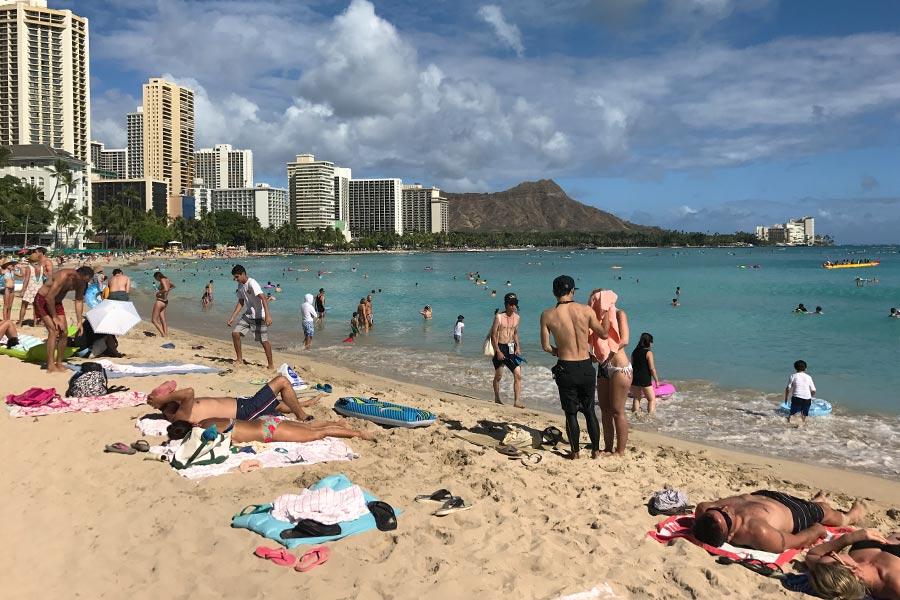 Be prepared for the crowds wherever you go in the US.
Using the toilets/bathrooms
I'm afraid to say it, but the toilets I've seen don't flush the other way to us. They suck down in one go. If you notice that there's no handle on your toilet, finish doing your business, stand up, and in a couple of seconds, it will flush. Also, don't be alarmed that the bathroom doors have a large crack in between the door and the stall. You get used to it after a while, especially if you ignore it.
If you want to use a toilet while out, particularly in populated areas, you will likely need to buy something to get the code for access to the toilet. Often it will be at the bottom of your receipt. This is to deter people from just coming in just to use the bathroom, particularly at places like McDonalds and Starbucks.
Also, the polite way to ask where the toilet is in the US is to ask where the 'bathroom' or 'restroom' is. These mean the same thing but 'restroom' is used more frequently in restaurants, malls, bars and public places.
So, there you have it, these are all of my best tips and advice for travelling to the states. Whether you're still planning your trip, or you're about to set off on your adventure – safe travels and we hope to see ya'll back here real soon now, ya hear?
If you've been to America, what was your favourite experience when you were travelling there? 
About the writer...
Joined back in March, 2017