Road trips with young kids can be daunting, and it only takes a couple of poorly planned getaways to put you off forever! Here are our some of my best tips for road tripping with young kids. I hope these make your long drives easier and a lot more enjoyable.
Be prepared for the drive
Kids get bored easily, so make sure you pack a variety of toys and games to keep them entertained. Preferably toys that don't make noise and that don't have any loose pieces, otherwise you will be picking them up every time they are dropped.
Some good examples are sticker and activity books, toy cars, dolls, colouring-in pages, and an etch-a-sketch. Before we leave home, we download new movies and educational games onto an iPad. This iPad is strictly used for long drives and has been a lifesaver with a 2-year-old!
It's also good to have towels, swimmers and warm clothes handy. The beach is a great place to stop for a refreshing swim if you are driving along the coastline.
And, if you are travelling from day into night, it's important to have warm clothes within reach. On several occasions, we found ourselves rummaging through bags in the dark just trying to find a jumper, which isn't ideal.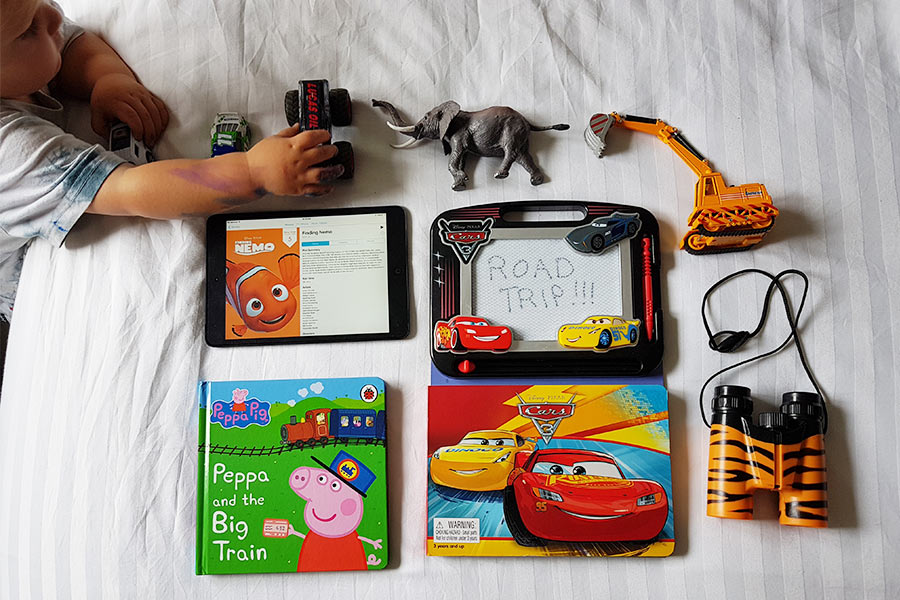 A variety of non-noisy toys are essential for long drives with a little one. 
Allow plenty of time
Kids find it hard to sit still for long periods of time, so make sure you allow plenty of time to stop at parks or playgrounds along the way. Stopping regularly will allow them to stretch their legs and run around. I would highly recommend travelling during their sleep times.
Most of our long drives are through the night, which means less stopping and less complaining. Remember, that long drives also take a toll on the driver so stopping frequently will give you a chance to refresh and relax too.
It's essential to have flexible plans when travelling with kids. By having an extra day up your sleeve, you can stop overnight if needed without any repercussions.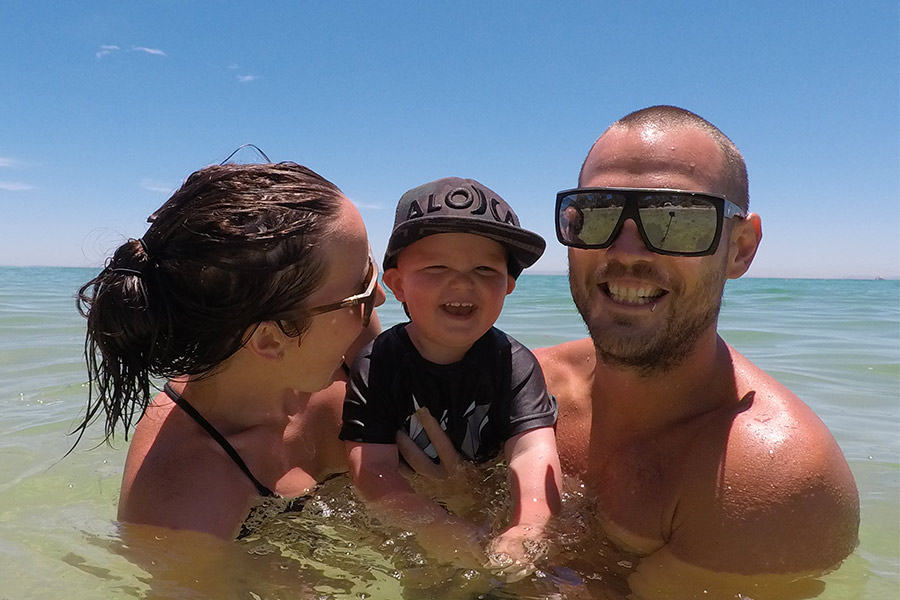 Set aside time to stop along the way to take a break.
Plan meals and snacks
Pack plenty of water and healthy snacks that are easy for kids to eat in the car, such as carrot sticks, trail mix, popcorn, dried fruit, muesli bars, yoghurt pouches and fruit.
I would recommend buying a double insulated bottle for each family member (I bought mine really cheaply, and they work a treat). You can refill your bottles using tap water or with a 10-litre water container from a supermarket.
Before doing a grocery shop, write down a list of snacks and meal ideas. Make sure the meals are quick and easy, as this will save room in your fridge and also reduce wastage.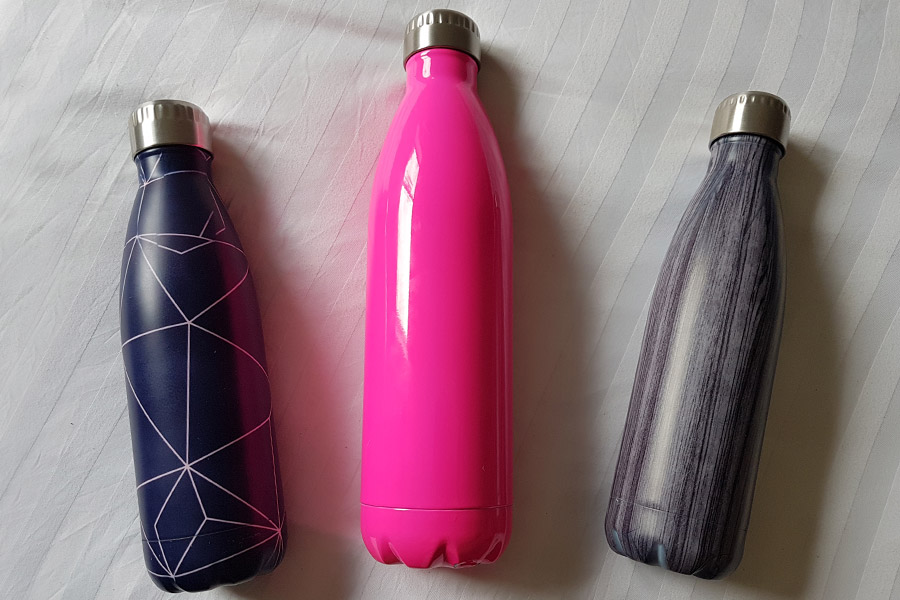 Put your water in a double insulated bottle to keep it cool for as long as possible. 
Simple Meal Ideas
Breakfast:
Cereal + milk (Coconut + Cranberry Weetbix blends are our favourites. Chop up some banana and strawberries to throw on top)
Yoghurt + fruit +/or muesli (Tamar Valley yoghurt pouches are a great healthy option for kids and can also be used as snacks for the drive)
Lunch:
Wholemeal sandwiches or wraps (peanut butter + honey, vegemite + cheese, BBQ chicken + avocado, etc.)
Dinner:
Ravioli (add pesto or tomato base premade pasta sauces)
Wholemeal rolls or wraps (add steak, chicken, falafels or sausage, etc. + salad + cheese)
Snacks:
Carrot + cucumber sticks, dips, breadsticks, nuts + trail mix, rice crackers, plain popcorn, individually wrapped cheese, dried fruits, muesli bars, yoghurt pouches and fruit (grapes, apples and bananas are great).
Also, don't forget to pack plenty of water as well.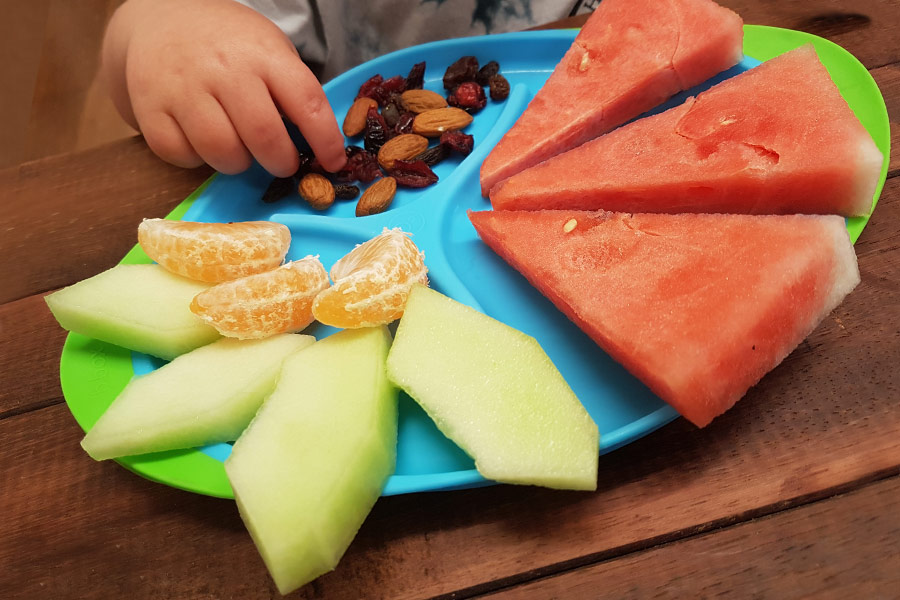 Meal planning will save you heaps of time and effort in advance. 
Expect the unexpected
If you get stuck on an isolated 4WD track in the blistering sun, it can be really hard to find enough shade to keep your little ones cool. Always make sure that you have sunblock, water, hats, and a shelter (such as a quick-shade, car awning or umbrella).
Or, if you're stuck for so long that it becomes dark and cold, then you'll want to make sure that you have warm clothes, blankets and closed shoes. I can't stress how important it is to be prepared for these moments.
You might not be able to predict what will happen on the road, but you can be prepared for it. 
Invest in a comfy car seat
Young kids don't enjoy sitting still for long, let alone also being strapped in. If you plan on spending lots of time travelling in the car, I would highly recommend doing your research and finding the perfect car seat. You want your kids to be comfy enough that they are able to fall asleep if they need to.
We purchased a convertible 0-4 car seat for my son which cost $250 and will last until he is 4 years old. It has been worth every cent.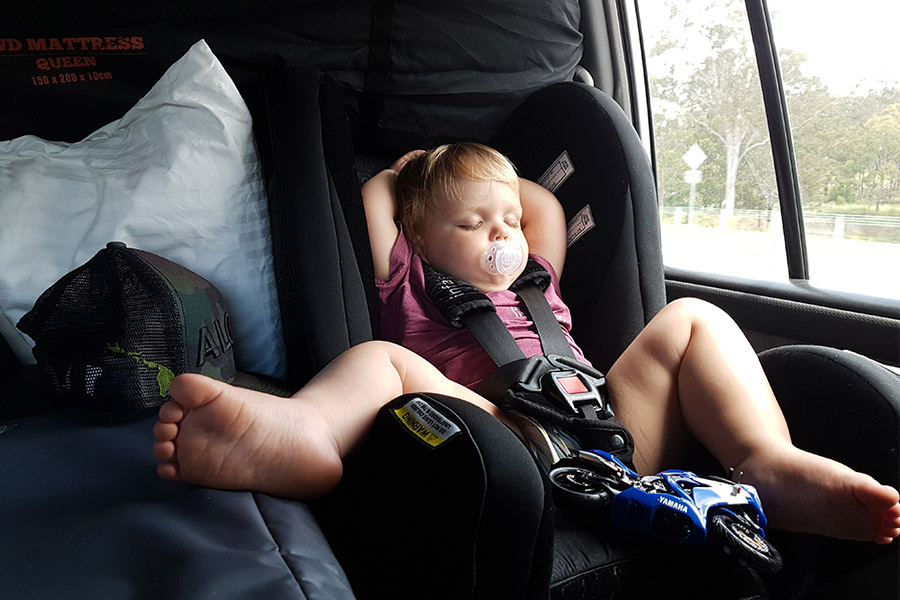 A comfortable car seat is one of the best investment for travelling with a young child. 
Include the kids
Kids love to help out! Try to include them in everything, from packing the car to setting up the tent. It may take twice as long but there won't be anywhere near as much complaining from boredom.
Explain to kids why you do things a certain way so they can learn while they're helping. Don't forget to acknowledge their efforts so that they feel a sense of accomplishment and will happily help again next time.
Long drives are a lot more challenging with kids than without them. Just remember, it doesn't matter where you are, it's who you have beside you that matters.
What's your best advice for taking kids on a road trip? Let us know in the comments! 
About the writer...
Joined back in January, 2018