Keeping your weight down and creating a more efficient setup will elevate your trips, making them more enjoyable and safer!
In this episode of the Snowys Camping Show, our outdoor experts Lauren and Ben, talk you through roof racks, weight allowance, interior storage solutions and how to best pack your car. They also chat about multi-purpose gear and a whole lot more, so check it out below for all the details.
Listen to the full episode here:
Or, you can watch the video version here:
Time stamps:
00:00 – Intro
02:44 – Kerb weight and GVM
06:01 – Roof loadings
07:42 – On road vs off road rating
08:46 – Minimising weight
09:54 – Safety for other road users
11:24 – Packing your weight low
12:00 – Lighter, easier to pack options for carrying water
12:16 – Shelves vs drawers and weight
13:00 – Do you need to carry a second spare tyre?
12:35 – Everything you take should have 2 uses
14:13 – Why Ben doesn't bring an icebox
15:20 – Accessibility & using all the nooks and crannies
15:50 – Trailers and towing
18:00 – Camper trailers
Links to things mentioned in this episode:
Why is weight so important?
It's so important that you know the GVM of your vehicle. This is the Gross Vehicle Mass or the maximum weight of your vehcile once it is loaded. Check your vehicle manual to find this out.
The payload is what your vehicle can carry – to find out what this is, deduct your kerb mass from the GVM. Kerb mass is the weight of your empty vehicle with a full tank of fuel and no extra accessories.
If you are overweight, then your vehicle is going to be unsafe and illegal. For more info, check out this article here.
Don't overload your roof!
You will need to check the following and make sure you are within the limits of what you are able to carry:
Your vehicle's roof weight capacity
Roof rack on-road weight
Roof rack OFF-road weight
Contact your roof rack manufacturer if you are unsure of anything, and always get your roof rack installed by a qualified professional.
Weight distribution
Heavier items should always be stored lower and need to be secured down for safety in case they are mobilised.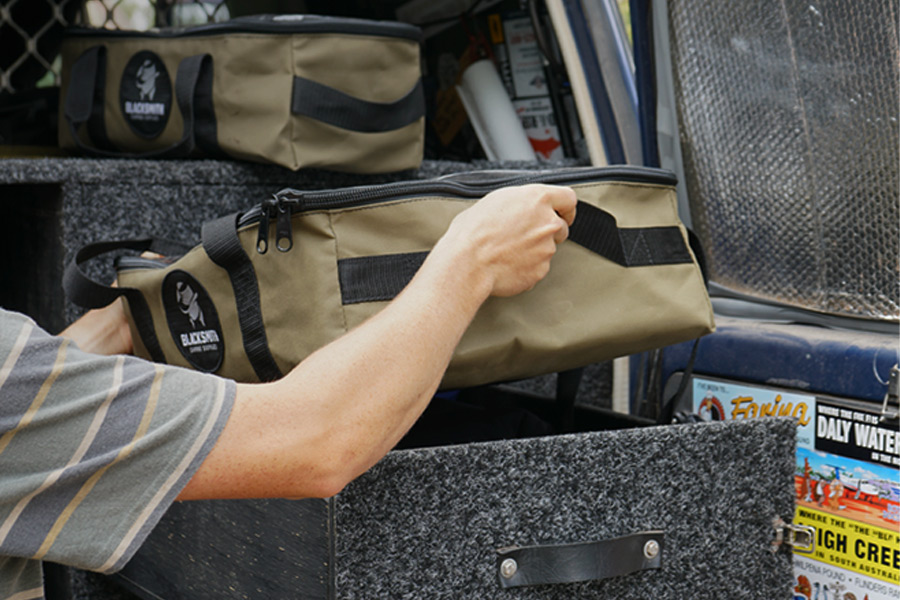 Packing your vehicle safely should be a huge priority for campers. Image: Blacksmith Camping Supplies.
Accessibility
This is key when it comes to your essential and most used items, as you don't want to be rummaging around every time you need to access key pieces of gear. Spare parts and other lesser used items can be packed in first, with your first aid kit, 4WD recovery gear, table and food last as that's what you'll need easy access to in emergencies and for quick stopovers.
Drawers, tubs & bags
Use your wheel bag to store rubbish or other dirty gear you don't want inside your vehicle, which also frees up space in your car for other essentials. Keep in mind that getting drawers installed in your vehicle, adds extra weight in itself which might not work for you. In terms of other storage, tubs or crates and drawer bags will come in handy for organising the interior of your car.
Be on the lookout for lighter options
Keep your eyes out for options to cut a few kilos here and there from your set up. For example, instead of using jerry cans which can be a bit bulky, fill up some soft water cells. These are lighter and pack flat when they're empty, so they don't take up as much space.
Dual purpose gear is your friend
Aside from essentials such as safety gear and water, focus on dual purpose gear. A great example of this is a tarp, which can be used as an awning, picnic blanket, groundsheet, and more. Taking a metal bucket is another option that can be used to heat up water for cleaning and washing, as well as for fire management. If you keep this in mind, you'll find it easier to reduce clutter from your set up.
Make your set up (safely) work for you
At the end of the day, everyone has different needs and styles of camping, so there is no magic formula for a perfect setup. So long as you do your research when it comes to weight and prioritise your safety, then you'll have peace of mind during your trips away.
Thanks for listening, tune in again for next week's episode!
Thanks for tuning in to this week's episode of the Snowys Podcast. Don't forget to subscribe to us on YouTube, Spotify, iTunes, Amazon Music, iHeartRadio, Pocket Casts, or Stitcher so you never miss an upload.
If you have any questions for Ben and Lauren, make sure you head over to our Facebook group and let us know as we'd love to hear from you.
Catch you out there!
About the writer...
When it comes to camping, hiking, travel and adventure – the Snowys team have all the expert advice, guides, and tips on everything outdoors.
Joined back in October, 2015