Courage. Endurance. Mateship. Sacrifice. Engraved upon the four pillars that stand at the memorial site near the village of Isurava, it's these values that the Kokoda Track symbolises for many Australians.
Equal parts a physical and mental challenge, it's also somewhat of a spiritual pilgrimage, honouring the personal sacrifices of the diggers who fought a bloody campaign here over 75 years ago, as you follow in their footsteps.
Where in Papua New Guinea is the Kokoda Track?
The network of native walking tracks that make up the 'Kokoda Track' stretch from coast to coast. The section most popular for adventurous souls to tackle stretches 96km over the Owen Stanley Range, between the village of Kokoda and Owers' Corner. Owers' Corner is some 50km or so east of Port Moresby, and accessible via road.
It would not be considered a long hike in terms of straight distance, however, to assume that this means it's an easy trek is naïve, to say the least! The Track takes you through some incredibly treacherous and isolated terrain, as you cross the saw-toothed mountains.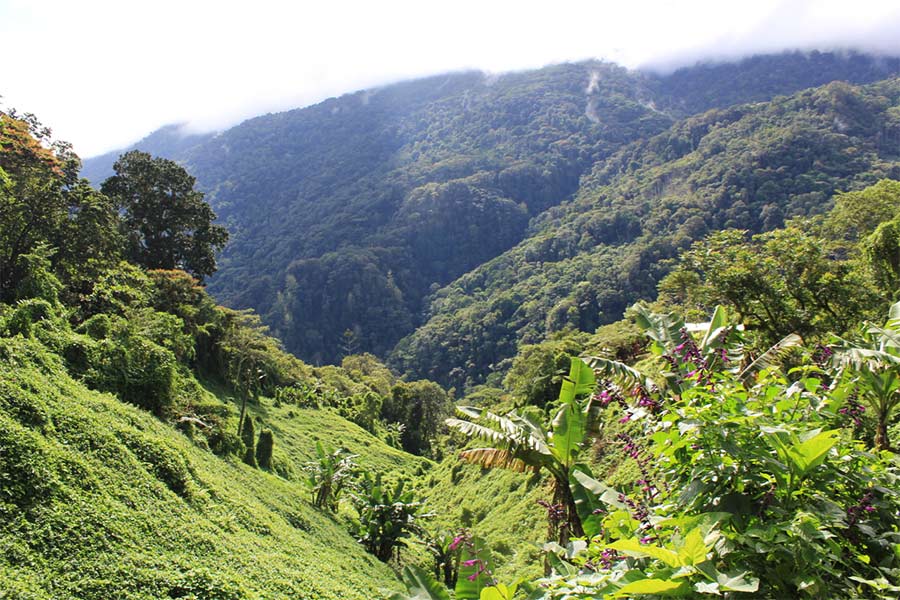 The Kokoda track stretches from coast to coast. Photo: Daniel Milne 
How long is the trek?
As far as time is concerned, most trekking companies allow 8-9 days to cover the distance, and this breaks down to roughly 7-8 hours hiking a day.
The tour we booked through Adventure Kokoda was 8 days in total, travelling North to South, Kokoda to Owers' Corner.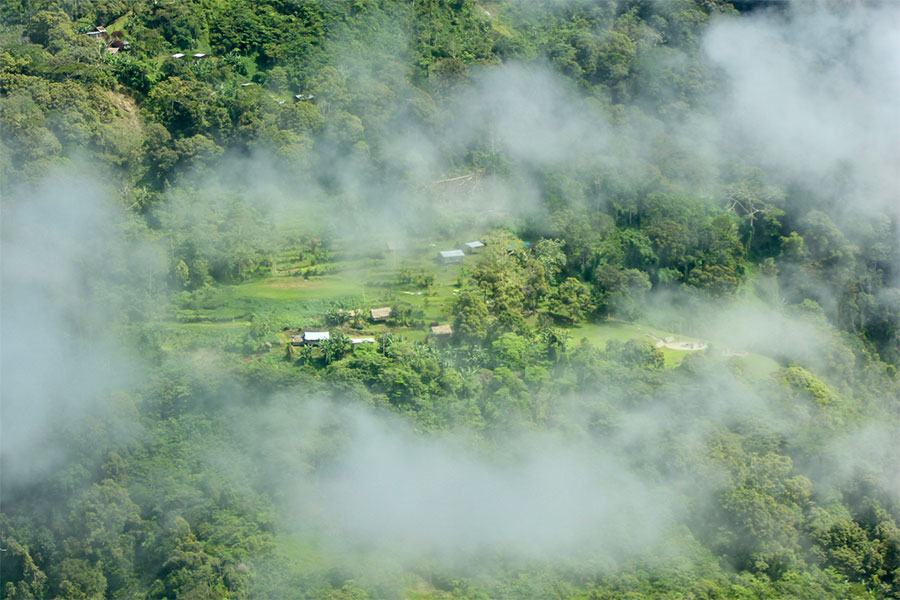 The view as you fly over the Owen Stanley Range, whilst stunning, also gives you a good idea of the steep terrain you're in for! Photo: Daniel Milne
How do you get there?
If you're uncomfortable with flying then Kokoda isn't for you, as there is a 40-minute flight between Kokoda and Port Moresby, regardless of which direction you hike.
Your only safe option is to head from Owers' Corner to Kokoda, then turn around when you get there and walk back! By the time you arrive in Kokoda though, I can guarantee the flight will seem the better prospect!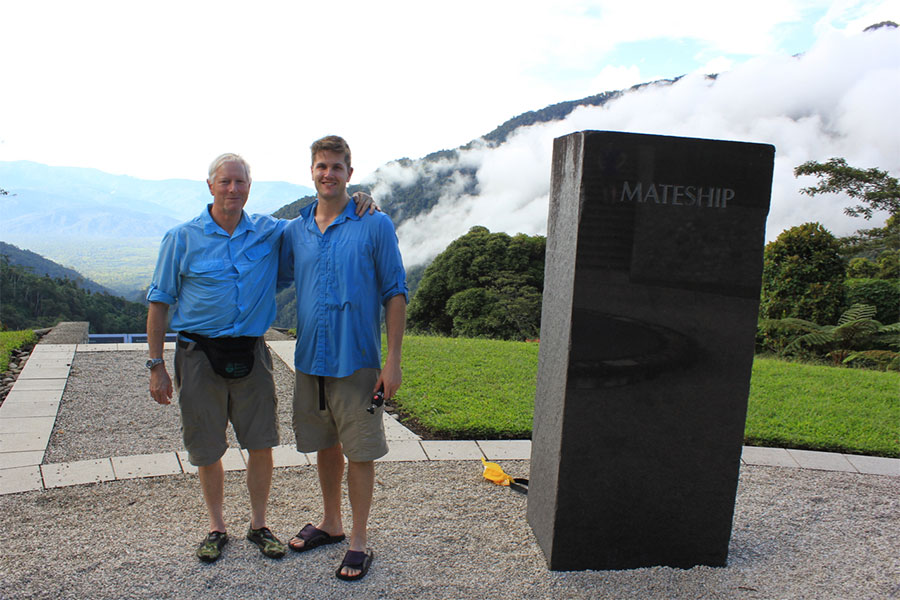 Walking the Kokoda Track with my father is something we have spoken about for nearly a decade. It was a wonderful experience to share with him. Photo: Daniel Milne
Why Kokoda?
The allure of Kokoda lies not only in the obvious challenges of getting yourself from one end to the other, but also in the rich war history that, like the shrouding mist that often rolls in of an afternoon, hangs heavy over the track.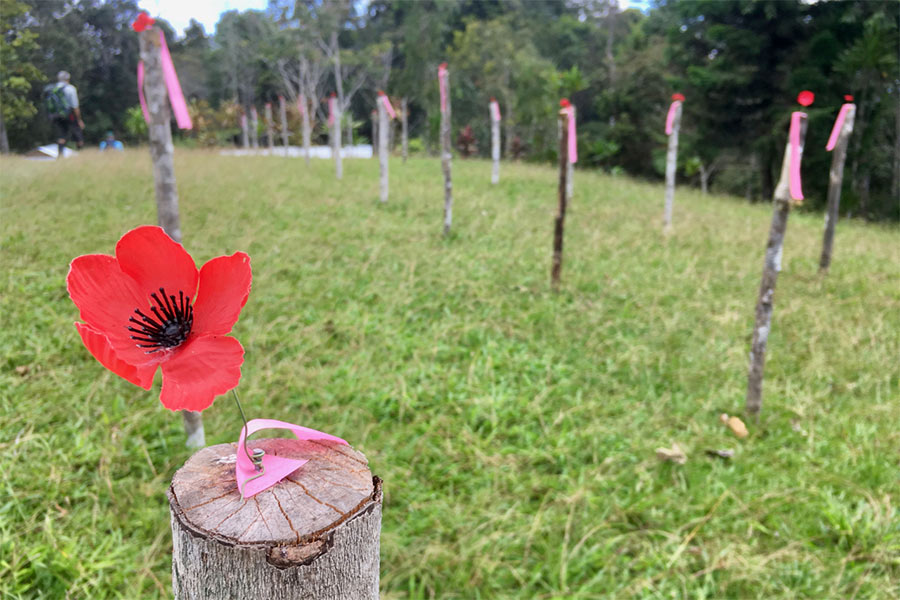 Brigade Hill, which we reached on day 5, is the site of a particularly bloody battle. The red poppies that adorn the stumps erected here in honour of the fallen soldiers, is a moving image.
For those interested in Australia's wartime history, the Kokoda campaign is considered by many to be up there with Gallipoli in terms of significance. For me, it's arguably of even greater importance though, being that:
It was fought so close to home soil
It involved both militia and AIF soldiers fighting side-by-side for the first time
This isn't the time or place for a history lesson, but even with a limited knowledge of the Kokoda campaign one can't help but be moved when you stand in the exact spot where battles raged over 75 years prior, and listen to the stories of the incredible bravery and heroism that shone through.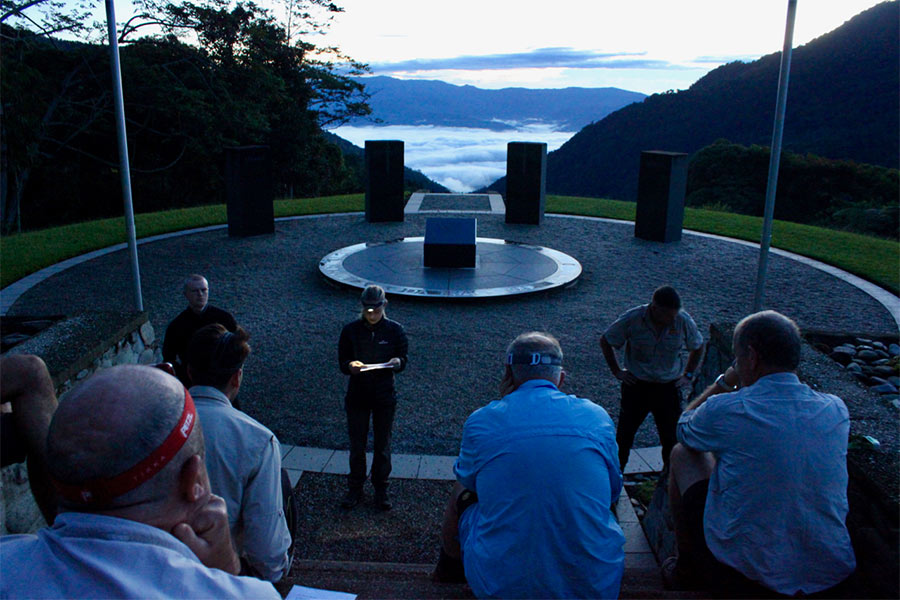 Dawn service at the Isurava memorial site –  simultaneously sobering and stirring. Photo: Daniel Milne
Training and preparation
Kokoda tests you in many surprising ways. In a group that ranged in age from 20 to 64 years old, there was not a single person in our cohort who did not have a moment that pushed them to their limit, and then beyond it.
Whilst you can train and prepare yourself to take on the distance and terrain of Kokoda, there are certain elements that are more difficult/impossible to simulate. You may have to contend with challenges such as:
Possible injury
Food poisoning or stomach upsets (which could, as in my personal experience, have you ducking off the track into the bush when suddenly caught short).
Quagmires of thick mud
The ever-oppressive, energy-sapping, drench-your-clothes-in-5-minutes humidity
10+ hour days on the track
Early starts (4 am), and hiking in the dark, with a head torch.
Social media withdrawal – an issue for Gen-Y and younger. With limited patches of reception along the track, and NO power available, your phone is only good for taking photos and using as an alarm – until the battery runs out!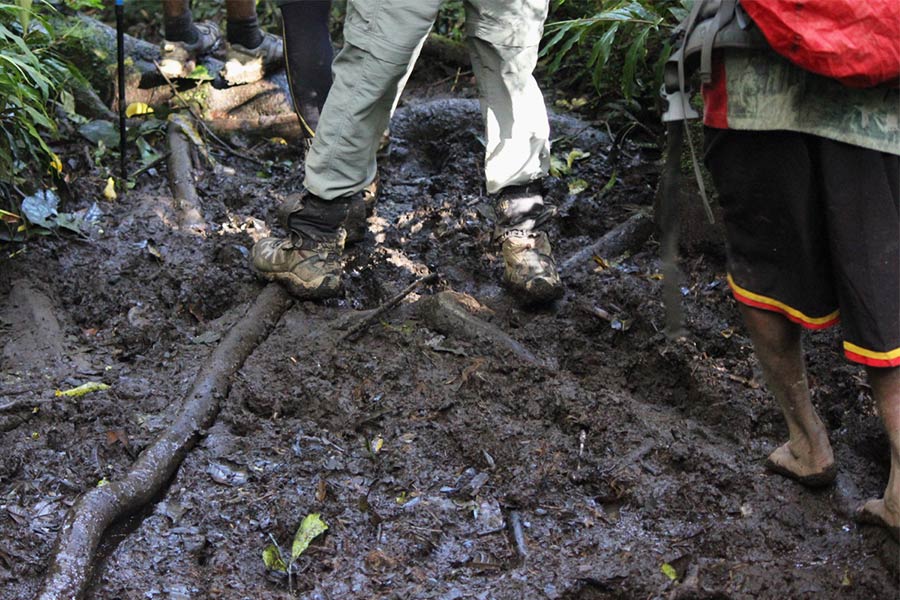 It wasn't easy to grip the thin logs strategically placed across the thick, ankle-deep quagmires of mud we often had to cross. Photo: Daniel Milne
Physical and mental stamina requirements for Kokoda
Kokoda requires a high level of stamina, both physically AND mentally. Of course the more fitness training and hiking you do in preparation, the better foundation you'll give yourself to handle any of these elements (phone withdrawal aside) if and when they arise.
You may potentially get away with limited training if you're a young person with above-average athleticism. As any sportsman will tell you, though, general fitness and MATCH fitness are two completely different things.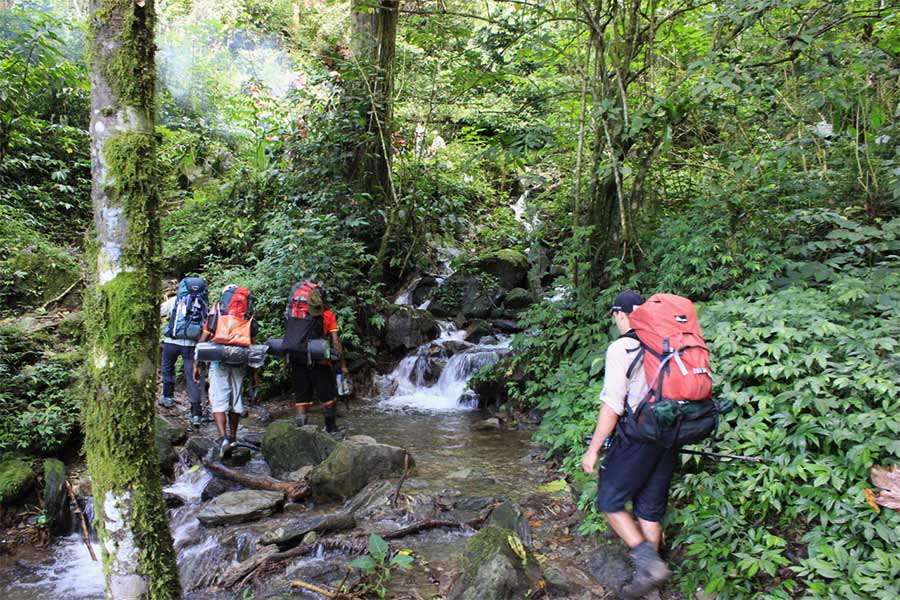 You've got to prepare for the physical and mental challenges of the track. Here's one of the tamer creek crossings. Photo: Daniel Milne
Training for the track
The best way to simulate the conditions on the track is with long multi-day hikes. The more days you can string together the better.
Getting time off work/escaping worldly responsibilities/etc. is easier said than done. You may, like us, have to settle for a few two-day weekend hikes to test out yourself and your gear. The guide given to us by our tour company suggested ensuring that you're walking a decent distance EVERY DAY (5-10km) in the last couple of weeks leading up to your trek, to really get the legs prepared for continual use!
Just walking isn't enough, though. The terrain along Kokoda is anything but flat – the gradient is always changing, and nearly always steep, so find yourself a way to simulate that. Long walks along the footpath through your neighbourhood won't cut it – you need to get climbing!
On a multi-day hike, you're going to be carrying a daypack or rucksack, so it's important to train WITH a rucksack, WITH weight in it! Going a bit heavier than you plan on carrying on the Track won't kill you, either!
The descents are often more treacherous than the climbs, and you've got to watch your footing in the slippery conditions. Those who had a carrier were grateful for the extra pair of hands following them, ever-ready to catch them when (not if) they slipped. Photo: Daniel Milne
Training for city dwellers
If you live in the city, as many of us do, and struggle to get out to the bush then fear not, for I have a simple training regime that is as follows:
Put on a daypack.
Find the largest set of stairs possible (ideally more than 80 flights).
Walk up said stairs.
Once at the top, turn around and come back down.
Repeat this process at least 20 times.
Congratulations, you are now prepared to take on a morning's hike on the Kokoda Track!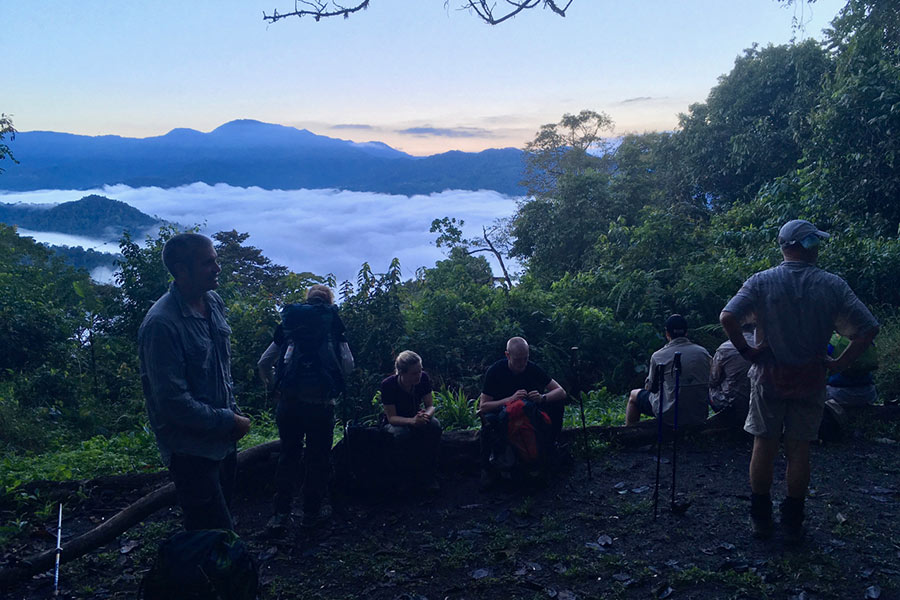 Time of shot: 6:35 am. We'd been trekking since 5 am, in the dark – the trade-off of which was getting to witness a pretty stunning sunrise. Photo: Daniel Milne 
Health and vaccination checks
Above and beyond getting your fitness up to scratch, it's important your vaccinations are in order. Whilst there are no vaccinations required for entry to PNG, the ones recommended to us were for Cholera, Typhoid and Hepatitis-A, as well as ensuring our tetanus shots were up to date.
On top of this, it's VITAL that you have anti-malaria medication. Doxycycline is a popular choice, however, a number of people have had adverse reactions to this. It's important to note that these reactions often only show up when the body is under stress – as it will be on the track!
My father and I opted for Larium, an alternative medication available via prescription. Though, it's best to discuss the options with your GP.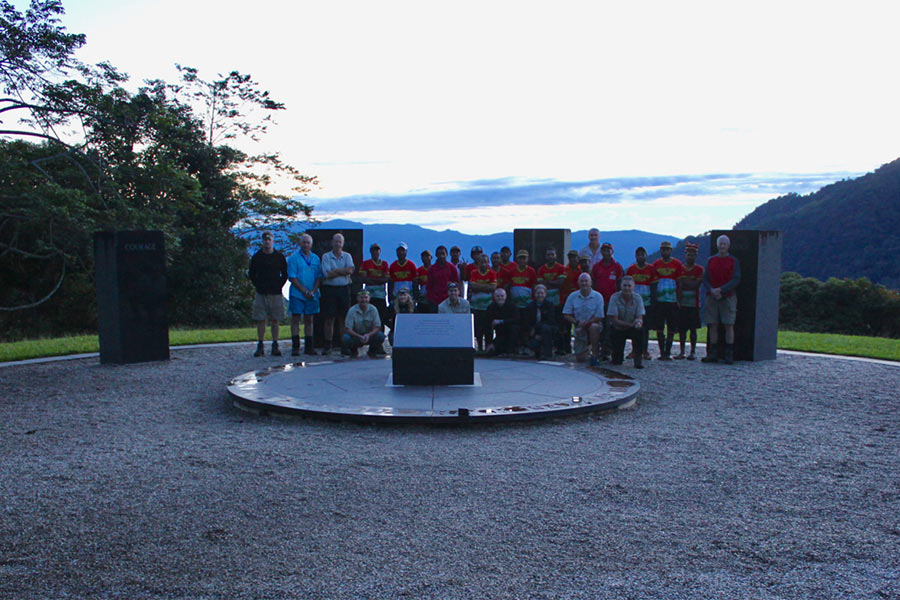 Our trekking cohort: 12 trekkers, and 18 crew – personal carriers, gear carriers, and food carriers, as well as a medic, head guide, and our trek leader, Bernie. Photo: Daniel Milne.
Tour guide or no tour guide?
There are many reputable companies that run treks along the Kokoda Track. While going with a trekking company may seem a more expensive option, the benefits far outweigh the costs. For us, the logistics of accommodation (both either end of the trek, as well as the campsite bookings), trekking permits, transfers, meals, etc., were all taken care of by Adventure Kokoda. In the months leading up to our trek, they sent us suggested physical training guidelines, as well as a planning guide covering the essentials.
On the track, having someone, as experienced as our trek leader Bernie (with 44 treks under his belt), put our collective mind at ease when it came to how we were fairing each day, whether we needed to pick up the pace, etc. Bernie was also a wealth of knowledge about the WWII history side of things, and we had daily 'battle briefings' about what battles took place at each location, etc. This gave us a much deeper appreciation for it all and enriched what I had read prior to leaving.
Above all else is the safety of being in a large, organised group. The Track spans a vast stretch of isolated terrain, and in case of emergency, the trekking company has UHF and satellite phone communication available.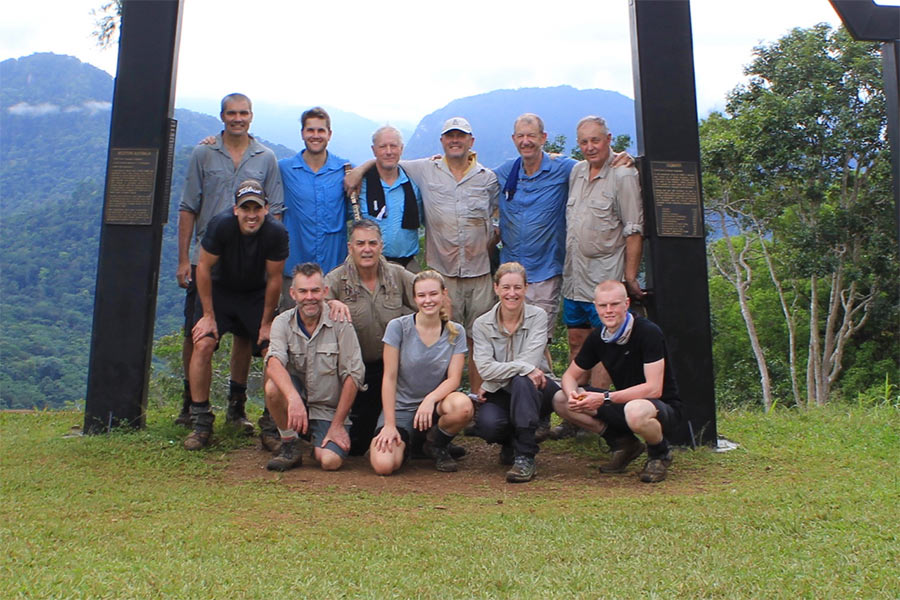 A motley crew of adventurous souls – strangers to each other at the start, but the friendships forged in the fire of Kokoda will last for many years. Photo: Daniel Milne
Carrier or no carrier?
If you're going with a trekking company then chances are you will have the option of a carrier for your rucksack. In my humble opinion, this is an option that most people, particularly those over 50 (no offence to those 50+ year-olds who are absolute fitness guns), should consider. It can mean the difference between being able to enjoy the experience of Kokoda and having to withdraw from the trek.
I set myself (29-year-old male, with a decent level of general fitness) the challenge of carrying my own pack, and made sure that I undertook a number of long hikes carrying weight in the lead-up, to ensure that I was well-prepared.
Even then, I found it challenging, thanks in no small part to the humidity and extra fluid I was constantly having to replace through sweat-loss – which leads me to…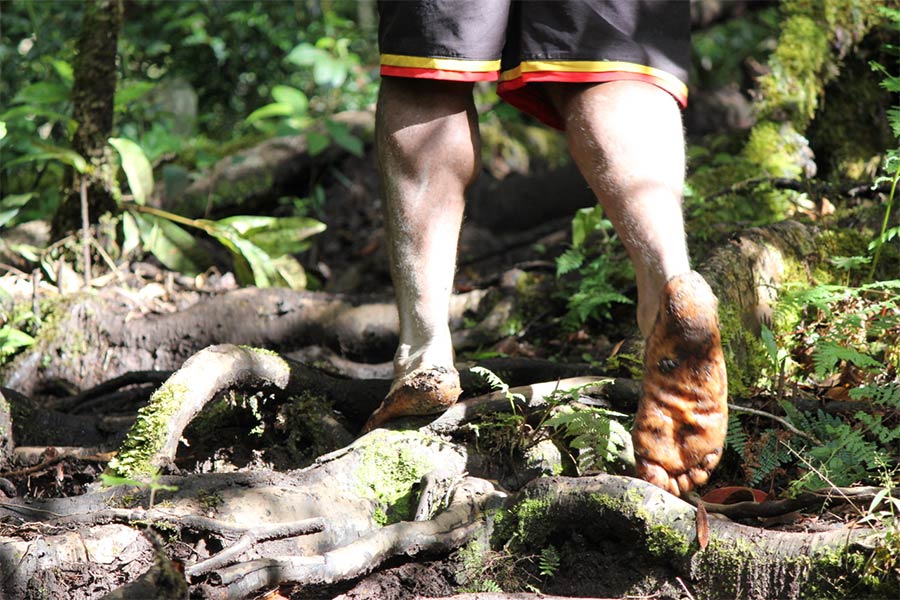 We spent every moment in camp making sure our feet were dry, powdering them, and applying layers of tape or Band-Aids on potential blisters. Meanwhile, the carriers happily strolled along the entire Track in BARE FEET… Kind of makes you feel a bit soft. Photo: Daniel Milne
Useful Gear to take
Below is a short list of some very useful items you may or may not have considered, that I found to be of great use:
Clothes made of a lightweight material
Long sleeves are recommended for protection from mozzies/the sun/stings and scratches. Don't go packing heavy cotton work shirts or similar – you'll be sweating buckets as it is, without adding a personal oven bag.
Being able to keep hydrated without stopping to get a water bottle out of your bag all the time is a big plus.
There are plenty of freshwater streams to fill up your water bottle along the way, but not all of them are guaranteed potable water, so having your puri-tabs handy is a must.
Nothing worse than getting a blister on the first or second day and having to then deal with the discomfort for the rest of the trek. Whack one of these on any "hotspots" and you'll save yourself some strife further along.
Having dry clothes at the end of the day is a luxury that you do not want to surrender, and a good dry sack will help ensure that you have just that, by keeping all your essentials sealed up within your rucksack even if that gets wet.
Really handy for helping dry out your feet in the evenings, and also stopping any bacteria from building up and turning into something nasty. I found a spray bottle full of antibacterial goodness at the chemist, which had the added benefit and marvellous fragrance of lavender and eucalyptus oil. This also saved me having to touch my feet and then spread the scent onto anything I subsequently touched.
Compression tights or shorts
These were an absolute lifesaver when it came to preventing chafing.
In terrain such as that on the track, I would value tread over flexion, as you'll need as much grip as possible on muddy inclines and declines.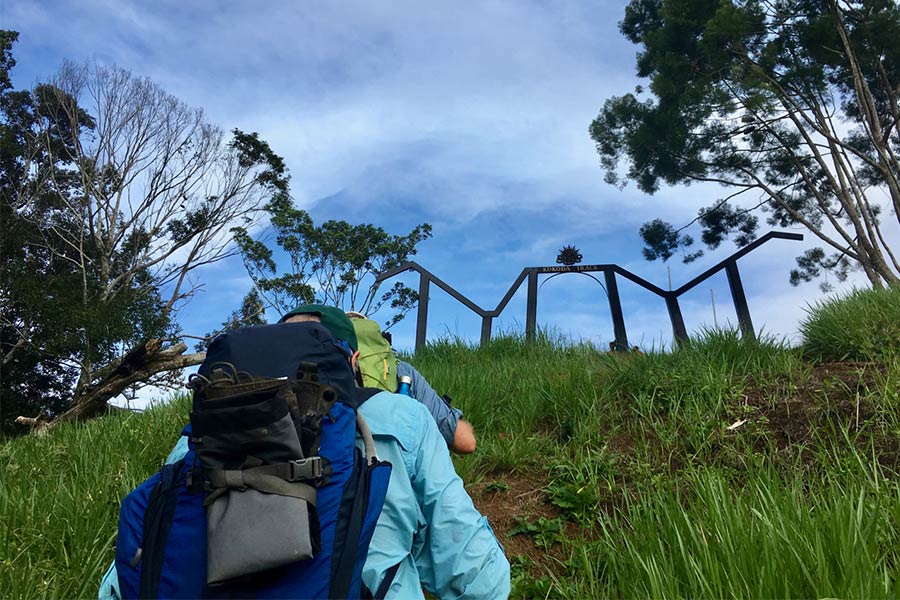 Spotting the arches at the end of the track certainly spurs you on up the last climb to Owers' Corner.
Tips and advice
There are many great books written about the Kokoda Track. Having an understanding of the history of the campaign allows you to relate more easily to the events from over 75 years ago when standing in the various locations.
This, in turn, allows you to draw inspiration from these stories when you yourself are struggling along at times (and there will be those times!)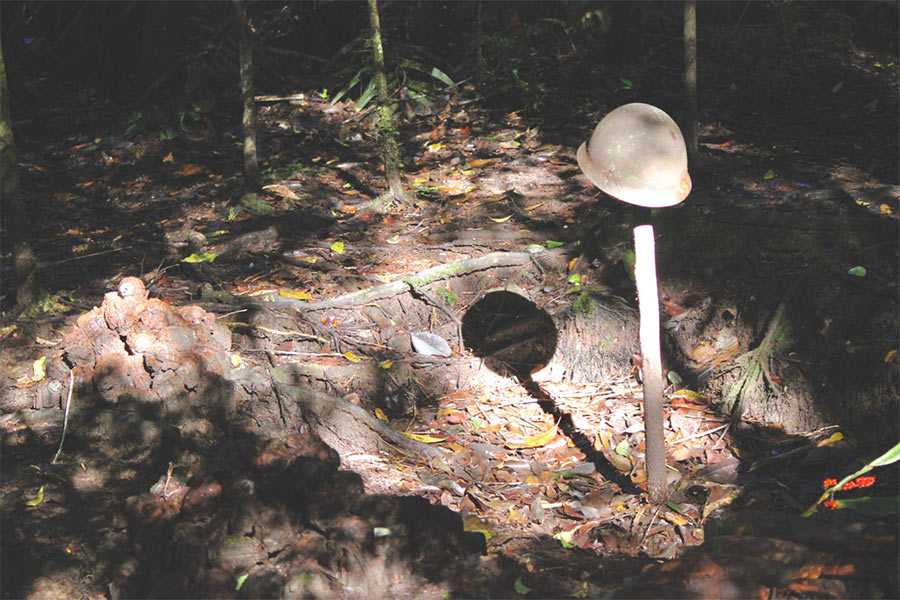 Relics such as this ammunitions site were remarkable to see, left relatively untouched since the war itself. Photo: Daniel Milne
There are a few simple facts that you need to accept if you decide to take on the Kokoda Track:
You are going to be wet whilst walking, due to:
You are going to be wet even BEFORE you START walking, due to:
You are going to be uncomfortable, and feel fatigued at times.
You won't have hot showers or other home luxuries.
Despite the above points, you will be warm and (relatively) dry at night. You'll also be fed three square meals a day, know when you're returning home, and don't have anyone shooting at you.
If you keep this last point in mind and remember to train hard in the lead-up, then you'll have a truly enjoyable and rewarding experience on the incredible Kokoda Track. Now get training!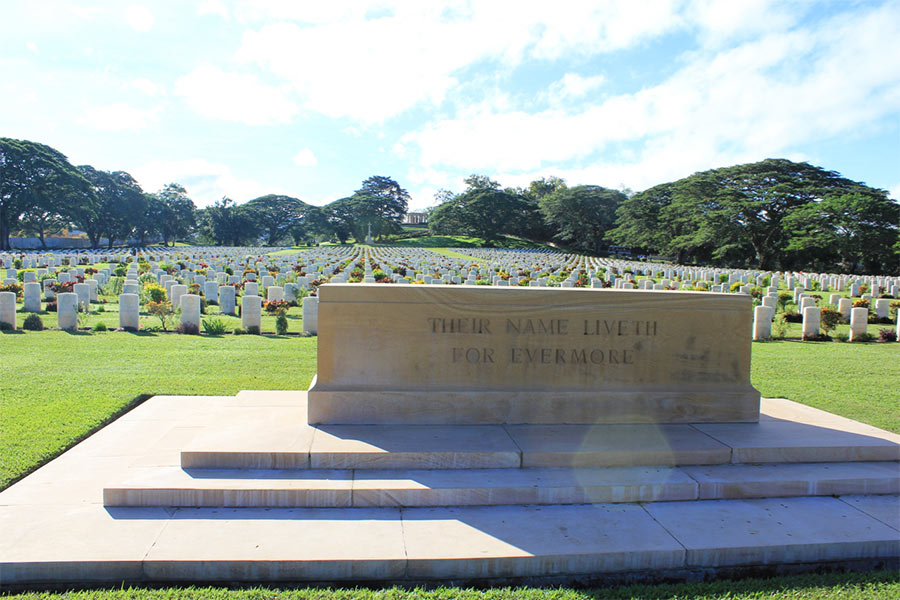 En route to the airport, we made a stop at Bomana War Cemetery, to pay our respects to those who made the ultimate sacrifice. Lest we forget. Photo: Daniel Milne
Are any of you up for the trek of a lifetime? Or have you trekked Kokoda yourself? Let us know in the comments. 
About the writer...
Joined back in September, 2017