There are a few decisions to be made when you are in the initial planning stage of your bicycle trip. Many factors are intertwined and can influence one another. For example, where you decide to travel, your budget, length of time to travel or your style of travel.
All these things can affect what bicycle and equipment you will need for your trip. Hopefully, this guide will assist you in making your decisions for your first cycle touring trip.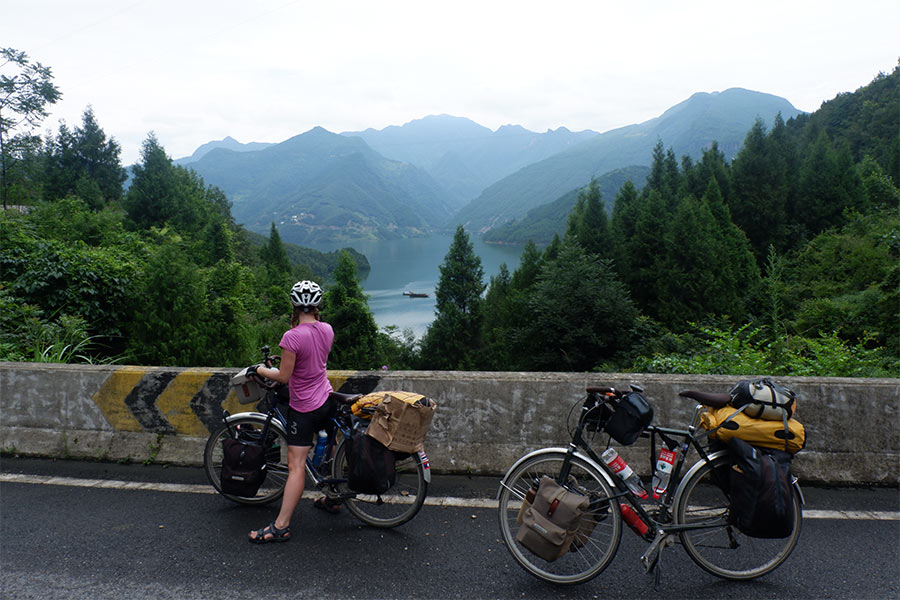 In this guide, we'll talk you through all the factors to consider. 
Travel budget
This is the amount of money that you can afford to allocate towards your trip. This includes your flights (if applicable), visas (if applicable), travel and daily expenses (including food and drinks), bicycle, bicycle bags (panniers or frame bags), camping gear, cooking gear, insurance, medical requirements, electronics and incidentals.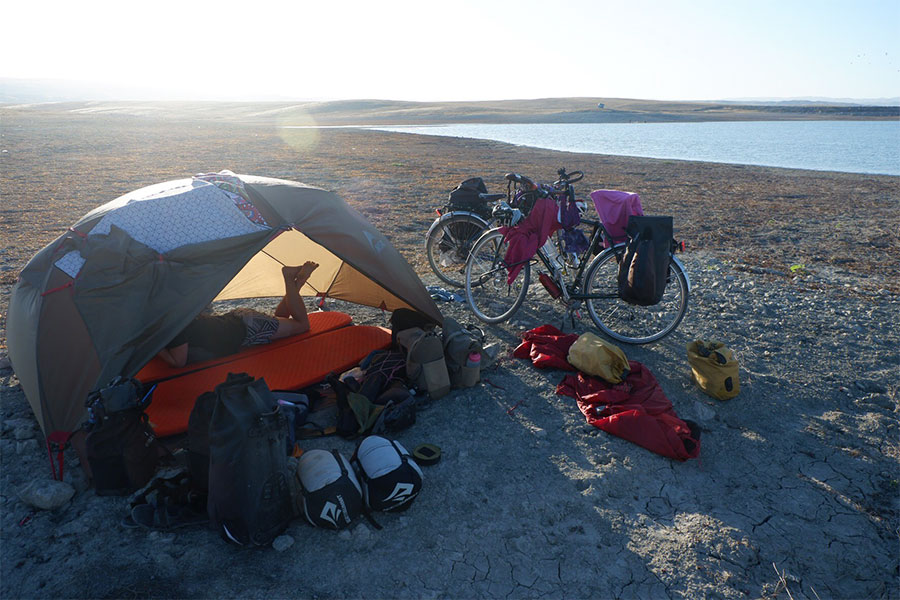 Your travel style will help you determine your budget.
Travel style
Bicycle tourists have a number of options when it comes to travelling and you will quickly determine what type of traveller you want to be.
Ask yourself, are you going to be the luxury cycle tourist or are you aiming to be completely self-reliant, camping in any conditions, sometimes smelly and wilderness-style cycle tourist?
Maybe you have a little more money to throw around and your typical day may be eating your meals at restaurants then sleeping and showering at hotels or hostels.
Or, perhaps you want to be out in the wilderness every day, camping in a tent each night and buying and preparing all your meals. Obviously, you can opt for a little bit of both options to suit your travel style.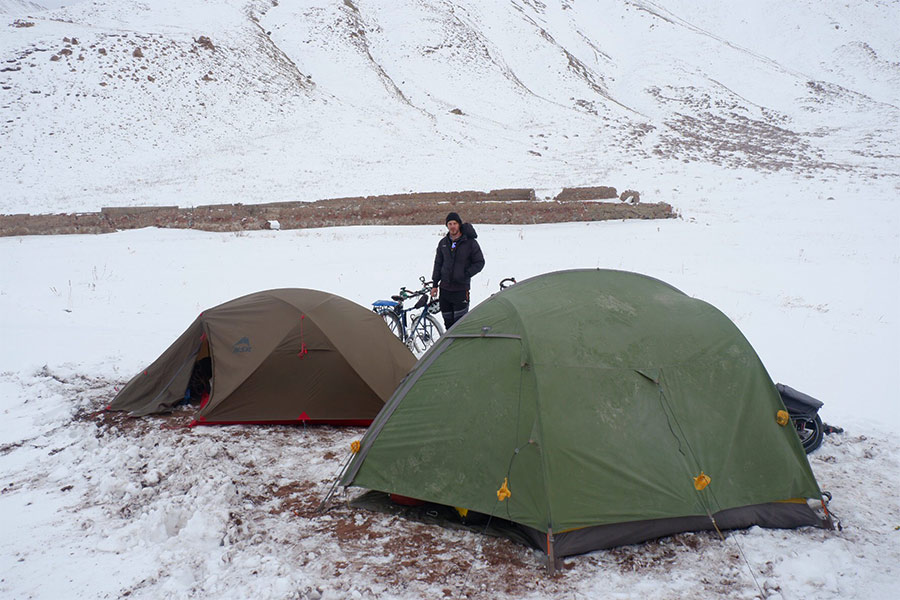 You might prefer to camp out each night. 
Travel route
Just like any trip, you need to decide on which countries you would like to visit and the things you want to explore. For a short tour (up to around 4 weeks), it's worth having a basic plan of how many kilometres you plan to ride, break days, things to see and what to eat. But, for longer tours you will inevitably choose countries you want to see and just start cycling, learning as you go and from other travellers.
When planning your route, take time to consider the different mapping options including paper maps, smartphone applications and personal GPS devices. Most long-term cycle tourers will use smartphone applications with the most popular being MAPS.ME.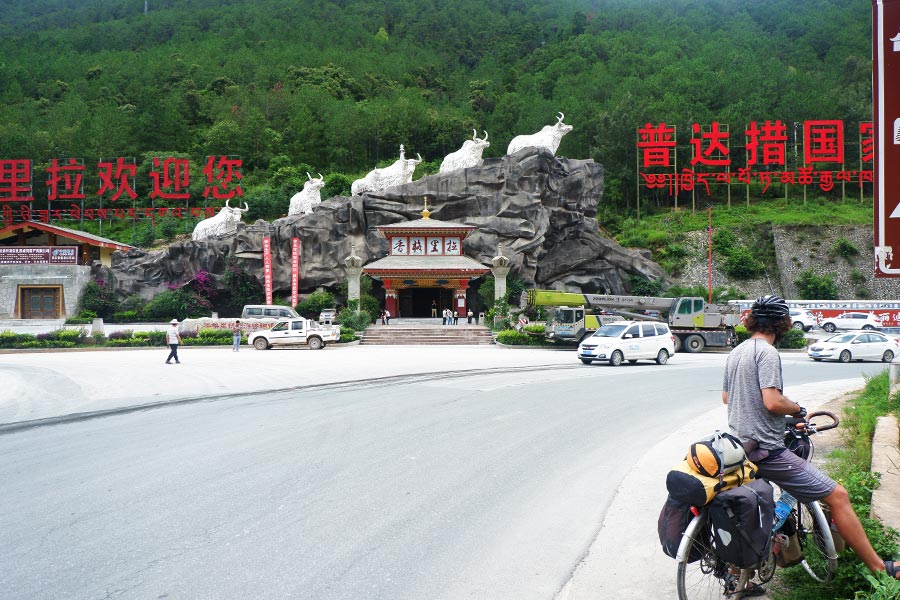 Plan out the countries you want to see on your trip. 
Picking the right bicycle depends on your budget, comfort level, terrain, the distance you're covering and how much risk you're willing to accept if your bike breaks down. We believe that most bicycles would be suitable for a short-term cycle trip as long as racks can be fitted onto it, it's in good working condition and has quality tyres.
However, for longer tours, you'll need either a second-hand touring bike, a new factory-made touring bike or a custom-made touring bike like ours. The price increases with the quality of the bicycle. Second-hand bicycles are cheaper and, in our opinion, a great option for beginner tourers.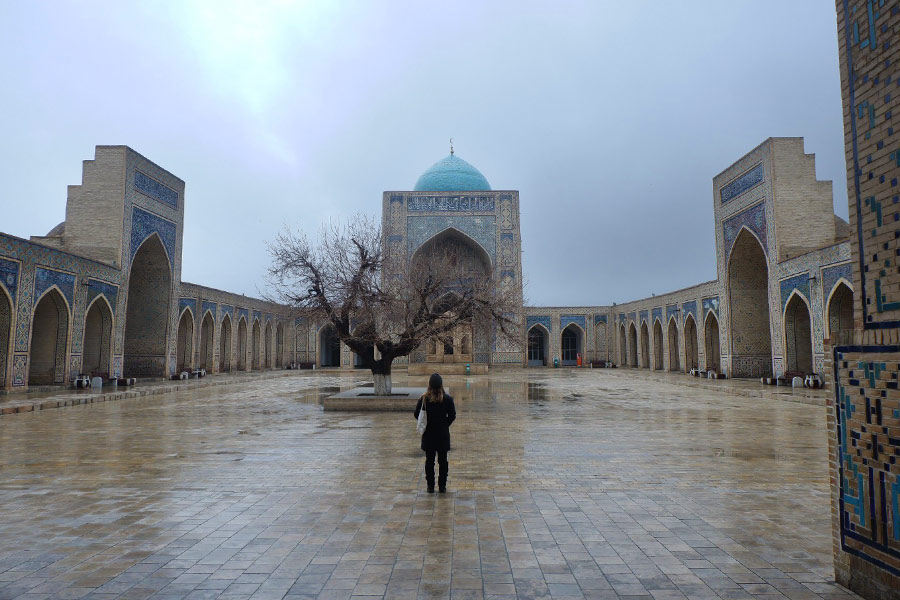 Plan your route around what you want to see. 
Bicycle bag setup
Bicycle touring vs bike packing – these are really the two main ways to set up your bikes for travelling.
A bike touring set up has panniers that are fixed to pannier racks on the front and rear wheels. Generally, the benefit of this setup means you're able to travel with a lot more gear, food and water. It's the more common way of bicycle touring, particularly for long tours. It's great for beginners as good and fairly cheap panniers are easier to find.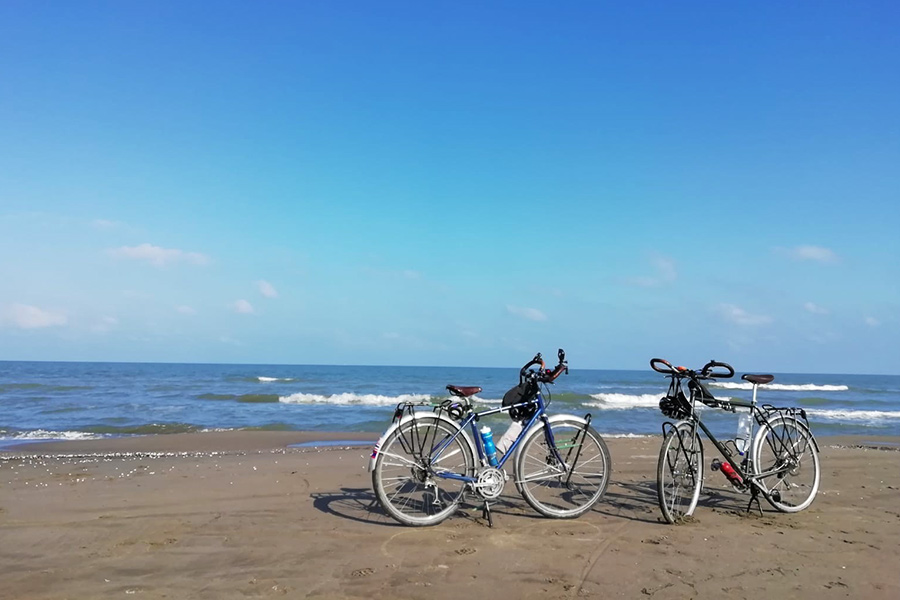 We had our bicycle frames custom made. 
A bike packing setup will distribute the weight across the bike by having multiple bags attached in various locations, such as inside the frame or on the forks.
As the weight is more evenly distributed, this setup is ideal for off-road touring or more adventurous styles of touring. It's common for people to progress from a bike touring setup to bike packing when they become more confident as they tour.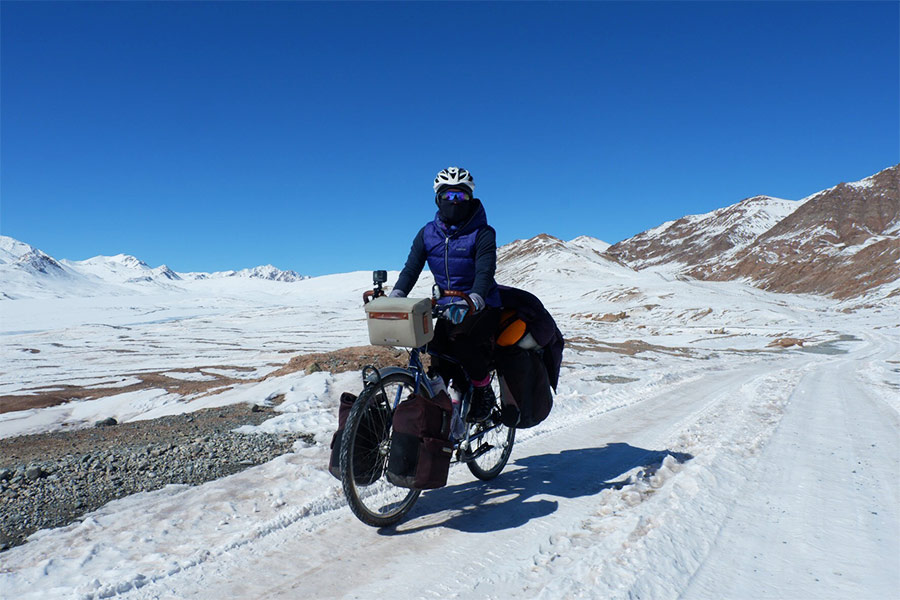 Here's what a typical setup will look like.
Travel equipment
Bicycle touring travel equipment can really be subject to two tests: packability/size and durability. Selecting gear that is lightweight, compact and easily packable are all important aspects to keep in mind. You are going to be restricted in space and every kilogram you are going to feel going uphill.
For long tours, durable gear is essential because there's nothing worse than something breaking when you're in the middle of the Mongolian Steppe! The base equipment for camping gear includes a tent, sleeping mat, and a sleeping bag, and cooking equipment such as a stove and a pot.
Your camping gear needs to be high quality, as you'll be travelling through remote areas. 
Preparations
Leading up to leaving for your cycling trip, many people asked us "have you been training every day?" A legitimate question you will even ask yourself as you frantically attempt to pack and cull items.
For long-term trips, just ask any cycle tourer and they'll tell you that training is not essential as your body will adapt within the first few weeks.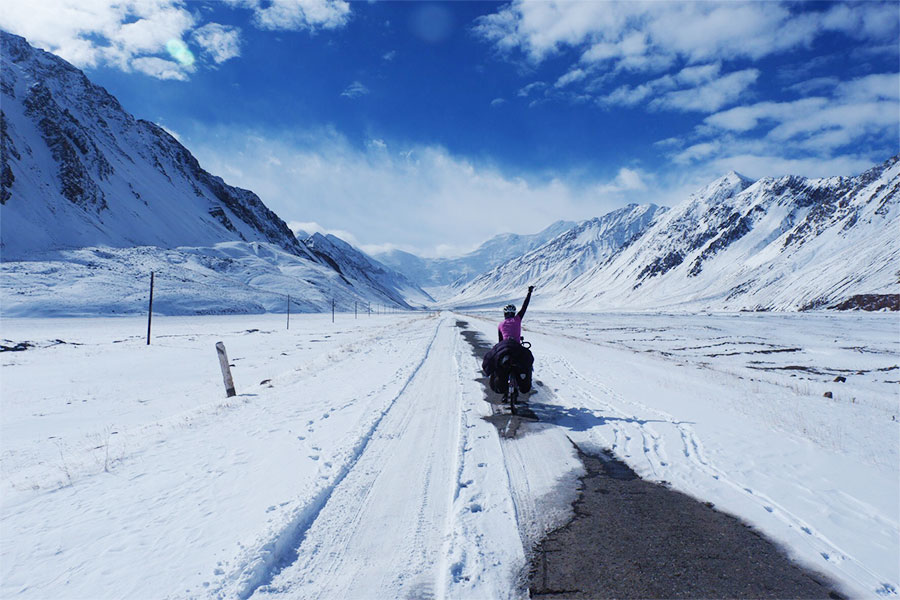 Just start cycling!
However, a little training would be ideal in order to break in your muscles and your butt. This might just involve commuting to and from work.
This is really a basic guide to assist your decision making. If anyone has any questions, we would love to help out, so please contact us via our website here.
Are you planning an upcoming cycling trip? Let us know in the comments. 
About the writer...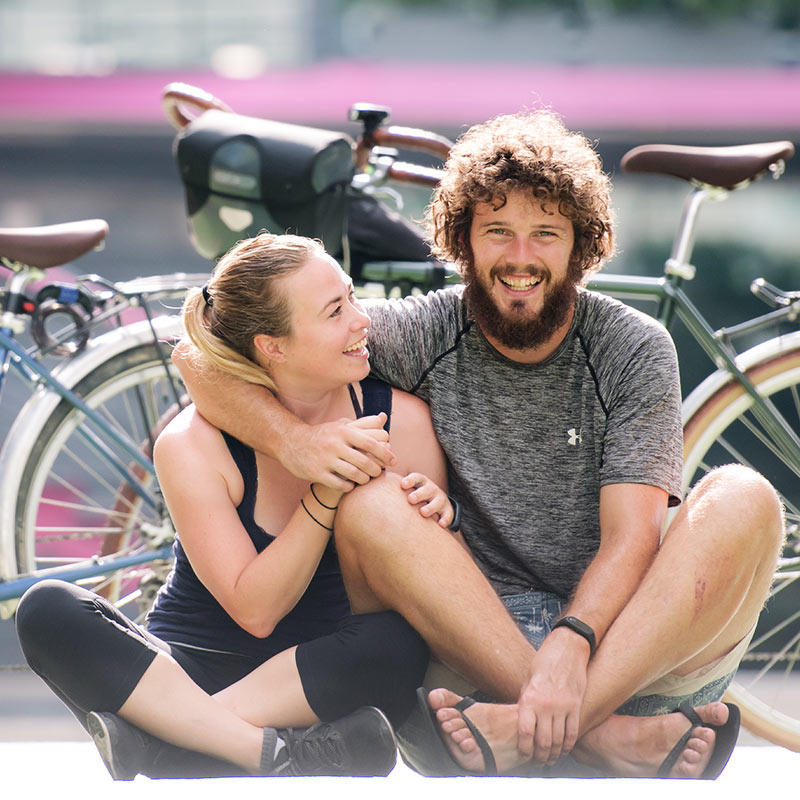 Joined back in January, 2019