Mexico. We know what you're thinking. Corona and tacos, yes, but also drunk Americans in Cancun for Spring Break. Extravagant beach-side hotels, pool bars serving tequila shots, and big dance clubs to pull all-nighters in. However…
There's more to Mexico than the package holiday deal
Mexico is so much more than the 'packaged holiday' Cancun/Playa Del Carmen experience that so many people choose to have. And the best part is, you don't have to go too far to find it. And, ladies (and gents), you don't need to worry about safety in the two places I'll talk about.
Just keep your wits about you, as you would with any other place that you visit when overseas, and you'll be perfectly fine.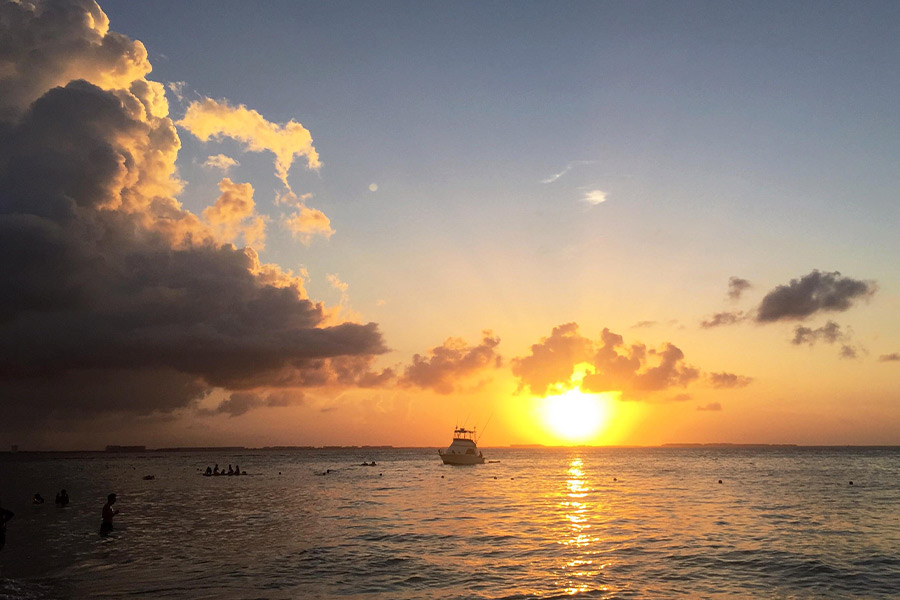 While known for its party scene, there is so much more to Mexico than spring break. 
How to avoid the tourist trap in Mexico
I wanted to avoid the big hotels, shopping malls and Starbucks, but I did have to fly into Cancun to get to the two bohemian beach spots I'd had my eye on for years. Think Mayan ruins, white sand, turquoise water, caves, jungle, diving, temples, and more.
My first destination was Tulum, an adorably cool little town two hours south of Cancun on the Yucatán Peninsula.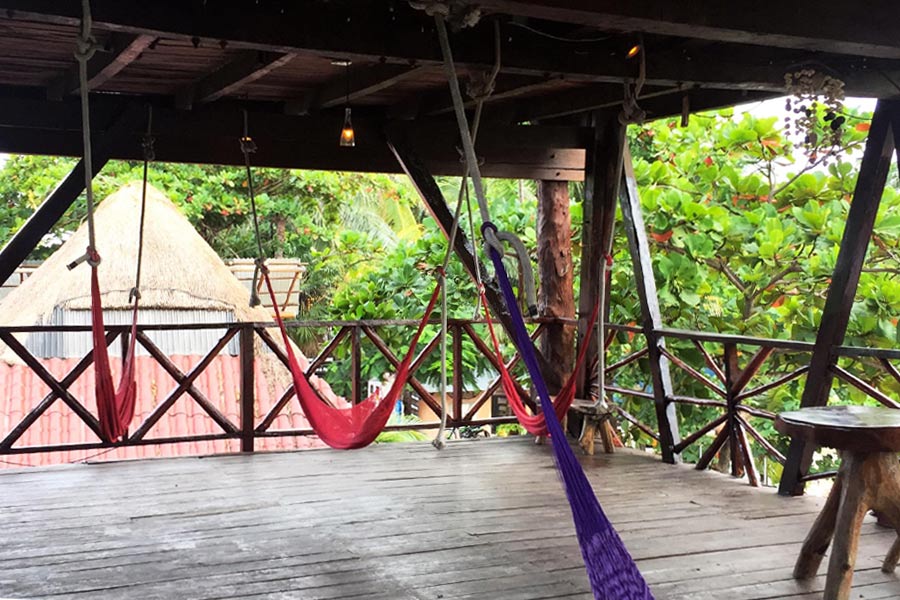 Avoid the tourist hotspots, and instead – enjoy some downtime relaxing in Tulum. 
Getting to the first destination – Tulum
Trust me, Tulum is worth the drive. While the private taxi to get there was a little pricey (around $100 USD), it was definitely worth it to feel safe on the journey there. You can easily book this as soon as you arrive at the airport so you don't need to do it in advance.
There's only one company to choose from, and they even give a little bag with water and jalapeno crisps as an added bonus for the drive.
Where to stay in Tulum
There's two areas where most people stay in Tulum: either the 'town' or the 'beach' side. I chose the beach end and while it's probably slightly more expensive, it's worth it to be close to the ocean. I paid around A$75 per night for a beachside room during my stay.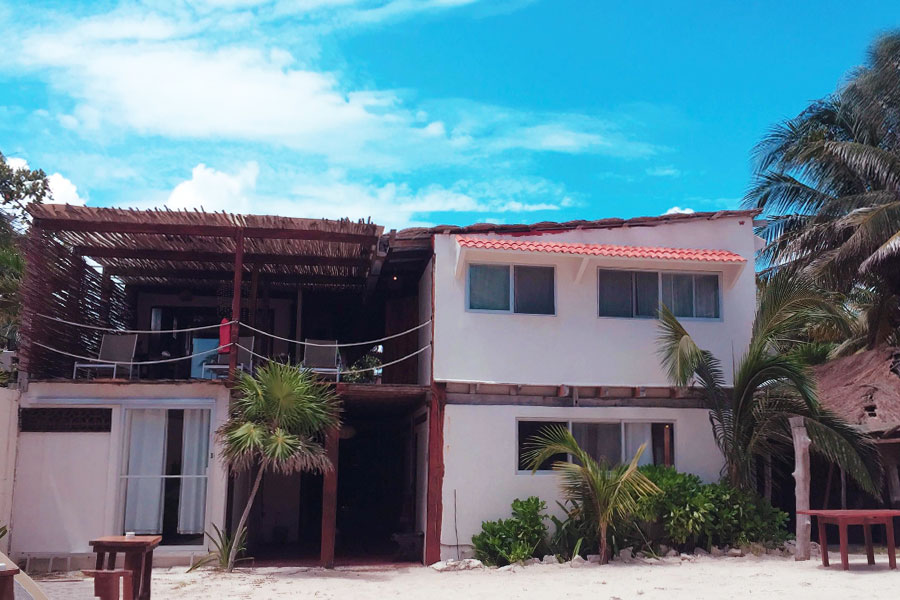 You can stay right on the beach to be close to the ocean. 
The best way to get around in Tulum
To get around, hire a bicycle and you'll fit right into the lazy, laid-back vibe of Tulum. Spend the day cycling down the coast, stopping to look at the mysterious Mayan ruins and swimming, of course.
Tulum's uniqueness is having the beach adjacent to the jungle, with hotels, boutiques, restaurants, juice bars, yoga studios, and markets nestled in between. Oh, and I can't forget the cenotes.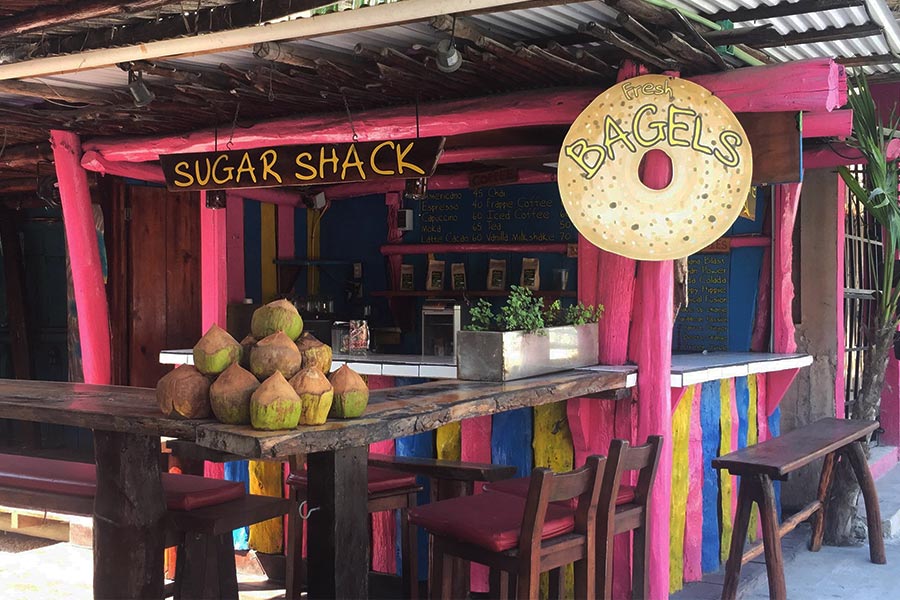 With bars, cafes and hotels all near to the beach and jungle – Tulum is a total paradise. 
The Cenotes – Mexico's underwater caves
No visit to Tulum is complete without the 'cenotes', Mexico's stunning, underwater caves. I'd recommend getting an early start when you visit them to avoid the crowds. You can ask your hotel which one is best to visit at the time you're there for the best advice, and there's also plenty of local tour guides that can offer you more information.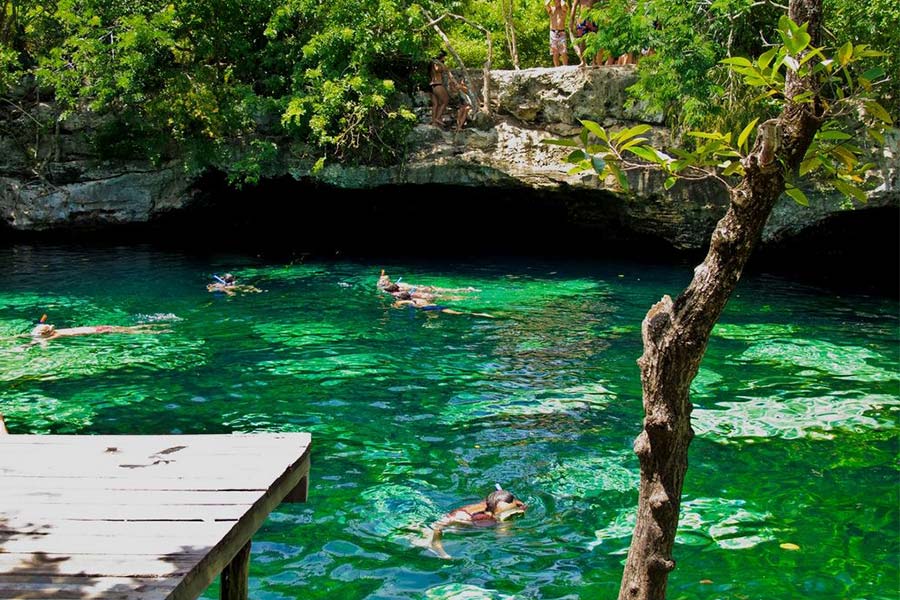 Get up bright and early to enjoy the quietness of the cenote caves. Image by Lonely Planet
How many days should you spend in Tulum?
I spent 10 days in Tulum, soaking up the beachy, chic energy, steeped in history. It's the kind of place where you're not expected to plan anything. Just see what the morning brings and go with the Mexican flow.
There was only one thing that disappointed me about Tulum – the seaweed. Much of the Caribbean is having this issue right now. While the locals do a great job at raking it up, it has given the usually brilliant emerald-green ocean a murky, reddy tone.
This brings me to my next destination: Isle Mujeres.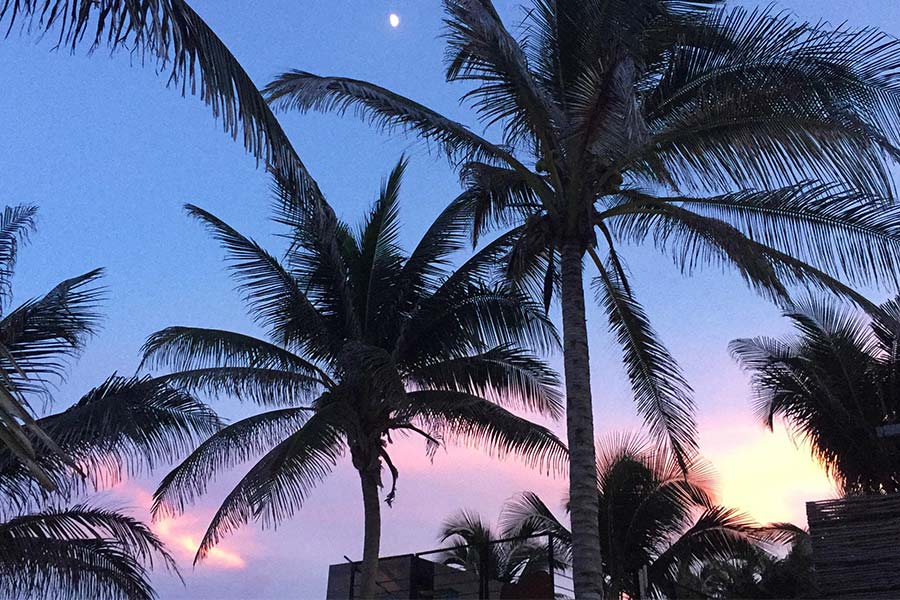 A balmy evening in Tulum is the perfect getaway. 
Isle Mujeres
While I could have happily stayed in Tulum, I was also looking for that Caribbean island experience. I'd heard great things about three islands: Isla Mujeres, Cozumel and Holbox. I had well and truly settled into the 'easy goes' way of thinking, and Isle Mujures was the closest to get to from Cancun – less than a 20-minute ferry ride from the port.
It's a tiny island, that's loaded with character. While it's certainly got some fancy hotels near the main beach (Playa Norte) the quirky, hippie vibe of the island dilutes any commercialism.
Think: Caribbean beach and Playa Norte is it. White sand, that famous sparkling emerald water, palm trees and cocktails. The area between the ferry terminal and Playa Norte is perfect to stay.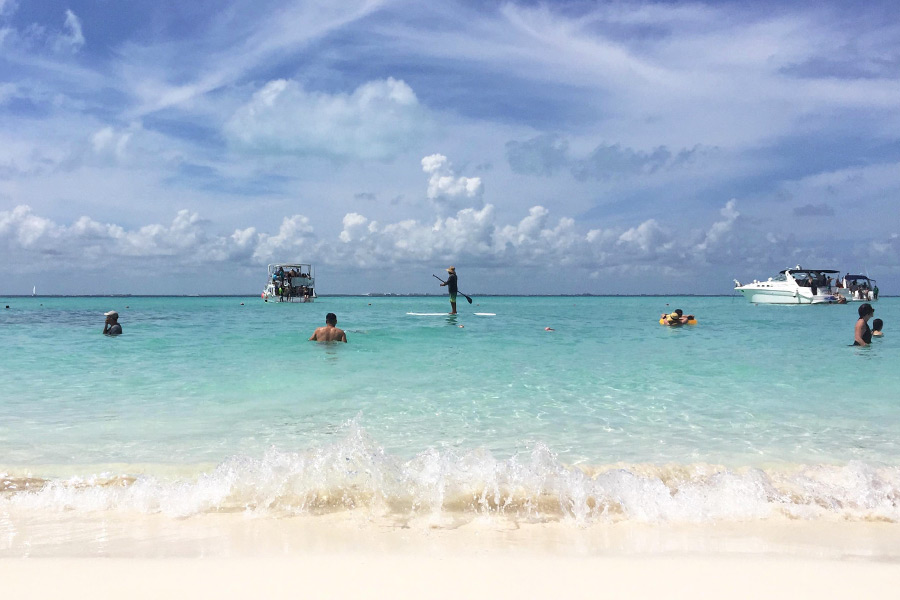 Kick back and relax on that famous white sand.
Booking accommodation
I booked all of my accommodation on Booking.com which is my go-to as it's quick and easy to use. Plus it does give you a few more local and boutique accommodation options compared to other travel websites.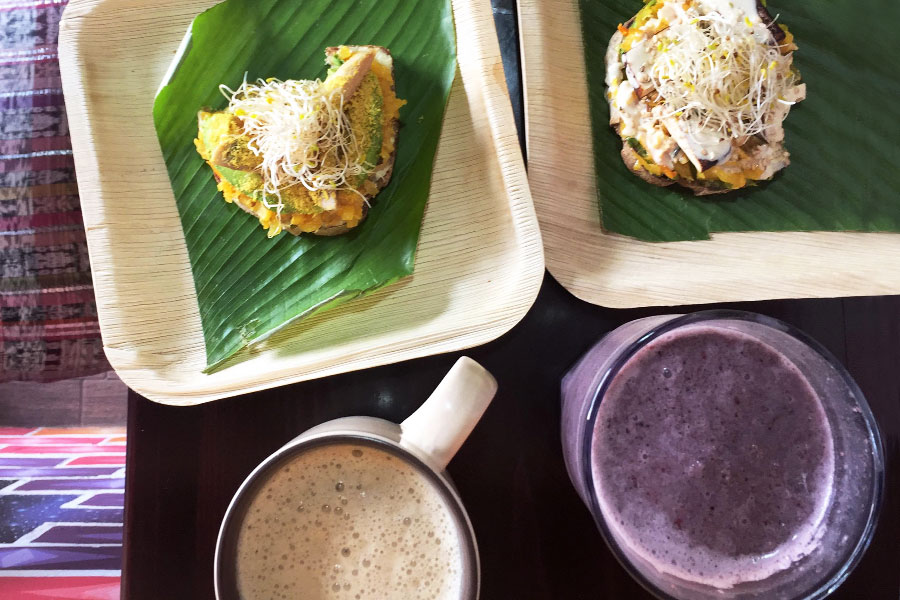 It's so easy to find delicious and affordable food wherever you go. 
Cuisine options on the Island
Given how small this island is, there are actually hundreds of restaurants to choose from. This means it's not hard to find cheap yet tasty dishes if you're travelling on a budget. Delicious A$4 nachos? No worries. Fish tacos with a free Corona? Treezy, breezy, Caribbeaneasy.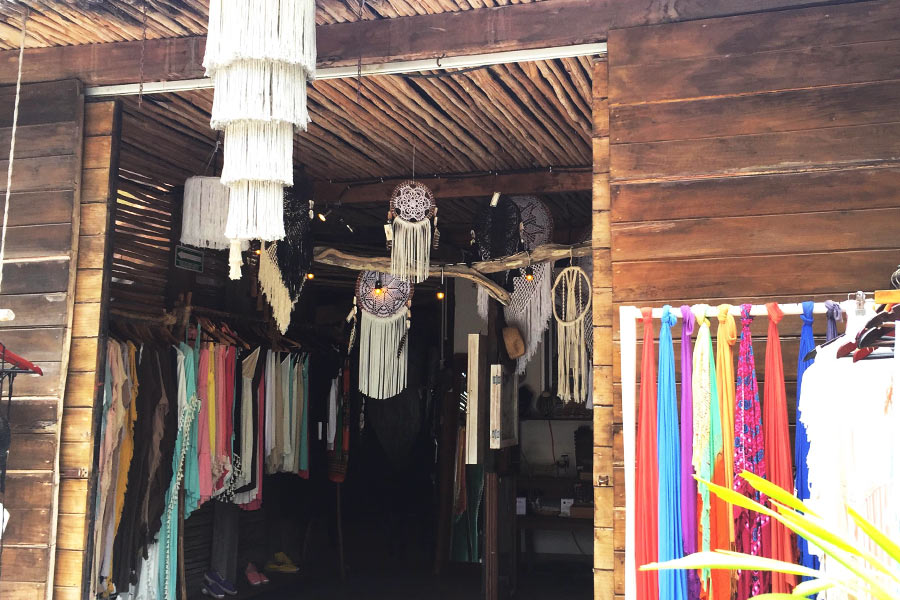 The artisan markets in Isla Mujeres are not to be missed.
What you can't miss in Isla Mujeres
Isla Mujeres has got those colourful, Cuban-esque streets, artisan markets featuring local wares, with rise-up lights lining these laneways which you should definitely check out on your visit. It also has plenty of opportunities to go diving, not to mention that gorgeous ocean.
If you do just one thing every day, you should watch the sunset. Those Mexican sunsets sure put on a show.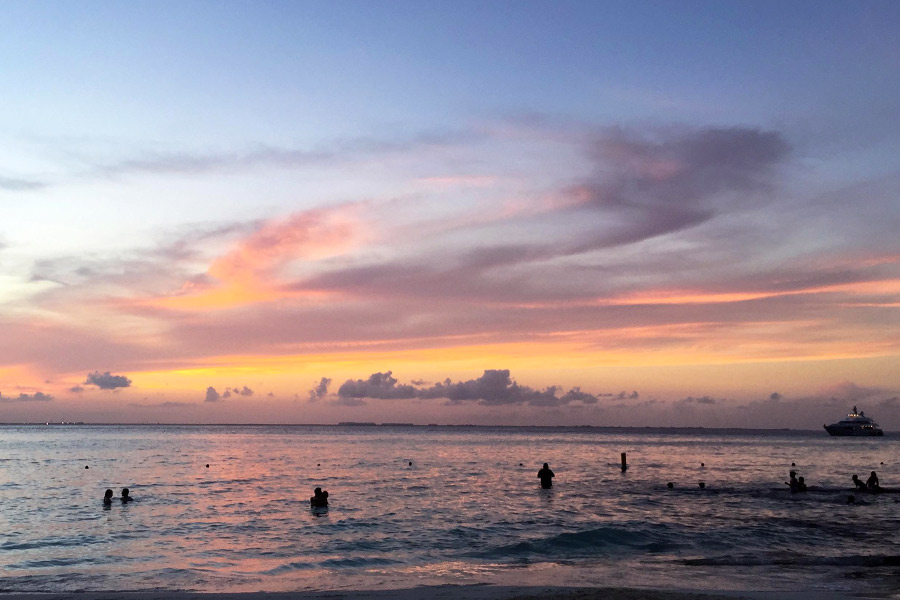 If there's one thing you have to do – it's watching a Mexican sunset. 
Do Aussies need a visa for Mexico?
My Mexican fiesta lasted for 14 days, and Aussies don't need a visa to enter Mexico. Salute!
So, Amigos (and Amiga's), avoid visiting 'America's Mexico' and set your watch to island time.
Piña colada? Si, si!
Are you planning a beachside vacation? Where's the next place on your list?
About the writer...
Joined back in May, 2018