The call of the wild can be a strong one. For an adventurer like myself, it's a feeling I choose to embrace rather than ignore. A quick text message to rally a travelling companion or two and a bag of groceries is all the preparation needed to answer that call and enjoy a weekend of exploration on the trails.
Being based in Brisbane, the vast choice of local destinations can make settling on just one a bit difficult. Time honoured traditions of beautifully scenic creek-side camping and seemingly endless touring trails can, at times, prove mutually exclusive but this is certainly far from the case at Landcruiser Mountain Park (LCMP).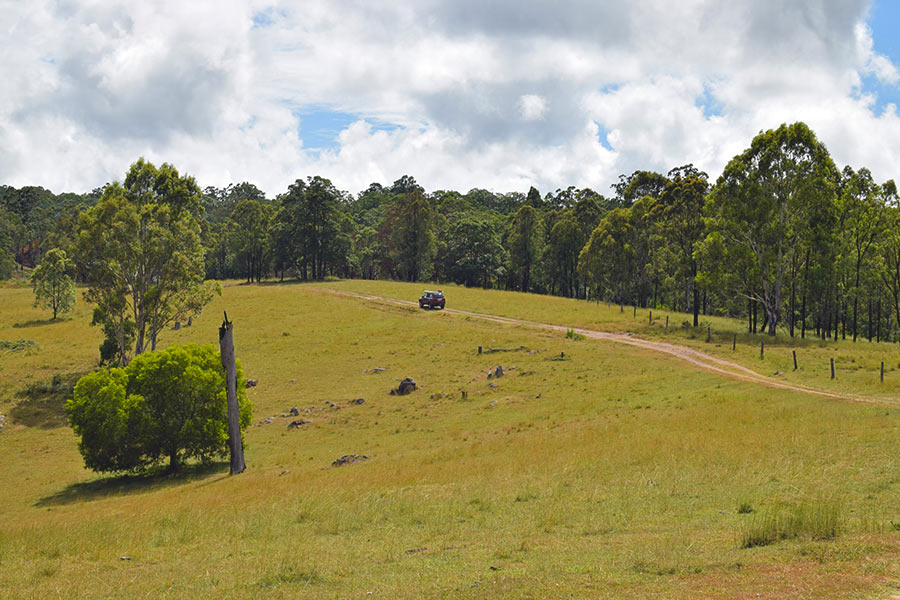 There are over 200km of trails across the varying terrain in LCMP.
Where is it?
Landcruiser Mountain Park is a 10,000-acre property specialising in wilderness camping and four-wheel driving, approximately 150kms north of Brisbane via Kilcoy and Jimna.
Set amongst the many state forests that line the Great Dividing Range, this pocket of south-east Queensland is very diverse. It features heavily forested ridgelines that give way to creeks and waterfalls carved into natural rock formations over thousands of years.
As a working cattle property, the park is dotted with grassy creek-side clearings perfect for camping. Though you might have to share it for a moment with a passing herd.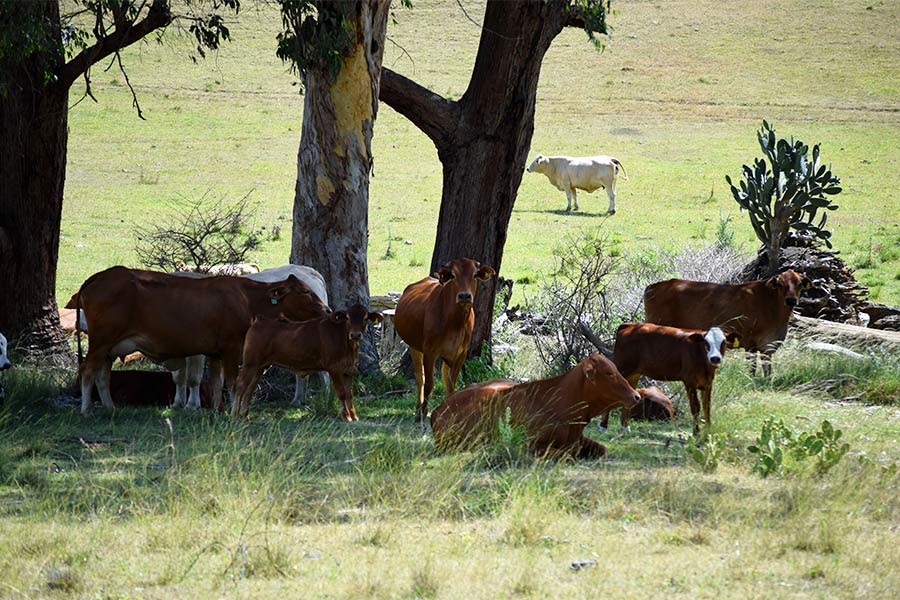 LCMP was foremost a working cattle property.
The start of the adventure
We arrived around 9 am after a leisurely run up the highway. We then set about planning a solid day exploring a section we were yet to visit. From the office, you can immediately immerse yourself in four-wheel drive nirvana. For those happy enough to operate within their comfort zone, there are plenty of opportunities to loop many of the easier tracks together for a solid day of driving. For the more adventurous, you don't have to look far for challenging ascents, descents, rock beds and mud.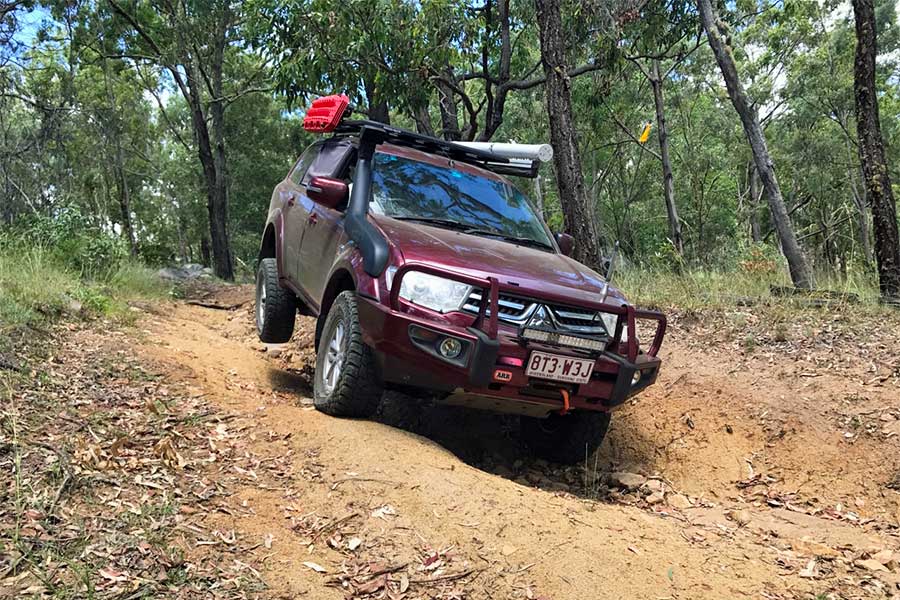 You don't have to look far to find a challenge.
Working your way along the 'main drag', the campsites present themselves one after the other. Each of them has their own unique features which will suit different types of campers. Our plan was to be a little more 'carpe diem' and roll out our swags when the timing and location seemed right..after all, home is where you park it!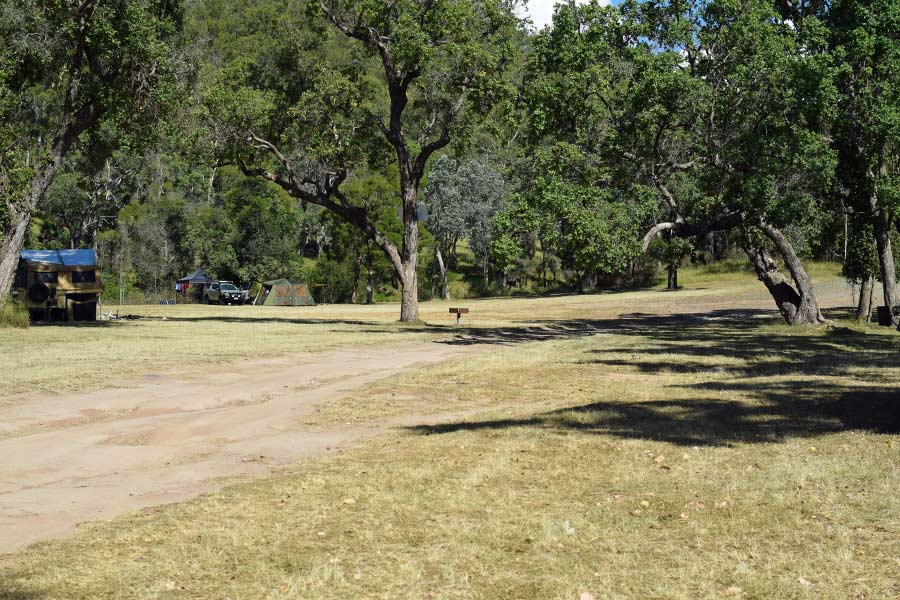 Trakka is typical of the camping locations on offer at LCMP.
Setting off to explore
After airing the tyres down to 20psi to help with traction, occupant comfort and track preservation, we pointed the vehicles towards a sparsely vegetated ridgeline and set off. I caught some magical glimpses out of the passenger window of the distant ranges. These were a sign of things to come as we dropped down a tricky little section of track.
Having a trusted companion with a handheld UHF radio can be the best thing at various times. I can confidently say I usually travel with a couple of the best! Arrogance often breeds contempt, so don't be embarrassed to call on the eyes of a spotter outside the vehicle to help with wheel placement if you need it.
We climbed out of the dry creekbed through a densely rainforested section of the park and then through the "Aussie bush". We stopped at a small clearing around mountaintop dam, which was a great spot for lunch, and to plan for the afternoon ahead.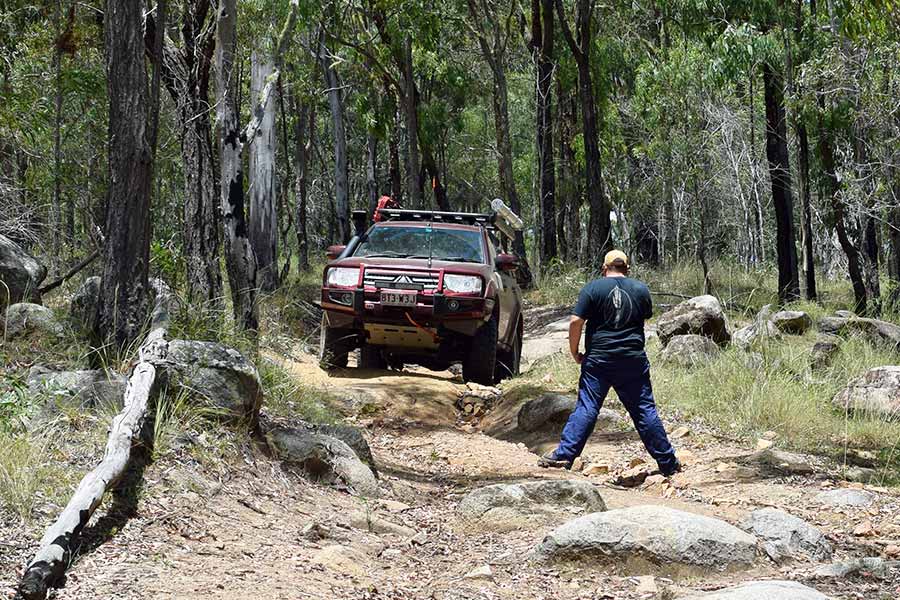 The benefits of a "spotter" can never be understated in tricky terrain.
Making our way to Cowah Falls
In making our way to Cowah Falls, we climbed higher through several terrain changes and "pinchy" sections of track. It then plateaued out in an amazing little pocket of native Australian grass trees (Xanthorrhoea). Several of the trees were in over 3m in height, indicating that they're up to 300 years old, which is pretty amazing. These trees tend to photograph well and there are few sights that are more typically Australian.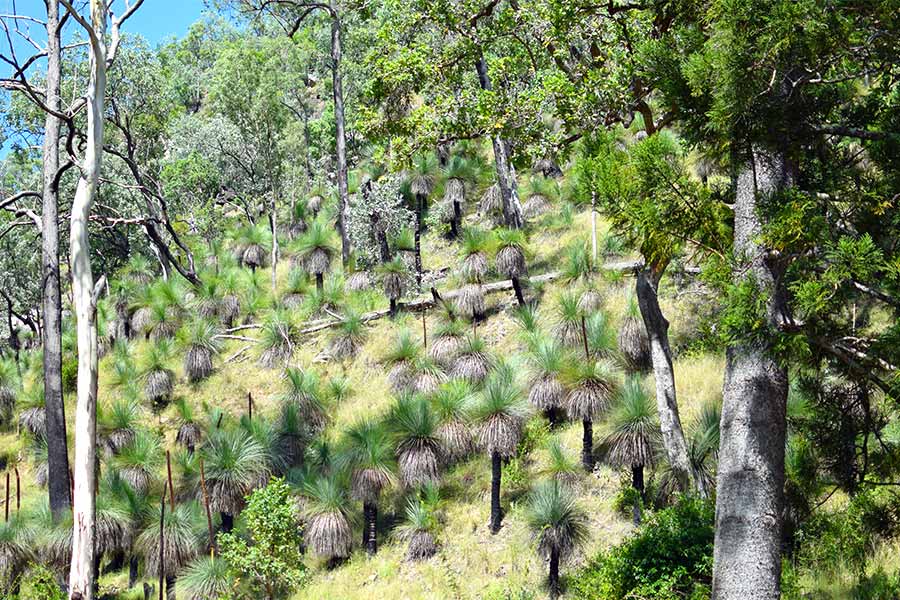 Beautiful, ancient and hardy – Australian grass trees typify the local Australian bush.
What goes up must come down and after picking our way carefully through a loose, rocky descent we arrived at Cowah Falls. Although not running on this particular day the waterhole below was full and inviting on a warm afternoon. We sat in quiet admiration of the age-old rock formations and plant growth grasping the cliff face for dear life. Then we decided that it was time to make camp for the night.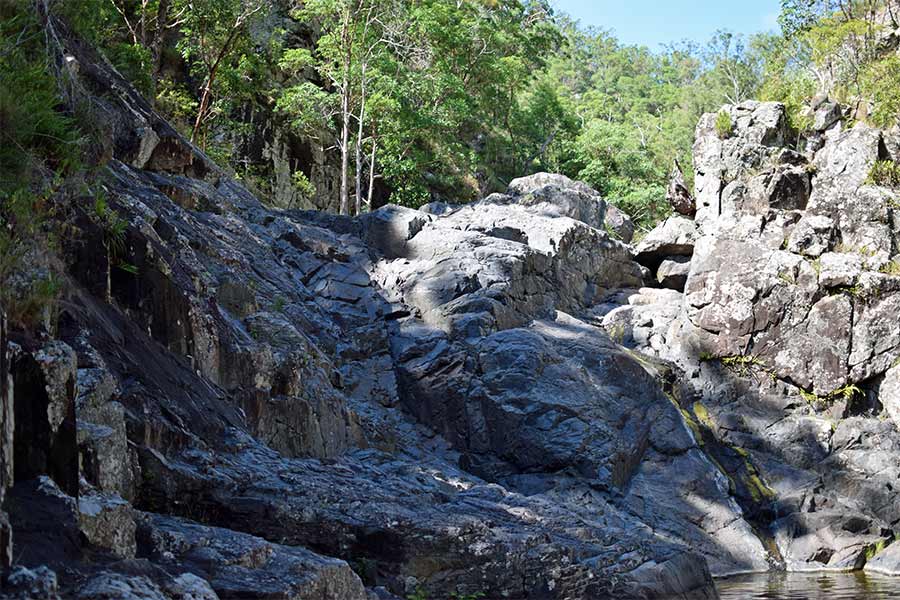 The rock formation at Cowah Falls. 
We retraced our steps and arrived at a small grassy, creekside area that we chose earlier in the afternoon. It's easy to limit yourself to a formal camping area especially when camping with a family. However, some of the best camping experiences around are away from the masses. We enjoyed a couple of refreshments over a hastily built fire which was the perfect end to a great day of adventure.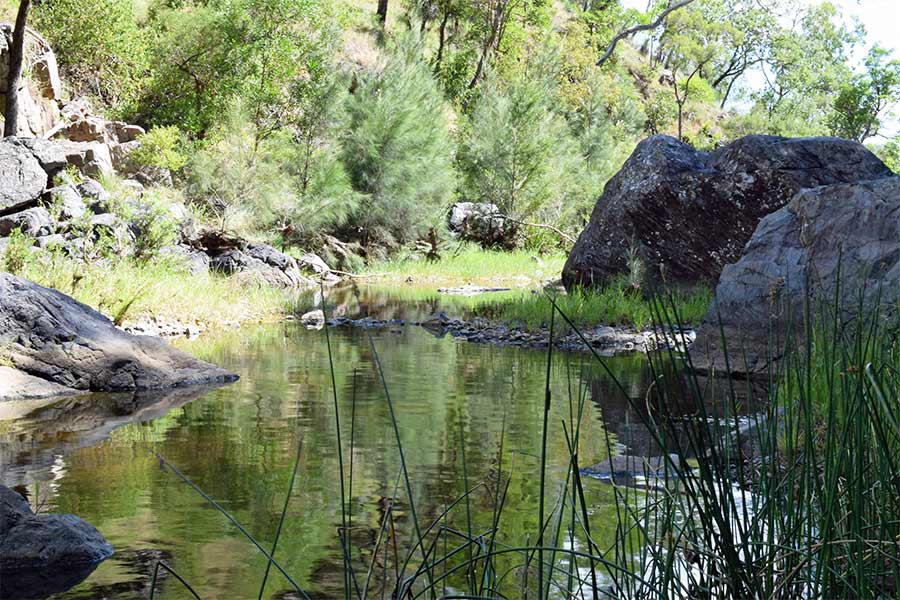 Cowah creek provides a nice place to rest before heading off again. 
What do you need to know?
Landcruiser Mountain Park is located approximately 150kms from Brisbane. Take the D'Aguilar Highway west to Kilcoy before veering north to Jimna. From here just follow the signs.
Fuel and groceries can be purchased at the nearby town of Kilcoy. The park office has limited supplies.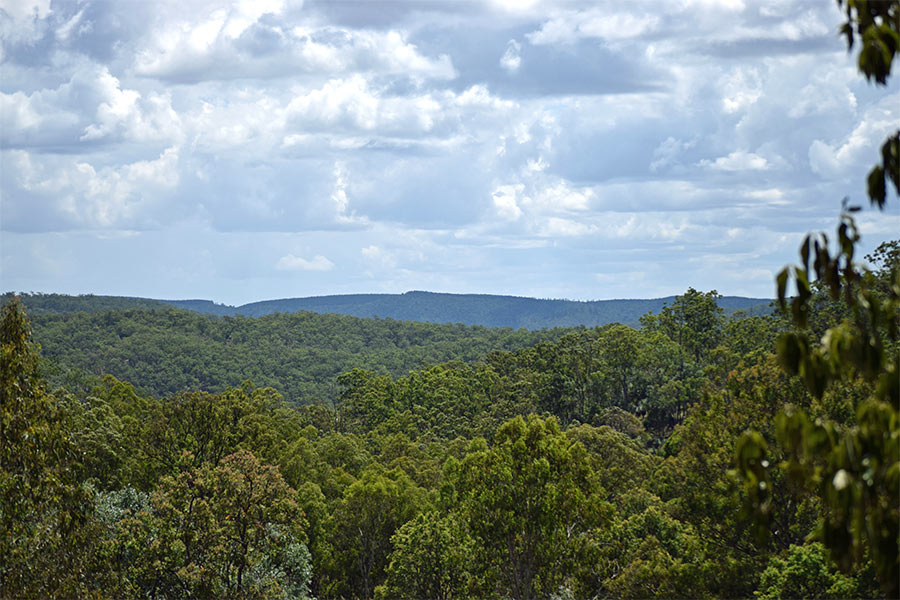 Views to the neighbouring ridges are on offer from several locations throughout the park.
It's blacktop all the way to Jimna where the road becomes a graded forestry trail all the way to the park. Within LCMP, tracks vary from easy to extreme. Be aware that changes in weather can turn an easy track dangerous in a matter of minutes.
Main camp areas located at Cowah Falls, Trakka Terrace, The Gums and Fig Tree. For the more adventurous, camping is permitted anywhere within the park boundary. Fees are $60 per vehicle per night which are inclusive of driving permits.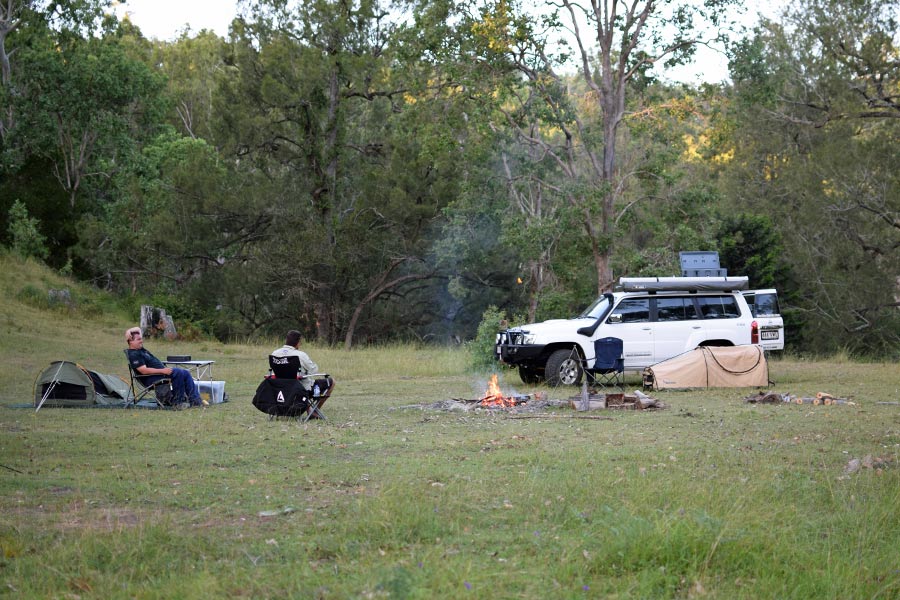 You can camp outside of the main campsites if you're feeling more adventurous.
Hot showers and septic toilets at the main campsites. You can collect firewood around the park. There is also compressed air and a payphone available for use at the park office.
Drinking water, axe/chainsaw & basic recovery gear.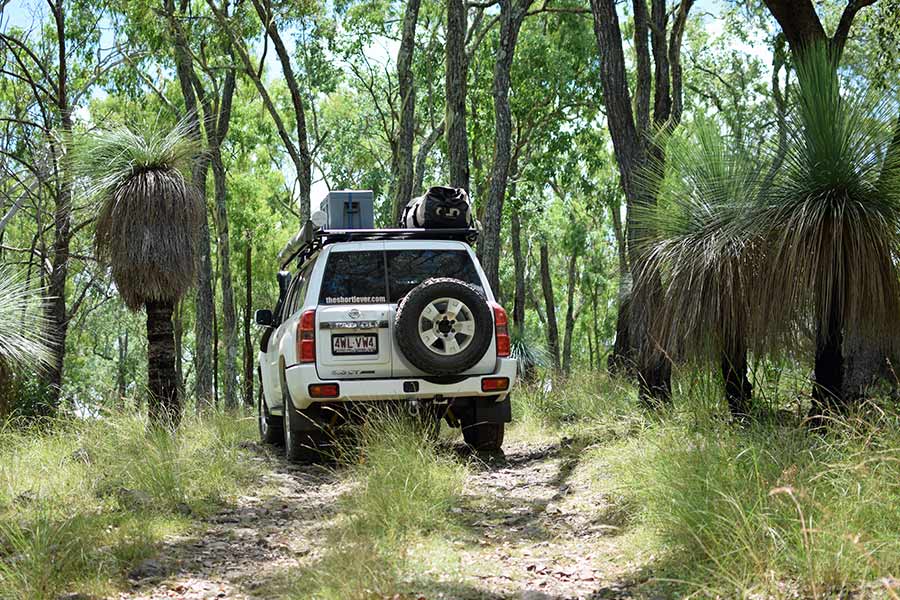 With great scenery and tracks all around, LCMP is a winner in my book. 
Why Landcruiser Mountain Park is a must visit
As an offroad adventure destination, Landcruiser Mountain Park ticks most of the usual boxes. It's location, open spaces, basic amenities, abundant wildlife and campground accessibility to 2WD or soft road vehicles makes it suitable for families.
While the vast array of terrain, track types and difficulty levels should excite even the most ardent "been there, done that" types. If you are yet to visit Landcruiser Mountain Park, then you should definitely put it on your bucket list for 2018.
What's your favourite local off-road destination? 
About the writer...
Dan hails from Brisbane and spends his spare time exploring Queensland by four-wheel drive and boat. He is passionate about the touring, camping & fishing lifestyle and sharing his adventures via Snowys blog and his own social media channels. Follow his adventures online at theshortlever.com and on Instagram @theshortlever
Joined back in February, 2018