Okay, I'll admit it. I used to be one of those people that scoffed at the idea of hiking poles!
This changed when a friend and I attempted the GR20 in Corsica – one of the toughest long-distance trails in Europe. The trail runs diagonally across the rugged island from north to south and traverses 180 km of snow-capped mountains which top 2200m. The friend borrowed poles from his mother and despite my initial amusement, they soon became objects of desire. Especially as the days mounted and we hit the snowline where my knees grew sorer.
My conversion happened at the top of a particularly tricky pass where, after slipping and sliding in the snow for hours, the clouds parted and the sun shone down on a well-loved pair of poles half buried in the snow – true story!
Ever since finding these miracle poles, I have never looked back and they have featured in trips to Federation Peak, the Overland track, the Sierra Nevada's and the Pico's de Europa in Spain.
Since discovering hiking poles, they've come with me on many local and overseas adventures. Image: Leki
The advantages of hiking poles
Reduce impact
They reduce the impact on your legs, knees, ankles, and feet, especially when descending steep slopes – giving vital support for ageing joints and recovering sports injuries. Hiking poles reduce the compressive force on the knees by 25-40% which is great for day walks when your fitness isn't as good as it could be.
Assist on difficult terrain
They're a must for slippery terrains such as loose gravel and iced-over snow and slush. The additional points of contact with the ground improve balance over difficult terrain such as loose rocky inclines, tree root infested trails, water crossings and mud.
Increase your speed
Poles help you to develop and maintain a consistent rhythm which will increase your speed when traversing flat ground, such as mud flats and button grass plains. They can also push back vegetation encroaching the trail and probe the depth of puddles and bogs so your legs don't have to.
Useful for other outdoor activities
They're amenable to many other uses, so you can use them as a fire prodder, drying rack, tent supporter, you name it!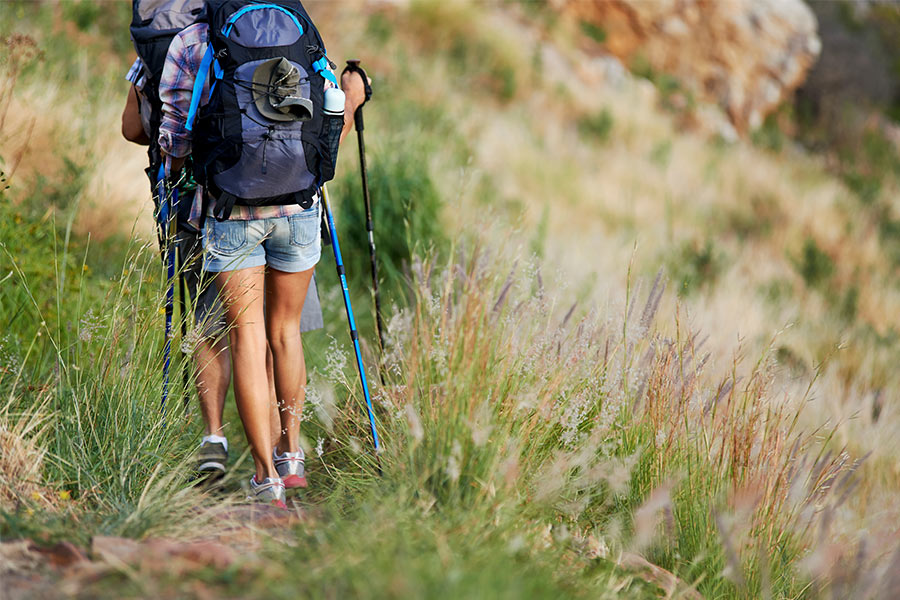 Whether you're walking on flat ground or up steep hills, poles can help increase your speed. Image: iStock
Features to look for in a good pair of hiking poles
The main features to consider when choosing hiking poles are the quality of the materials, grip comfort, straps, tip material and the method of adjusting pole length.
1. Materials
Aluminium poles, while a little cheaper, are slightly heavier than carbon, but can take more of a beating – and so they may be preferable for harder multi-day treks. Carbon is lighter and perfect for day walks in the hills or when weight is at a premium.
2. Comfortable ergonomic grips that don't cause blisters
The three main choices are rubber, foam and cork. Cork being my favourite as it moulds to your grip for more comfort. Avoid cheap foam which you can identify by its low density if you give them a squeeze.
3. Simple hand loops
Hand loops keep the poles in your hands, so you don't drop them when scrambling up steep sections. When you're concentrating on a climb it's easy to drop your poles and a huge pain to climb back down to get them.
There are several features to look out for to find the perfect pair of trekking poles. Image: Leki
4. Lever-lock or twisting lockable telescopic extensions
This is so you can adjust to your preferred height. Typically, this will vary depending on whether you are descending (i.e., longer at about chest height) or ascending (about waist height). This feature also means that you can pack them away quickly if they are not needed.
5. Good quality carbide tips
You want to make sure you have carbide tips with changeable baskets for rock, snow or mud. For snow and mud – it helps to have a large basket that will limit penetration and prevent your poles from getting stuck. Rubber tip protectors are also a good idea – to extend the life of your poles when you need them most.
6. Shock absorption technology
Shock absorption technology will help to reduce the jolting force through your wrists and elbows – which is a blessing when you're doing long days.
7. Price
While it's worth paying a little more for good quality if you will use them regularly, you don't need to break the bank when starting out – the mid-range poles I found on the GR20 are still going strong!
So, did I manage to convert you?
Whether you're already a fan of hiking poles like me, or just curious because your knees aren't as willing as they used to be, you'll never look back once you use a good set of hiking poles.
Do you use hiking poles, or are you still on the fence? 
About the writer...
Surfer, diver and adventurer, I have spent the last few years traveling the planet in search of waves, underwater marvels and amazing treks.
Joined back in February, 2014