Some 15 years ago I tentatively bought my first pair of walking poles, worried that I was simply following the newest trend. But when using them I felt good, walking seemed easier.
There appeared to be less stress on my battered knees, even downhill with a pack on my back, and my upper body was now playing a part in ascent and descent.
One trip during a sudden rainstorm, I put my poles down on a nearby spinifex bush while I got my rain jacket out of my pack. I then stood up and set off for the nearby cars, we were at the end of a weekend walk and just wanted to escape this weather.
Some 10 minutes later, huddled in my jacket, I realised – NO POLES!  Returning to the area all the spinifex looked the same, the poles eluded my search. I had lost them!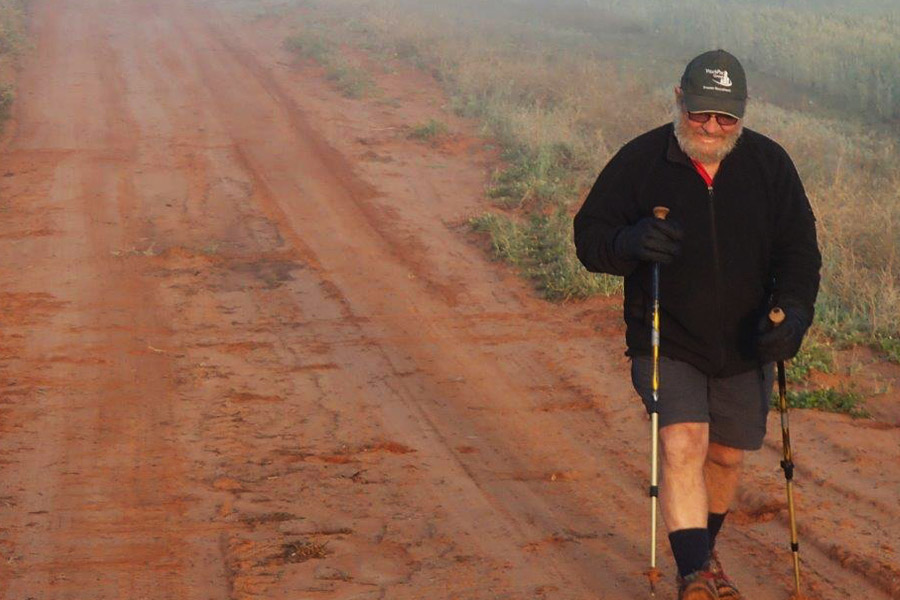 Think of walking poles as an extra set of legs, or extensions of your arms.
Why hiking poles are so important
This is when I realised how attached I had become to my hiking poles. I returned to the area for further walks, on all occasions failing to find the poles. Seems some kangaroo had snaffled them for their own purpose. The country we were walking in was rough – lots of steep ascents and descents.
The result: badly swollen knees, and the need for numerous physio visits.
Now I know, walking poles are not just an equipment trend, they are in fact the reason that I can keep bushwalking.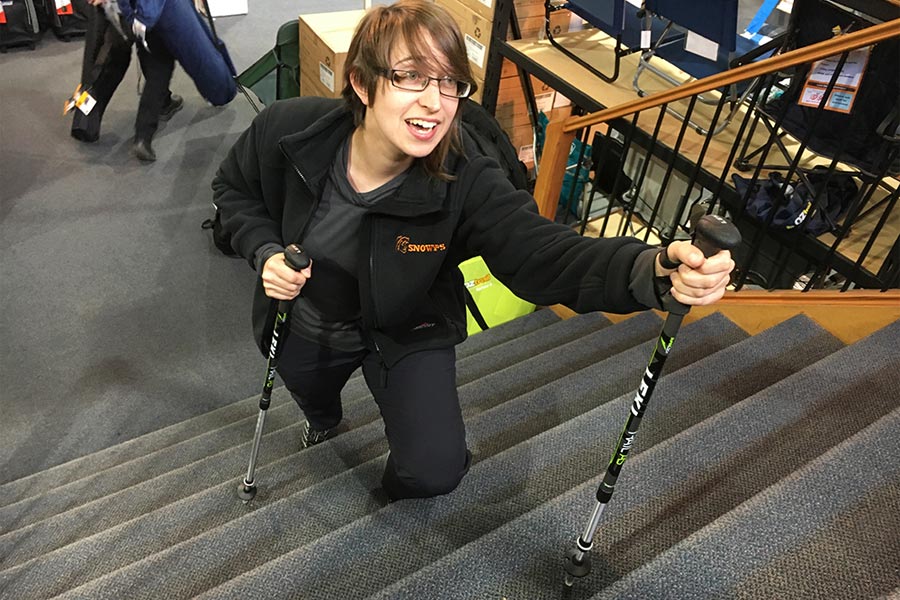 Perhaps a bit of an overkill for the stairs up to the mezzanine in the Snowys store. But you'll often see people using a Leki in lieu of a boring-looking walking stick.
Upgrading to a more versatile model
I replaced the missing poles with a set of Leki antishock poles which were fantastic and served me for many years. Eventually, after using them for some time with a broken shock spring I decided to replace or repair them. Parts are available, and I still may source the offending piece, but I took a chance to buy new a pair of Black Diamond poles with a simple 'flick-lock' mechanism. Collapsed, these poles are shorter than my old ones, so they easily fit in luggage and packs for travel.
On a recent sodden walk in the Flinders Ranges, the versatility of hiking poles was really highlighted. I used them to help in going up and down steep and variable terrain and walked effortlessly on slippery clay tracks in comparison to those without poles. Where others joined hand in hand to ford running creeks, I was able to support myself and cross safely. That said, you should always err on the side of caution – linking up with friends is a safer bet when fording.
Newest trend or not, I'm an advocate for walking poles and the benefits they bring to hiking.
Do you hike with poles? If so, what are the main benefits you get out of them?
About the writer...
Joined back in January, 2014