So, you've decided to take on Australia's largest National Park, Kakadu. But where do you start when you have up to 20,000 square kilometres of floodplains, estuaries, waterfalls and stone country to explore? The place is so big, so bold and so beautiful, and is alive with Australian Aboriginal culture.
Understandably there are still some areas inaccessible to the public due to its cultural significance to the traditional landowners, but there are a couple of secret spots we can let you in on.
So here is a guide to get you on your way to packing your bag, loading the car or booking flights.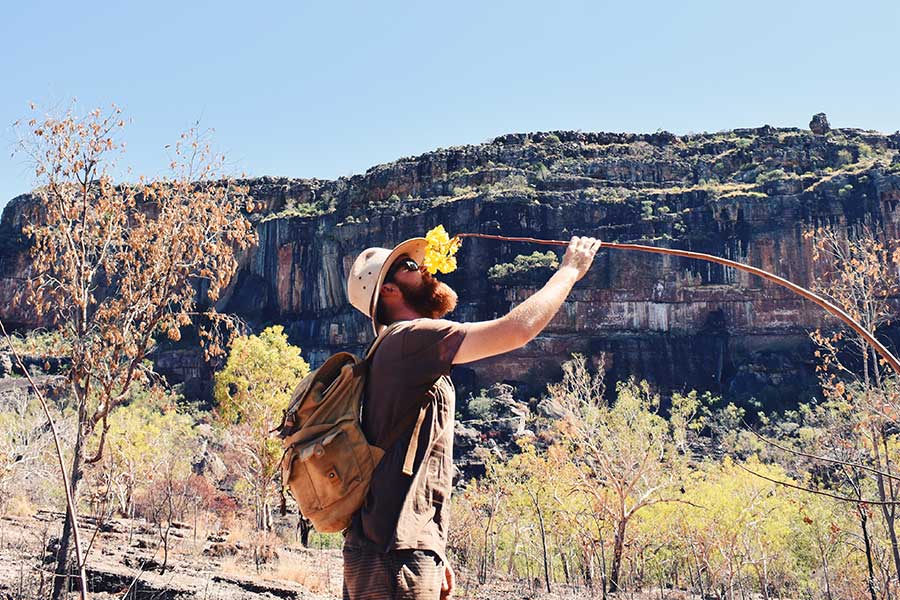 Noarlangie Rock at Kakadu National Park. 
When to go
The top end of Australia doesn't experience the usual four seasons. The wet season comes with the first crack of lighting on a late afternoon in November, and Kakadu goes from burnt orange to luscious green overnight.
When the wet season ramps up, so does the humidity. So a normal 35°C day starts to feel more like 45°C. It's impossible to keep your shirt dry and there isn't enough cold water in the world to satisfy your thirst. As beautiful as it is in the wet season, you need to know what you are doing in order to stay safe.
So with that, I suggest this hot tip, travel between May and July. At the start of the dry season, the waterfalls are still cascading heavily, the nights are cooler and the Barramundi are biting.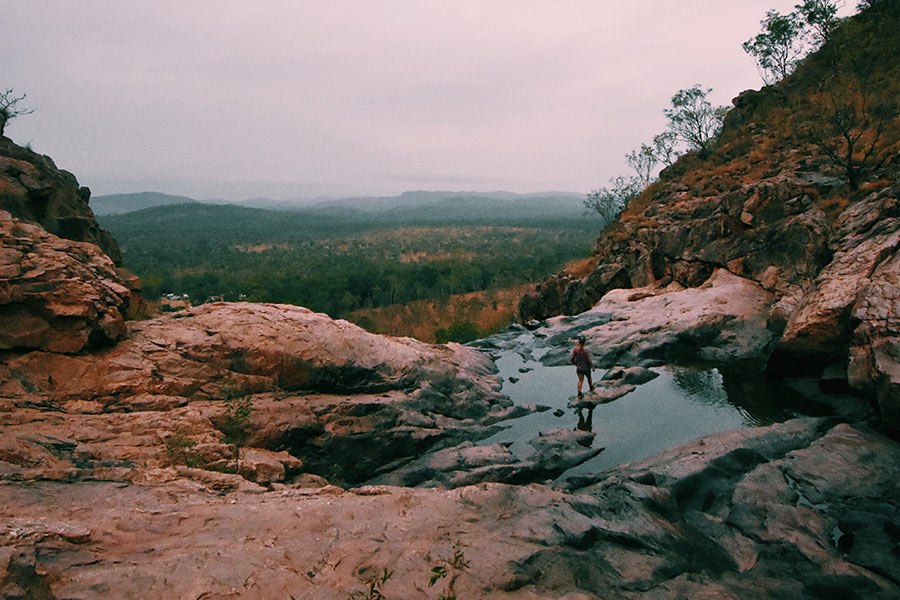 Walk to the top of Gunlom Falls to look out over the park. 
Getting there
Kakadu National Park is 133km from Darwin and 149km from Katherine. If you are planning on flying, Darwin will be your best and cheapest option, accessible by direct flight from most capital cities.
As the Northern Territory's capital city you'll find plenty of options for 4WD/van/motorhome hire and accommodation options before venturing into Kakadu. Darwin is also a great place to stock up on food and fuel. Fuel prices are about 20c/L more expensive in the park.
Remember that you are about travel in to remote Australia. Although there is a good supermarket, medical centre and bank in Jabiru, near the centre of Kakadu NP, options are going to be limited.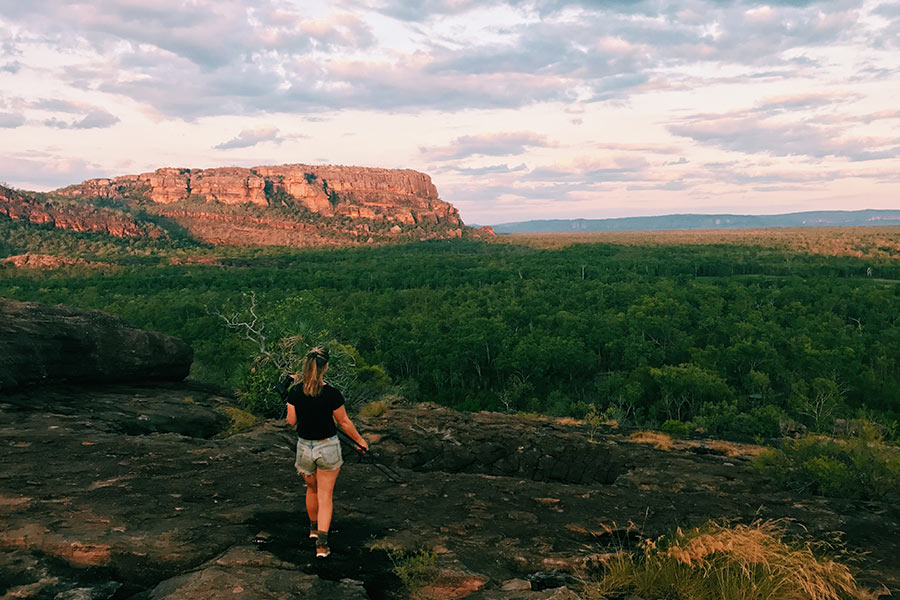 The sunset over the Nourlangie rock lookout. 
Choose your ride
It is not all bulldust and backroads like we had come to believe. So we were pleasantly surprised to be driving through the heart of the national park on the smooth surface of the Kakadu Highway. There is a good chunk of Kakadu that you can do in a standard 2WD, but if you want the full, unlimited experience we would definitely recommend a 4WD.
You do not necessarily need to be an experienced four-wheel-driver. You just need a high clearance vehicle that can make a shallow creek crossing or two and won't rattle into smithereens on the dirt roads. Have you heard of corrugations? You will know all about these incessant bumps in the road as soon as you hit the turnoff to Jim Jim Falls, and they are relentless.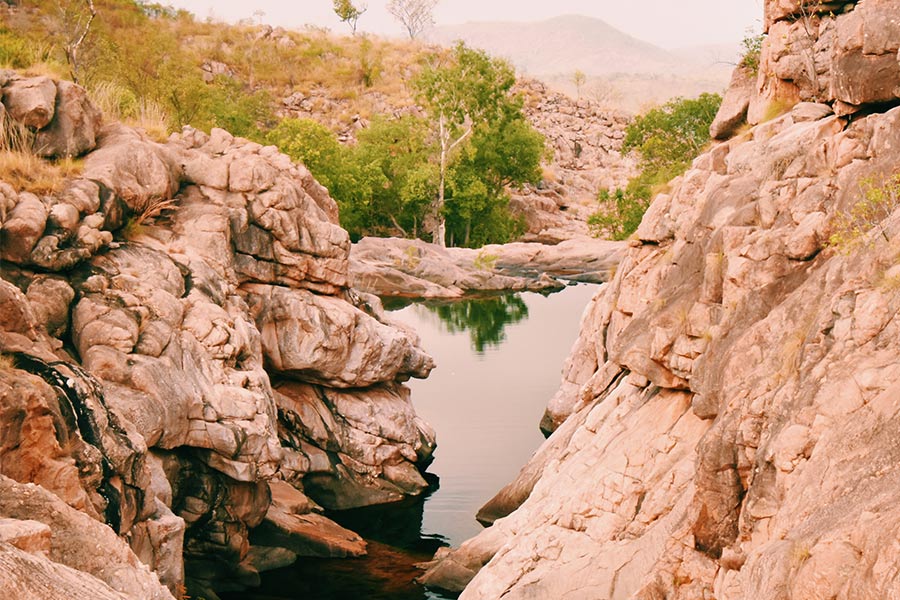 You'll need a pass to access the wonders inside Kakadu NP. 
Have you got your park pass?
You will need a park pass to access Kakadu National Park. You can buy your pass online, at the Katherine Visitor Centre or the Bowali Visitor Centre in Jabiru. Pass prices range from $12.50 for children and $25 for adults and last for up to 14 days.
Children under 4 are free and other discounts are available for families and concession card holders. 100% of this money goes right back into the park and supports the traditional landowners and general park upkeep.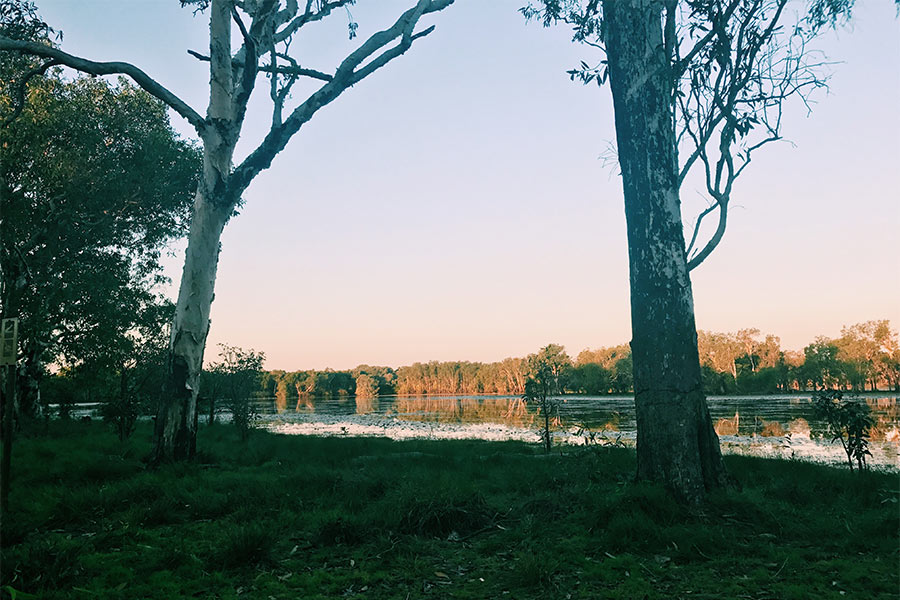 Sandy Billabong is our top pick for camping in Kakadu. 
Where to stay
If you can camp, camp. Kakadu offers 26 different campgrounds across the park, which range from fancy caravan parks to basic bush camping. So if you want a pool, hot showers and to treat yourself to dinner out, you can base yourself at the Cooinda Campground and Caravan Park.
But if you are like us and would prefer to light up a fire in a quiet corner of the park our top pick would be Sandy Billabong (it must be the sandy track and long drop toilets that deter a few people from getting in here). All of the big hitters like Gunlom, Jim Jim Falls and Maguk have a campground nearby so that you can really make the most of these special places. Camping fees depend on the facilities available and you will find some of the more remote sites are free of charge.
If you were not planning on camping at all, fear not, you have 7 hotels/lodges/resorts with varying degrees of luxury to choose from.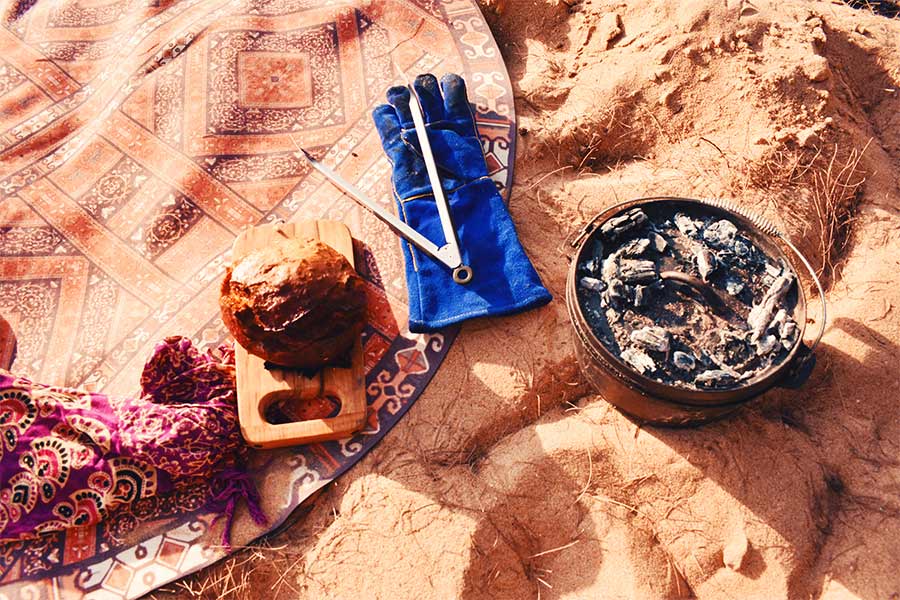 A campfire dinner at our campsite at Sandy Billabong. 
What to bring
An alarm clock. There is a reason this place gets busy, so if you want to beat the crowds and enjoy some time to yourself at the top of Jim Jim Falls, set your alarm. Getting up early is also the best way to beat the heat. Speaking of heat, here are some things you will need to have with you in order to prevent heat exposure.
Water, minimum 1L per hour of activity, or 4L per day
Lightweight, long sleeved shirts
Sunscreen
Sunglasses
Respect for the wild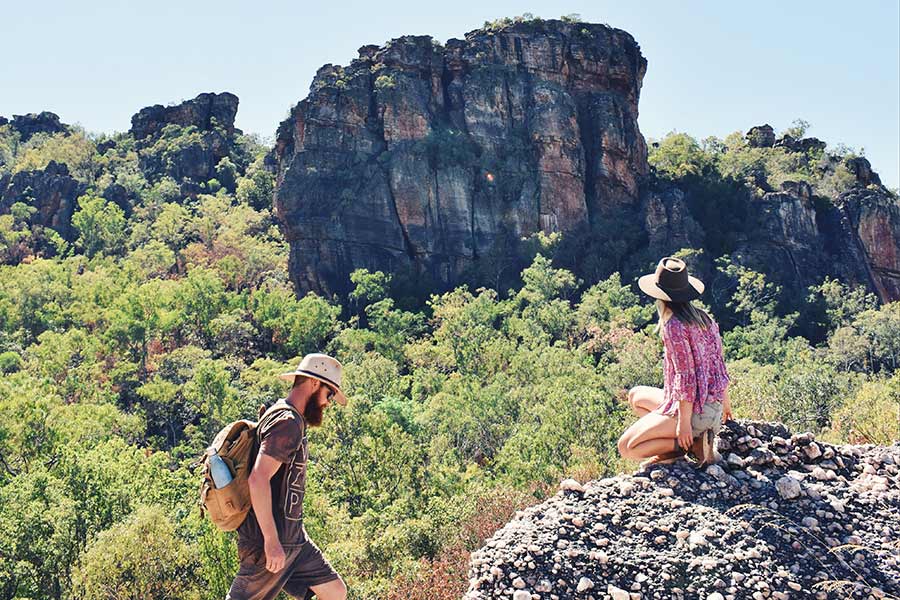 You'll need sun basics such as hats and a daypack for exploring the park. 
Some other things you will also need to include;
Backpack for day trips which must always contain water, snacks and a basic first aid kit
Camera
Swimmers
Towel
Park pass
National Park map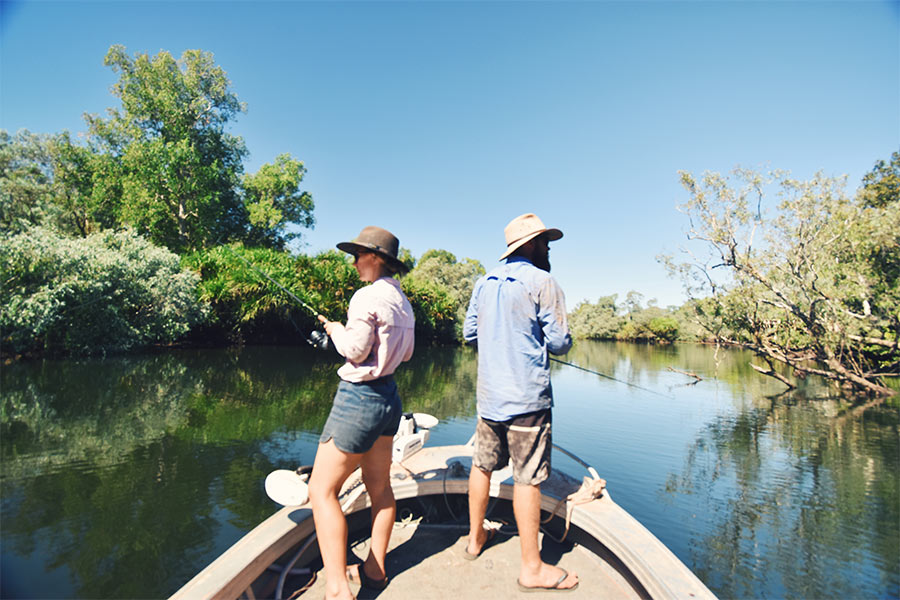 With so many opportunities to enjoy the water, swimmers and a towel are a must. 
Our top 5
1. Maguk
Mother Nature did some amazing work on this playground. Blue water, glowing orange rocks and waterfalls that lead into more waterfalls. Read a bit more about it below in Secret Spots.
2. Jim Jim Falls
This one is a tour bus favourite so timing is everything. The earlier the better, or you might get lucky around 3 pm when they start loading their customers back on the bus. After making the rock scramble to the first beach on the right-hand side, we would suggest holding your backpack above your head and swimming around to the second beach to find a bit of space that is all yours. Once again, check out Secret Spots for a hidden gem close by.
Swimming through the pristine waters of Maguk.
3. Ubirr
If you are looking for an education on Australian Aboriginal history this is the place. Once a great meeting place and educational hub, the area is covered in densely intricate rock art that dates back 3000 years and tells a vivid story of life in the area. There is a Ranger-guided walk through the site that really gives you an understanding of the Aboriginal culture that is alive in Kakadu.
Ubirr is also an amazing place to watch the sunset, with floodplains on one side and stone country on the other. Give it time and watch the colours change over the landscape and the shadows lengthen across stony escarpments.
4. Yellow Water River Cruise
Ever thought of feeding your kids to the crocs? this would be the place… don't though. The crocodiles here are brazen and about as big and bold as Kakadu itself. It is not only crocodiles you'll see, but Asian Buffalo and wild horses on the banks.
There are plenty of Barramundi and Saratoga if you are going to wet a line. And the most beautiful water lilies stand proudly along the edges of Yellow Water.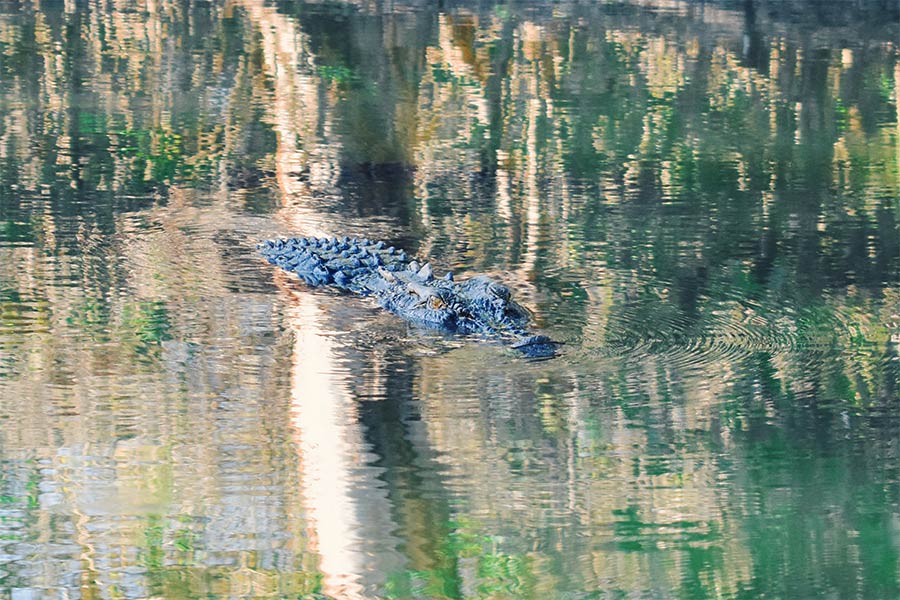 A saltie we spotted on the Yellow Water Cruise. 
5. Twin Falls
An immense waterfall that is open for a limited time each year due to high waters and a shuttle boat crossing. It would be worth looking into a helicopter flight in order to see this beauty in full flow if you can't gain access
Secret Spots
There are a couple of places that just don't get much hype. Or they get a lot of hype but some crucial information is missing, for example, Barrk Marlam.
Barrk Marlam
You have heard of Jim Jim Falls (I've definitely mentioned it a few times), but have you heard of Barrk Marlam? Well, it is one of our absolute highlights and not well marked. From the car park at Jim Jim Falls you follow the path to the falls for about 200m before turning off (there is a small sign) to the right across the creek.
The hike requires you to follow the pink ribbons hung in the trees to guide you to the top of Jim Jim Falls. Now it says that this hike is 6km return, but it is so intense it feels like twice that distance. At the top, you will be rewarded with spectacular views and private swimming holes.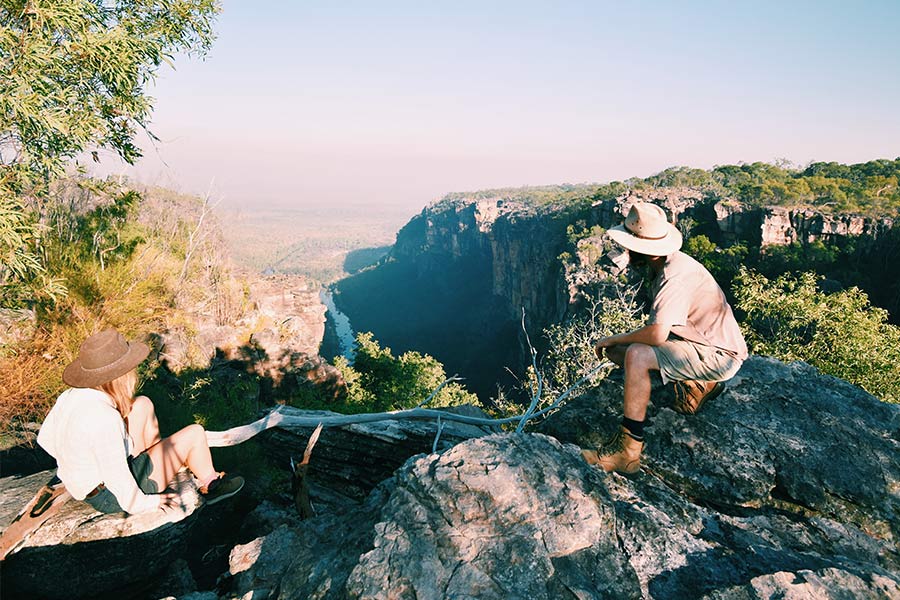 Barrk Marlam is a challenging bushwalk, but well worth the hike. 
Maguk's infinity pool
Maguk's infinity pool, we would not have noticed this sneaky spot if it wasn't for a tiny little head that poked over the falls when we were swimming in the main gorge. To get to Maguk's infinity pool you will need to stay on the left-hand side of the creek when the arrows tell you to cross. Look straight ahead and you'll see the making of a well-worn path, follow it.
This walk is quite a bit easier than Barrk Marlam and just as rewarding. Be sure to take some goggles to see this gorge below the surface. If you are brave you probably won't hesitate to swim through one of the underwater rock tunnels.
Motor Car Falls
Motor Car Falls is accessed via part of the Yirmikmik trails. 3.75km of fairly level ground will take you from a dry and dusty service road into a tropical oasis. Drape yourself over a giant boulder with sun rays pouring between prehistoric-looking trees, and then float on cool waters beneath zebra printed rocks. You are almost guaranteed to get this place to yourself any time of day.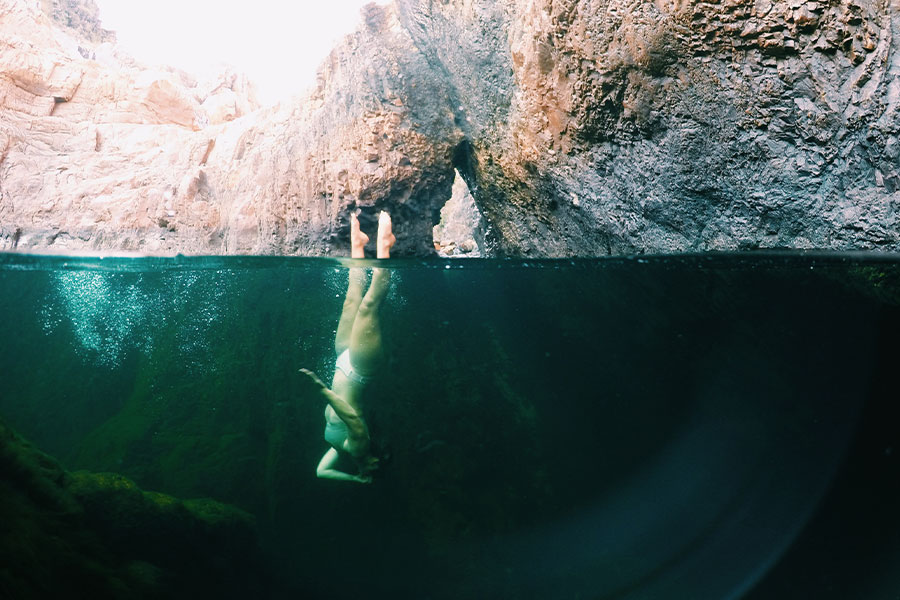 The infinity pool at Maguk is not to be missed. 
The Rockhole (Moline)
Lastly, a secret local's hotspot, The Rockhole (Moline). Not marked on the map or signposted from the road, this one has been saved for some small tour group exclusivity. Time to put it on the map. As you are heading south down the Kakadu Highway and coming down the range, at the bottom of the hill is a right-hand turn off with what looks like a green postbox on the corner.
The road in is rocky and can be narrow in sections, with only a small turning area at the end (take care if towing). Just 200m from the carpark is a pool with natural rocky seats along its sides, a waterfall that cascades down a narrow gorge and into the water, where curious turtles pop up to check you out.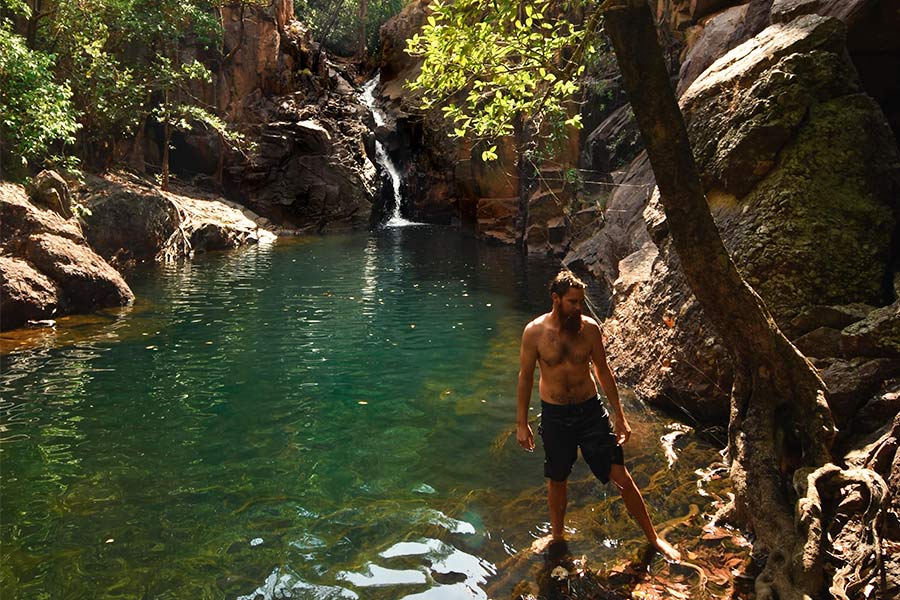 The Rockhole Moline is a spot loved by the locals.
Croc safety
The Top End is alive with crocodiles, both saltwater and freshwater. Although you can often safely swim in the same pool as a "freshie", "salties" will not allow that same kind of luxury.
We've done our fair share of travel along the top end of Australia and shared the water with some big crocs on fishing trips, but we have never met crocs like the ones in Kakadu. Kakadu is the first place we have had a crocodile come in direct pursuit of our boat. These guys are no joke. Obey signs and check with Rangers on where it is safe to swim. The changing water levels in Kakadu mean that crocs can get in anywhere.
When picking a camp spot, stay at least 50m from the water's edge and always leave at least 5m between you and the water when walking or fishing. Respect these prehistoric beasts, there's a reason they have been around longer than us.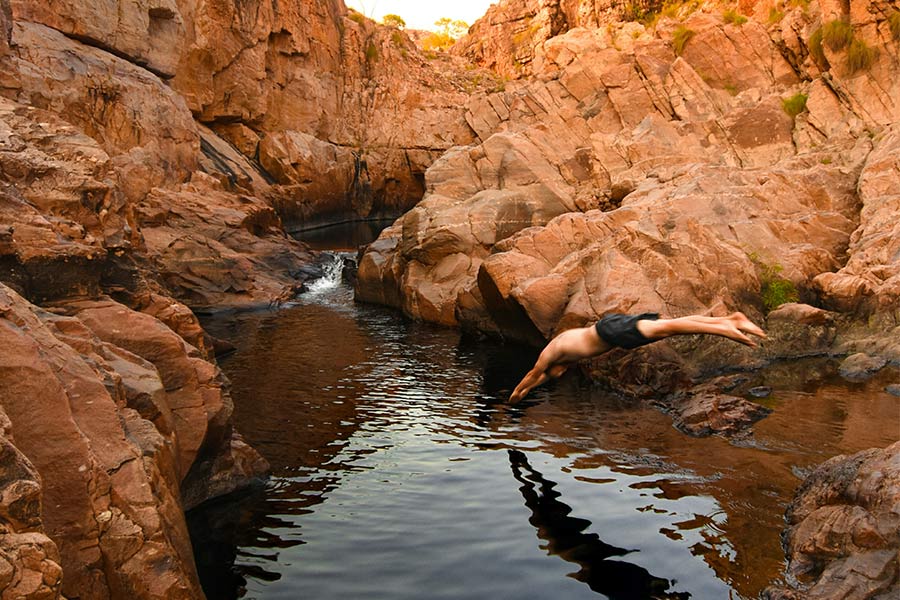 Make sure you obey signs of where you can swim. 
That's all from us
We hope that this has given you enough information to confidently book your flight, hire a car or drive straight in there on part of your Australia trip.
Be sure to check in at the Warradjan Cultural Centre or any of the visitor's centres to pick up your park maps and activity timetables.
You'll find lots of hikes, Ranger-guided activities, and birdwatching, and enough places to fish to keep you fed. It's a Kaka-DO from us!
What have your trips to the top end been like? 
About the writer...
Touring Australia full-time in our Nissan Patrol, Max and I live life in the slow lane. Fishing, hiking, and camping is what we do at Powershala. Our favourite place will always on a secluded beach and we are always on the search. Check out more of our adventures at powershala.com or @powershala
Joined back in November, 2018