Ask anyone about travelling with children and they'll tell you, while sometimes it is challenging, it's still a fun and rewarding experience.
A lot of families dream of hitting the road for 12 months to see everything Australia has to offer. However, I'd encourage a taste of life under the stars first starting with maybe a weekend away, or a few days during the school holidays to determine if the big lap could be a reality or a nightmare for your lot.
We took our kids everywhere and, most of the time they got along and travelled well. This is not always the case, which is where a bit of trial and error goes a long way towards more smiles and fewer tears.
A school holiday trip is fun, but challenging at times!
Surviving the kids' first school holiday camping or caravanning trip
Recently I developed a little focus group of grandparents and other experienced family travellers around the campfire. They were full of ideas to keep young travellers entertained in and out of the car.
If you're looking for packing lists, car games to play and tips for cooking on the road, you can find them elsewhere. Unlike the many travel articles out there that are full of tips from happy families, this is a practical guide for anyone who wants to know how to survive your first school holiday trip with your family.
What do you need to know about surviving a trip away with kids? 
Factor in day trips and places to visit on the way
If longer car expeditions are new to your family, it's a good idea to plan ahead by searching for any day trips on the way to your destination, so that you can find a suitable campground or park for a short break.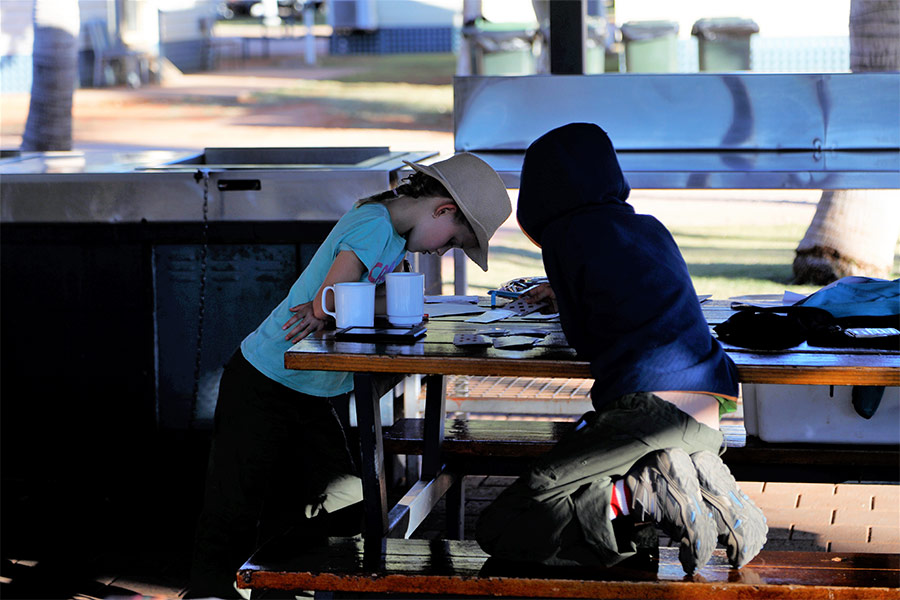 Check in advance where you can stop for a short break.
Caravan parks are a good place to start
When it comes to your first trip away, there's nothing wrong with a caravan park if you don't want to start with a drop pit loo experience. Most will have a  playground and a pool which is a social hub for both parents and youngsters.
A good camp kitchen is also a bonus if you'd rather not cook at your campsite or you just crave some adult conversation to maintain your sanity over a glass of something strong.
Caravan parks are great for school holidays as they have heaps of amenities. 
What kids gear to bring on holiday
Camping kids run around till lunch like lunatics, then disappear with other campers' kids till dinner. They never play like they do at home and need half of their usual gear.
Ours spent hours on Fraser Island making a sand mine, with sticks, stones and a mound of sand. You don't need to overload your vehicle with toys and gadgets, a couple for each child will be fine and maybe their bikes if you've got the space.
When you should stop
The consensus about young kids in cars is to stop every couple of hours and let them run berserk for about five minutes or so. I'd also recommend trying to get them to enjoy the same kind of music as you. Believe me, kids' tunes wear thin pretty quickly, especially on a long car journey. Make sure you pack individual snack bags for each child and distribute them out as needed.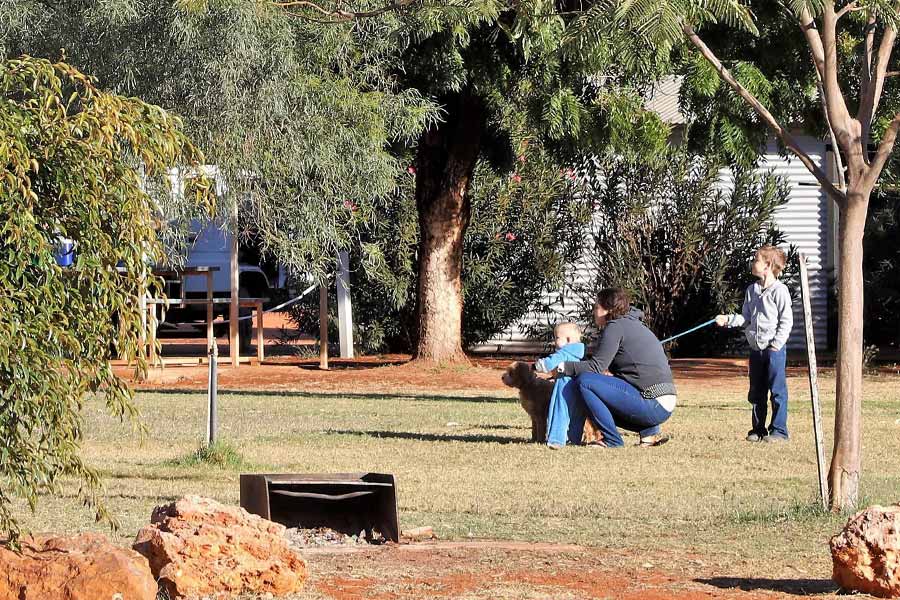 Let the kids run around when you stop for a break. 
Preparing kids for camping before your trip
It's well established that assigning a camp set-up task even for a toddler is a valuable thing to do. Small tasks like holding the mallet, pegs, guy ropes or standing by the poles to pass them when asked, will keep the littlies busy and near and help them feel involved.
It's a good idea to practice this at home first, maybe just overnight in the backyard, so that everyone knows their role. It's also a great way to check that your gear is in good order and you know how to use it before you leave to save any mishaps.
There's nothing worse than arriving at your destination with an essential pole or camp chair missing when everyone is tired, and the fun should just be starting.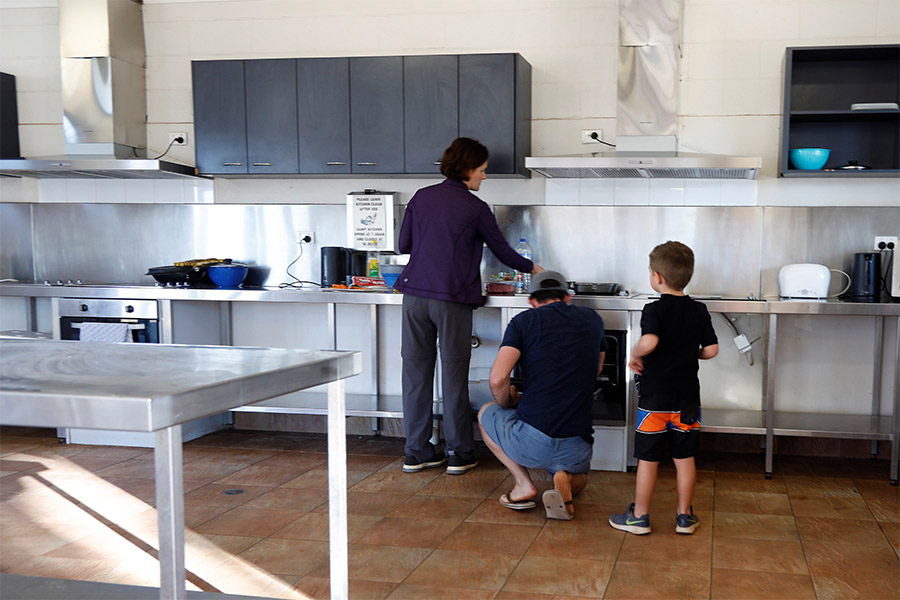 Giving kids a task to do is helpful for everyone. 
How to get kids to behave in the car
If you're really worried about bad behaviour in the car, one of my campfire cohorts swears by sitting a packet of lollies on the dash. He tells the kids each time they sook or misbehave that one lolly will be tossed out the window. At the end of the day, they can share what's left of the lollies or put the empty bag in the bin, the choice is theirs.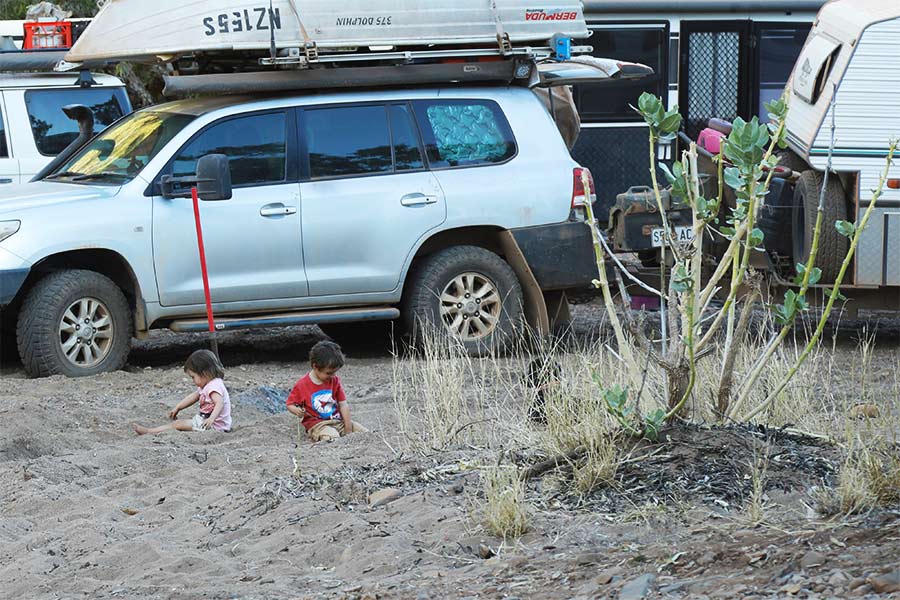 Don't worry so much about the kids getting a little bit dirty on the road. 
Don't let them take their best clothes
Knowing you'll cope when the kids get dirty is a great start, just grab a stash of darker clothing and don't worry about it. Cleanliness is the last thing you need to stress about when the kids are happy.
If you think you'll need to do laundry when on the road, pack some detergent, and make sure you have some gold coins for the machine and pegs for the clothesline. Get in early to do your laundry so that you can have the load hung out. This also means that you can enjoy the rest of the day too.
An op shop is a good place to select a camping wardrobe. It's also a treasure trove of inexpensive toys and books to take. And, if you think you'll go to town or out to dinner, you can always pack some 'good clothes' if you feel that you need to.
Leave the good clothes at home to save on any dramas. 
Get them involved in taking some family snaps
If you have a spare family camera, encourage your kids to use all the time. If you're lucky they'll get some holiday snaps of you. This is a welcome addition to an album that's usually filled up with just them. It's also a fun activity to keep them busy and could make for a good show and tell project when they get back to school.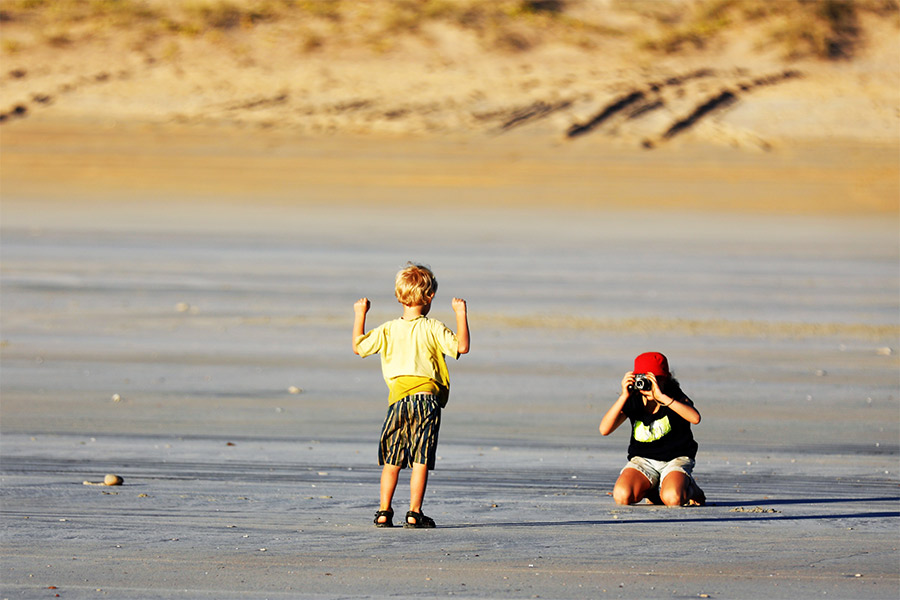 Taking holiday snaps is a great activity, and gives them something for show and tell. 
Listen to audiobooks
Downloading audiobooks is another fantastic idea for a long car trip. Many libraries offer free e-books which you can borrow before you leave. There's also the option of streaming apps like Stan and Netflix which allow you to download and view offline without the use of data.
These are a popular option for a rainy day when there's not much else to do. I'd recommend using earphones, as it may mean less arguing over what to watch, and should focus the children's attention while you get a break too.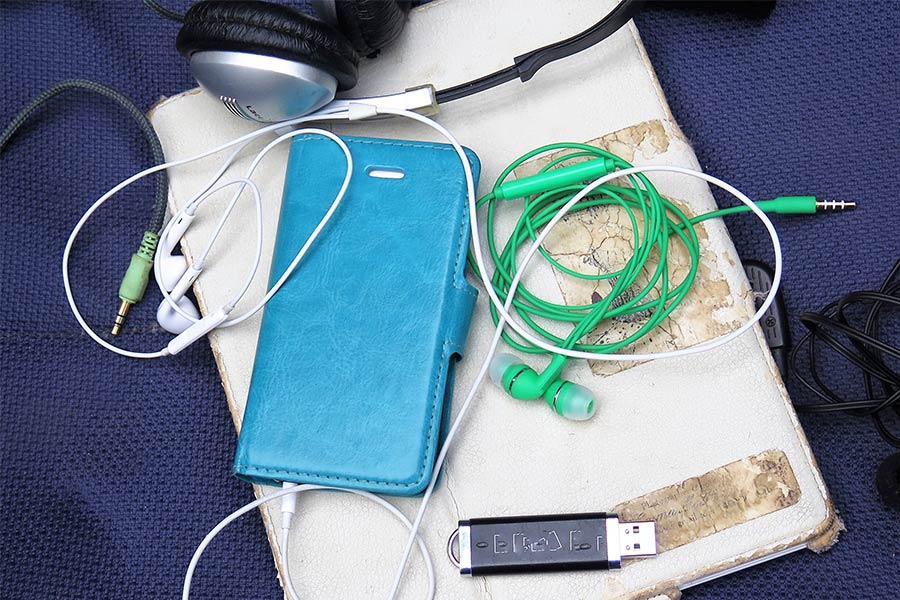 Earphones are a must so each member of the family can enjoy some downtime. 
Familiarise them with each site you go to
No matter how hard you try, you can't keep an eye on them all the time. A quick chat in the car on arrival can help everyone's anxiety levels. Walk around the campsite as soon as you're set up. This way, everyone is familiar with the place, and where everything is.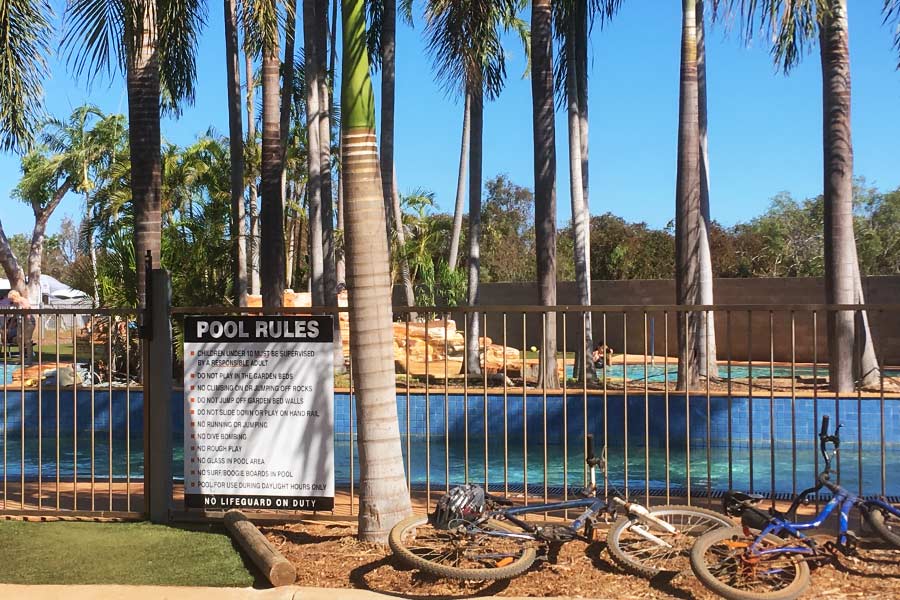 Familiarise your kids with the rules of the caravan park. 
Explain the rules of the caravan park
Caravan parks will always have a few rules, so ensure that you discuss these and make sure everyone understands any no-go zones and where they should and shouldn't play. If you're camping in the great outdoors, set a few physical boundaries and point out any dangerous areas to be wary of.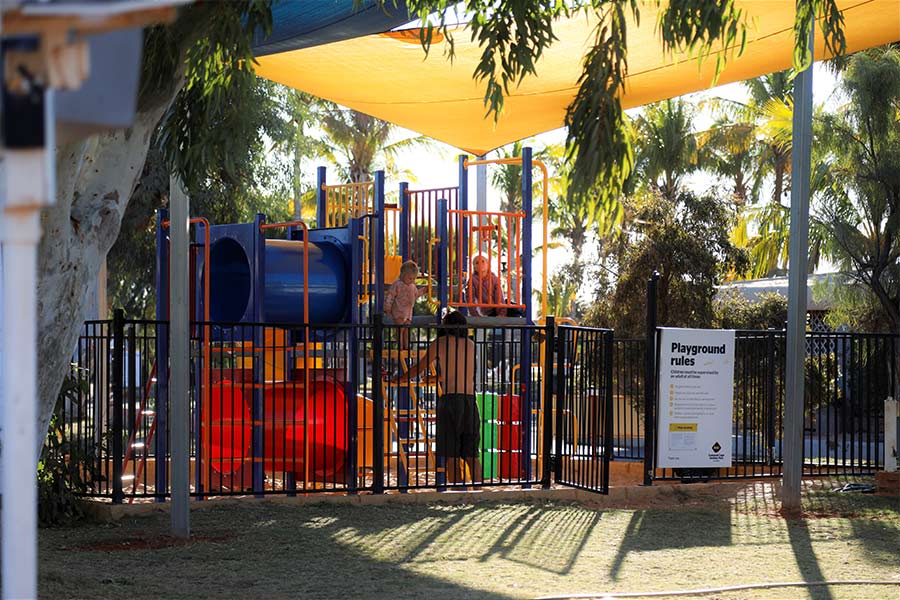 Ensure the boundaries are established so that everyone stays safe. 
Make sure they know where basecamp is
When your kids go off with their new friends, check that they know how to get back to camp before they head off. If you've got a site number, make sure you tell them. If not, then ensuring that they know what kind of car, tent or van you're in makes their return much easier when they ask someone for help.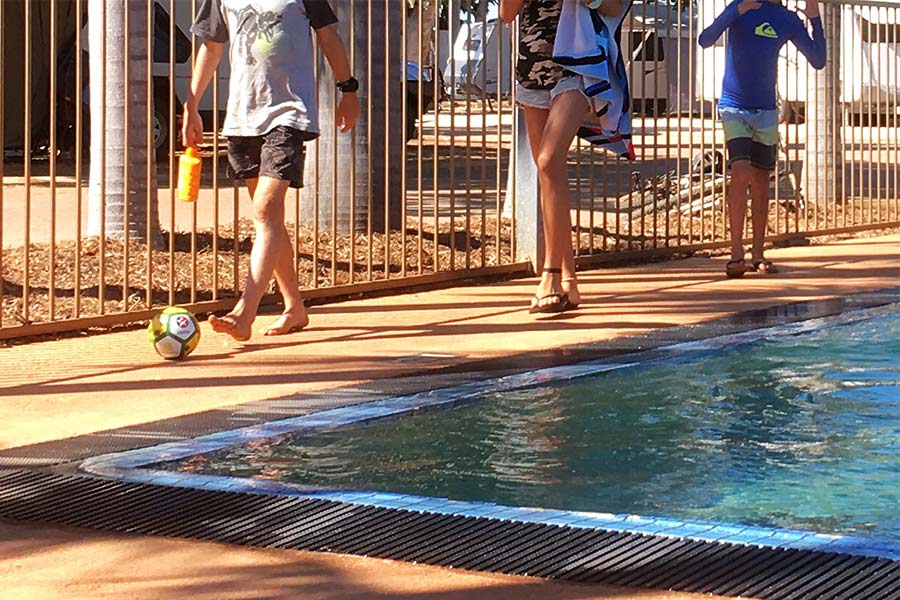 When your kids head off with friends, ensure they know how to get back safely. 
A final tip – don't use up treats or rewards too quickly
A final tip would be to not use up all of the treats and toys you've brought with you in the first couple of days. Pack them separately, so that they're not discovered earlier than you wish. Keep some up your sleeve in a hidden spot for when a reward or distraction is required, or maybe if you need one for yourself!
This is not the definitive list of course, as every family is different. What we have in common though, is the desire to experience a peaceful trip with minimal whinging, tears, poking and pinching.
If you do discover the secret formula for taking kids on a trip during the school holidays, then please let me know! Otherwise, I look forward to meeting you out on the road.
What are your tips for enjoying caravan parks during the school holidays? Let us know in the comments.  
About the writer...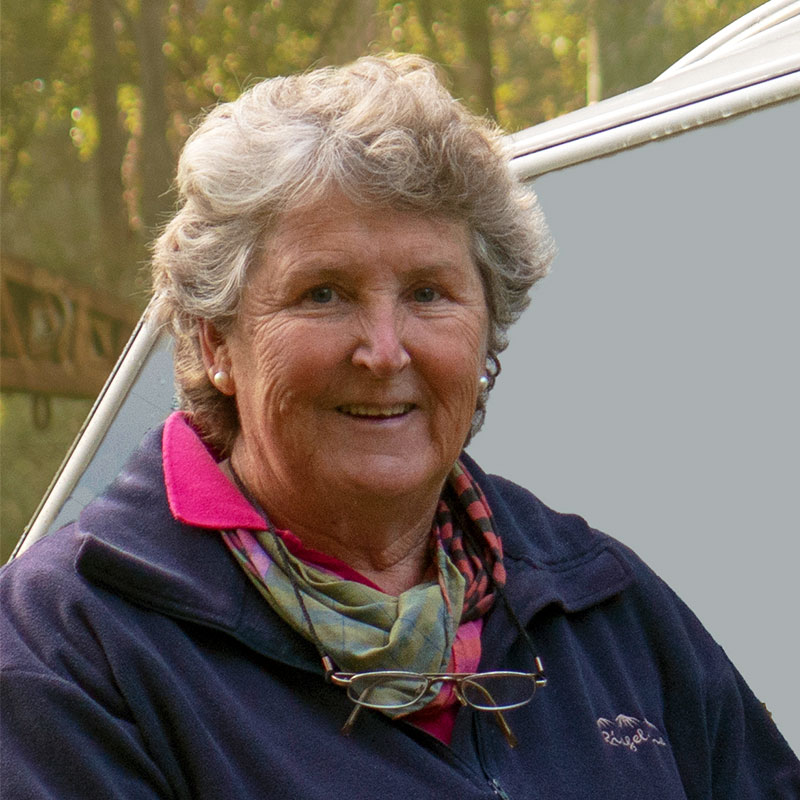 Based in Victoria's High Country, Emma and her husband have been enjoying touring with an off-road camper for the past 15 years. An award-winning exhibiting photographer Emma is never far from her camera and is inspired by Australian landscape and fauna. Her images can be seen on Instagram @emcamproductions.
Joined back in September, 2018