It's a common story for many hikers. Over the years as gear wears out you replace it with better, lighter, and more compact gear. Well, having been into this hiking and camping caper for about 10 years, it finally came time to replace my tired old lightweight sleeping mat.
Some no-name brand, it weighed about a kilo, took up far too much space in my pack, and gave me a crook back every hiking trip. It had to go. And with a week-long bicycle touring trip coming up, I wanted something light, and that wouldn't take up too much space in my pannier.
Working in a camping shop has its advantages – foremost, I get to see all sorts of weird and wonderful, ultralight and teeny-tiny, and bomb-proof gear roll in before everyone else!
One such piece of freaky gear was the Sea to Summit Ultralight sleeping mat. I bought one quick smart and rate it highly. Here are my thoughts.
About the Sea to Summit Ultralight
The range of sleeping mats the Ultralight belongs to look kind of strange. Imagine an egg carton – that's kind of what they look like. Very brightly coloured egg cartons. But this 'air sprung cell' design is a good thing as it means less material is needed to give you something sturdy to pop your head down on.
The Ultralight's brother, the Ultralight Insulated (and others in the range) boasts an insulation fibre inside, which protects against the cold ground.
The Ultralight isn't self-inflating like a lot of other sleeping mats, but don't let that phase you. It's as comfortable as they come and easy to inflate as I'll go over soon.
How comfortable is it?
I'm going to put it out there – my Ultralight is the most comfortable lightweight hiking pad I have ever owned. Yeah, the Exped I take car camping is more comfortable, but it also takes up a good portion of my car boot and weighs several kilos. As far as hiking mats go, the Ultralight is where it's at for me.
If you toss and turn a bit in your sleep, the ripstop nylon construction can be a bit creaky, but that won't bother you as you'll fast sleep.
As I have written elsewhere about this mat: I'm a side-sleeper so with most mats my hip touches the ground. Not with this fella. It keeps me suspended off the ground with enough cushioning to make it almost mattress-like.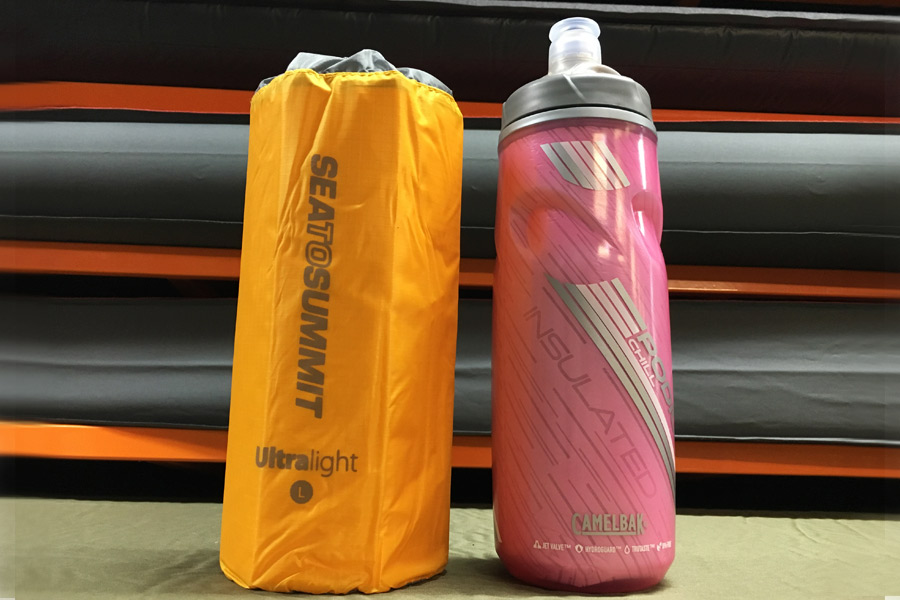 This is the large version of the Ultralight – look how small it is still, next to a Camelbak Podium water bottle. 
If I haven't been camping for a while, my first night's sleep is usually the worst – I'll wake up with a crook back due to the 'adjustment' period I require. Cry me a river, right?
First night on this, camping at the Yea Caravan Park on the Great Victorian Rail Trail, and I felt good as gold. Which was important, as I had 40km on the bike ahead of me.
Construction and quality
Sea to Summit apparently inflates every single one of their sleeping mats to 1.5x the recommended fill. No, not a test sample – every single mat that rolls off the line. They then keep them inflated for a time to check that the welds are strong and there are no imperfections. That's some pretty serious quality control.
What's more, the Ultralight has a nice feel to it. The whole thing looks well made. The valve, which has both inflate and deflate modes, has an 'honest' click to it, to reassure you it won't pop out in the middle of the night.
The Ultra-Sil® sack that it packs into is generous enough in size to accommodate your poor folding skills, and is the same material used for Sea to Summit's range of dry bags and accessories. And it comes with a genuine 3M repair kit – what is it with the shoddy repair kits so much gear comes with?
Inflating and rolling it up
The best way to inflate the Ultralight is with a Jet or Air Stream Pump Sack. Why? Well, firstly it'll save you a lot of breath. I haven't tried to inflate my mat by breath, but it'll take a few.
And, despite the fact that all Sea to Summit sleeping mats have antimicrobial treatments applied to their insides, to stop your dirty breath from turning to mold, it's best to avoid filling your mat with spit.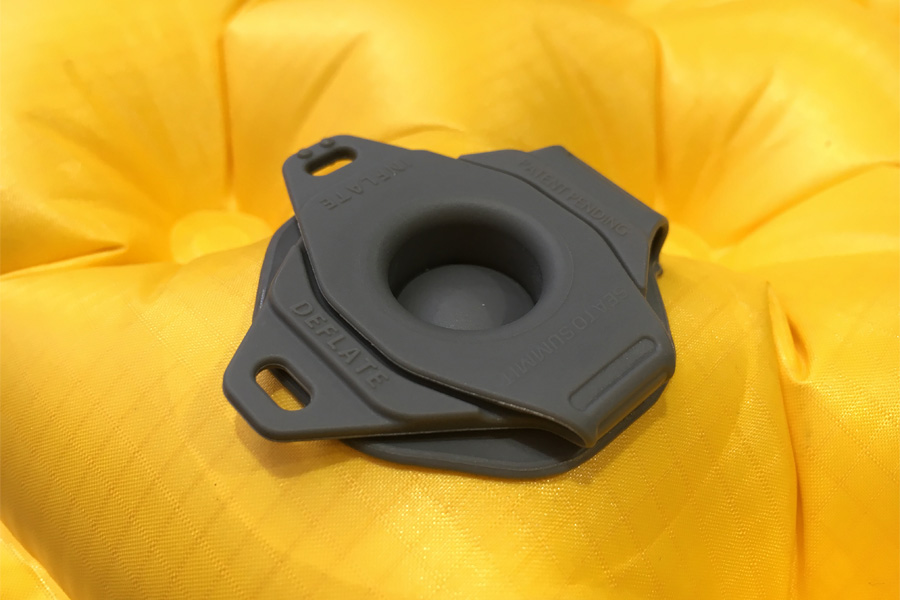 The Ultralight has a combined inflate/deflate valve.
With the Air Stream Pump Sack: clip it to the inflate valve, breathe a casual breath into the sack, trap it in by folding over the end of the bag, and push it in. A single go will have the mat perfectly firm.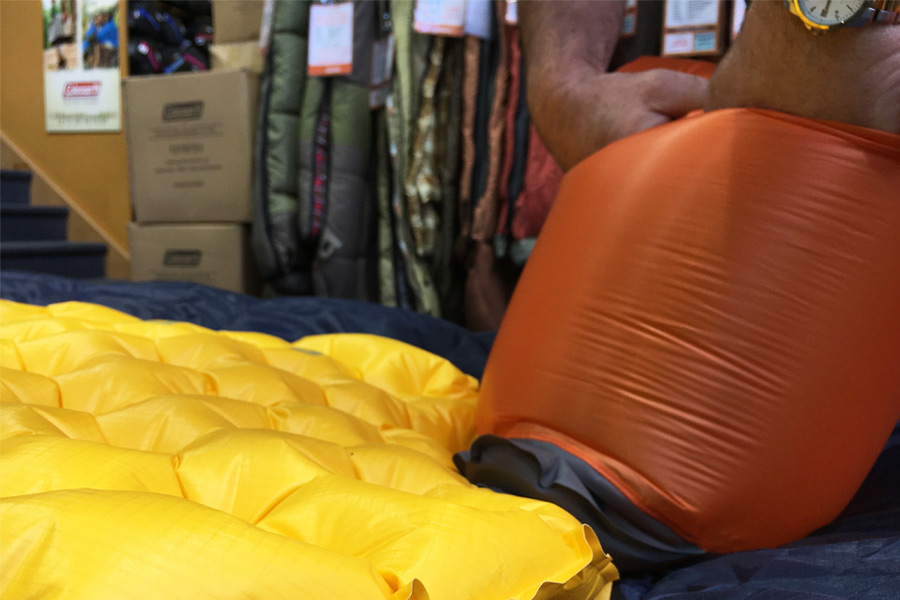 Inflating the Ultralight with an Air Stream Pump Sack is easy as pie. 
Rolling it up: unclip the deflate valve, and whoosh, it's mostly deflated. Roll it up from the foot and force the rest of the air out. Clip it closed and put it back in its bag. Happy days.
Who's it suitable for?
The Sea to Summit Ultralight is a warm weather sleeping mat. It's not insulated so if you're sleeping on the cold ground, you'll actually be sleeping on a cold pocket of air too. It's rated to R-Value of 0.7 – nothing, really. But in warm weather, like that which I experienced on my cycling trip in North East Victoria, it's a gem.
This is a mat for the lightweight enthusiast. The sort of bushwalker, bicycle tourer, or climber that cuts the handle off their toothbrush. Or the person that aspires to be like that, but wants to start with the big ticket items like tent, sleeping bag, and mat. It weighs in at as little as 345g and packs down to 17cm long and 7.5cm in diameter. You could stow it in the water bottle pocket of your pack or the bottle cage on your bike!
If you're tramping the backcountry of NZ in spring, summer, or autumn and will be staying in huts most of the time, this is a fine mat to turn those horrible hut mattresses into something a little more bearable. On the Larapinta, Fraser Island Great Walk, Bibbulmun, or Heysen Trail – it's spot on.
If you're after something with a little more warmth and don't mind a few grams, go the Ultralight Insulated instead. I'm going to buy one as my new NZ-in-a-tent mat.
Overall
Comfortable. Light. Compact. I look forward to carrying it in my pack and sleeping on it again.
P.S We published an FAQ blog on the Sea to Summit sleeping mat range that you should check out as well.
What mat do you carry for multi-day hikes?
About the writer...
Joined back in November, 2015