Tents come in all different shapes, sizes and weights – so how do you know which tent to choose? How do you know if a tent is the right one for your next trip?
As usual, you need to consider where you are going, how you are travelling and what you will be doing at your destination. This will give you some idea of whether to pack light or if you can afford to carry a little extra and perhaps have a little more comfort. Another thing to consider, as much as we don't like to, is expense or cost of a tent; what can you afford? Be realistic and try to weigh up the cost of a suitable, comfortable tent opposed to what you can afford.
Tents are a bit like many other things, the more you pay, the better quality it will be. For example, the more you pay for a hiking tent, the stronger and lighter weight the material will be. With general purpose canvas tents, the more you pay the higher quality and more features it will have.
So at this stage, you find yourself getting a little confused…so here is a list of what you should consider.
Things to consider when buying a tent:
How much can I afford?
How many people & what gear does the tent have to accommodate?
What features are necessary?
How many rooms are needed within the tent?
What material is best for the tent to be made out of, canvas or dome, lightweight polyester type material?
Where are you going to use the tent most, for hiking, touring by vehicle, are there height or weight limitations?
What climate will the tent be used in, cold, windy, wet, dry, hot?
Will the tent be used for short (overnight) or longer-term accommodation?
One of the most important decisions that will need to be made is what type of tent you need. There are three common types of tents, some of the pros and cons of each tent type are listed below.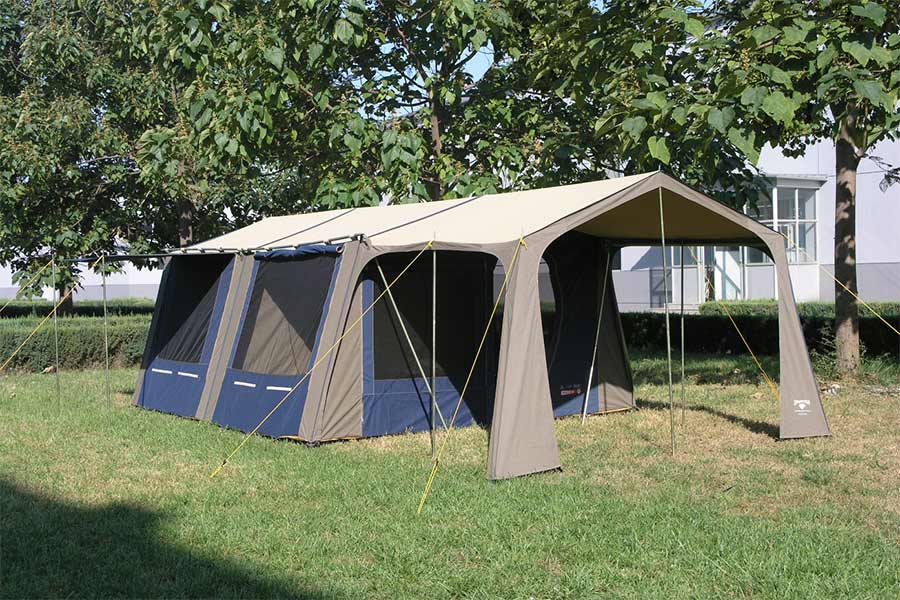 Cabin Tents
A cabin tent usually consists of a metal frame upon which a canvas outer layer is then attached. These tents are popular for longer camp stays. They usually offer generous space with multiple rooms, significant head-room and often a very large awning and/or annexe offering the closest thing to a home away from home.
Something to keep in mind is that this type of tent is usually bulky and heavy which makes them impractical for lightweight camping.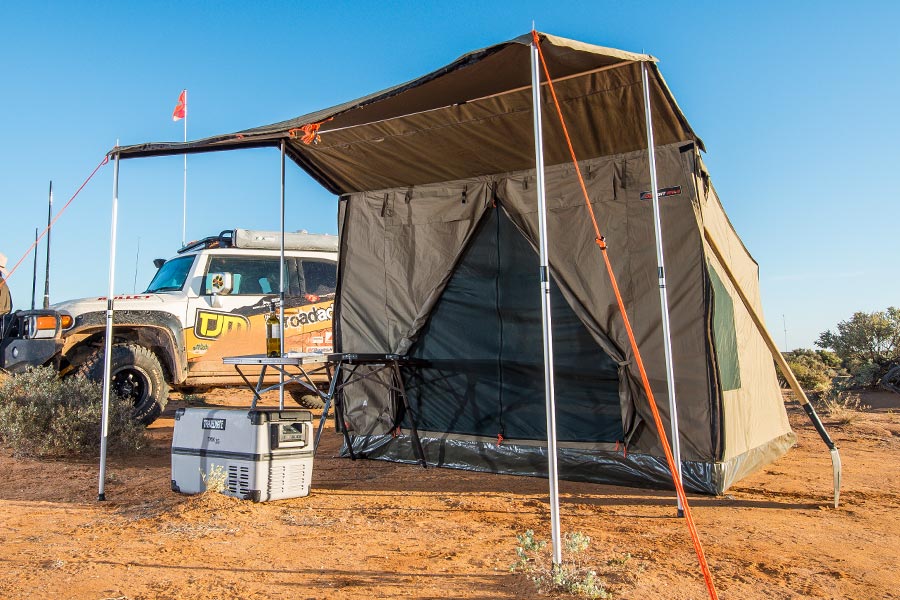 Touring Tents
Traditionally touring tents were made out of heavy canvas, however, newer designs have started incorporating lighter synthetic/semi-synthetic materials with an integrated frame. This type of tent has a significant advantage in that they are very fast to set-up and take down.
Keep in mind that touring tents are not too dissimilar to cabin tents in that the frame components are large and bulky resulting in usually needing to be carried on roof racks or trailer while travelling.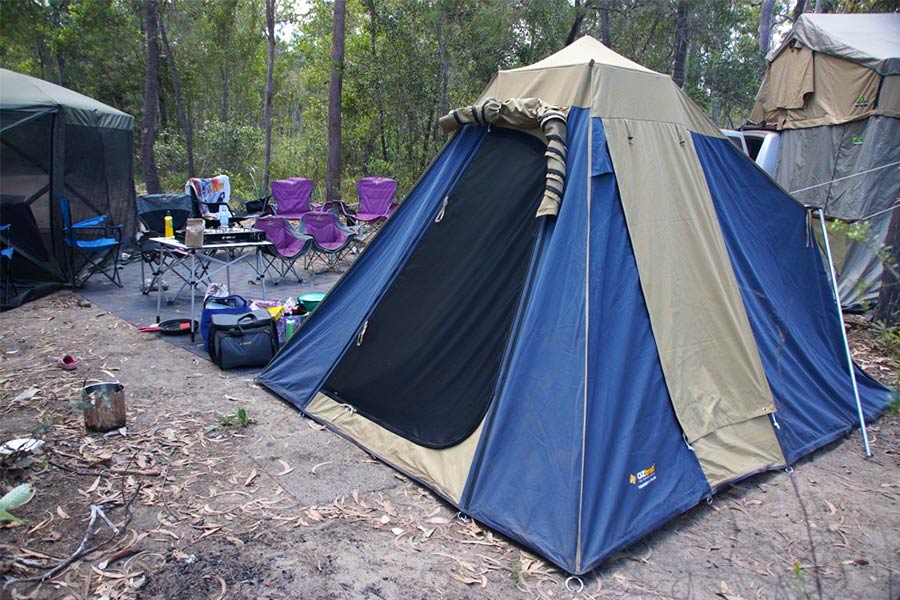 Centre Pole Tourer Tents
The centre pole tent in some ways is a simplified version of the touring tent although its construction is based upon the use of a "centre pole" as a major part of the frame. These feature a quicker and easier setup than a traditional cabin and touring tents. While they still offer relatively good head-room the floor/sleeping space can be quite small.
They are lighter weight than cabin tents and are considered a good compromise between a heavy but roomy cabin tent and the light but small dome tent. Centre pole tents will sometimes come with an optional front awning. And, floor-space can sometimes be increased with the purchase of optional side poles.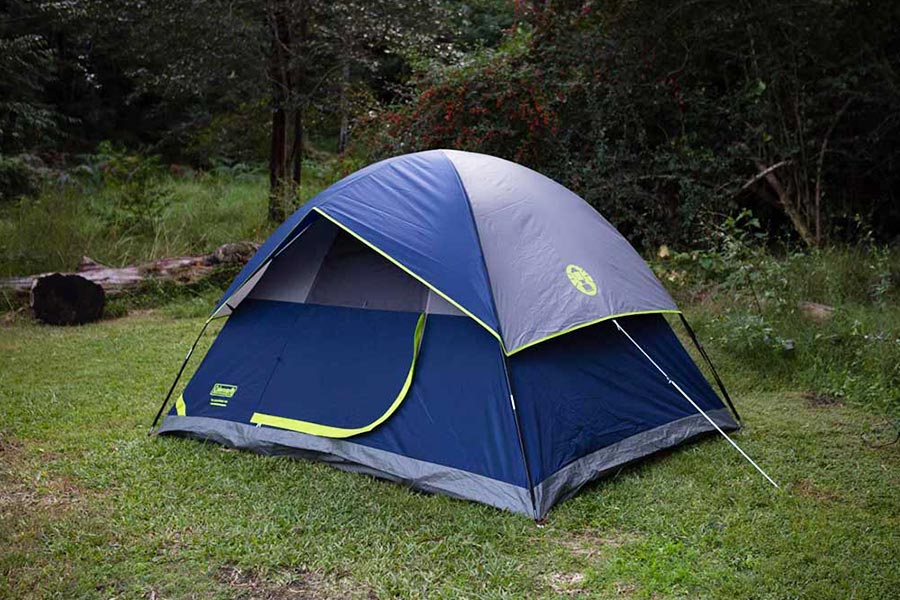 Dome Tents
Dome tents are by far the most common type of tent, however, this doesn't mean that they are the best option that will suit everybody. They consist of a hoop frame, surrounded by synthetic fabric to create a dome shape with no corners. The frames are usually either made from fibreglass rods which must be constructed into hoops and slotted into the material or from hoops already integrated into the material which offer a far quicker setup time.
Integrated hoops will either fold out or "pop-up" with the pop-up version usually reserved for smaller dome tents. Larger types of dome tents may also incorporate an outer awning and/or front vestibule. This can be used as additional storage.
The dome tent is seen to be the most versatile and portable type of tent on the market. However they do tend to offer less head-room in comparison to the other tent designs mentioned above.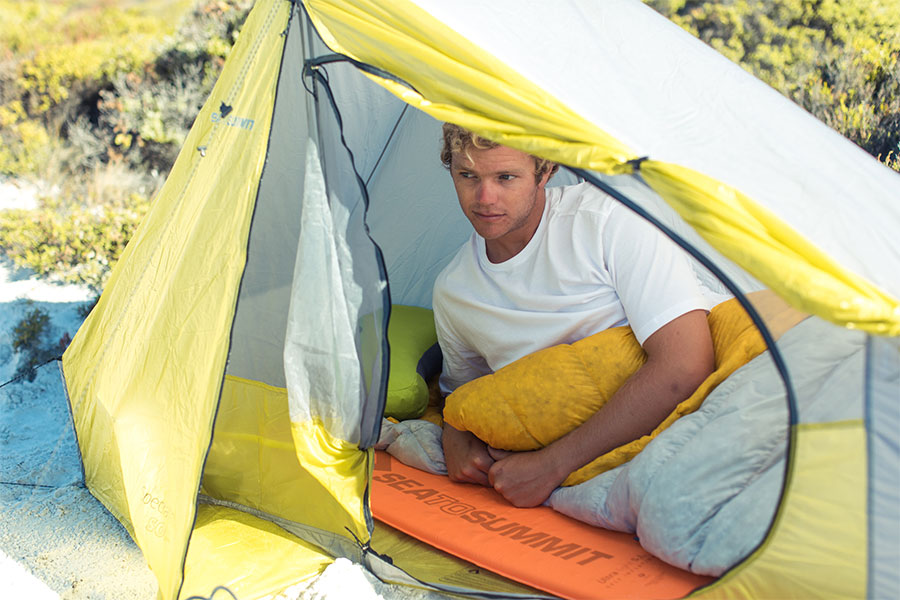 Hiking Tents
Hiking tents are usually used for lightweight camping where there are no vehicles available to carry a larger possibly more comfortable tent. Therefore hiking tents are required to be lightweight and designed to be carried in a small pack.
These tents do not have a lot of room, just enough to sleep with minimal room for any gear. They're usually designed for one or two people with the weight being a major consideration. The tent usually consists of a nylon outer fly with a breathable inner, poly floor with fibre-glass or alloy pole/frame system.
Older style hiking tents usually were an "A" frame design, although as time has gone on are more commonly of a dome shape. There are various designs available to satisfy consumers' requirements.
There are many more features to look at in regards to choosing the correct 'fit for purpose' tent, this is just a brief summary.
If you have any stories or suggestions on this topic, we'd love to hear from you. Just leave a comment below! Also, check out Michael's article on why he owns six tents himself!

About the writer...
My mottos: May your dreams become adventures, and keep your dreams alive!
Joined back in August, 2012