Music festival season is an excellent excuse for a few days away, and with a little preparation, you'll be sitting back tapping your toes, not shaking your head in confusion.
The first thing to organise is to secure your ticket package.
Annual festivals sell out fast. Some offer reduced rates for early birds, and often the best value is a ticket and campsite combo. Look for a local school or sports group offering camping in their grounds. Often these are much closer to the music than the local caravan park.
A place to rest your head
Festival regulars know to buy early and sort accommodation as soon as it's available. The Port Fairy Folk Festival showground camping may only be booked by ticket holders. This is common for many festivals around the country. Leave it too late, or book in the wrong order and you may get a ticket and no bed or vice versa.
There are many options camping, B&B, holiday houses, hotels/motels and caravan park sites with power and without. It really depends on what you're looking for and which festival you're attending.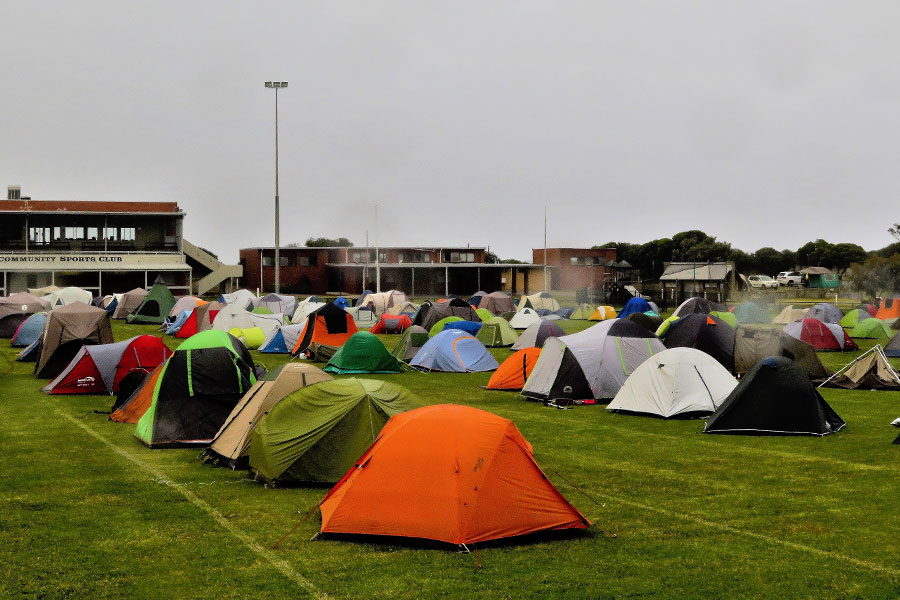 Sort our your accommodation in advance.
It's all been asked before
Once your ticket and accommodation are sorted you can relax. Event website FAQs are your friend, so take the time to become familiar with what they say. Falls and Rainbow Serpent festivals like many others are contained on a property and require different needs and guidance from those held in a town.
If you're unsure about any aspect of attending, use the local information centre or study the festival website. Experience means they are a treasure trove of hints and tips.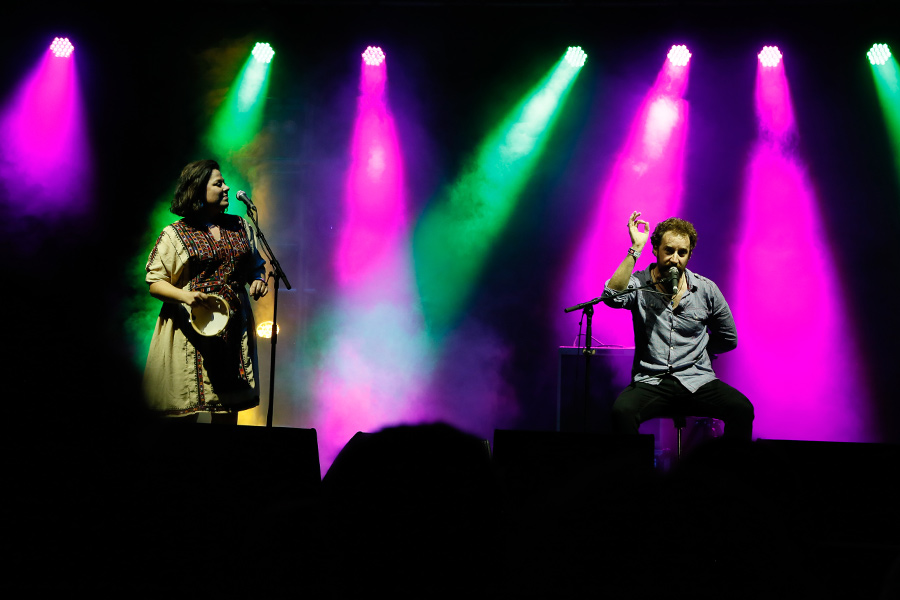 Read all the FAQs during your planning stage. 
Pack tight and light
Some event campsites are small, with no room to spread out or for your car. A 4-man dome tent is a good size guide for a single site. A flag or solar lights to distinguish your spot is also helpful.
If camping with friends, try and arrive together. Saving a spot is not easy. Some fans bring sun shelter gazebos, cram tents together and set up for shade over or beside them.
You may have to carry everything, including the tent, to your site from the carpark or, like the Big Red Bash the long walk from your site to the audience area.
Best tip: pack light in bags easily carried. The Bash website has a comprehensive what to bring checklist and is a great resource for all event types.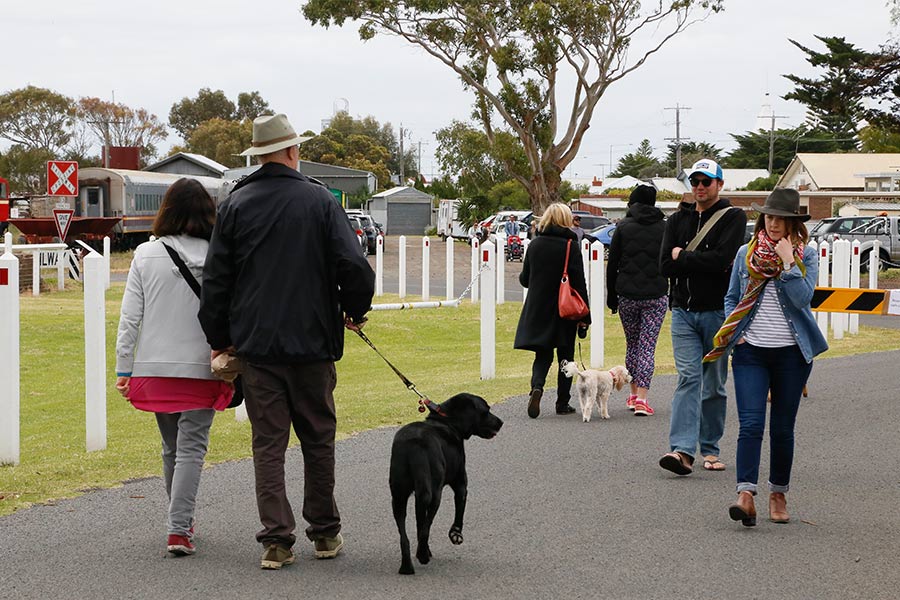 Bring clothing that can be layered depending on the conditions. 
Don't forget the essentials
Double check essentials like tent pegs, poles and toilet paper. It's likely there's nowhere to buy replacements left at home. Bring clothing layers to mix and match for blistering heat, freezing cold and rain. It's best to bring comfortable clothes and things you won't care about if broken or lost. Save your best for another trip.
Prepare for limited options
Depending on location the shower/toilet situation may take a bit to get used to. Cold showers or none for a few consecutive days could be on the cards. Use dry shampoo, a large pack of wipes, and hand sanitiser instead. Hope for an enviro composting loo, these are smell free and nicer than a portaloo. Take toilet paper with you as well just in case.
The more remote the fewer options you have. Be prepared for your phone to die and to have little or no reception. Charging and power sites are rarely offered, so it might be worth bringing your own small portable power pack for your devices. Bring a footy or pack of cards and get to know your neighbours.
Don't be stuck on the side of the road, ensure you have enough fuel to get to the closest petrol station once you leave the carpark.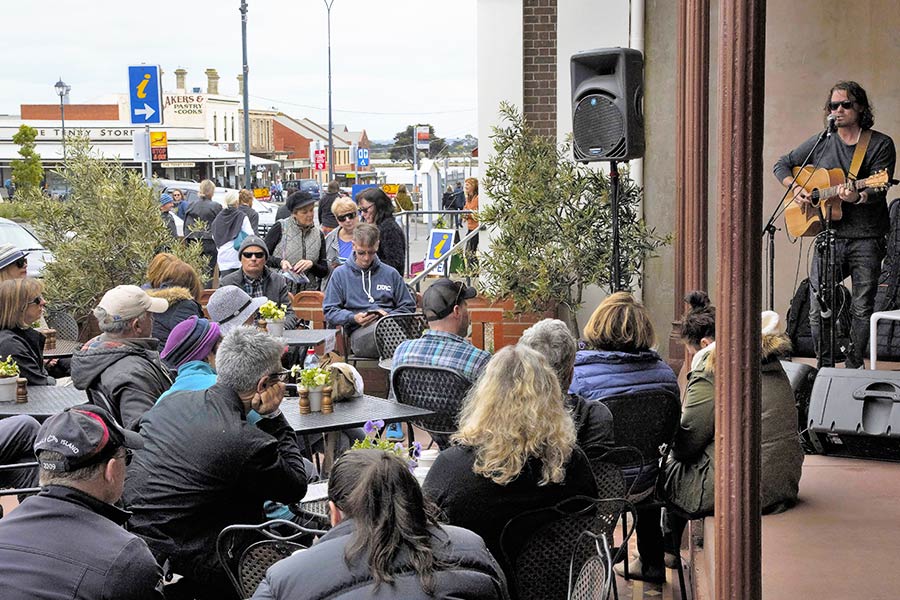 Don't miss your favourite artist – make up your setlist in advance. 
Make up your setlist
Download the band schedule, event guide or app before you leave home while the internet is reliable.
It's surprising how easily if there are multiple stages, you can miss one performance caught in the moment of another. Highlight your must-see musos, so you know when to move between stages and where to go.
Getting to the gigs
Most festivals are within contained spaces, so you'll need comfortable shoes, not car keys. If the venues are set around town like Tamworth and the Elvis Festival in Parkes, there may be a hop on, hop off shuttle or bus service from outer locations.
If you drive to town, park only where indicated and note your parking spot. It'll be dark and look very different after the last set. Have a small torch or use the one in your phone on uneven ground or if there is no path.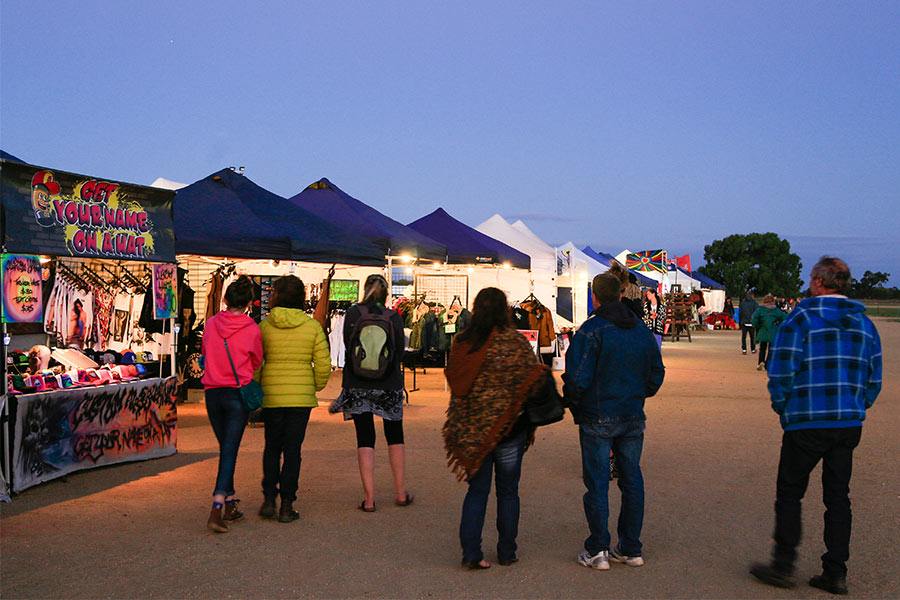 You'll likely be walking to get to each spot. 
Food for thought, cash or carry
Decisions on food are next. Will you be taking food with you, or buying it on location?
Think ahead, if you plan to eat at a restaurant, make a booking if you can; otherwise you may find you can't get a table. This is particularly important on the night when everyone arrives in town. Local cafés often pop-up at festivals. These, community groups and food trucks are handy on-site options.
Don't miss the music you've come to see in a food queue, miss the encore of an earlier band. Head to the food vendors or bar before everyone else does.
Most events won't allow BYO alcohol or glass so don't bring them in. Vehicles are security checked too. Read the entry conditions/restrictions carefully to avoid seizure at the gates.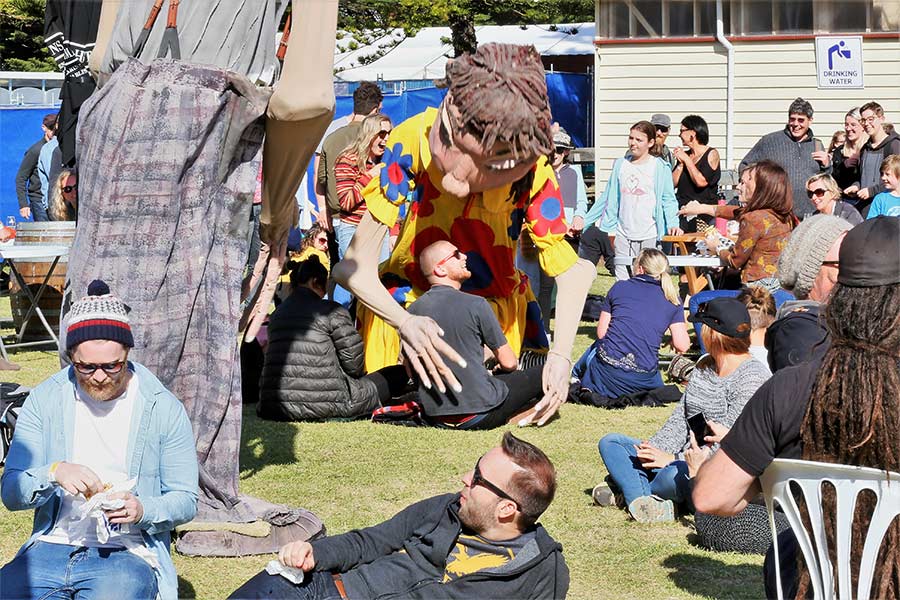 Figure out your plan for eating at the festival before you leave.
Cash is king
Some events are NO CASH with pre-purchased tickets or wrist bands for purchases. Understand the rules about refunds and loading amounts and how that's done. Don't get caught short or overloaded or without any internet to increase your balance.
Cash is king for vendors especially if the internet fails. Fill your wallet before you arrive, don't depend on ATMs, they're rarely on site and in a small town they've been known to run out. Keep spare change handy for merchandise and rewarding buskers.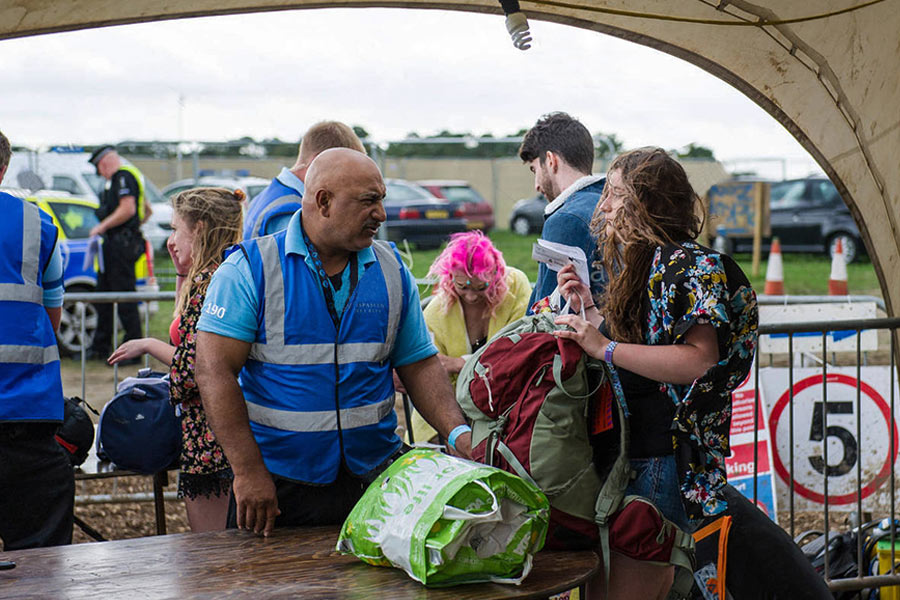 You'll need to know exactly what you can and can't bring in. Image by Alamy
Picture this
Do you want to take photographs while you're at the festival? Most people do.
If you have got a good camera or several lenses, consider the weight and how to keep them secure if you leave your spot to take some pics. Maybe a small camera or your phone will do. They're easy to carry and take great low-light images.
If no professional cameras are allowed, it's not worth the argument, leave it at home. When in doubt call or email the organisers. If they say bring your big zoom, ask for it in writing to show security who may stop you at the bag check.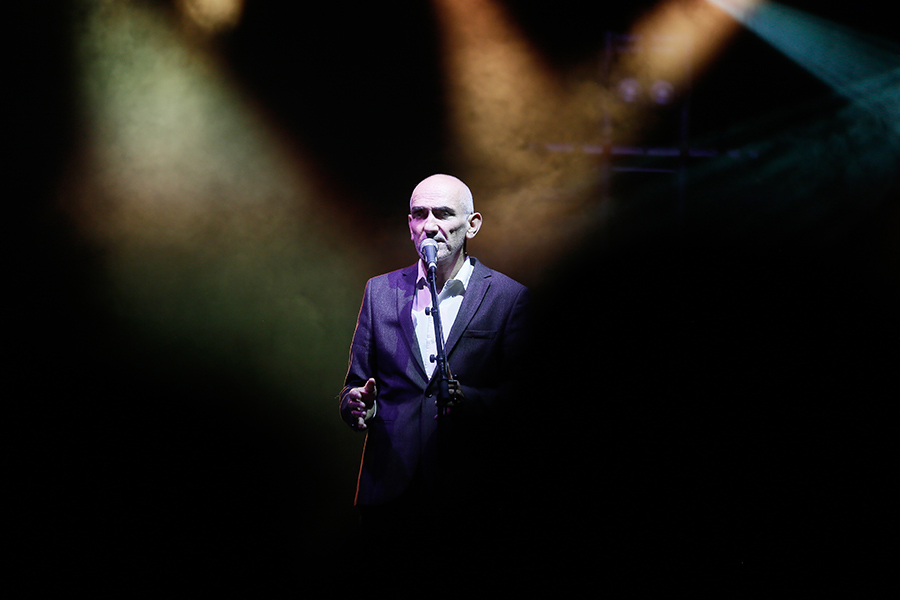 Know the rules before you bring your camera to take snaps of artists.
Sit down in front
Another consideration is seating. Is it provided, do they want you to have only low seats or rugs, so everyone can see over you?
If you bring a folding chair, be prepared to set it up further from the stage and to carry it with you from one set to another. You'll be walking a fair bit so make sure you can stow belongings, so they won't fall out, or swing into someone's face.
It's going to be a long day, so aim to be as comfortable at the beginning as you're at the end.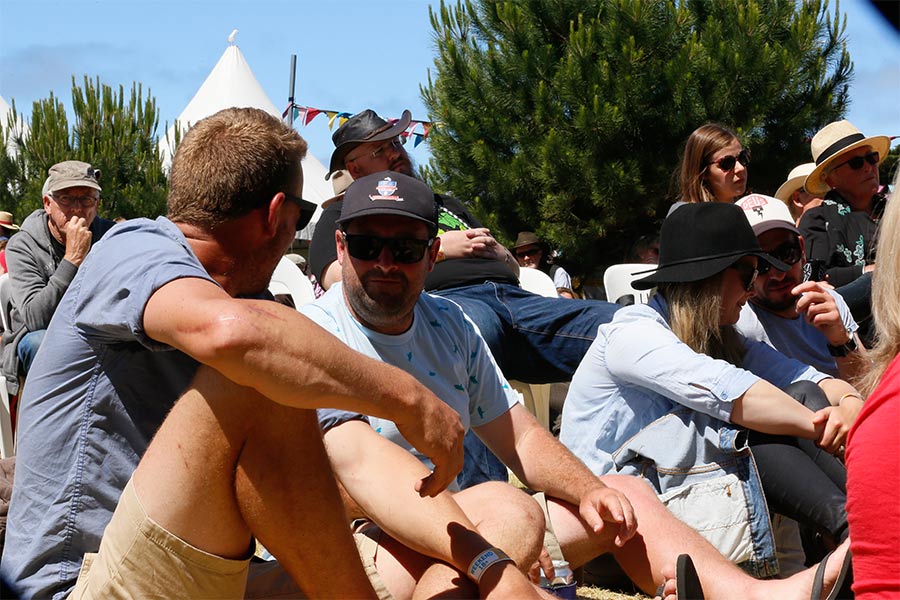 Consider your seating choices when at the festival. 
Staying safe and secure
Secure your possessions out of sight in the car. Don't leave valuables in your tent or unattended.
Some events are 18 and over and other's family and pet-friendly. Some patrons drink too much or when it's hot they don't drink enough. Keep hydrated, use sunscreen and wear your hat. A large water container pre-filled for the campsite is a good idea. You can fill up there and avoid water cart and tap queues.
There is potential for sensible and irresponsible behaviour if alcohol is involved.  Move away and report if you think something could get ugly.
Overall everyone is well behaved, and security has little to act on.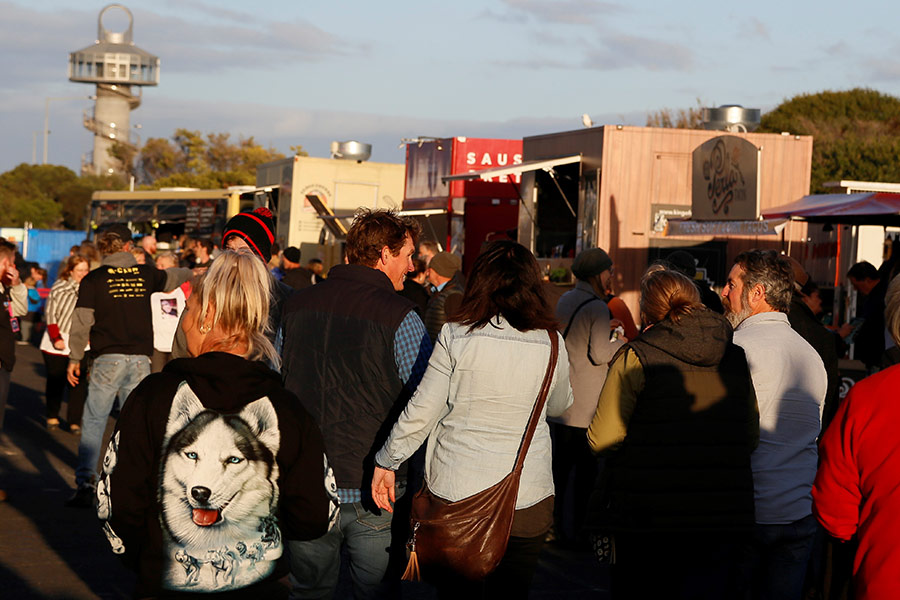 Keep your belongings close when you're walking around. 
Get in the groove
It's great to enjoy the people you meet, the value for money and friend catch-ups.
Festivals are all about discovering someone new to follow and getting close to your favourites on stage.
Long live live music, it can't be beaten.
What's the best festival you've ever been to?
About the writer...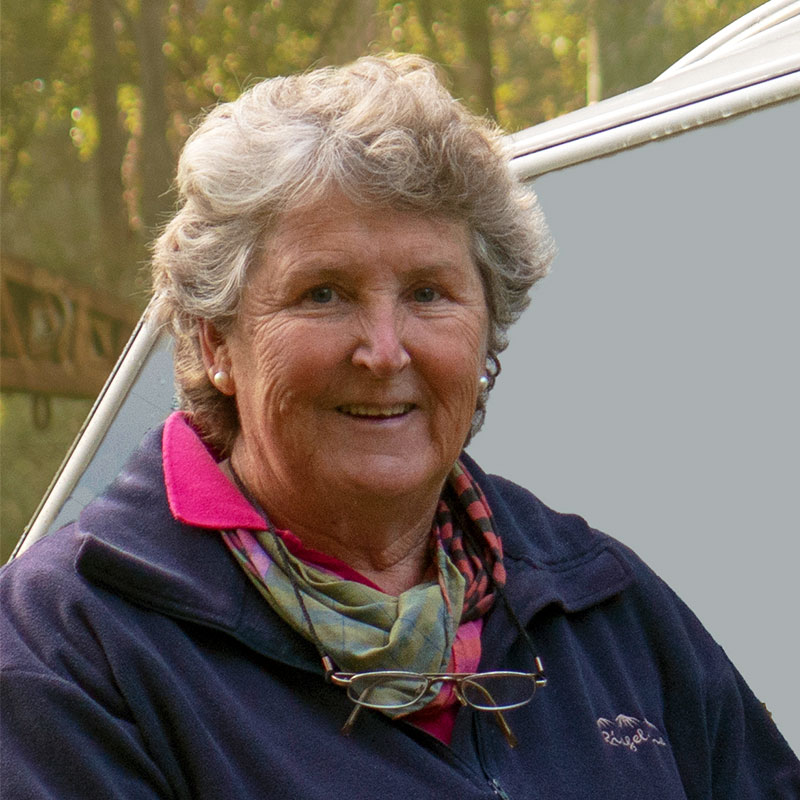 Joined back in September, 2018