When you say 'Coober Pedy', three things usually come to mind. Firstly, opals. It's the opal capital of the world. Secondly, hot and remote. And finally, it makes a convenient stop on your way to Uluru or somewhere else you actually want to go. And all of those things are true.
What's also true is Coober Pedy actually makes a pretty good base to do some serious exploring in the region. A one trick pony it ain't – it's a genuine destination in itself if you're prepared to look a little further afield and don't mind getting dusty.
I recently drove up for the Kanku-Breakaways Marathon and that's where my adventure started.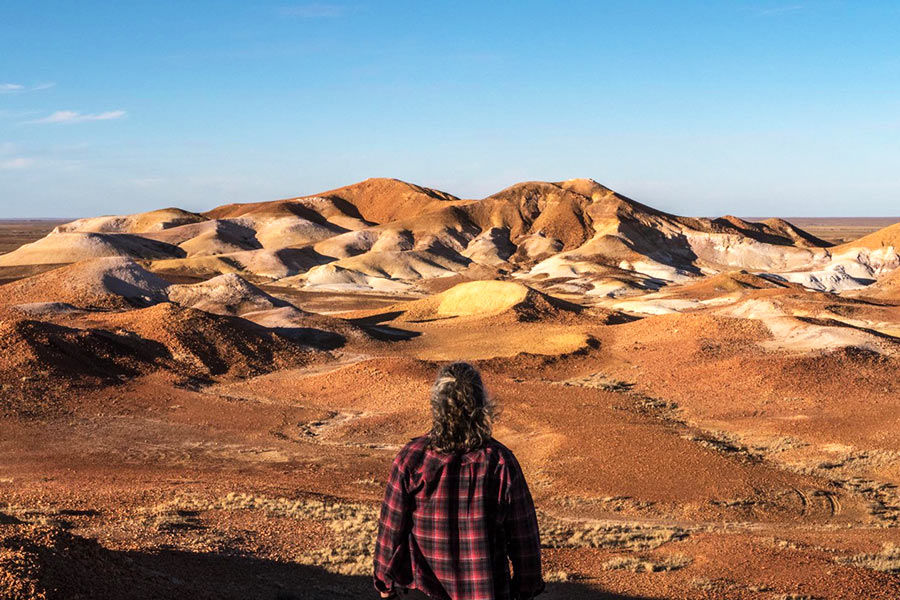 The view of the Kanku-Breakaways. 
Do you need a 4WD for this trip?
The Kanku-Breakaways is about 30km north of Coober Pedy. The road in is unsealed, but fine with a 2WD. It's worth mentioning, any unsealed road can have issues in wet weather though, so an SUV would be preferable, but a 4WD is the best and safest option. In good conditions though, a 2WD will get you where you need to go. Eventually.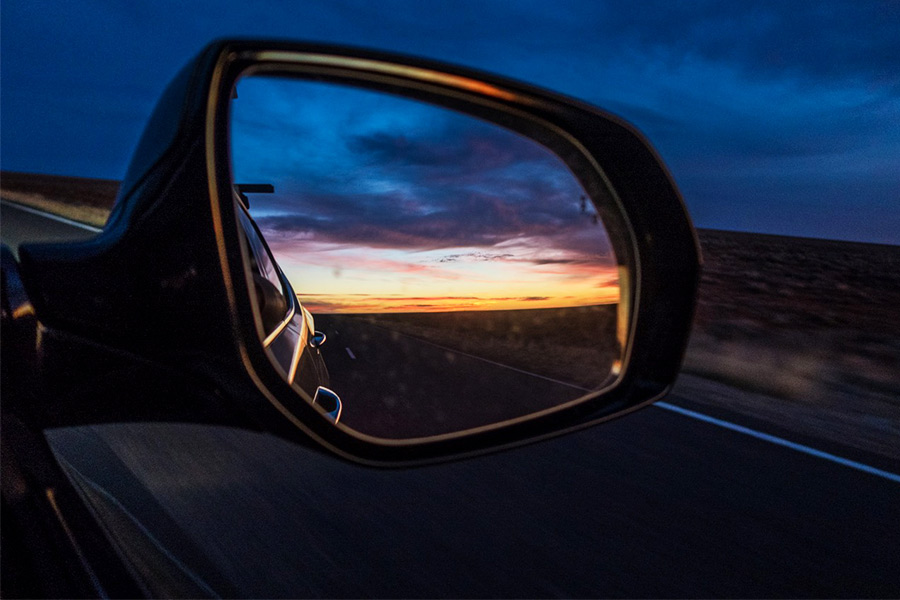 You can take a 2WD, but a 4WD would be preferable. 
Gear to take
When I'm on the go like this and lightweight gear isn't required, I go for extreme comfort and sleep in the back of my SUV with an Exped Megamat and the Coleman Pilbara C-5 sleeping bag. It may be warm during the day, but at night it can get down to around zero, so you'll want something that keeps you warm.
Are there opportunities for hikes or walks?
There aren't really any hikes or opportunities to explore on foot at the Kanku-Breakaways, it's very much a case of driving in and stopping at a few lookouts to take in the views. Which are awesome. There are two main lookouts and a few places to stop throughout the park, including the dingo fence and the Moon Plains – an unbelievably barren landscape that, as the name suggests, looks not unlike the moon. This spot has been used in a number of films including Mad Max Beyond Thunderdome and The Red Planet.
You can do a round trip, entering off the highway and coming back to town via the unsealed Kempe Road. It'll take half-a-day tops and only a few hours if you're on a mission.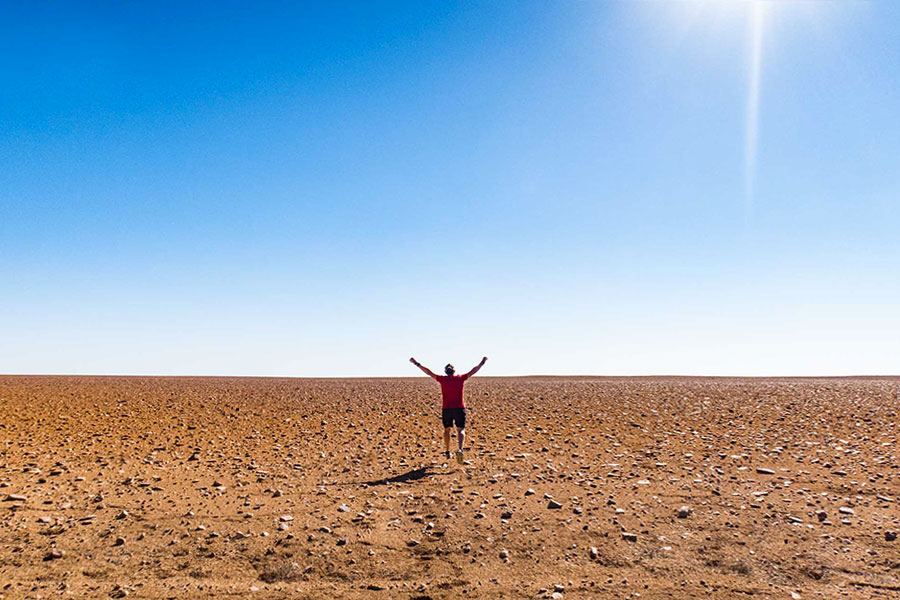 If you want to head off on foot, you can explore the Moon Plains. 
Exploring the town
My next stop was to do some exploring around town. I'm not big on tourist attractions as such but I figured I'd take in some of the sights. In half a day I visited Tom's Opal Mine and did a self-guided tour.
You'd probably get more information on a hosted group tour, but a quick self-tour is also fun and more my speed. They even lend you a blue light to spot opal in the mine walls which is very cool.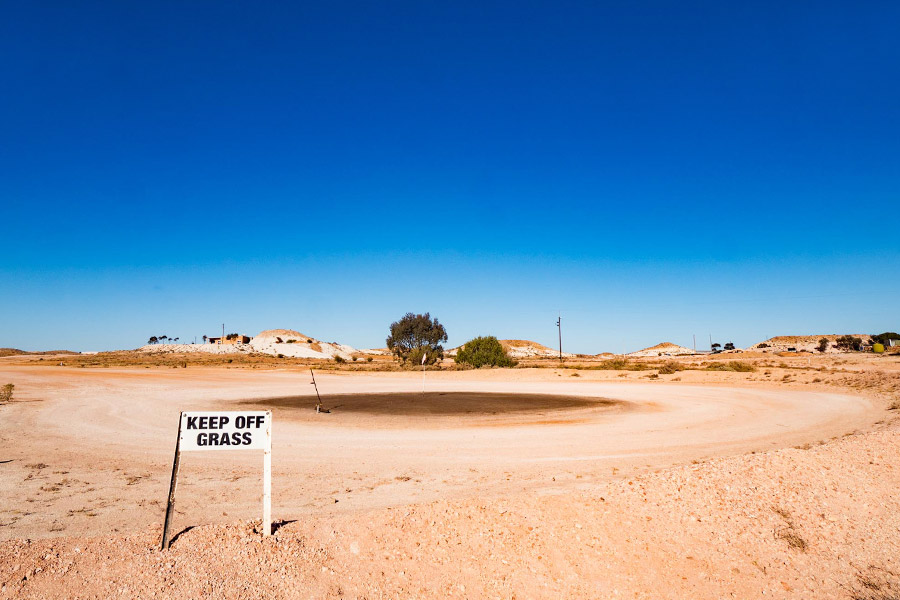 The grass-less golf course is one of the things to see in Coober Pedy.
Crocodile Harry's
I'm not one for golf, but driving past the local golf course with not a blade of grass in sight is a good reminder of the Aussie sense of humour.
And, a visit to Crocodile Harry's Underground Nest is a good reminder that heat can fry your brain. Crocodile Harry was an actual crocodile hunter in the Northern Territory before moving to Coober Pedy where there's a distant lack of crocodiles, so he started hunting gemstones instead. He ended up building one of the whackiest houses you're every likely to see. And trust me, I've seen a few.
Like a lot of miner's homes in the area, his is underground. What's not like other miner's homes, is his home decoration skills which are off the charts. Well worth a look and a laugh. Both are only a few minutes out of town.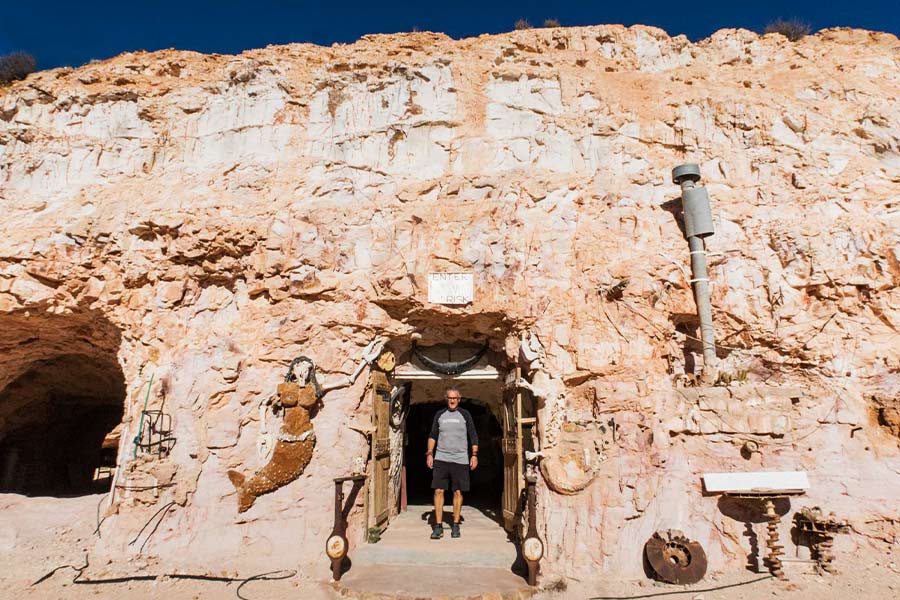 Crocodile Harry's is a unique tourist destination in the town of Coober Pedy. 
Sightseeing in Coober Pedy
If you're up for more sightseeing around town, there's Faye's Underground Home, the underground Catacomb Church, the underground Serbian Orthodox Church, the underground bookshop and if you're hungry, John's Pizza which weirdly enough, isn't underground.
Equally weird, they claim to have once been included in a list of the top ten pizza places in Australia, but I'm yet to work out if that's for real, or another quirk of the Aussie sense of humour. Much like their 'Coat of Arms' pizza which has emu and kangaroo from the Australian coat of arms. I kid you not.
Galleries to visit when in the town
Back in town, you could visit any number of galleries offering various indigenous art, but Josephine's is the one to go to because it's also a kangaroo orphanage and…baby kangaroos are awesome! They close the gallery and feed the roos twice a day, so get there on time, or get locked out.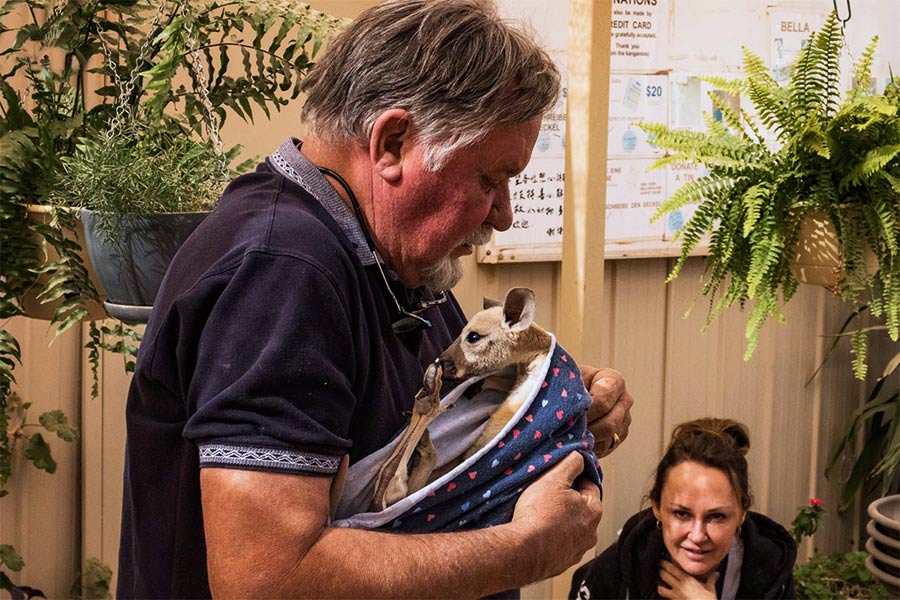 Josephine's – the gallery and kangaroo orphanage is the best one to visit in town. 
Accommodation in the area
There's plenty of accommodation options in town including numerous underground hotels. I was on a budget, so I opted for a cabin at the caravan park, opposite the drive-in. Yes, there's a drive-in that usually operates on weekends.
Day trip to the Painted Desert
If you're up for some more serious exploring, The Painted Desert is a full day trip. You could do it on your way to somewhere else, but I did it as a loop ending up back in Coober Pedy. I went there via Kempe Road, an unsealed road directly out of town then turned off to Arckaringa station, and came back via Painted Desert Road.
You'll need a full day to check out the Painted Desert. 
It's definitely do-able in an SUV but I'm not gonna lie, a few pieces broke off my car as it was so rocky and rough in places. If you go slow or have a real 4WD maybe it won't be an issue, but this area is remote and the roads can be pretty rough in places.
You could do this trip on the way to Oodnadatta, or pop out on the highway about 150km north of town and be on your way up to the NT.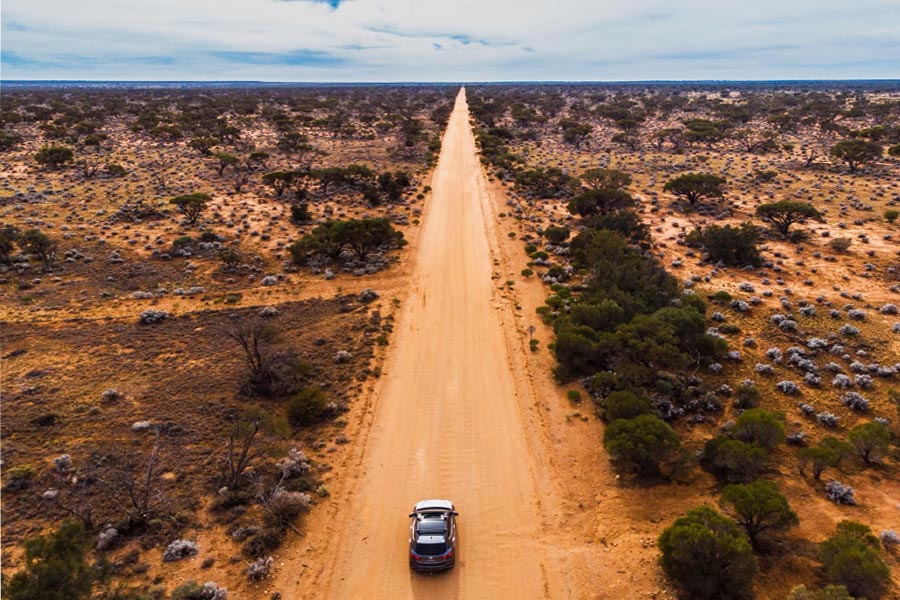 Due to the rough roads, it would pay to be in a 4WD. 
The Painted Hills
Breaking your trip up and staying the night at Arckaringa probably isn't such a bad idea either. I'm usually travelling with time restrictions and so I squeezed this trip into half a day, driving back down the highway after dark – which is not something I'd really recommend with sheep, cattle, wild brumby and roos on the road.
The Painted Desert itself is quite spread out. There's a lookout area, and a few kilometres away, a short walk you can do which is pretty cool.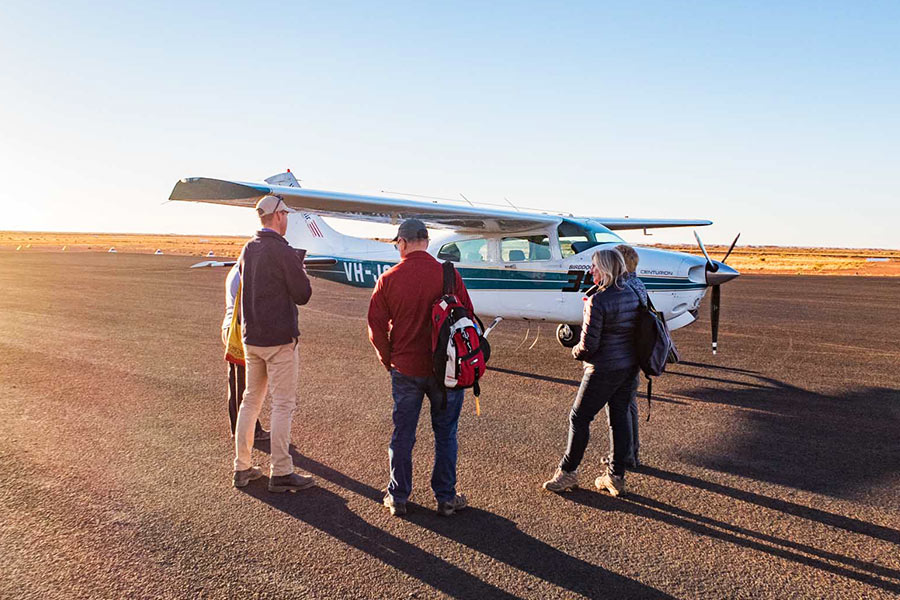 It's worth checking out Wright's Air for a tour of the Painted Hills.
As good as the Painted Desert is, I can't help but feel it's the poor cousin to the similarly named Painted Hills, south-east of Coober Pedy. I'm almost certain you can't actually drive there regardless of the vehicle you have unless that vehicle happens to be a light aircraft. If you don't have one of those, hit Wrights Air up for a tour.
They've just worked out a few of their light aircraft can land nearby, and have started doing tours in the area. Although all I did was fly over, this looks like total bucket list stuff to land, and go in for a wander. I'm sure it's only matter of time before you can access it by road, but for now, it's by air only.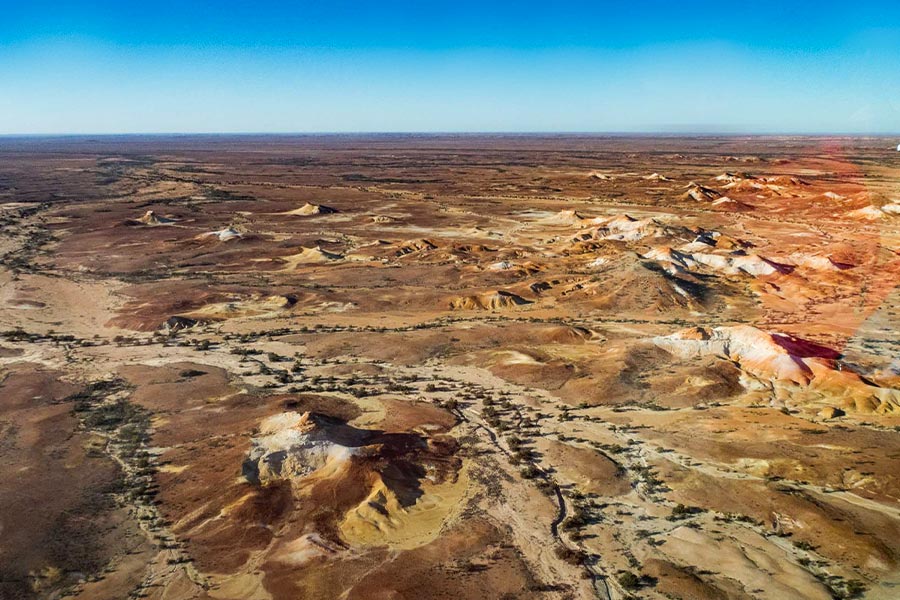 Visiting Lake Eyre
And, if you're going to jump in a light aircraft, you may as well check out some of the other local sights including Lake Eyre which, right now is one of the rare times it's filling up with water courtesy of the Queensland floods a few months back.
As great as it was to see Lake Eyre filling up with water, the true highlight for me was simply the landscapes from above. They were absolutely mesmerising. The shapes. The colours. The textures. The patterns. I literally could not take my eyes off of any of it. It was incredible.
I know a tour in a light aircraft won't be in everyone's budget, but I cannot recommend highly enough that you find a way to do it at least once.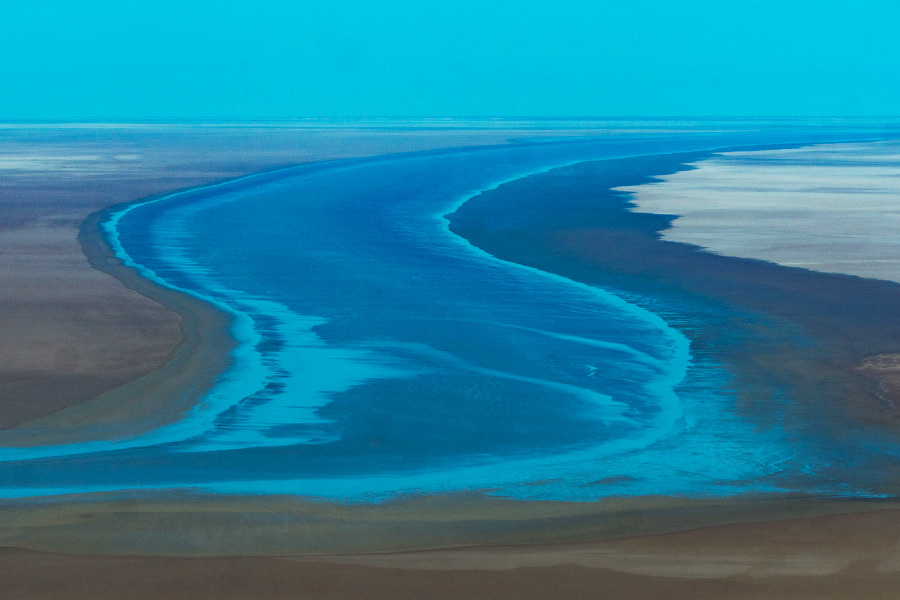 The view flying over Lake Eyre was incredible.
Stopping over in Woomera
Finally, there's the trip between Adelaide and Coober Pedy. I went up via the highway, stopping in Woomera for the night. It's where the rocket base was back in the 60s. Unfortunately, there's really not many accommodation choices there or anything else for that matter, although, there's an outdoor space museum which is well worth a half-hour look.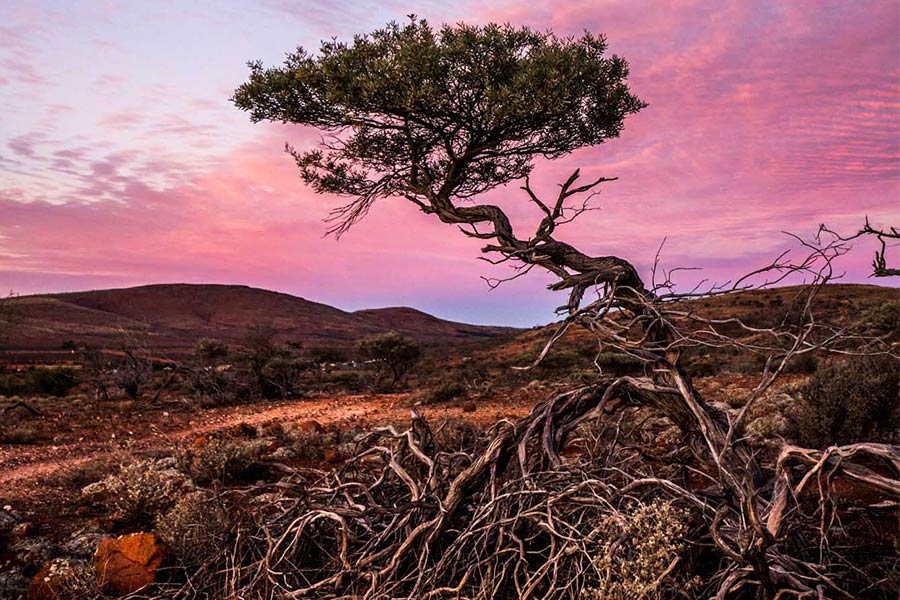 I stayed at Mt Ive Sheep Station on the way home. 
Mt Ive Station
On the way back, I headed inland into Kingoonya and down the west side of Lake Gairdner, staying the night at Mt Ive (sheep) Station. Even a few weeks later, my teeth are still rattling from the drive as some of the unsealed roads are super corrugated, but the landscape was amazing, and there was plenty of wildlife along the way including emus, kangaroos and wombats.
I went there because Mt Ive has direct access to nearby Lake Gairdner, the salt lake where the Dry Lake Racers have Speedweek in March every year. Mt Ive Station has camping, basic 'Shearer's Quarters' accommodation, and if you're lucky and it's available, 'the princess suite' – a restored, stand-alone cottage with air conditioning – which is where Miranda Kerr stayed when doing a photoshoot in the area.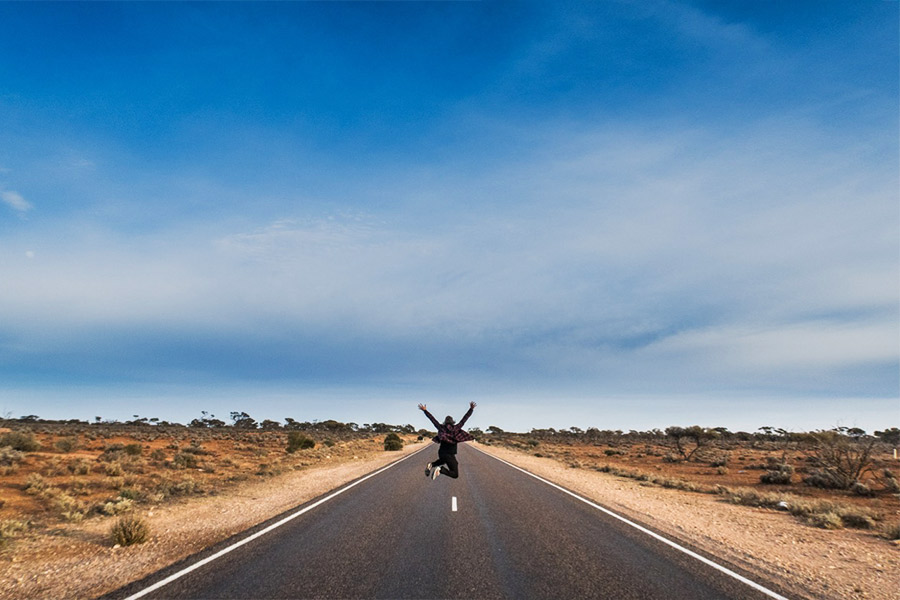 All in all, my trip to Coober Pedy and the Kanku-Breakaways Park was a good one. 
Coober Pedy is a dry and remote location, but it's still a seriously cool place to explore if you don't mind the dust and you're ready for an open road adventure.
Are you thinking of heading off on a spontaneous road trip to the arid and scenic Coober Pedy?
About the writer...
Sputnik writes, takes photos, trail runs, kayaks, hosts adventure tours in Bali and Cambodia, and is engaged in what he refers to as The Relentless Pursuit of Wow. You can follow his adventures on Facebook.com/swashbuckler or Instagram @theswashbuckler
Joined back in August, 2017