Wherever you are and whatever you do, you're going to need to eat to fuel your day. But when you are travelling, you don't want to spend the day prepping in the kitchen as there are some amazing things to see and do out there, and every minute counts!
Travelling with kids adds a layer of complexity. You can't just pop into the café every time you need something (as it quickly adds up!) and you have to have a bit of a plan as some children can be picky eaters.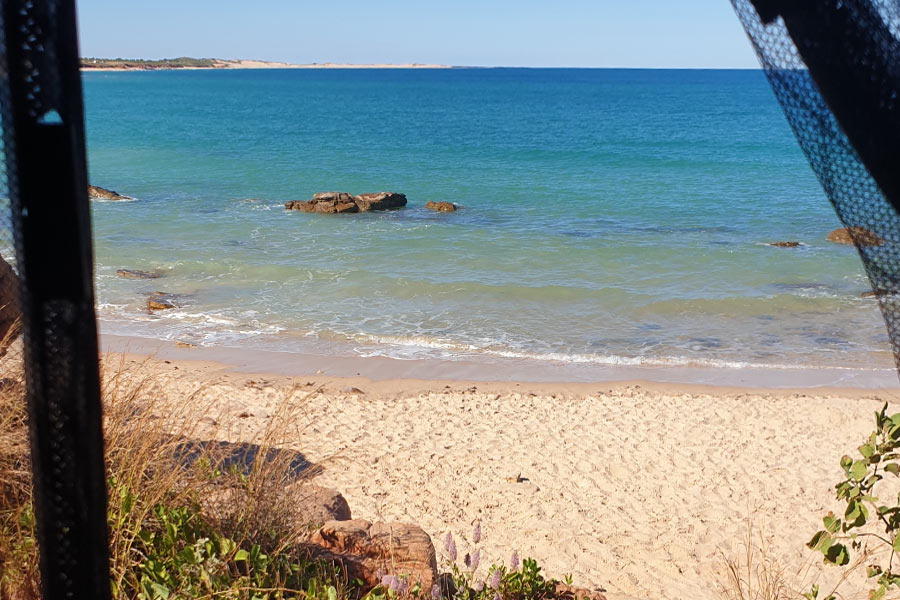 Life is a whole lot more fun outside of the caravan or camp kitchen!
You also need to think ahead when going into remote areas. You might not see a well-stocked supermarket for up to 3 to 4 weeks at a time. We have three boys who have always been good eaters, but the constant activity and sightseeing have taken their appetites to a whole new level! They are growing fast and eating more and more all the time. Here's how we handle food planning, packing and preparation on the road.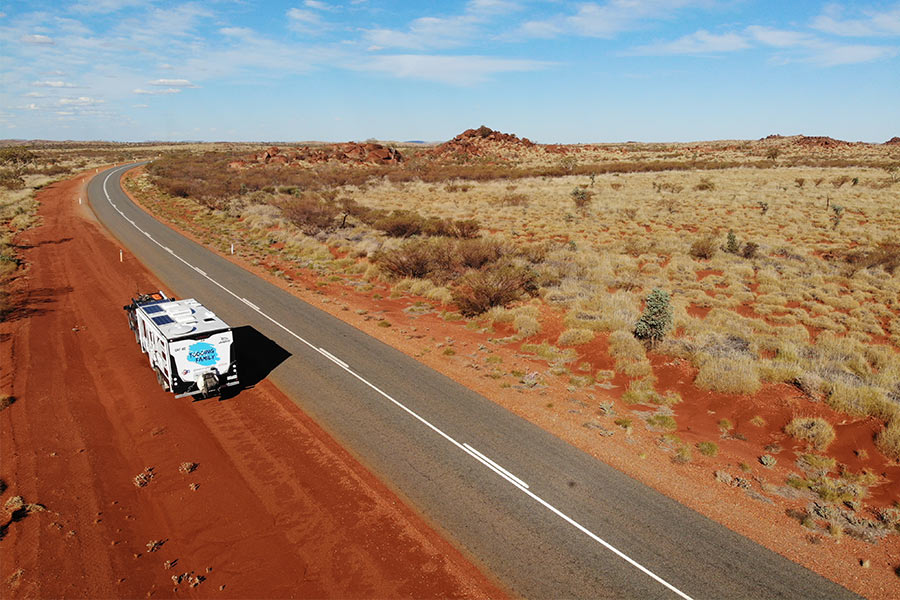 We like to plan and then load up before hitting the open road in our caravan.
So, how do we tackle food for a family of 5 with our caravan in tow?
1. Plan out your meals for each day
Hands down, our top tip is to plan the food you are going to need over a specified period. Write a list for every day you plan to be away. Include breakfast, lunch, dinner and snacks in between. Remember tea and coffee, as well as the marshmallows for the campfire!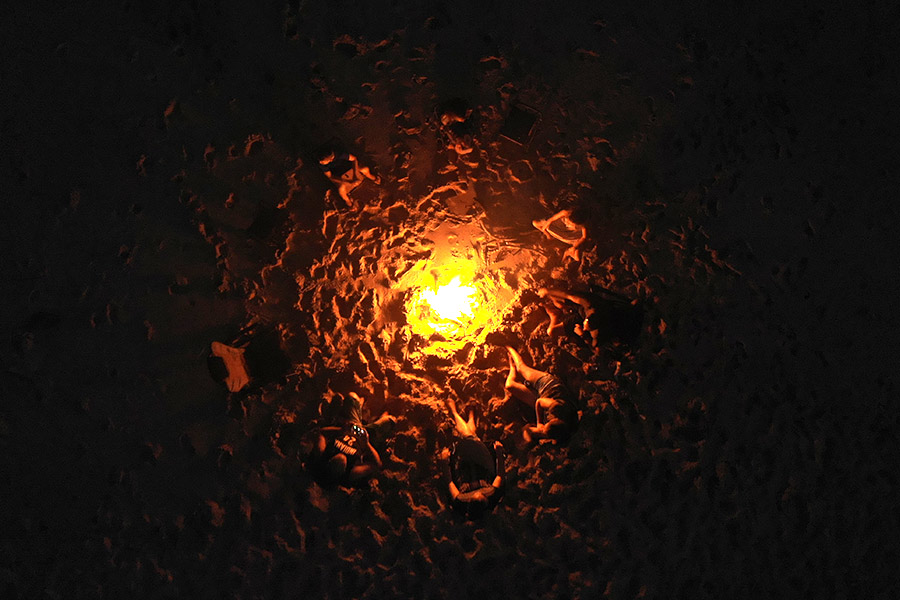 Don't forget marshmallows for that perfect campfire treat!
It may take some time, but this planning stage will simplify your food shopping and preparation. Consider including meals that are simple to prepare and that your family loves. Think about where and when you might be eating, as well as what facilities might be available to you in your caravan, camp kitchen or even somewhere more remote.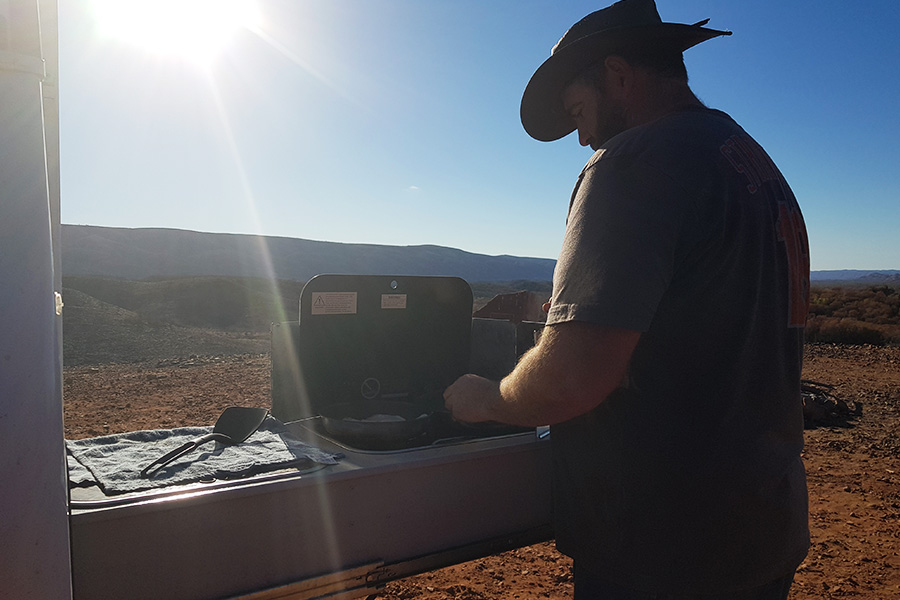 Consider the facilities you have to cook on.
2. Choose a mix of fresh, frozen and pantry food
The length of time that you need to carry food for will dictate the types of food you can take with you. We like to eat healthy most of the time, and of course, love fresh food. But, if we are packing for a few weeks, that fresh stuff just won't last the distance. We love to pack salads, avocado, and fresh fruit, but make sure we use it at the beginning of the trip.
Buying avocados at various stages of ripeness means they can last a couple of weeks. Same goes with tomatoes, apples and oranges. Root vegetables are another winner when it comes to longevity, particularly when stored in a cool, dark place.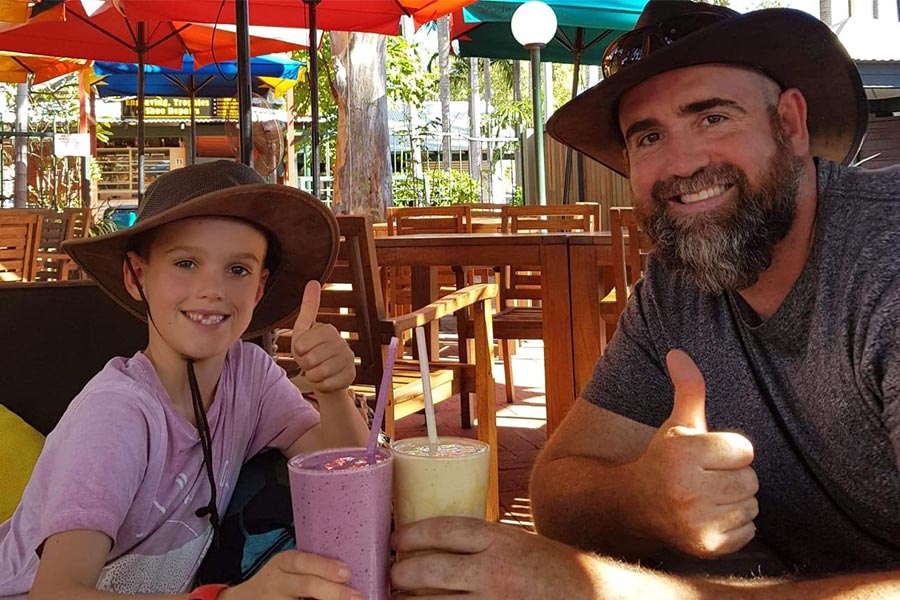 Frozen berries can be stored for long periods, and are perfect for smoothies.
To supplement fresh, frozen veg and berries are a great alternative. They stack neatly into the smallest of freezers and are great to have on hand for a quick side dish. We have a second combi fridge/freezer in the car to provide extra storage. Kids love a fresh smoothie or even ice cream from blended frozen fruit! Great if you have a blender or even a Thermomix on board, as we do.
Probably the easiest mid to longer-term solution is loading up on pantry items. They don't require refrigeration or freezing, and can literally be stored anywhere. You might not use them regularly at home, but on the road, they come into their own. Tinned or packet soups, stews, vegetables and fruit can be tasty and nutritious. They have the added bonus of being quick to prepare. Be aware though, they can be very heavy, so consider where you are going to store them safely when travelling.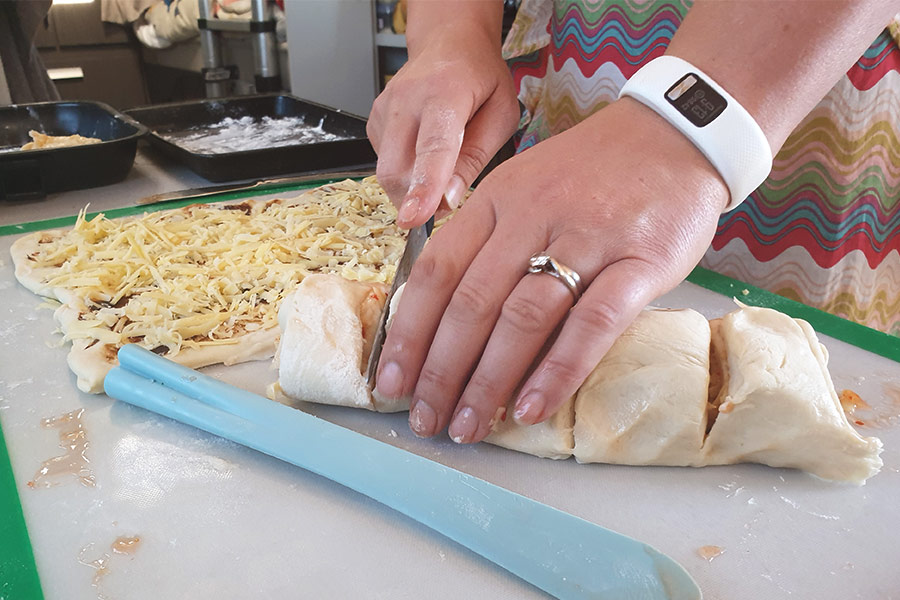 Staples will help you with your go-to meals.
3. Make the most of food staples
Food staples, or in other words your 'go-to' meals play a huge part in travelling. When you are out exploring, you're not going to have time to try a range of new and exciting gourmet recipes. The key is to stick to food that you are comfortable with and can prepare quickly with your eyes closed.
Staples like rice can be used in many different ways…so we always have a large bag in the bottom of the pantry. It can be great to eat as a side dish, to cook in coconut milk for something a little different, made into fried rice, or even rice pudding. It's also gluten-free, so it suits most dietary requirements.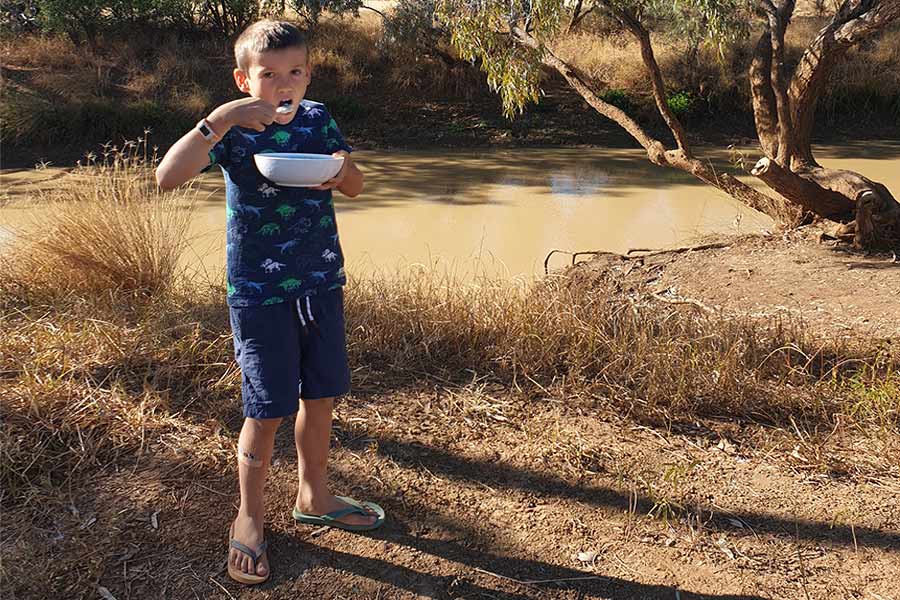 We find porridge does a great job on both filling the boys up and saving on space in the pantry.
Breakfast cereal is a great option in the morning, but it can take up a lot of space. We also find that most boxed cereals only last one or two sittings with our boys! Instead, we stick to weet-bix and porridge which fills up hungry tummies and give them enough energy to get through to the next meal.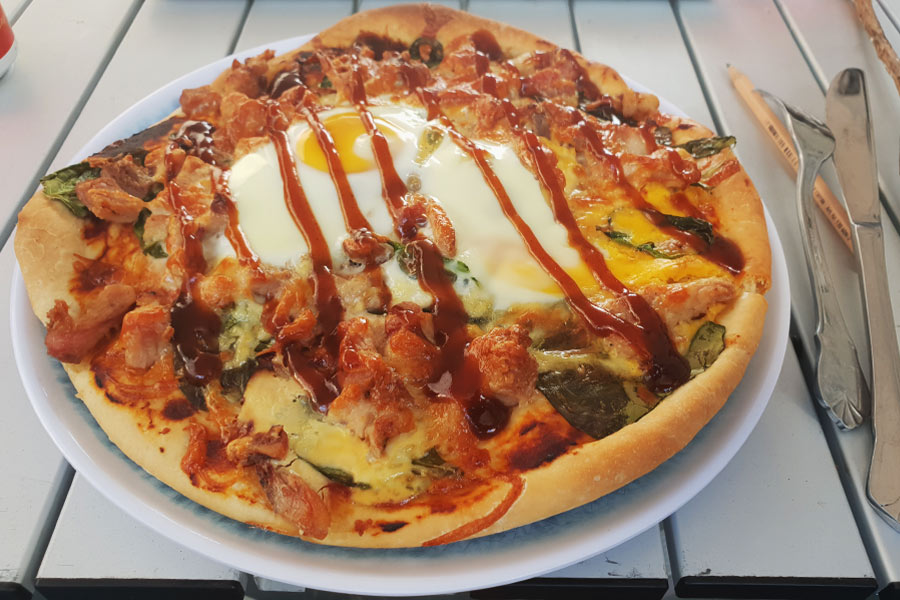 Flour is so versatile, you can use it to make pizza, bread rolls and damper.
4. Flour goes a long way, as bread isn't always available remotely
Whilst we don't have time to be baking up a feast on the road, we do find that flour is a great addition when the basics like bread might not be available in remote areas. Baker's flour can be easily whipped up into scrolls, pizza dough or fresh bread rolls. Self-raising flour is great for making damper or a quick batch of pancakes. All of the family love getting in on some baking action too!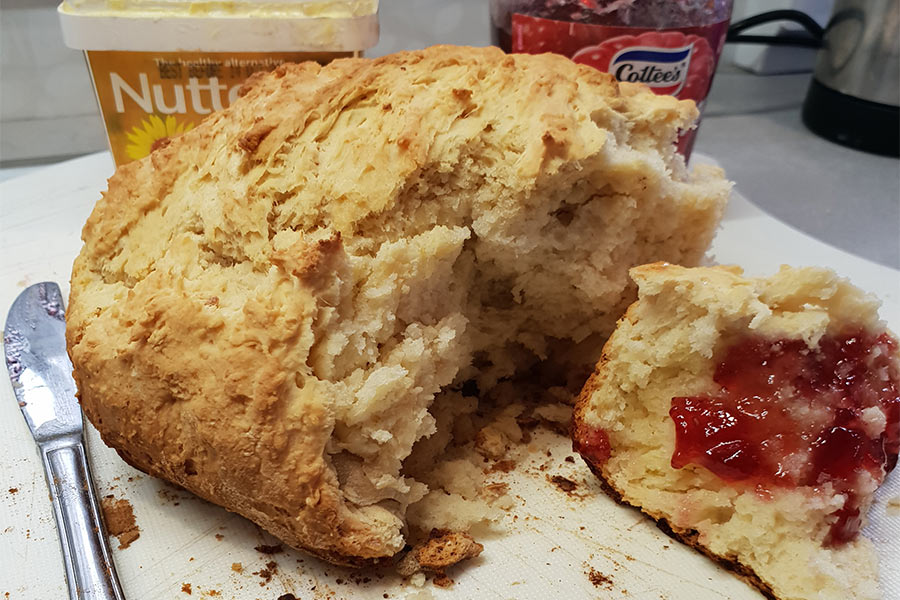 We love making fresh damper in the morning. Warm damper + jam + coffee = yum!
5. Keep it simple – choose healthy, easy to prepare snacks with a long shelf life
Kids can eat a lot of food! Or not much, depending on the child. Either way, there are extra considerations when it comes to food needs for families. Travelling in a caravan brings lots of new experiences, so it's best not to add an extra element of new food to the equation for children.
You know your children best, and the food that they like to eat. Some children prefer vegetables to be presented on a platter, perhaps raw, rather than mixed in a stir-fry or gourmet meal.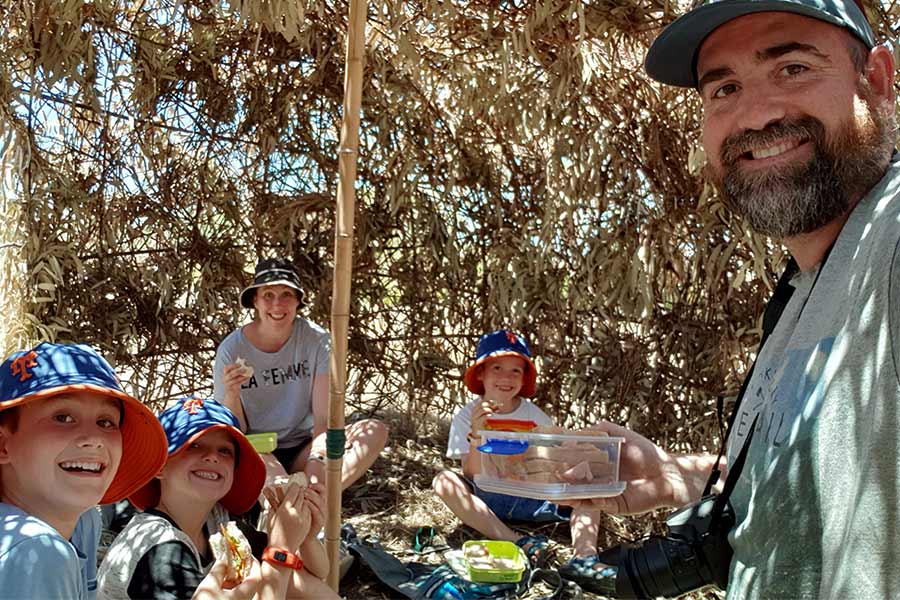 Choose snacks that can easily be packed for sightseeing or picnics. 
Our boys love carrot, capsicum and tomato fresh, but don't like to eat it cooked. They will devour a bowl of frozen peas for a snack or grab a can of tuna or baked beans. Rice cakes topped with their favourite spreads are another go-to meal or snack that are easy to store and have a long shelf life.
These are all healthy choices with the bonus that the kids are able to prepare them themselves. They can also be packed for a day out and eaten as a picnic without too much prior preparation. We find if the kids are involved in meal planning, shopping and preparation, everyone is happy.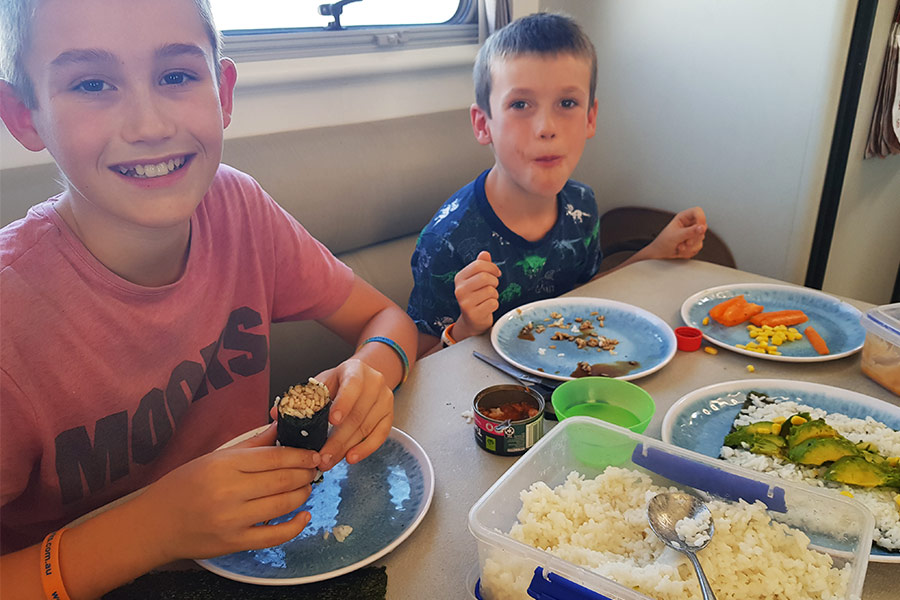 Sushi is a go-to snack for our family, the boys love making it up themselves with their favourite fillings.
6. Online food shopping – a great way to avoid going over-budget
Finally, after preparing your meal plan and considering the types of food that you have space to store, it is time to shop! Set aside a few hours and take a buddy to push a second trolley! Alternatively, we love to order our groceries online and pick up our completed order.
It's a huge time saver and helps to avoid impulsive grabs! If you are between destinations and can take your caravan or trailer to the store with you, you have the added bonus of being able to stack your purchases straight in, cutting out a whole step in the process.
We had a second trolley behind this one! We usually roll them right up to the caravan in the carpark.
Don't be afraid to get everyone involved in your planning and shopping preparation…this can help avoid complaints later on! Remember to keep it simple and let food complement your travels, not take over.
What's the best tip you have for planning meals when travelling on the road?
About the writer...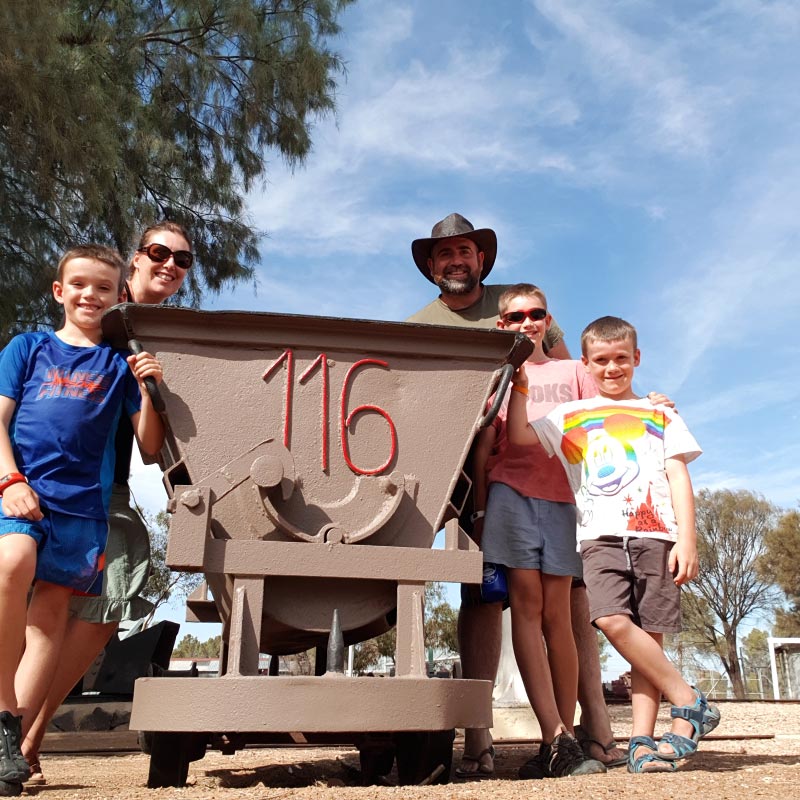 Hi, we're the Todoing Family!  We're all about family travel and adventure, currently road tripping our way around Australia in a caravan. We've never caravanned before and are sharing our experience as we go.  We're a family of 5 with a big 'to do' list. Follow along on our adventures on our website, Facebook, Instagram or YouTube @todoingfamily
Joined back in April, 2019