A lantern is a staple part of any camping kit. Without one you'll be fumbling around in the dark, tripping over guy ropes and good luck to you if nature calls during the night!
At their simplest, a lantern provides light to function by at night. They have come a long way since the days of kerosene powered hurricane lamps or LPG lanterns though. Nowadays LED technology has launched the humble camping lantern into the technological world with more light coming from smaller packages.
They are now also equipped with other features including the ability to charge your smartphone and built-in Bluetooth speakers.
So, how do you choose?
To give you a solid place to start your research, we've collated our 10 best-selling camping lanterns. This list has got something for everyone, but if it's compact lights to hang inside your tent that you're seeking, you may be interested in our upcoming tent light article – so stay tuned for that.
Starting at number 10…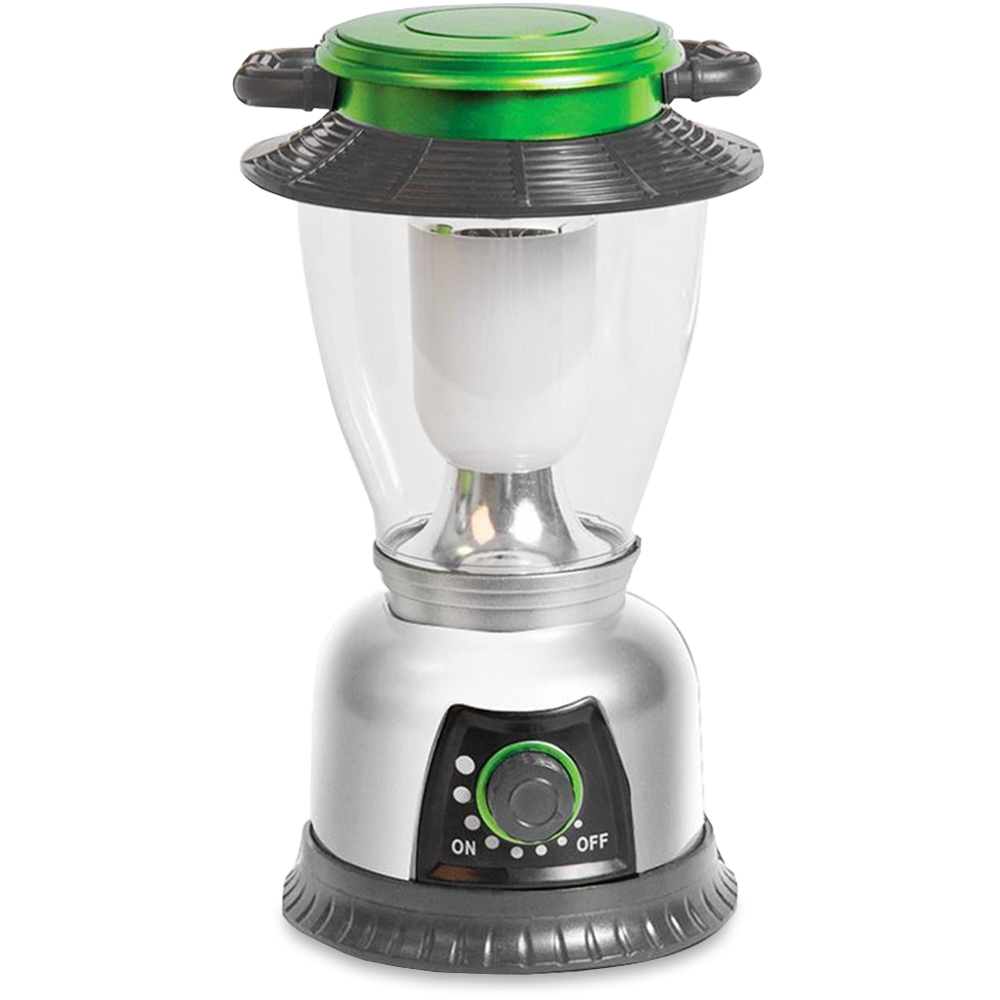 10. Companion XStream X60 LED Lantern
There's nothing fancy about the Companion XStream X60 lantern. It only has 60 lumens of dimmable light, runs on three regular AA batteries and has a simple but functional plastic housing.
However, it comes at a price point that cannot be looked past and delivers far more than the cost may suggest. It has 6 surface mount LED's that emit light through a frosted lens to give a soft light ideal for use inside a tent or on a camp table.
The Companion XStream X60 lantern is the perfect choice for kids wanting their own lantern to find their way around at night. It can also be used just as an emergency light either in our camp kit or at home for blackouts.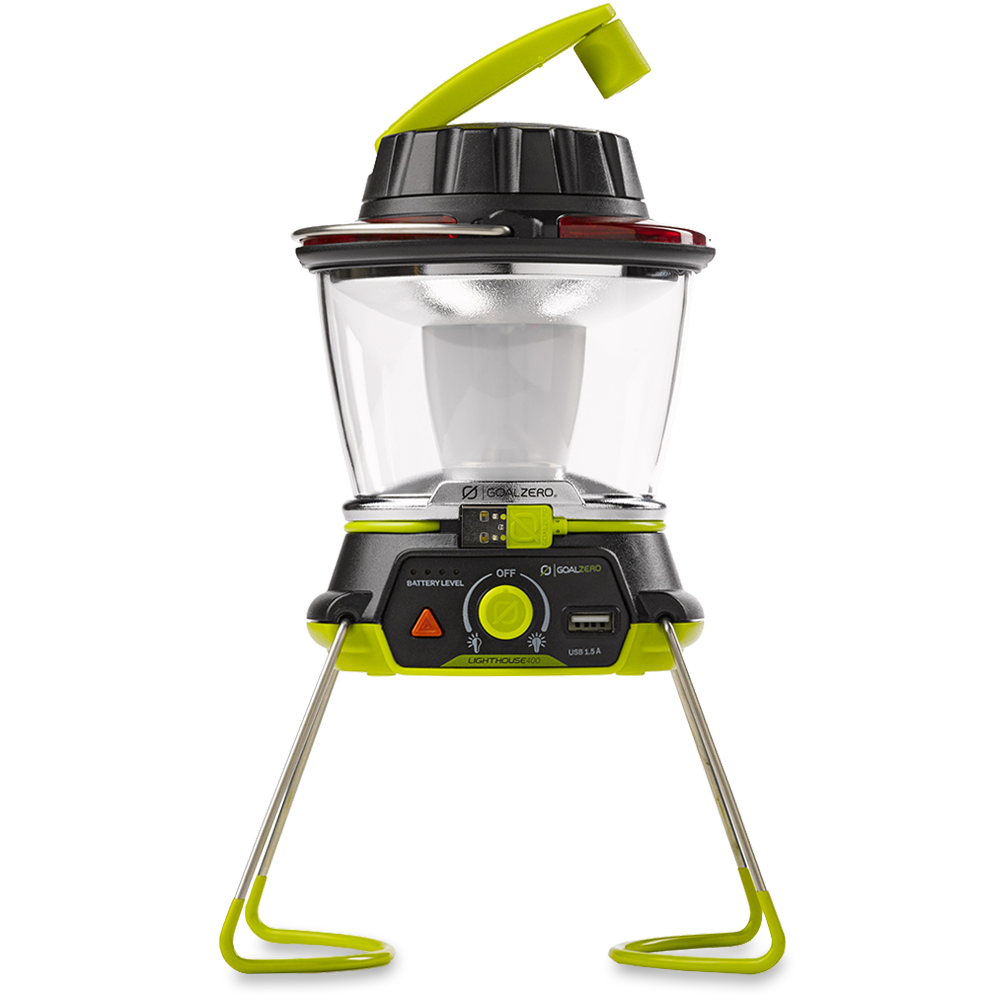 9. Goal Zero Lighthouse 400 Lantern & USB Hub
This is the most technical lantern in our top ten and is the brightest lantern in the Goal Zero range. The Lighthouse 400 isn't just a lantern though, it's also a portable power bank that can be charged via USB, with the built-in hand crank or via a compatible solar panel.
The Lighthouse 400 is equipped with a carry/hang handle and folding legs delivers 400 lumens of dimmable light and has a USB output port to charge electronic devices. It even has an emergency red flashing light mode which will run for up to 48 hours.
The Lighthouse 400's durable housing packs small for easy transport, and with its spaceship-like looks is likely to become a talking point in your campsite.
8. Zempire Enduro 300 Lantern
The Enduro lantern is, on the surface, identical to the best-selling lantern on our list. It has a 300-lumen output, runs on 3 x D cell batteries and features a carry handle on the top as well as a removable lens and hook on the base for use as a hanging light.
What's most noticeable is that it comes in at a far lesser price than its near-twin. This likely comes down to what's inside i.e. the quality of the LED and all the componentry… but hey, I'm only making assumptions here.
Overall, the Enduro 300 Lantern from Zempire is a compact camping light that gets a good rap and is very friendly on the bank balance.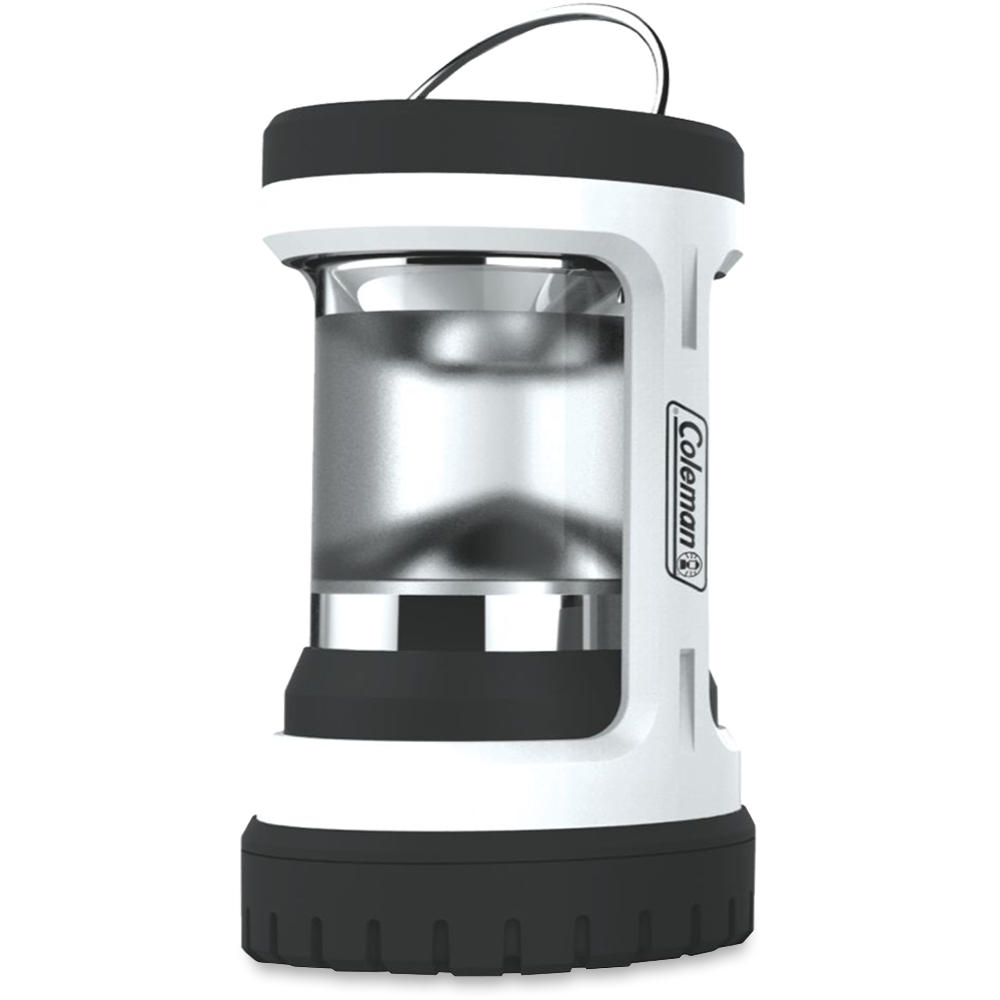 7. Coleman Vanquish Push & Push Li Lanterns (regular and 'Li' version)
The Vanquish Push lanterns are a great size, offer up to 450 lumens of light output and are made tough with over-moulded rubberised edges that meet ANSI 2M drop tests.
You can grab these lanterns in the red version which is powered by 3 x D Cell batteries or the well-equipped white model which is armed with a lithium-ion USB rechargeable battery that can also charge your electronic devices.
Both Push 450 lanterns from Coleman have three light modes operated from a push button on the top. They come equipped with Coleman's Battery Lock system to prevent discharge in storage and have a metal carry loop on the top.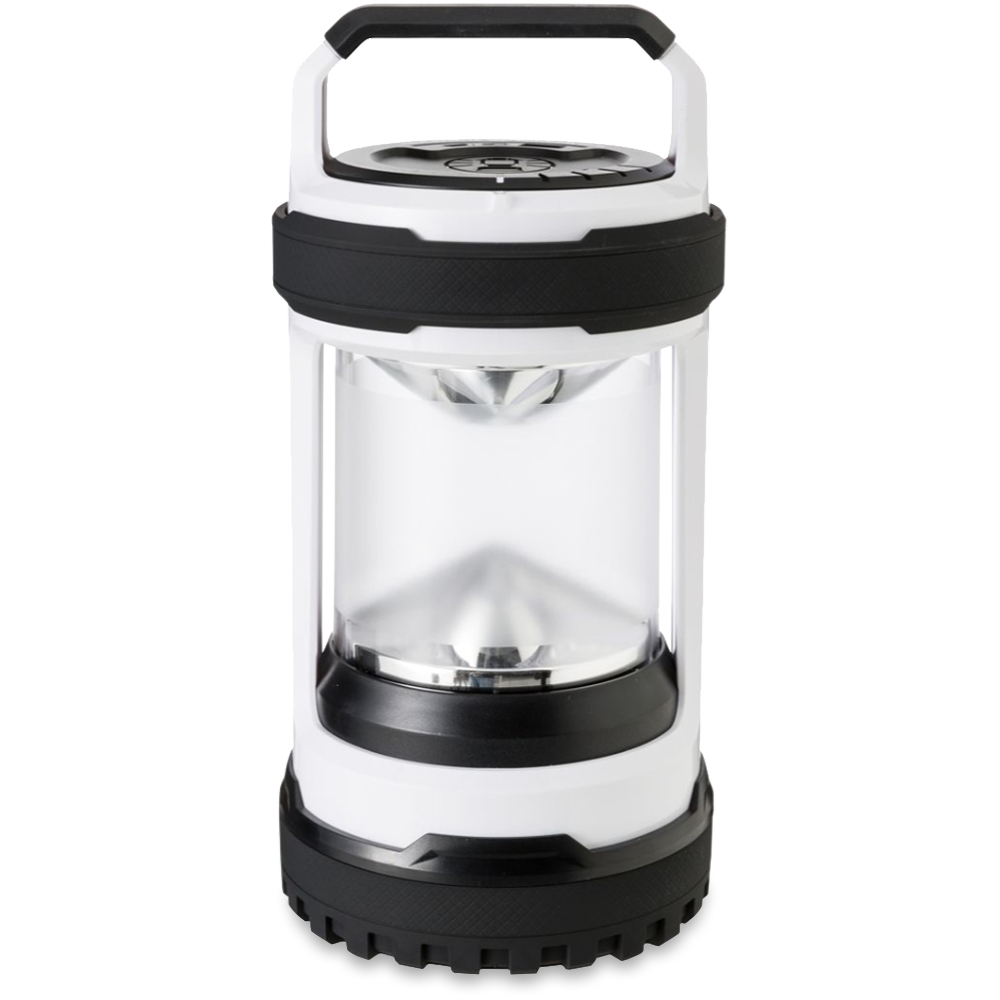 6. Coleman Vanquish Spin 550 Li Lantern
This lantern is the top shelf version in the Coleman Vanquish range of lanterns. The 'Spin' in its name comes from the spinning top handle used to select between the four different light modes.
This is a larger format yet lightweight lantern thanks to a built-in lithium-ion battery. This is recharged via micro USB and features a USB outlet to give other electronic devices some power. It's also made tough with impact resistant edges that meed ANSI 2M drop tests.
The Spin 550 lantern offers up to 550 lumens of light, is armed with a Battery Lock system to prevent battery drainage in storage and features a burly carry handle on the top and carabiner clip on the base for hanging under a shelter.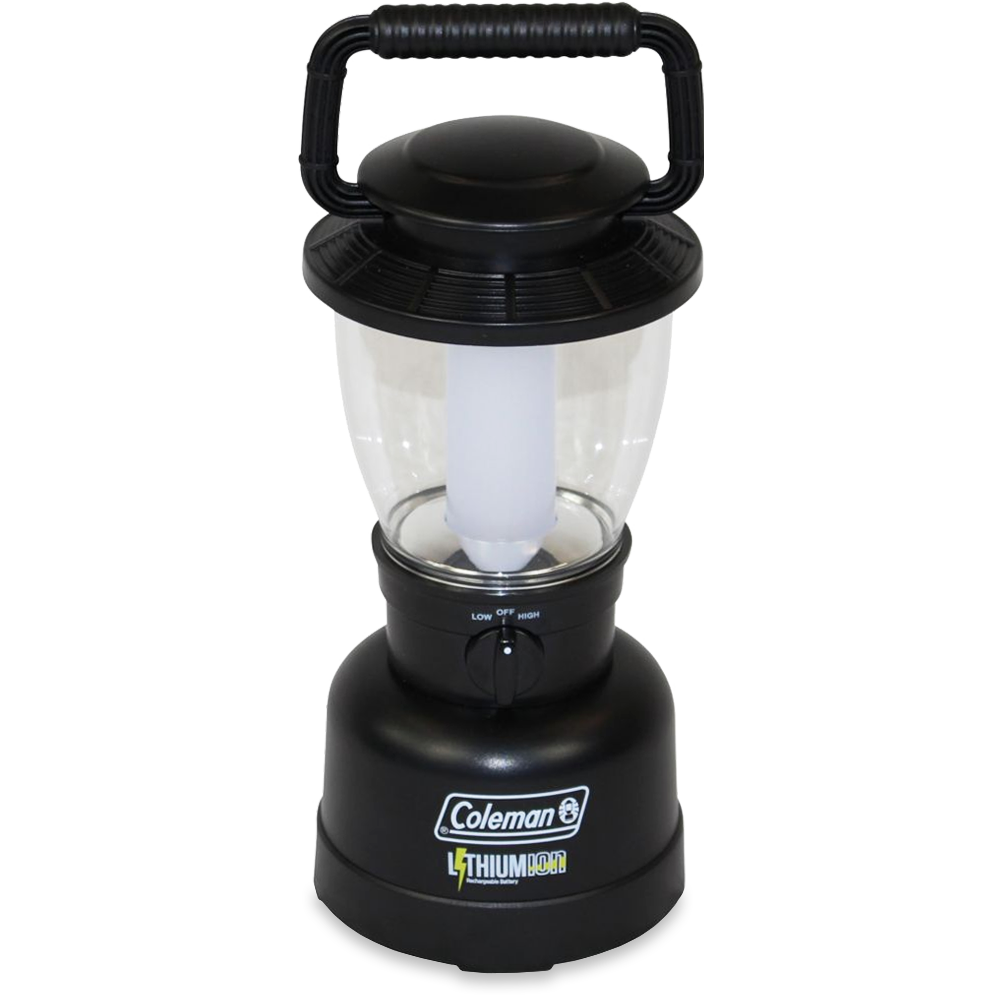 5. Coleman Lithium Ion Rugged LED Lantern
A modern take on camping lanterns with a classic look, the Coleman Lithium Ion Rugged LED Lantern has an integrated rechargeable lithium-ion battery that makes the whole lantern weigh in at just over 600g.
Operation is simple with two settings via a dial on the front delivering up to 300 lumens. This lantern has a comfortable carry handle and room to store the USB charger in the base.
It's also equipped with a charge indicator light and has a USB output so you can give your electronic devices a charge when other power isn't available. All-in-all this is a simple, affordable and functional lantern.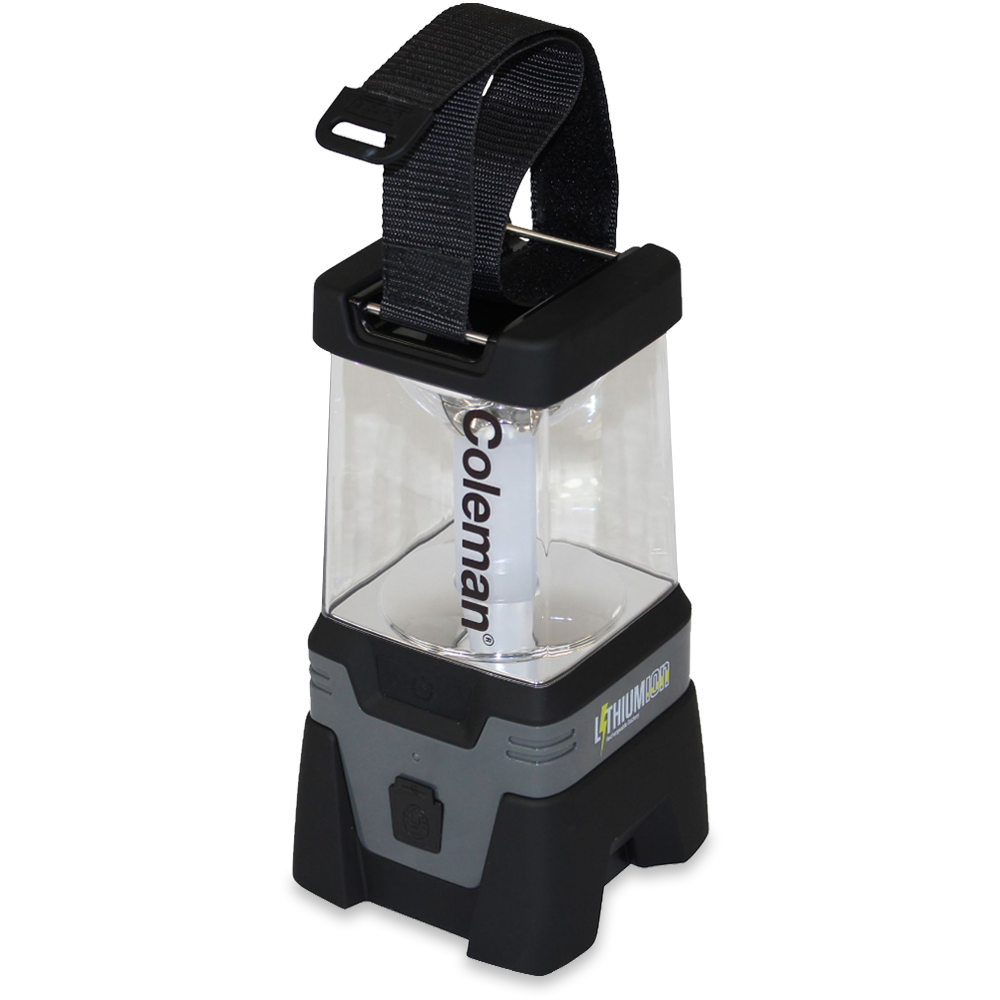 4. Coleman Lithium Ion Easy Hang LED Lantern
The Easy Hang Lantern from Coleman is a versatile light that gets nothing but good reviews from those who have purchased it. Its square shape is very packable and features an impact resistant rubberised housing for durability.
The unique feature of this lantern is the hook and loop fastening strap which features two different attachment points for versatile carry and attachment options.
A fast charge micro USB port and battery indicator helps you to keep track of your power reserves and a USB output port allows you to give your electronic devices some emergency charge. The Easy Hang Lantern is possibly the most versatile lantern in our current range.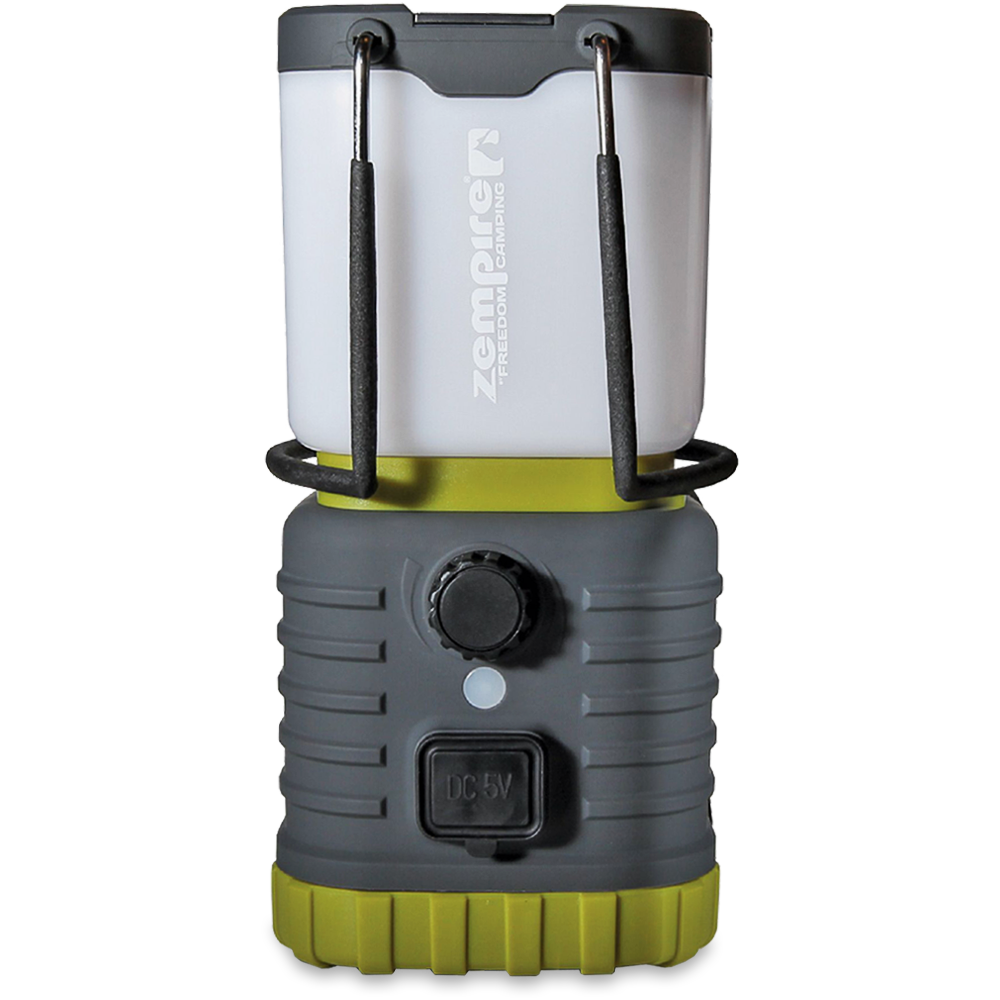 3. Zempire Luken Lantern
This neat little unit has a built-in lithium-ion battery making it much lighter than lanterns powered by alkaline batteries. The Luken Lantern from Zempire can be charged via any USB outlet and has a diffused 200-lumen output that is perfect to find your way in the dark or as a soft light in the middle of your camp table.
The light is dimmable via the front dial and you can give your devices some emergency charge with the USB output. All in all, this is a compact and lightweight lantern with handles that fold neatly out of the way when not in use…it's also very affordable.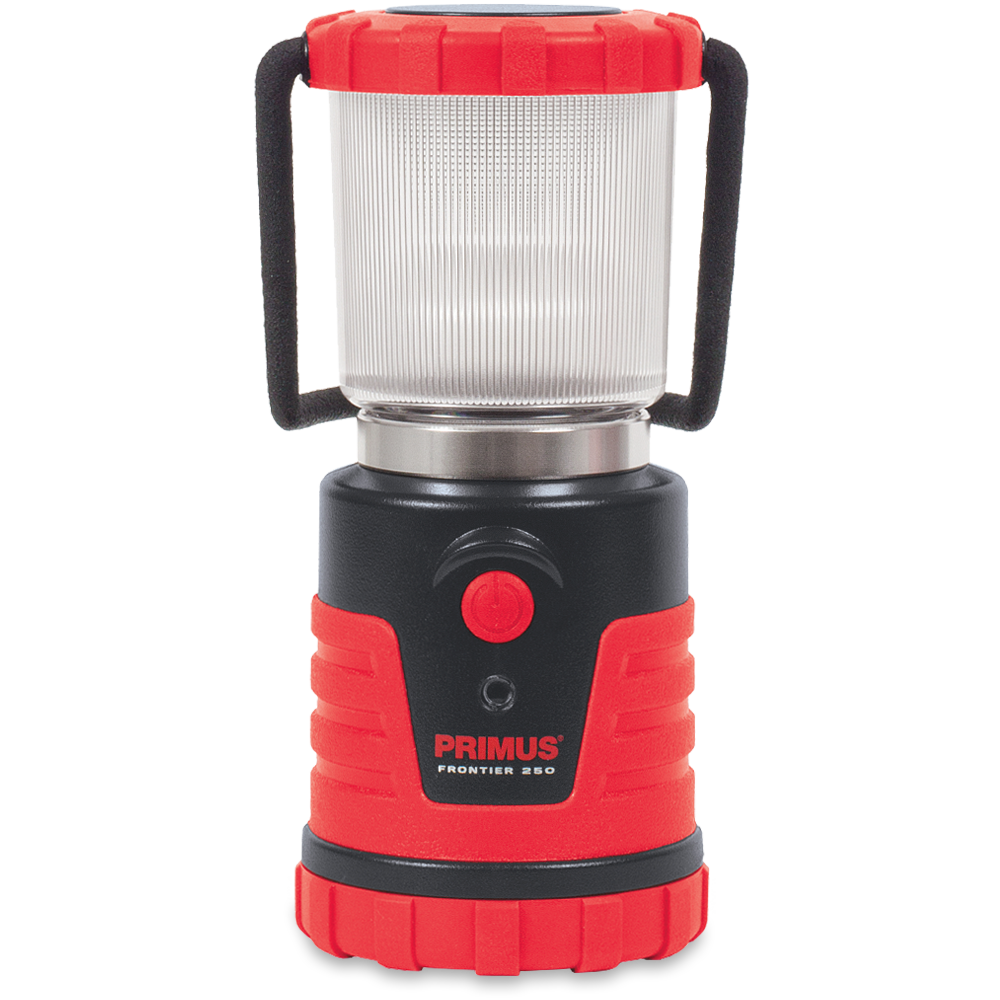 2. Primus Frontier Camping Lanterns
The Frontier lights from Primus have are available in three different sizes from the 250-lumen version that runs on 4 x AA batteries to the 500 and 1000 lumens models that utilise D cell batteries.
What sets the Frontier lanterns apart from the rest is the number of light settings within. You can choose from dimmable natural, cool or warm light as well as a flickering candle setting so you can really set the mood.
The casings are robust and they all have durable carry handles and all feature battery life indicators. Furthermore, the top lenses can be removed from each for non-diffused area lighting. The smallest version even has a hook on the base for use as a tent light.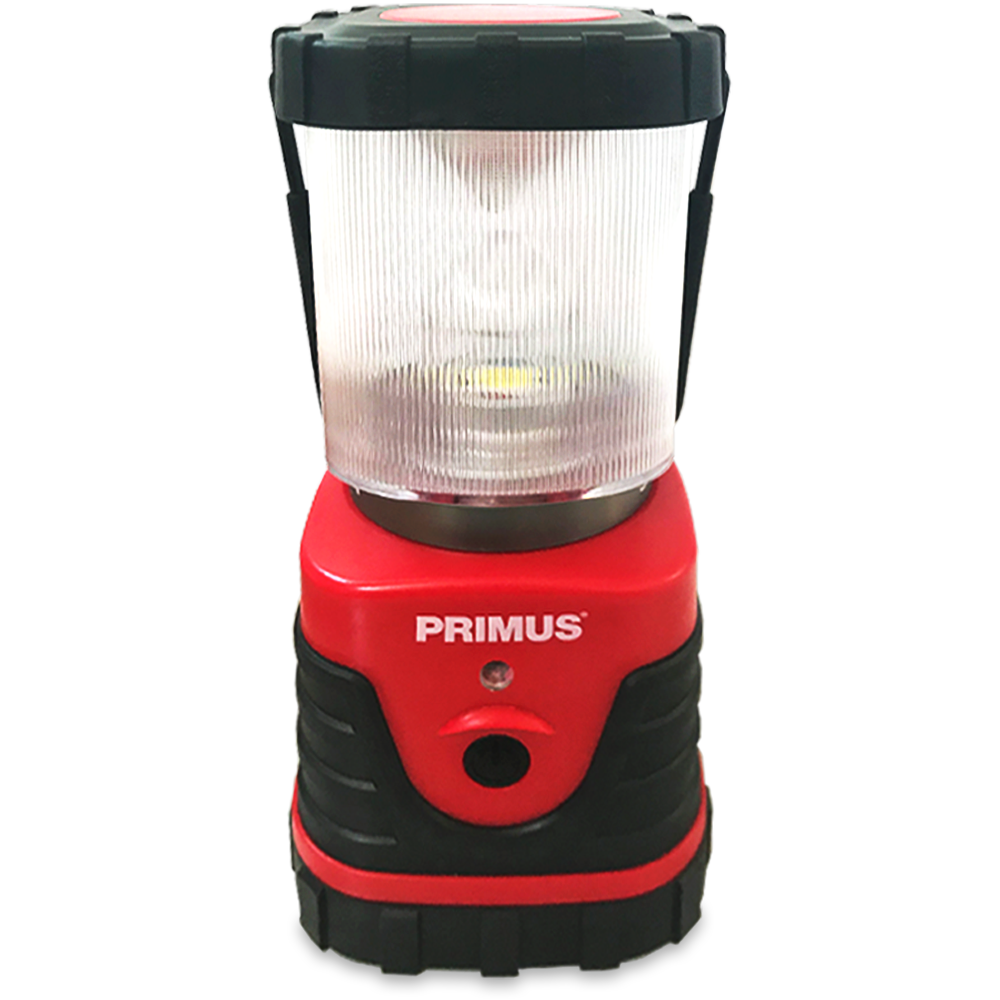 1. Primus Nova Max 300 LED Lantern
This little beauty has been around for years. Powered by 3 x D cell batteries and boasting a particularly robust casing, the Primus Nova Max 300 LED Lantern throws 300 lumens of light making it ideal for use around the camp table, in your camp kitchen or to find your way to the loo at night.
It has a large carry handle, is water resistant and has a removable lens and a hook on the base so it can be flipped upside down and hung inside your tent.
Take the fact that the Nova Max 300 is affordable and bundle it with the above features, it's no wonder it is by far our best-selling lantern.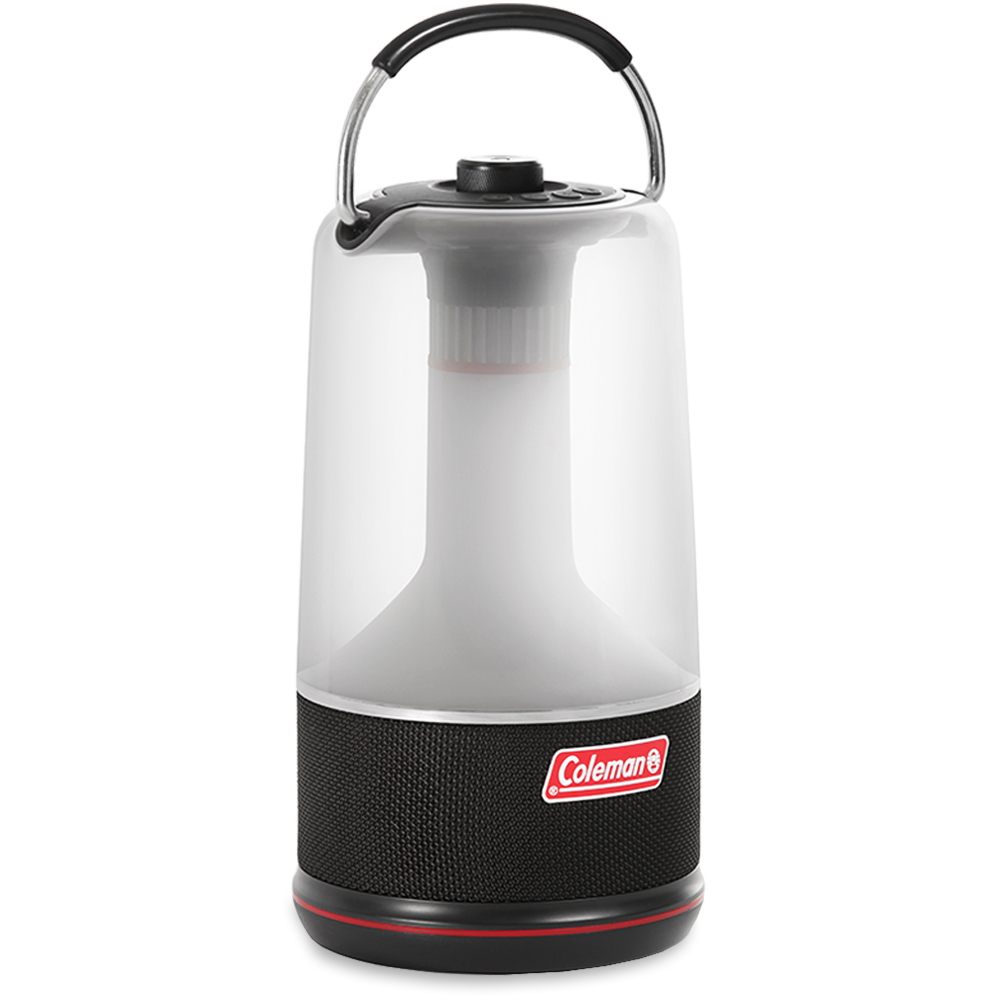 Coleman 360 Sound & Light Lantern – How did this lantern not make the list?
This guy has it all, and I'm sure that the only reason it didn't make our top 10 list is that it's new and hasn't had the exposure it deserves. I'm pretty confident it will be sitting high up on our list next year though.
The 360 Sound and Light Lantern has 400 lumens of dimmable light, a tough and handsome exterior, 360 degree light without shadows, IPX4 water resistance, an integrated USB rechargeable lithium-ion battery and, the cherry on top – a built-in Bluetooth speaker.
Fill your campsite with diffused light and your favourite tunes with the 360 Sound & Light Lantern from Coleman.
It's all LED lanterns that make up our top selling products here on this list, but gas, multi-fuel and methylated spirit lanterns are still a popular choice for some campers.
What's your preferred camp lantern?
About the writer...
Joined back in March, 2013