As a seasoned cruiser, I often hear the same comments over and over again. "You're going on another cruise? How can you afford so many cruises? You must be rich! You get so many holidays." I've come to the conclusion that there seem to be a few misconceptions when it comes to cruising.
For many, it seems like a big, expensive and unattainable goal. The more popular leisure cruising has become over the years, the more cruise lines are competing with each other to get your business. This means bigger and better ships, more holiday destinations, shorter itineraries available for weekend mini-getaways, and better-priced deals for cruises.
If you're not quite convinced that cruising is the way to go for your next holiday, here are 7 reasons why you should make cruising your next destination.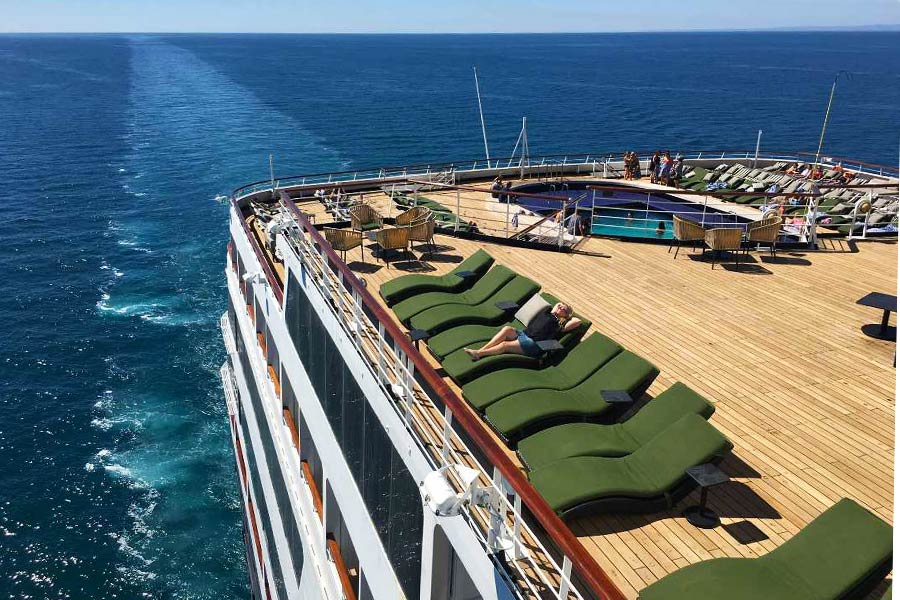 There are so many reasons to head off on a cruise. 
1. Economical
If you are worried that going on a cruise will majorly set you back financially, you don't need to be. The range of cruises is so vast that you can definitely find one to suit your budget. While there are some super cheap short cruises available under a few hundred dollars for just a few nights, even the longer cruises from 7-14 nights, which venture a bit further, are really good value.
What I like about paying for a cruise is that all of your basics are covered. At first, the thought of paying $1500-$2000 for a two-week cruise might seem like a lot of money. However, when you realise that the cost of the cruise covers all of your accommodation, meals, plus many activities and multiple forms of entertainment each day, it's easy to see that compared to the costs of a land vacation, cruising is extremely economical.
Also, you don't need to worry about the quality of the food and accommodation as all major reputable cruise lines keep their ships beautifully clean and maintained. Most dining rooms and lounges on cruise ships are luxurious too, featuring lots of unique decor.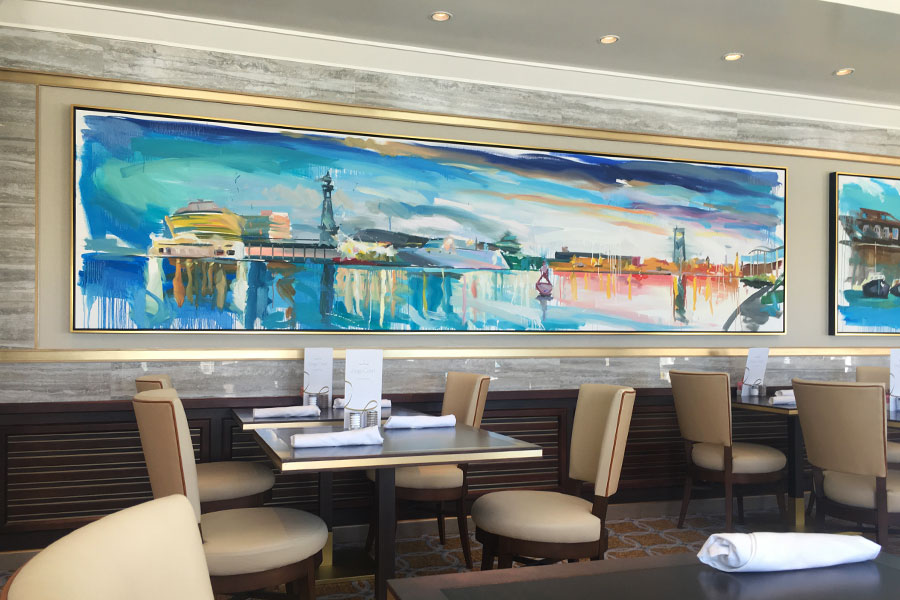 With all your meals included, a cruise is actually not expensive at all. 
You can get some great deals if you do the research
There are also frequent sales on cruises so if you do some investigating, you can get a really good deal. Travel agents such as Flight Centre and Phil Hoffman often advertise great cruise sale packages so it's important to keep an eye out. Some of these packages also include flights to and from the embarkation and disembarkation ports, which makes cruising even better value if you can get an all-inclusive package.
I recommend signing up to various cruise sale websites so that you get email notifications when there are sales. You can also sign up for great deals directly from the cruise lines themselves.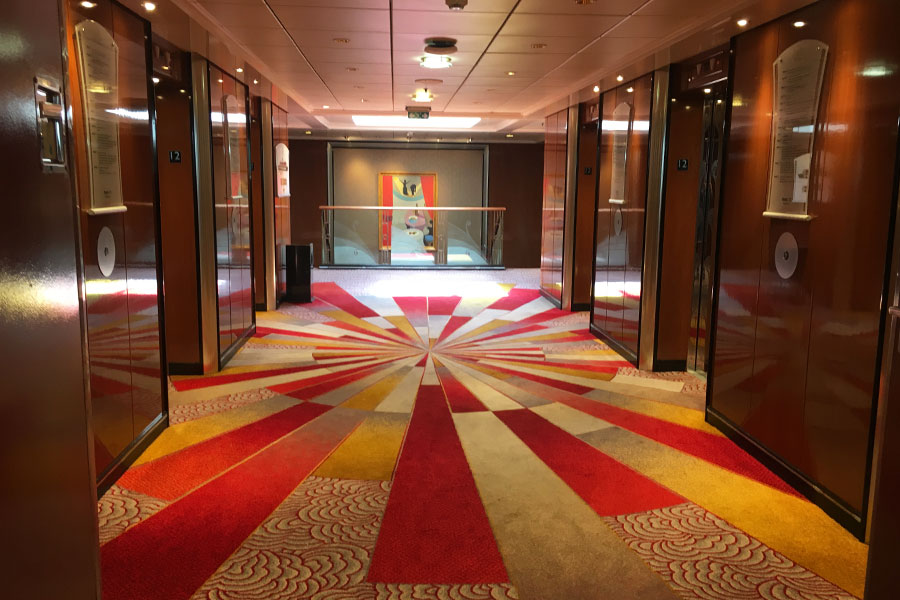 The costs of your room are included, making a cruise a convenient and economical trip. 
2. Convenient
If you dream of seeing some of the most famous landmarks in the world but just the thought of going on a big overseas holiday makes you exhausted, maybe cruising is for you. Not all cruises focus on small tropical islands—there are many cruises which travel to and from some of the most famous places in the world such as Sydney, London, New York, Greece, Italy, and even Egypt.
Most European holidays include tight bus and train schedules; early mornings and late nights waiting for transport; dragging luggage around from train station to airports; squeezing into run-down hostels; or alternatively paying exorbitant amounts for accommodation. Cruising eliminates all this, without eliminating the adventure.
Once you arrive and check in, your luggage is taken off your hands and to your cabin for you. You can then unpack your things knowing that while you'll be visiting various places, your bed and all of your belongings stay put in one spot.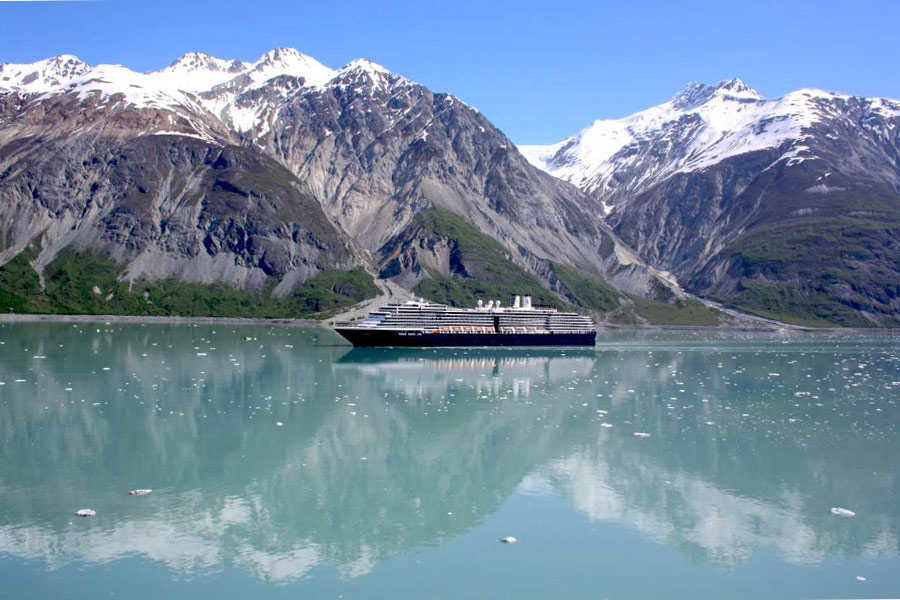 You can enjoy the incredible scenery without having to stress about catching transport. 
All the adventure, without the stress
Having your transport and accommodation together is a traveller's dream. Even though this is exactly what cruising encompasses, it is so often overlooked. You don't have to worry about catching trains and planes from location to location as you'll be on your way to your next destination every time you sit down to dinner, enjoy a live performance or sleep peacefully in your bed.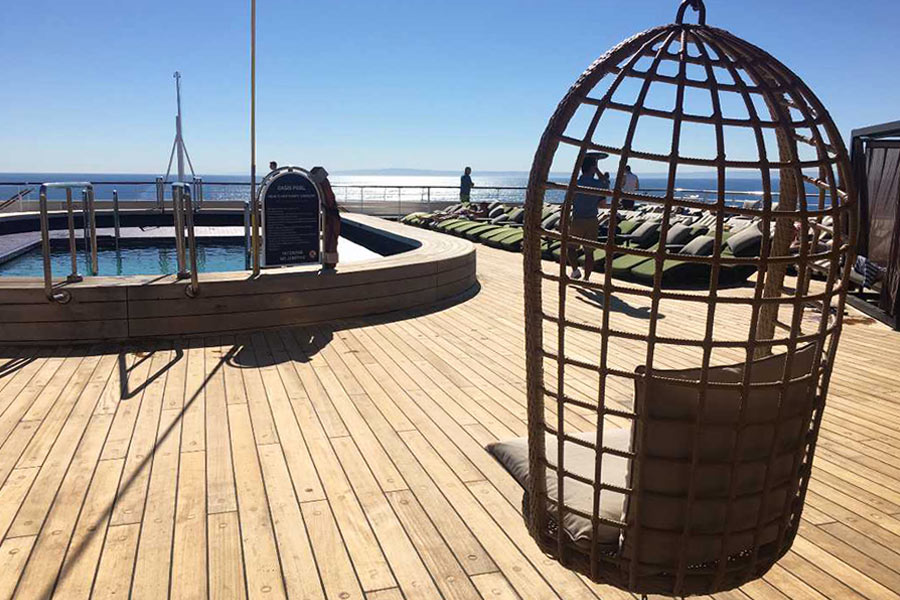 You really don't have to lift a finger on a holiday like this. 
3. Amazing places
I've seen ice breaking away from an Alaskan glacier, a large city crowded with skyscrapers towering overhead, grand New Zealand Fiords— all sailing past my window from the comfort of my cabin. To look up from your bed and see a breathtaking glacier floating past is an incredible experience.
Some people love soaking up the sun and being totally immersed in nature, and it might seem like cruising doesn't allow that. However, there are many cruises which stop at different ports nearly every day where you can disembark to go hiking or take tours to explore the local area.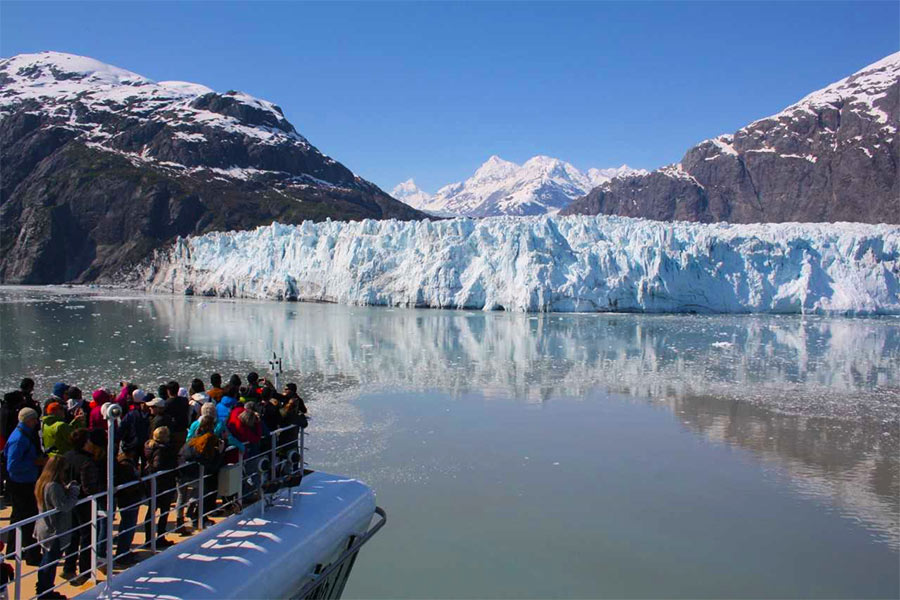 You'll still get an incredible adventure, and get to experience nature on a cruise. 
Sometimes cruise ships even dock in a port overnight to give you more time at a destination. When you're at sea, one of the best views of all is being completely surrounded by a blanket of royal-blue sea everywhere you look, whether it be by moonlight or sparkling under the sun.
Cruising gives you the option to enjoy amazing views either from the comfort of your luxurious floating accommodation or on the land when you dock. One day you can be sailing into the harbour of a giant city, the next to be completely surrounded by 360-degree views of breathtaking scenery.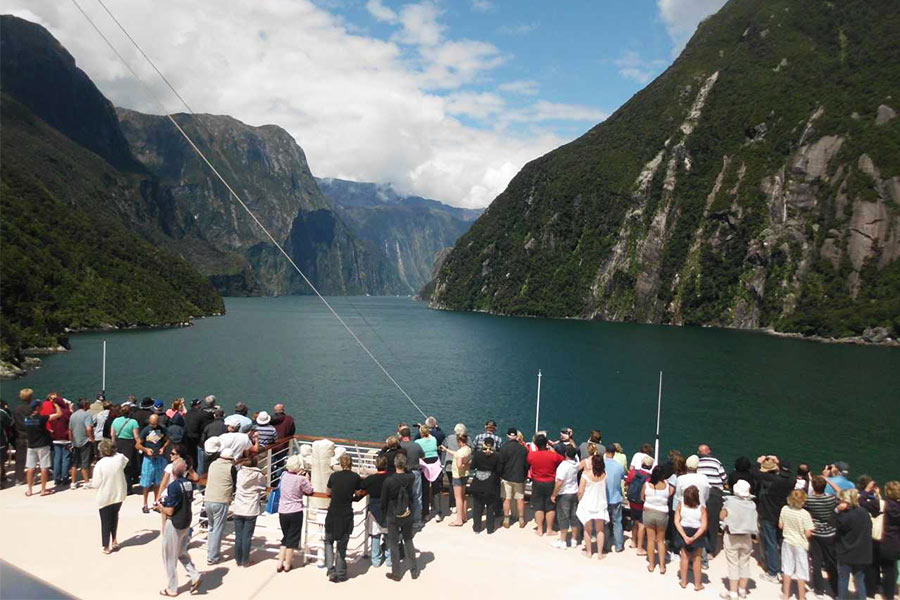 With breathtaking scenery like this, you won't miss out on seeing incredible things on board.
4. The people
Cruises often start to feel like small towns as you become more and more familiar with the staff and passengers during the trip. By the end of the cruise, you generally don't want to leave your new community. The staff who have been assigned to look after you especially start to feel like family before the end of the voyage. It's these connections with people from all different cultures and walks of life that make these trips so memorable.
To have the same people cleaning your cabin, serving your meals, and entertaining you throughout your whole trip means you really have a chance to get to know each other.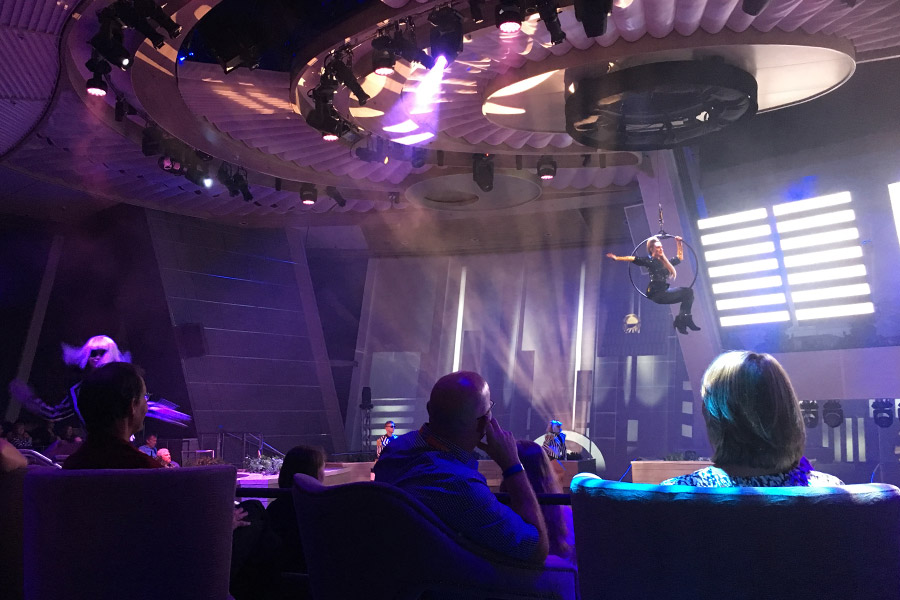 The staff on board provide impeccable service as well as entertainment. 
The incredible staff on board
The staff really go above and beyond to make sure that your holiday is unforgettable. From amazing towel animals left on your bed to memorising how you take your tea. I always find it hard to say goodbye at the end of a cruise, especially to my waiters who make every night at dinner unforgettable. I always love learning about where they're from and hearing about their families who they spend so much time away from.
It is also great to get to meet so many different passengers on board and to hear about their backgrounds and where they're going. Being on a cruise is like instantly being part of a giant family. I can guarantee you will forever remember the unique characters who made your holiday extra special.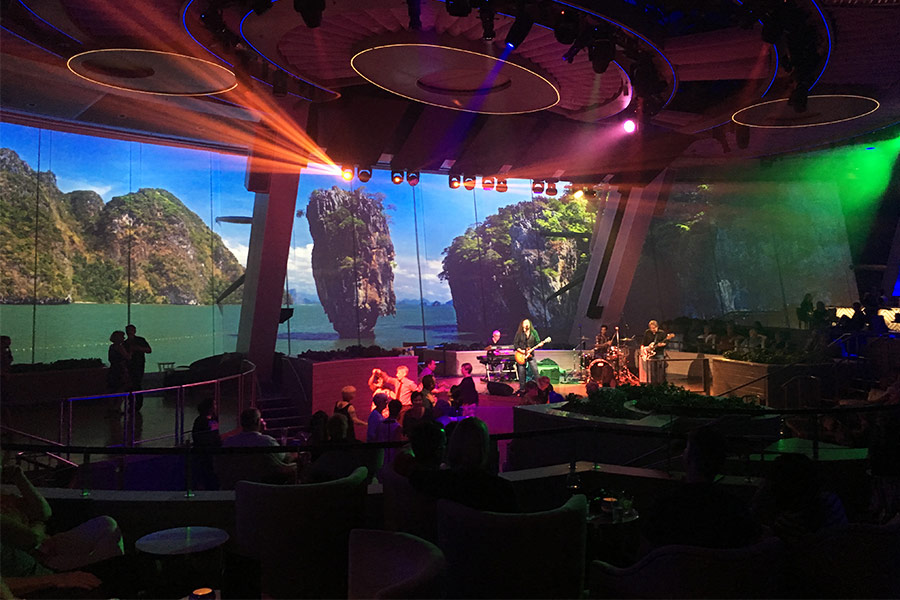 On board, you can also listen to performances from talented musicians. 
5. Relax and unwind
Imagine lazing next to a pool all day and barely having to look up from your book to order a drink. Well, this can be your daily life on a cruise. Waiters are available to bring drinks right to your deck chair in between your pool and hot tub sessions. You can then return to your cabin to find the bed made perfectly, clothes folded and bathroom cleaned, without lifting a finger.
The crew all over the ship are there to serve you and will do everything they can to help. For your time on board, you'll feel like royalty.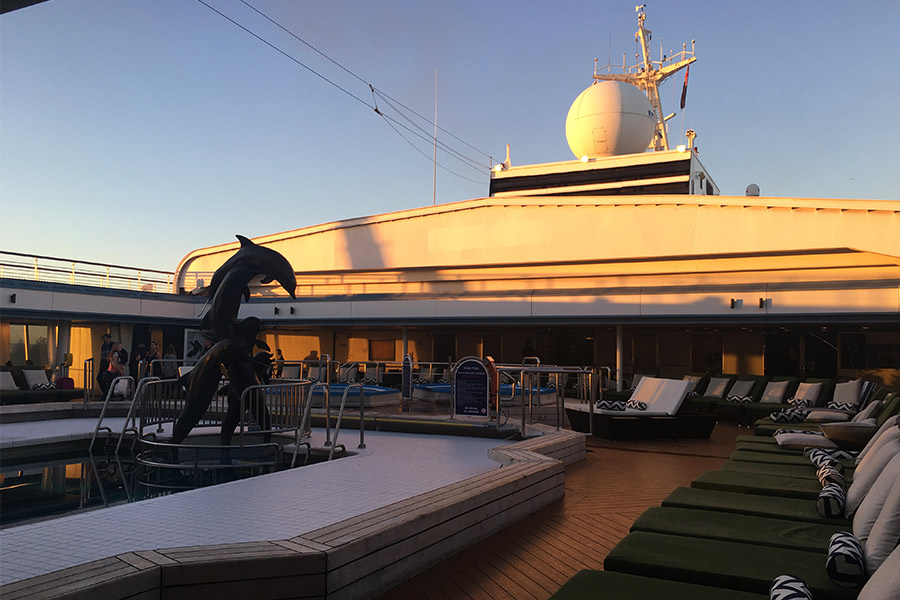 Log off and enjoy some relaxation by the pool. 
You get to decide what activities you do
For those who think they would get bored with this kind of life every day, fear not! Each cruise has a daily schedule which is jam-packed with all kinds of fun activities. These include dance classes, bingo, quizzes, lectures, movies, retails sales, cooking demonstrations, games, sports competitions and more. There is also usually a gym and many walking tracks on the decks which can be utilised at your leisure.
The great thing about having this provided is that you can decide how much or how little you want to do. Try and do all of it, or none of it, it's up to you! Also, if you are in the mood for treating yourself, you can even head to the spa for a massage or beauty treatment at an extra cost.
You are the number one priority onboard a cruise for the crew and they certainly know how to make you feel special.
Whether you want to be more active, or enjoy some time – you've got both options.
6. Switch off
Some people don't like not being able to use their phone or might need reliable access to the internet for work or other purposes. Other people, however, like to disconnect from messages and emails on holiday.
While there is internet and phone access on cruises for an extra cost, it's a great chance to stay off your devices and enjoy the lack of responsibility. Each time you reach a new port and are back on land, you'll have the option of finding free WiFi to make contact with the outside world. This is a more affordable option than the internet on board a ship.
If you'd prefer to take a break from what's happening outside your vacation bubble, it's easy to avoid the rest of the world and focus on what you'd like to try next at the buffet.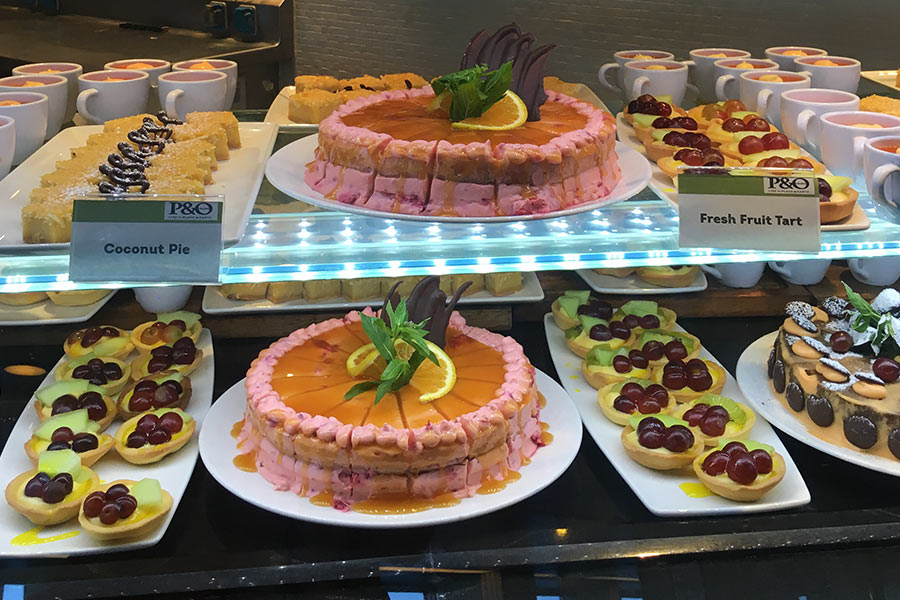 You can stay connected on your trip, or unwind and concentrate on enjoying the buffet. 
7. Something for everyone
The other great thing about cruising is that there is something for everyone. Whether you are young and looking to cruise with your friends, have little kids or a family, or are retired, there will be a cruise line to suit your needs.
There are activities for everyone – both young and old on a cruise. 
Types of cruises:
Family-focused cruises
Whilst almost every cruise caters for families by providing activity centres complete with child-minding, there are some companies which are more family-focused overall. The top family cruise lines are Disney; Carnival; Royal Caribbean International; Norwegian Cruise Line; and Princess. Most of their ships are equipped with extra activities to entertain both children and parents.
Some of these amazing attractions include multiple swimming pools, waterslides, carnival rides, rock climbing, ice skating, gaming arcades, dodgem cars, mini-golf and more. Most of the time these activities are included with your cruise fare but every line differs.
If you're travelling with kids who haven't been on a ship before, make sure you consider motion sickness. Cruise lines will have a doctor on board, as well as motion sickness medication available to purchase, but you might want to bring your own to be prepared.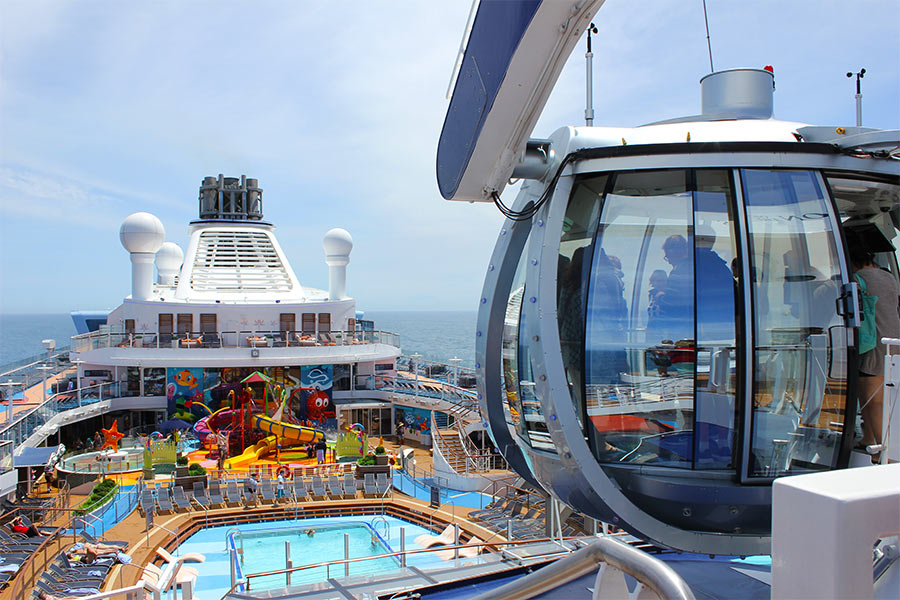 Some lines will offer amazing activities for the kids to enjoy. 
Retirement age-friendly cruises
If you think you're past these activities, the retirement age-friendly cruises Cunard, Celebrity and Holland-America Line are good options. Cunard ships have more of that old-world charm. They make you feel as though you're on a grand transatlantic crossing voyage in the Titanic era. Of course though, these days there are enough lifeboats and safety procedures in place. Travelling by ship is actually one of the safest forms of transport.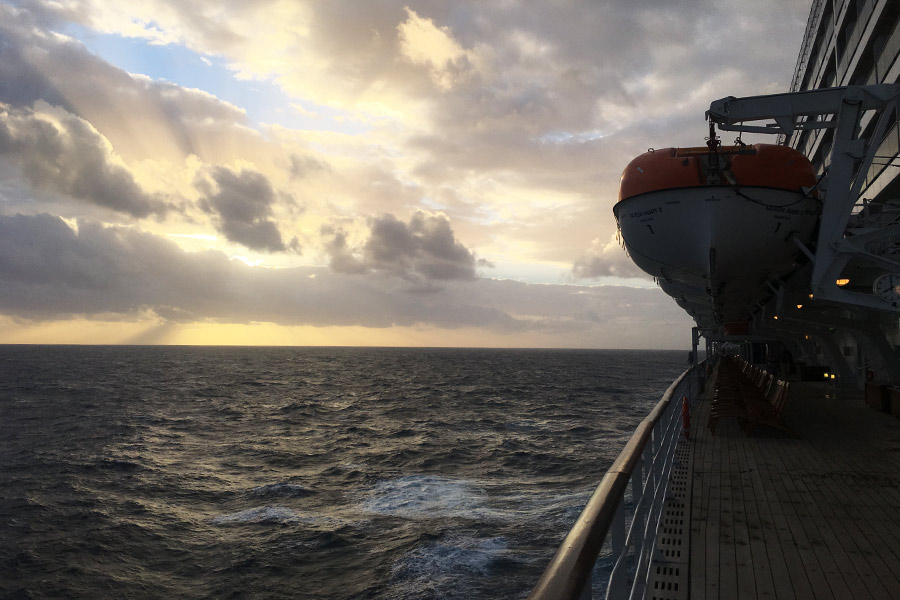 Nowadays, ships are extremely safe to travel on. 
The wide sweeping decks on the Cunard line are largely kept empty apart from deck chairs and the traditional game of shuffleboard. This is quite the opposite of some of the more family-centred lines. The beautiful Queen Mary II even has a ballroom and planetarium on board.
Every afternoon there is a high tea in the ballroom with the opportunity to ballroom dance. You don't even have to worry if you don't have a partner—there are men who are actually employed to take passengers out for a spin on the dance floor.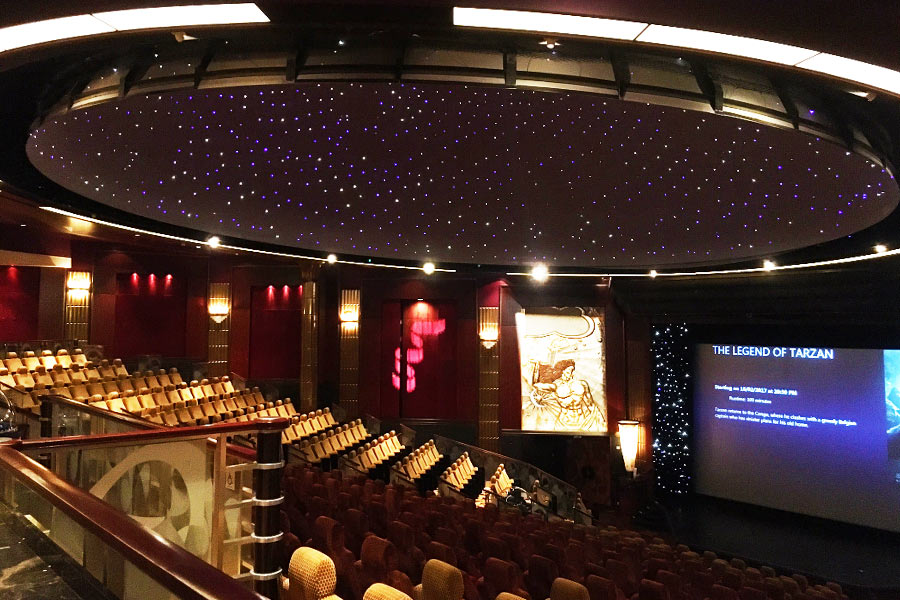 The Queen Mary even has a planetarium on board the ship. 
Themed cruises
If you don't fit into the families or retirement age categories, there are definitely other suitable cruises available. Occasionally there are special themed cruises including rock and roll cruises, singles cruises and schoolies cruises.
For students or young adults, P&O and Princess provide great cruise options. They are especially good for people on a budget as they often promote short, sample cruises at very affordable rates. The sample cruises are a great idea if you have never cruised before and just want to dip your toe.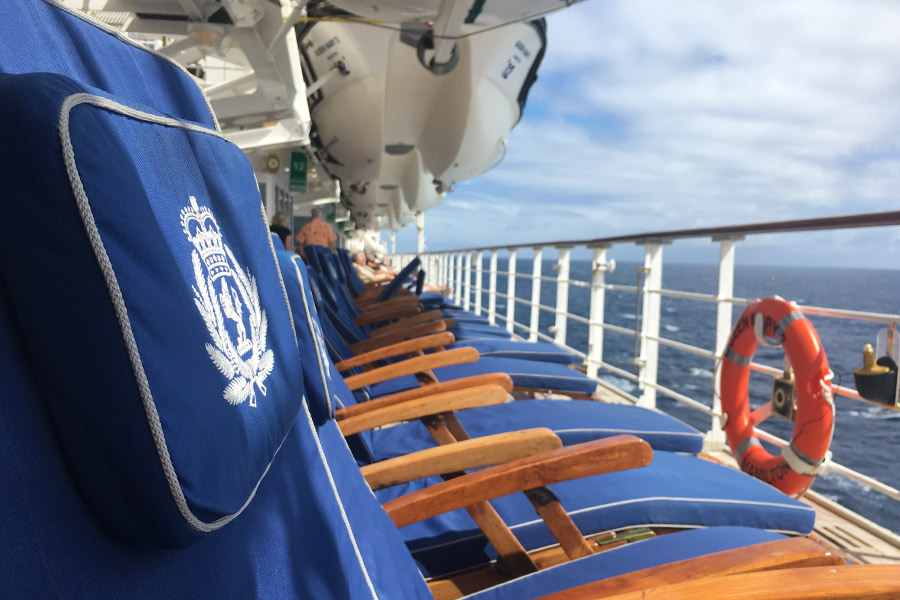 Unwind on the deck and enjoy the serenity.
Have I convinced you to consider a cruise?
I hope you've been convinced that there is genuinely something for everyone on a cruise. It's such a special and unique way to be able to see the world. It's also much more achievable these days with so many different cruise lines offering great holiday deals.
So, if you're in the mood to relax, visit new places, make new friends, eat delicious food, be treated like royalty, experience quality entertainment, and get great value for money on your next holiday, maybe it's time to give cruising a go!
Have I convinced you to ditch the endless airports and train stations for a cruise? 
About the writer...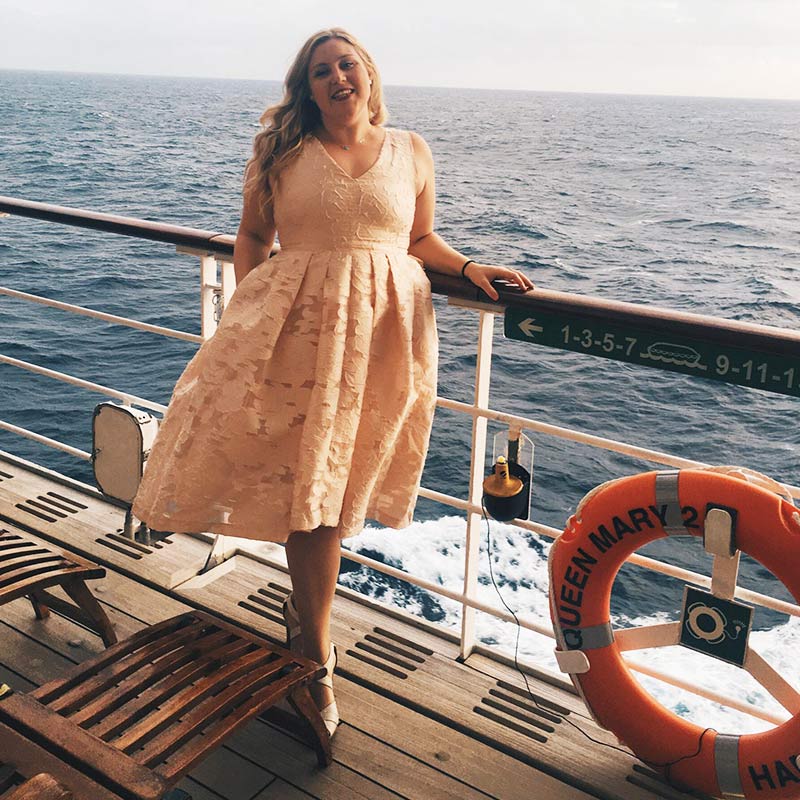 Joined back in June, 2018