Want to know how to properly care for your self-inflating, 4WD or camping mattress so that you can use it for many years to come? Here are a few important things to remember when using and storing your self-inflating mattress.
So you've gone out and purchased a self-inflating mattress. You loved the comfort of the camp mat you bought and so deflated it, rolled it up, put it in its bag and headed for home. Once you got home you dumped it with all your other camping gear, left it rolled up in the bag and forgot about it until next camping trip…
WRONG! When the time comes to get it out of its bag you'll find it doesn't want to self-inflate. This is because it has been stored deflated for too long.

Make sure you lay your mat on a clear surface so that nothing punctures it. 
Inspect the area before setting up your mat
Inspect the area where you are going to be using/sleeping on your mattress and remove any small rocks/stones, grass seeds and anything else which may be sharp enough to puncture the mattress.
Keep mat away for small rocks and seeds
Be careful and be sure that your camp mat is always clean of any small rocks and seeds prior to rolling it up and placing it in its bag otherwise a small stone or grass seed could puncture it.
Carry a mattress patch kit with you
You may want to carry a small patch kit just-in-case, a patch kit is usually included when you purchase a mattress.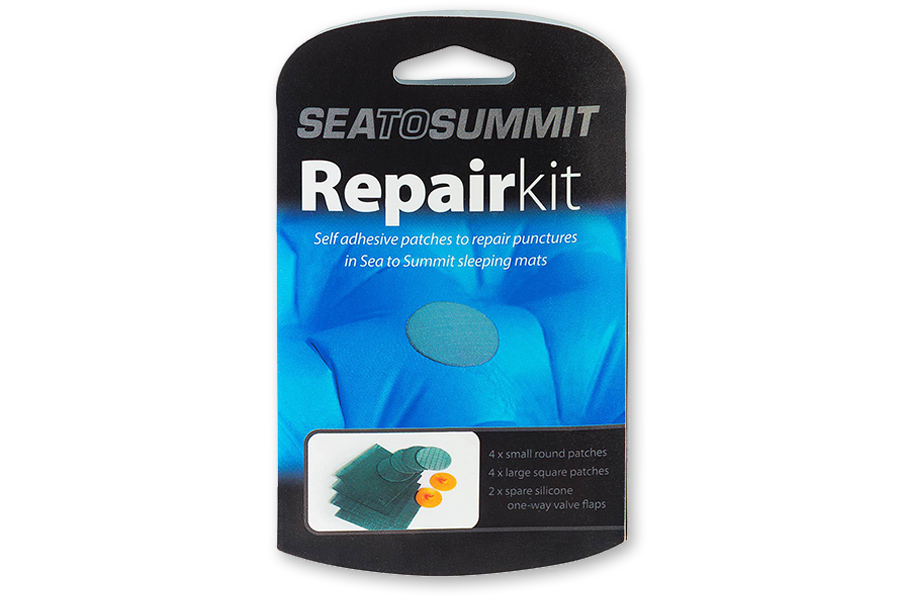 A repair kit is good to have on hand in case you need to patch your mat mid-trip. 
Keep mat dry before storing
Make sure that your mat is as dry as possible prior to rolling the mattress up and putting it in its bag. Otherwise, it could sweat and mould could start growing on it and on the inside of its bag causing it to smell and potentially becoming a health hazard.
Keep mat unrolled when storing
When you get home from your camping trip, it is important to remove it from its bag, unroll it, allow it to self-inflate, make sure it's clean
Wash mat with a damp cloth
If it's dirty, wash it with a damp cloth and allow it to properly dry
Store inflated mat in a cool, dark and dry place
Then store it in a cool, dark, dry place fully inflated where nothing is going to puncture it.
Good places to store are:
Lying flat on a shelf or under a bed
Standing on its side behind a couch
Standing on end in a cupboard or behind a closed door
Hung (if the mattress has straps)
Keep the air valve open when storing the mat
Keep the air valve of the mattress open when the mattress is in storage. This allows the mattress to expand and contract and allows any moisture inside the mattress to gradually dry out.
If your mattress is not stored fully inflated, the foam or cells inside it may become crushed. Therefore it may become ineffective the next time you use it, as they may not expand to suck air in through the valve.

You can add extra air for firmness to your mat. 
If your self-inflating mattress doesn't inflate…
If at any point your self-inflating air mattress won't fully self-inflate you can blow a few puffs of air into it for extra firmness. These mattresses are not designed to be inflated with an air compressor or any other sort of inflator.
Providing that your mattress is looked after properly, it will suffice for many years. You will be thankful that you stored and looked after your mattress well next time you head out camping!
If you have any extra tips or tricks to caring for your sleeping mat, let us know in the comments. 
About the writer...
Joined back in August, 2012