A headlamp can seem like a standard piece of equipment that isn't worth significant consideration, but the truth is they're highly underrated and a must-have item to be included in your kit. What makes them so useful is their lightweight illumination that leaves you hands-free. They also have a beam that is directed wherever you look.
Whether you're a camper, reader, fisherman, hiker, climber, a handyman at home or that person who needs to look in places where light doesn't seem to go – a headlamp will prove to be a practical and useful piece of equipment.
If you're slowing wading through the array of options on the market, but you're having trouble narrowing it down – here are some key considerations to help you buy the best outdoor headlamp for your needs.
What do you need your headlamp for?
Firstly, you need to consider what your plans for using a head torch will be. Are you just needing something to help you locate things in your dark shed? Do you need a headlamp that is waterproof to handle the demands of fishing on the boat? Is weight a factor for you because you're conscious of how heavy your hiking pack is? Do you need a huge amount of floodlight to assist you in catering for your tour group? 
These questions will help shape your decision-making process so that you can find the headlamp that's up to the task.
When it comes to lighting, stick to what is going to suit your use as there's not much point buying a high-tech tactical headlamp if you just want to use it to help light up your tent. Similarly, if you're needing a light for tactical or professional-level use, make sure you're headlamp will cater to your needs.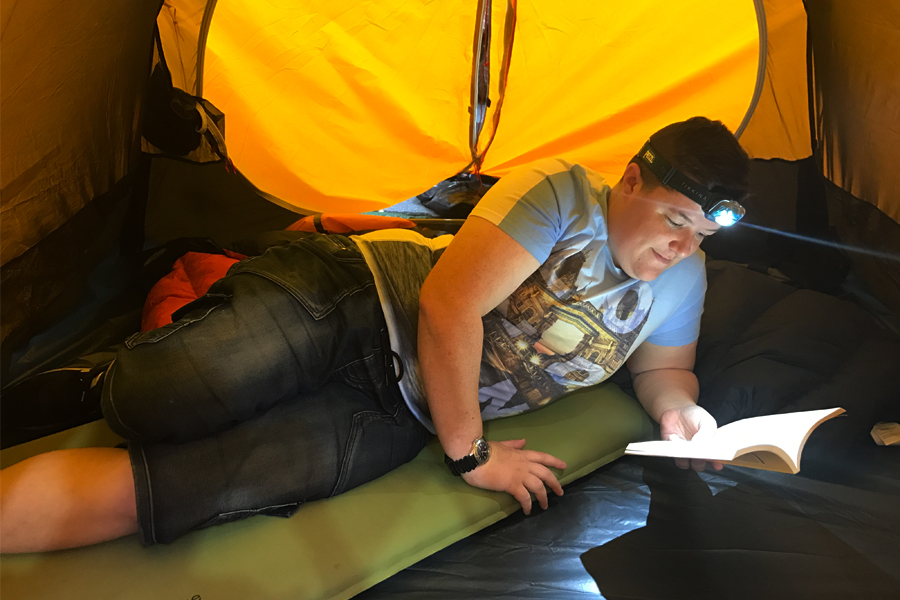 Sometimes basic is all you need when you're just looking for a sturdy light for reading in your tent at night. 
Consider the headlamp's technical specifications

There are a few major technical specifications which will help you establish what you can gain from a headlamp. This includes the lumens, which is the unit used to measure how bright the head torch is; and the weight of the head torch which factors in both the hardware and the batteries being used.
Headlamp lumens
Naturally, whenever buying any kind of light, the question 'how bright is it?' is likely to be the first thought that comes to mind. To keep it simple, in headlamp speak, any unit that produces more than 60 lumens is going to provide a sufficient amount of light to find your way around camp.
Most lightweight headlamps range between 30 to 250 lumens. More technical headlamps can be as bright as 1000 lumens which will produce a significantly larger amount of light. These are a lot heavier as they have more hardware and batteries to accommodate the greater demand for light.
Headlamp weight
Weight also adds to the comfort factor, as if it's too heavy, it'll just hinder you when you're trying to go about your activities. So you should try it on before you buy it, to check that it's not too hefty.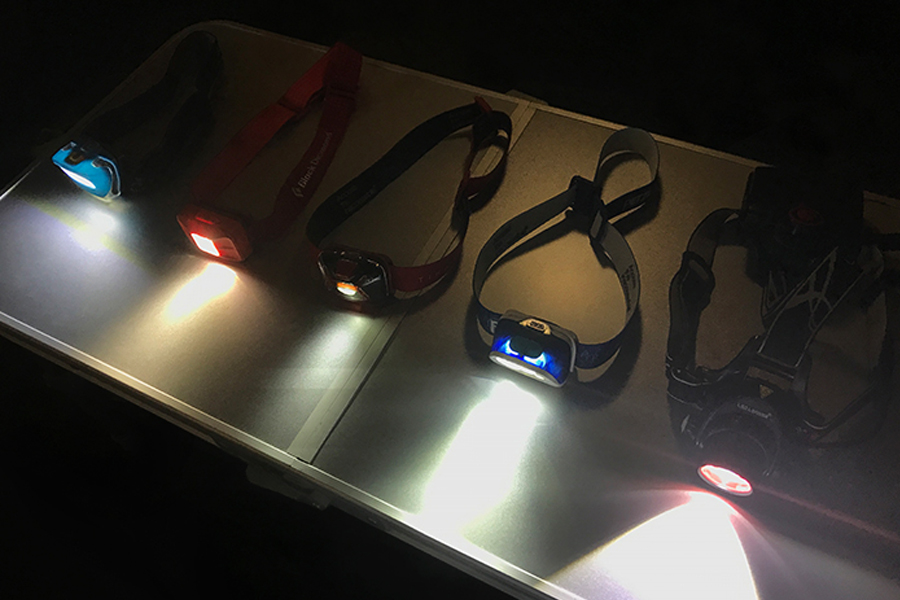 Headlamps range from basic to technical, so there's a headlamp for everyone.
How much money should you spend on a headlamp?
Lastly, is the financial consideration of the amount of money you want to spend on purchasing a head torch. Basic head torches can be as cheap as $15 while highly sophisticated ones can reach up to $300. Headlamps are priced based on their functionality, so the brighter the light and the longer the battery life – the more expensive it will be.
The more you want to spend, the greater the number of features will be available such as flood and spot functions, recharging capability, weight, type of batteries required, waterproof casing and additional coloured lights.
The challenge for you is to weigh up the differences between what you need, how regularly you will need it, and then calculate if the features justify the price.
Headlamp Buying Checklist
Now that you've got all the basics down before you take the plunge, ask yourself the following questions:
Will this headlamp suit my use?
Is this headlamp bright enough?
How heavy is this headlamp?
Is this headlamp in my price range?
Does this headlamp have the additional features that I need?
Just remember that headlamps are can be quite personal, so what works for others might not suit you best. Do your research, read the reviews, and see what ticks all your boxes. There's a huge range of options out there. So if you're armed with a clear idea of what you want – then you're bound to find one that's perfect for you.
So we've covered the basics of the humble headlamp, but what we want to know is: what's the most underrated piece of gear in your outdoor kit?
About the writer...
Joined back in November, 2016