We get asked the question a lot, "Which sleeping mats will fit my Malamoo or Speedy pop-up tent?" Well, the short answer is 'it depends'. It depends on what model tent you have for a start – they range in size from 2 to 4 person – and what type of sleeping mat you prefer.
Being the scientific folk we are, we recently ran an experiment to get to the bottom of this question. You see, tent and sleeping mat dimensions only tell part of the story. Tent shapes vary, with curved corners in particular cutting off valuable bed space. Also, because the walls of most tents are angled, this reduces the usable vertical space.
Our experiment was pretty simple, really. We took our entire pop up tent range out into the Snowys car park, set each one up – took only seconds for each, of course – and checked a range of our most popular sleeping mats for size.
The tents we experimented with were:
The sleeping mats we tested:
Conditions on the day were clear and warm. The coordinator of the experiment was Ben Collaton, better known as Snowys resident lightweight gear geek.
I provided photographic and mat-handling support, and gasps and laughter as Ben tried on his best yoga moves to fold up the Wayfarer.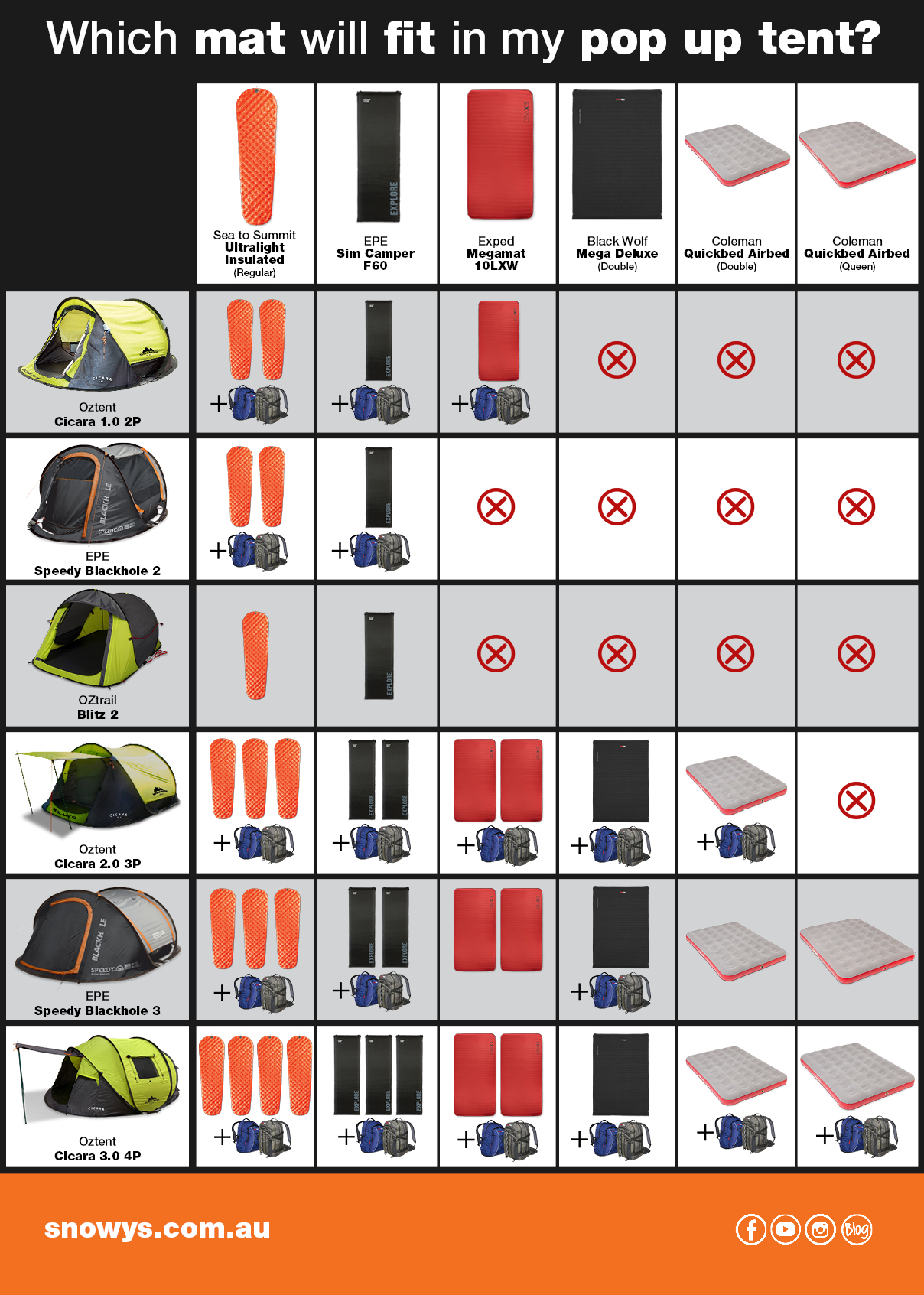 What about space for storing gear?
You'll note the backpacks in the graphic. This indicates that you can also fit a small amount of gear. No backpacks – it's a tight fit. I'm not talking your camp kitchen and car fridge, but rather small personal essentials – stuff you might want to keep safe and dry.
You can increase your gear storage space by reducing your sleeping space. For example, the Speedy 3 / Sahara take 3 hiking-style sleeping mats.
Remove one and you have a whole heap more space to play with. Also note, a few of the tents have vestibules that can accommodate even more gear.
Do you have a pop-up tent? What mats do you use in yours? Comment below.
About the writer...
Hiker, bushwalker, tramper and founder of Ottie Merino (ottie.com.au). Let's just say Paul likes to get around by foot. When he's not, it's usually by bike. He's usually found knocking out another section of the Heysen Trail, or hut bagging his way around the South Island of New Zealand.
Joined back in November, 2015