Toronto has a lot of names. The 'Foodie City', 'the Baby New York', 'T.O' (T as in Toronto and O for Ontario), are just a handful of them. I never categorise a complete city experience into one label, I certainly do see why Toronto is the city you come to, to eat… or get an entree of the Big Apple, but served up on a friendly plate.
With a population of nearly 2.8 million, it's a sizeable city. I must admit, when I first arrived last month, I was a little, let's say, confused. Sure, I had come from New York (and we seem to have a special talent for comparing every city to NYC after living there), but I was surprised at how spread out Toronto is.
"People leave the city to do things, actually", a new friend said, when I was looking for Toronto's 'Manhattan equivalent.' The penny dropped.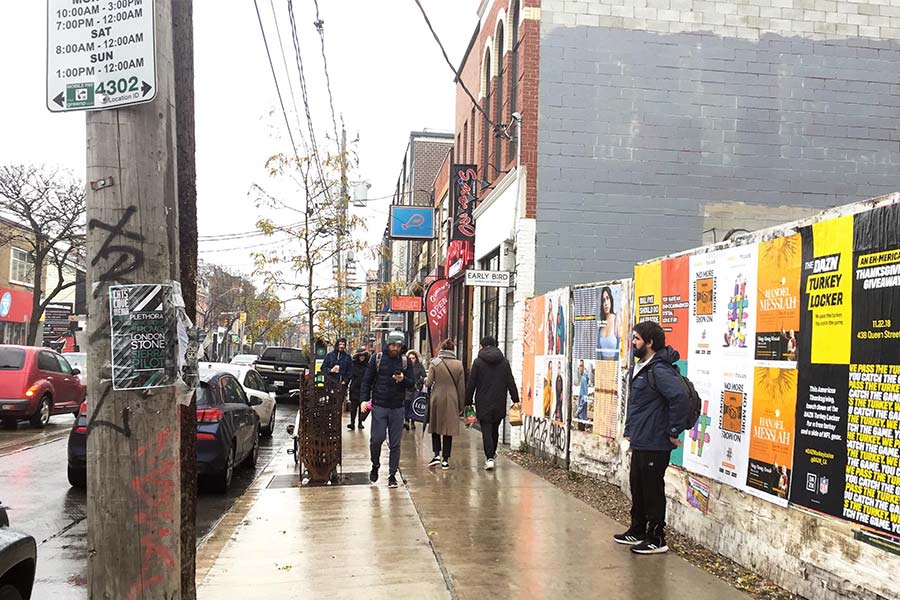 Welcome to Toronto, the baby New York.
Toronto's lively neighbourhoods & nooks
Alright, this is where the action happens. Just like New York (sorry, I can't help myself), you can pick where you hang out, according to what you feel like doing (or eating).
I'm smack-bang in between 'Little Portugal' and 'Little Italy', which could easily be mistaken for the 'burbs. But, wandering around the main streets and you'll find coffee shops, bars and boutiques a-plenty.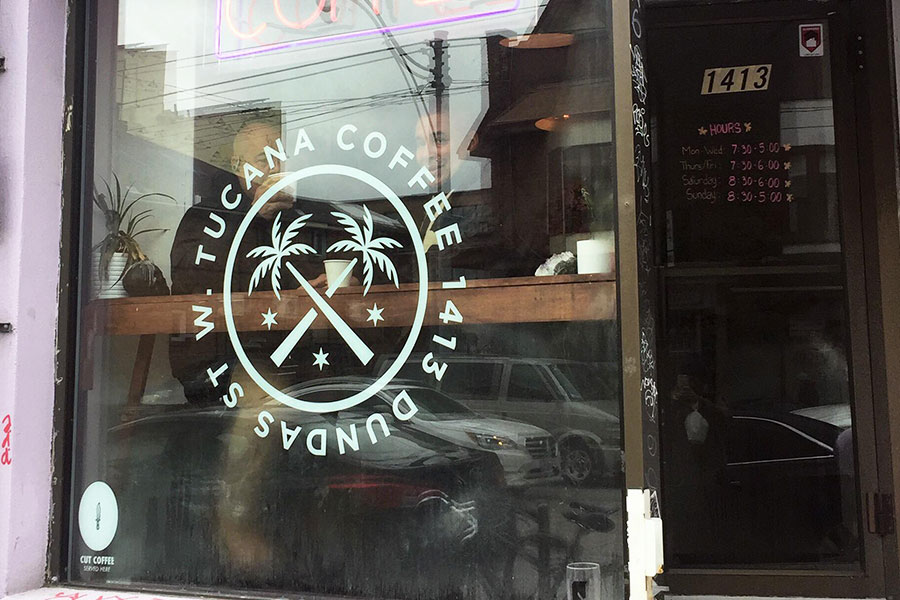 Explore the coffee shops, boutiques and bars in the city. 
West Queen West
My two favourite spots so far are West Queen West and Chinatown. Follow two main thoroughfares, Queen Street and King Street, which connect the two areas.
Having an affinity for street art, which both neighbourhoods are known for, I enjoy tackling sections of these two main streets, stopping in the various eateries and shops along the way.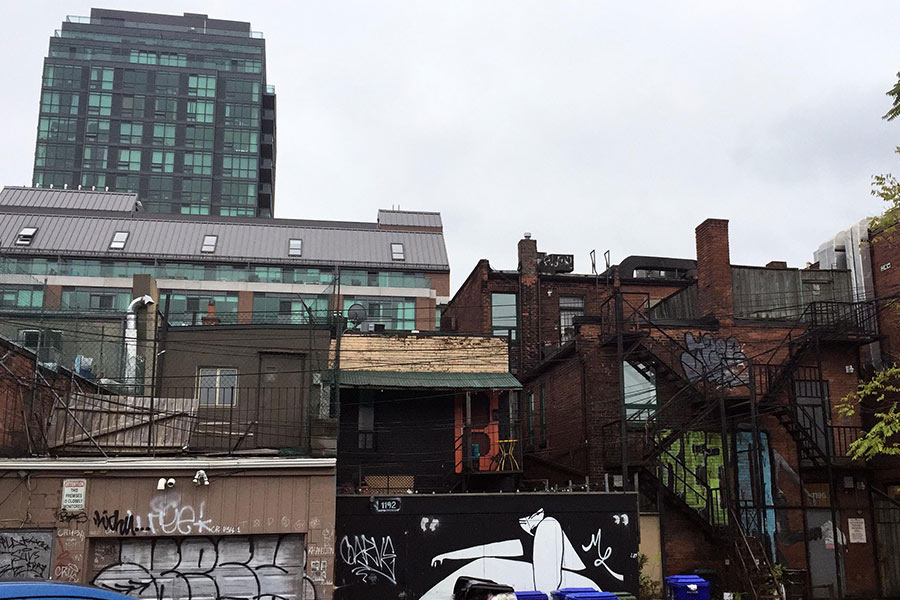 Explore the streets and check out the street art along the way. 
Chinatown
In Chinatown, Graffiti Alley is worth a look (especially if you're familiar with and love Melbourne's laneways). Slightly north is the Kensington Markets – the famous and colourfully quirky area that attracts both tourists and local weekend market-goers.
Distillery District
St. Lawrence Market, further east in Toronto's trendy Distillery District (a spectacle in itself with its 19th Century whiskey distillery buildings), is another Saturday activity, as it's shut on Sunday. Meander at your 'market-pace' around the 100+ vendors, bakers, butchers, artists and collectors.
While the quaint Distillery District has enough indie restaurants, boutiques, art galleries, outdoor sculptors and music performances to keep you occupied, you're in for a special treat if you visit in November or December – as this is when Toronto's Christmas Markets is on. Picture a big Christmas tree, fairy lights, mulled wine, sweets, carols and, most probably, snow.
Again, there's plenty of opportunities for more food eating, but that's okay!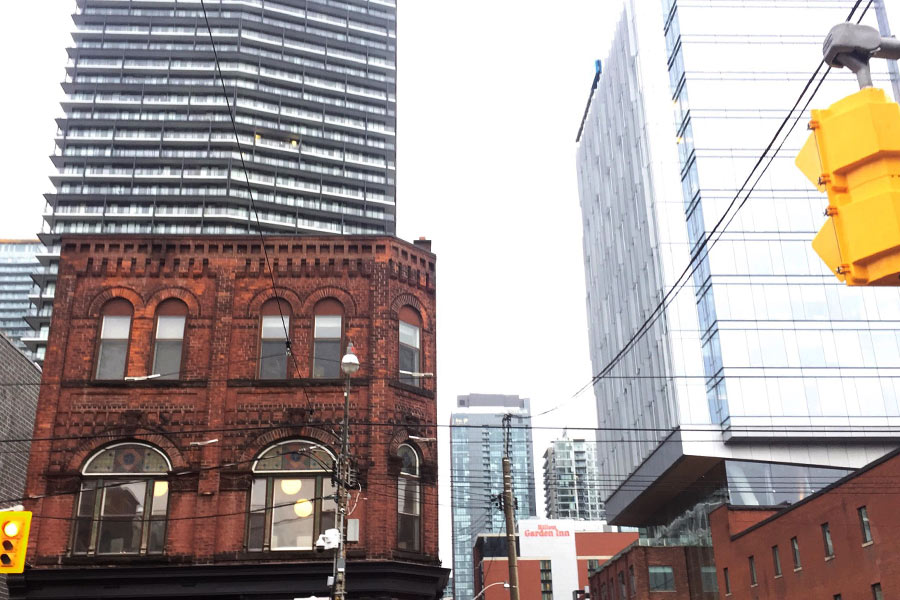 Wander through the old distillery district to see what it has to offer. 
Where else should you visit?
If you've got time, visit the world's tallest free-standing structure in the western hemisphere – the CN Tower.
And, if it's warm enough, head to the Toronto Islands which is only a short ferry ride from downtown Toronto.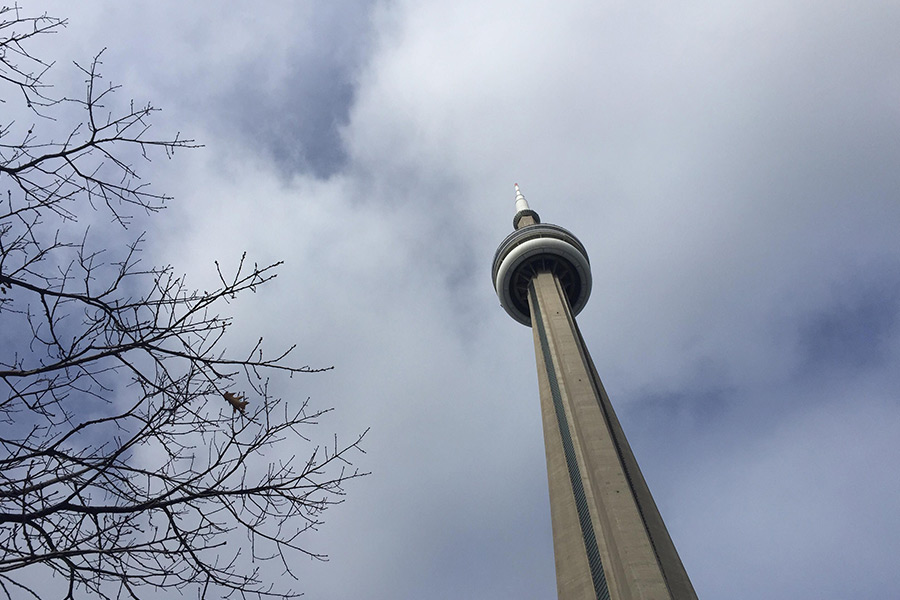 The CN Tower is an iconic landmark to visit in Toronto. 
Poutine, pancakes & coffee
You can literally eat your way around the world without leaving Toronto… Latin American, Italian, Greek, Portuguese, Indian, Chinese, Polish as well as many Canadian-themed dishes.
Get ready to eat more than you should (but it'll be worth it) consuming triple-stacked pancakes, sweet Canadian bacon or poutine – french fries, cheese curds, brown gravy and usually some delicious meat.
And yes, it's as good as it sounds. Forget the calories.
Toronto is known for its food, so sample as much as you can!
Enjoy some craft beer tasting
Brunch is also religion here, as is craft beer tasting. Check out Bellwoods Brewery, Kensington Brewing Company and Junction Craft Brewing.
If you're stuck in food choice paralysis, Blog TO is a great resource for finding somewhere to dine.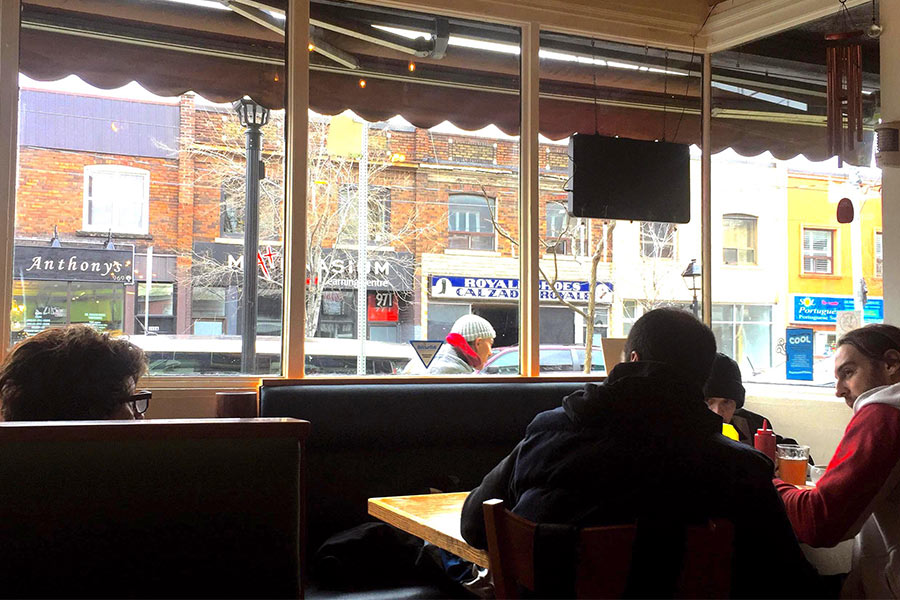 Daily brunch is not to be missed during your visit. 
Organising your trip to Toronto
Life in Canada is pretty darn close to home, culture-wise. You don't need to worry about vaccinations or learning the basics of a new language.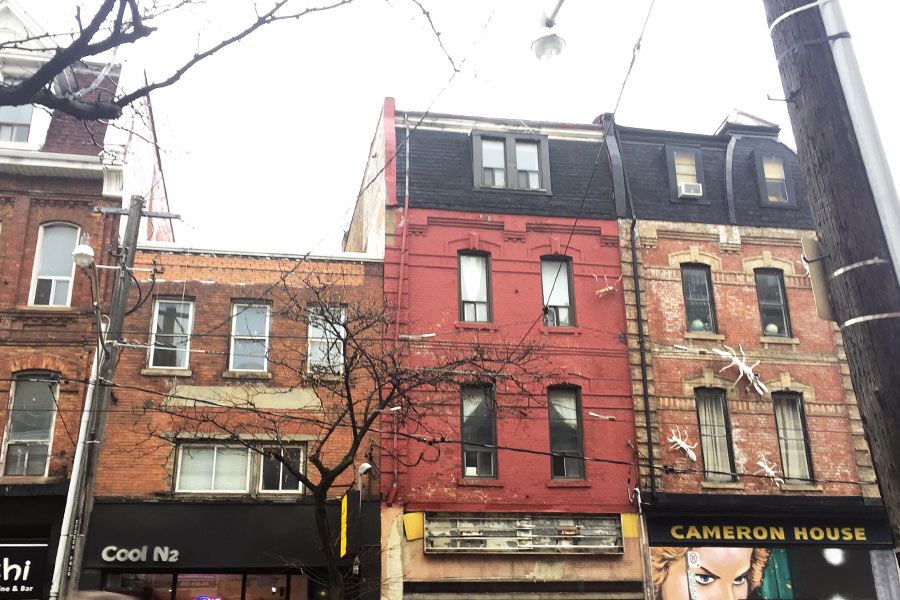 Organising and planning a trip here is fairly straightforward. 
Transport to and from the airport
When you're booking your flight, keep in mind there are two airports. If you're travelling from Australia, you'll most likely arrive at Pearson International Airport. Jump in an Uber to the city, which should only be around CAD$24 vs. a $55 taxi.
However, if you're connecting in North America, you might land at Billy Bishop Airport on Toronto Island. Walk 10 minutes in the underground tunnel and you'll come out in downtown Toronto.
Getting around the city – Uber Pool and the Subway system
Getting around the city depends on two things: the weather and where you want to go. I use Uber pool most of the time, but there is an underground subway system, Toronto Transit Commission, and something locals call 'the trolley', which is like Melbourne's tram system. Visit TTC for more information.
But given that Toronto's public transport is notoriously poor, many Torontonians ride their bike. And yes… that's in sunshine, rain, hail or snow.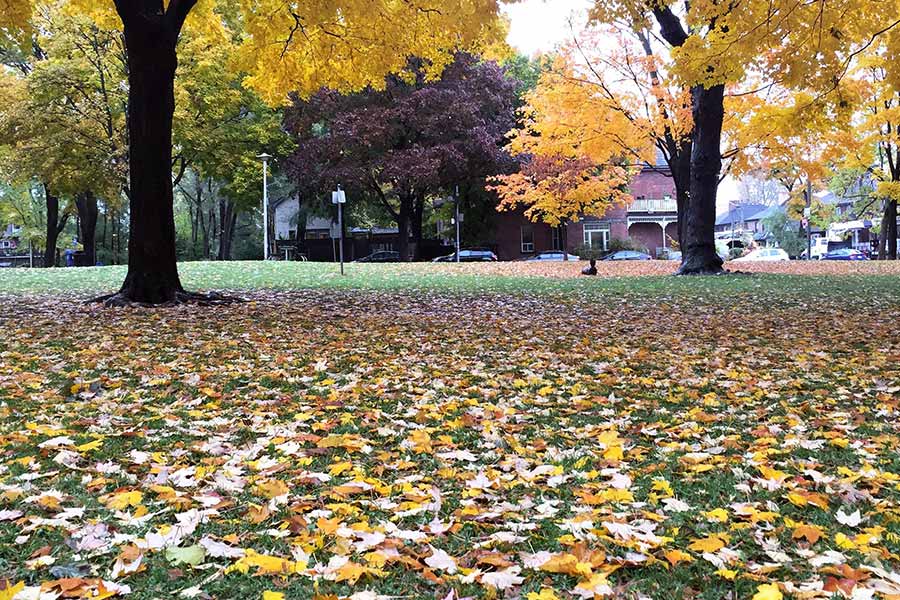 Ride, walk or use ride-sharing services when getting around the city. 
Booking accommodation – where should you stay?
As for pre-booking your accommodation, don't assume that you need to be right in the city's downtown (near the water). Remember, the outer neighbourhoods are where it's at. I'd suggest looking for AirBnb's around Chinatown, Little Portugal, and King West Village. I spent most of my time in the Chinatown district. It's always best to book a week or two earlier, especially during the warmer months.
Packing for the weather
The last part of your preparation, and probably the most important part, is packing for the weather. The summer sits at a perfect mid-twenties, but as soon as we get closer to November, it gets chilly… and I mean bone-aching kind of cold. Rug up, Aussies.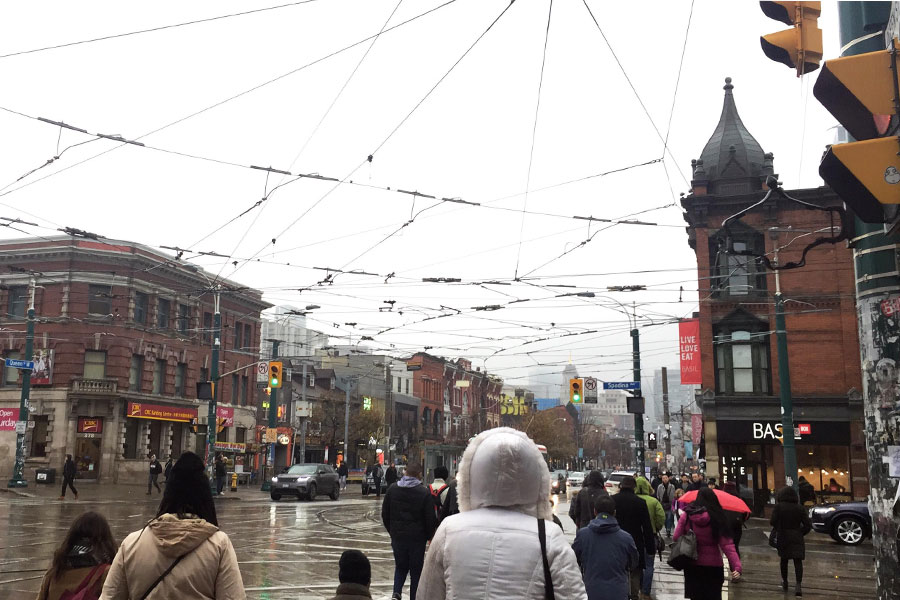 Pack your warm down jacket, a beanie and a scarf to keep yourself warm. 
What gear to bring to Toronto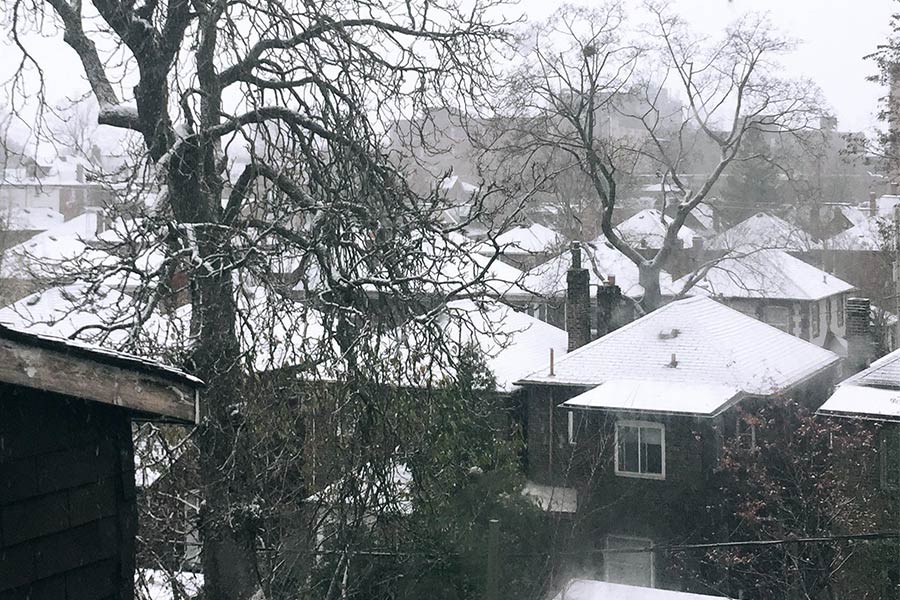 It's cold here, particularly in winter! So pack accordingly. 
Visas and getting there
As for the visa, Australians can enter Canada (and stay for up to six months) on something they've recently introduced called an Electronic Travel Authorisation (eTA).
You can apply for your eTA through the Government of Canada website. As for the currency, they take Canadian dollars, which is virtually one for one with the Australian dollar.
What's your favourite city in Canada? 
About the writer...
A journalist by trade but storyteller by heart, Amanda writes content for a variety of communication agencies and individual brands, and editorials and feature stories for magazines, blogs, and news platforms. She's worked with over 100 brands across Australia and globally. Always curious, Amanda draws her creative inspiration from people – whether it's sitting in a cafe people watching, having a conversation with a stranger or reliving memories from the 50 countries she's travelled to. Follow her on @amandasmith_writer and visit her online at www.amandasmithwriter.com.au.
Joined back in May, 2018